designboom interviews artist alexander kori girard
alexander kori girard
portrait © designboom

on our recent trip to new york city, designboom visited the show 'an uncommon vision' of architect and designer alexander girard (1907-1993) and met his grandson, artist alexander kori girard for an exclusive interview. he told us about his work as a freelance creative and practice as an illustrator, and parallel to his passion for drawing and paintings, how he manages his duty of maintaining and reintroducing the great portfolio of his grandfather to the public, and how this influences him.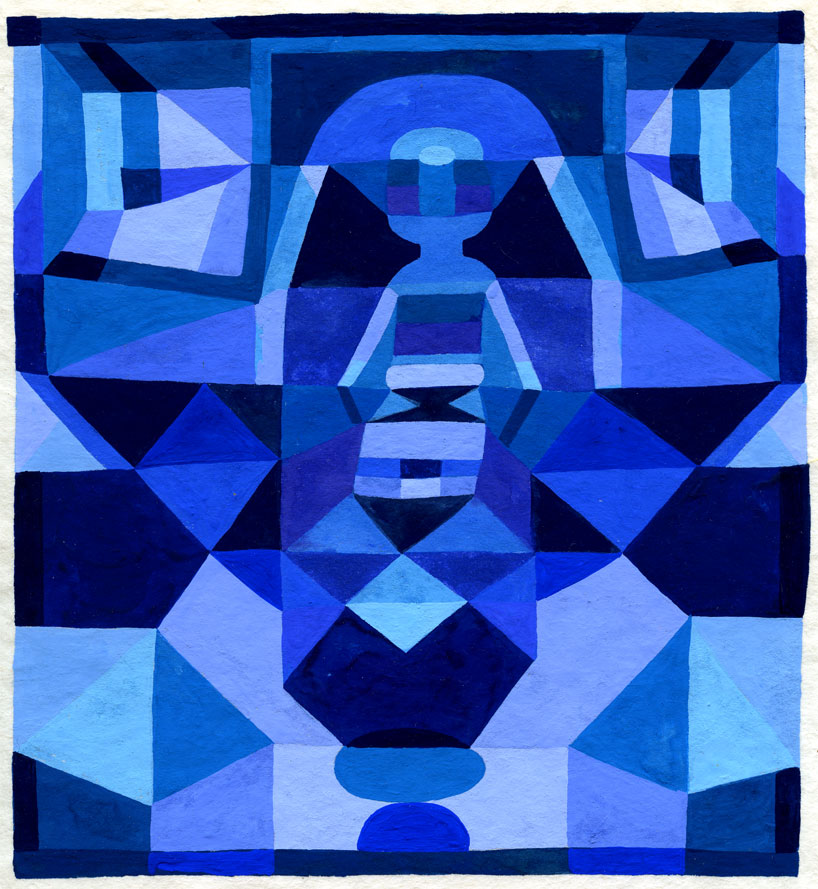 'blue system of space #2' (gouache on paper) by alexander kori girard
alexander kori girard was born in santa fe, new mexico in 1979. the grandson of alexander girard, he graduated from the school of visual arts in new york city with degrees in both graphic design and illustration in 2001. since then he has been both maintaining his own artistic and design practices, as well as working closely with his family to protect and promote the legacy of his grandfather. in 2006, kori worked together with VITRA to recreate the iconic girard wooden dolls. following this in 2008, he began work with todd oldham to produce the first seminal publication on his grandfather's work. then, in 2010 he became the creative director of girard studio. in 2013, kori was awarded the louis comfort tiffany foundation grant. kori is currently co-curator and artist in residence at 'the possible,' an exhibit at the berkeley art museum. girard studio has also worked closely with the VITRA design museum on a exhibition that highlights the portfolio of alexander girard, as well as several of its archival product collections. see designboom's coverage of the retrospective here.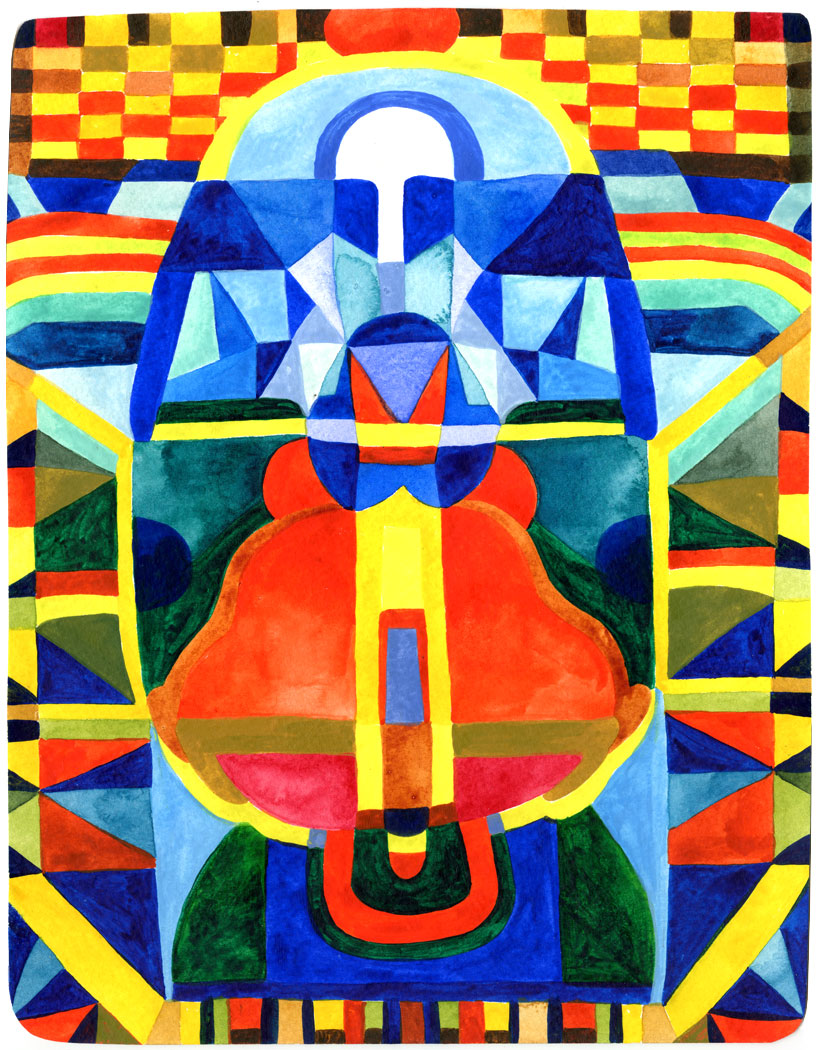 'awaken' by alexander kori girard
DB: tell us about your background, what do you do?
I was born and raised in santa fe, new mexico, which was sort of a product of my grandfather moving there. I left when I was 18 to come to new york and I studied design and illustration at the school of visual arts. I got out of school and immediately started working as a freelance designer, but more often I was involved with my own artistic practice, so fine art practice of painting and drawing, and showing some of my work… that's what I am still doing today. we just wrapped up a show, before I came here, at the berkeley art museum. I'm living in california now. we are doing a sort of giant show about conversions and multi-media and cross-disciplinary work.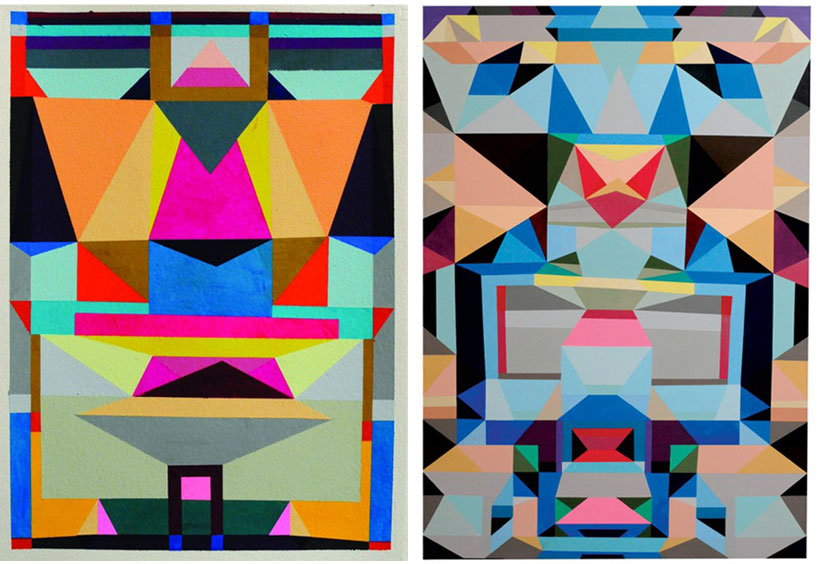 'system of space' series by alexander kori girard
the paintings were built out from a central axis, creating a mirror reflection within each composition. the patterns show the approximate symmetry found in nature.
DB: which materials do you prefer working with?
that question is really open, because I love working in sculpture almost as much as I love painting. but, I would say that drawing is where I started, and I would imagine that drawing is where I begin most projects anyway. even if I'm going to make a sculpture, I usually think it through with drawing, and so to me drawing is kind of the ultimate practice.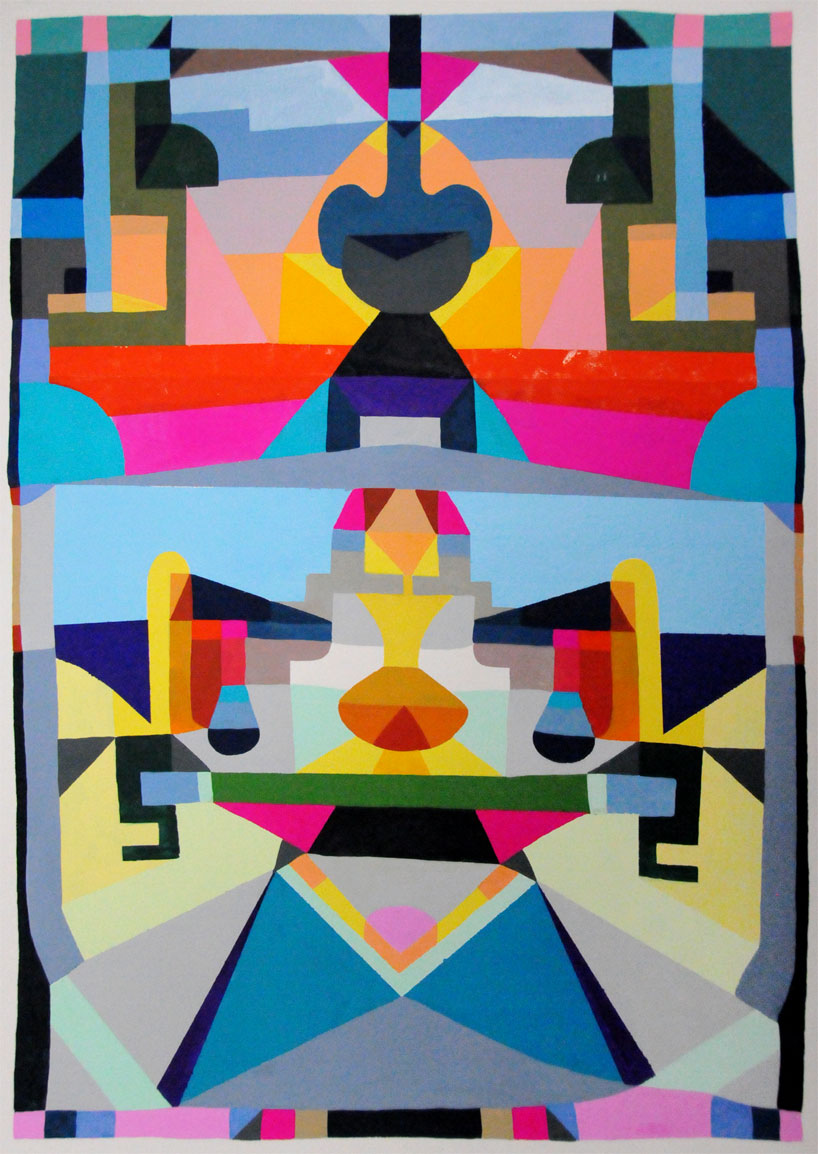 'system of space #2' by alexander kori girard

DB: what is your opinion on the young generation using only digital tools, and slowly losing the practice and skill of drawing?

I think it is really unfortunate. it is really a major loss for the world in general. I think it is why you see so much derivative work, because I think the way you find new ideas is by sketching them out. I don't think you find ideas from working digitally, it just doesn't happen the same way. the line can't move in that sort of spontaneous method to create that new form that had never been seen before when you're working within a bitmap – it just doesn't happen like that.


'felt circle' (kattywompus productions) by kori girard and rafael altman, 2011
the felt circles are a compilation of several of the different iterations in the felt mirrors series.
video © alexander kori girard and rafael altman

DB: do you think that online resources and globalization has influenced the way designers and illustrators work?

oh yes. there is so much to look at, I think often times people become overwhelmed and frozen by the mass of information that comes through, whereas I think that in different times when there was less to look at, you had to kind of create it more for yourself.

I mean, I love the internet and the communication tools for what they are, but I'm extremely aware of how invasive they are and also how it is important for my own artistic practice to regulate how often I interact with the screen or information or imagery from the screen.


alexander kori girard about himself and the importance of drawing and the ability of using the hand
video © designboom

DB: what do you do to remain fresh? when do ideas mainly come to you?

often times we substitute real life for the simulation of it, using iPhones and other digital devices. one of the traits that was a bit passed down was this interest in all walks and talks of life, so sort of being able to find inspiration or fascination anywhere that you are. just walking down the street or in the woods or wherever you may be that day. just being open to the environment, affecting your thought process, there are infinite ideas – it never ends.


alexander kori girard about the influence of the internet
video © designboom

DB: please tell us something about your grandfather – his passion about textiles, patterns and colors …


my grandfather was born in new york, but then very early moved to florence and grew up in europe. he went to school in london and went back and forth from england to italy and then eventually came back to new york. his father was an antiquarian and a furniture designer, so it was a family affair. I don't know if he ever thought there was any other thing that he could have done, really.

in terms of a specific thought about the textiles, I would have to probably be more specific of with what it was, because there is such an incredible range of work, it is hard to talk about it generally. I think one of the things about a lot of these designs is that even in their time, because of the way that industry worked, they weren't see by a lot of people and the aesthetic was not as developed as it is today. I think that a lot of the designs that were created 40 years ago, actually may have more appeal today than they ever have.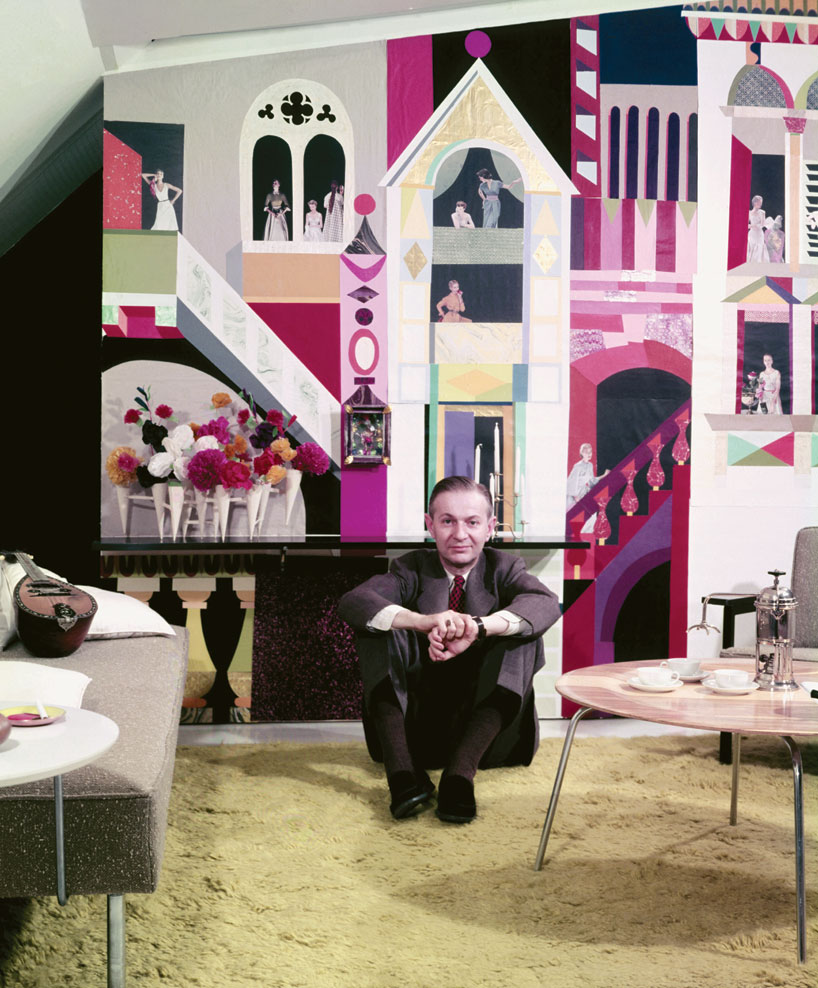 alexander girard – grand rapids, 1951 (archival photo)
image © girard studio

DB: do you think that your grandfather influenced you?


he passed away when I was about 15, I believe. we lived about three minutes away, so I spent a lot of time with him as a child and in his home which was extremely influential. from a experimental point of view, just being in that world created a sensibility that I did not know was happening until much later in my life, when I started making my own things. I've always been interested in art, but at some point I remember thinking 'wow, I wonder what it would have been, had I known what he did, before I started what I did', which I'm kind of glad I didn't, in a way. I'm kind of glad that I really got to explore the archive after I had already had a very strong practice in making my own things, because I think you could be scared away from such a prolific and incredible lifework.

I didn't know that I was going to be doing what I'm doing now. I kind of always felt like my grandfather would have wanted me to, at all costs, to continue to create my own work rather than just to look after his magazine. I think both my grandmother and grandfather would have been happy that the family is stewarding the work, but I think also not at the costs of not doing your own work, or expressing your own ideas, so I feel lucky that up until now it has still been possible.

often times, whether you are a designer or a fine artist in today's day-in-age, the direction of what people ask you to do is to specify and to become professional in one thing and really just keep doing one thing. that's never been interesting to me. I love to work across mediums and so, understanding how much he did, that really freed me to be okay in feeling that interest in so many different types of expression and creation.


alexander kori girard on his grandfather alexander girard
video © designboom

a legacy lives on
working closely with the girard studio, herman miller and maharam are honored to be authorized and authentic producers of alexander girard designs. they are once again making available his remarkable range of furnishings, objects, screen-printed panels, and woven textiles. in collaboration with the girard family, the partnership will faithfully preserve and promote the design legacy and archive of alexander girard.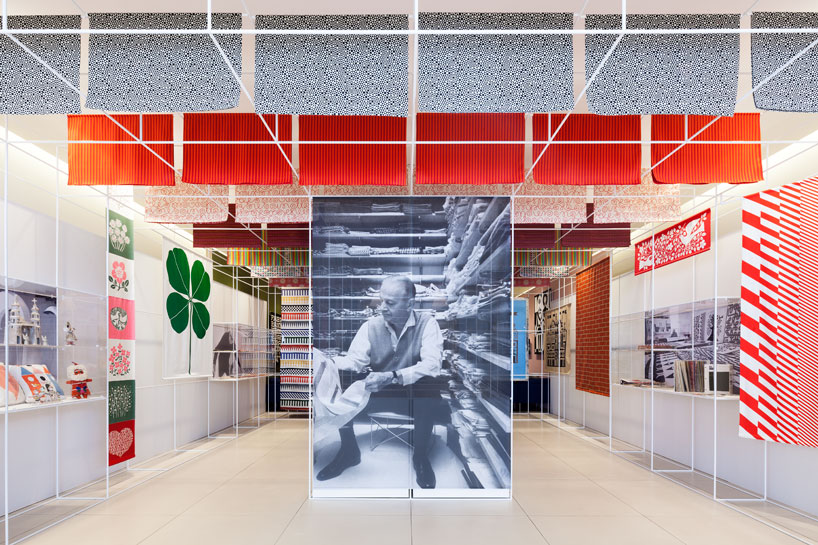 DB: please tell us about the collaboration of girard and herman miller, what your role is in this.

herman miller and girard studio, which is the family, have come together to sort of highlight girard again and the many different aspects of his career which were unprecedented. my role is really sort of the director. my father asked me many years ago to look after the aesthetic aspects of the reintroductions. the archive of girard's work is broken up into a few different locations – there are things that are stored in michigan at herman miller, from the work he did there; and then there is large portion of the archive which is living in germany at the vitra design museum. over the years, I became really familiar with all the different archives and I have a strong opinion in the choosing or selecting of what we are looking to reproduce.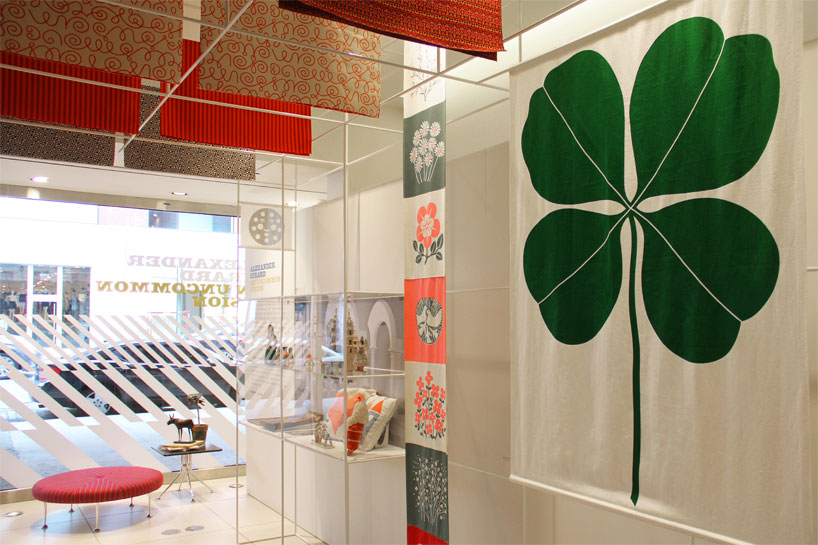 image © designboom

alexander girard: an uncommon vision
to mark the release of the first collection of archival furniture and screen printed fabric panels by alexander girard, herman miller and maharam were celebrating his life and work with a public showcase during new york design week 2014. a carefully curated exhibit of archival designs and ephemera exposes visitors to the unique vision and diverse abilities girard brought to herman miller during his tenure as design director of the textiles program (1952-1973), while newly reissued products and fabrics serve as the backbone of a girard-influenced living room.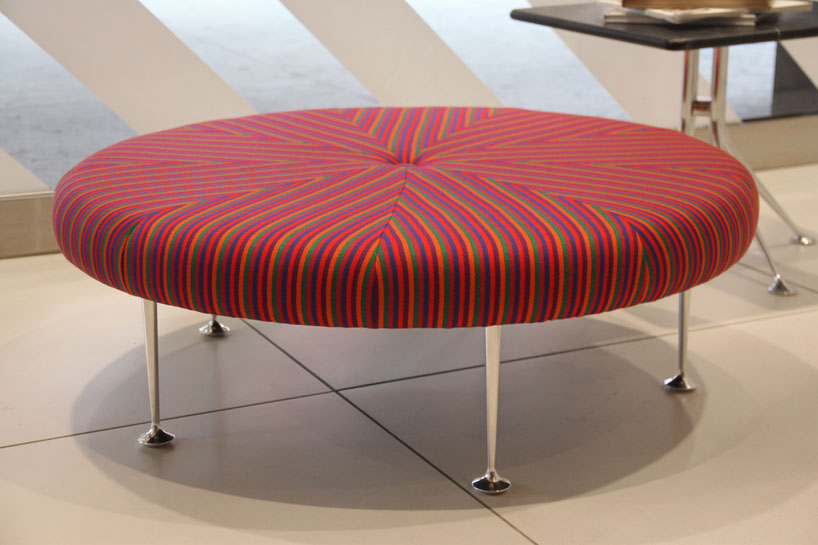 color wheel ottoman by alexander girard for herman miller and vitra
image © designboom

color wheel ottoman for herman miller and vitra
playful, colorful, and graphic, the color wheel ottoman is unmistakably the work of alexander girard. available in an array of bold colors, or two distinctive stripes, this low upholstered piece serves equally well as a footrest, coffee table, extra seat, or conversation starter.


alexander kori girard about the collaboration with herman miller
video © designboom

enriching the built environment
in 1972, girard developed 40 decorative silkscreen designs to add an element of 'aesthetic functionalism' to corporate spaces. unlike his printed textiles, the panels consisted of single, stand-alone images that ranged from abstract patterns to figurative pictograms. herman miller is now making 12 of these decorative silkscreen designs available once again. playful and bold, the environmental enrichment panels served as an exclamation point for girard's long tenure with herman miller.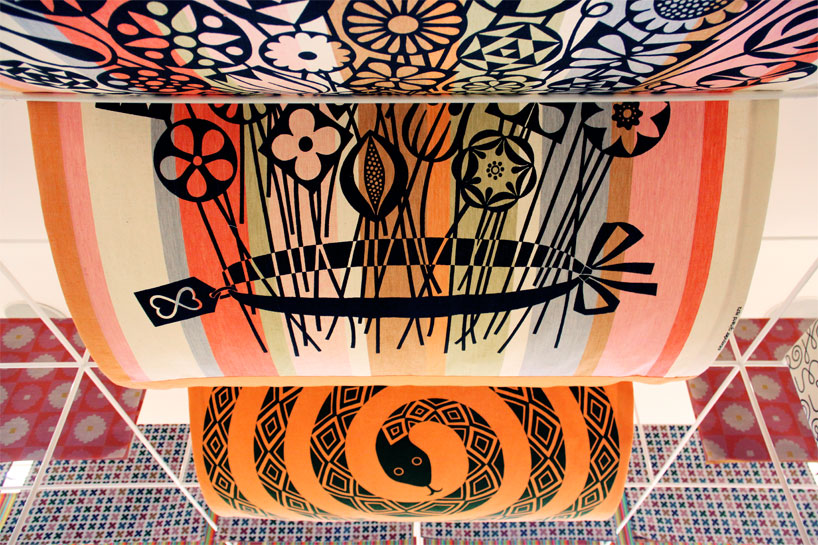 archival screen printed fabric panels by alexander girard
image © designboom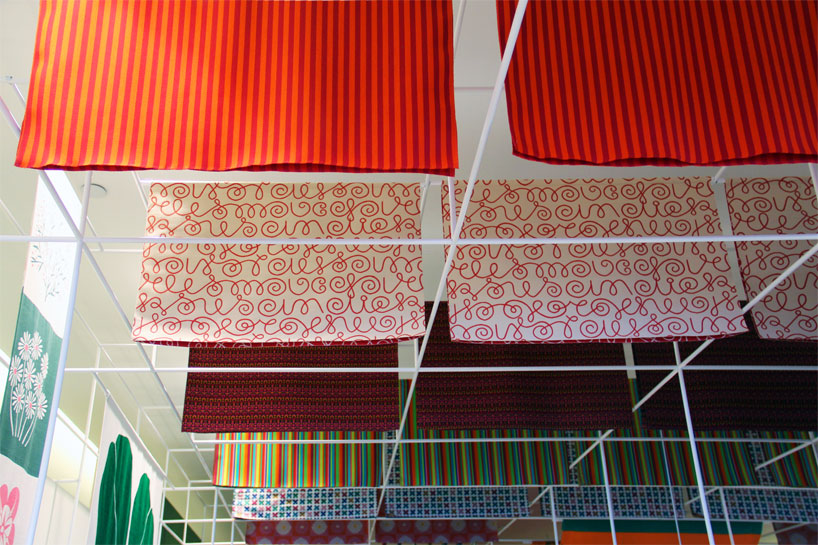 image © designboom

reproduction of girard's patterns, using new methods
image © designboom


sam grawe talks about the collaboration with alexander girard and herman miller
video © designboom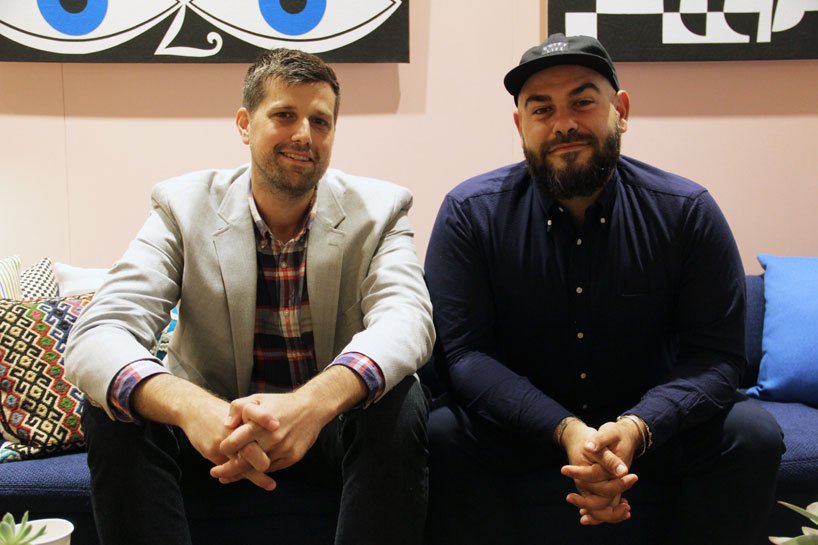 sam grawe, the editorial director of herman miller (left) and artist alexander kori girard (right)
portrait © designboom

'there is good evidence today which tells us that traditional concepts predetermining how a given environment should look have begun to erode. offices are more homelike – they are more inviting and less sterile. homes are more efficient and less cluttered – more like offices. this is true of most of the best public or private interior spaces.' – alexander girard


sam grawe on the future of offices
video © designboom

about alexander girard
trained as an architect, but proficient in all manner of activities, alexander girard was introduced to herman miller through charles eames and george nelson, established the textile division in 1952, and served as its director of design until 1973. from his outpost in santa fe, new mexico, he designed over 300 textiles in multitudes of colorways, multiple collections of wallpaper, decorative prints and wall hangings, an expansive group of furniture, and both decorative and useful objects. his passion for international folk art led him around the globe as he amassed a collection of roughly 106,000 pieces, and his many corporate and freelance assignments engendered lavish praise for his diverse skills and unique vision. unhampered by contemporary dictums of style and taste, over the course of his 21-year tenure at herman miller girard explored wildly different approaches to production method, yarn content, pattern, texture, color, and mood. the resulting body of work is not only staggering in sheer volume and creativity, but due to its fundamental qualities of beauty and usefulness, remains completely relevant today.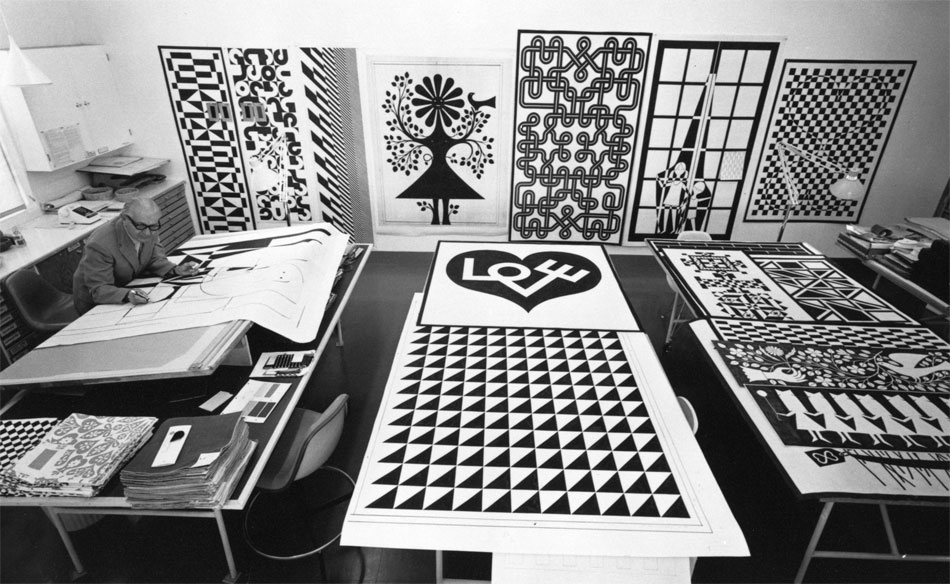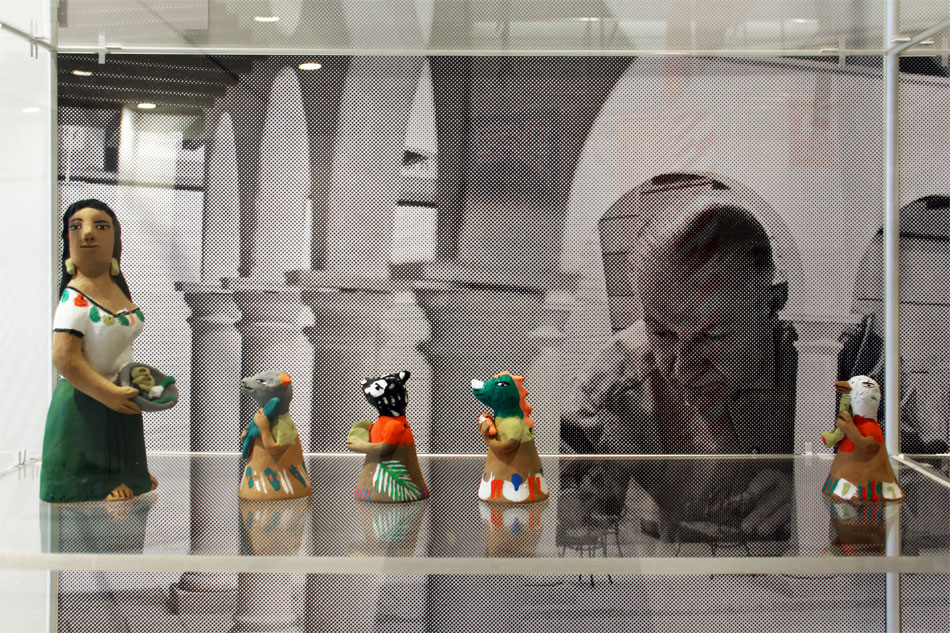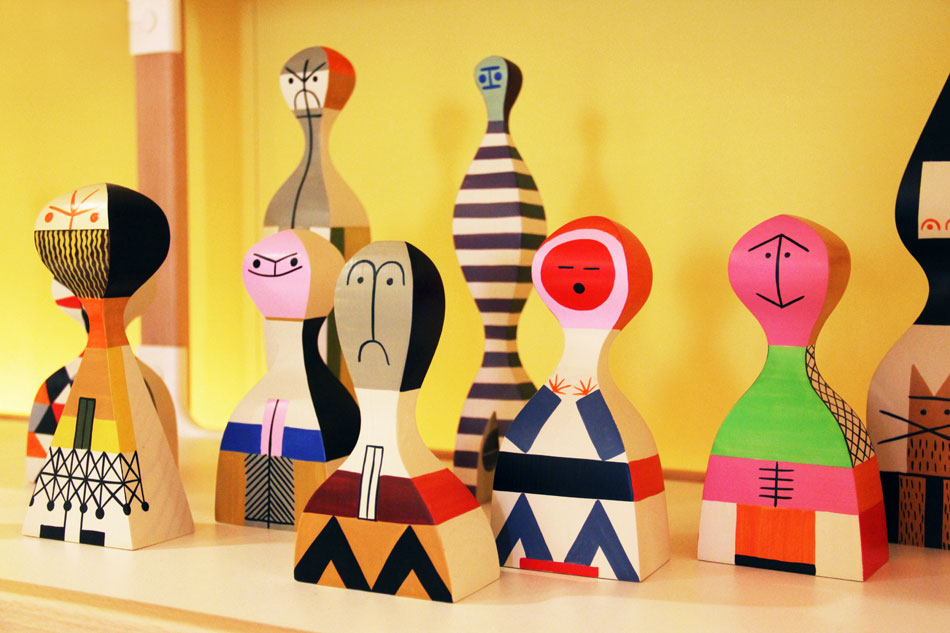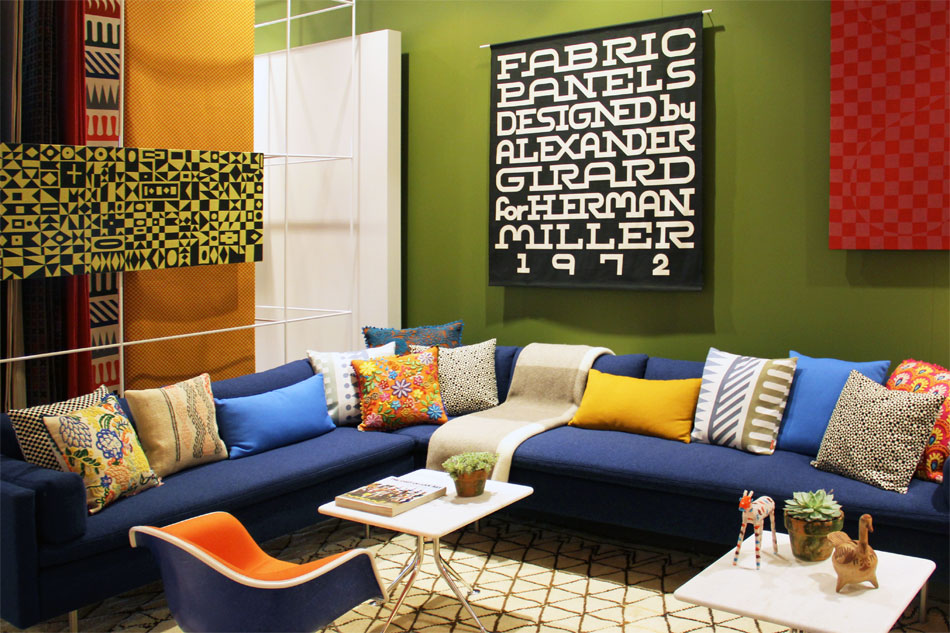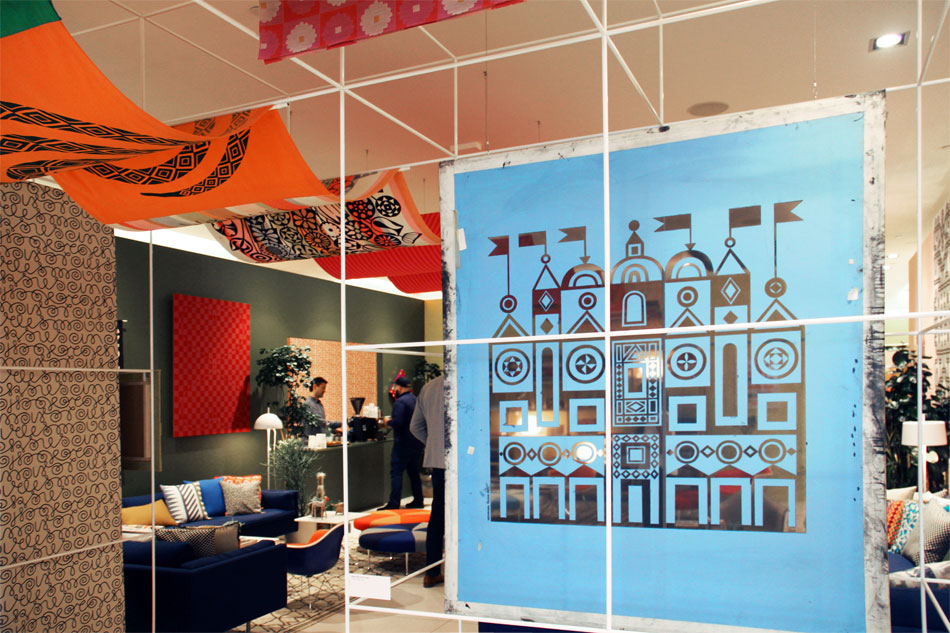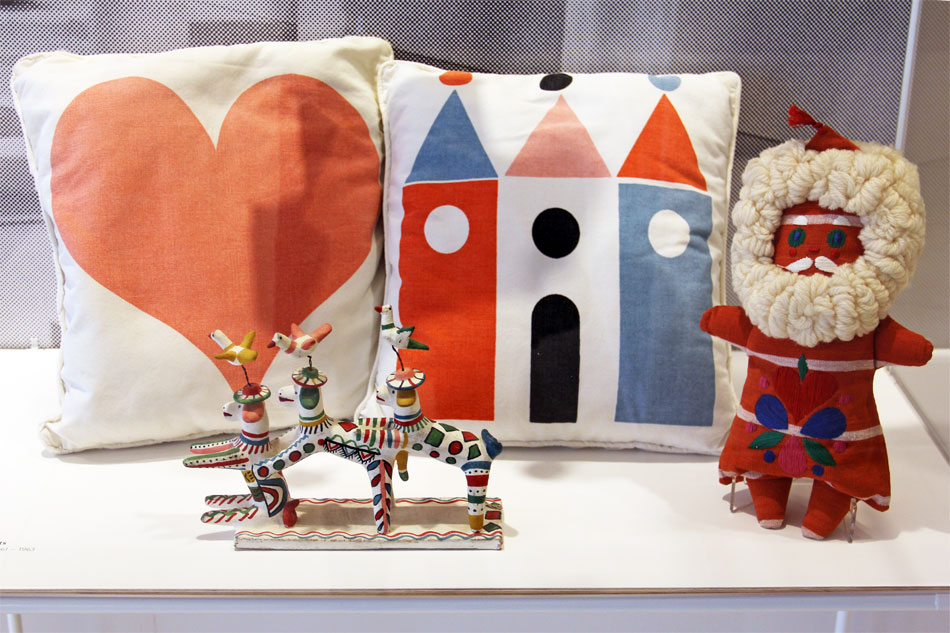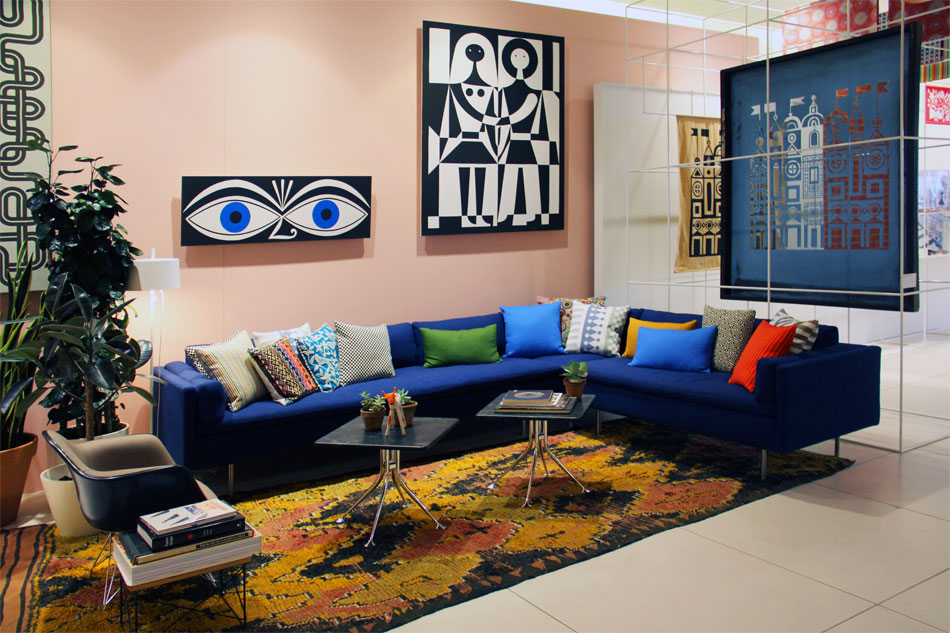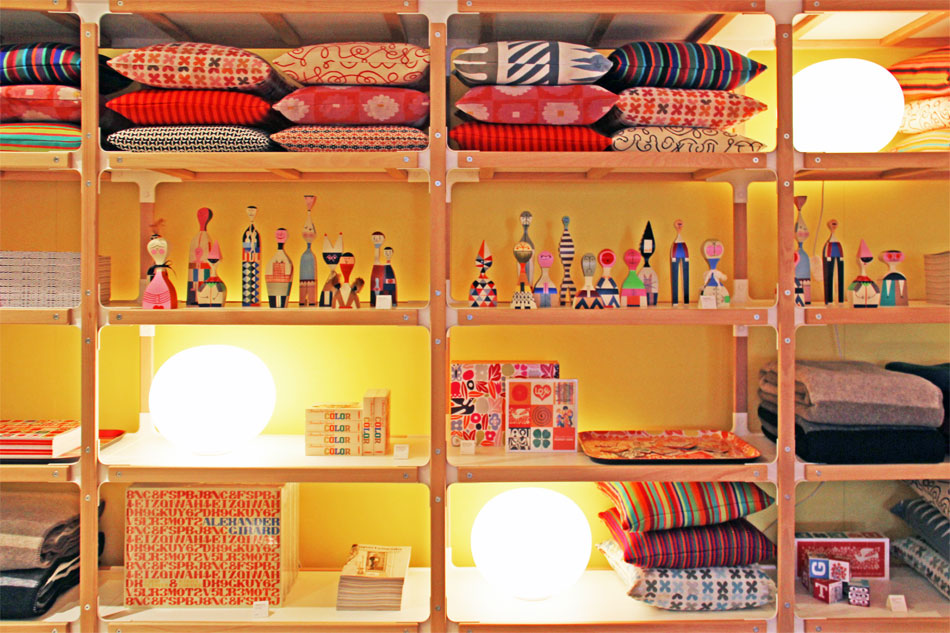 anita hackethal
I designboom
jul 11, 2014
KEEP UP WITH OUR DAILY AND WEEKLY NEWSLETTERS
a diverse digital database that acts as a valuable guide in gaining insight and information about a product directly from the manufacturer, and serves as a rich reference point in developing a project or scheme.
designboom will always be there for you
milan, new york, beijing, tokyo

,
since 1999