interview with design-duo el ultimo grito – roberto feo and rosario hurtado
rosario hurtado and roberto feo are the post disciplinary studio el ultimo grito. founded in 1997, they are currently based in london. el ultimo grito's work continuously researches our relationships with objects and culture. the studio's output is across a multitude of platforms for an range of international clients, museums and organizations.
designboom: please can you tell us about your background and how you started working together?
el ultimo grito: the truth is that we discovered design by chance, it was not our 'first love' – rosario studied economics and roberto studied sociology and social anthropology.
in the madrid of the 1980's, if you were into music, you would end up in the same bars… and that's how we met. it was a very special time but by 1989 it was all coming to an end and we felt that we needed a change of scene. so, we decided to move to london.
shortly after we arrived in london, we began attending some crafts courses that were given locally, and quickly realized that there were aspects of the design process that we were very interested in, so we decided to delve deeper into design and study at the london college of furniture together.
we continued our studies beyond this, rosario at kingston and roberto at the RCA, after which we began working together as el ultimo grito. ever since, for good and for bad, our private and professional lives have been one and the same.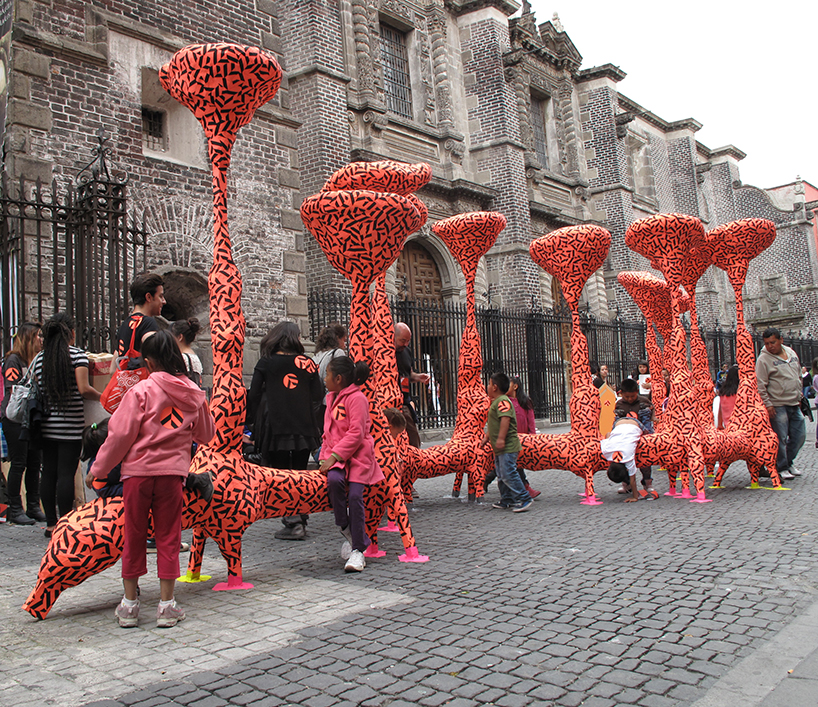 seating installation / workshop for abierto mexicano de diseño, 2013
see our in depth report on this installation »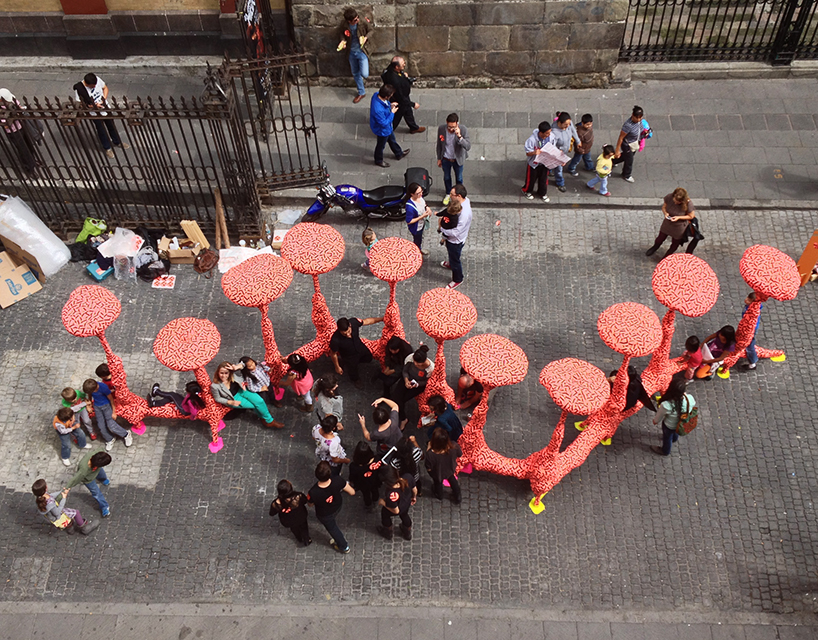 seating installation / workshop for abierto mexicano de diseño, aerial view
photo by luca salas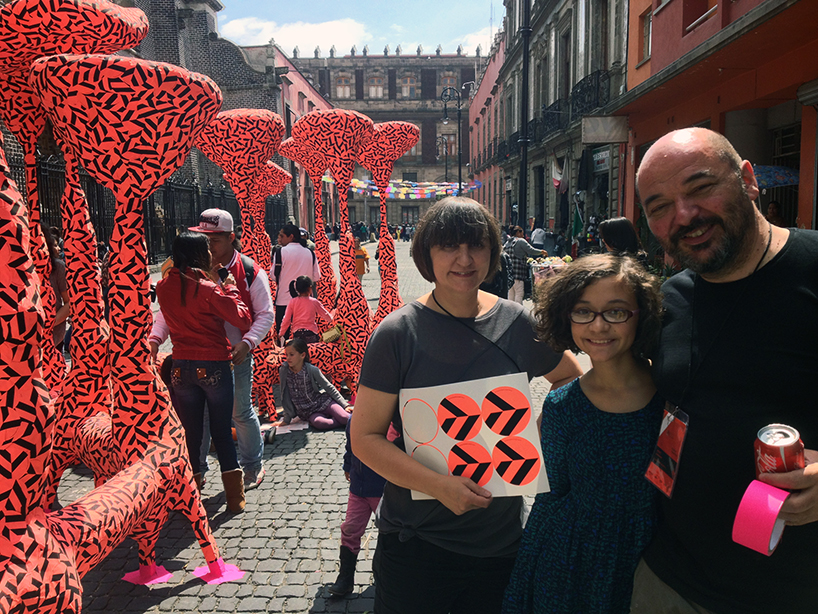 rosario hurtado and roberto feo with their daughter in mexico city
photo by luca salas
DB: how would you describe your design process?
EUG: our design process is both conversational and experimental.
dialogue is central to our design process, it's the moment where ideas are built, scrutinized, tested and developed. we were experimenting and inquiring through making (we are still very much hands on), this experience feeds back onto the dialogue as part of a wider process where the work we do also serves us to understand and further our ideas about design, which is the ultimate goal of our practice.
previously we've used the phrase 'design is what we do in order to understand design' meaning that our activity as designers is a constant dialogue, or discussion, with what we think design is or could be, and this dynamic is the main driving force of our work.
DB: how do you share the work load?
EUG: the work we produce belongs to a third author, into which we channel all of our energy: 'el ultimo grito'.
truth be told, we are a somewhat inefficient outfit because we have no real division of work and we tend to do most things together, overlapping, correcting, interfering with each others' actions, always leaving our own little individual imprints and our different points of view, in what is always a collaborative process that we have worked hard to develop to satisfy both of our personal interests and inclinations.
so, we might have a business gene missing, but in terms of our creative process, our collaboration has allowed us to develop new approaches to design practice such as the concept of 'multiplex' that embodies the necessity of tackling complex abstract ideas through a multiplicity of design outcomes which together allow us to paint a much more intricate and complex picture. in the 'multiplex', simplicity is just an illusion, because 'the simple' is always interconnected in complex ways.
DB: how do your skill-sets differ?
EUG: when we met our interests and set of skills were quite different. although we studied and taught in different institutions, we always spent a lot of time discussing ideas both for ultimo grito and about life in general. after 25 together, we have come to a point where we have had the opportunity to exchange a lot of that personal knowledge developing a sort of amalgamation of what we knew and what we are learning to the point that, right now, it is more a case of complementary, or contradictory, points of view and a capacity to be self critical of what we do, to argue for and against until we are both satisfied. the most important skill then is to be able to listen and trust each other.

imaginary architectures series, 2011


a re-materialization of systems video by P.O.I.

cinema – imaginary architectures series, 2011

station- imaginary architectures, 2011

love hotel – imaginary architectures, 2011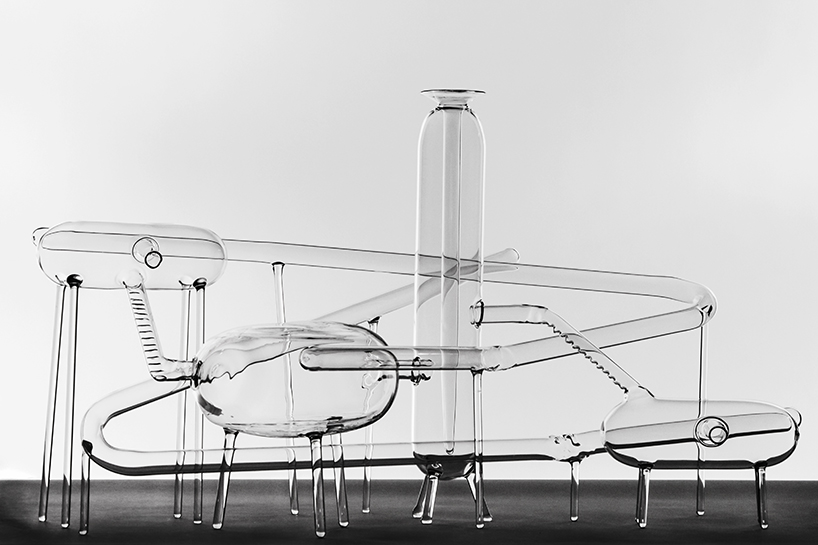 mine shaft – imaginary architectures, 2011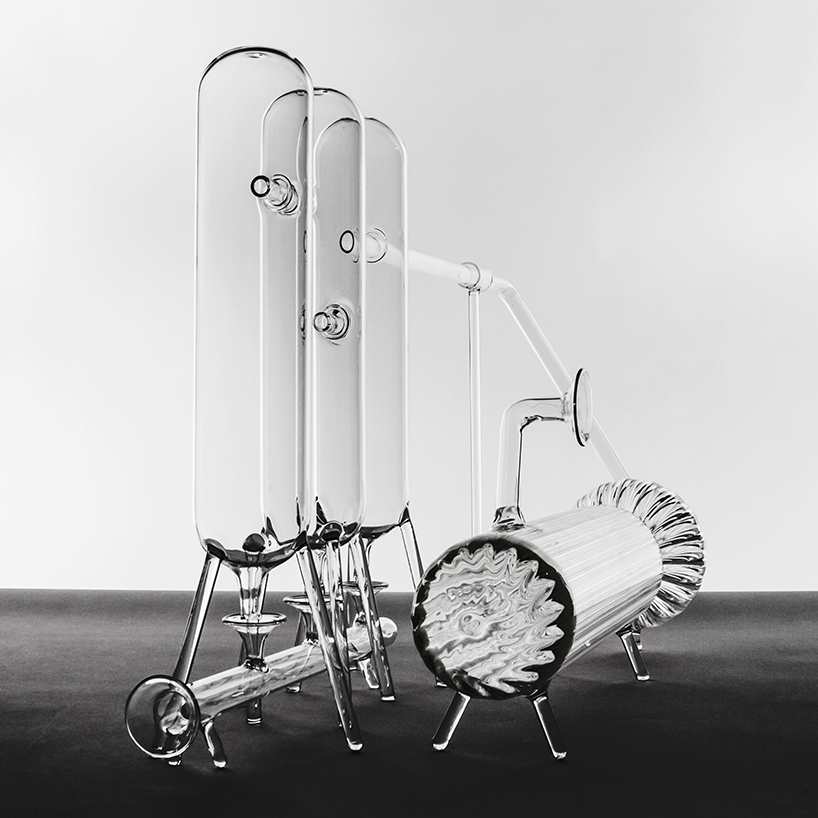 chemical plant – imaginary architectures, 2011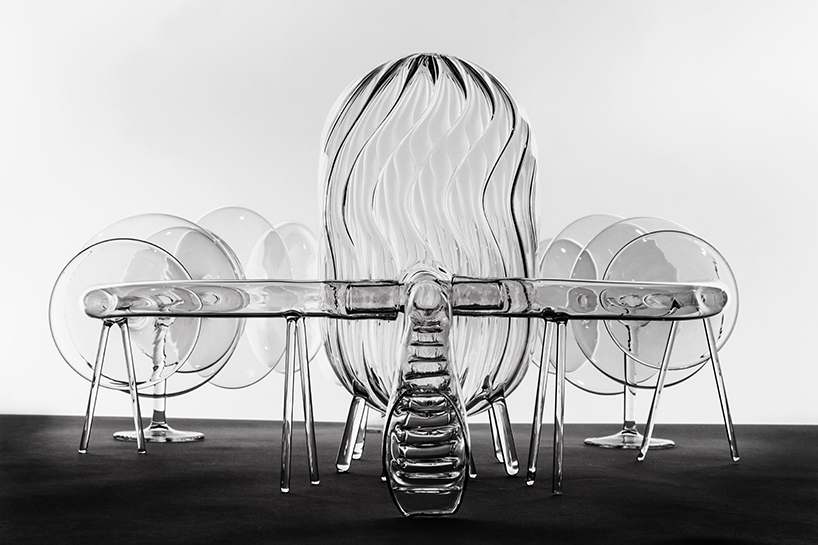 super collider – imaginary architectures, 2011
DB: how has your work evolved from when you started working together until now?
EUG: as soon as we graduated in 97 we set up el ultimo grito and presented it at 100% design london. to our surprise, we were so inundated by buyers and distributors interested in our work that we found ourselves from one day to the next dealing with the realities of putting a product into production, working with manufacturers, buyers and distributors, stock and cash flow problems, etc.
but thankfully, even if we were selling worldwide we were able to design without compromise. at that time we began to design for other companies too, which was a totally different thing altogether. when designing for others we were able to apply what we've learnt about manufacturing while designing but someone else was in charge of the rest of the process and we really enjoyed that.
then, around the year 2000 we decided that manufacturing ourselves was too demanding and time consuming, and as neither of us was particularly interested in the business side of it, we stopped manufacturing, we licensed our products and decided to concentrate purely on design.
this is the moment when we truly realized that we could design on our own terms, that we didn't need to pursue the same 'design dream' or structures as other people did. we did not abandon the commercial activity completely, it just meant that we undertook it from a different perspective and as a result, we widened our views on what commercial activities could be; our design didn't need to be exclusively something that ends up as an industrial product but could find many other ways to end up in the public sphere such as we did with our public seating installations, films and publications.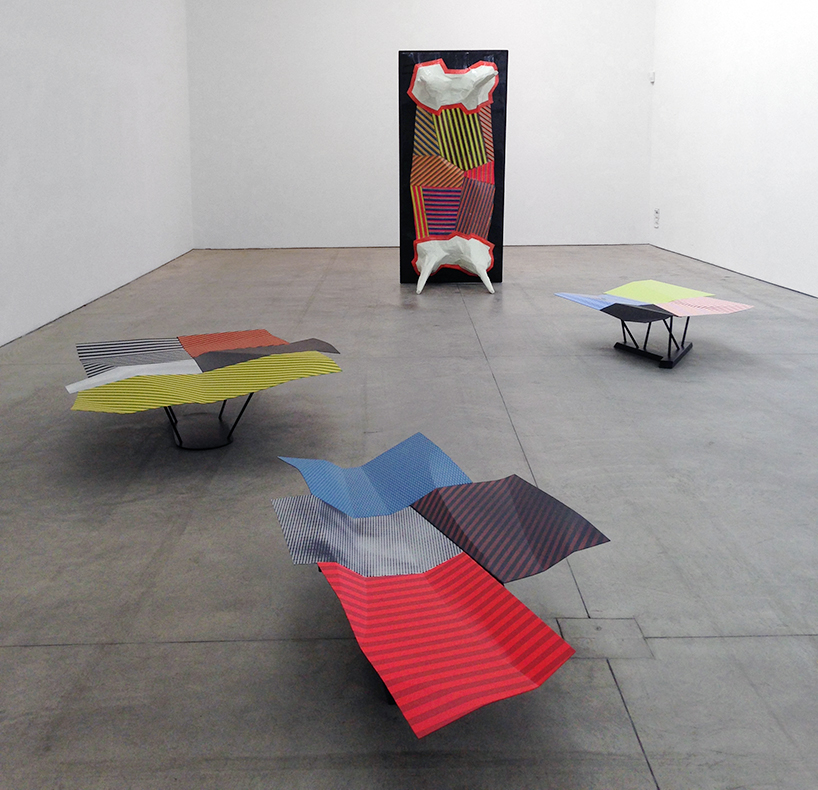 view of 'material medley' at museo pecci, 2014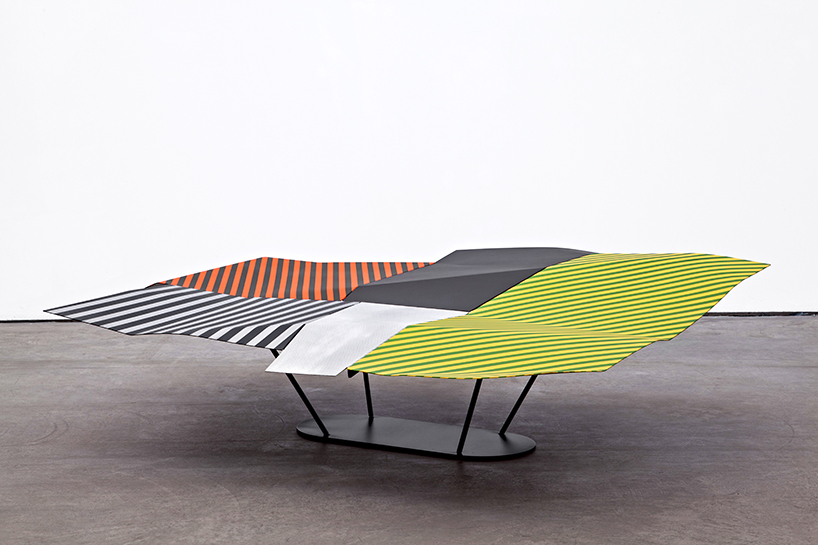 landscape surfaces, 2013
enameled glazed metal and anodized, engraved aluminum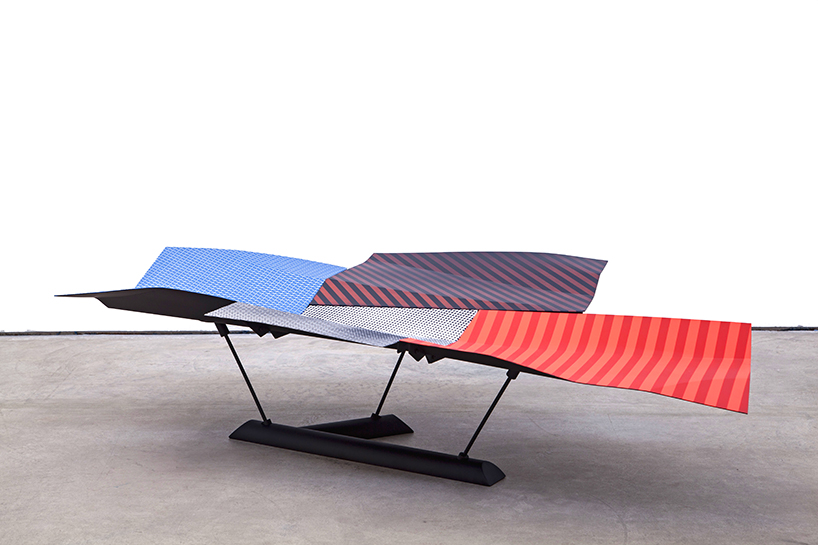 landscape surfaces, 2013
enameled glazed metal and anodized, engraved aluminum
DB: which themes have become most evident in your work?
EUG: there are always different lines of interest that drive different aspects of our work. they are all interconnected in some way, sometimes even at intuitive levels and this means that the reflexion becomes central to finding these connections and developing new lines of inquiry.
in our early days the main topic was questioning the idea of industrial production, for example, what happens when you introduce methods of breaking with standardization, is the product then 'industrial' or 'crafted'? and this is something we have developed all through our career from many different perspectives, because this discussion is also essential to the exploration of what design is.
in the early days, we concentrated on very mundane objects, things that at the time were not considered 'objects of design' (of course they were designed, but they didn't speak about our domestic behaviors). we were concerned with the transparency of the design object, we wanted our designs to be understood at a first glance, that anyone could engage with the ideas and ingenuity of its construction… objects that in a way taught design too, and we think that this aspect is has been always present in our work.
right now, we are following a series of lines of work, which we pursue from different perspectives. all of these together as a group is what defines our current creative syntax. one line of inquiry, which we have been developing for quite a few years now, has been working around ideas of public space and public objects, exploring what constitutes an object and when or if it can become architecture. this work has been characterized by large public installations.
when we began this work, back in 2001, we developed the idea of using stickers as a way of rendering these objects, the sticker acting as a fractal that when multiplied achieves a specific effect, but the sticker also represents the industrial object as it is mass produced in large quantities. for each installation we design and manufacture thousands of these industrially produced objects that in turn, allow us to craft large unique structures.
the thinking behind it being how to design a production process that would allow other people to engage and participate in the making of this work while still responding to our own ideas of what this object should be. this work keeps growing and each time has become richer as an object. in our latest installations, such as 'garden object' at rice gallery in houston, we introduced media elements through image and sounds that help us transform these installations into what we would describe as 'total objects'.
a different direction deriving from the installations, has been the work that we have been doing around topography and organic systems. we have developed a system of working that follows organic principles using cardboard as the main construction material. once you design the system you just need to follow it and you will find that naturally it creates an outcome because of the structural demands of the material. this process of work has materialized in different pieces, from lighting objects which actually work as 'live cinema', projecting shadows as in a continuum shape study, to more mundane objects such as tables and chairs.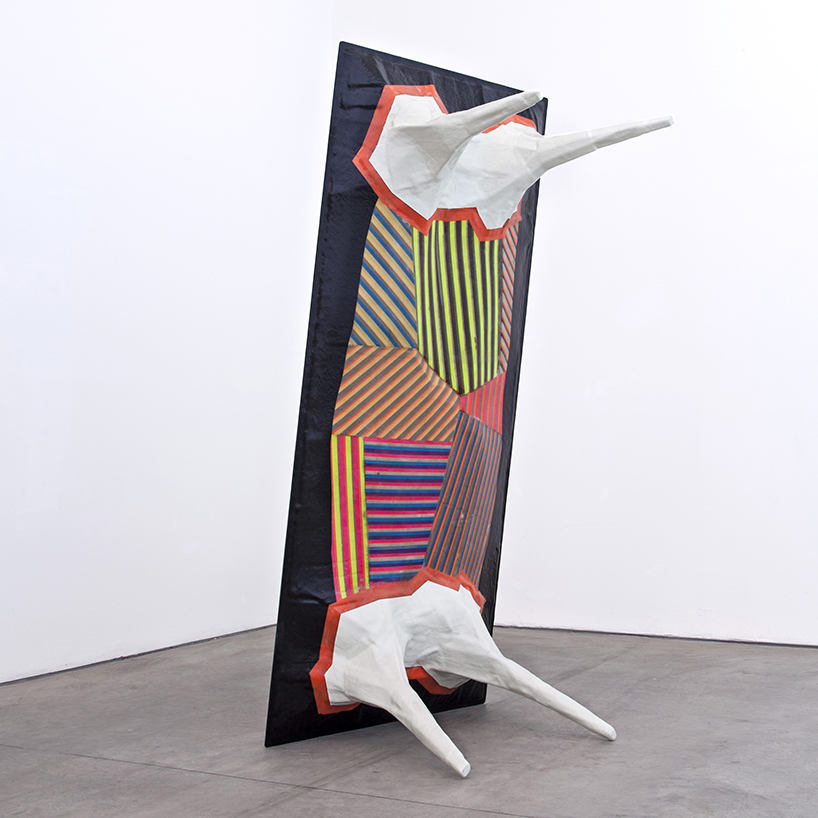 free range, british racing green table, 2011
fiberglass and cardboard mold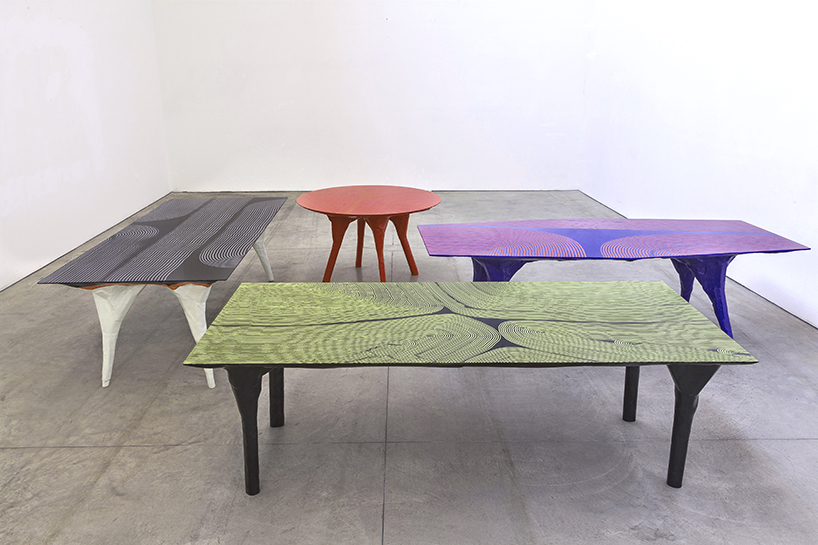 free range tables, 2011
fiberglass and cardboard mold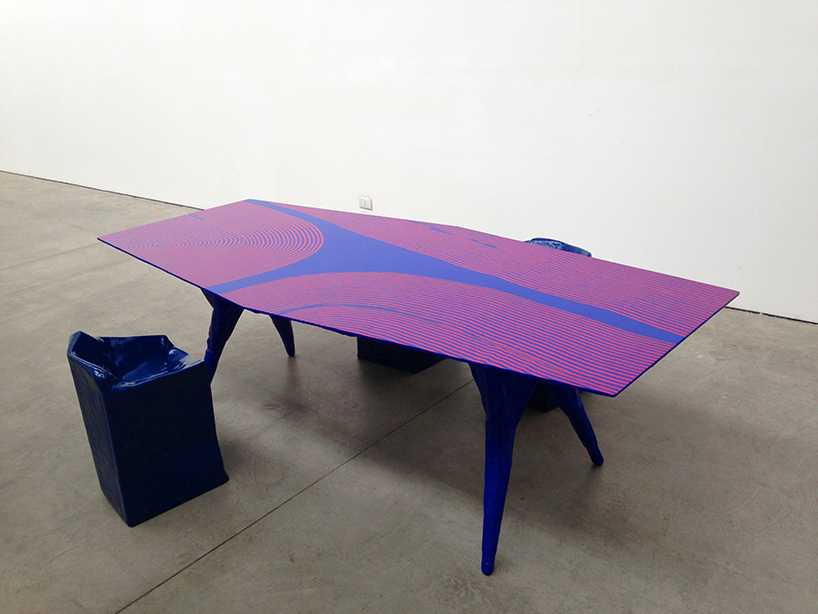 free range table and chair, 2011
fiberglass and cardboard mold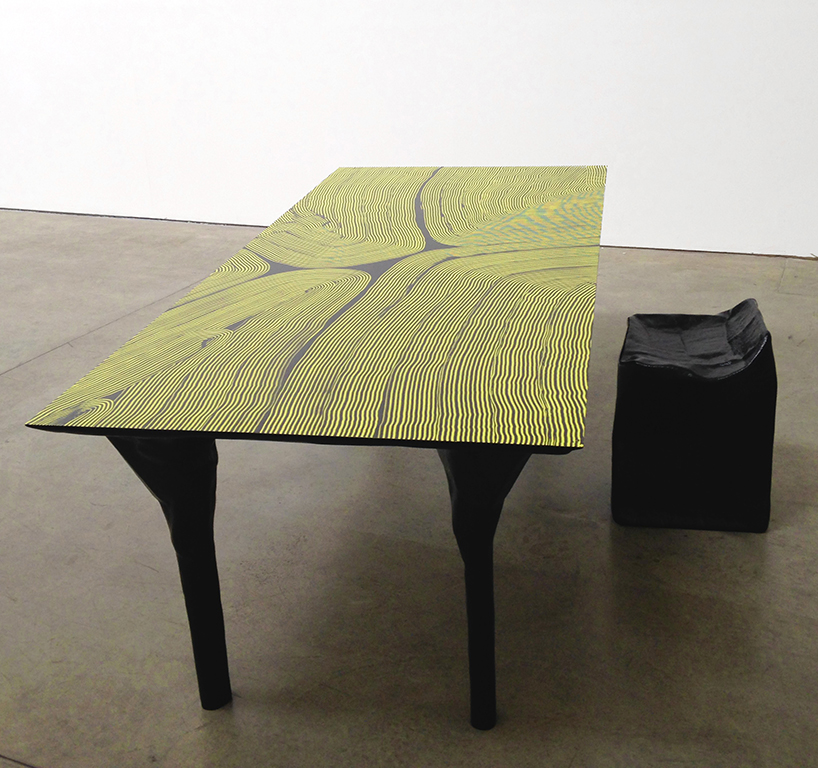 free range table and chair, 2011
fiberglass and cardboard mold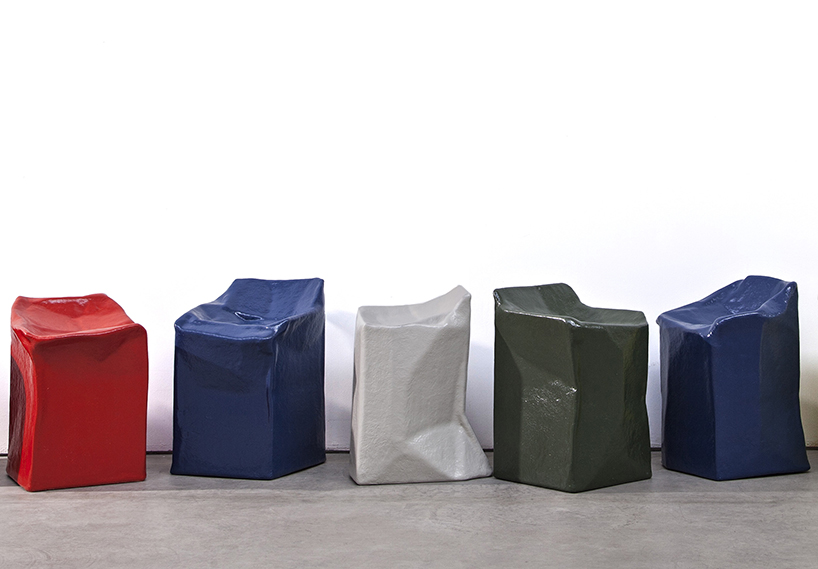 free range chairs, 2011
fiberglass and cardboard mold
DB: has teaching also influenced how you approach your own work in some way?
EUG: definitely. only a couple of years after creating el ultimo grito, we started teaching at the RCA during ron arad's spell as professor and also at goldsmiths university's design department. ever since education has been paramount in our practice and became another experimental ground for us.
currently we are directing the masters in space and communication at HEAD – genève – which is something we are very excited about as we have been given total support by both jean-pierre greff, and alexandra midal, directors of the MA programs.

peckham shield table, 2011
packing tape, masking tape, paint and resin

peckham shield table, 2011 – detail

DB: what are you both fascinated by at present and how is it feeding into your work?
EUG: film has been an all time passion for us, we are ferocious movie consumers, before we had our daughter, we do all-nighters watching films. now that TV series are so good and readily available, we often watch a whole series in one go.

this fascination we believe it comes throughout all of our work, but we are working on it more specifically with P.O.I. – our 'other band', which we started three years ago, together with stuart bannocks and just mike. our latest P.O.I. project was collapscapes, [see above] a concept derived from the structures of industry that has triggered lots of associated works which arose from applying this concept to cinema the first ever installation of this project was done at the design project room an experimental design gallery curated by alexandra midal and associated to the head, genéve.

but, right now, what is keeping us busy and very excited is a new project for which we are working with jessica morgan, curator of the gwangju biennale 2014. the conversation started from the issue of the architecture of events such as biennials, the need to show many artists in pavilions where you are constantly driven in and out of the mind set that the work shown is generating. the question was then how to create an element that could involve the public and that it would not be broken every time one moves through corridors, spaces and even more, from one pavilion to another, and that, at the same time, could break away from the 'white cube', a design construct so dominant that seems to have become the frame of reference against which the work of art is produced. inspired on the title of the gwangju biennale: 'burning down the house', 'mise-en-scene' are extra large half toned images of smoke and fire. covering most part of the walls, including corridors and stairs, they would generate a visual continuum aimed at sustaining a frame of mind on the visitor while stepping in and out of the different artists' worlds.

CCTV gotham city

DB: how do you think online resources have influenced the design being produced today?
EUG: in a big way and this is only the beginning. there is now an entire generation of designers for whom the internet has always existed and been their principal source of knowledge and also their main tool through which to process and disseminate this knowledge. the major change that we have seen has been a repercussion of the immediacy of the availability of information and the consequent transformation on the way in which it is consumed and digested. this speed does not only manifest itself on the this front, but on the production one too. the speed in which today we see ideas materialize is much shorter than ever before, and this urgency is reflected in the work produced. all of this, together with the fact that new students begin their education on the footsteps of their professors, informants, etc. makes them loose the sense of what it has taken to get to the place they are today. as the pace of information increases, the gap between education and professional work gets shorter and shorter, it seems to us, especially because of our involvement in education, that people are not able to find the framework and the time to mature and develop as designers and thinkers. for us, this is a very important message to convey to our students both while in education, providing this time and space, and for the future of their practice.

all that said, the internet is a very exciting place too. the most exciting and interesting development is that now we have the conditions that can allow us to generate different ways of learning, production and collaborative systems, which can be independent from both academia and the 'market', allowing people to forge new types (and in this way redefine) of companies, industries, markets, exchange mechanisms, etc. ideas and their materialization are no longer mediated by the producer, or the marketing strategies or by the store. and although we are still in the infancy of its use, there is a clear revolutionary potential.

we have tried to test this terrain through several projects, from trastienda, with laboral, centro de arte y creacion industrial to pilots: navigating next models of design education, co-curated with david falkner, which ran for 5 weeks at the stanley picker gallery.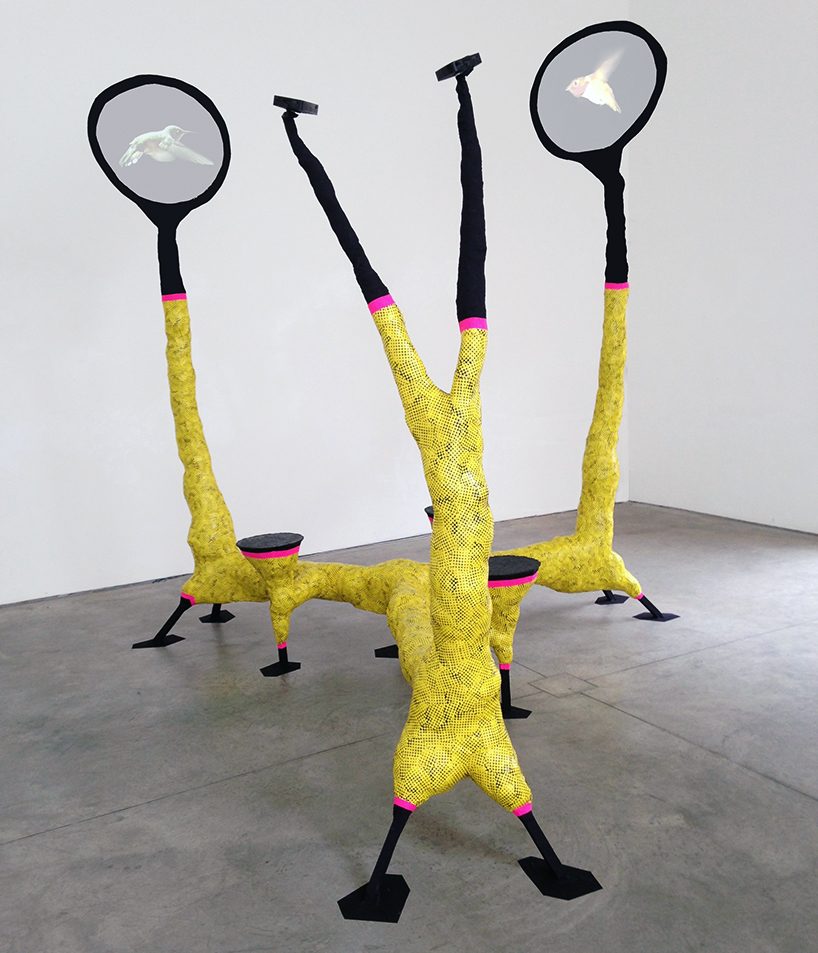 garden object, 2013
wooden frame, bubble wrap, stickers and screens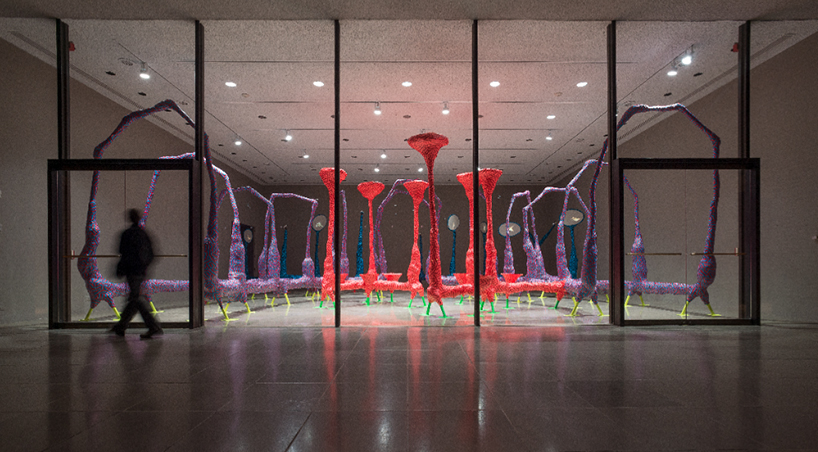 garden object at rice gallery houston, 2014
photo by nat baker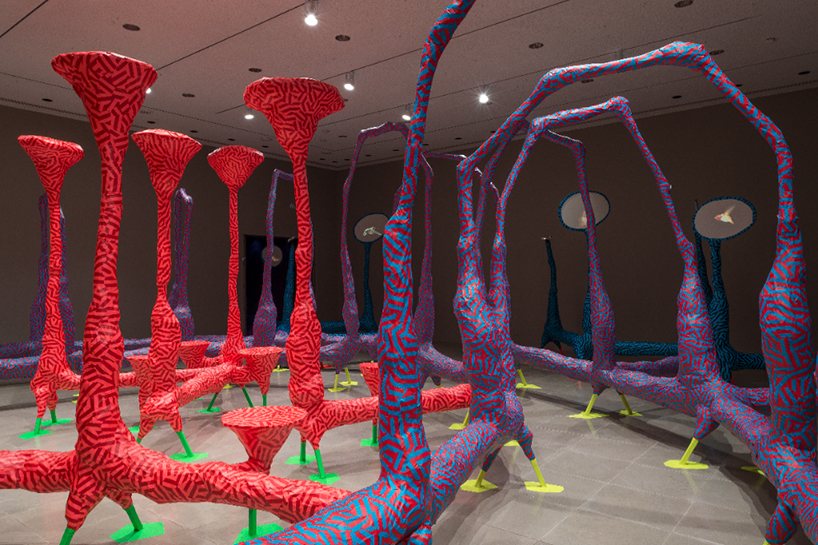 garden object at rice gallery houston, 2014
photo by nat baker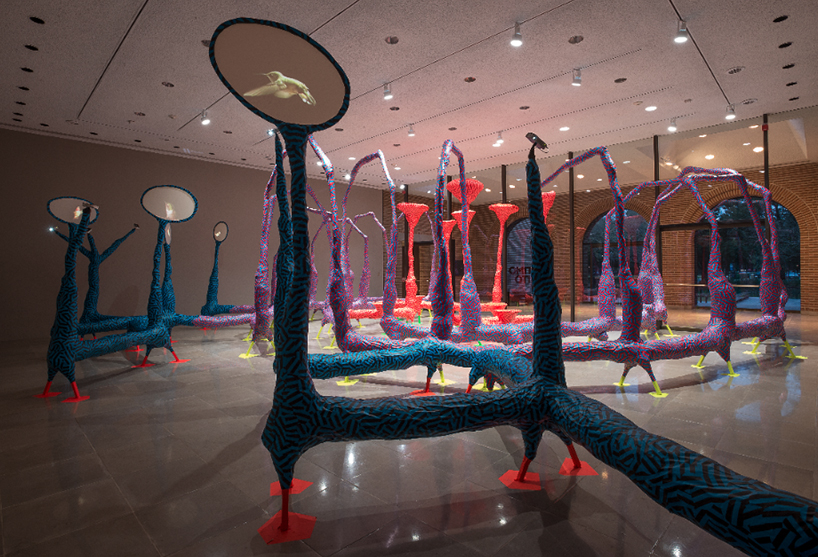 garden object at rice gallery houston, 2014
photo by nat baker
DB: do you have any superstitious beliefs or rules by which you live or work?
EUG: not really… we change the way in which we live and work depending on what we are doing at that moment, so probably, 'no rules' is our rule.
DB: what do you know now that you wish you knew when you were 21?
EUG: NOTHING! the bliss of being 21 is that you don't know the things you know when you are in your 40s – without 'unknowing' youngsters rock & roll would have never existed!
DB: what would you like to achieve before the end of 2014?
EUG: the deadline for the gwangju biennale project is approaching fast and we are very excited about seeing the results! but also, we would love to be able to make the time to finish some of our ongoing cinema projects, it would be great to find the right space for these to happen and the necessary funding to make them EXCELLENT!
a diverse digital database that acts as a valuable guide in gaining insight and information about a product directly from the manufacturer, and serves as a rich reference point in developing a project or scheme.
designboom will always be there for you
milan, new york, beijing, tokyo

,
since 1999