design indaba: interview with andrea trimarchi + simone farresin of formafantasma
formafantasma: andrea trimarchi and simone farresin
photo by federico floriani
designboom is an official media partner of the annual design indaba conference in cape town which showcases how design, creativity and innovation can positively impact the world. the line-up of international speakers hail from a range of sectors, sharing their expertise and experiences.
in the run up to the event we are interviewing 2015 design indaba conference speakers, starting with formafantasma who gave us an in depth look at their creative process, the integration of traditional craft into their contemporary practice and passions outside of their work.
designboom: what originally made you both want to become designers?
formafantasma: to be so self analytical isn't very easy and the two of us have very different personal stories. simone grow up in the north east of italy where design is more commonly known, whereas andrea is sicilian, and the design industry in that region of italy is less present.
simone: I got in contact with design quite early, at the age of 16. I was a design geek. in my room I remember having a poster of the exhibition 'il lavoro al centro' by enzo mari.
andrea: I got in contact with design studying while studying architecture one year in florence, and there I understood I was more interested in smaller scale objects. but, I have been interested in craft from a very young age.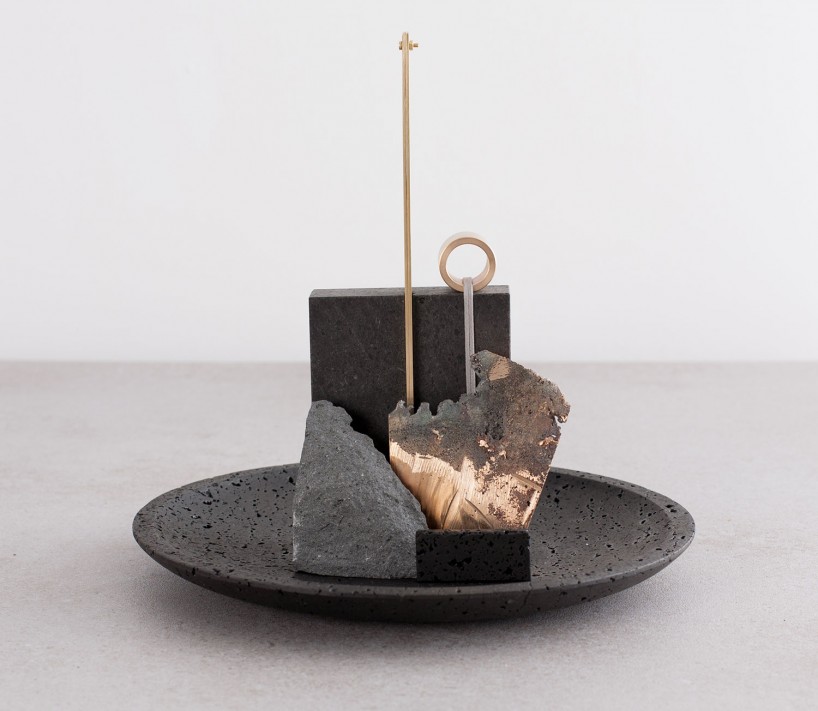 de natura fossilium collection for gallery libby sellers – lipari (brass bowl)
occhio di pernice basalt, lava rocks, brass, textile
the collection explores the terrain of sicily's stromboli region, through use of volcanic materials and references to local history and culture
see more about this project on designboom here
DB: why did you decide to work together and form a studio?
formafantasma: it was an intuitive decision moved by a common passion. we met during our BA in florence, then we started working together and we applied to the master's program at the design academy in eindhoven as a team. it was the first time this was happening and the head of the department, gijs bakker, was open minded enough to understand this could work. we graduated with a joint project. when we work, everything is really organic and sometimes there are a lot of discussions, but that is also the nice part. when we work together we can communicate between us using really abstract or undefined descriptions. we understand and trust each other. working in a couple gives you the possibility to look at your creative process with more objectivity.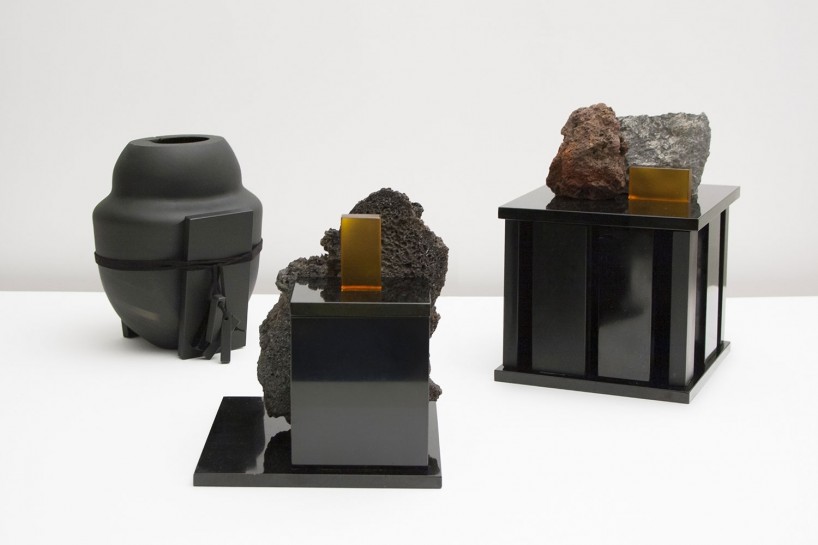 left: salina (vase) – mouth blown lava, lava rock, textile, murano glass
right: linguaglossa (boxes) – mouth blown lava, lava rock, murano glass
DB: how would you describe your approach to design?
formafantasma: generally, our fascination for objects lies in their ability to represent human history and even possible futures. we see design as a discipline meant to question and envision social, cultural and even political changes. despite this, our projects always start from our own personal fascinations. the translation of these intuitions into design sees us transforming these intimate ideas into more sharable concepts.
we, as designers, work almost like filters. our projects are the result of a process of distillation. we always know were we start but never where we are going to end.
as designers every time we being a new project, or we investigate a material, our first intention is to questions stereotypes and clichés.
often more then giving solutions, we propose questions or possible alternatives. to give you an example, with 'botanica' (commissioned by PLART foundation) we investigated pre-industrial polymers and translatde them into a collection of hand made vessels. while plastics are usually considered as modern or contemporary, with 'botanica' we are highlighting the historical background of the materials.
if plastics are used for their perfect surfaces we are crafting them by hand. where industrial evolution has discarded these materials and research in favor of petrol-based polymers, we are revisiting the potentials of under estimated materials.
we believe the role of the designer is to respond to social and cultural necessities of a society. a designer should be critical and have the ability to open up possibilities and new ways of looking at design as a discipline.

monti silvestri (clock)
basalt, brass, electric component, lava sand
DB: who or what has been the biggest single influence on your way of thinking?
formafantasma: our inspiration changes depending on what we are working on. despite this we much love the work of the italian radicals. we are really inspired by the groundbreaking values of the work developed in italy in those days.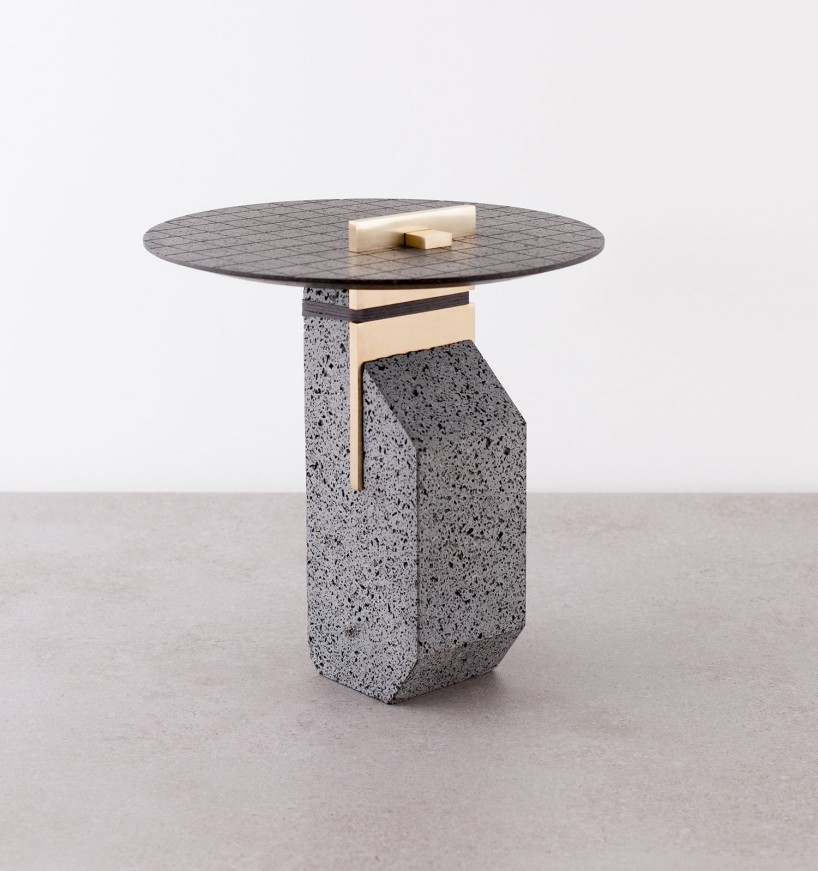 small pillar (side table)
basalt, occhio di pernice basalt, brass, textile
DB: what would you say each of your strongest skills are?
formafantasma: andrea is the decision maker while simone is the the one wandering around all the time in search of other possibilities within a project.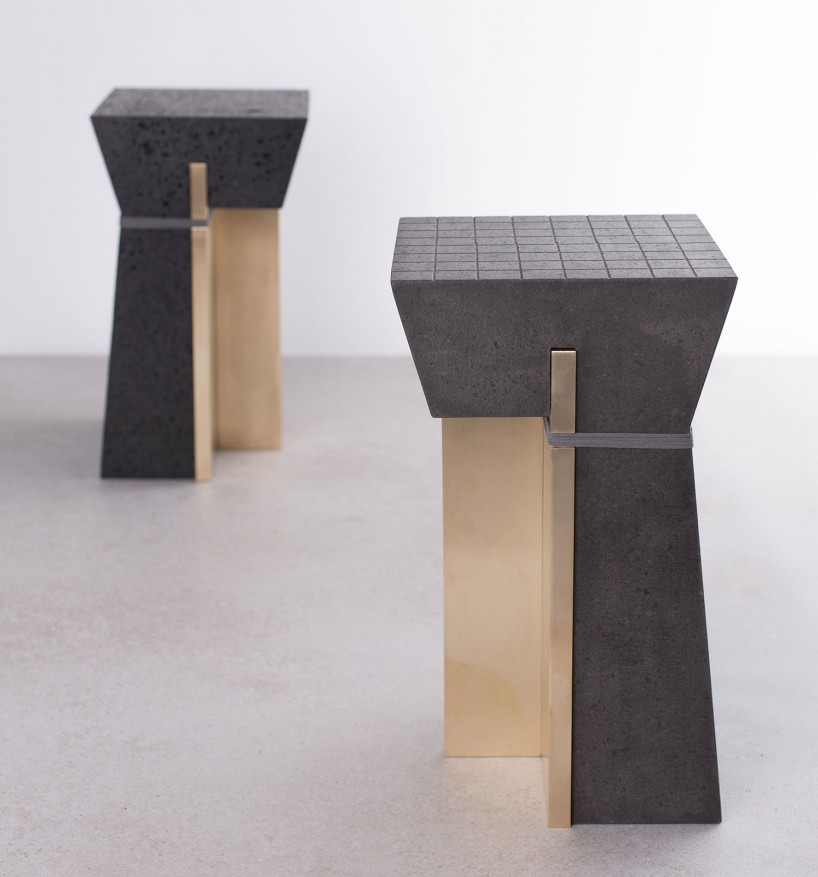 1614 (stool)
basalt, textile, brass
DB: what type of brief or project do you enjoy working on the most?
formafantasma: this is a difficult question because it depends who is the commissioner. we hate it when a galleries or a company simply asks us to send in some proposals. we feel that is extremely lazy. we want to know very well the context for which we are designing for.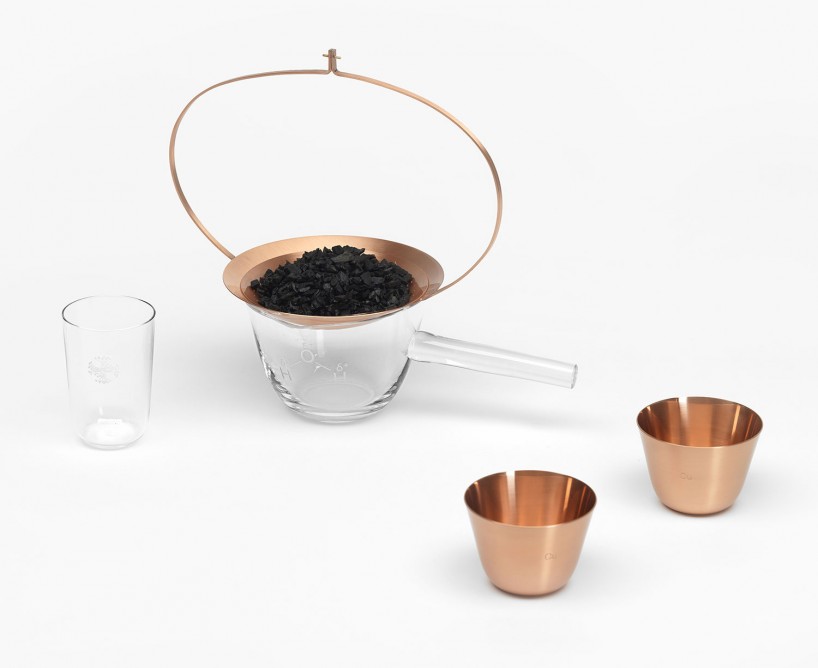 still collection for J & L lobmeyr – designed to serve the most humble and fundamental of all drinks: tap water
see more about this project on designboom here
DB: what are your thoughts on specialisation vs generalisation?
formafantasma: being a designer is a mindset that can be applied to many things.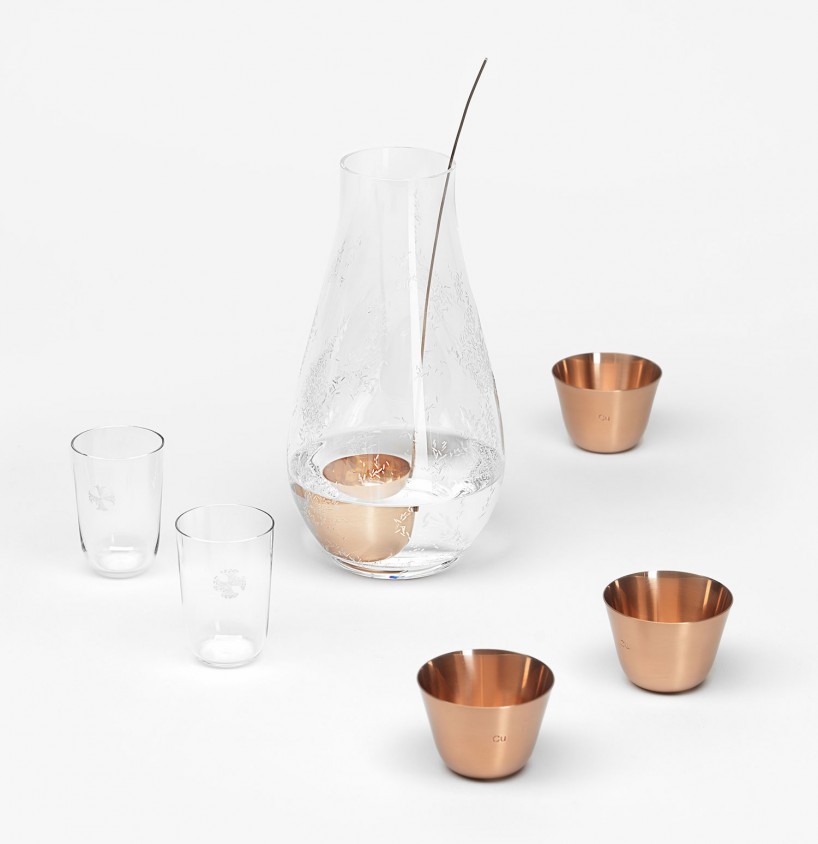 the still collection pairs crystal with copper and activated charcoal to improve the taste of tap water
DB: how do you think online design resources have influenced the design being produced today?
formafantasma: the biggest impact that these platforms are having is in offering a younger generation the possibility to propose their design projects without passing via the common press and industries. on another level, we believe that in the future we will see the growth of a more direct relationship between designer-producer and user where custom-made solutions will become more common and less exclusive.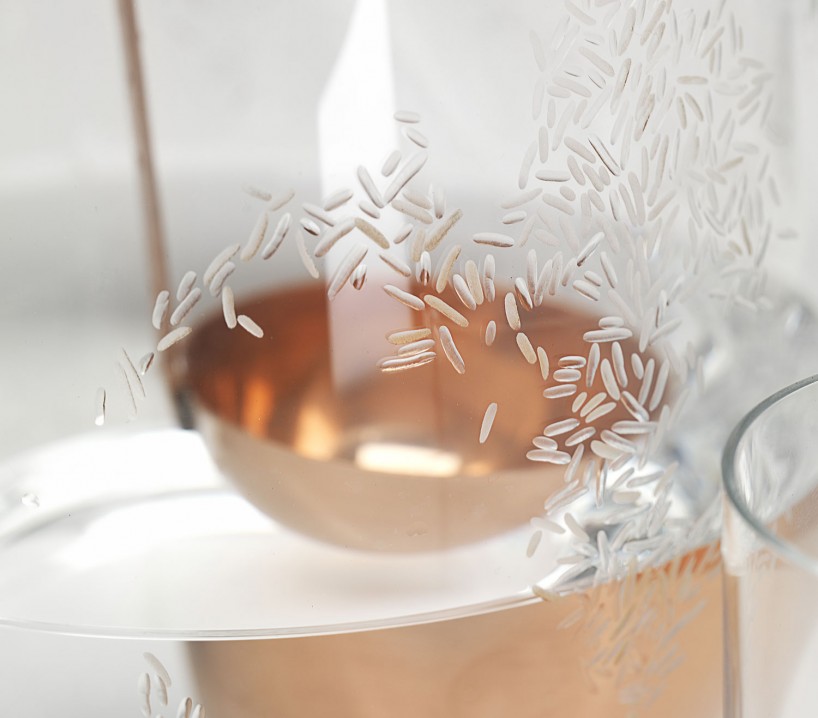 detail of engravings
DB: what are you both currently fascinated by and how is it feeding into your work?
formafantasma: working together and being a design couple is our strength and inspiration. as designers we are who we are because of our co-operation.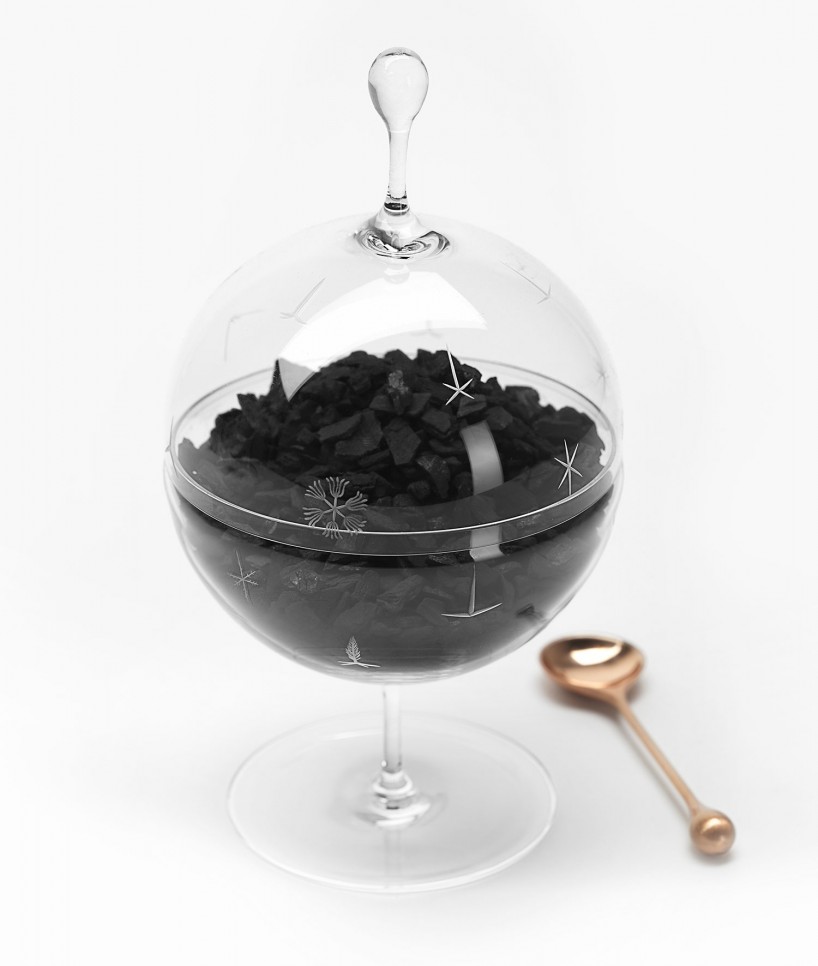 container from the still collection
DB: what passions do you share besides your work?
formafantasma: food, cooking and collecting vernacular objects.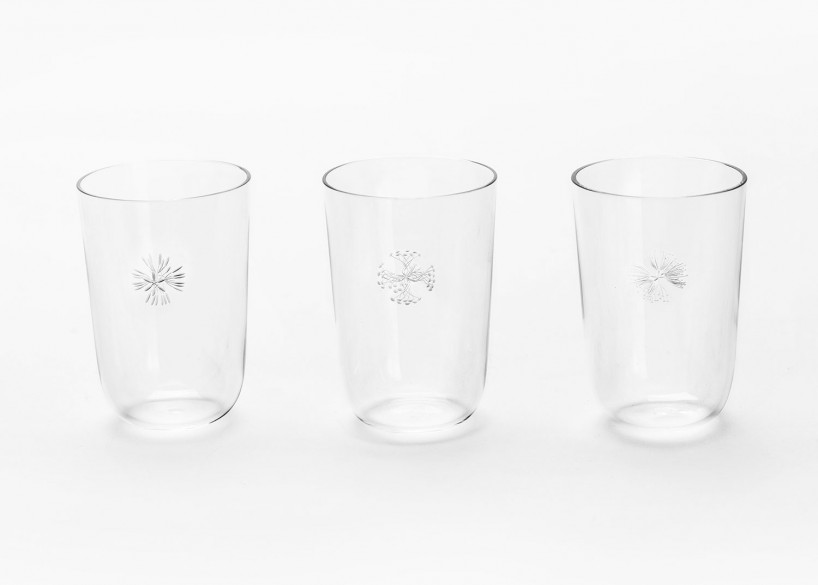 engraved glasses
DB: do either of you have any superstitious beliefs or rules that you live by?
formafantasma: no, not really.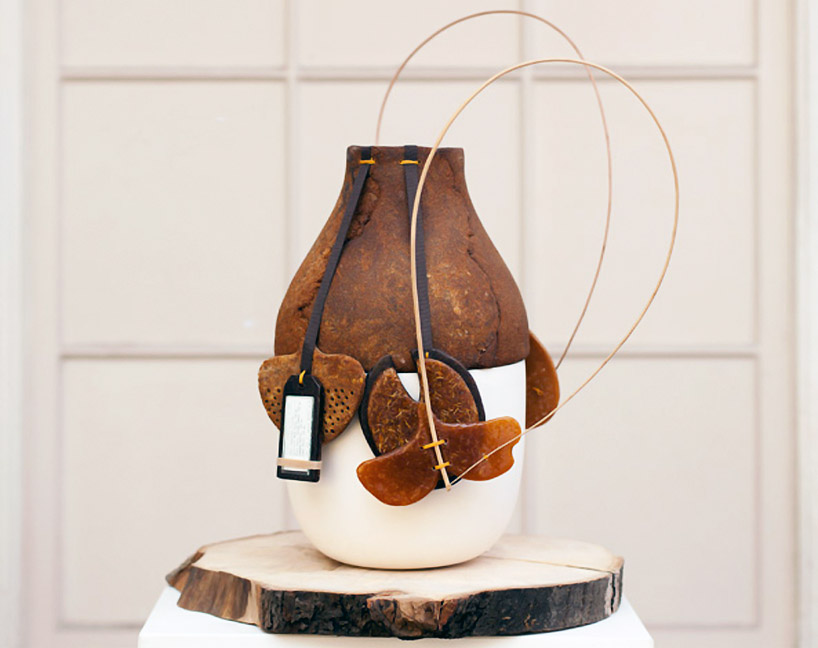 'botanica'
images © luisa zanzani
see more about this project on designboom here
DB: what's the best piece of advice you have heard and repeat to others?
formafantasma: somebody once told us 'if you have the feeling you just had a great idea look around and see if in the past or in the contemporary other people worked on a similar concept. if not your idea is either great or very bad.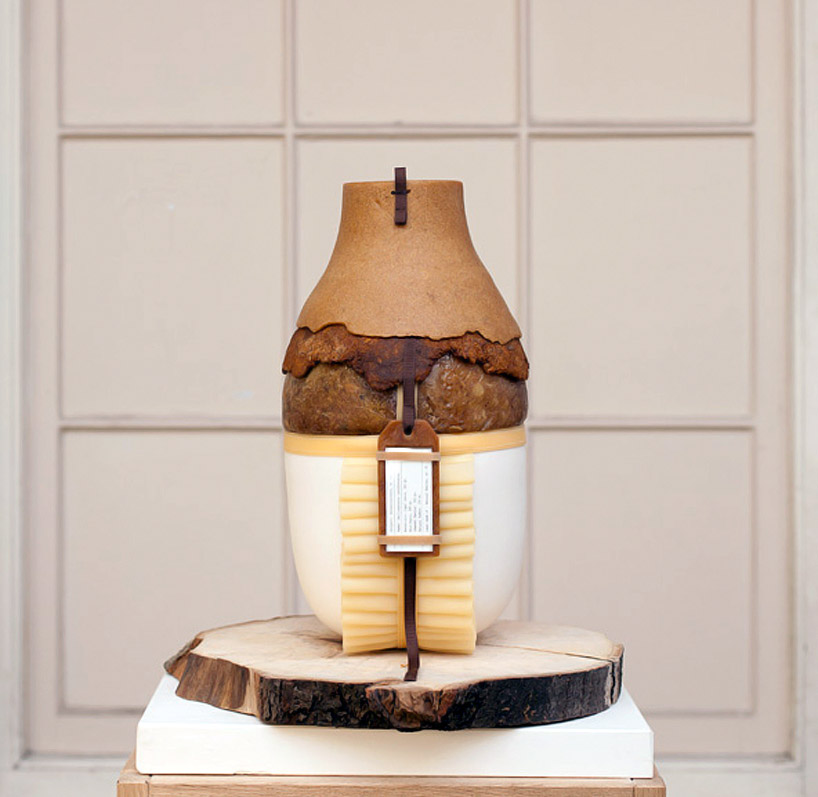 'botanica'
image © luisa zanzani
DB: what's formafantasma's motto?
FF: never have stereotypes or prejudices.
—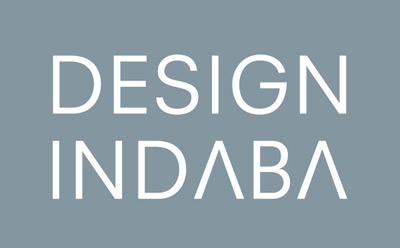 design indaba
is a multifaceted platform committed to a better world through creativity. the south-african online publication hosts an annual festival and social impact do tank in cape town. the design indaba festival has been created by ravi naidoo in 1995, with focus on african and global creativity, through the lens of the work and ideas of leading thinkers and doers, opinion formers, trendsetters and industry experts.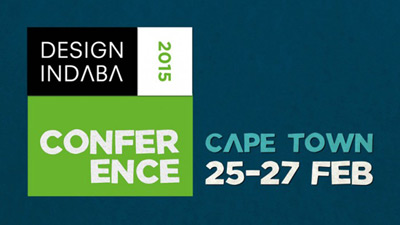 design indaba conference 2015
is a three-day event (february 25 – 27) in cape town and is all about illustrating how design, creativity and innovation can positively impact the world. so much more than a 'how-to' conference, this is a forum fueled by inspiration that breeds ideas, ingenuity and innovation. the conference is an opportunity to listen to the world's foremost creatives, entrepreneurs and trendsetters. it's the not-to-be-missed creative event in africa.
see designboom's coverage of the 2014 design indaba conference here.
a diverse digital database that acts as a valuable guide in gaining insight and information about a product directly from the manufacturer, and serves as a rich reference point in developing a project or scheme.
designboom will always be there for you
milan, new york, beijing, tokyo

,
since 1999