interview with designer davin stowell, founder of smart design
davin stowell is the CEO and founder of smart design, a creative innovation consultancy with studios in new york city, san francisco and london. davin evolved smart design from a three-person product design shop in 1980 to the 125-person product and service experience consultancy it is today. he also created the OXO good grips line in 1989, which brought universal design to everyday products. designboom spoke to davin about his work and influences.
designboom: do you remember the instance that made you want to become a designer?
davin stowell: there was never a single moment or instance that solidified it for me – it was just always a passion I felt as far back as I can remember. when I was a kid, I was always fixing things and taking things apart to see how they worked. my father had a woodworking shop, so I spent a lot time 'inventing' things in there. when I was in high school, I spent a lot of time in the art room, not drawing or painting, but doing what I really liked to do: making things I could take home and use. I found an unused potter's wheel in there and taught myself how to throw pots. at that time, my oldest sister was a graphic designer in the product design department at corning glass works, and she suggested that I think about becoming an industrial designer, like many of her colleagues. I loved visiting her at work and seeing all the sketches and models of new concepts for glass cookware and dinnerware. I was kind of surprised that what I already enjoyed doing was actually a profession. by the end of high school, I wasn't really interested in the art classes they were offering, so I created my own independent study program for product design (they had no idea what that was; they just let me do whatever I wanted to do).
from there I went on to the industrial design program at syracuse university. while still in school, I interned summers at corning glass works, making models for the designers. by the time I graduated from college, I had my first product on the market.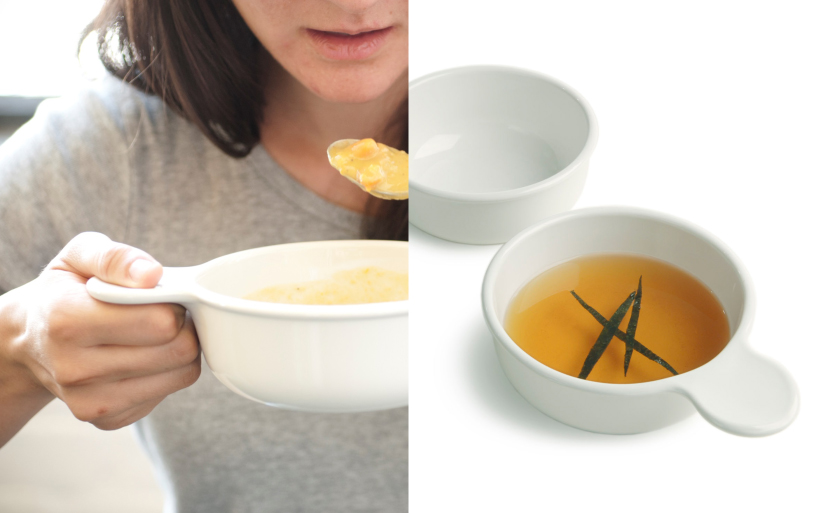 corningware grab-it™, 1976
the first stove to table bowl before microwave ovens; became the most popular single item in the corningware line.
DB: how would you describe your design approach to someone unfamiliar with your work?
DS: it's really quite simple – my own and smart design's approach to design has always been focused around developing a very deep understanding of people's needs, desires, and behaviors. it started with that very first product I designed for corning glass works while I was an intern. corning's director of product design had encouraged me to design something that i would find useful. I always hated to wash dishes (I still do). being a lazy college student, I would usually eat right out the metal pot I had used to heat soup, just to avoid having to wash another dish. we didn't have microwave ovens then, but corning made corningware, a very beautiful glass ceramic material that could be put directly on the stovetop. I thought that material would be perfect to make a bowl that I could use to heat my soup on the stove and then eat right out of it. so I designed a small, single-serving bowl with a handle that wouldn't get hot on the stove. it generated a lot of interest in the company, so corning took the model to some focus groups to see if people liked the idea, too. everyone hated it – consumers said that taking a pan from the stove to the table, 'just wasn't civilized'.
not believing the results, it was tested again, this time to one set of groups as a 'single serving saucepan' and to separate groups as a dinnerware bowl with a handle. everyone loved it. it went into production and became the single largest selling item corningware had ever made. and yes, people were taking it from the stove to the table and eating out of it. that's a long story, but it summarizes exactly how we always approach design problems today—i.e. identifying the real problems that need to be solved and uncovering people's hidden desires that can't be expressed because tradition and familiarity get in the way. this is core to everything I do, and smart design does, today – whether it's a product, a service or even a business model.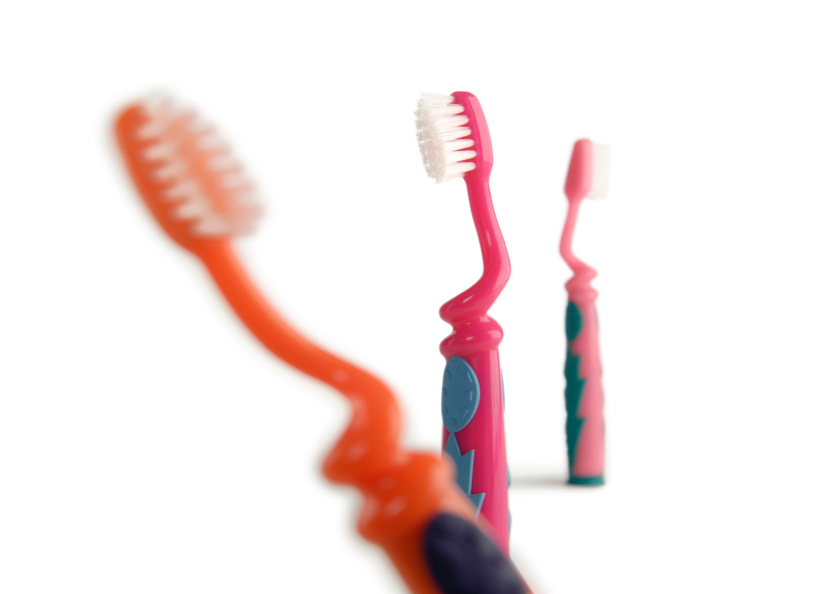 johnson&johnson reach wondergrip toothbrush, 1993
the first child's toothbrush designed for a child's hand and greater efficacy. previously, all children's toothbrushes were just scaled down adult brushes.
DB: who or what has been the biggest single influence on your work?
DS: well, there have been two people. one, the head of the design department at syracuse, arthur pulos, a contemporary of industrial design pioneers raymond loewy, henry dreyfus and walter dorwin teague, impressed upon us the importance of a more worldly perspective of what we were doing than we could garner from the design publications of the day. he had us read the likes of adam smith's 'the wealth of nations' and thorstein veblen's 'the theory of the leisure class,' which was a bit unique for a design program, but it exposed us to the basic principles of modern economics from 18th and 19th century perspectives. it was quite enlightening, and it taught us the economic principles we needed to respect and the value we could create, for better or worse.
later, my client and dear friend sam farber, with whom we created the OXO brand of household products, became the most influential person in my career. a businessman with design in his heart, he reinforced the importance that everything we design not only provide better utility and functionality, but also bring joy and delight in the process.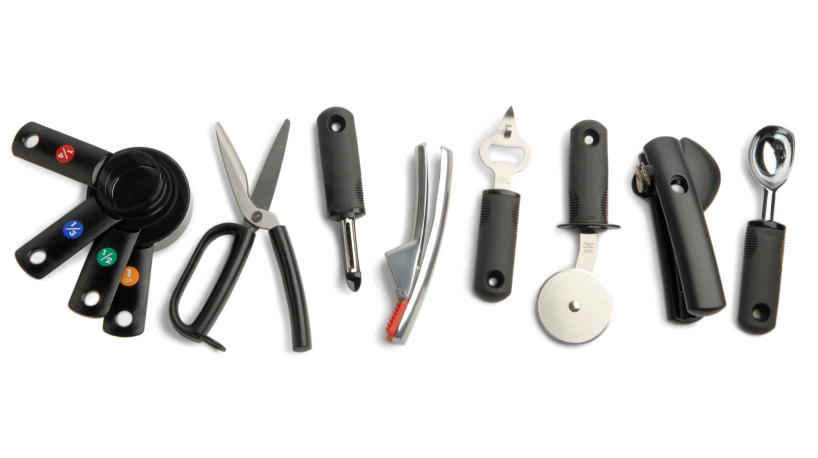 OXO Good Grips kitchen tools, 1990
conceived to make ordinary kitchen tools easier to use for everyone; today it boasts over 800 products and is one of the most widely cited examples of inclusive design.
DB: what would you say is your strongest skill?
DS: people – dealing with the inherent irrationality of human emotion in a very rational way. the most powerful tool a designer has is the ability to reach people at an emotional level with solutions that not only solve problems, but create tremendous satisfaction and desire. truly understanding the people we are designing for and finding those solutions can be challenging, as it's often difficult to identify the right levers to pull to get the best results. equally challenging is dealing with our own emotions as passionate members of a team, setting about to find the right solution, each one of us with different priorities in mind. the business objectives might be very clear and rational, but being able to navigate the emotions tied to delivering on those objectives is paramount to success. at smart design, we've always emphasized the importance of developing a very deep understanding of people we are designing for, our clients' objectives and goals, and the individual objectives of every team member and stakeholder. you have to build a culture that lives by that to get consistently successful results.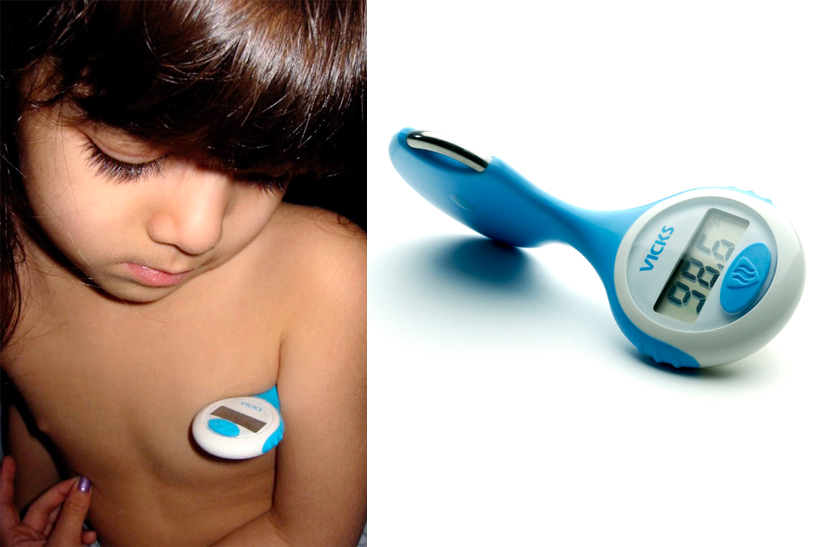 vicks life stages thermometers, 2002
when thermometers were converted from mercury to digital, they followed the familiar stick form. the technology enabled totally new experience models for children's thermometers.
DB: as someone who has designed across many sectors, which type of challenges have you enjoyed most?
DS: my roots are in consumer product design, but I've been fascinated and invigorated by how our business has evolved over the years. the basic principles of how we approach design have remained the same for 30+ years, but problems have changed immensely. in the past, it was, 'we need a new version of this thing'. then it was, 'we need an entirely new thing'. and now, it's, 'we don't even know if we should making things—maybe it's a service'. what was once physical is now digital, and often what needs designing is the business model itself. the diversified talent that we've developed and brought in to take on these challenges makes smart design a pretty exciting place for me—it's like being in a university forever, constantly learning something new.
I'm especially excited about our new london studio. although our office there is principally focused on the digital world, I believe our deep legacy of creating successful product experiences in both the physical and digital worlds is going to lead to some exciting new opportunities as we collaborate with some of the best minds in design and technology that are emerging on the london scene.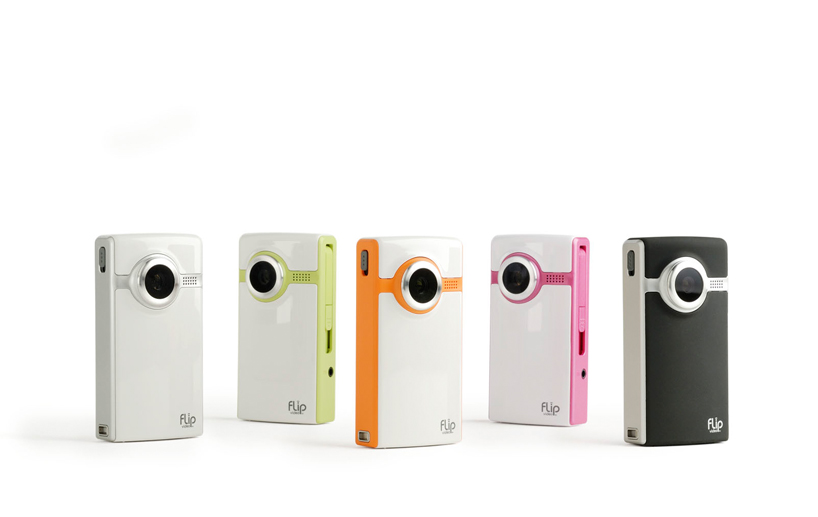 flip video camera, 2007
with a one button touch to capture memories and then an effortless upload to share.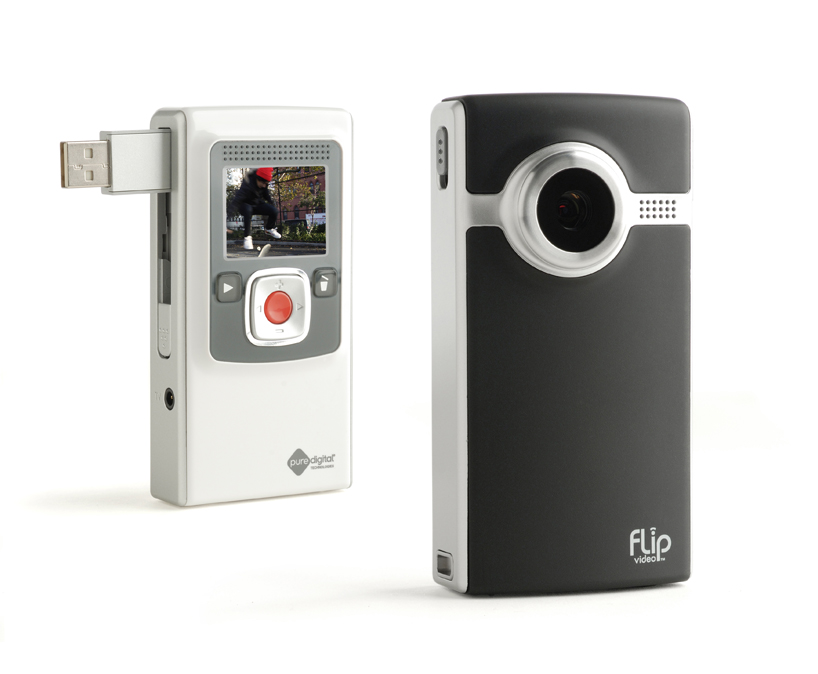 flip video camera, 2007
DB: do you think it's important for a designer to be able to draw?
DS: yes and no. drawing is a necessary skill to be able to quickly record your ideas for yourself and your collaborators, but you don't need to be highly skilled. I think of it as visual shorthand for ideas. I never really enjoyed drawing or was particularly good at it, so it forced me to find other, ultimately better ways to communicate my ideas. I became very good at making quick physical prototypes instead of doing drawings and renderings, which then became the standard for our office. drawing can romanticize ideas and make you believe what the artist wants you to believe because it's imaginary. physical prototypes, however tell the cold hard truth. you can see, touch, and experience them. the faster you can get to a physical prototype, even if it's very primitive, the faster you can evolve it into a better solution.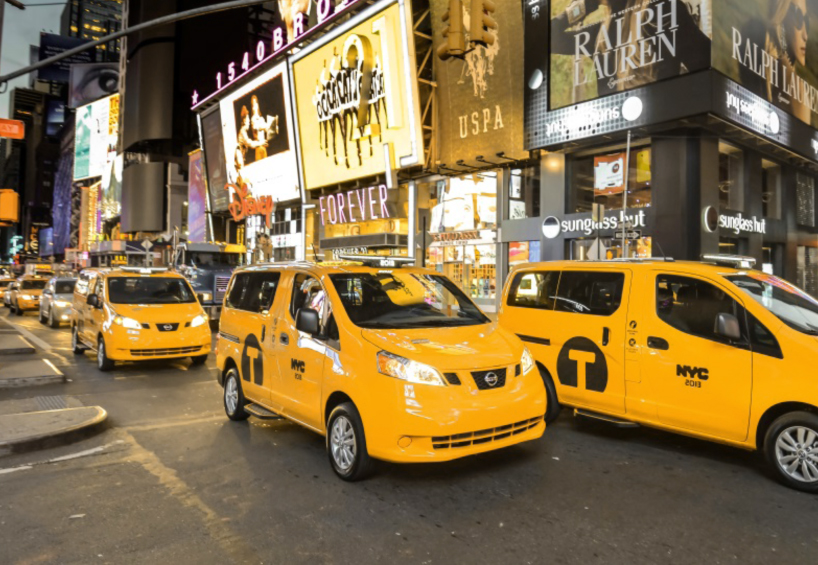 a uniform brand identity for the NYC taxi fleet, 2007
the design reinforced the city's oversight of the fleet for comfort and safety.


smart partnered with the design trust for public space to define the ideal taxi experience, leading to mayor bloomberg's taxi of tomorrow initiative.

DB: which person or project has recently challenged your views on something?

DS: 'you can't fight city hall' is an american proverb that I would have referenced if someone had asked if the new york city taxi experience could be transformed into what may now become one of the most uniform and comfortable fleets in the world. new york city has an enormous fleet of 13,000 taxis that are owned privately or by large fleets. despite its iconic yellow color and stringent safety regulation by a city commission, consumers saw the taxis as a messy, unregulated ride experience that left a lot to be desired. through a collaborative effort with the design trust for public space, we took on the challenge of reinventing the new york city taxi experience. initially, we gave the existing fleet an image of professionalism with a uniform branded identity. then we created a passenger experience specification that was incorporated into mayor bloomberg's initiative to incentivize manufacturers to create a bespoke taxi specifically for the needs of new york city that would be the exclusive vehicle in the fleet for 10 years. nissan won that contract, which has been able to deliver more than 70% of the 40+ recommendations that we made for an improved experience for both passenger and driver. now, after two years of legal battles, the new taxis are rolling out into the fleet. the impossible is possible!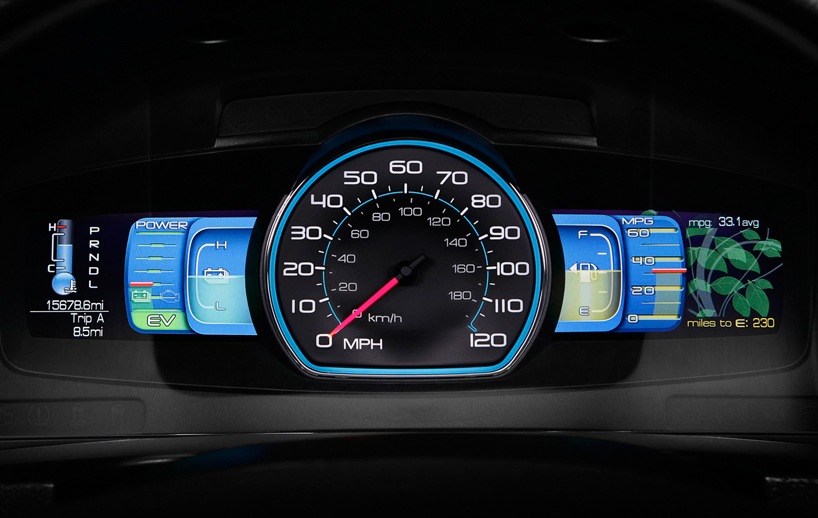 smartgauge® for the ford fusion hybrid, 2009
the design helped drivers save 20% more fuel per year than other hybrids.
DB: how do you think online design resources have influenced the design being produced today?
DS: when I first was studying design, there was very little access to what was going on in the professional design world. the design publications and annuals presented a very curated selection that was a bit stilted by the editors' or judges' point of view. there was a lot of sameness in everything. most designers just seemed to follow what they were seeing; there was very little evolution. I have to laugh when I look back at some of the books that published our earliest works. it still stands out today as having an expression of humanity in a sea of pretty bland, boring stuff. I guess it was just because we didn't really care what other designers were doing, and we would look at the problems with a very naive approach. today, we see everything that's going on in design throughout the world with very little censorship. although each forum may be curated with a specific point of view, the perspectives are wide enough that we see everything that's going on. that fuels rapid evolution of ideas as we build on one another, but more importantly, it helps us see what's important and resonates with a broader audience. I don't believe in crowdsourcing design solutions, but understanding the crowd is vital.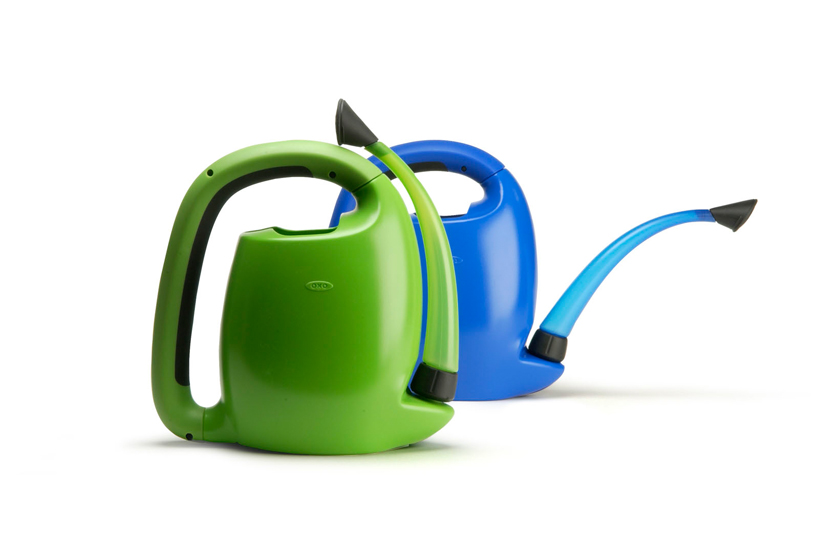 OXO watering can with rotating spout, 2012
DB: what advice would you give to the next generation of designers?

DS: as creative thinkers and problem solvers, designers are called upon to help solve a much broader range of problems than ever before. social, business or political issues – it's exciting to be able to contribute so widely. but don't forget to develop the creativity and skills necessary to bring the magic of design to everything you do. the unexpected, excitement, and delight are what makes design great.
DB: what's your personal motto?
DS: everything we design should have meaning. it should have personal meaning for the user, and it should either contribute to the economy and/or the world in a meaningful way. otherwise, why bother?
KEEP UP WITH OUR DAILY AND WEEKLY NEWSLETTERS
a diverse digital database that acts as a valuable guide in gaining insight and information about a product directly from the manufacturer, and serves as a rich reference point in developing a project or scheme.
designboom will always be there for you
milan, new york, beijing, tokyo

,
since 1999