moritz waldemeyer
moritz waldemeyer is a german designer who lives and works in london. his work occupies a diverse range of creative spaces, from art and product design through to fashion and entertainment. moritz waldemeyer studio was founded in 2004, and is built on a philosophy of playful experimentation by forging links between technology, art, fashion and design. this approach has resulted in a number of bespoke installations for swarovski, audi, bombay sapphire and microsoft, as well as light-studded costumes for the likes of u2, rihanna, and the london olympics handover ceremony performers. designboom met moritz at this year's abierto mexicano de diseño to ask him more about his work.
designboom: what made you want to become a designer?
moritz waldemeyer: I grew up in a family of artists: my grandparents are painters, my aunt is a sculptor and jewellery maker, my uncle is an industrial designer – so I was surrounded by people who were making things for a living. as a kid I was always interested in inventions and technology. but as a teenager I was slightly confused – I didn't know really what the hell I wanted to do with myself. eventually I decided to study international business in london. then I went to the US for an internship at bosch and that's when the passion I have for technology started to come back. during that time I became friends with the engineers and started to think that perhaps the business side wasn't really for me. on my return to london I made the decision to become an engineer. I then started working at philips and it was there that I became more interested in design.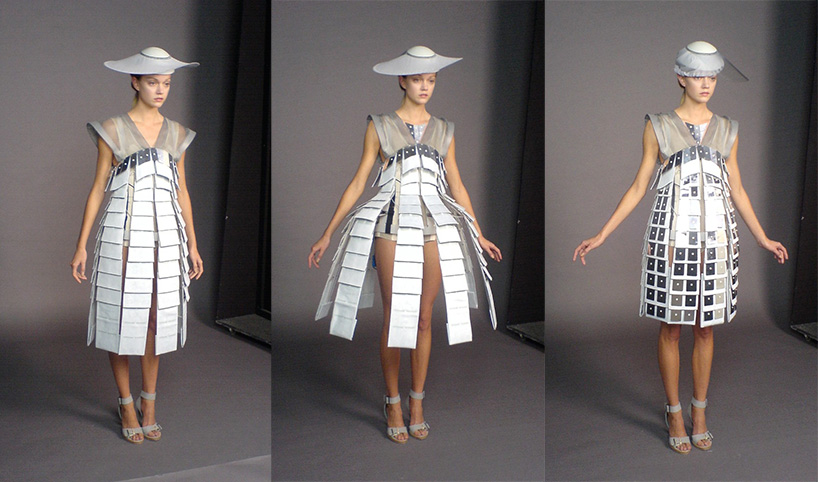 hussein chalayan robotic dress: 1940s, 1950s and 1960s configurations
the different effects in the show were achieved through six months of experimenting with servo-driven motors, pulleys and wires that are fed through hollow tubes sewn into the dresses. the real challenge lay in keeping the integrated technology lightweight yet strong enough to manoeuvre different fabrics and materials.
DB: how has your studio evolved since it began?
MW: not very much to be honest. I consciously keep it small, there's just 4 of us and a 5th person who often collaborates with us. london is a very tough place to keep an operation running smoothly – it's very expensive, so I like to keep it streamlined. keeping just a core team also helps us a lot in terms of flexibility – our projects vary quite a bit so require people with different skill sets from project to project, this way we can simply bring in freelancers to work with us depending on what talents we need.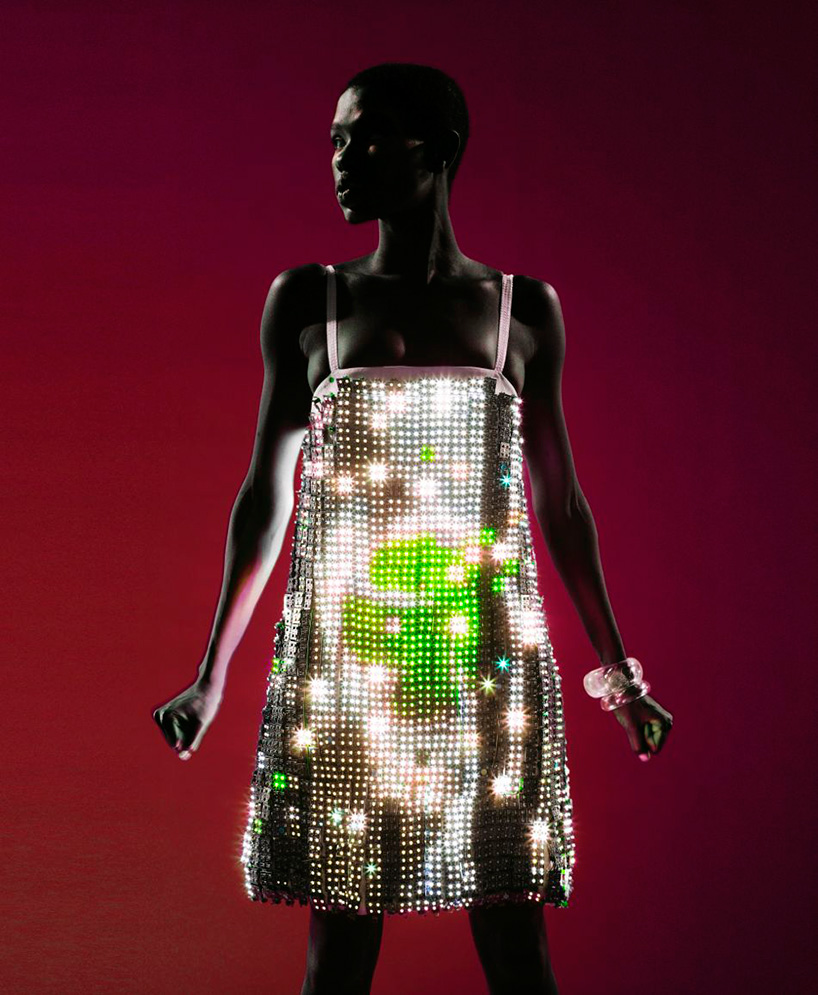 hussein chalayan video dress, photo simon procter
the dresses are created by 15000 LEDs embedded beneath the fabric. one dress displays hazy silhouettes of sharks in the sea whilst the other shows a time-lapse sequence of a rose blooming then retracting. the effect is mesmerising in its ambiguity: the loose white fabric covering the LEDS blurs and distorts the images so that they seem to pulsate in and out of existence.
DB: how has the scope of the work you do changed over the years?
MW: it's always been extremely varied and I like that. I love to seek out influences from different sectors of the creative world – if you combine people from different backgrounds and expertise then you have a good chance of doing something new. it also keeps me entertained and is a great way of meeting new people.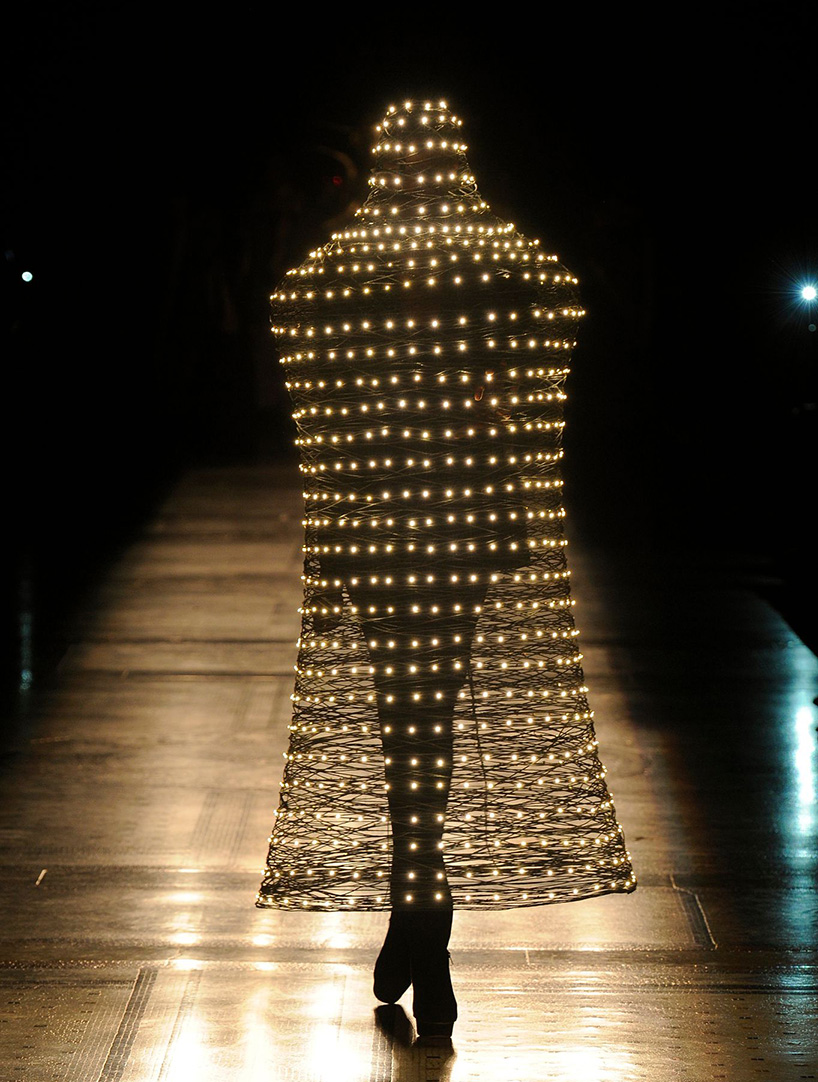 virtual reality – moritz waldemeyer for philip treacy, photo by chris moore
shroud hat – a delicate illuminated basket type sculpture extends down from the head to envelope the model's entire body. studio waldemeyer's solution was to weave an intricate mesh of threads around a specially designed styrofoam core. The threads are soaked in resin, which when dry are rigid allowing the design to be complex, but also very light.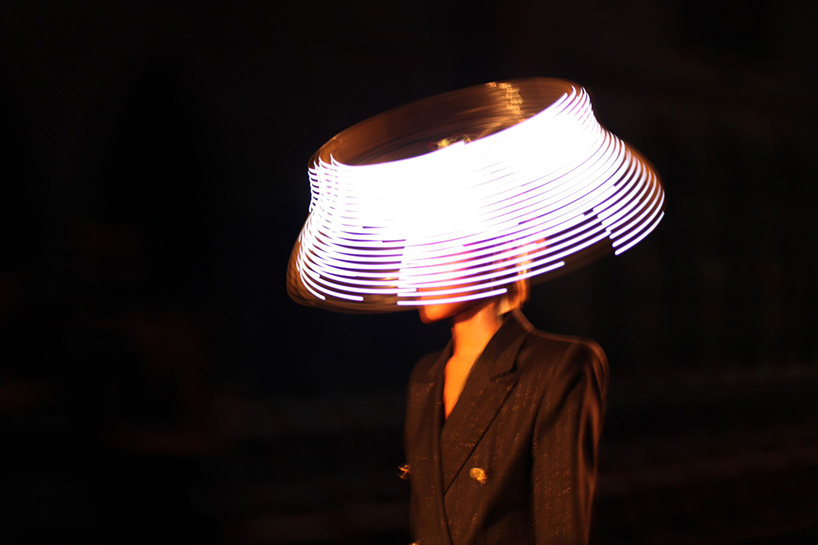 virtual reality – moritz waldemeyer for philip treacy
moritz again drew on the idea of weightlessness when asked to design his own piece for the show. this time a continuous band of light sweeps around the head with no apparent physical connection to the wearer at all. this uncanny effect is achieved courtesy of a carefully positioned propeller headpiece – each blade is finished at the end with LED lights. when in full motion the blades themselves disappear leaving only an ethereal halo of light. it's millinery for the 21st Century.
DB: could you tell us bit about your typical work process if you have one?
MW: most of the time it's about coming up with an idea, an answer to the brief – that usually happens very fast. then it's about research, development and eventually production – that's what takes up most of the time and energy. sometimes I wish we had more time to spend exploring ideas but usually it's not realistic if you want to make things happen on time.
DB: what do you think your strongest skill is?
MW: that I can see both sides of a project: the creative side and the technical side. I can go from thinking up a crazy idea to being able to realize it. luckily this is a natural talent and I didn't realise at first that not everyone can think in both ways.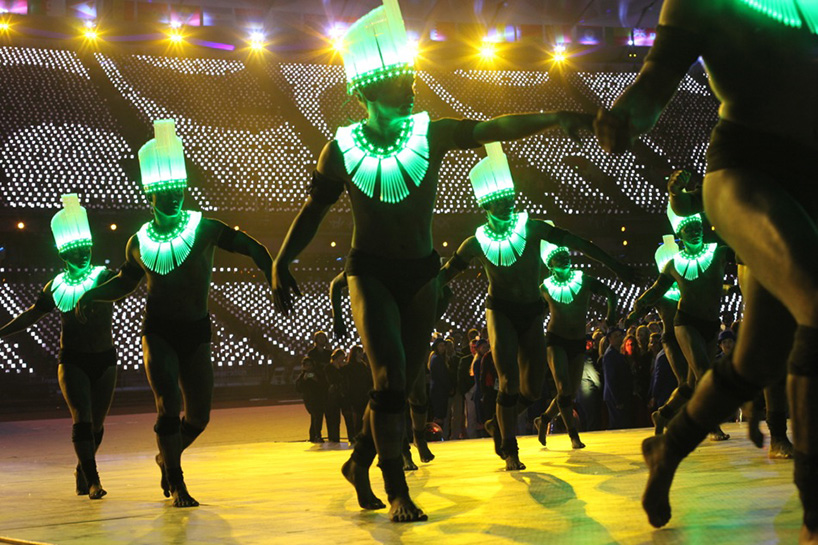 london olympic games 2012 – as part of the olympic closing ceremony, waldemeyer conceived a vibrant collection of LED-embedded carnival costumes for the hand over to rio de janeiro, – proudly honoring the brazilian culture. one hundred and forty LED-encrusted carnival outfits, miraculously programmed to pulse to the beat of eighty brazilian drummers.
DB: have you learned how to manage projects differently over time?
MW: yes absolutely. when you have your own company, and it's a small operation like ours, then you have to do a bit of everything. you have to manage your time, communicate well with collaborators, be a bit entrepreneurial, understand public relations, be good at negotiating… a lot of that you learn as you go along and I'm still learning to be honest.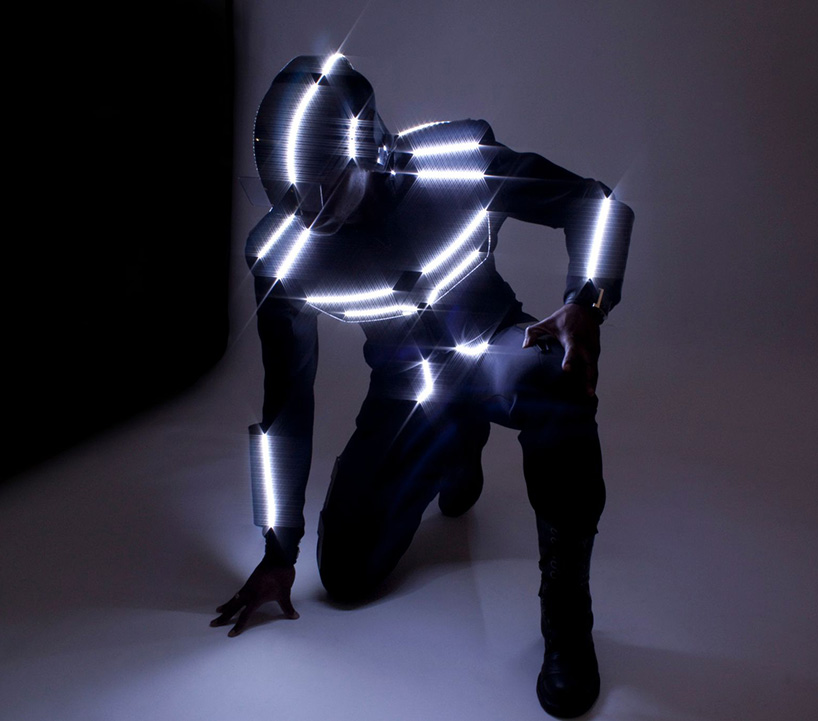 audi costumes – four dancers wore futuristic costumes for a special AUDI press event during 83rd International motor show in geneva, 2013.
DB: what are you eager to improve on or learn with regards to your work?
MW: I'm quite envious of the people who know how to turn design into good business. don't get me wrong,' I'm making a good living but I'm certainly not rich – I still need to crack that!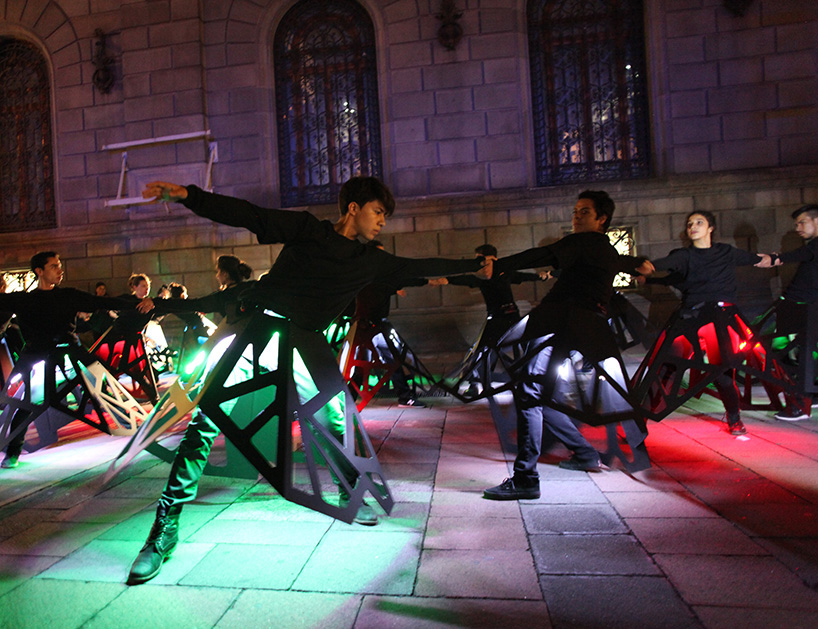 moritz collaborated with mexican fashion designer carlos ortega on costumes for a performance at abierto mexicano de diseño 2014 in mexico city – more »
DB: do you have any design mentors?
MW: not really – the source of ideas is quite a democratic thing for me. I pick up things from everywhere – but the internet is one of my favourite places to look. I like that the internet is opening up people's eyes to what's going on across the world.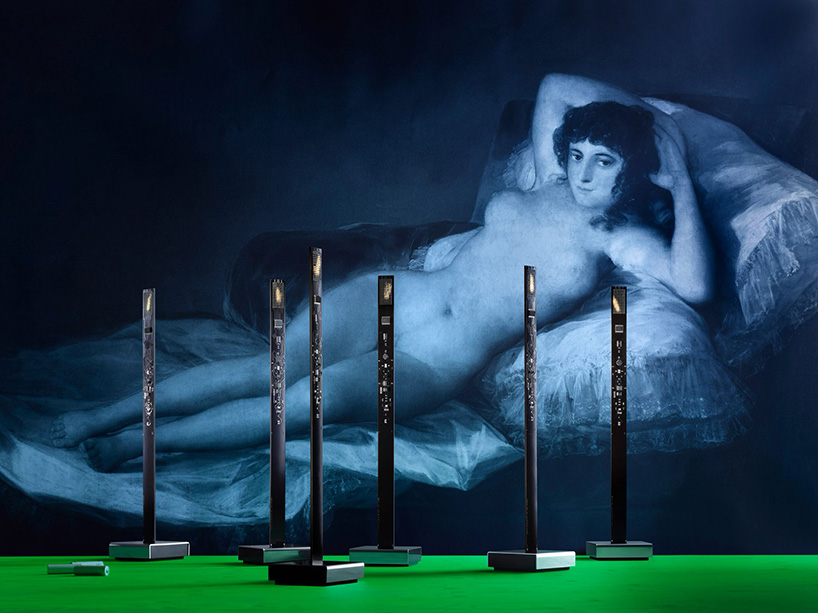 candle in the wind for ingo maurer
candles in the wind is a revolutionary new lighting concept, using modern LED technology to faithfully recreate the experience of light from the ancient past – the simple yet infinitely complex candle flame.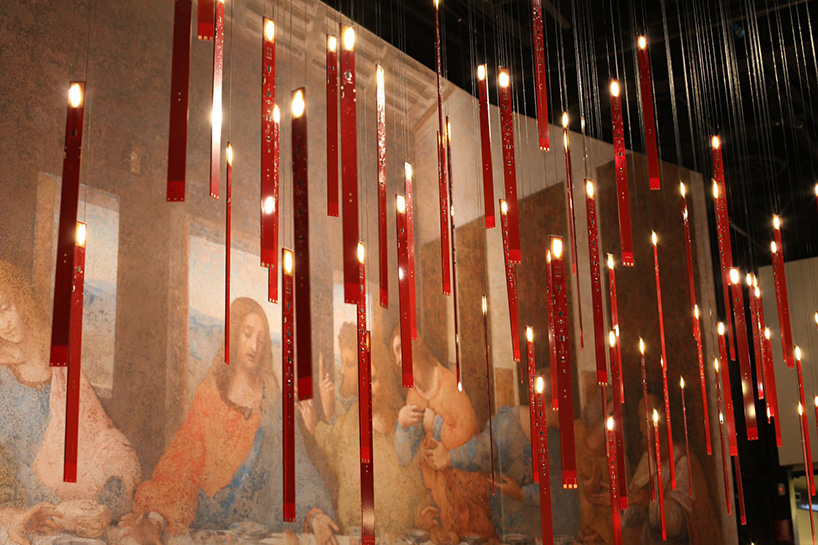 the design is pure and minimal: a bare circuit board featuring the latest in micro-processor technology paired with 256 high quality LEDs per candle is all it takes to evoke the natural flow and flicker. when seen from a short distance, the light is indistinguishable from the real thing, thanks to a perfect match of the light colour of the LEDs. closer inspection reveals the low resolution charm of the digital display.
DB: what materials do you enjoy working with the most?
MW: I like using electronics as a material. its such a varied medium. but the electronics world is a strange one because on one hand it's innovating like crazy but on the other hand it always feel the same. technologies that have been around for a long time have got better gradually but in terms of real major innovations I don't feel there's much happening. you occasionally see a photoshopped image, a concept or hear about something but then… nothing. all the techniques and manufacturing methods are the same as 10-15 years ago really.

lighting installation for audi's IAA stand in frankfurt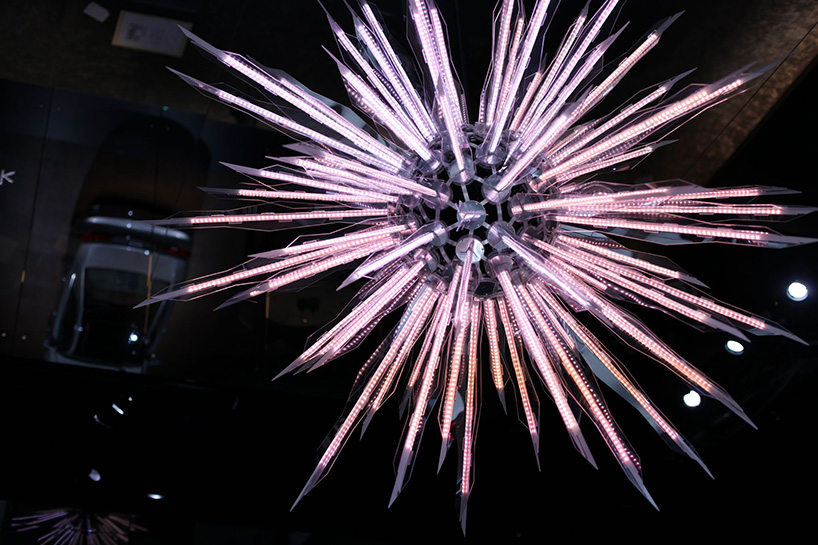 lighting installation for audi's IAA stand in frankfurt
DB: are there any new materials that you would like to work with in the future?
MW: hmmm… well this is it – you hear about new materials and receive a press release about something that sounds fantastic and then you discover it's limited to a very small production or even a one off example that's owned by a lab somewhere. technology is very slow to come to the masses. the budgets and timelines of commercial projects also mean that you don't often get the chance to try anything that's not proven and reliable. so, you have to be creative with tried and tested materials.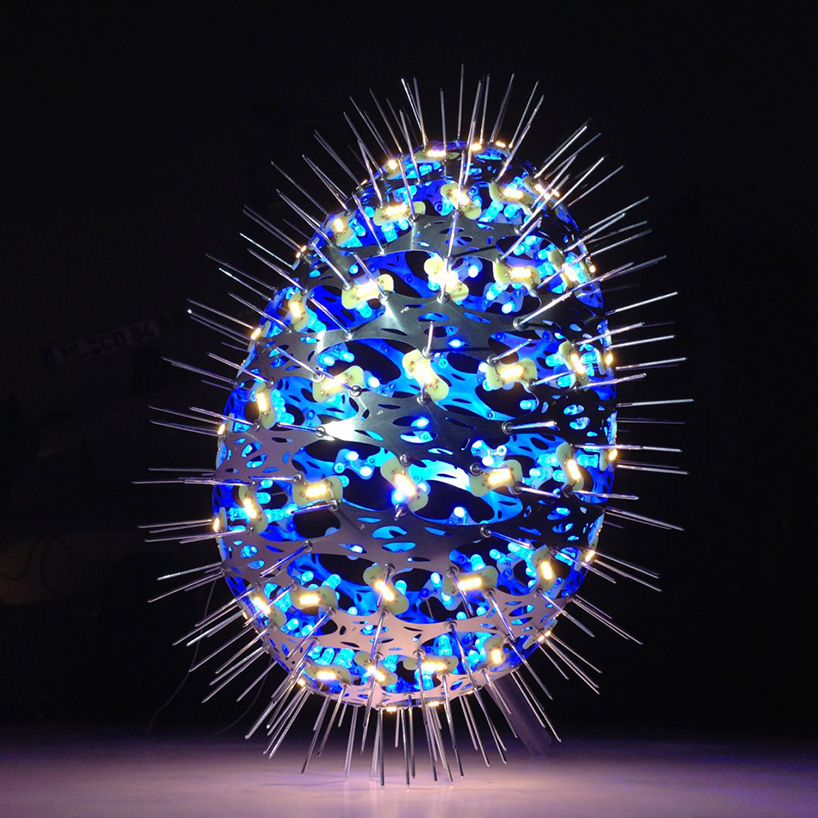 to celebrate easter 2014 the metropolitan hotel london commissioned 8 well known artists to produce an interpretation of an easter egg. in response studio waldemeyer created an experimental design inspired by the imperial faberge eggs.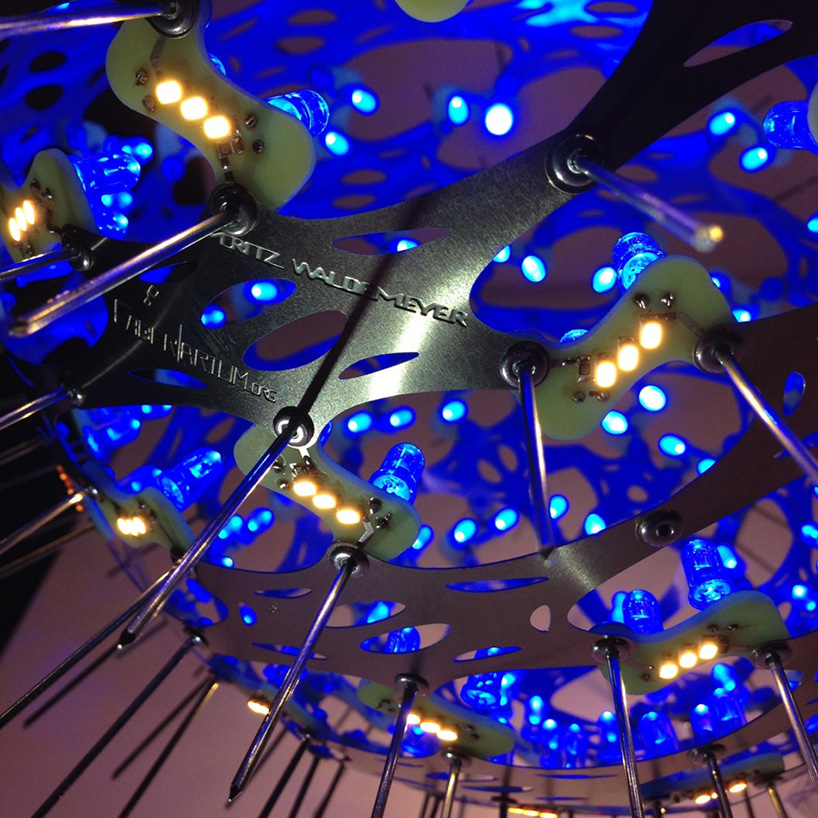 based on a parametric 3D design it combines structural components with circuit boards, mixing their function in the design. structural components become part of the circuit and the circuit boards become part of the structure – completely eliminating the need for wires to power the nearly 400 LEDs in this design. the result of this innovative approach is a breathtaking aesthetic that combines a luxurious elegance with a hint of science fiction and alien life forms.
DB: have you ever thought about developing any new materials or technologies yourself?
MW: no – for the same reasons: in order to keep working and making an income you have to be realistic and right now we don't have the luxury of time – we go from one project to the next and deal with the work as it comes – innovating as much as we can within the constraints of the project. maybe in the future if we are ever afforded the luxury of more time we might consider developing something but I think that's a long way off.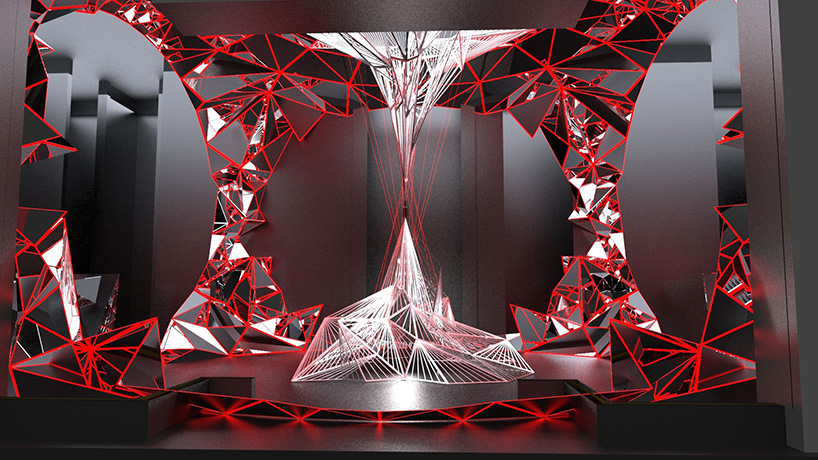 beck's sapphire installation – product launch environment inspired by the black exterior face of the bottle.
DB: what are you currently fascinated by and how is it influencing your work?
MW: parametric design – it opens up a whole new world of possibilities and I'm interested in how we can combine it with electronics. that's where we are looking to innovate right now.
DB: which of your projects has given you the most satisfaction?
MW: one project that means a lot to me is the egg sculpture we did for como hotels. that was the first time that I felt like I had done something new. it brings together parametric design and electronics, so it feels like the starting point of the journey I'm now on.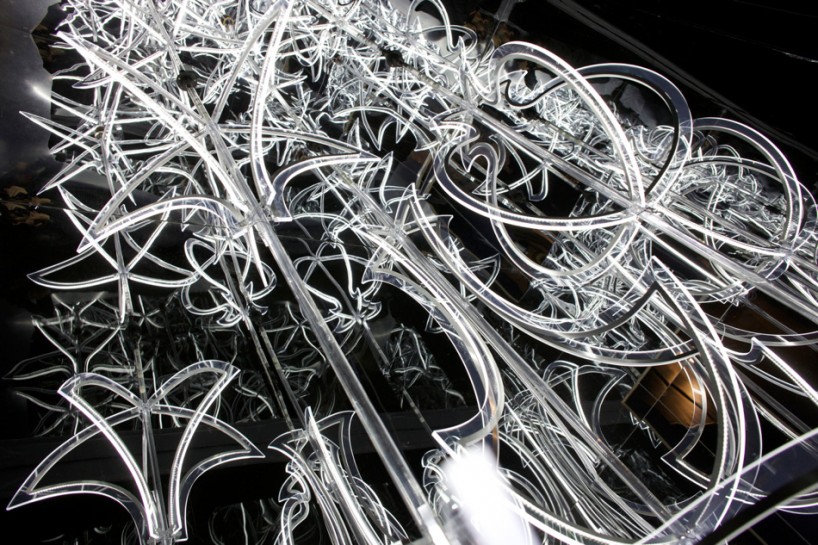 handmade lighting installation for wallpaper* magazine
DB: do you have any self imposed rules or superstitious beliefs that you live by?
MW: I don't like to talk about projects until they are well underway. I don't want to jinx them.
DB: what's the best piece of advice you have ever been given?
MW: I wish I could remember! I'm still waiting for some kind of revelation! ha ha! to be honest it really feels like you have to fight for yourself in life. never over-rely on anyone, do it yourself – that's been my experience.
KEEP UP WITH OUR DAILY AND WEEKLY NEWSLETTERS
a diverse digital database that acts as a valuable guide in gaining insight and information about a product directly from the manufacturer, and serves as a rich reference point in developing a project or scheme.
designboom will always be there for you
milan, new york, beijing, tokyo

,
since 1999