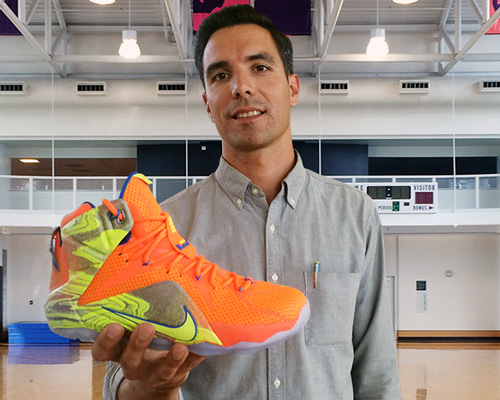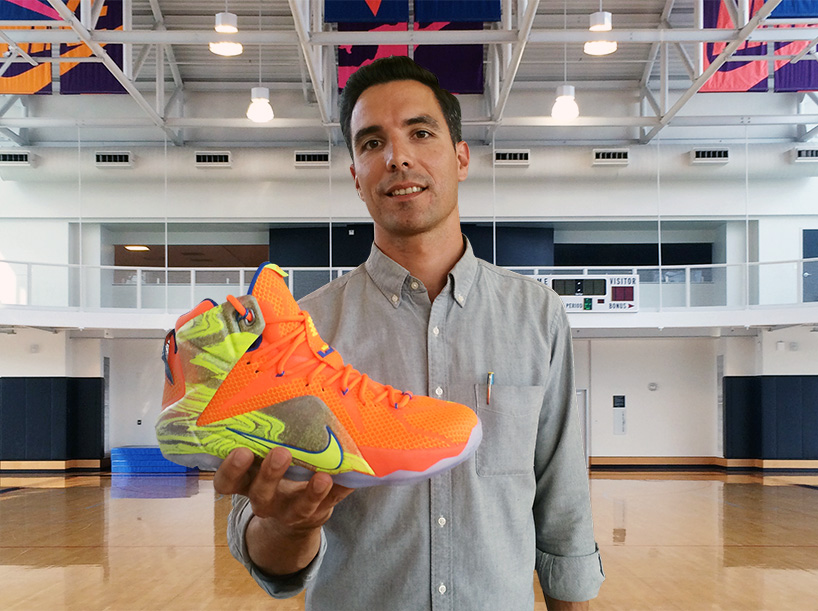 oct 06, 2014
interview with eugene rogers, NIKE basketball color lead
eugene rogers, NIKE basketball color lead – with the lebron 12 'six meridians' colorway
photo © designboom
the days of basic color-blocked basketball shoes are long gone. with each new NIKE basketball shoe comes myriad colorways each layered with meaning. for NIKE basketball a shoe's aesthetics are not only about highlighting design innovations and technologies either, you'll also find nods to an athlete's hometown, favorite foods, statistics, nickname or playing style.
at the lebron 12 shoe launch designboom spoke to eugene rogers, NIKE basketball color lead. in recent years rogers has established a new standard for NIKE basketball's palette, working across all NIKE basketball shoes from the hyperdunk to signature models for lebron james, kobe bryant and kevin durant.
designboom: please could you tell us a bit about your background and how you came to work as a colorist for NIKE?
eugene rogers: I grew up in new york and studied industrial design at syracuse university. after school I worked in product design for a few years at different new york offices. in one of my last jobs before joining NIKE I worked on backpacks and luggage for a design consultancy – that was when I became more focused on color and fabrics. eventually I met some people who were working at NIKE and they suggested I apply for a job here, which is what I did. seven years ago I started working here as a color designer and just worked my way up to being color lead for basketball. I've played basketball since I was a kid so I've always had an affection for basketball shoes, which makes this job a perfect fit for me.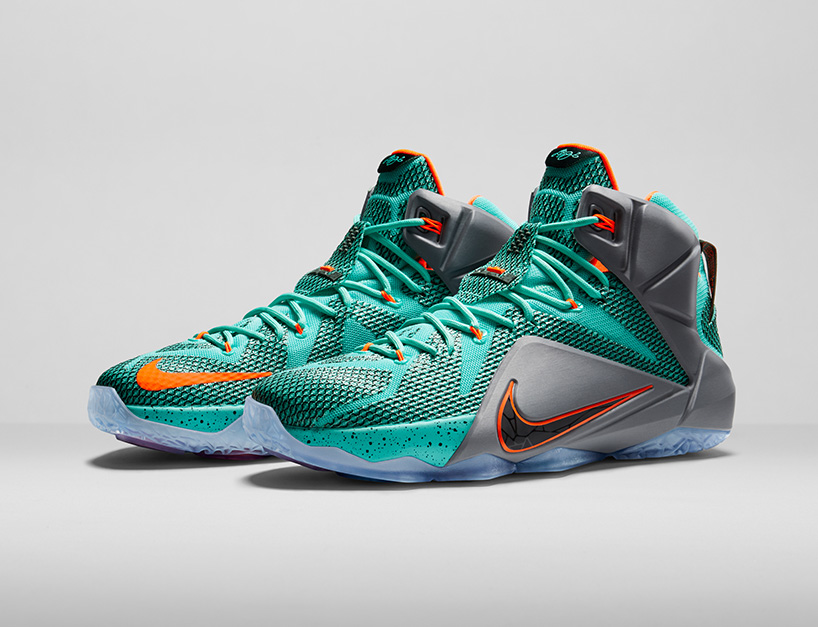 lebron 12 'NSRL' – james wasn't made in a lab, but he is made better by NIKE's research, testing and analysis. the lebron 12 lead colorway reflects the process of turning data into design to create superior performance footwear. learn more about the NSRL here »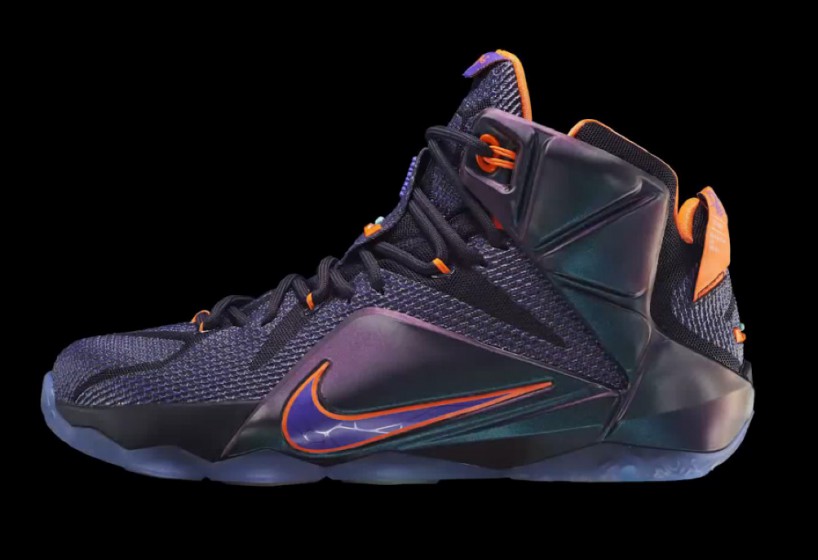 lebron 12 'instinct' – james's keen 20/20 eyesight combined with his uncommon speed and agility translates to pinpoint, instinctual decisions, much like the way a hummingbird sees and navigates. learn more about the HEX zoom air zole used on this shoe »
DB: what does your current job involve?
ER: we work on color strategies and application to all of the shoes that fall under the banner of NIKE basketball. that means we are thinking of ways that colors can tell stories about basketball: the shoes, the athletes, the sport's history and culture.
DB: what would you say is your strongest skill?
ER: being able to filter out my own tastes in color when they are not relevant. you have to be able to put the young basketball fan hat on and develop colorways that will appeal to them.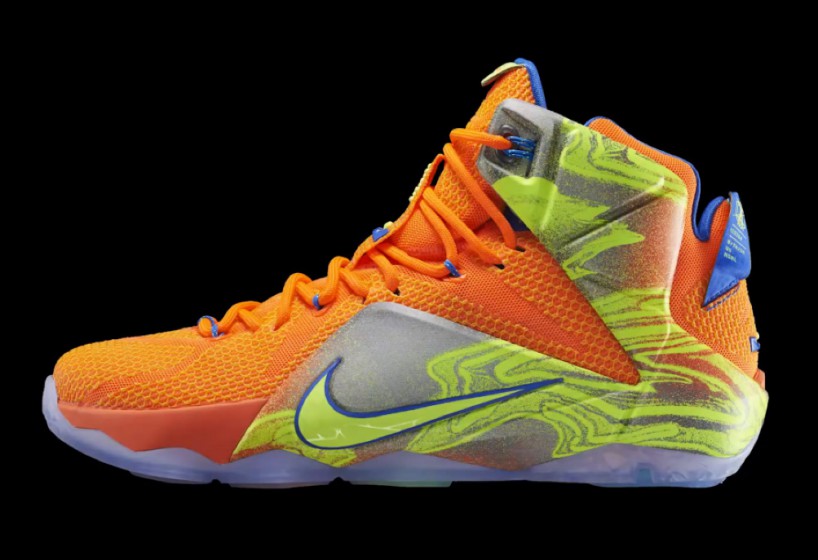 lebron 12 'six meridians' – a key component of james's training recovery and preparation is massage therapy. the ancient chinese practice of reflexology releases energy to different points of the body, or meridians, when massaging pressure points in the feet and hands.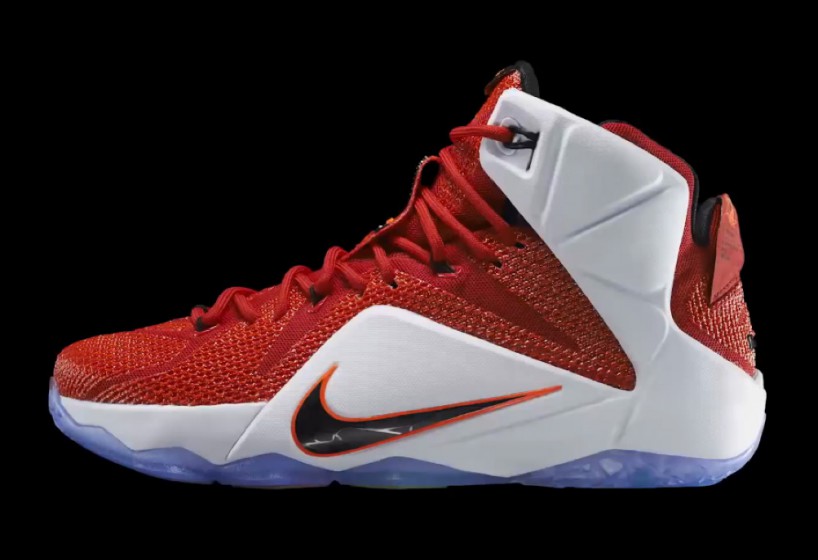 lebron 12 'heart of a lion' – lebron has demonstrated the courageous heart of a lion while being tested both physically and mentally over his 11-year professional career.
DB: so, even the more unusual colorways you release are designed with the young basketball fan in mind?
ER: yes but they don't always start from that point of view. the design team will sometimes come up with an idea that might only be on the periphery of what our target audience are interested in. then we'll try our best to find a way to bring that story, or source of inspiration to life with color and graphics – in a way that young basketball fans will enjoy and find appealing. in may ways that process is how we continue to push the aesthetic of the shoes – by introducing unexpected twists to the stories and by constantly asking ourselves what a basketball shoe is and looks like.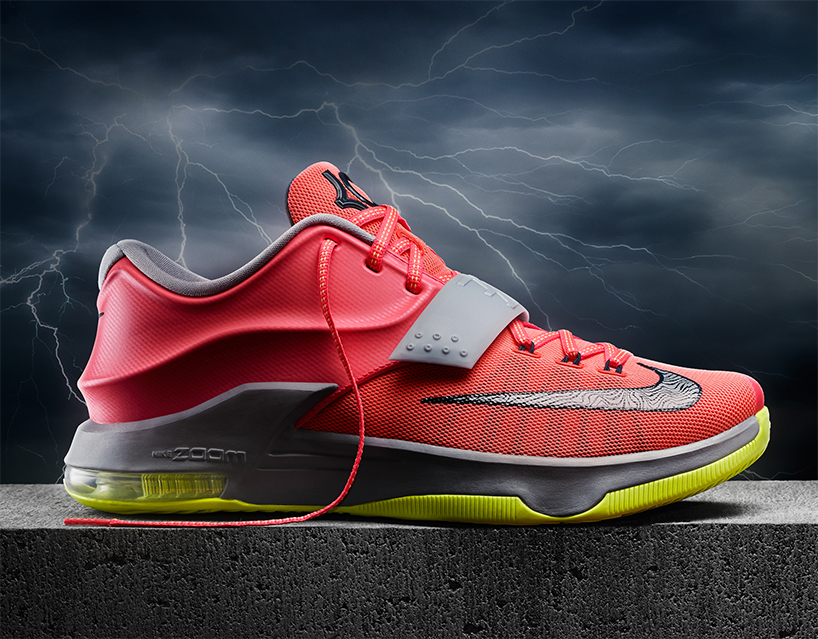 KD 7 '35,000 degrees' – lightning strikes earth at an average temperature of 35,000 degrees fahrenheit, and much like kevin durant's game, it is powerful and unpredictable. this bright mango, grey and volt version of the KD7 is the lead colorway for the new collection. learn more about the design of this shoe »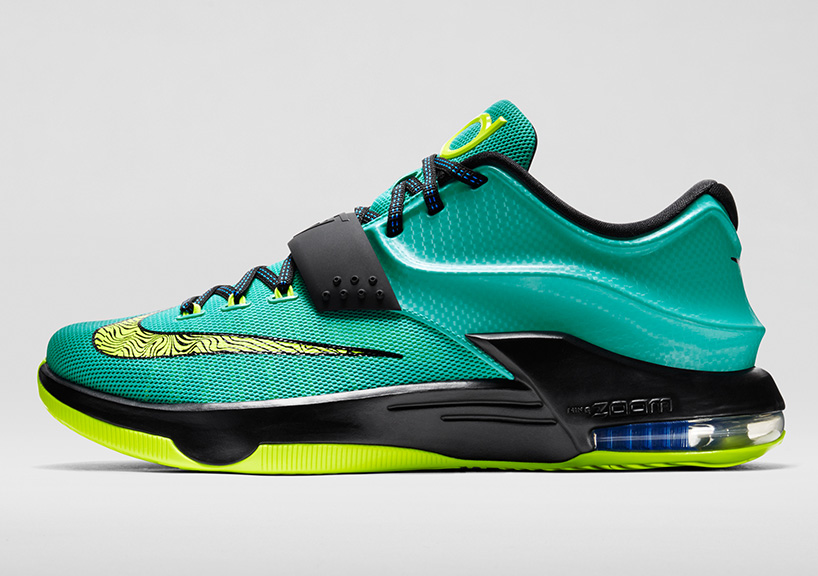 KD7 'uprising' – the rare weather phenomenon known as sprite lightning served as the inspiration for this KD7 colorway. sprite lightning, a mystery to many meteorologists, rises upwards from the top of thunderclouds into the atmosphere. 'like durant's own career trajectory, sprite lightning is rare and spectacular'.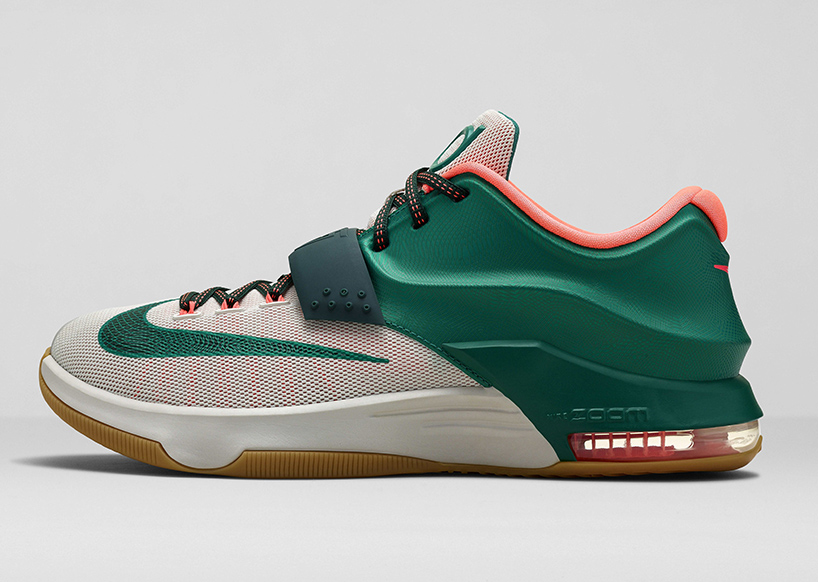 NIKE KD7 'easy money' – inventor and statesman ben franklin used a metal key and a kite to prove that lightning was really a stream of electrified air. franklin's famous stormy kite experiment in june 1752 radically changed general understanding of the power of lightning and electricity. as an ode to franklin's fascination with weather and his prominence on the US $100 bill, the easy money colorway features green hues and graphics from the benjamin bill – a tribute to KD's nickname, easy money.
DB: where do you look for new colorway ideas and inspiration?
ER: the answer to that would be pretty generic: inspiration comes from everywhere: nature, emotions, art, things you see on the street, movies, music… I'm always looking and thinking about color but it's very important to keep it relevant. 'does it work in the context of basketball?'. whatever we look at it's always through the lens of basketball.
DB: have any other designers or artists influenced your way of thinking about color?
ER: yes definitely, namely the designers here at NIKE. people like ken link and tinker hatfield. they always challenged me to tell stories through color, to always ask 'why?'.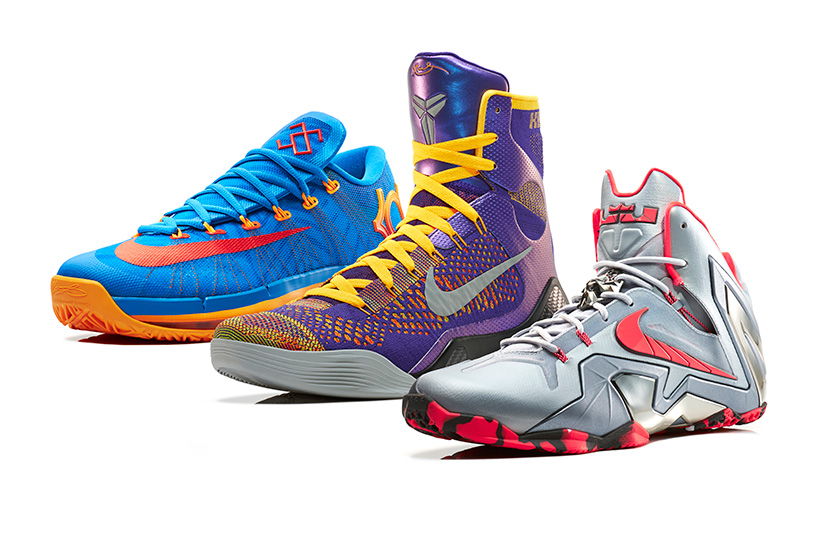 the NIKE basketball elite series team collection – the lebron 11, kobe 9 and KD 6 feature advanced materials and tailored details for the playoff push.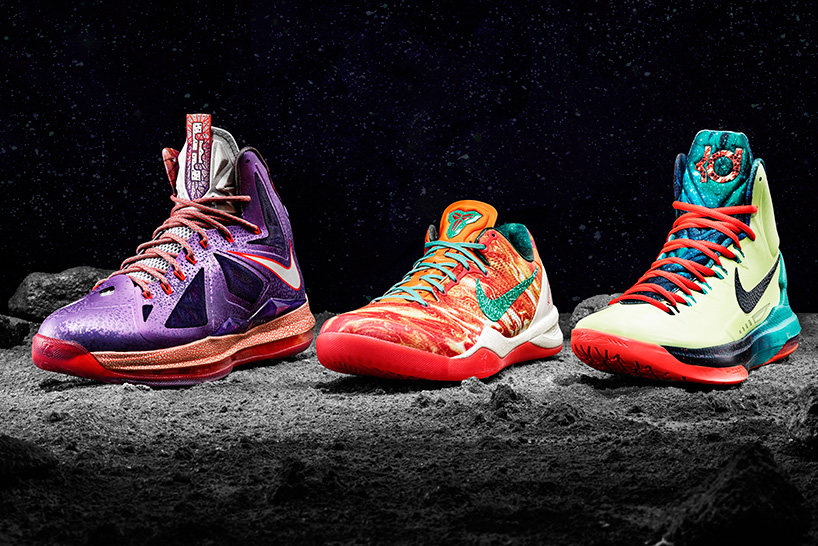 NBA all star houston collection – the mission control center in texas, widely know by its radio call sign 'houston' provides the creative inspiration for a special collection of shoes for NIKE basketball's fearless leaders lebron james, kobe bryant and kevin durant.
DB: are there any colors you personally avoid using?
ER: no! I can't afford to think like that. I suppose when I started I would have thought it strange to use bright pink on a basketball shoe but you see in today's world it wouldn't be the case at all. perhaps these days it would be a challenge to use more mundane colors on a shoe.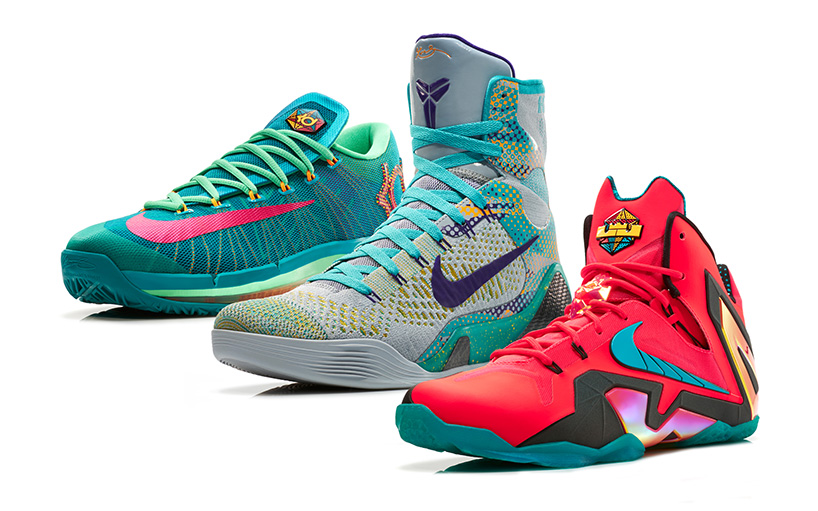 NIKE basketball elite series hero collection – lebron james, kobe bryant and kevin durant are real-life heroes that electrify the basketball universe.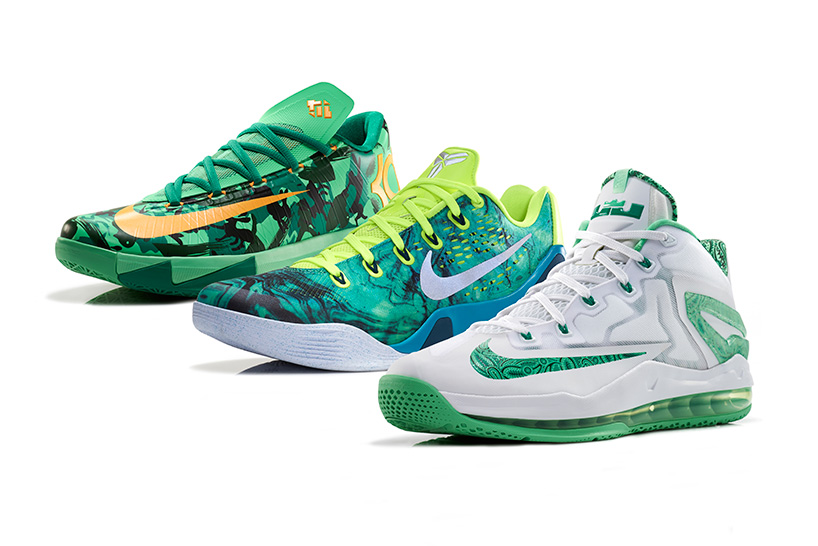 NIKE basketball easter collection 2014 – lebron 11, kobe 9 and KD 6 in seasonal colors.
DB: do your collaborations with NIKE streetwear allow you to be more experimental than usual with colorways?
ER: yes in some ways but at the same time every category has its own filters for color. in streetwear there's a very strong focus on fashion – what's 'in' right now and what's going to be 'in' next. even if you can use different colors, there's still a very considered strategy behind the way color is used.
DB: do you have any advice for designers who would like to specialize in color the way that you do?
ER: what's important is to keep an open mind and surprise yourself with where you can take color inspiration from. but at the same time be focused on how you use it – in my case it's about telling stories related to basketball, so that's my filter. try to think about the materials that will be used, and how color will be applied to them.
—
read our recent interviews with NIKE designers:
mark parker »
eric avar »
martin lotti »
tinker hatfield »
tobie hatfield »
paul francis »
nathan vanhook »
matt nurse »
jan 29, 2020
jan 29, 2020
jan 22, 2020
jan 22, 2020
jan 22, 2020
jan 22, 2020
dec 22, 2019
dec 22, 2019
dec 06, 2019
dec 06, 2019
oct 18, 2019
oct 18, 2019
NIKE
(190 articles)
feb 02, 2020
feb 02, 2020
jan 22, 2020
jan 22, 2020
dec 31, 2019
dec 31, 2019
a diverse digital database that acts as a valuable guide in gaining insight and information about a product directly from the manufacturer, and serves as a rich reference point in developing a project or scheme.