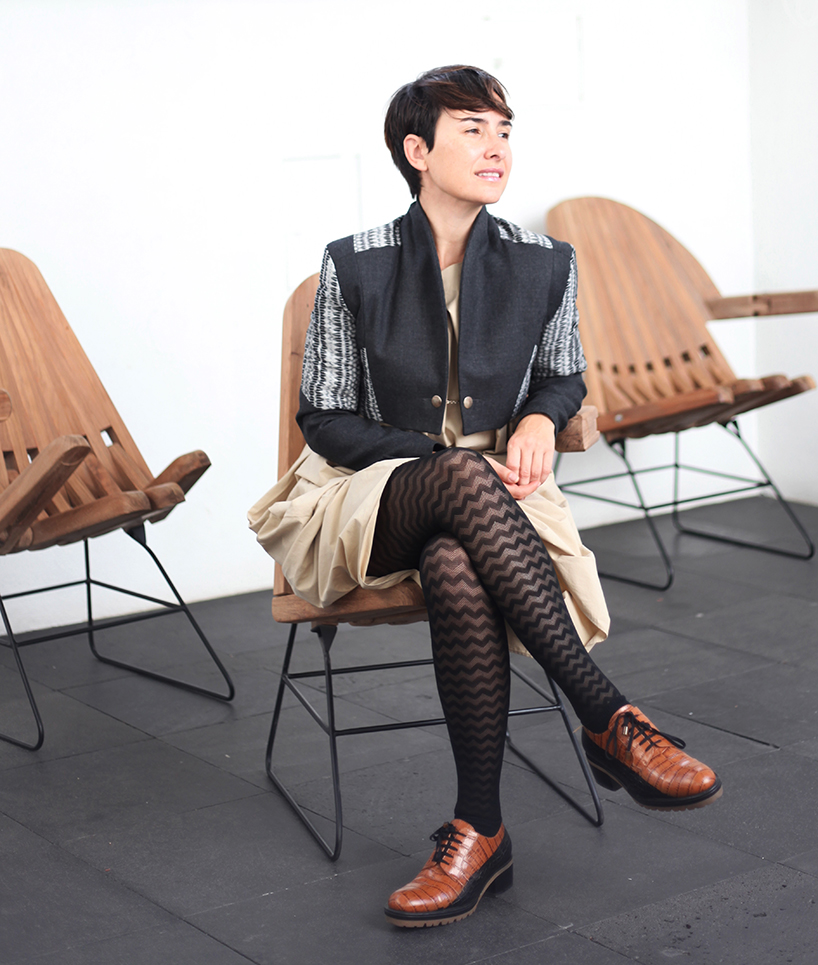 interview with fashion designer carla fernandez
carla fernandez photographed by ana hop

carla fernandez is a mexican fashion designer and the founder of taller flora – a demi couture line, co-designed by and using the delicate craftsmanship of mexican artisans. by supporting their immense creativity, their handwork as well as their ideas, this line seeks to prevent the extinction of the mexican textile tradition.
however, some of these beautiful garments take months to complete. this is not exactly following today's fast-paced fashion world. to be able to work and grow as a fashion label carla fernandez created another, a prêt-à-porter line. this line is fabricated industrially using high quality materials, and – of course – inspired by mexico.
carla fernandez takes her inspiration from traditional mexican garments, which are built up out of squares and rectangles. following this 'DNA' of mexican tailoring, carla fernandez's labels have a distinct geometric style.
as her solo exhibition carla fernandez: the barefoot designer: a passion for radical design and community enters its second month at the isabella gardner museum in boston – she told us more about her work.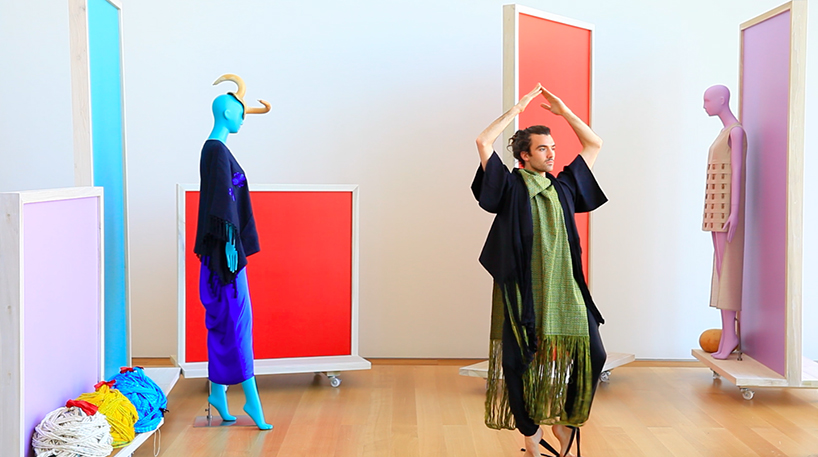 rashaun & silas performance at isabella stewart gardner museum
designboom: what sparked your interest in fashion?
carla fernandez: I love the power of clothing and the transformative quality of dressing up. when I was very young, maybe five years old I remember dressing up for different events at school and I took pride in having the best outfit, or at least making the biggest effort. later when I was at high school I would make my own clothing, which fitted me very badly because I had no idea what I was doing. I made myself trousers that were way too big so I would wrap laces around my legs to make them fit – my friends saw me dressed this way and no longer wanted to be seen with me at lunch. that experience also made me realize the power that clothing has, in that you can control how you are perceived and what you communicate… clothing is a language all of its own.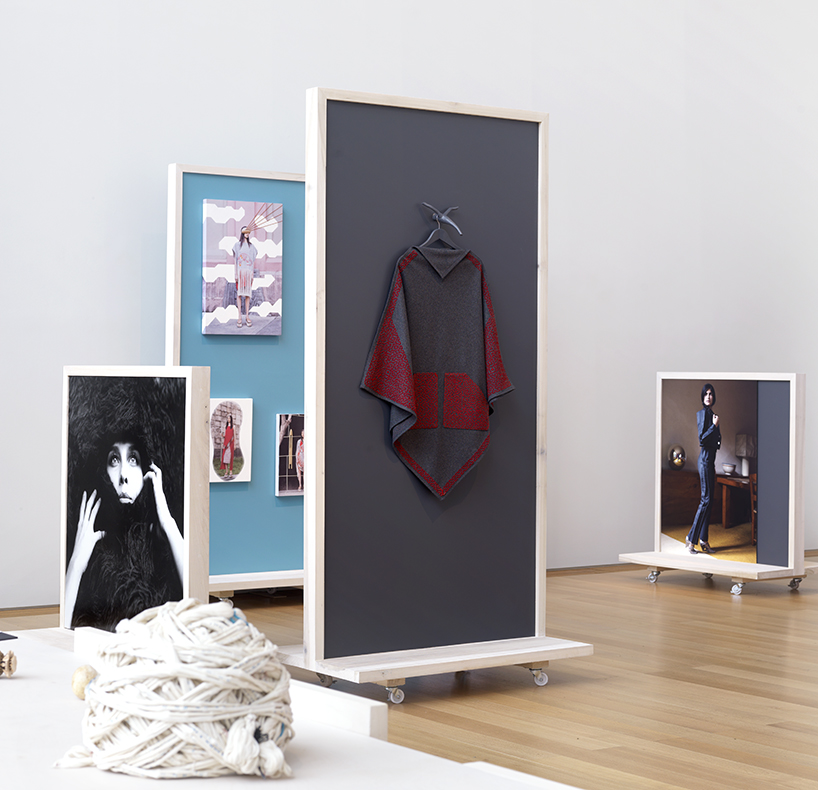 exhibition at isabella stewart gardner museum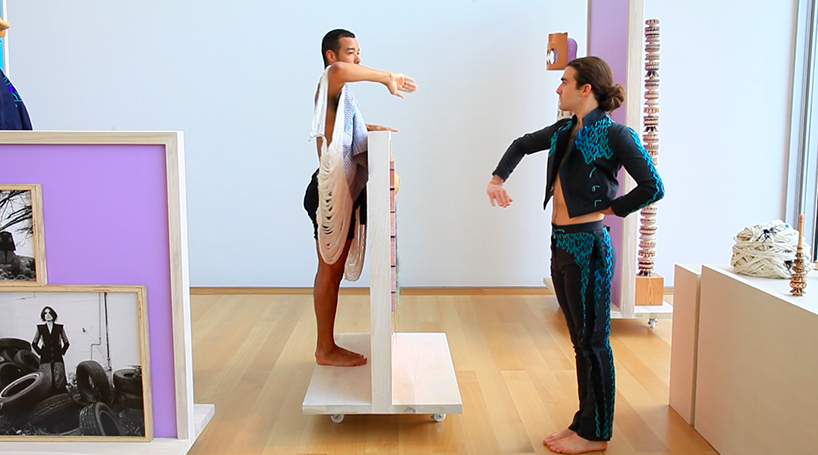 rashaun & silas performance at isabella stewart gardner museum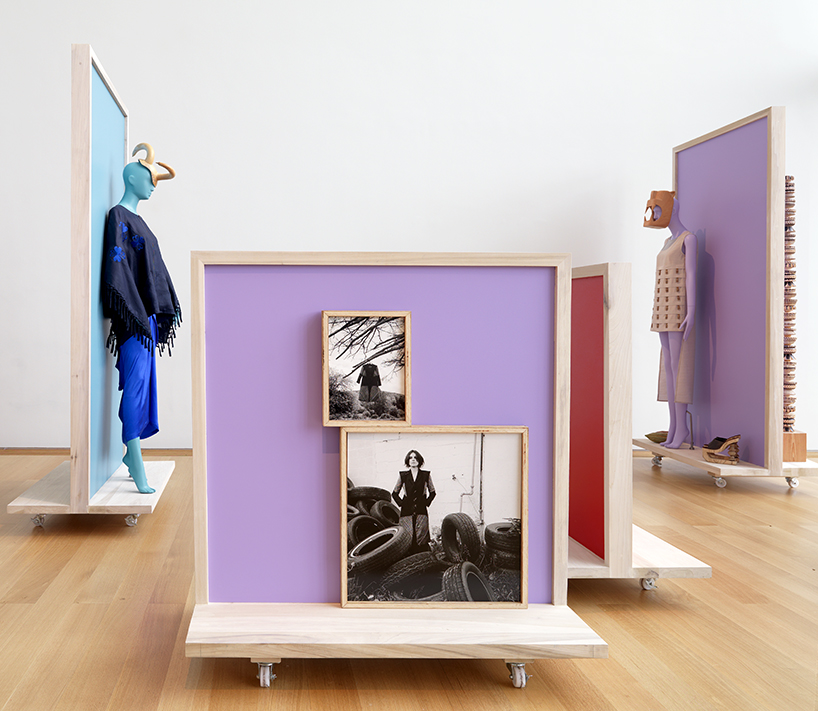 exhibition at isabella stewart gardner museum
DB: what made you take fashion more seriously and make a career out of it?
CF: I also noticed the incredible clothing that the indigenous people in mexico wear and was in awe at how amazingly well dressed they seemed in comparison to the majority of people in the streets of mexico city. but when I listened to people talk about fashion in mexico they weren't aware of these amazing colors and garments, rather they had the belief that mexicans didn't know how to dress and simply looked to the USA for inspiration. so I had the idea to try and create something I thought could be classed as mexican fashion I wanted to challenge these views.
DB: are you self taught or did you study fashion design?
CF: I wanted to go and study fashion in london at st. martins but it was too expensive for me. so I studied art history in mexico because there was no real fashion courses at universities here at that time. after that I went and studied fashion at a small institution called ibero mexicana de diseño where the course was very hands on and I learned how to design and make clothes – I was a fully capable seamstress by the time I finished there. these two areas of study were both very useful for what I wanted to do with my own designs.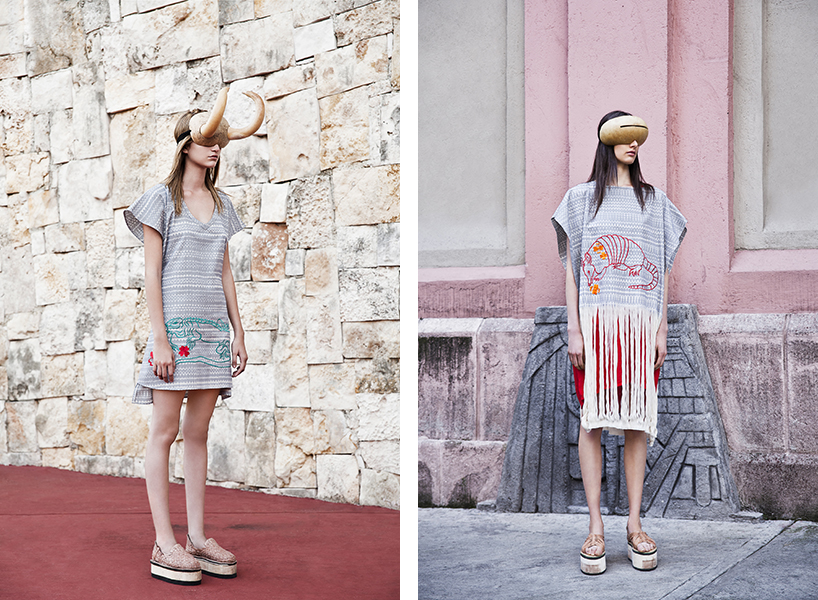 spring summer 2013 photographed by ramiro chaves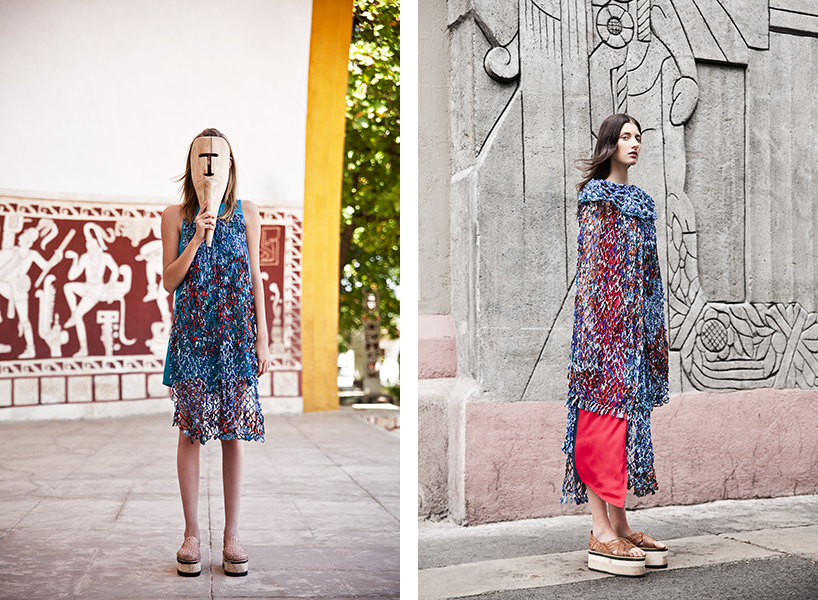 spring summer 2013 photographed by ramiro chaves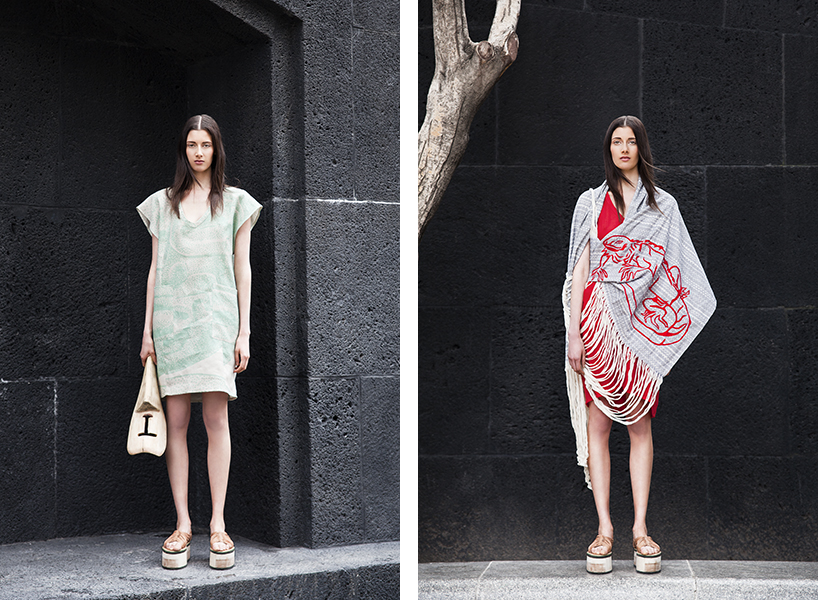 spring summer 2013 photographed by ramiro chaves
DB: how has your work evolved since you began your own label?
CF: the basis for a lot of our work is what we call 'the square route' because most traditional mexican clothing is made from square or rectangular pieces of fabric, as to not create any waste. but once the spanish introduced their complex garments to mexico the artisans were influenced by them and started to make more and more complex clothing.
the evolution I see in our work is that we have gotten gradually closer to the essence of the original mexican style and at the same time made it increasingly appealing to a contemporary audience. we've managed to make these garments which everybody said were un-sexy into sexy pieces even though we have maintained the original geometry.
DB: have your pieces become more appealing to people as a result?
CF: yes, I think so. people today seem willing to dress a little bit differently from one another. I definitely see young people today making more effort in the way that they dress than young people did ten years ago. people are getting tired of just wearing a t-shirt and jeans every day and it's great to see people express themselves more in what they wear.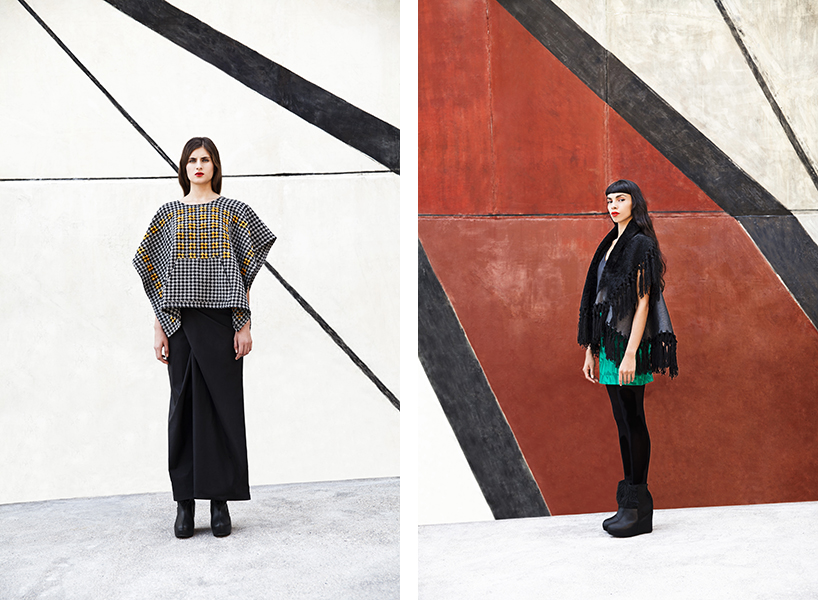 autumn winter collection photographed by ramiro chaves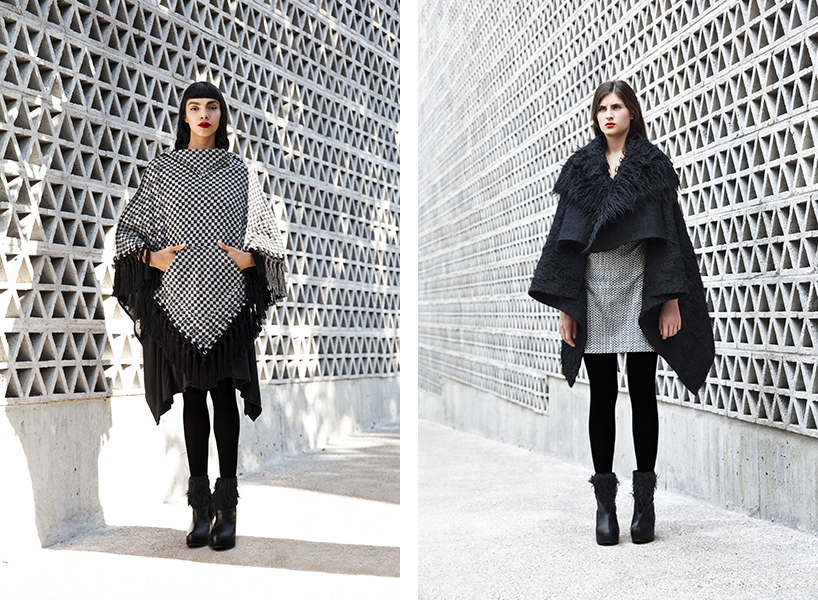 autumn winter collection photographed by ramiro chaves
DB: are there any types of clothing that you avoid wearing?
CF: yes, many things! I'm quite small, so I avoid long dresses or anything with big shoulders. not that I don't like to design those things it's they just don't look great on me.
DB: does your approach differ when designing menswear compared to womenswear?
CF: I love to design unisex clothing. quite often you will see as well that women buy our menswear and men buy accessories or pieces designed for women. sometimes we will see that and interpret that into our next collection. an interesting line that we have is the charro collection. charros are mexican cowboys and their incredible clothing is made by a select number of very talented and experienced tailors. when we approached one of these guys to work with us on charro suits for women he was very nervous about it because it's actually a rule among the charros that women shouldn't wear these clothes. eventually we managed to convince him and he was very happy with the results and it's turned out to be a very popular line.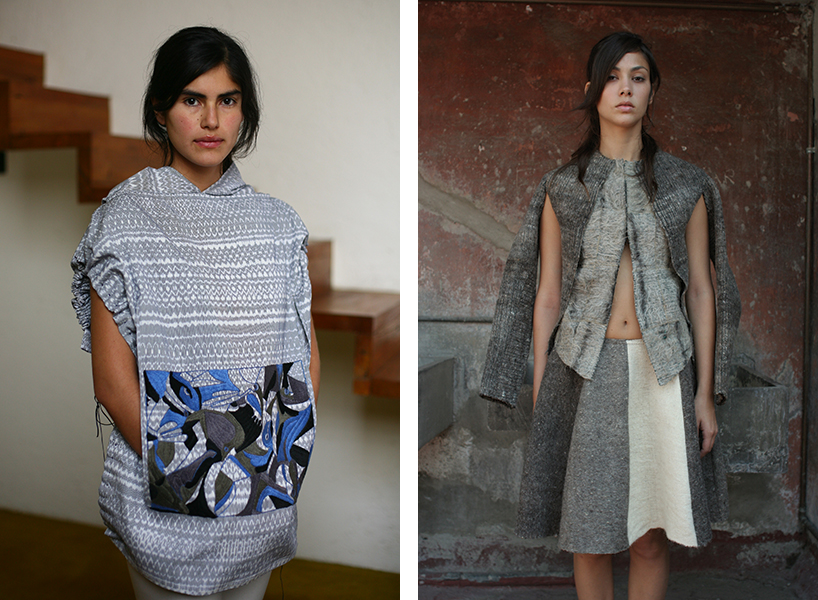 sofia and diana photographed by mark powell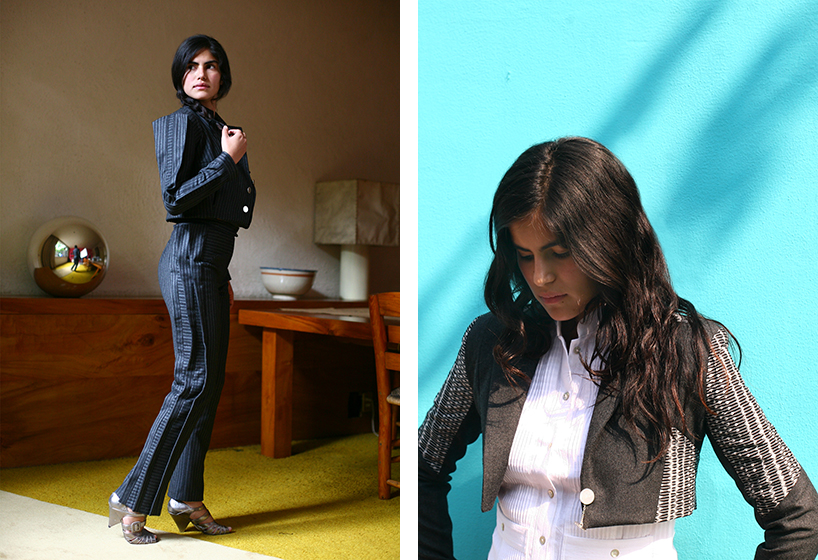 sofia (wearing pieces from the charro collection) photographed by mark powell
DB: how is your work received internationally?
CF: very well! last year we presented our collections in london and we currently have the exhibition at the isabella stewart gardner museum. in both instances the audiences gave us great feedback and were very enthusiastic about our work. our stores in mexico are also very popular with foreign visitors to the city.
DB: how do influences from outside of mexico find their way into your work?
CF: in many ways. we are absolutely looking at what's going on in the world of fashion all over the world an not just what is happening in mexico or just looking to mexican tradition. the label is a mix of many influences. in fact, the artisans in the communities I work with see things on TV or online and are integrating them into their own work, they are not just reproducing traditional patterns and motifs.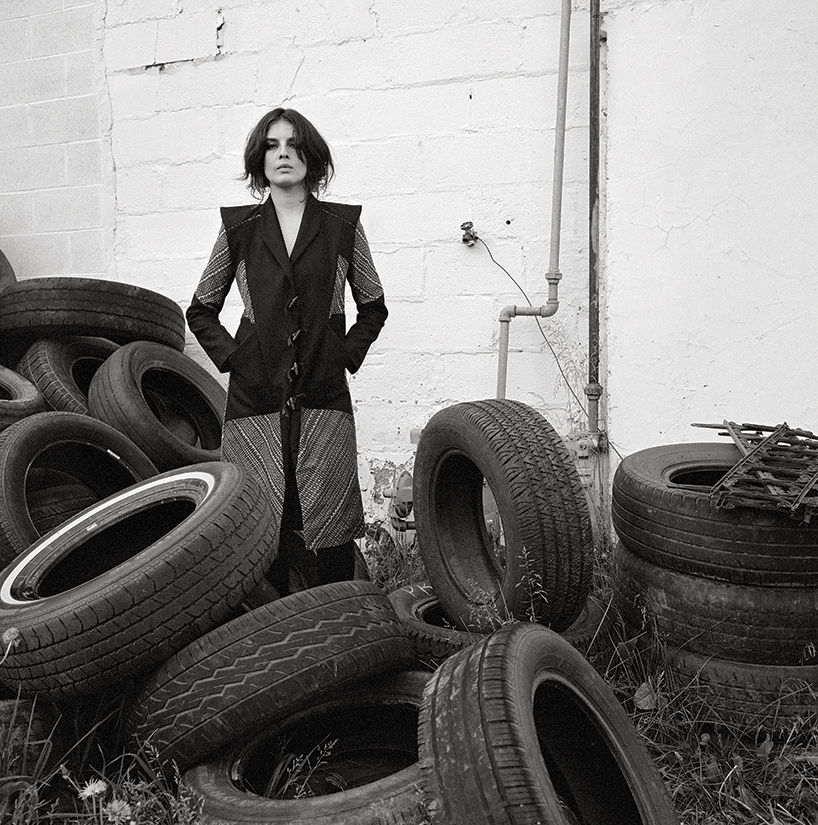 liliana dominguez photographed by graciela iturbide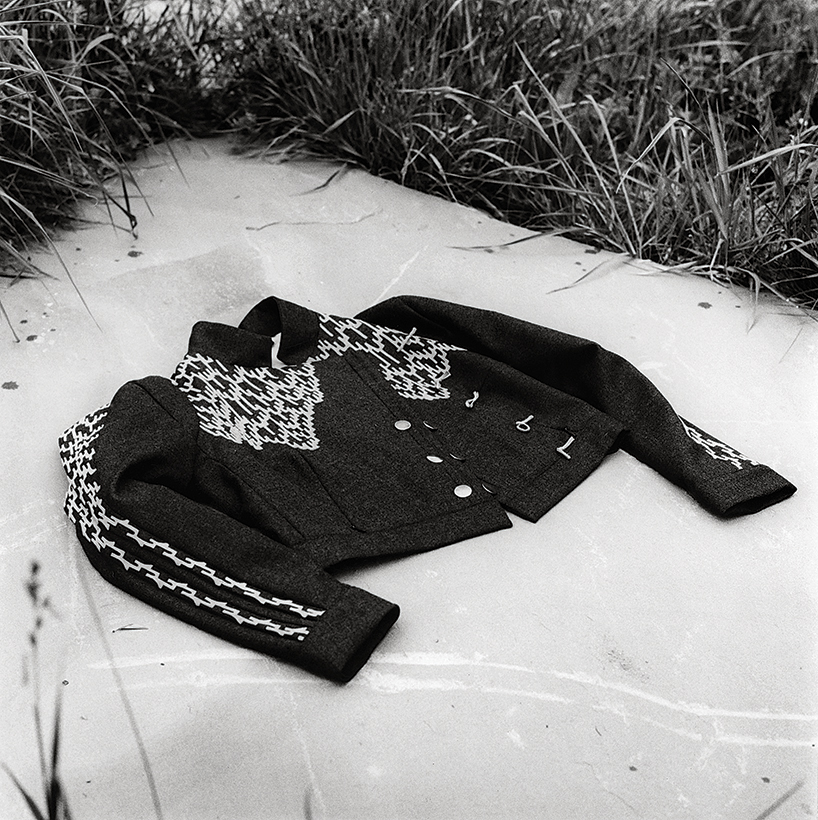 charro jacket photographed by graciela iturbide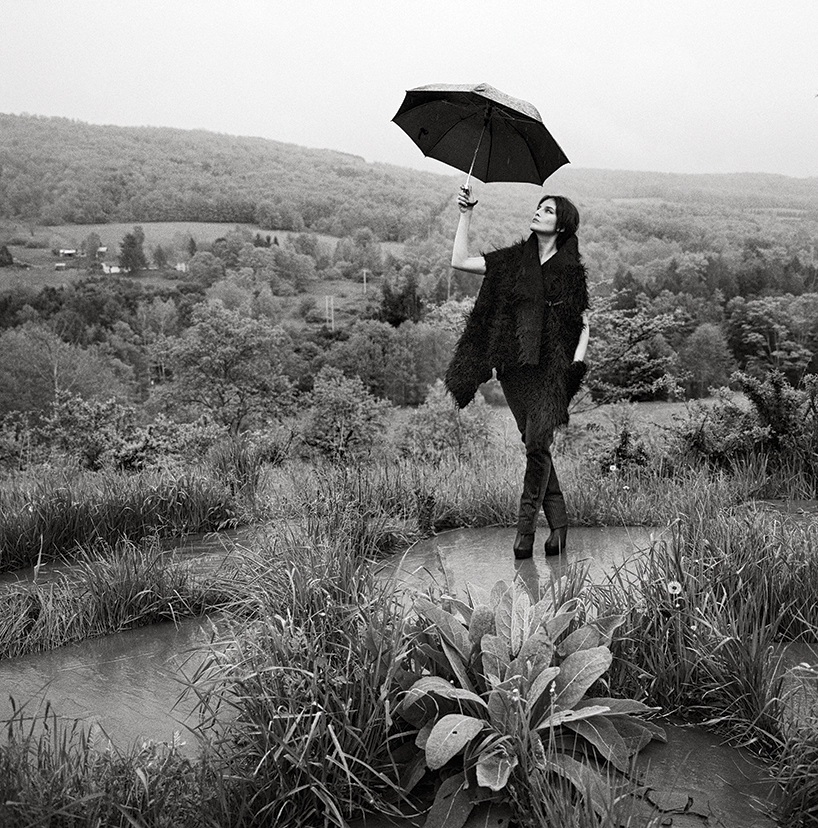 liliana dominguez photographed by graciela iturbide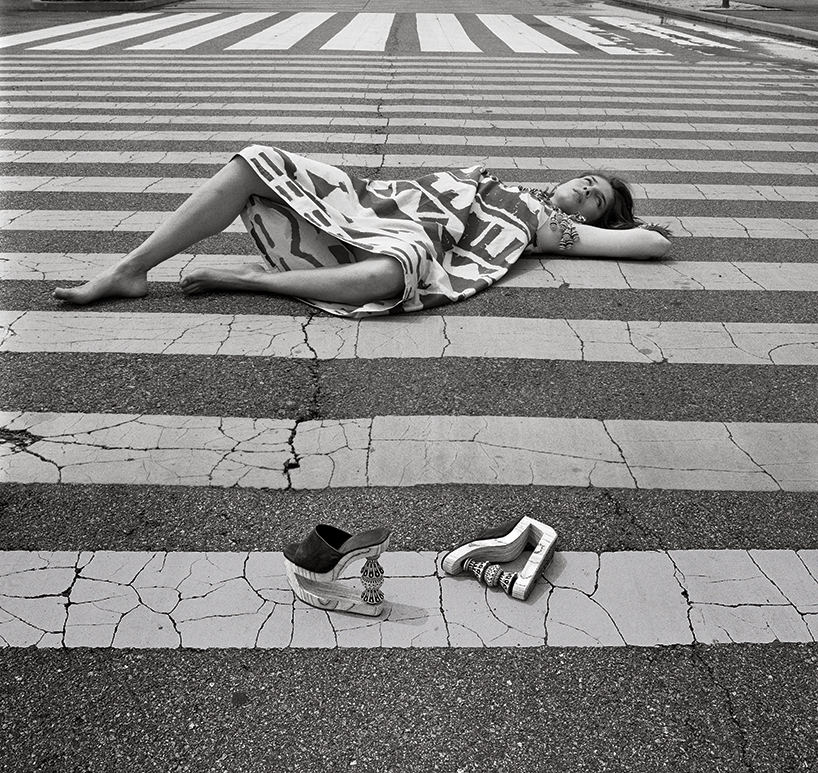 liliana dominguez photographed by graciela iturbide
DB: what are you fascinated by at the moment and how does it feed into your work?
CF: I love talking to young people and I work with lots of young people. their insights definitely fascinate me but so does talking to older people, people in their 70s or 80s who also are just as tuned into fashion but from a different perspective. I'm fascinated by stones at the moment. I love looking at the different types of stone and how it's used, how it's formed, the amazing variety in colors… everything! I'm in love with this idea of being a cavewoman who lives in the future and so all of this is feeding into my next winter collection.
DB: what is the biggest lesson that you have learned since you started your company?
CF: your moment will arrive and you have to be ready for it. you have to be focused on what you are hoping to achieve and be very dedicated. I'm very happy with what we have achieved but sometimes I think I could have been more business minded earlier in my career – then again you can never know, because you know things now that you didn't then. whatever you focus on at any given point be it your design ideas or your business give it 100% because time passes by quickly.
DB: what advice would you give to young designers?
CF: I've learned that as a fashion designer you depend on many, many people to make things happen so you need to assemble a great team of people to do things well. every day is a challenge especially in a market like mexico – so you need a great design team, great seamstresses, good administrators, good sales staff, people that contribute to the company not just people who are there to make up the numbers. you have to be savvy and not just think it's only about design – to be successful you also have to know about money, public relations, management, production, real estate… study them yourself and ask people for advice on these things.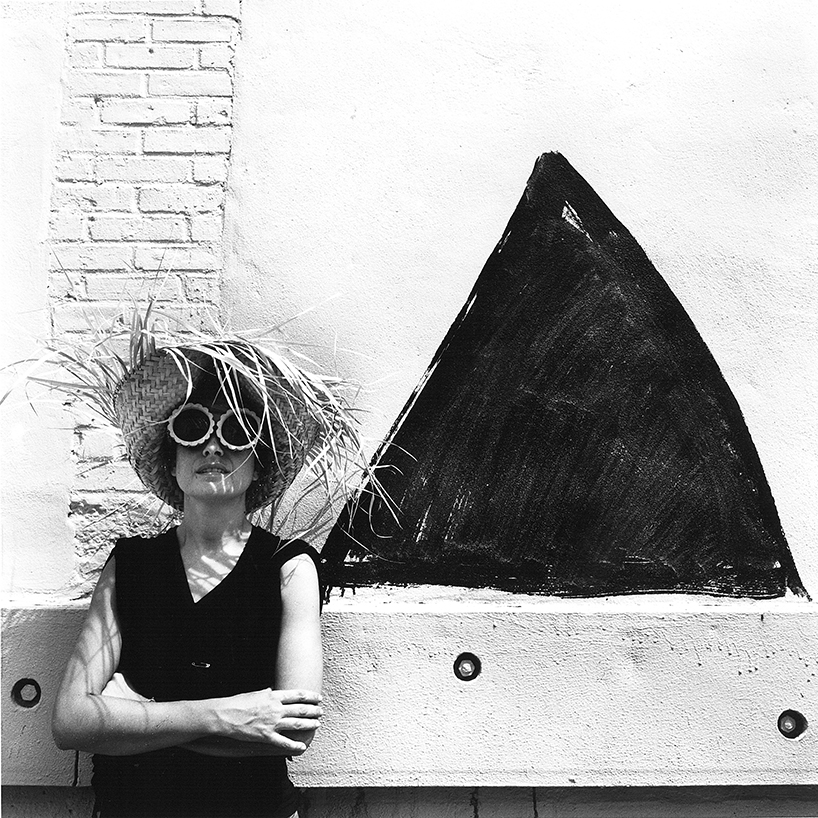 carla fernandez photographed by graciela iturbide
DB: what would you like to achieve before the end of the year?
CF: I would love for my new store in roma, mexico city to evolve into a space that is a 'total' experience for customers. a place where you almost 'inhale' the brand and get a good feel for what we are trying to do with our work… full immersion!
DB: are you superstitious or do you have any rules you live by?
CF: yes of course! I'm very interested in astrology. I'm aquarius and I can almost always spot another aquarius if I see one in the street. sometimes I try to guess what star sign someone is by the way they are. one superstition I have is that I never put my handbag on the floor – in mexico we think this means your money will disappear or run out quickly.
DB: what's your motto?
CF: 'the future is handmade' – I love this phrase from the prince claus fund. it's something that I truly believe. we can already see that people want to balance their technological, mass market lifestyles with handmade goods, analogue equipment, organic goods. for me personally it goes back to this idea I have of seeing myself as a cavewoman living in the future. sometimes the simplest things give us the most satisfaction.
KEEP UP WITH OUR DAILY AND WEEKLY NEWSLETTERS
a diverse digital database that acts as a valuable guide in gaining insight and information about a product directly from the manufacturer, and serves as a rich reference point in developing a project or scheme.
designboom will always be there for you
milan, new york, beijing, tokyo

,
since 1999