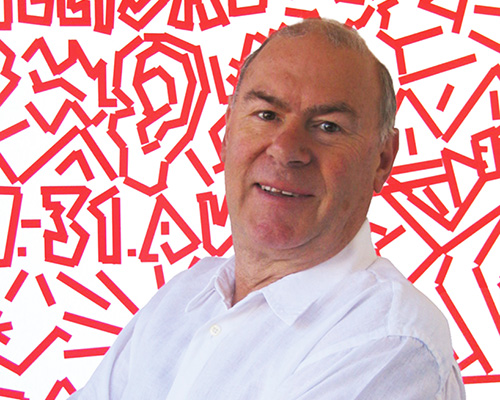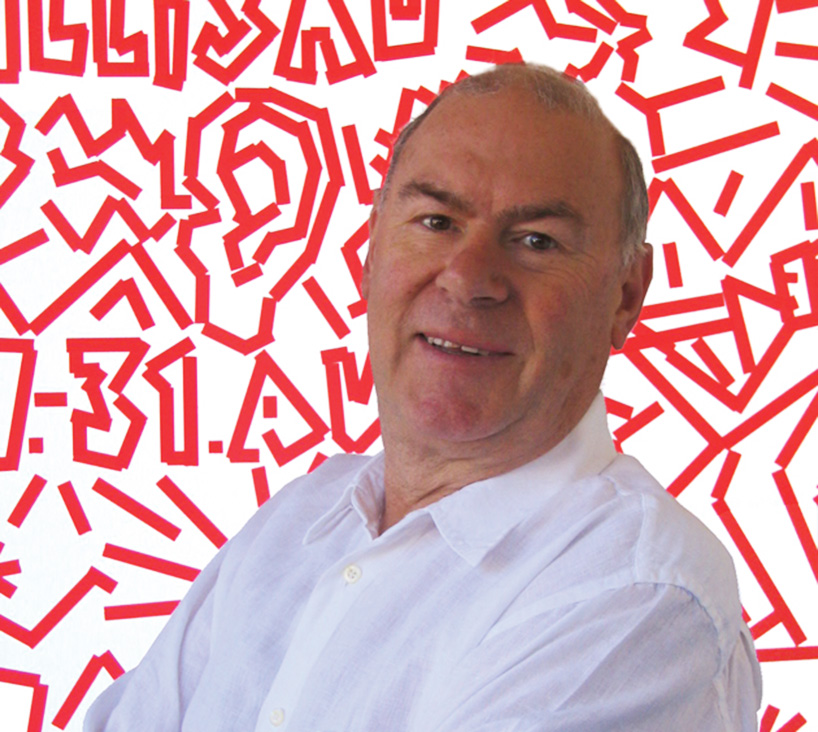 feb 12, 2014
interview with graphic designer niklaus troxler
niklaus troxler was born in willisau, switzerland in 1947, where he formed his eponymous studio at the age of 26 after studying graphic design at the art school of lucerne. since then he has become renowned for his poster designs, which can be found in the collections of the museum of modern art new york, toyama museum of modern art japan and the stadedeljk museum amsterdam among others. he told designboom about his design process and influences.
DB: what was the thing that initially made you want to be a graphic designer?
NT: when I was around fifteen years old I was very impressed by all the posters I saw in the streets of willisau and they made me want to design posters myself. the greatest influence on me at that time the work of herbert leupin and hans falk.
DB: how would you describe your work to someone unfamiliar with it?
NT: my posters have communicate a specific message, they look positive and should reach the passers by in the street, even if they are not very much interested in the subject matter.
DB: which project or period of your career have you enjoyed the most thus far?
NT: the years when I was teaching at the state academy of art and design in stuttgart, germany – from 1998 to 2013. it was such a challenge to guide young people and to bring them to enthusiasm for a wonderful profession.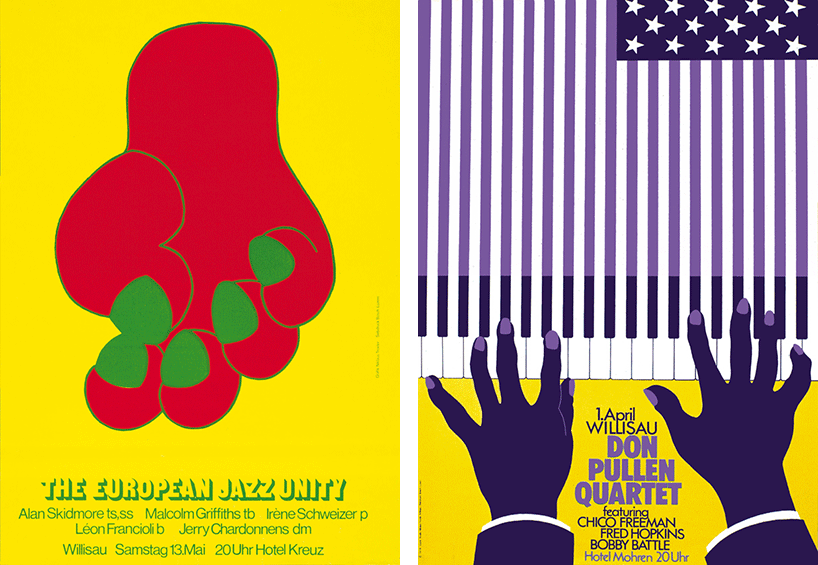 left: european jazz unity, 1972
right: don pullen, 1978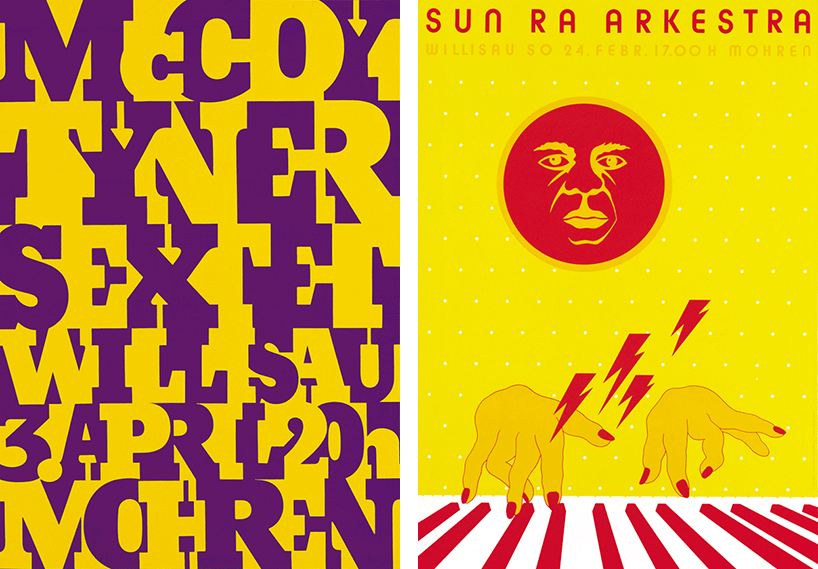 left: mccoy tyner, 1980
right: sun ra arkestra, 1980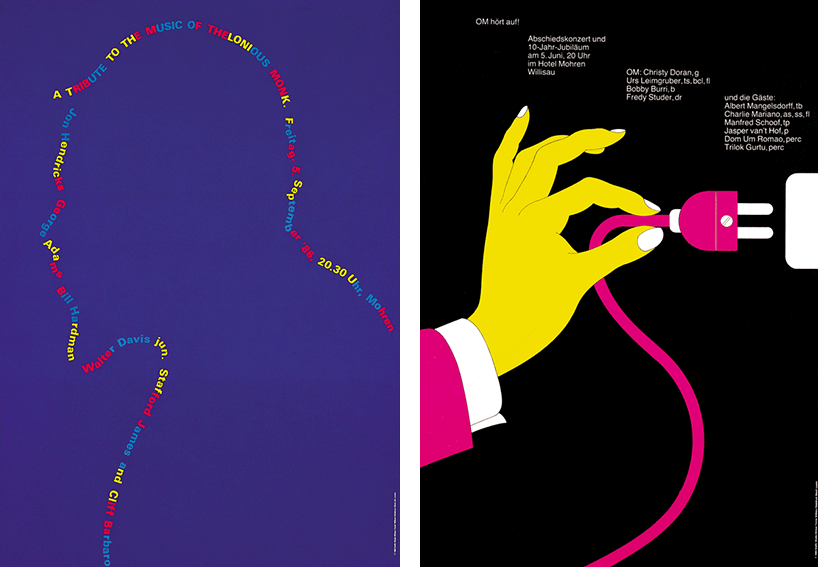 left: tribute to monk, 1986
right: OM, 1982
DB: do you enjoy working with direction from a client or having complete freedom?
NT: I love total freedom a lot, but sometimes it is good to get some guidelines for the job. it's always important to have a good relationship with the client.
DB: how do you see the future of the poster in a time where people increasingly get their news from the screen?
NT: it seems that the time for silkscreen and offset posters is coming to an end but more and more often you see digital prints in all sizes in the streets. it looses sensitivity – but it's nice to see the poster survive! it's a medium that cannot be replaced with any other.
DB: what is the most important aspect of poster design for you and how do you try to achieve it?
NT: posters have to translate a complex information into a non-complex format and that's always a big challenge to the designer. but when you are able to overcome that challenge it's very rewarding to reach people with your work.
DB: what do you do to keep your ideas fresh?
NT: before I start a new project I try to forget everything I've already done. I have to start fresh, as though I'm designing a poster for the first time. I want to discover something new in my process – a new way, a new idea, a new conception. only when I discover something new it is satisfying for me.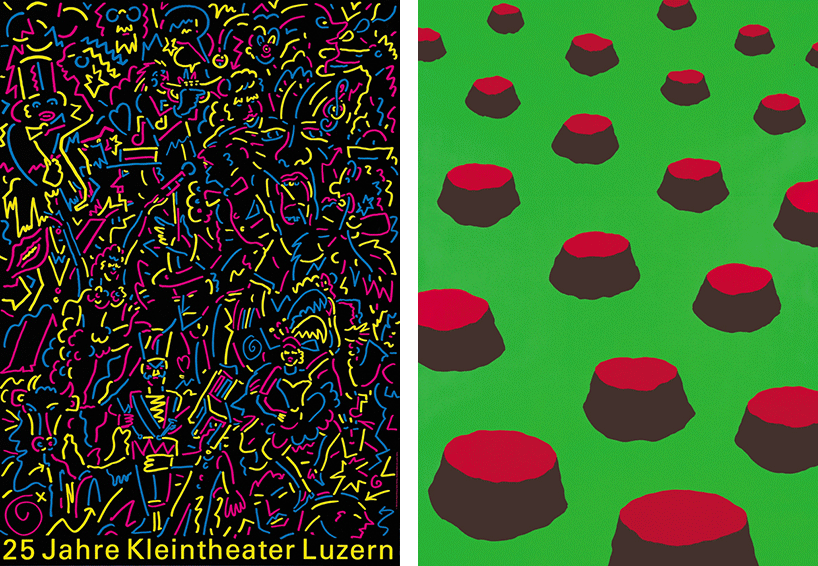 left: kleintheater luzern, 1991
right: dead trees, 1992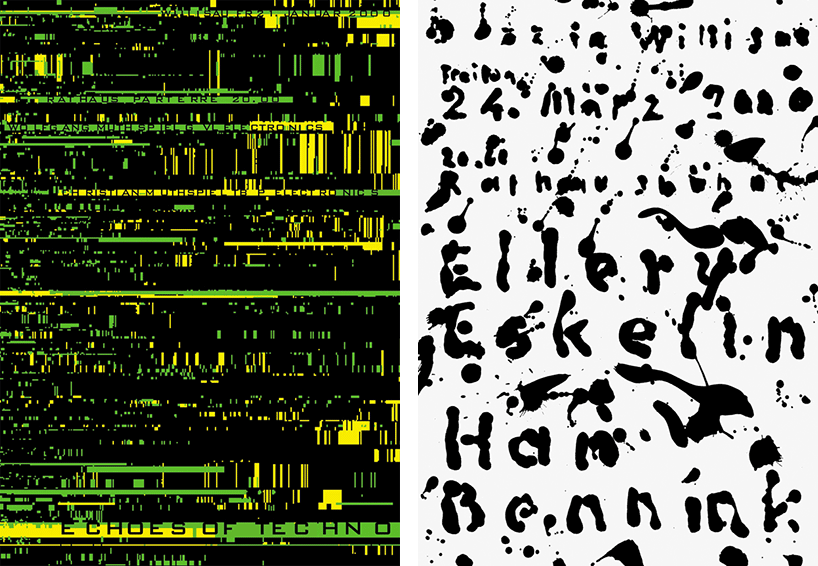 left: echoes of techno, 2000
right: eskelin & bennink, 2000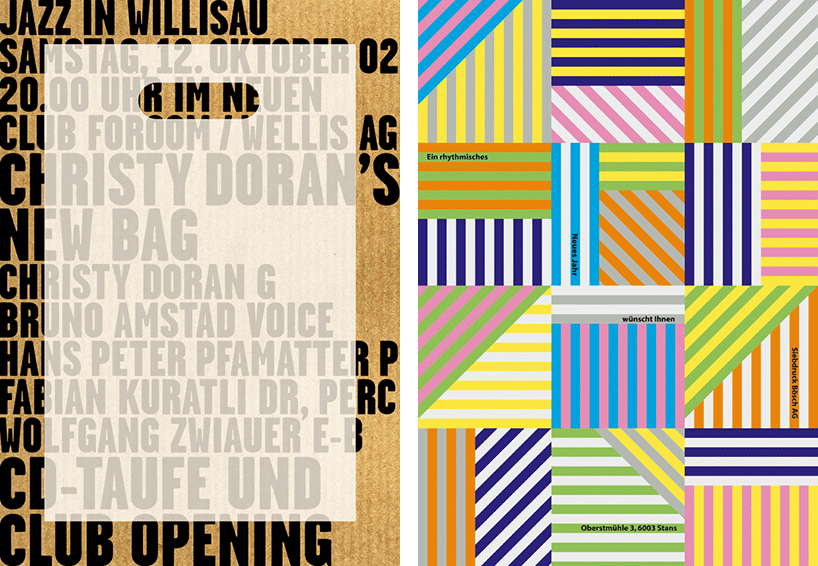 left: new bag, 2002
right:  new year boesch, 2005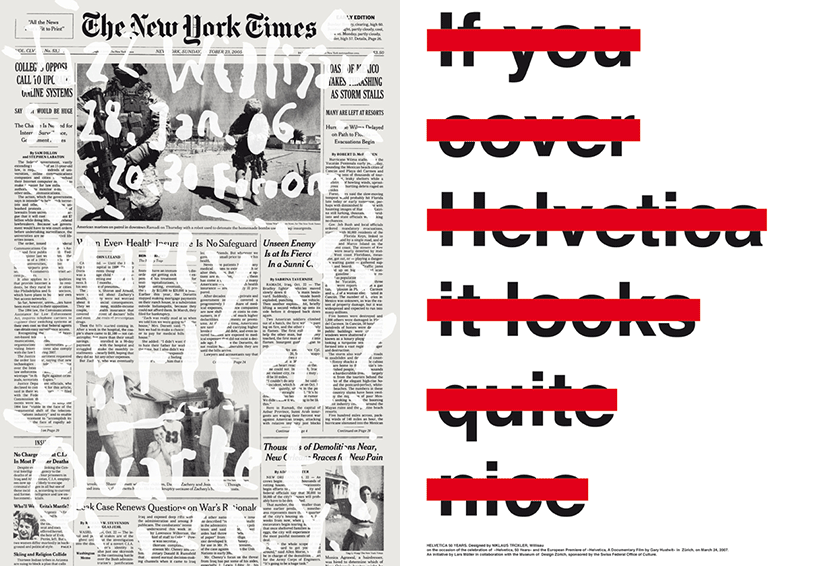 left: marty ehrlich, 2006
right: helvetica, 2007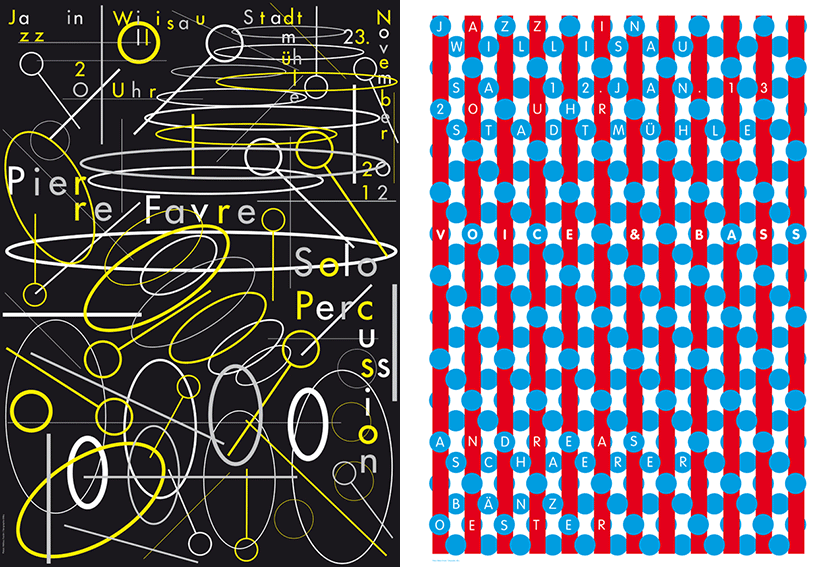 left: pierre favre solo, 2012
right: voice & bass, 2013
DB: what do you know now that you wish you knew when you were starting out?
NT: in the beginning it was good to not know too much about design and conceptions. today I know that routine is the killer! to start new, without any rules and dogmas is very important.
DB: besides design what are you passionate about?
NT: I like to read books, visit theaters and cinemas. I like to bike, to hike and listening to music. I'm a wine lover and like a good kitchen and good food.
DB: do you have any superstitious beliefs or self imposed 'rules' that you live or work by?
NT: take as much freedom as you can get!
DB: what do you hope to do in 2014 that you have never done before?
NT: I work on a diary with drawings, day by day, which often brings new surprises.
more
read an interview with annik troxler »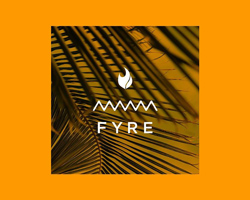 feb 10, 2019
feb 10, 2019
jun 21, 2018
jun 21, 2018
may 17, 2018
may 17, 2018
oct 04, 2017
oct 04, 2017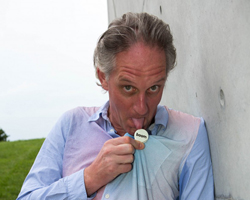 jul 29, 2016
jul 29, 2016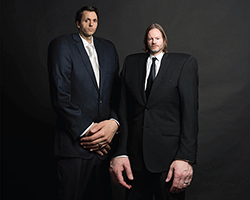 feb 21, 2016
feb 21, 2016
apr 02, 2019
apr 02, 2019
feb 03, 2019
feb 03, 2019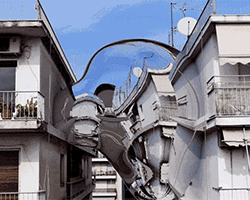 aug 13, 2018
aug 13, 2018
a diverse digital database that acts as a valuable guide in gaining insight and information about a product directly from the manufacturer, and serves as a rich reference point in developing a project or scheme.