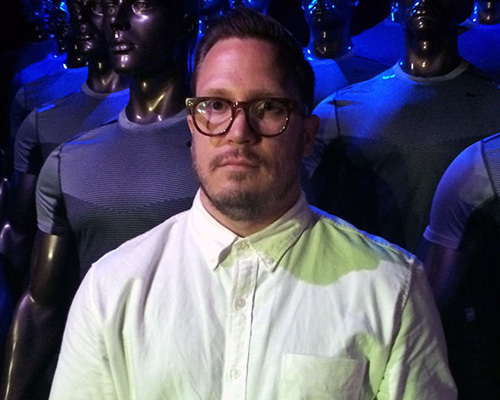 jul 30, 2014
interview with nathan vanhook, NIKE training footwear design director
interview with nathan vanhook, NIKE training footwear design director
on our recent trip to NIKE WHQ designboom had the chance to talk to nathan vanhook, NIKE athletic training footwear design director. since joining the company in 2008 nate's designed some of the most sought after NIKE shoes in recent years such as the woven footscape chukka and the yeezy II. he told us more about his influences and design approach…

designboom: please could you tell us a bit about your background and how you came to work at NIKE?

nathan vanhook: I grew up playing baseball through the 80s and 90s and was always very interested in art and design. I studied industrial design at philadelphia university and worked a few other jobs before I came to work at NIKE five years ago.
having always drawn shoes as a kid and being a huge sneaker fan the idea of working for NIKE seemed like an amazing opportunity and sometimes it still feels unreal for me to be designing shoes for a living. since joining the company I've been incredibly fortunate with the projects I've worked on and with the talented people I've been able to collaborate with.
for the first few years I was a senior designer working across different sectors, then last year I moved to NIKE training. when I was asked about joining the training team all I kept thinking about was the bo jackson commercials, john mcenroe and the original cross trainers by tinker hatfield… I couldn't turn down the chance to build on that history. with training it's great to be able to work on products that people not only wear everyday but that they also push to their limits.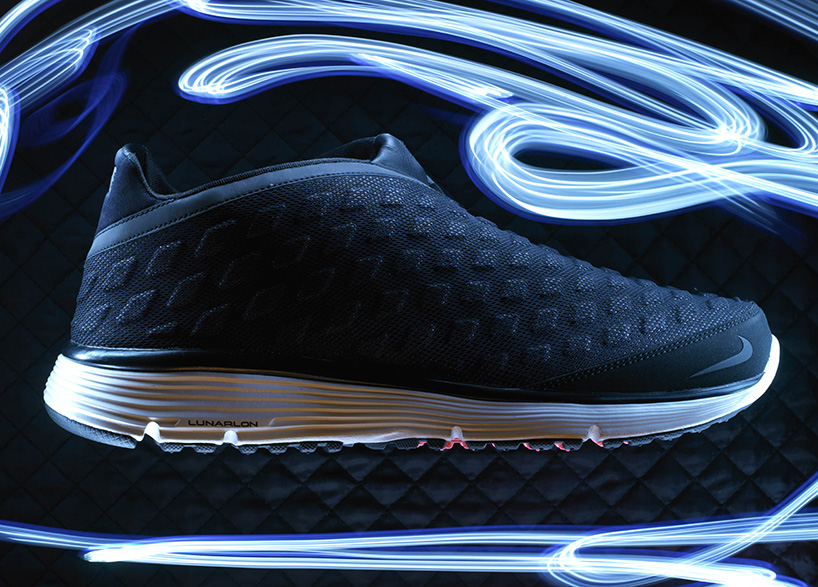 NIKE LUNAR ORBIT, 2011 – a new take on the entry system taking experience from van hook's experience of designing wetsuits, the lunar orbit is engineered for function.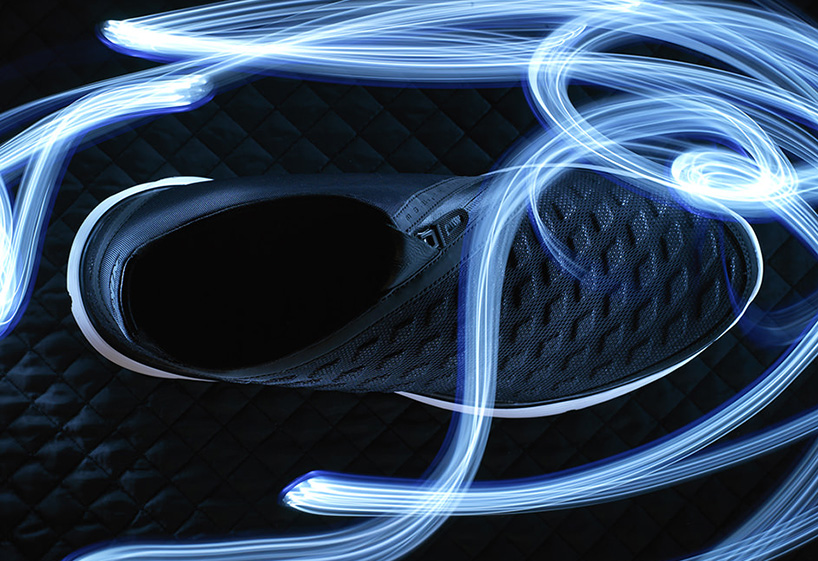 an engineered top mesh to provide less surface contact on the foot, a medial support sleeve, reflective taping for visibility and a PU coated zipper inspired by the NIKE tech pack.
DB: what would you say is your strongest skill?

NVH: my hunger to design and my passion for sport. I really just enjoy geeking-out over both sport and advanced design. I keep myself updated on what's happening in architecture and industrial design I'm always reading up on new technologies, art, fashion, design – as much as I can take in basically.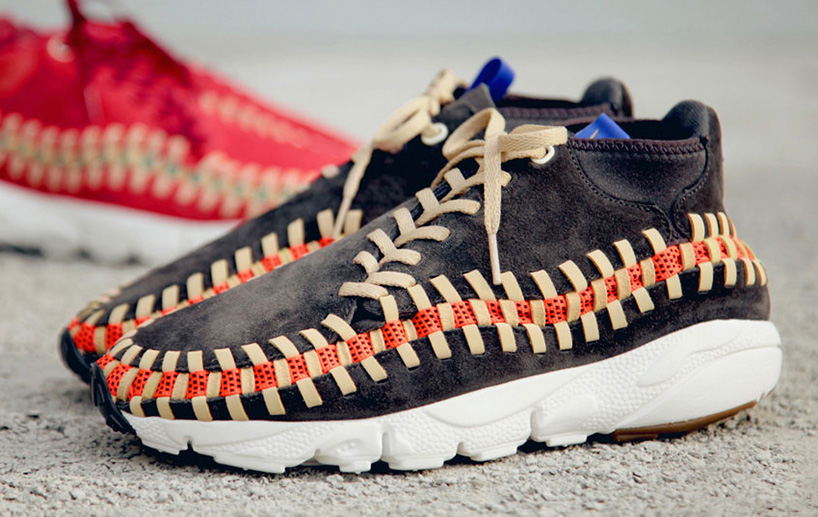 NIKE FOOTSCAPE WOVEN FREEMOTION CHUKKA, 2011 – the woven chukka takes all the great work by mike aveni and takes the collar to a chukka height with integrated stretch gussets for ease of entry and a free motion tooling for added comfort. the woven panels create maximum breathability.
DB: in such a competitive market how do you try to stay ahead of your rivals?

NVH: we're obsessive in what we do and we love what we do. that goes for everyone I've worked with at NIKE since I started here and it shows in the work we do.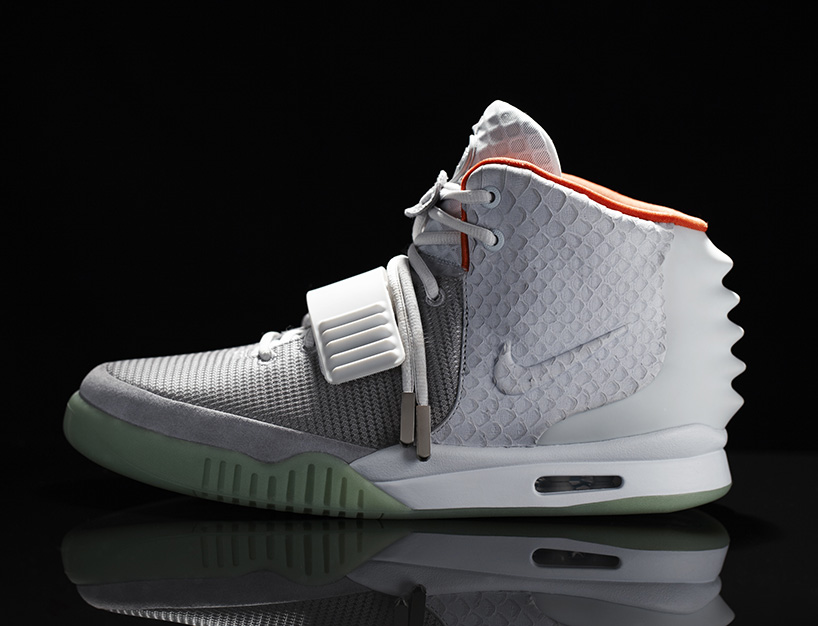 NIKE AIR YEEZY II, 2012 – a collaborative project with kanye west that started when he was working on his, 'my beautiful dark twisted fantasy' album and wrapped up while he was working on 'watch the throne' with jay-z.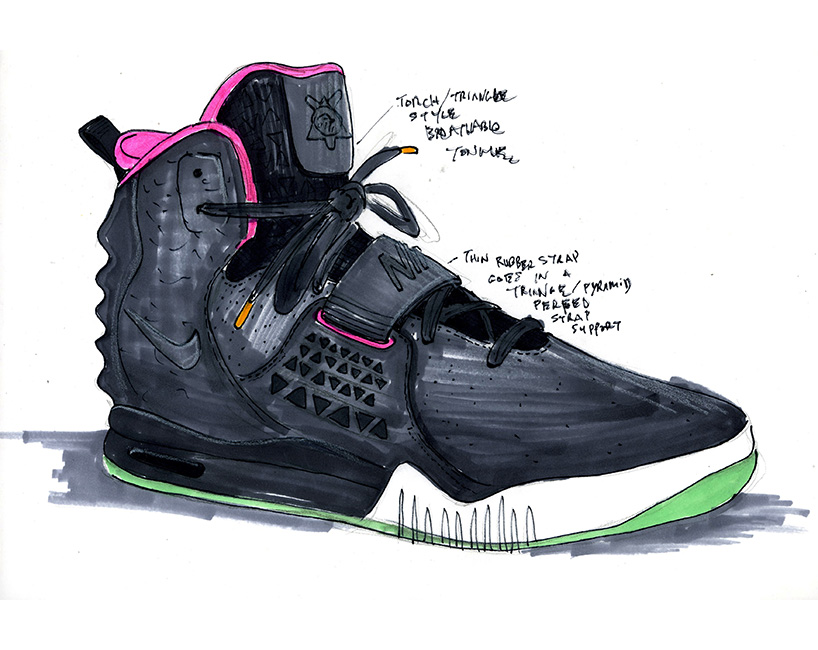 YEEZY II sketch by nate van hook – the NIKE air yeezy II blends classic NIKE court breakthroughs with performance and an obsessive approach to materials and detailing. futuristic craft meets animalistic form.
DB: what goals do you want to achieve with your future projects?

NVH: we want to constantly improve our products and we want to surprise people. something we hear a lot when it comes to the training collection is that people want to feel like they have nothing on, they don't want the training gear to obstruct them or distract them in any way. so we're focusing on optimizing fit, articulation, making things lighter – so that everything works in complete unison with the body.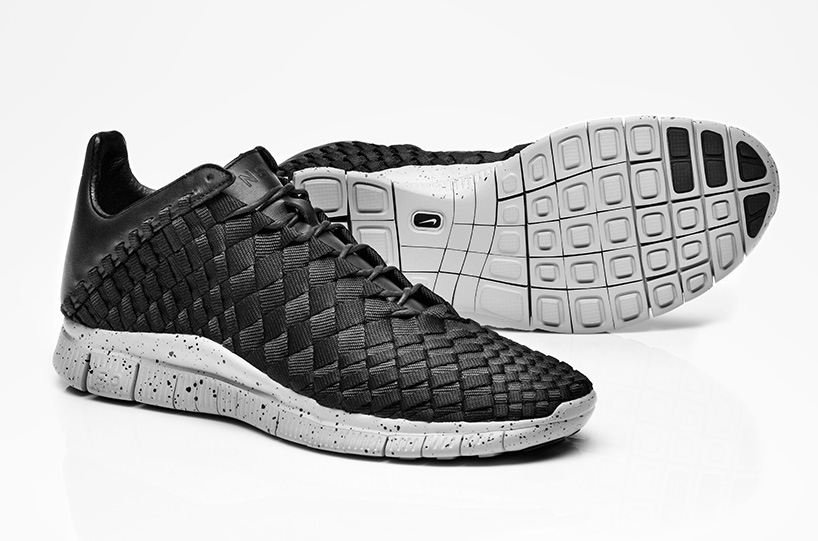 NIKE INNEVA WOVEN, 2012 – designed to mimic the natural bio-mechanics of the foot, the shoe is defined by its premium crafted details: a hand-woven upper, dynamic lacing system and natural motion.
DB: apart from the athlete insights, what's another major factor in your design approach?

NVH: it depends on the purpose of the shoe that we're working on, the specific things that the shoe needs to perform. I always try to design things that I want to wear myself. does the shoe look cool enough? is it surprising? what's new about it?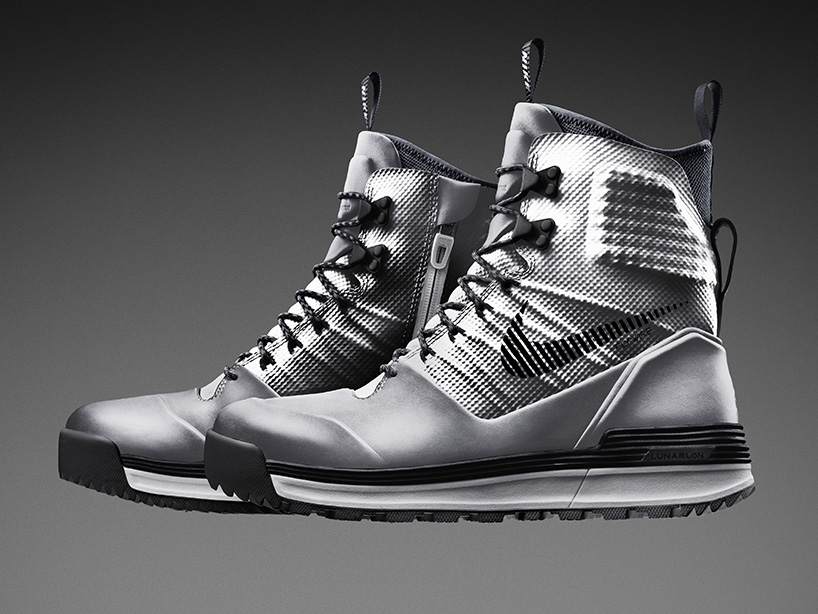 NIKE LUNARTERRA ARKTOS SP, 2013 – takes on the special projects filter with added TPU toe and heel overlays form goth-inspired diamonds.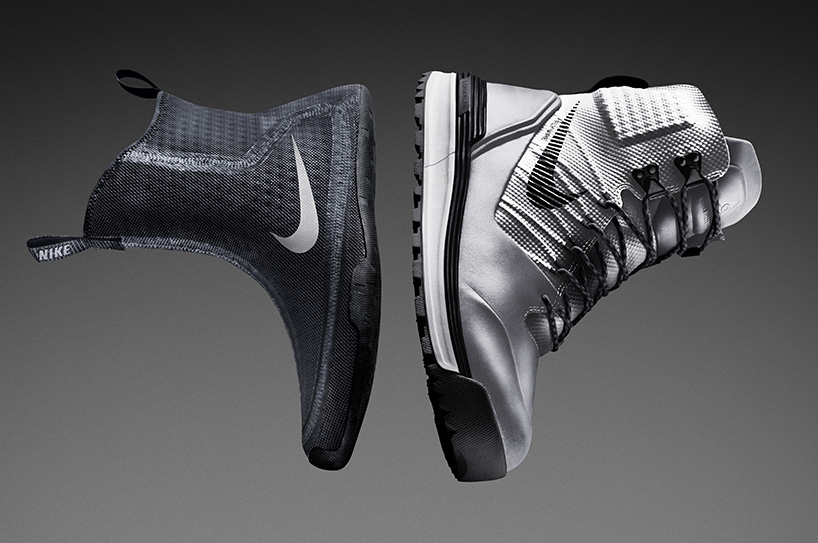 the boot communicates a connection to street culture while serving to further insulate and protect the foot from weather and wear.
DB: what currently fascinates you and how is it feeding into your work?

NVH: space technology, TED conference speakers, science… when I see what's going on in our innovation kitchen and research labs it blows my mind; we are living in the future now. a lot of the things we saw in science fiction movies as kids are happening today. something else that astonishes me is seeing modern production methods, the level of detail we can work at today… seeing how a zaha hadid building or a frank gehry building gets built – there's so much good work being done right now.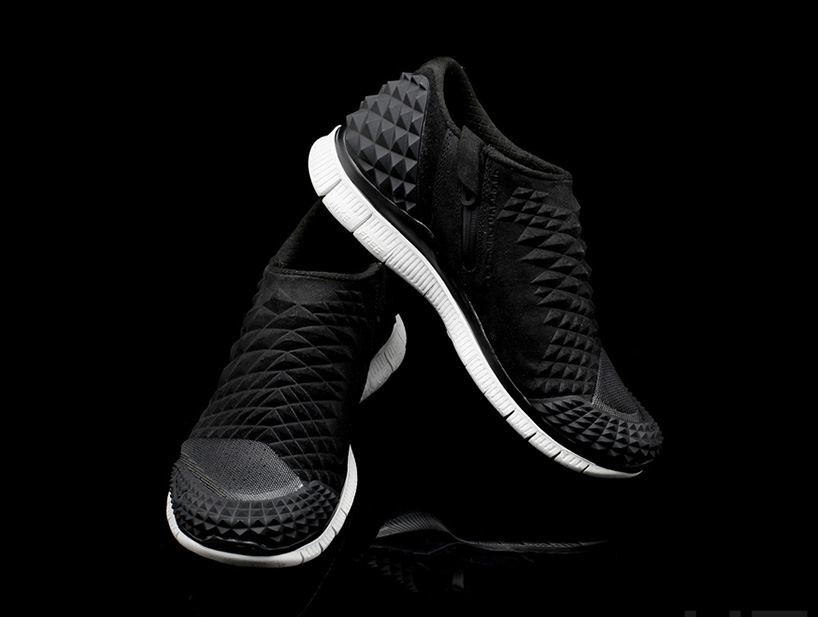 NIKE FREE ORBIT 2 SP, 2014 – utilizes a molded upper fit system with a medial zipper entry and external molded toe and heel TPU parts.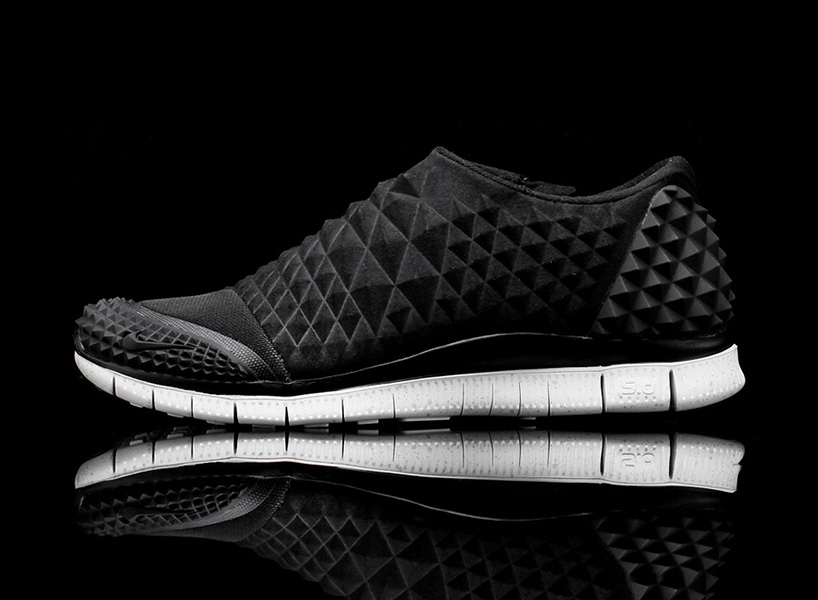 NIKE FREE ORBIT 2 SP, 2014
DB: do you have any advice for young designers on how to enter sports design?

NVH: if you've seen it before it's been done. you have to be thinking about what's next. challenge yourself all the time and raise your game constantly. look at what people are doing and try to do something better. hard work pays off and makes talent go a long way. you have to hustle and grind away to achieve anything in design – it takes a lot of effort.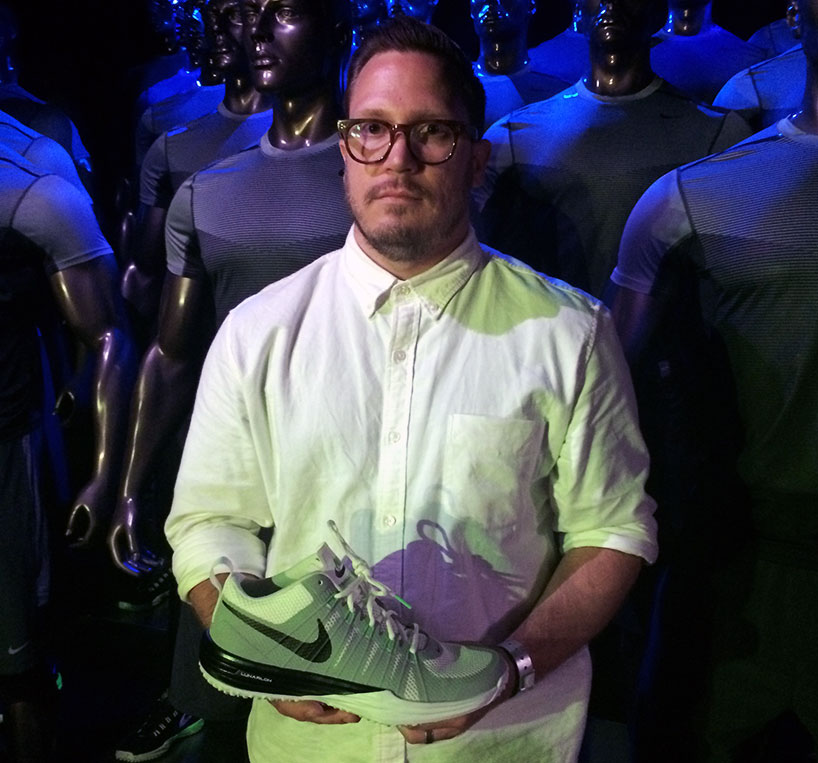 nathan vanhook, NIKE athletic training footwear design director holding the TR1 training shoe »
portrait © designboom
read our recent interviews with NIKE designers:
mark parker »
eric avar »
martin lotti »
tinker hatfield »
tobie hatfield »
paul francis »
NIKE
(199 articles)
jul 31, 2020
jul 31, 2020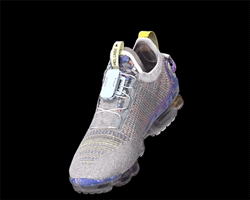 jul 19, 2020
jul 19, 2020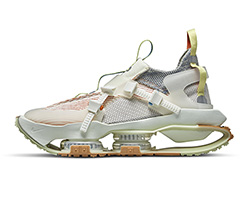 jul 08, 2020
jul 08, 2020
jun 29, 2020
jun 29, 2020
jun 01, 2020
jun 01, 2020
apr 19, 2020
apr 19, 2020
jul 28, 2017
jul 28, 2017
dec 12, 2016
dec 12, 2016
oct 24, 2016
oct 24, 2016
a diverse digital database that acts as a valuable guide in gaining insight and information about a product directly from the manufacturer, and serves as a rich reference point in developing a project or scheme.