top image: wally olins photographed by tomasz makolski, image courtesy of poland today
wally olins was born in london (1930) and educated at oxford, where he read history. upon graduating he entered the world of advertising, before eventually becoming 'the world's leading practitioner of branding and identity', according to the financial times.
he is currently the chairman of saffron brand consultants and was formerly the chairman of wolff olins (1965-1997). he has advised many of the world's leading companies, including renault, repsol, british telecom, volkswagen, TATA and lloyd's of london and has also worked with many countries, regions and cities.
over 250,000 copies of his books have been sold in 18 languages, including the seminal works, corporate identity, wally olins on b®and and the brand handbook. his new book, 'brand new – the shape of brands to come' will be published by thames & hudson on 7th april 2014.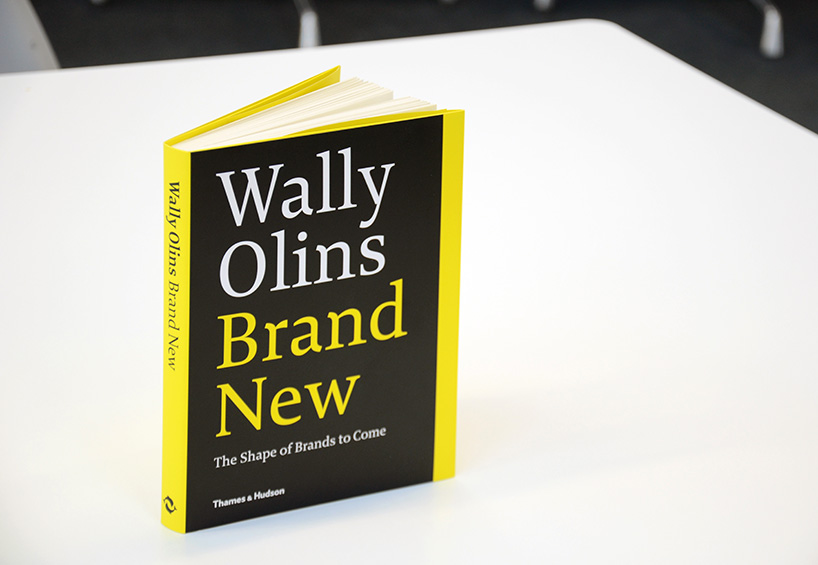 'brand new' by wally olins published by thames & hudson will be released this april
DB: were there any influences growing up that made you choose a career in corporate identity?
WO: when I was in my early twenties I was sent to india by the advertising agency that I worked for, and I became head of what is now ogilvy advertising in india. whilst there I visited a steel plant in india that was state-owned but backed by a russian business, and was based on a russian steel plant. I then went to another state-owned steel plant, but this one was backed by a british and german company. the two steel plants produced very similar products, in terms of quality and quantity but the thing that struck me was just how incredibly different the two places were in terms of how people behaved, looked and communicated with each other – what you might call their identity. I then decided to visit another steel plant – one owned and operated by TATA and that was a different thing again but if any of them wanted to advertise they'd all have to talk about the same thing, the steel they made and they'd probably all say similar things. so it was from that experience that it became clear to me that there must be some way of underlining a difference between an organization apart from the way that it promotes itself – a way to communicate its personality. that's the experience that drew me towards corporate identity.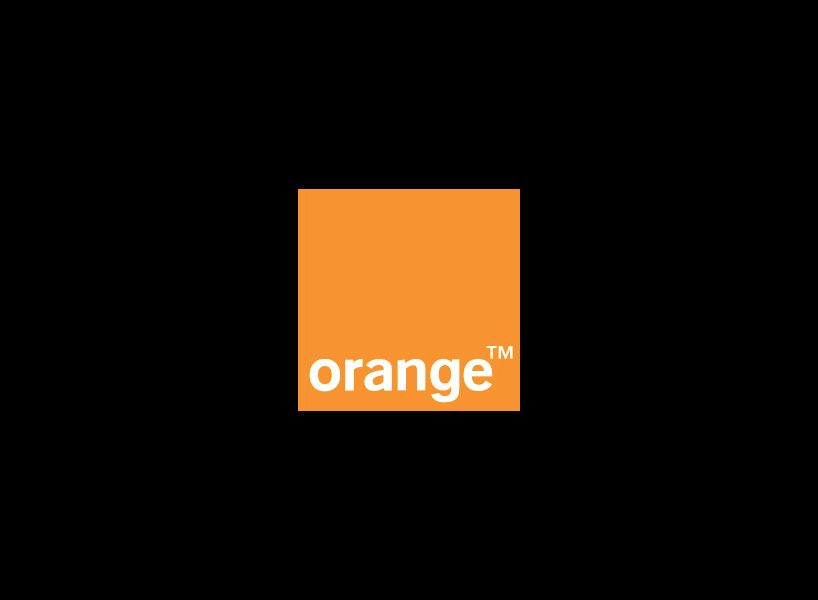 orange identity, 1994 – logo (while at wolff olins)
image courtesy of daren cook design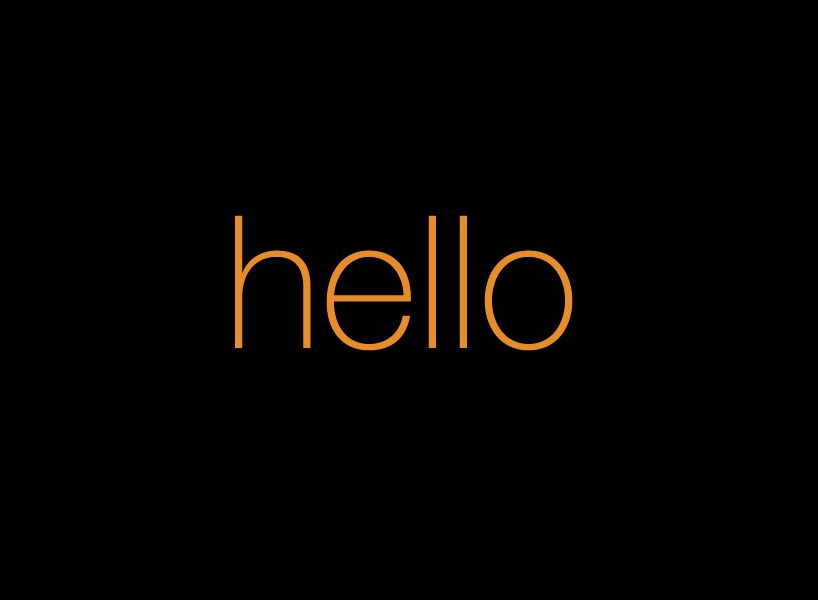 example of orange's original brand language
image courtesy of daren cook design
DB: how did you take that experience and formalize it into an approach to create brand identities?
WO: it was incremental. after five years in india I came back to london and after a few different jobs I met michael wolff and we formed wolff olins. initially what we started doing was designing identities for corporations that needed help projecting themselves to the outside world. we then came across bigger companies that had multiple subsidiaries, each of which had its own identity and behavior and the relationships between these companies and the mother company was not clear at all – so we became involved with what has subsequently become known as 'brand architecture'. that was an important step in helping us to understand brand identity better. each different project brought new challenges and we amassed a lot of knowledge over the years about branding and how important and valuable it was to companies. I better understood a lot of what we were doing when I was asked to write a book on the topic of corporate identity, (the corporate personality, mayflower books, 1978). writing that book forced me to think in a more logical and structured way – rather than the intuitive way in which we had been working.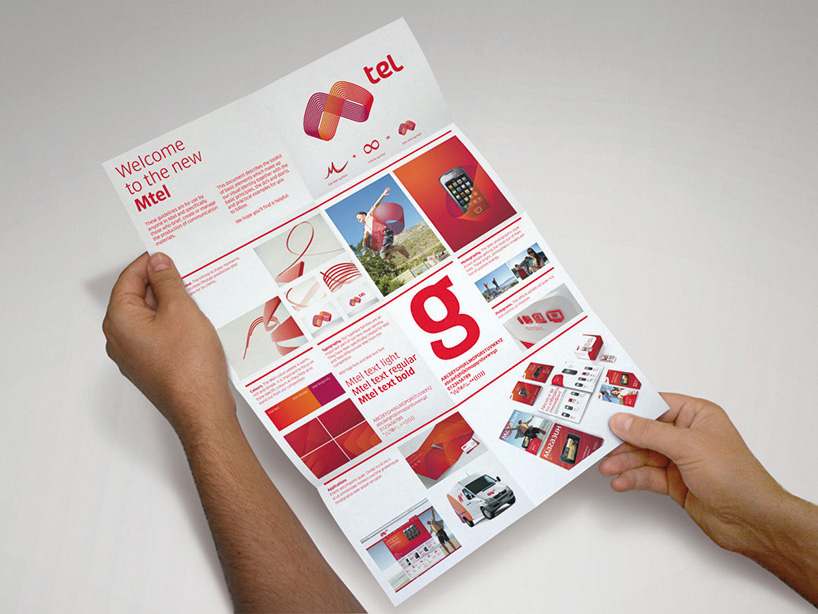 Mtel brand brand components by saffron brand consultants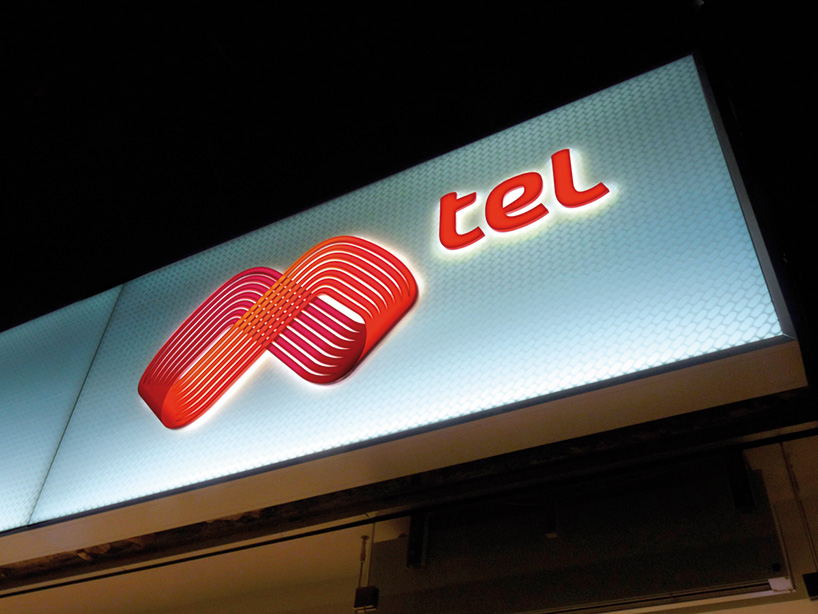 Mtel logo shown on a shopfront
DB: how do you convince company owners or directors of what branding is worth?
WO: the brand is profoundly significant to the value of the company. but an issue we face is that many companies want anything they invest in to have an instant impact on their share price or profitability, quite rightly, and so they are cautious when it comes to spending. what you have as a result is that they rely on data, statistics and research, a great deal of which can be very valuable retrospectively and useful to address short term issues but what you can't always find out is what people want, will want or what might happen in the future – people aren't always as predictable as statistics or surveys show. what you have to do is rely on your own creativity, intuition and powers of persuasion. if you believe your idea is going to work then try your very best to get the client to believe in you and your vision. sometimes it happens and sometimes it doesn't.
once, I was working with a client who was still unsure about an idea we'd been developing for months and he asked me 'how do you know it's going to work?' I told him 'you'll just have to have confidence in my convictions'.
DB: does your experience give your intuition more weight than it did earlier in your career?
WO: yes and no. with some people it does, they think 'this guy has been around a bit – he knows what he's doing, he knows what is going to happen'. but some other people think 'that silly old git is past it, what does he know! he's out of touch with what's happening now'. in some cultures old is wise but in others it's quite the reverse.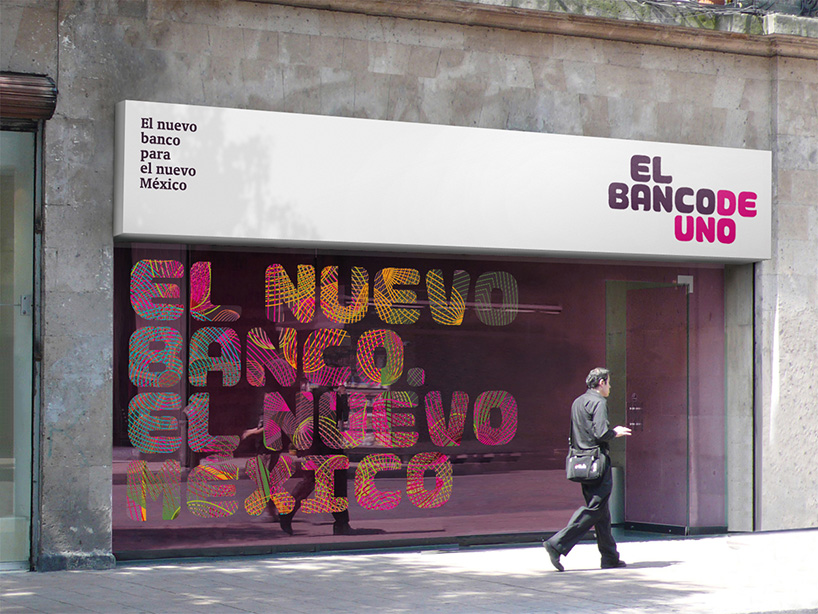 el banco deuno by saffron brand consultants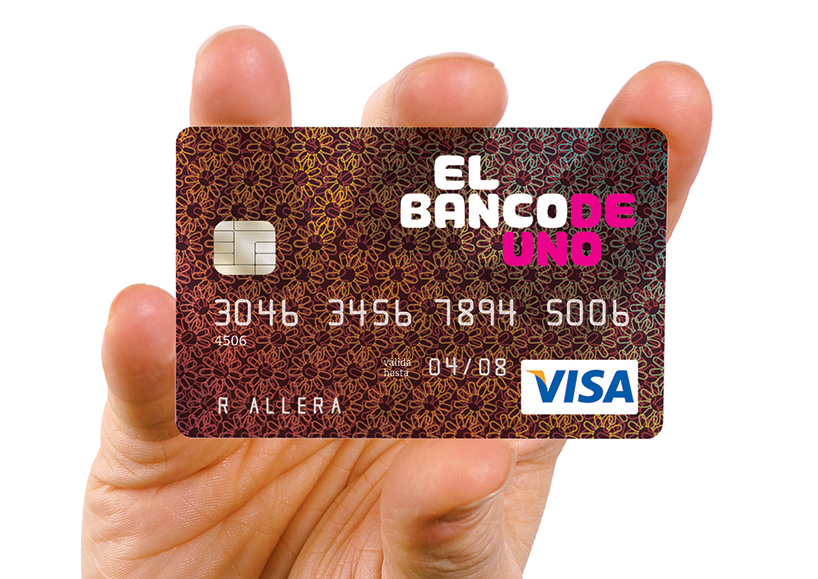 DB: how important do you think a name is in a time where brands are increasingly image driven and seen globally?
WO: if you are starting from scratch and can come up with a good name then that's a huge advantage. one that is memorable in two or three syllables and easy to say in most languages, something that sounds positive – that can be a great help. on the other hand if you have a lousy name it doesn't have to be a disadvantage. one of the worst company names in the world is volkswagen. it's associated with the third reich and it's difficult for anyone to pronounce correctly who cannot speak german – yet 'VW' works. through decades of creative, intelligent communications and good products they have overcome their difficult to say and stigmatized name.
DB: which of the projects that you have worked on do you think has been the most powerful?
WO: orange, which I worked on at wolff olins was a rare instance where all the people who worked on its launch; the designers, the client and the advertising agency all worked very well together and as a result we were able to create something that was overwhelmingly powerful in its day. unfortunately that company has been bought and sold so many times now that it has lost a lot of its original power and that's largely because the people working on it don't know about the history of the organization and it's core message and the personality it had, now it's been reduced to just a name and a logo – most of the personality is gone.
so, the lesson there is – you need a client who understands the value and feel of the brand and hopefully they stay in that organization for a long time, long enough to see that idea mature and become stronger. when people change within a company and have different ideas on how that company should communicate itself and things change and sometimes veer off-track from the vision you had.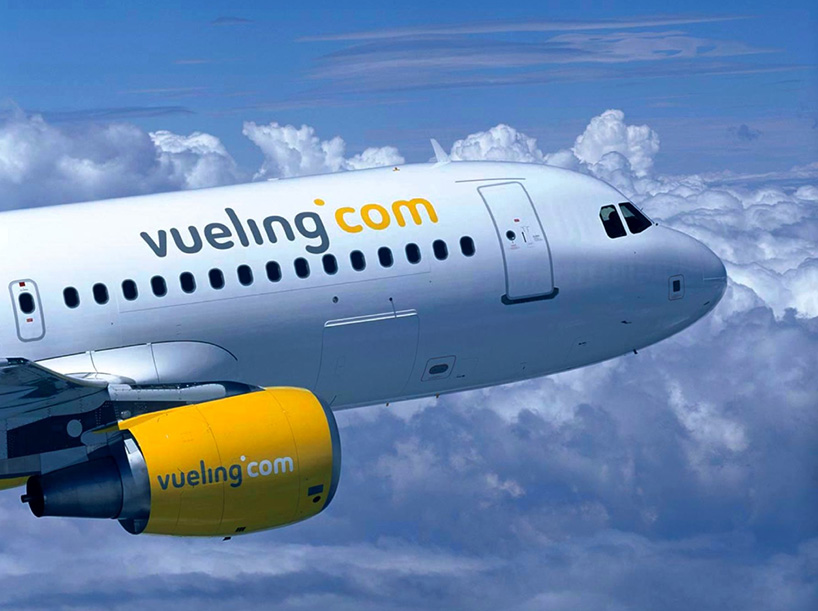 vueling airlines by saffron brand consultants
DB: do you think a lot of branding done today is rather generic in a bid to please anyone and everyone?
WO: yes, a lot of the branding produced now is very generic and without any substance behind it. the issue here is that a lot of clients and even designers today don't appreciate individuality and what you can do visually to make yourself noticeable. also there are usually a lot of people involved with design approval today, especially in big companies. you have too many voices; owners, directors, marketers, consultants and what you end up with is a compromise and it often looks like it.
DB: are companies afraid of having too much personality today?
WO: I don't think they're afraid of projecting a personality as such, but there are often so many constraints within a company, so many departments trying to do so many different things that you end up with the comprises we just talked about. you need a strong idea, a strong identity and a core group of strong people within an organization to drive the ideas through both internal and external communications. you need those people in the company to have personality, to be able to explain internally what the company stands for in a way that cuts through the bullshit that's typically found in mission statements.
DB: along with personality what else does a brand need to be recognized?
WO: there are many things but something that's very important is authenticity. you can see people gravitating towards brands that openly talk about their authenticity – especially in the food market. it's still a minority taste at the moment but it's something that's growing in popularity. people are looking for authenticity especially in saturated markets and I imagine a lot of big brands will have to maneuver quickly to deal with this change in the near future and it might be very hard for some of them to market authenticity.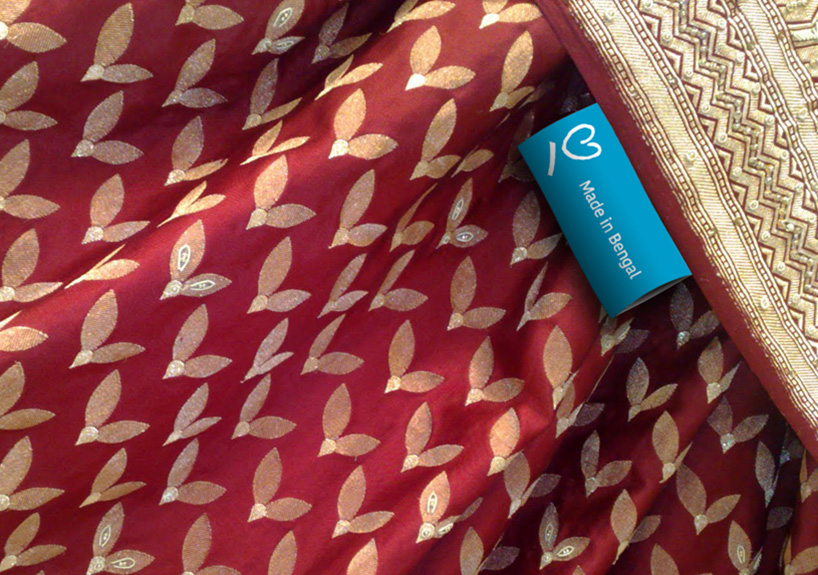 made in bengal by saffron brand consultants
DB: what aspects of branding interest you the most at present?
WO: corporate social responsibility (CSR). increasingly people like companies to behave well and increasingly companies are becoming aware of this. the reality is that there's a lot of contradictions involved and it if it's not done rigorously CSR can easily backfire.
let's take the example of a retailer and imagine that you need to source products cheaply and carefully and make sure of quality and cost in order to sell them in europe or the US and make a healthy profit. you might look to a country like indonesa or bangladesh, where you'd get exactly the type of product you need because these countries produce good quality products and are reliable with delivery. you don't concern yourself with the living or working standards in indonesa or bangladesh because it's not your job to. but what happens? there's fire at the factory where your goods are made and thousands people are killed. but at the same time you're company is happy to talk about corporate social responsibility. what you see from this example is that CSR conflicts with traditional corporate managerial patterns.
another example would be BP (british petroleum). the 'beyond petroleum' idea was in theory great and of course BP wanted to be seen as a company unlike their competitors, that they thought about the future and sustainable energy, humanity and global warming. but at the same time BP was third in their market behind exxon and shell and it wanted to overtake them by cutting costs and, perhaps, taking a few risks. so, top level staff are being told 'we are beyond petroleum, but you have to make more money and take risks'. those people, obviously will only hear 'you have to make more money' – that's what will keep them their job and get them bonuses or whatever and the 'beyond petroleum' is really nothing to do with them. then you end up with a disaster like the deepwater horizon oil spill in 2010, which was incredibly damaging to the company and its image not to mention the planet. so again it's a conflict between wanting to behave well with CSR, and wanting to make a lot of money. companies are finding it very difficult to face these issues.
DB: do you think the public are quite cynical of CSR overall?
WO: well, you can't pull it off with just one token initiative – if you are going to do CSR you have to do it properly internally and externally. there are some companies that traditionally, over the last 100 years or so had done quite a good job of behaving well. some examples would be cadbury, unilever and a lot of the quaker driven companies that took good care of their employees. but instances like those I mentioned in the last answer have made people cynical. companies really have to take a hard look at themselves and their communication and be a bit more honest if they want to change the way they are perceived. since today a lot of plans are made short term and people inside companies act short term – thinking of themselves, it's natural that people are cynical. to have any hope of behaving well companies need to be strategic rather than tactical.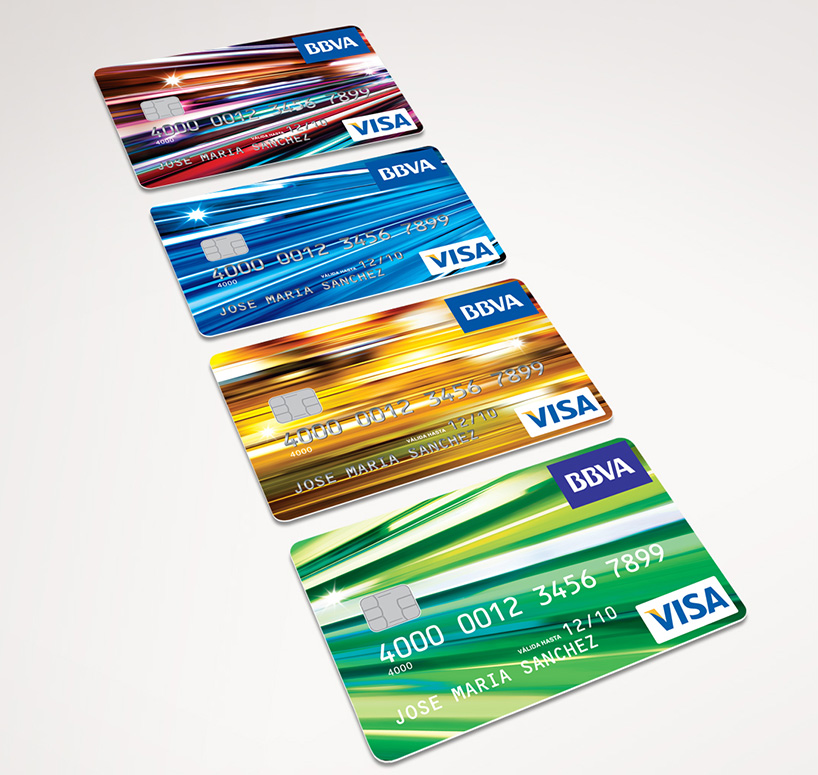 BBVA by saffron brand consultants
DB: which sectors do you think are doing a good job with their branding and which needs the most help?
WO: changes are taking place rapidly, and for the most part very effectively in the education sector. universities are beginning to see that they need to compete with each other to attract students and academics. they hate the word 'brand' but they quite like the word 'reputation' and they are starting to understand that it helps your reputation if you look good. of course the big thing in the last X number of years has been national and city branding. as the world becomes more globalized, cities compete for investment you see a lot more attention to brand identity in those areas.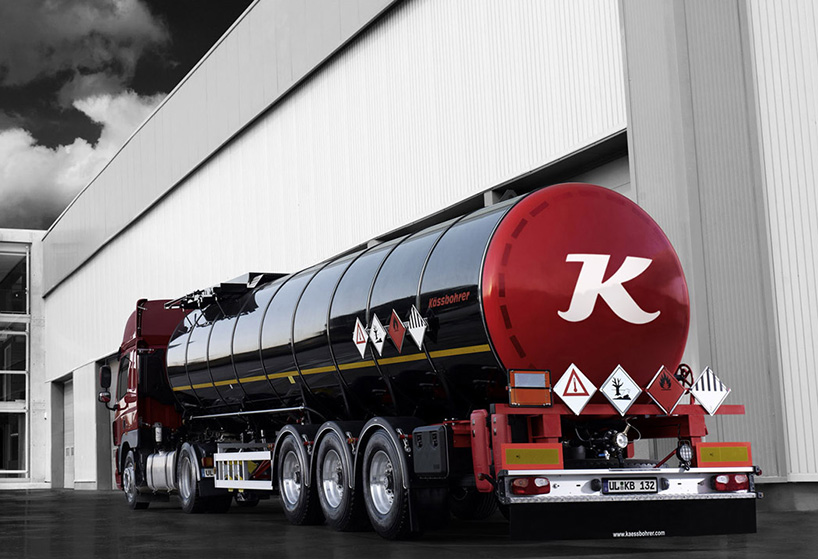 kässbohrer by saffron brand consultants
DB: what do you do to keep your ideas fresh?
WO: I'm lucky enough to work with a team of young people from various different parts of the world and the conversations we have in the office are very stimulating. I read a lot about current affairs and love reading history. I enjoy looking – at buildings, at people and the countryside. I love art, my favorite period is early 20th century german impressionist painting, so somewhere or other, I think I have a frustrated creative streak. I like walking and try to stay as active as I can for my age.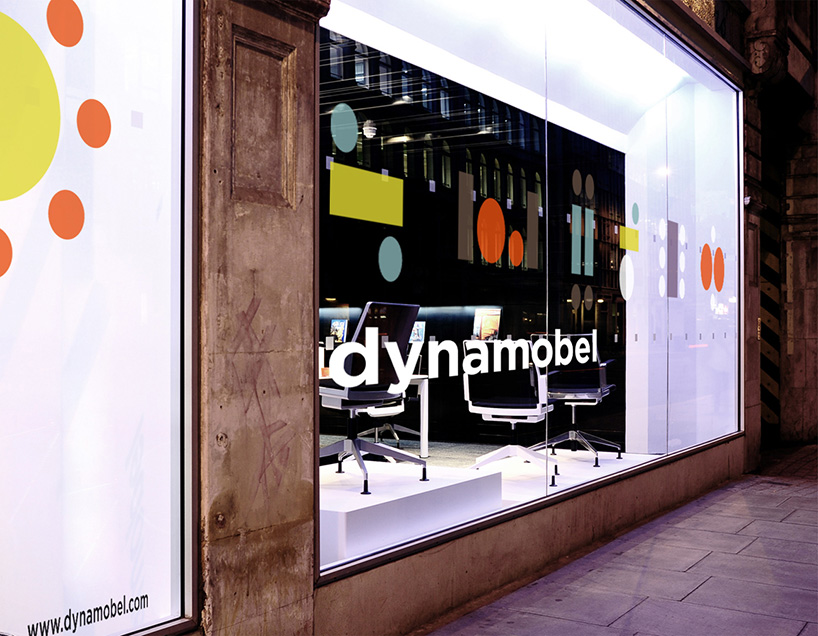 dynamobel by saffron brand consultants
DB: do you have any self imposed rules or superstitious beliefs that you live by?
WO: I'm not superstitious in any way that I can think of. I'm comfortable with the number 13 and never avoid a particular color or anything like that. in my conduct I always try to be straight forward and honest. naturally there are situations where you have to be tactful and sensitive and I am when I need to be – it's not that I think that is the right or wrong way to be it's just the way that I am.
a diverse digital database that acts as a valuable guide in gaining insight and information about a product directly from the manufacturer, and serves as a rich reference point in developing a project or scheme.
designboom will always be there for you
milan, new york, beijing, tokyo

,
since 1999