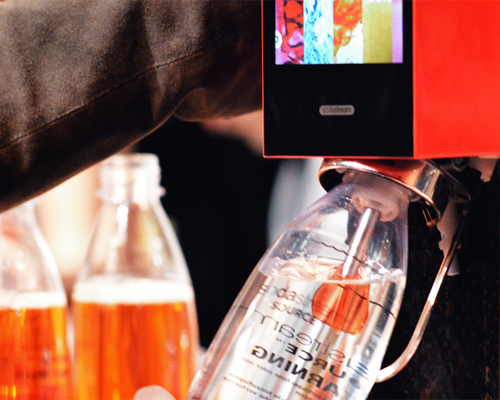 apr 15, 2015
interview with yves béhar about his innovative sodastream MIX concept
interview with yves béhar about his innovative sodastream MIX concept
yves béhar has been collaborating with sodastream for the past few years, helping the company develop its water carbonating machines and bottles. now, the san francisco-based creative is pushing the boundaries of the appliance by developing a version that is set to disrupt the world of mixology. intended for both cocktail enthusiasts and professional bar tenders, the innovative design features a touch screen which corresponds to an app allowing users to access cocktail recipes, speak with other mixology experts, as well as share their own drink formulas with others.
designboom interviews yves béhar about his 'sodastream MIX' concept, and how it could potentially change 'the future of the bar'.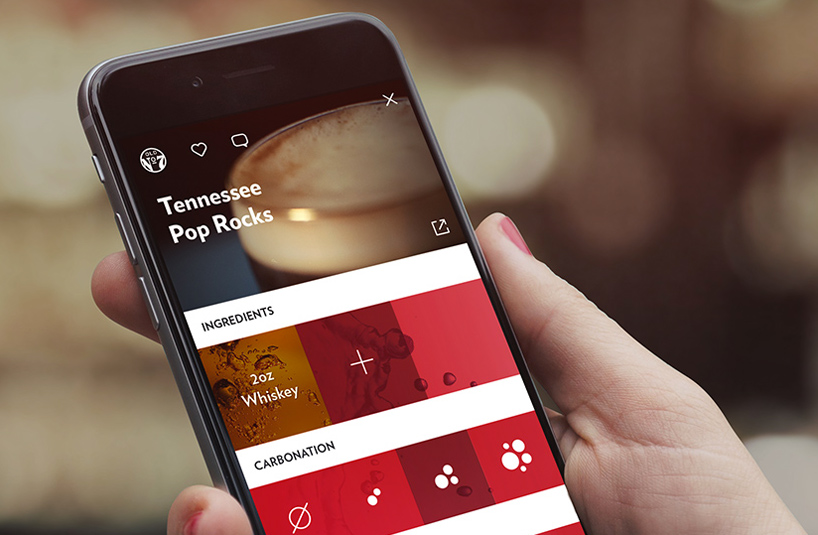 the 'sodastream MIX' is accompanied by an app which heightens the social experience of cocktail drinking
designboom: can you tell us about your ongoing collaboration with sodastream?

yves béhar: I met yaron koppel, the chief innovation officer of sodastream in 2010, and we began working together shortly after that to re-invent the products, the brand, the accessories and the communication. our first design effort was the source machine, and it really revolutionized how we think about sparkling water and sodas. our goal was always to put the power into the user's hands – making home sodas and sparkling water into something accessible for anyone, giving you the ability to curate specifically what goes into your beverage; and saving hundreds of plastic bottled water a year.
of course, we wanted to make sure the machines themselves were always aesthetically beautiful, innovative and easy to use, and something that fits perfectly in the context of the kitchen. along with brand work, digital work and packaging, MIX will be our fourth machine with sodastream, and it's one I am personally very excited about.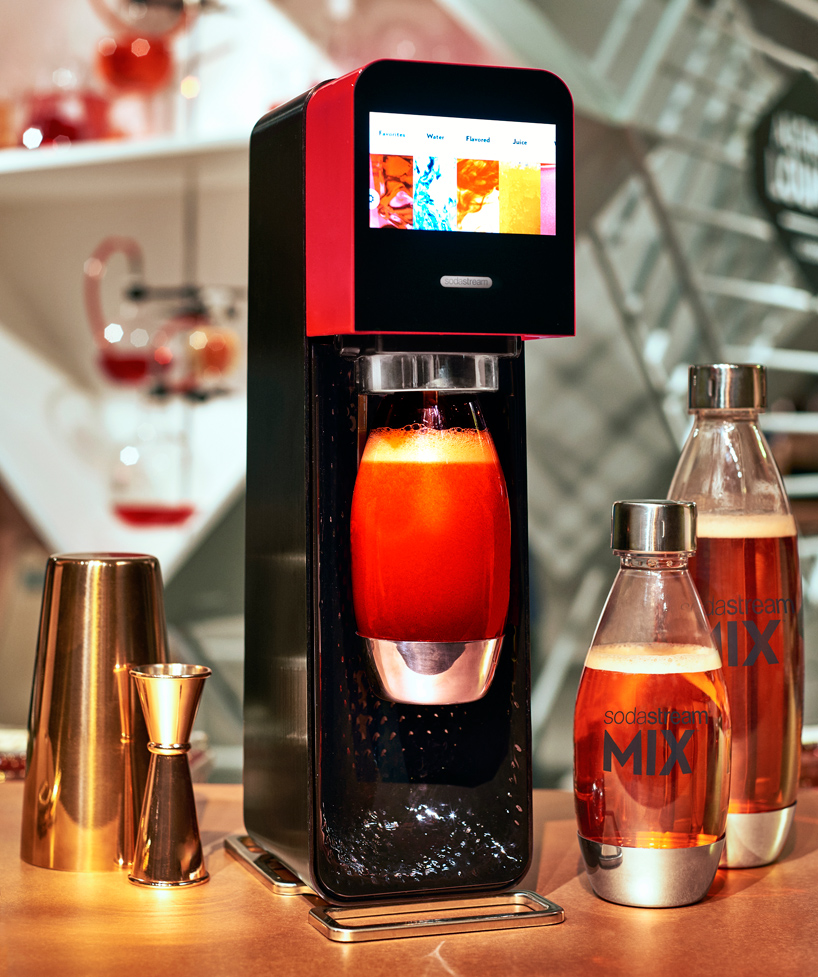 'sodastream MIX' incorporates innovative stirring technology
designboom: how did the idea to develop a concept machine tailored to mixing cocktails emerge?

YB: it was always a dream to be able to carbonate any liquid, specifically for cocktails, but the technology simply didn't exist. if you look online, there are many people who have tried this with existing carbonation machines, quiet unsuccessfully I might add. luckily for us, sodastream has an amazing internal engineering team with whom we partner closely on every project. right away, MIX was a lot more than just another carbonation machine, it's a digital and physical experience. there is a world of existing cocktails people can learn about, and a world of creativity with new mixes, and both of these are possible thanks to a touch screen on the device, a smartphone app, and a cloud service that uploads new recipes onto mix.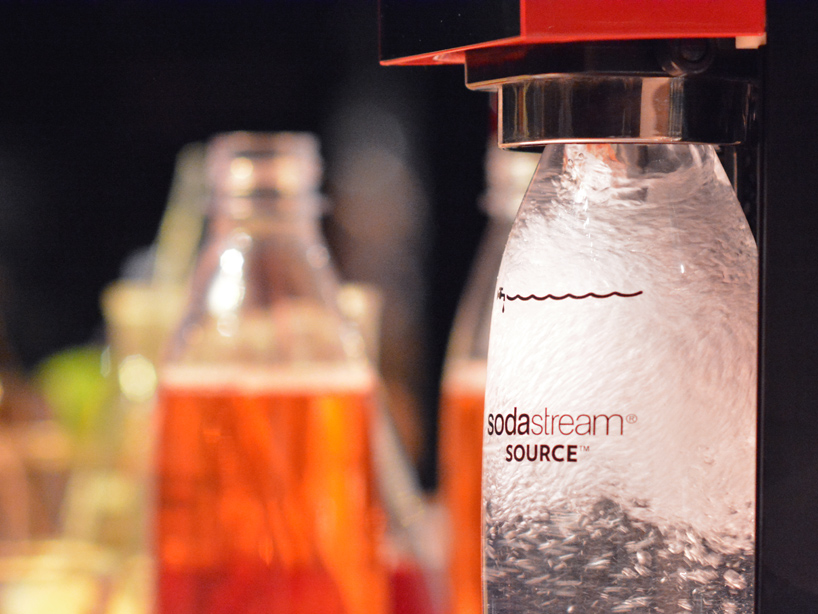 the 'sodastream MIX' in action
image © designboom
designboom: what are some of the key features that you wanted to integrate into the sodastream MIX?

YB: the most noticeable feature is probably the touch screen on the head of the machine, enabling users to choose specifically what liquid they are carbonating, and providing recipes for drinks. we spent a lot of time perfecting the display, working on the user interface, making sure the experience of the machine is seamless, and luxurious. more importantly, MIX is the first sodastream machine connected to the cloud, and affordable kitchen IOT that I am aware of. users can find recipes through a corresponding app, or post their own recipes to the world, and then send those recipes directly to their mix.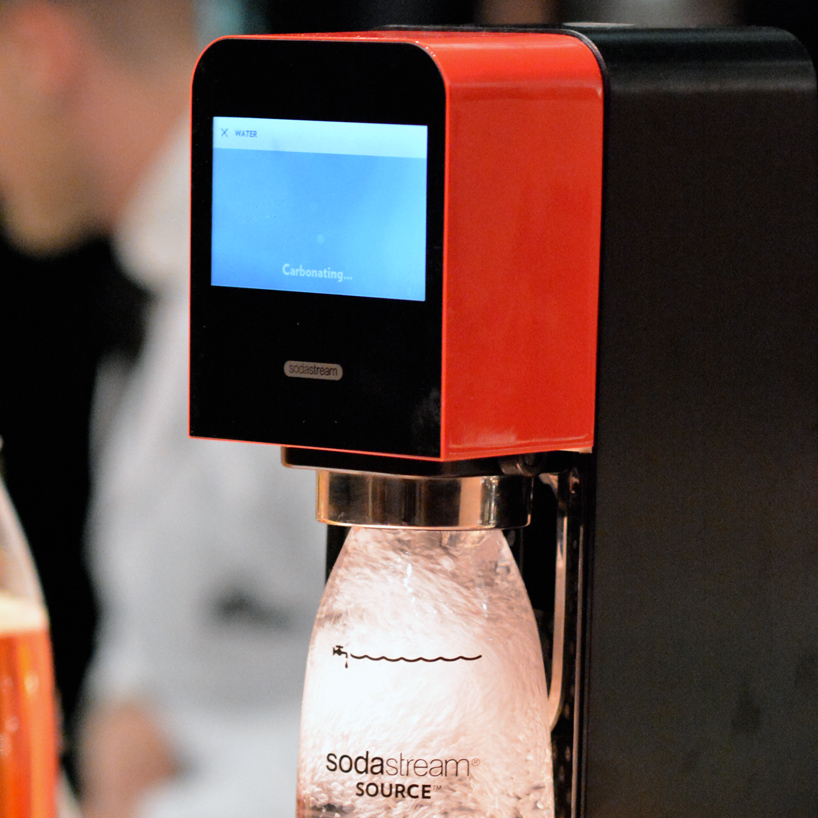 the MIX calibrates the liquid within the bottle perfectly dispersing carbonation
image © designboom
designboom: could you elaborate on the technology applications that have been included into the design?

YB: the internal technology is a completely new, innovative system; it calibrates the liquid inside of the bottle, even if it has fruit or pulp or ice, and disperses the carbonation perfectly – every bubble is curated to the intensity you choose, so that your cocktail or beverage is always consistent, and always how you want it. a very sophisticated valve and sensors let's air out of the mixed drink out slowly, so the cocktail maker never ends with a spilling concoction! the fact that mix connects to your phone and the cloud via bluetooth is also something to expect in future products, I am excited we are showing these new technologies with an application such as mix that is fun and engaging. I think it will be the star of many parties!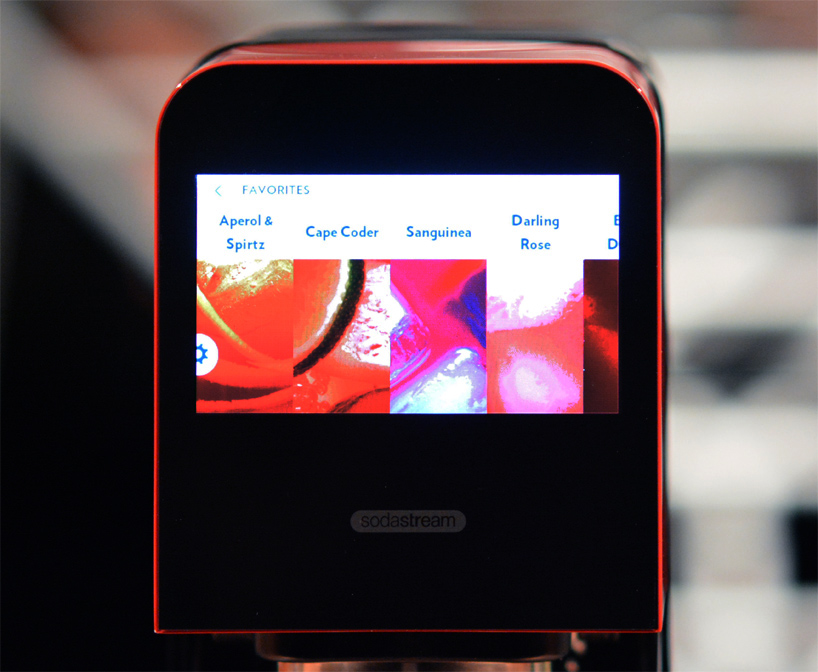 the MIX features an integrated touch screen
image © designboom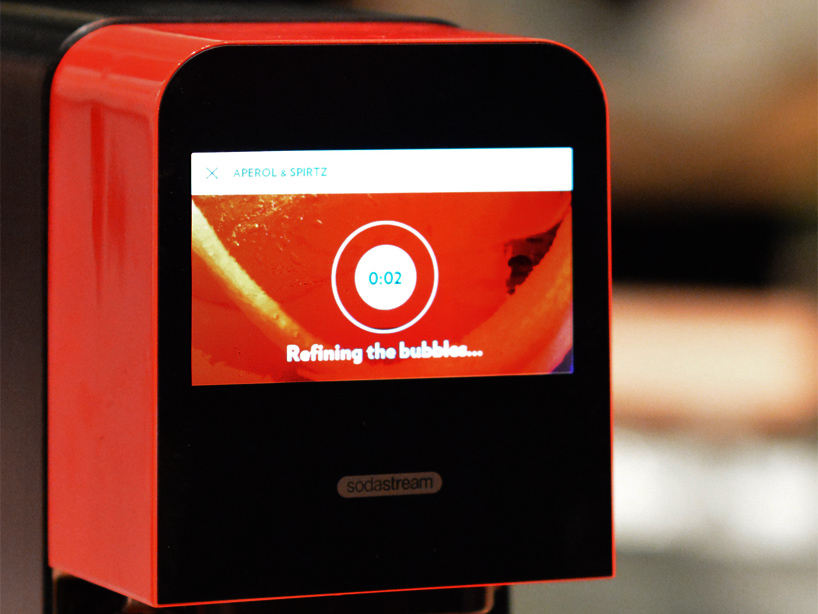 redefining the bubbles of an aperol spritz
image © designboom
designboom: over the last few years, the practice of mixology has become something in vogue, whereby people are now paying attention to hosting more elaborate dinner and cocktail parties at home. sodastream's earlier source machines were designed more for domestic use, but the sodastream mix has the potential to be used in professional bar settings. how do you see the sodastream mix being used on a commercial level?

YB: I think you're exactly right – people have become accustomed to getting artisan, professional quality cocktails, whether they are out at a bar or at home. what makes mix so amazing is that it's going to open the doors for an entirely new category of cocktails – sparkling martinis, manhattans, cosmos; can you imagine ordering a tequila neat, and having the bartender ask, 'still or sparkling?' we designed mix with this in mind: since it's the only machine in the world capable of doing this, it needs to be something that can fit both in the home and at a bar. that's why we added the touch screen, added colors and styles, really made the whole experience of the product something engaging and creative for the cocktail maker, professional or amateur.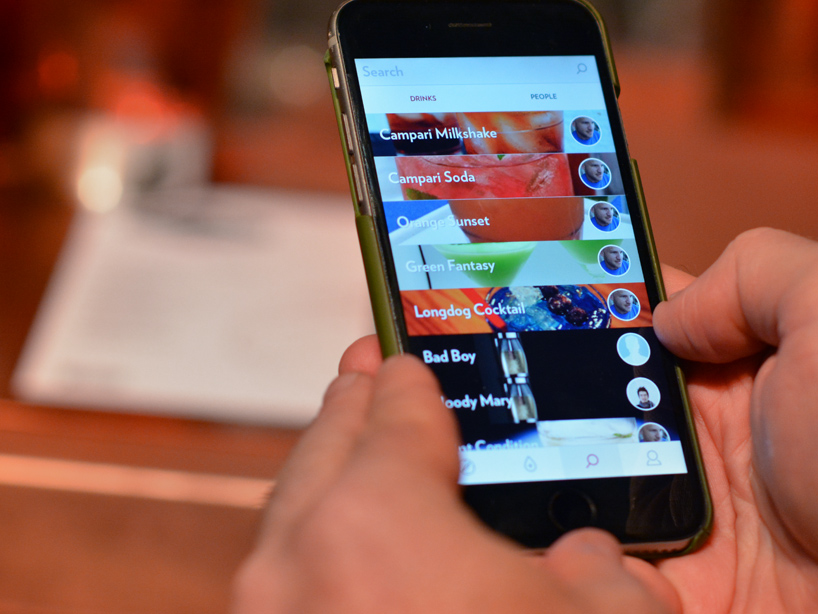 the sodastream MIX app lets you download and share recipes, as well as speak to other cocktail aficianados
image © designboom
designboom: please describe the alchemy bar scheme you have envisioned to showcase the sodastream MIX.

YB: when we picture the classic mixologist, our mind goes straight back into that prohibition, steam-punk era; a timeless period that still permeates the industry today. but, going back to my last point, what we're actually drinking in the bar, what these mixologists are making and the experiences we are having, is shifting towards creativity and the future. this cross between the past and the future was really an inspiration point for alchemy lounge – a futuristic, geometrically distinct pop-up bar in the middle of the versace theatre in milan, which is this beautiful, timeless space, completely surrounded by mirrors. the diamond-like, symmetric shape is inspired by this magical transformation of the classic to the new, the unknown. the architecture of the bar and the theme is about this new magical ingredient, the bubble. and the alchemy lounge feels like a futuristic vehicle, one that will take you to new places.

the inside of the bar is meant to feel like a laboratory, this place of invention and experimentation. the exterior is built from more familiar materials: copper, plywood, steel rods and mylar, tying in a more classic feel. our guests will experience something completely new, both in aesthetics and in taste.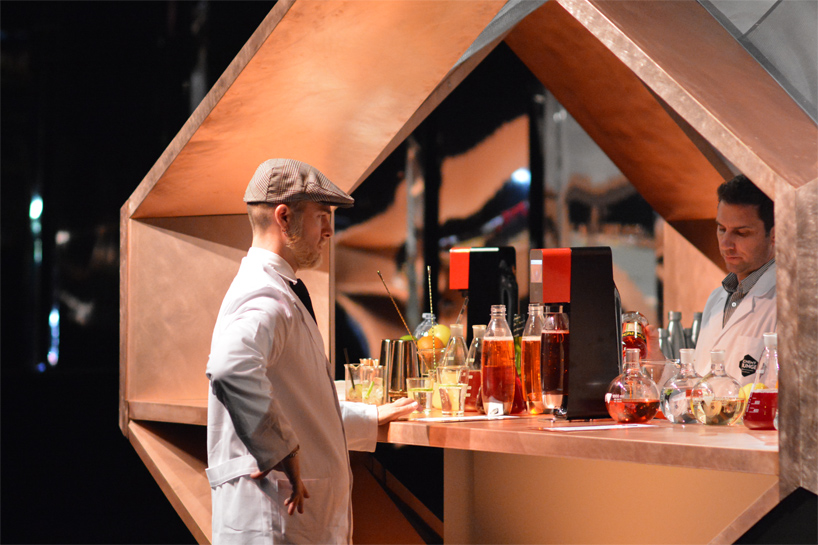 the 'alchemy lounge' by yves béhar at teatro versace, piazza vetra 7 in milan
image © designboom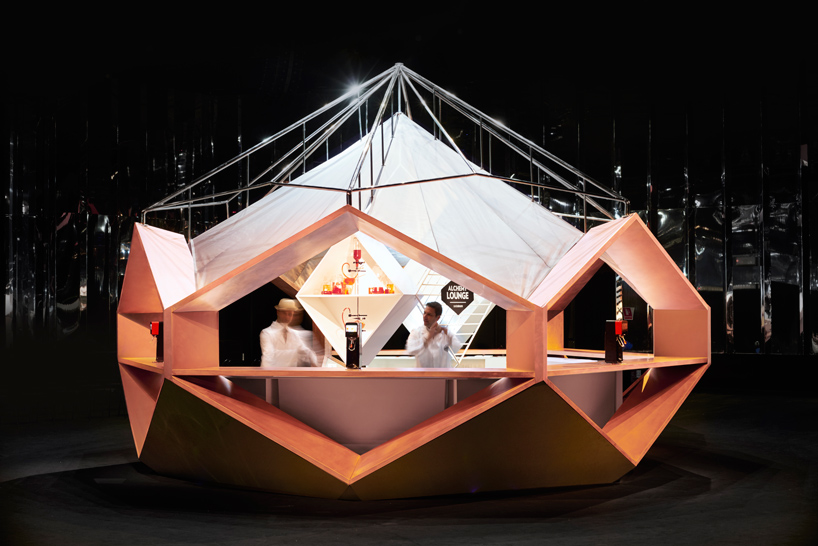 cocktail chemistry happening at the 'alchemy lounge'
image courtesy of sodastream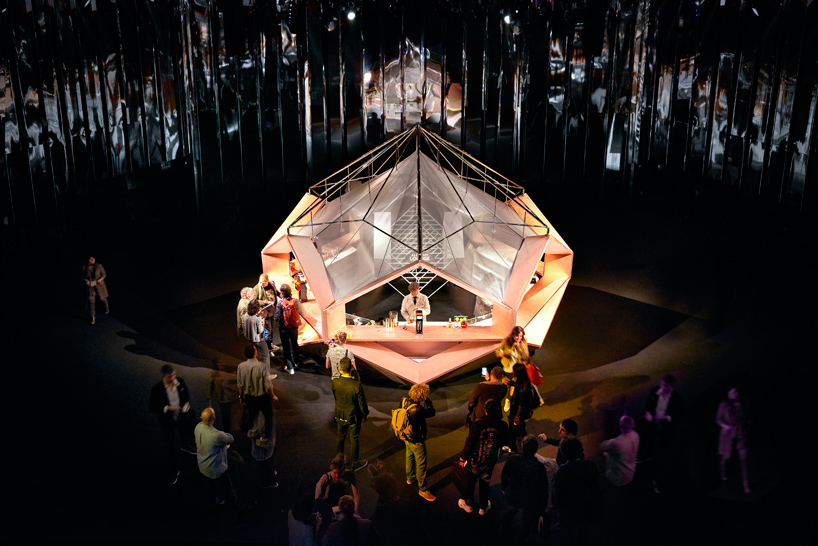 image courtesy of sodastream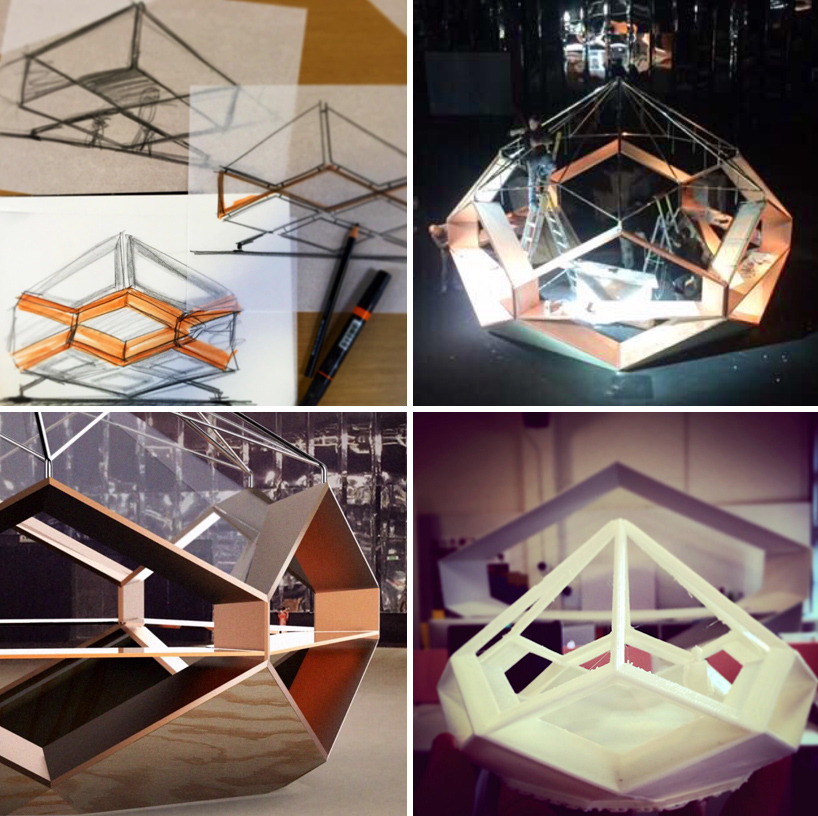 concept sketches and models of the 'alchemy lounge'
images courtesy of yves béhar

animation of the 'sodastream MIX'
video courtesy of fuseproject

to celebrate the launch of the 'sodastream MIX', DESIGNBOOM x SODASTREAM host two talks on april 15th and 16th, from 4-6PM, in which the leaders of the design industry will engage in conversation with the protagonists of the culinary and mixology world, to elaborate on the notion of 'the future of the bar'.
april 15
4:00 – 6:00 pm
with
yves béhar, founder and CEO of fuseproject, san francisco
carlo cracco, michelin-star chef, ristorante cracco and carlo&camilla, milan
carlo ratti, innovation and design, professor at MIT directing the SENSEable city lab, massachusetts / turin
april 16
4:00 – 6:00 pm
with
yves béhar, founder and CEO of fuseproject, san francisco
alexander josephson, co-founder of partisans architecture, toronto
marcio kogan, founding principal of architecture studio mk27, sao paolo
birgit lohmann, founder and editor-in-chief moderates the DESIGNBOOM x SODASTREAM talks
@ teatro versace
piazza vetra, 7
milan
the talks are free so if you are in town, we encourage you to join us! more information about the DESIGNBOOM x SODASTREAM talks can be found here.
nov 12, 2015
nov 12, 2015
oct 19, 2015
oct 19, 2015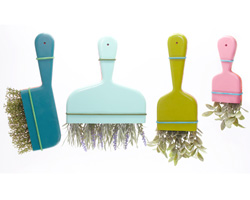 sep 04, 2015
sep 04, 2015
aug 25, 2015
aug 25, 2015
aug 20, 2015
aug 20, 2015
aug 20, 2015
aug 20, 2015
aug 21, 2018
aug 21, 2018
may 04, 2015
may 04, 2015
apr 10, 2015
apr 10, 2015
jul 22, 2020
jul 22, 2020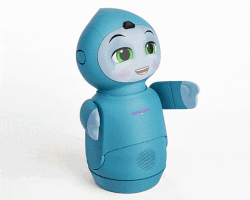 may 15, 2020
may 15, 2020
apr 01, 2020
apr 01, 2020
a diverse digital database that acts as a valuable guide in gaining insight and information about a product directly from the manufacturer, and serves as a rich reference point in developing a project or scheme.