oct 15, 2012
prodUSER by tristan kopp at istanbul design biennial
prodUSER by tristan kopp at istanbul design biennial image © designboom
designboom is just back from turkey where we attended the opening of the inaugural istanbul design biennale. on show until december 12th, 2012 the two part exhibition curated by local architect emre arolat and joseph grima explores the theme of 'imperfection' from the individual perspective of each of its curators, organized under sub-themes of 'musibet' ('calamity' in turkish) and 'adhocracy'.
this example of 'prodUSER' connects tree branches to form the frame of a bike image © designboom
the grima-curated exposition 'adhocracy' held within the galata greek primary school, presents international projects which collectively offer a survey of the contemporary design scene in the wake of a wave of social and technological revolutions which have inevitably transformed creative practice in recent years. here, 'prodUSER' by french designer tristan kopp is on show, a system which takes the bicycle as a marketable consumer product, reducing it to only a set of connectors which are located at the main junctions of a bike frame. this offers the owner flexibility to what the actual modules and framework structures are composed of; whereby aspects of color, size, materials and add-ons are under the discretion of the owner, allowing one to customize their two-wheeler. though these initial parts have been conceived by kopp, 'prodUSER' has the potential to be an open-source system where the connection and secondary parts can be designed, shared, and produced by an external network of consumers, designers and small-scale manufacturers alike.
detail of metal component image © designboom
image © designboom
installation view of 'prodUSER' at the istanbul design biennale within the 'adhocracy' exhibition image © designboom
image courtesy of istanbul design biennale
image courtesy of istanbul design biennale
image courtesy of istanbul design biennale
to show the potential of 'prodUSER' being an open-source system, another bike displayed connectors made from plastic connecting metal tubes to form the bike's framework image © designboom
detail of alternative connectors which really portray this notion of adhocracy image © designboom
image © designboom
istanbul design biennial october 13th – december 12th, 2012 with the aim of underlining the importance of design for production, economy, cultural interaction and quality of life, the first istanbul design biennial will be realized in 2012 by istanbul foundation for culture and arts. istanbul design biennial will be open to all disciplines of the creative industries in major fields such as urban design, architecture, interior design, industrial design, graphic design, new media design and fashion design, as well as their subfields.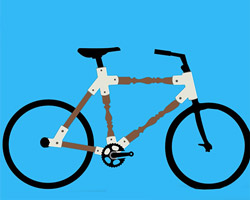 sep 22, 2017
sep 22, 2017
sep 20, 2017
sep 20, 2017
sep 14, 2017
sep 14, 2017
nov 21, 2012
nov 21, 2012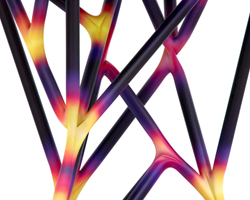 nov 04, 2012
nov 04, 2012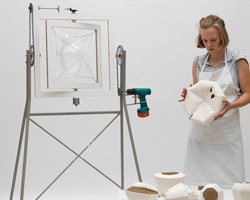 nov 03, 2012
nov 03, 2012