'ITO JAKUCHU INSPIRED' is a celebration of japanese art history and important masterpieces created by the great japanese artist of the edo period, ito jakuchu (1615-1868) . the designboom competition in collaboration with DA, japan's design association and tokyo designers week 2012, has been full of symbolism, addressing the cultural phase of our existence.
humanity has gone through two opposing developments: the first in which society was fully integrated with nature; the second, being how it expanded into an artificial world of its own, which continued to grow until it came in conflict with the natural world. the competition asked participants to develop contemporary works relating / referencing the creations of ito jakuchu, expressing ways in which humanity should / could now reconcile and unite nature and artifice, resulting in a new balance through the mediums of architecture, interior design, product design, graphic design, art, media art, photography, illustration, fashion design, textiles and film….
the winners were chosen by a japanese jury – directed by toyo ito – that was composed of members very much aware of the traditions and practice of ito jakuchu and the significance he has had on japanese culture through the generations. with their expertise we trust their beliefs and understanding of the artist's philosophies and respect their verdict of the shortlisted projects. however, the range of works that were submitted were impressive and designboom feels that many more of the entries which are not featured here, deserved to be showcased. perhaps too radical in their means of expressing the true essence of ito jakuchu – we spotted crazy furs with jakuchu derived animal prints, furniture pieces whichdraw on the two-dimensional works of the artist, as well as digital translations of his work… – we wish we could have showcased all of thesein the exhibition during tokyo designers week where the winners were revealed.
thanks to all those who participated in our ITO JAKUCHU INSPIRED competition.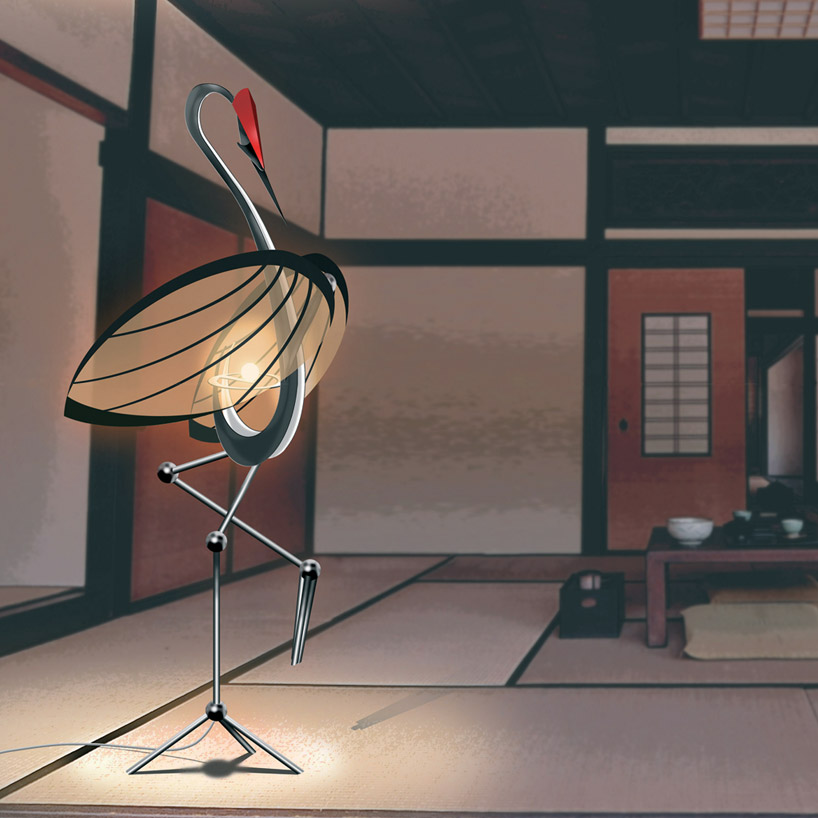 1st place winner'R.C.C. floor lamp' by tommaso balladore, italy
first place winner is italian designer tommaso balladore' with his 'R.C.C. floor lamp'. it brings to life ito jakuchu's famous cranes. the animal becomes the structure of an illuminated sculpture, made with an aluminum frame supporting wings in semi-transparent paper which act as a light diffusion filter. a simple touch of the beak turns the light on and off.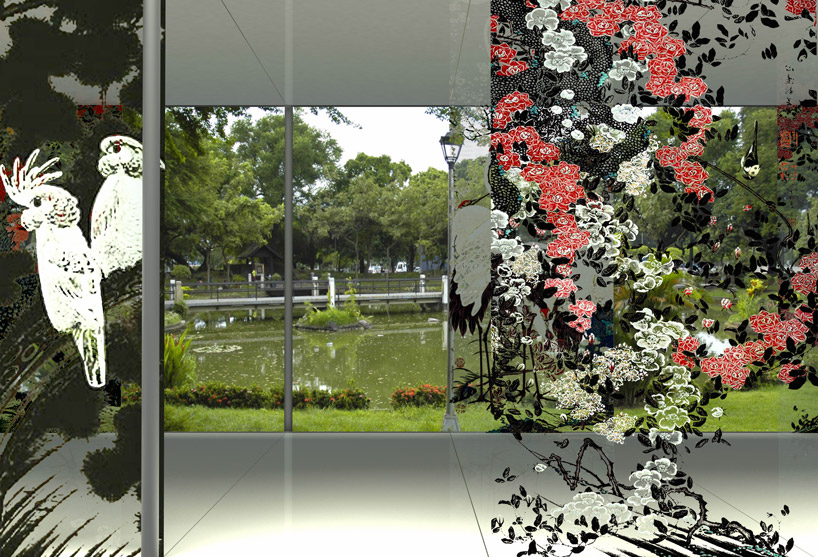 2nd place'through ito jakuchu's eyes' by djordje alfirevic + sanja simonovic, serbia
there is a dematerialization of boundaries between ito jakuchu's perception of the reality in which he lived and the appearance of our modern world. this is reflected in the second place winners' entry by djordje alfirevic + sanja simonovic from serbia: the exhibition pavilion's 'mirrored walls' invite visitors to observe not only the pieces on show inside the pavilion but also the natural realm of its spatial context, … as if one where looking 'through ito jakuchu's eyes'.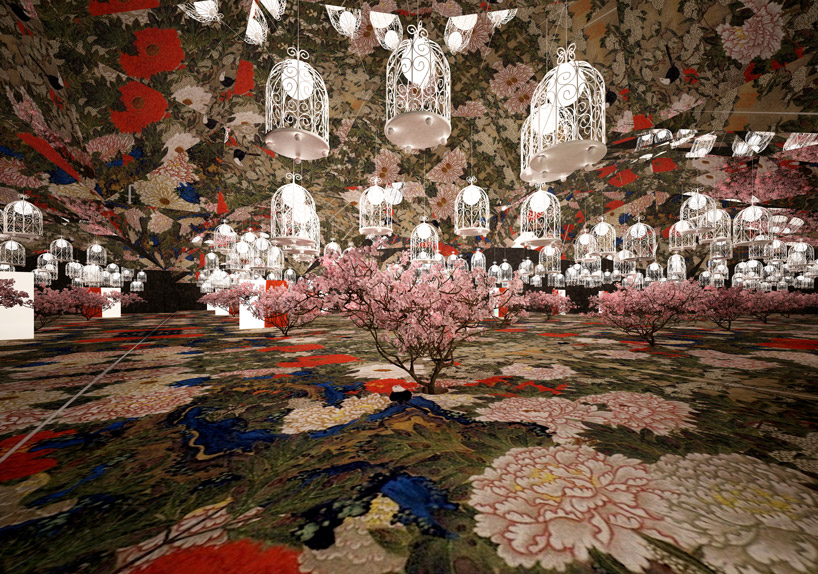 3rd place'kaleidoscope' by ann wigandt, moldova
ex-equo third place winner, moldova-based designer ann wigandt's main idea is to bring ito jakuchu's artistic oevre back to life through an installation similarto a 'kaleidoscope' from which the work draws its name. in a small enclosed room, the visitor finds himself surrounded by a diversity of colors and detailsrepresented by ito jakuchu's brushstrokes. the printed artwork on the floor is reflected by the many faceted mirrors that hang from the ceiling and on all walls. blooming trees, lamps in form of birdcages and flying butterflies complete the overwhelming sscenography.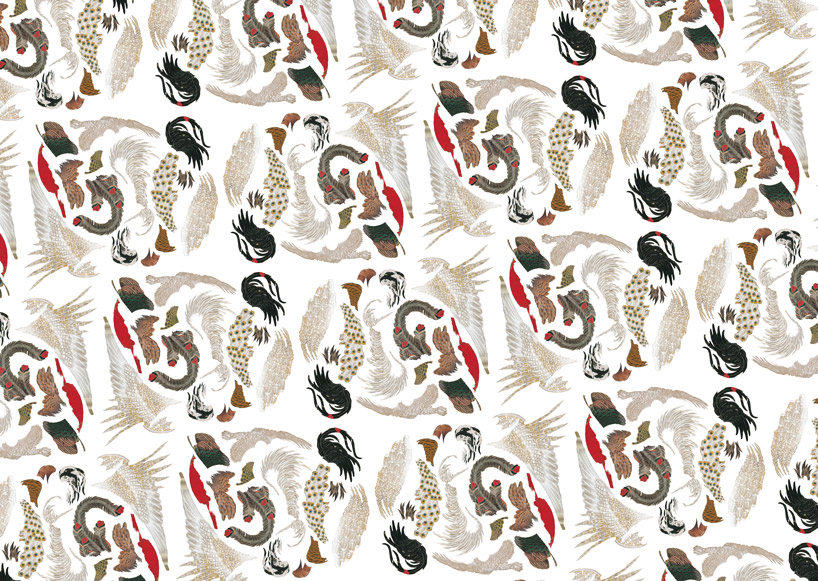 3rd place'feather textile' by nanako tani, japan
the second ex-equo 3rd place winner is the japanese designer nanako tani. her entry 'feather textile' showcases the bird plumage of ito jakuchu's paintings, repeated countless times in a pattern that symbolizes the eternal life force of the birds. vivid colors can be attributed to 'movement' andas a result, the arrangement of feathers become more than just a natural element of the animal's wing.
see the 20 shortlisted entries below: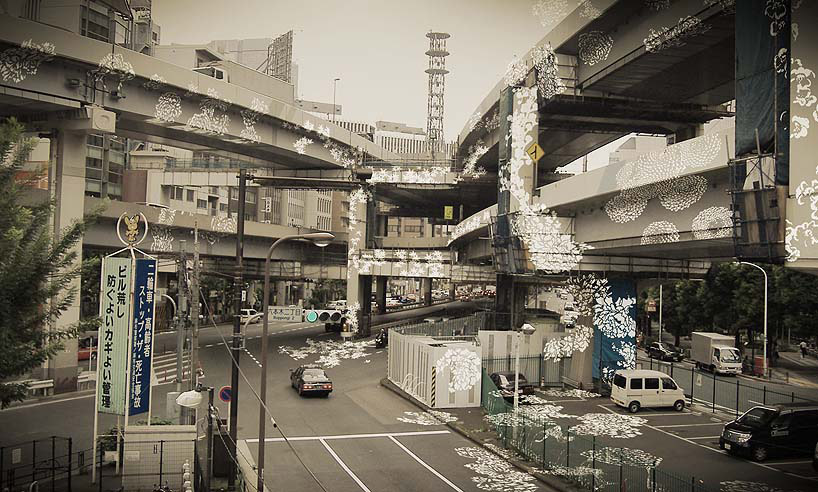 'make jakuchu' by saida dalmau + benet dalmau, spain
saida dalmau + benet dalmau from spain have developed 'make jakuchu' – where random acts and the spontaneous participation of citizensresult in a collaborative artwork. to accomplish the temporary piece, paper rolls are trimmed in the style of ito jakuchu's as origami shapes,distributed in urban spaces. by cutting pieces of the paper into these forms, they serve as a template to paint patterns on the walls and floorsof our concrete jungles.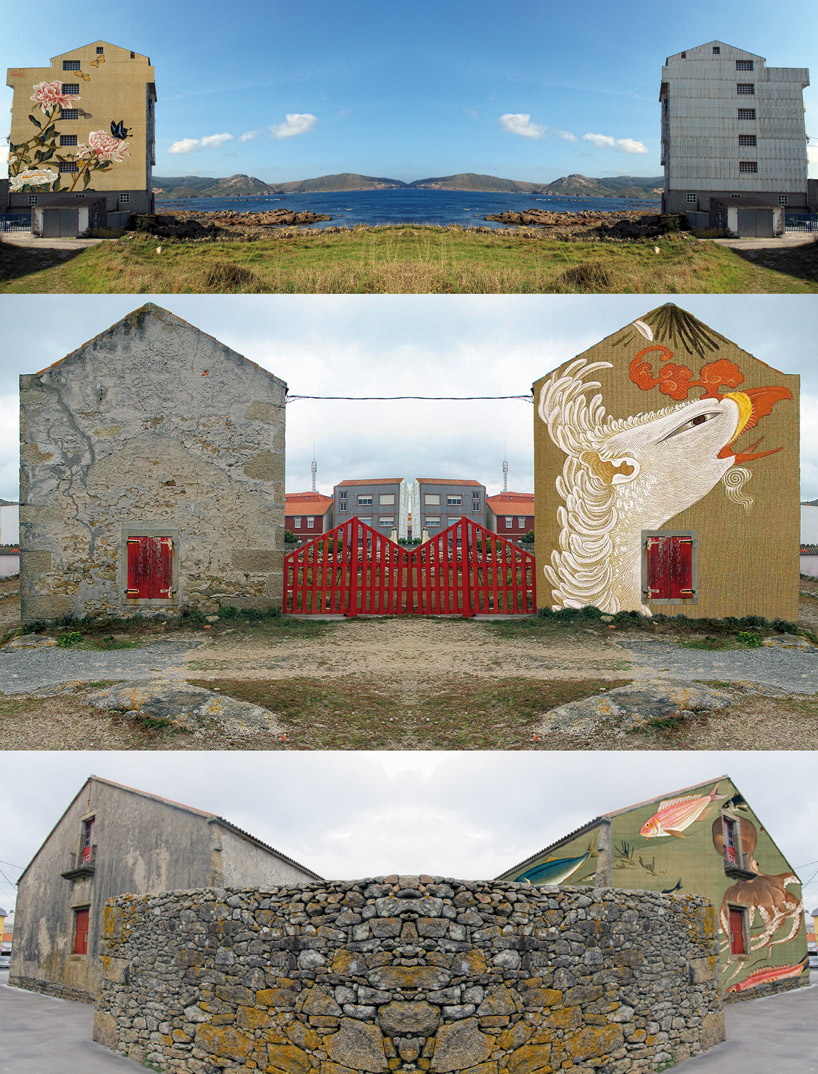 'building parallel cities to cure my soul' by santo cereixo, spain
the idea behind spanish designer santo cereixo's 'building parallel cities to cure my soul' is to use art as a medicine to cure spiritual wounds – to build a parallel town which could help us erase unwanted memories and bad experiences from our minds. cereixo imagines the spanish fishing village of muxía – the final site in which pilgrims making their trek to the way of st. james – as his selected location. a clean and safe place to live free of corruption, cereixo visualizes how muxía could be if its vacant lots and decrepit buildings act as a canvas for which murals of ito jakuchu's natural scenes are depicted.

'press to release… ' by nuno andré neto santos, portugal
'press to release… ' by nuno andré neto santos of portugal is a narrative illustration that merges the industrialized world of man, with the natural essence of our planet expressed through animals such as fish. the digital collage has been rendered following buddhist ideaswhich ito jakuchu often expressed in his painting. though it is shaped by a complex structure composed of both mechanical and artificial elements,the work still evolves into something representative of nature, reminding us that we must remain conscious of our impact on the future of the world – where machines could ultimately be the devices to free us and unify our spirit with the flora and fauna that surrounds us.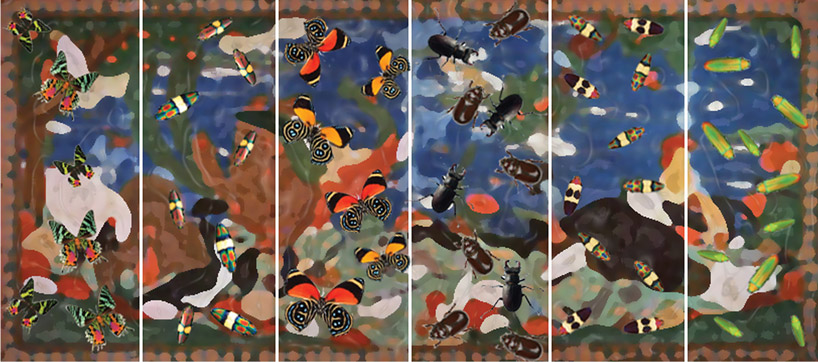 'natural kingdom' by joseph louis tan + madelyn yeo, singapore
joseph louis tan + madelyn yeo from singapore have created an assemblage of some of the world's most curious and exquisite bug specimens collected from the remote jungles – from south east asia to africa to south america. their piece 'natural kingdom', is a display in which peculiar insects are arranged on panels of beautiful patterns – some of which are simple, while some are exceedingly complex – offering a psychedelic juxtaposition of elements, resulting in a multi-layered visual work.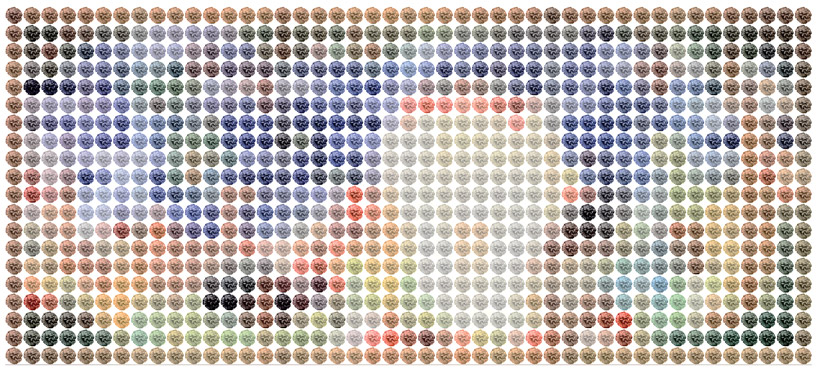 'painted flora / unnatural natural' by madelyn yeo + joseph louis tan, singapore
after conducting investigations on people's perceptions of 'domestic nature', yeo and tan's other shortlisted entry 'painted flora / unnatural natural' is a result of their interpretation of these thoughts visually. through scientific exploration and photographs which touch on themes of manipulation and perfection,the duo's two-dimensional piece can most obviously be understood as an abstract work of art, but upon closer inspection and understanding,an actual depiction of our inhabited world.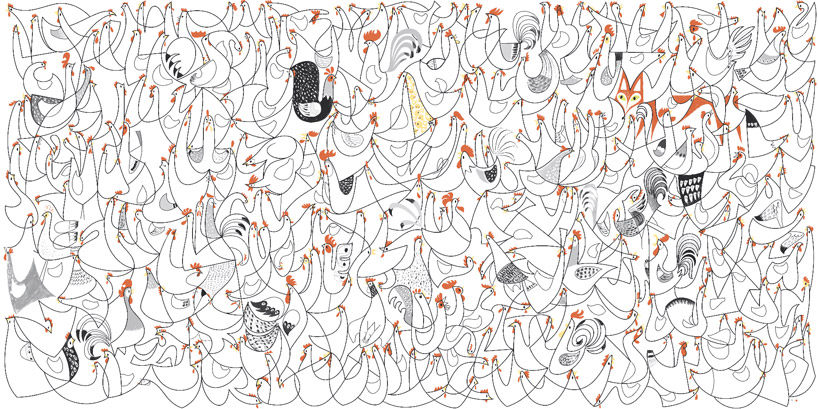 'niwatori & kitsune' by naomi hasebe + achilles greminger, japan
'niwatori & kitsune' is influenced by and meant to be a contemporary revival of ito jakuchu's 'roosters' painting. developed by japanese team naomi hasebe + achilles greminger, the fowl are laid out in a geometric diagonal pattern as a means of bringing order to the chaotic illustration. the angled lines bring movement, while the overall repetition of the motif offers a sense of unity. overlapping bodies give an illusion of depth in the otherwise flat work, with a fox camouflaged into the design –the carnivorous considered an enemy of the chicken and is hiding in the buzz, quietly waiting the awakening and imagination of the observer.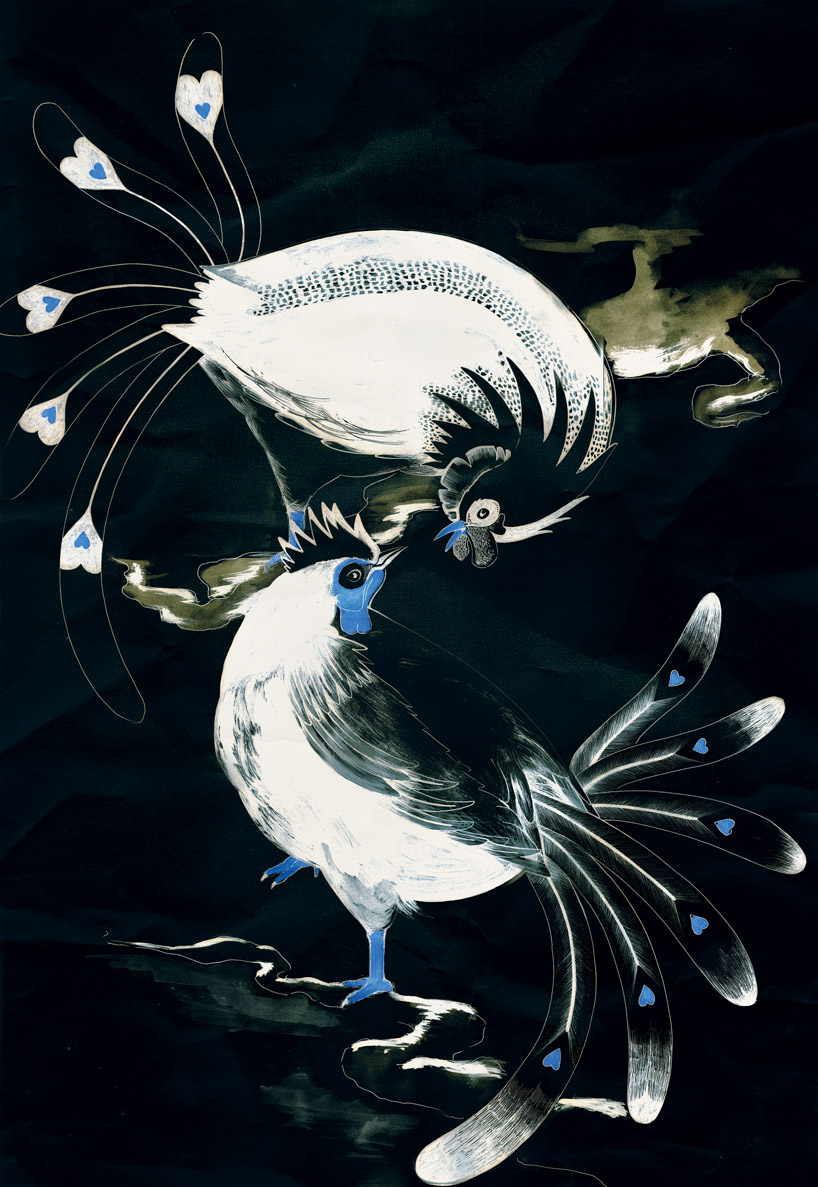 'strange attractions' by ana félix, portugal
'strange attractions' by ana félix is an illustration in which the portuguese designer tries to capture the moment in which two male roosters realize the presence of one other. being of the same species, natural attraction between them is present. this magnetism is counterbalanced by the fact that the two are dominant characters, creating instead a scene of opposition. the result is a harmonic balance that expresses the simple andcomplex interactions that exist in nature.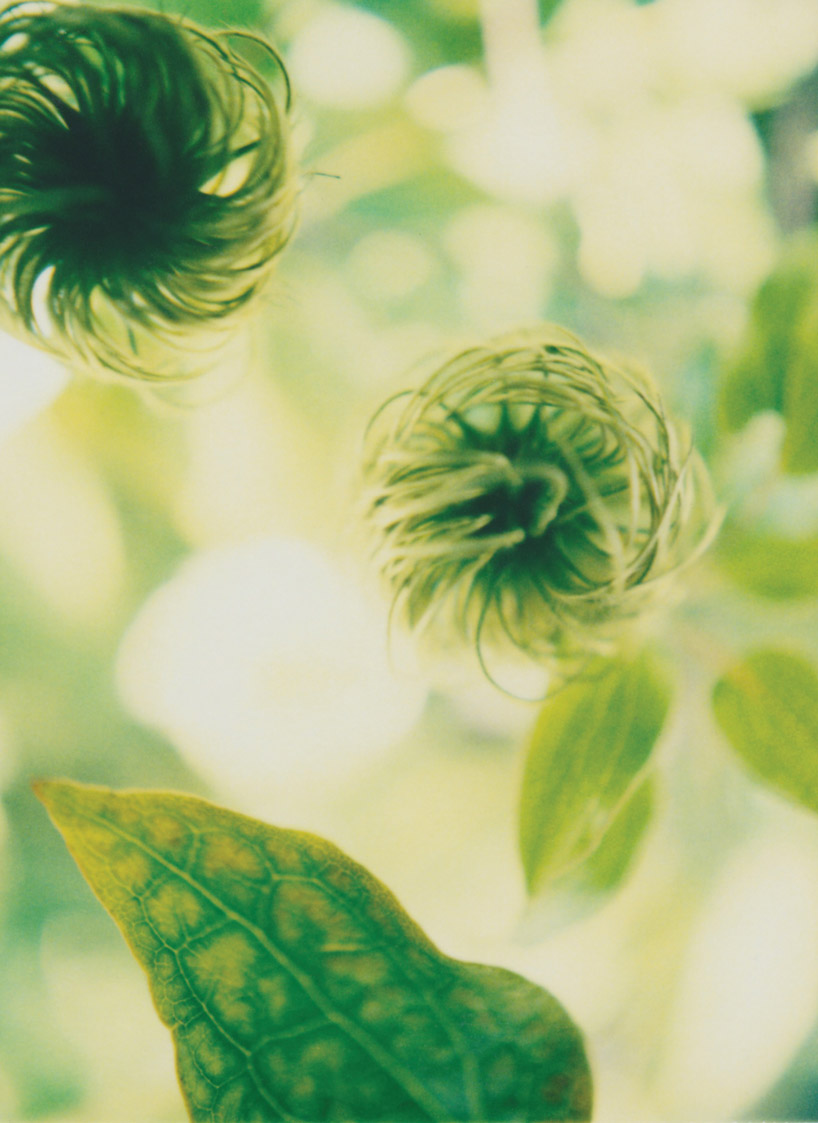 'hanayo' by charles west, USA
the origin of 'hanayo' by american designer charles west begins with a desire to take large format photographs, influenced by karl blossfeldt and ito jakuchu. one lesson that can be learned from his images is that there is no up, down, right or left; the only direction is towards the light. the radical compositions and unfamiliar scenes in the 'hanayo' series are primarily the result of flowers' ruthless orientation towards the sun.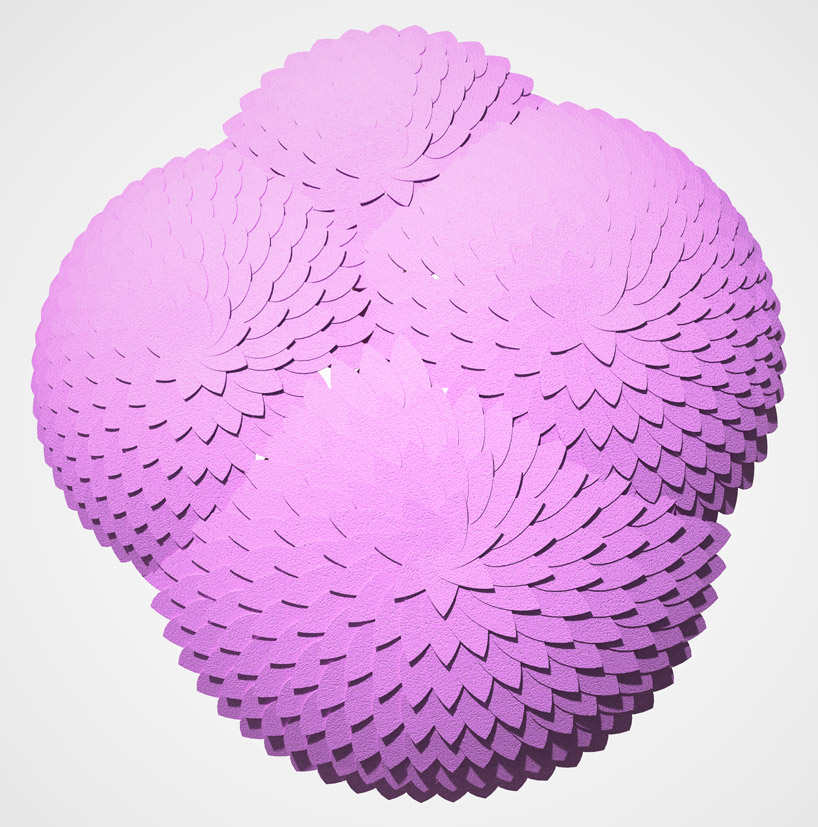 'jakucha' by amir zobel, israel
'jakucha' by israeli designer amir zobel is a hand-held parasol whose form draws on the element of layers of ito jakuchu's works which depict bird feathers and flower petals. the sculptural object stands to represent a connection between the past and the present; between tradition and industry; and between natural phenomena and commercial products. made out of traditional japanese materials – rice paper and wood – the complex three dimensional structure of 'jakucha' has been designed using advanced CAD tools. its blossom-like appearance explores the way in which nature can be described and reconstructed artificially through mathematical equations.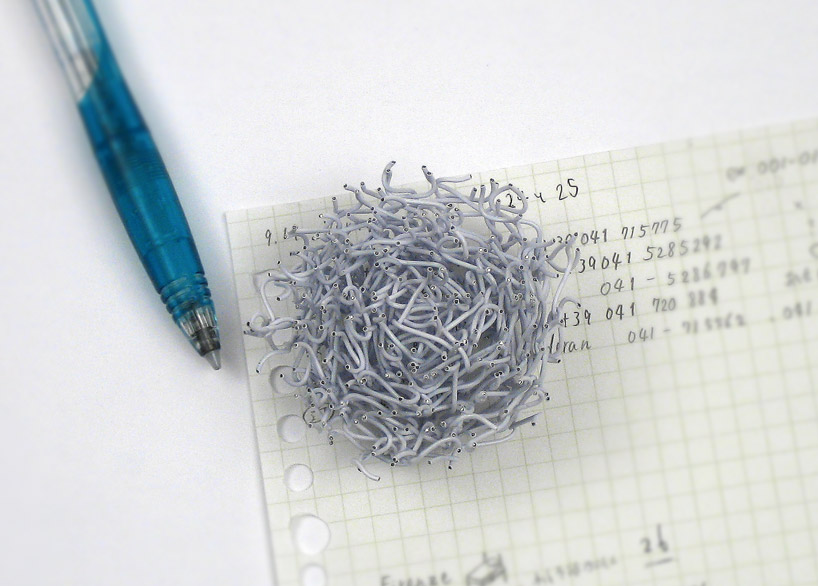 'moja paperweight' by shuhei senda, japan
shuhei senda's 'moja paperweight' draws on 'shinki' – the mysterious existence of the spirit – that ito jakuchi tried to find in the rooster.the design object is a PVC hexagonal paperweight which is enigmatic in appearance, an aggregate of irregular curves.here the paperclip is re-born into a new artifact which has a strong presence. it is produced through the simple way of coiling the cut hexagonal mesh into a functional work of art.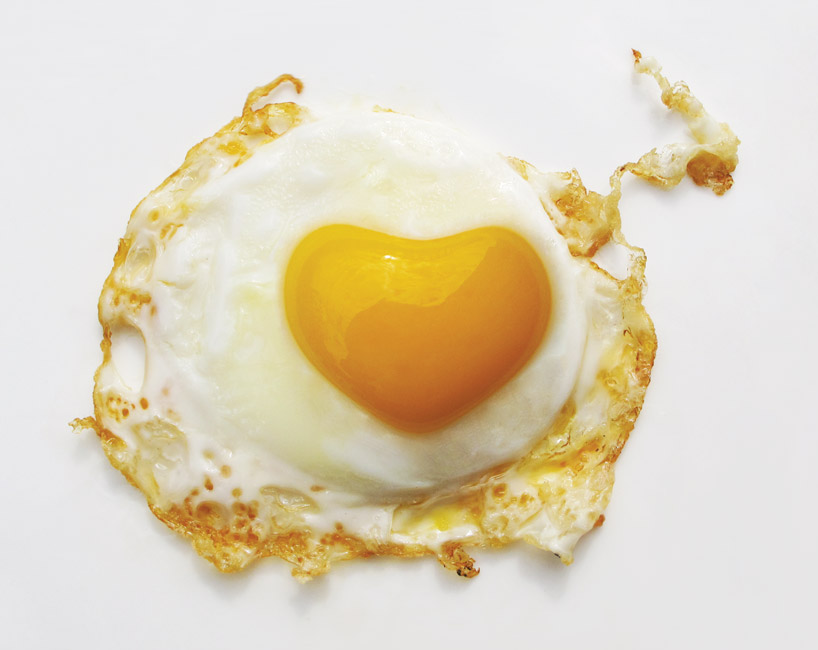 'life-egg' by kenji akiyama, japan
the first moment in which people recognize something, is when that object comes into existence. 'life-egg' by kenji akiyama of japan uses ito jakuchu's attention to every detail to draw pictures – precisely because he thinks that all things have a certain viability.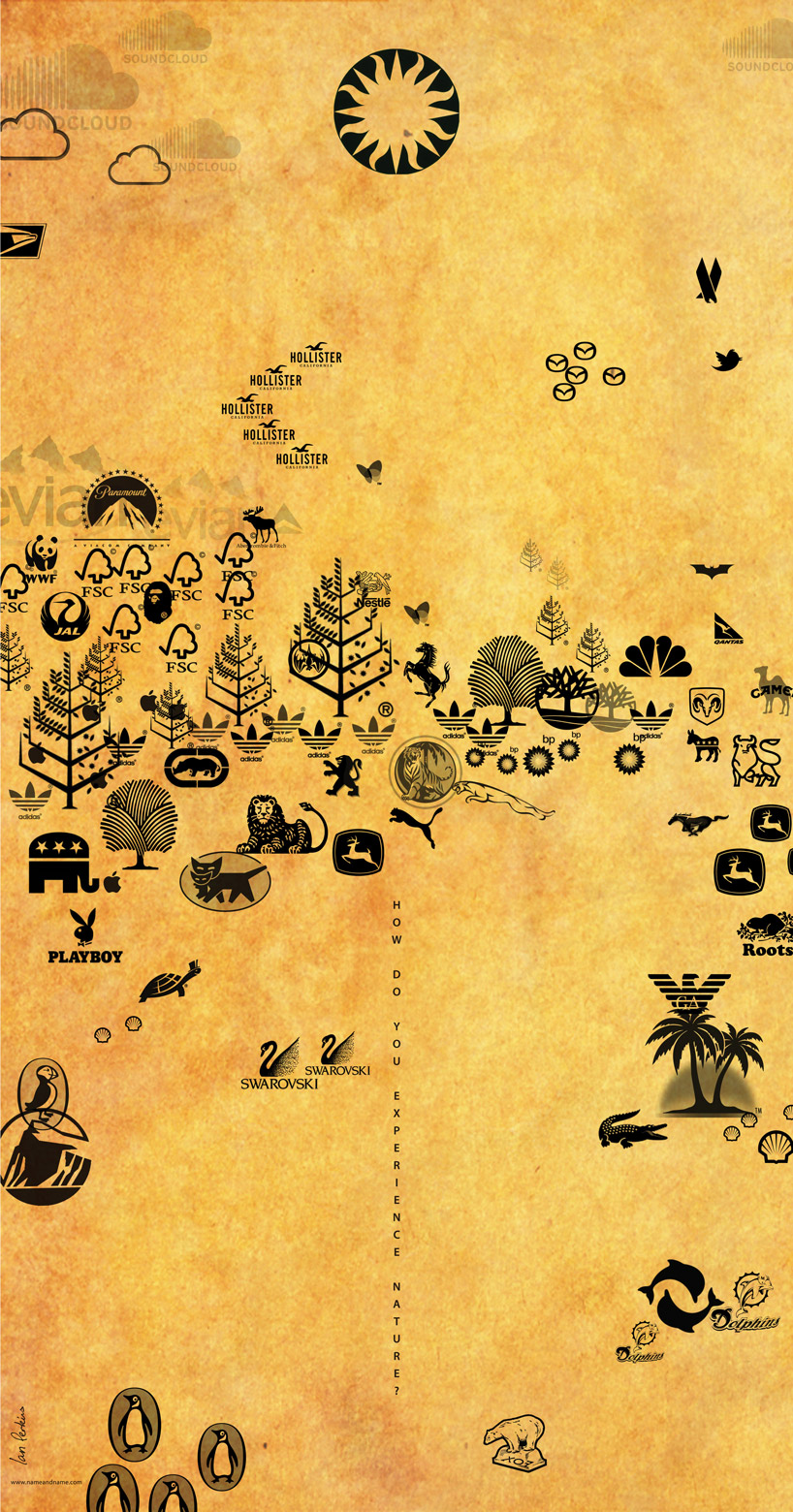 'how do you experience nature?' by ian perkins, singapore
with more of the earth's population living in cities, people are coming in contact with nature less and less – their main experiences are through pictures and branding, only a representation of the beauty of the natural world which they are missing out on. 'how do you experience nature?' by ian perkins of singapore uses a scroll format in reference to ito jakuchu's works,in which he uses modern icons of nature – corporate brand logos – arranged into a landscape, suggesting that this is the only natural phenomena much of our society experiences from day to day. the arrangement of these well-known symbols in this way, reminds us of what we are actually missing.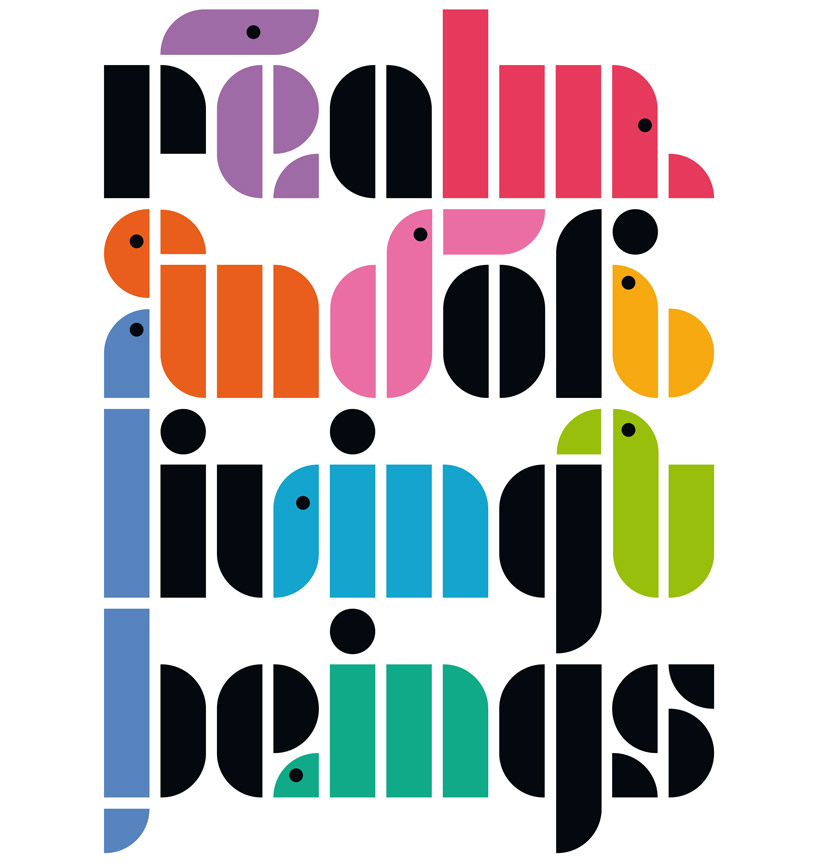 'unity' by monica fraile morisson, france
'unity' by french designer monica fraile morisson is a tribute to ito jakuchu expressed in a modern, bold and colorful typographic interpretation. her modular typography of animal profiles – elephant, pelican, birds, snake, turtle, bear and anteater – communicated through the phrase 'realm of living beings', demonstrate a certain level of togetherness, through the combination of geometrical shapes and wildlife depictions.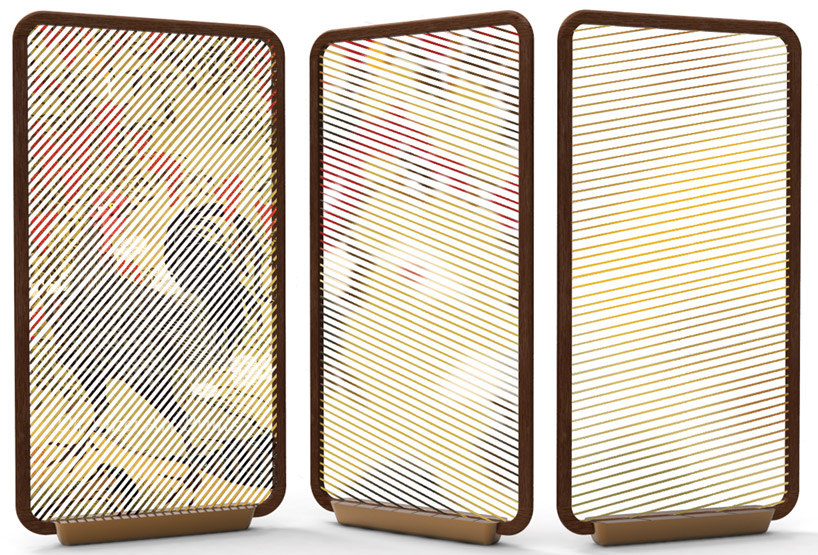 'ito screens' by jess fügler, usa
'ito screens' by american designer jess fügler are influenced directly by the process ito jakuchu used to create his paintings – he applies color to the panels which first appear as conceptual notions, further developed into detailed subjects. though the paintings are two-dimensional, they are filled with depth that reflect our natural world. by positioning the different layers of the 'ito screens' within a space, the user is able to manipulate their environment. within the wooden frame the dyed fibers form an abstract image of nature creating an artificial reality.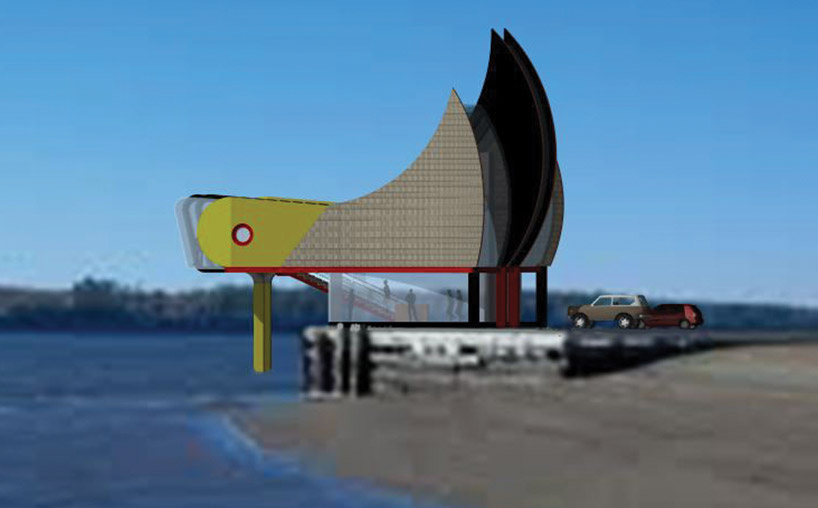 'ito jakuchu art gallery' by pule swai, switzerland
the 'ito jakuchu art gallery' by pule swai from switzerland is an experiential work – a place of reflection. the cantilevered structure invites visitors up its stairs, across land and over water, a large skylight introducing air as another element into the space.the volume draws its form from roosters often seen in ito jakuchu's work, supported by two oblique steel beams that counterweight the ends of the building. the 'beak' element plays a structural role, extending the lobby outwards. the facade's wooden tiles create the wings of the construction, with brass/copper plates for the neck and head. the interior has hints of colors which were used byito jakuchu.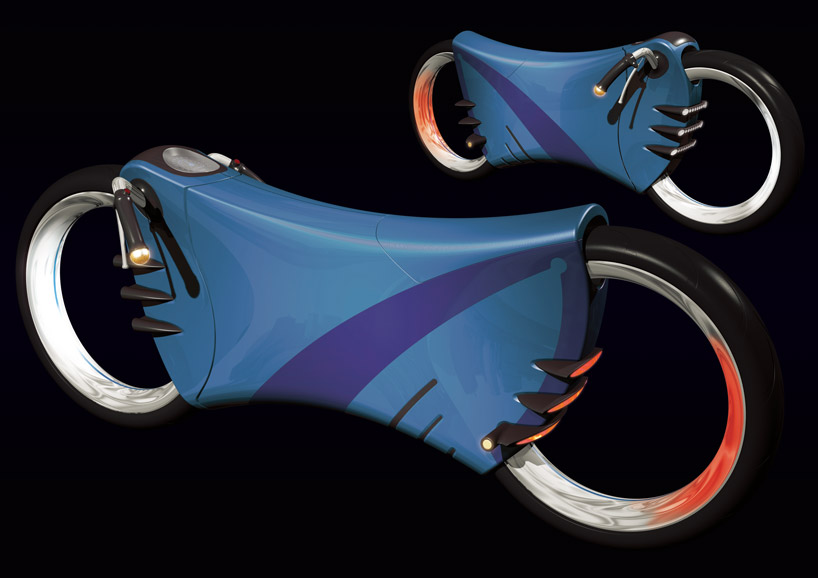 'cricket' by arkadiusz szenfeld, poland
'cricket' by polish designer arkadiusz szenfeld is a concept vehicle that integrates nature – the form looks like a cricket – with the power of the motorcycle. the unseen air within the two-wheeled means of transport affords it to sway and glide. the fresh air is like 'shinki' (the mind of god), that fills the design's empty body with natural and clean energy. 'cricket' is dedicated to people who want to create balance and live in a harmony with the natural world. the more motorcycles powered by clean energy, the less polluted our cities are.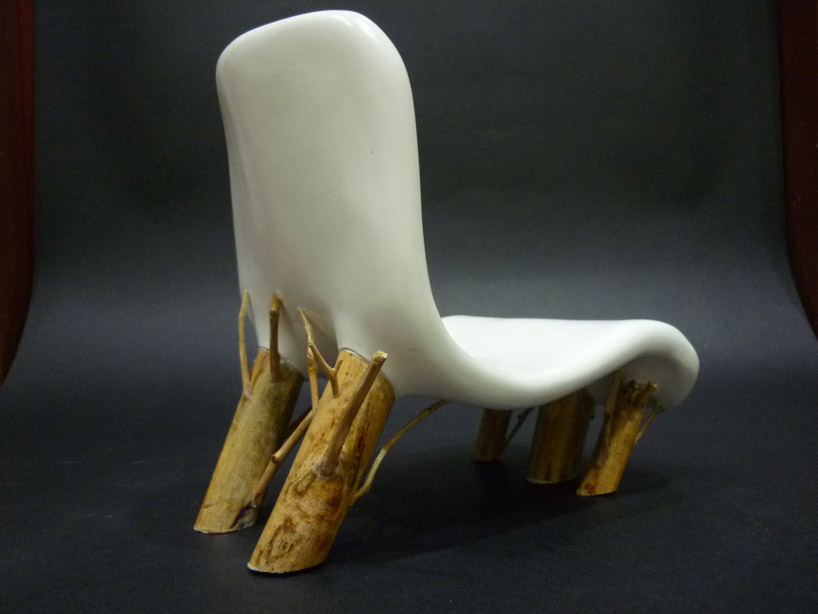 'kensy' by camila hincapie + camila hincapie castillo, colombia
'kensy' is a chair suitable for any home that is influenced by the magnificence and suspenseful themes of the art pieces 'wild goose and redes', 'golden pheasant in snow', and 'mandarin ducks in the snow' by ito jakuchu. conceived by colombian designers camila hincapie + camila hincapie castillo, the seating object aims to reconcile the link between nature and manmade things. balance and a sense of equilibrium arise as the furniture pieces emerges from earth and undergoes a metamorphosis into a functional design.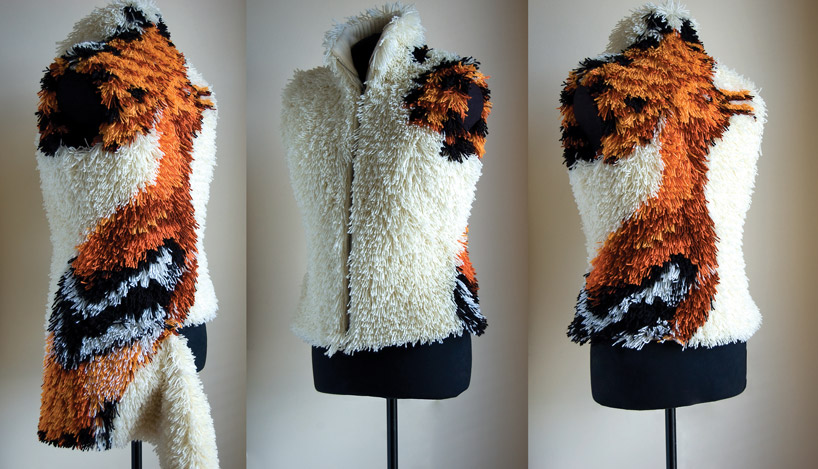 '2 in 1 natural faux fur vest' by heli miikkulainen-gilbert, ireland
'2 in 1 natural faux fur vest' is a woolen garment by irish designer heli miikkulainen-gilbert which takes influence from ito jakuchu's cranes –from the painting 'birds and animals in the flower garden' – who in real life are said to spend their lifetime with one partner. in terms of a display, jakuchu's six-fold-screen painting is more than just a regular painting. this vest is a functional '2 in 1' piece; under the tuft, in the horizontal cut at the hip there's a hidden durable metal zipper which can be used to adjust the length of the hem to go with any outfit, for any occasion.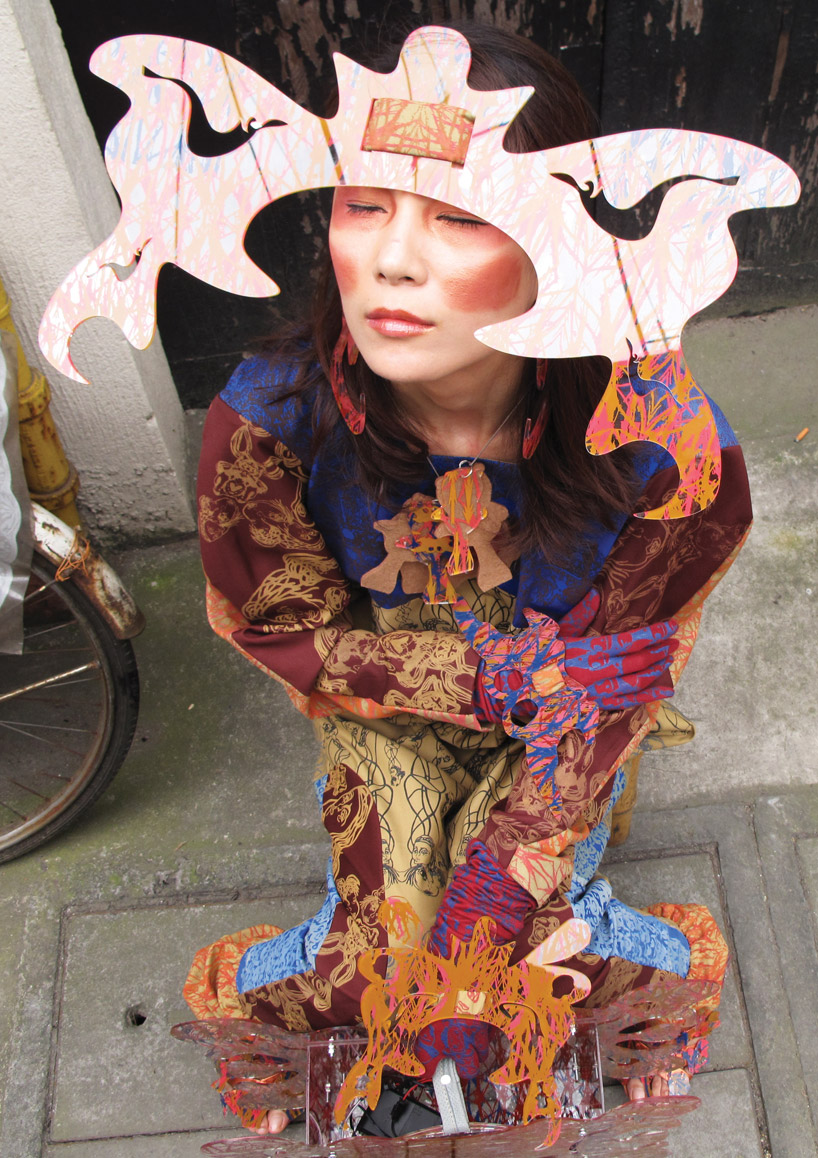 '(wear if you dare)' by alexandra avramova, china
'(wear if you dare)' by china-based designer alexandra avramova is influenced by ito jakuchu's 'birds and animals in the flower garden'. the garment collection aims to reflect the vibrant colors and magical atmosphere of the original artwork. the pieces are made of hand-printed acrylic resin resembling the shapes of animals concentrating on their wings, horns and ears.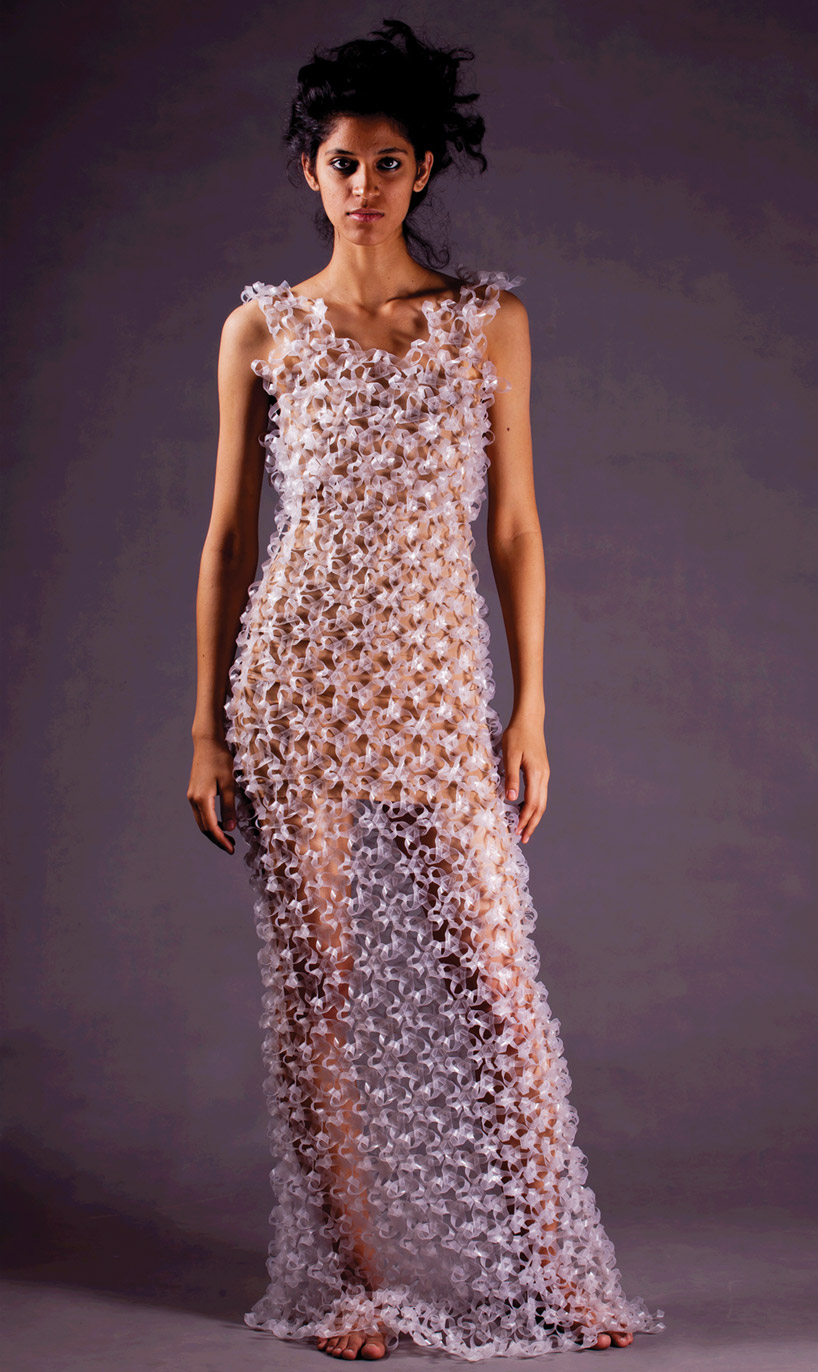 'ātman category – fashion design and textile' by palash singh, india
like ito jakuchu's paintings, 'ātman category – fashion design and textile' by indian designer palash singh metaphorically reveals 'inner beauty', concealing the human body with this garment. the dress is made by joining modules of laser-cut transparent recyclable plastic together to form a fabric.each unit consists of slits and protrusions which allow the elements to be fastened into each other. the structure twists, turns, tessellates and joinsendlessly to form the work. the entire fitting has been done by sole geometry without any external links or finishing.
a diverse digital database that acts as a valuable guide in gaining insight and information about a product directly from the manufacturer, and serves as a rich reference point in developing a project or scheme.
designboom will always be there for you
milan, new york, beijing, tokyo

,
since 1999