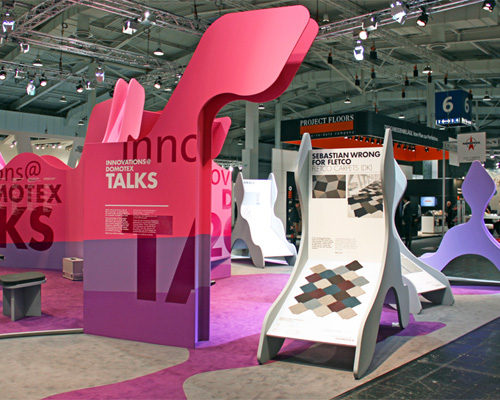 feb 22, 2014
j. mayer h. architects + innovations at DOMOTEX 2014
j. mayer h. architects + innovations at domotex 2014
image © designboom
DOMOTEX 2014 is the flagship fair for carpets and floor coverings, held in hannover, germany, and this year's event attracted approximately 45,000 visitors from more than 80 nations. with the focus on trends and innovations, the event's new concept '[email protected]' enabled exhibitors to submit their ideas for presentation to an expert jury. the requirement was that products must be fresh, contemporary and creative – and score high in either relevance for the suggested target group, technological innovation, design and quality. from the entries, 62 new products that were chosen within four categories: resilient floor coverings, textile floor coverings, modern hand-made carpets, and parquet and laminate floorings, for presentation at DOMOTEX 2014, reflecting the latest developments in the world of carpets and floor coverings – the essence of this trade fair. the central display area, designed by jürgen mayer h. architects, stood as a a central meeting point for visitors to join various organized programmes such as panel discussions and daily guided tours by architects and designers. the conceived supporting exhibition elements were used as panel display, and when turned around, served as a table or bar.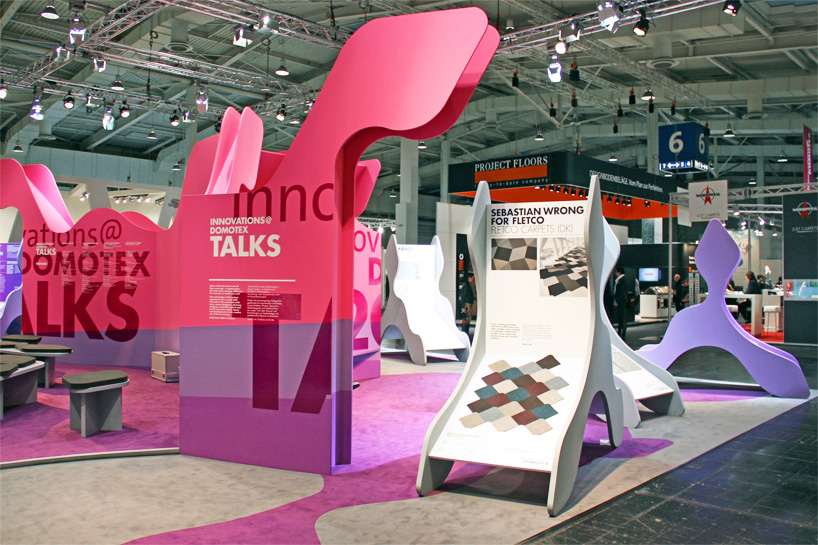 '[email protected] space' display design by j. mayer h. architects
image © designboom
designboom met up with jürgen mayer to discuss the role of flooring and textiles in the field of architecture, and the difference in creative approach to developing a temporary installation, in comparison to a permanent structure:

designboom interviews jürgen mayer h. on his installation at DOMOTEX 2014
video © designboom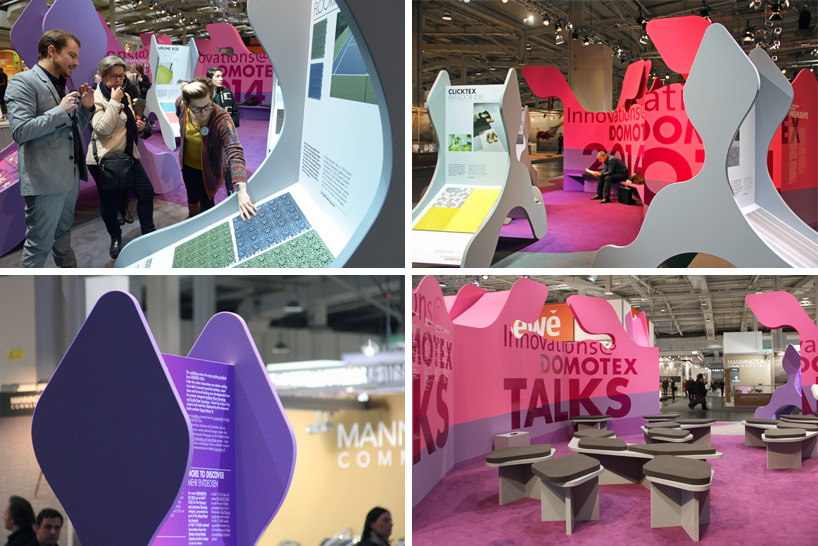 stefan diez, chairman of the '[email protected] 2014' jury, gives a tour to show
images © designboom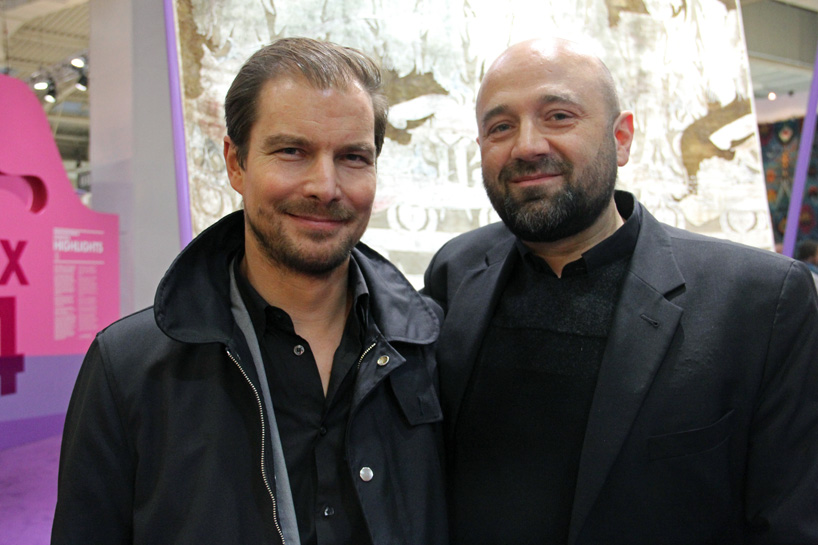 stefan diez and jürgen mayer
image © designboom
in another setting designed by architect jürgen mayer h., the 'souk deluxe trend show' area presents modern hand-made carpets that display a mixture of first-class modern design and traditional artisan production techniques. to display the floor coverings in this section, the german architect employed a basic metal framework, fashioned to reflect structures people often use outdoors to dust-off their carpets.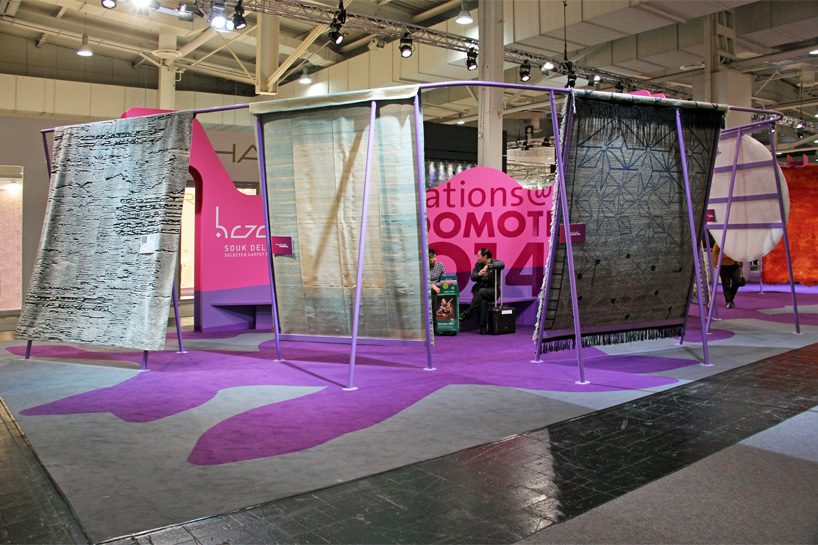 a simple metal structure was designed by jürgen mayer h. to display area rugs in the 'souk deluxe trend show' area
image © designboom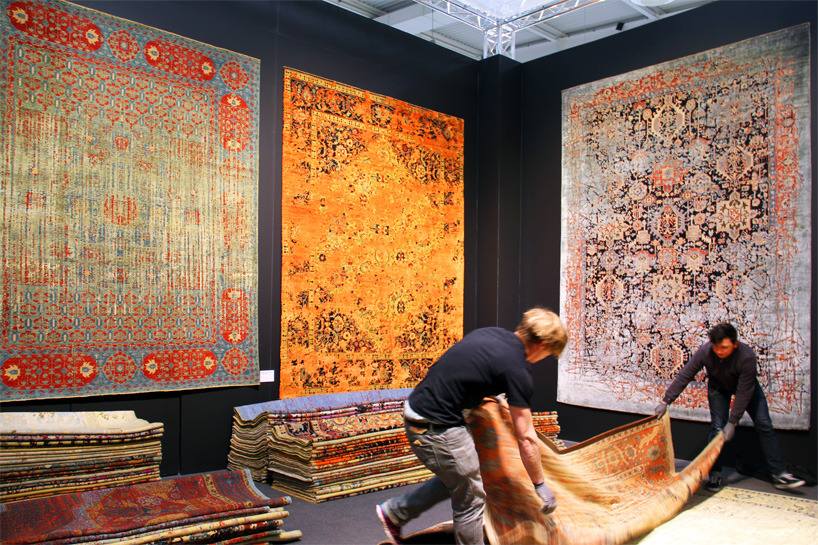 a display of hand-made carpets of jan kath who combines classic oriental carpets with, contemporary design elements
image © designboom
one of the highlights of the hand-made carpets section was jan kath who combines classical elements of oriental carpets with contemporary, minimalist design. kath's modern schemes first take shape on computers in the creative center at bochum in the ruhr district of germany, and are sent electronically to be handwoven in nepal, thailand, india, or morocco. there are between 100 and 450 knots in every square inch of carpet (6.45 square centimeters), and it takes three to four months to weave a single carpet measuring 2.5×3 meters. jan kath is best known for his 'erased classic' carpet collection which sees the ornamental motifs of traditional carpets broken up. the patterns, which were originally repeated perfectly, seem to have been obliterated, soaked with acid and corroded.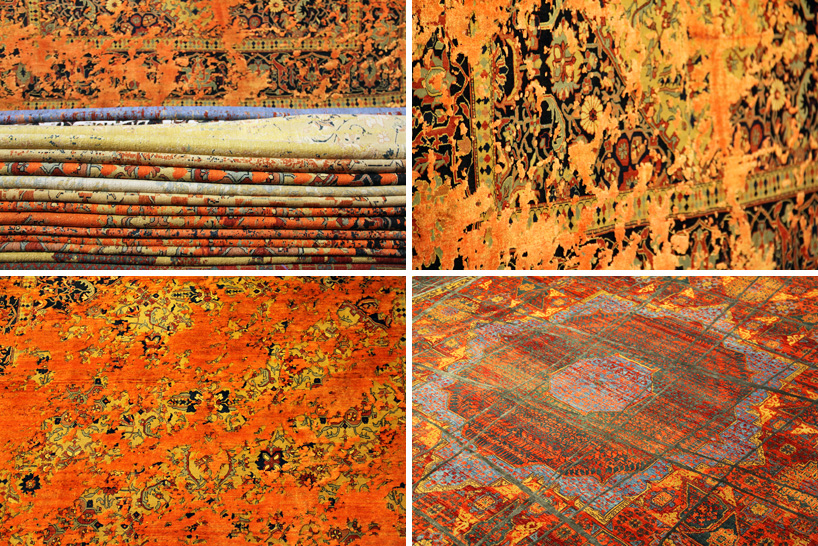 'erased classic' collection – these 'programmed' errors create a tension between old and new
images © designboom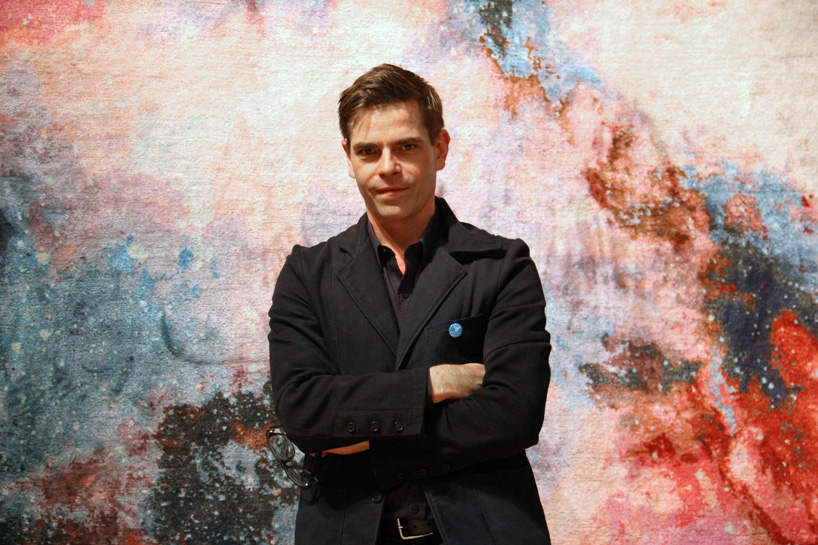 jan kath in front of his 'spacecrafted' collection
image © designboom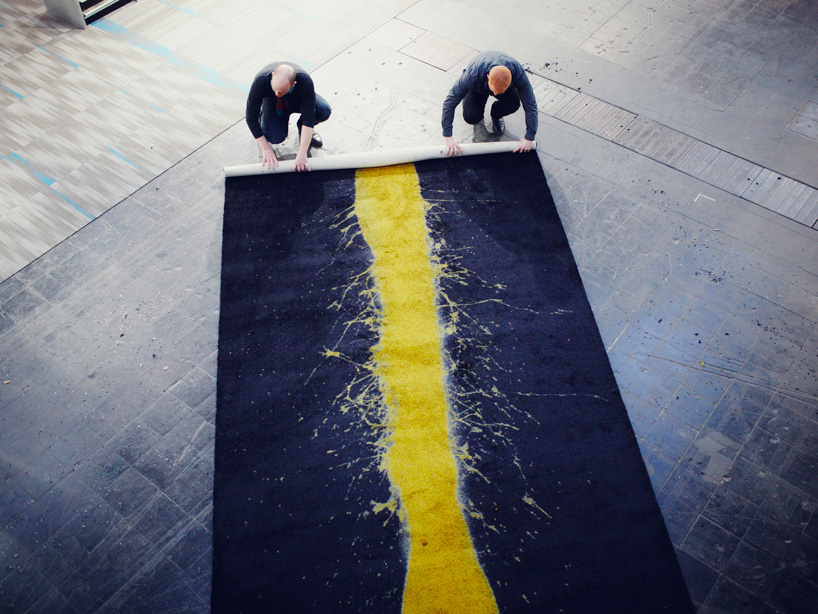 steffen kehrle and his assistant roll-up a finished carpet
image © julian baumann
last year at DOMOTEX, german designer steffen kehrle collaborated with dura flooring systems to explore the technique of dying carpets. it was part of the project 'flooring deluxe concept rooms' curated by stefan diez – a series of concept rooms whereby a number of designers were selected to work closely together with different companies to conceive unconventional flooring solutions in the form of experimental installations. typically during the dying process, much precision is considered to get a perfect result. instead, kehrle wanted to experiment with the constant movement employed by machines to color the tufted textile by using perforated tubes, fire hoses and squeegees to transfer pigment to the threads. the company allowed him to turn the dura flooring production facilities into a temporary playground. the results were unique carpets with patterns that display expressive striations of color, unmeasured patterns of splashes, lines and gradients.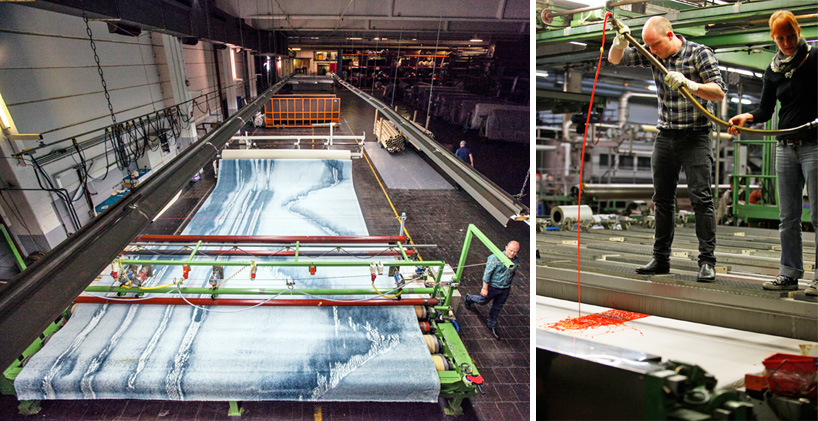 steffen kehrle in the dura flooring systems producing plant
continuing with the same technique of manually adding color onto the surface, these artistic pieces have now been developed to be in production. every zoeppritz carpet is unique and cannot be reproduced. there are three different pattern designs: splash, waterfall and blur. available sizes are: 1,40 x 1,90m, 1,70 x 2,40m and 2,00 x 2,90m.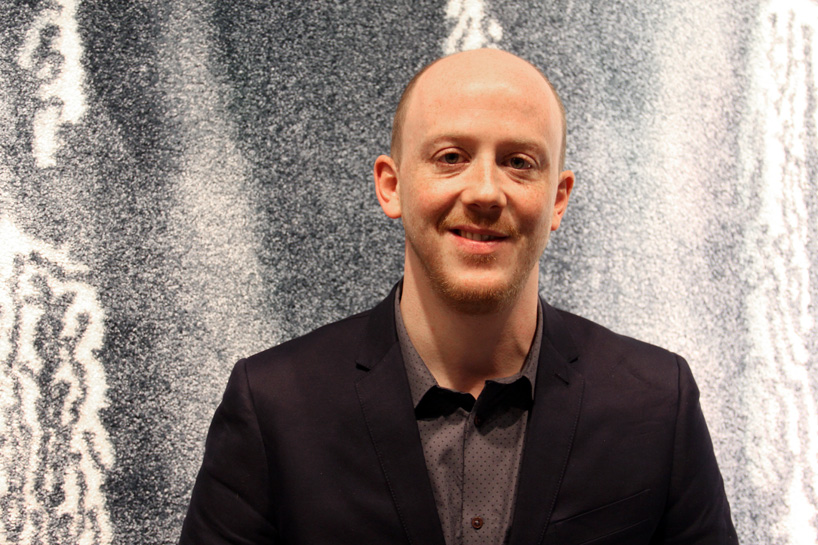 steffen kehrle
image © designboom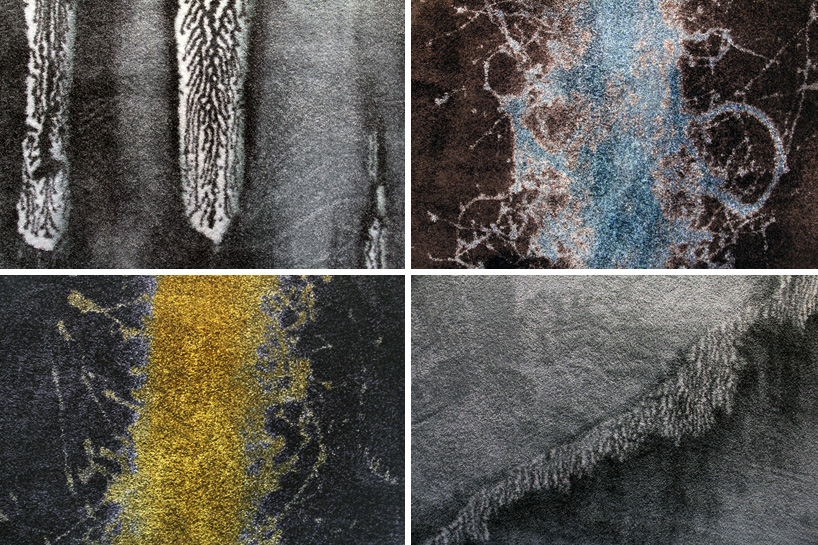 three different designs: splash (2x), waterfall and blur
images © designboom
what will be the future role of floor coverings – in gastronomy, the hotel trade, housing, offices, health care, … ? these considerations are the central topic of the round-table discussions that form part of [email protected] talks. designboom met keynote speaker petra blaisse of inside outside, amsterdam spoke about the topic of 'innovation through synergy':

petra blaisse on the topic of 'innovation through synergy'
video © designboom
this year, DOMOTEX brought 'a huge array of invitingly cozy carpets, sophisticated parquet and laminate flooring, stylish designer floor coverings, ad masterful hand-woven rugs on display sporting captivating designs and an astounding variety of materials, colors and patterns which all testify to the highly innovative spirit of the international floor coverings industry (…),' said dr. jochen köckler,j managing board at deutsche messe responsible for DOMOTEX. the overall mood of the 2014 edition was positive, expressing a considerable turn for the better, with exhibitors speaking about the improved business prospects in this sector.
nov 21, 2019
nov 21, 2019
oct 29, 2019
oct 29, 2019
jul 30, 2019
jul 30, 2019
apr 01, 2019
apr 01, 2019
feb 21, 2019
feb 21, 2019
jun 25, 2018
jun 25, 2018
a diverse digital database that acts as a valuable guide in gaining insight and information about a product directly from the manufacturer, and serves as a rich reference point in developing a project or scheme.