apr 09, 2011
james econs: phoneboox
'phonebox' by james econs
the 'phoneboox', created by british media consultant james econs in kingston, UK, repurposes an unused english telephone box into a local book-exchange.
with recent budget cuts throughout the UK threatening to close public libraries, econs observed that a local, rarely used but frequently vandalized phonebox is flanked by two benches in a location already commonly frequented as an informal gathering place. over the course of an afternoon, he measured the interior of the space, cut and painted shelving and bookends out of plywood, installed the units in the phonebox, and finally filled the shelves with some of his old books.
a notice written along the edges of the shelves instructs, 'you are welcome to take me… but please make sure to replace me!! enjoy'. the rest of the community quickly became involved in adding their own books to the collection and borrowing and swapping others in and out.
view looking up from within the 'phonebox'
ultimately, the 'phoneboox' takes advantage of existing public architecture for a new purpose– without sacrificing the original function of the telephone booth. econs reflects, 'the point is you don't have to be anything to make things happen. I'm not a designer, I'm not a bookworm, and I'm not a carpenter. I just had an idea, and I [did it], without really caring whether it would be a success.'
in a location already commonly used as an informal meeting spot, the 'phoneboox' is well-situated between two benches
along the edges of the shelves is written, 'you are welcome to take me… but please make sure to replace me!! enjoy'
photos from the construction process of the shelves and bookends
nov 07, 2013
nov 07, 2013
feb 17, 2012
feb 17, 2012
apr 08, 2010
apr 08, 2010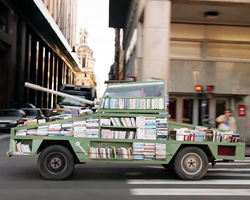 mar 04, 2015
mar 04, 2015
jul 19, 2013
jul 19, 2013
jun 18, 2013
jun 18, 2013