interview with jane fulton suri, executive design director at IDEO
all images courtesy of IDEO
jane fulton suri is partner emeritus and executive design director at IDEO. for nearly 30 years, fulton suri has been dedicated to maintaining and developing design insight and inspiration for a diverse set of clients from a range of different industries and fields. she pioneered human-centered approaches and evolved techniques for empathic observation and experience prototyping that are now widely used in the making of products, services, environments, systems and strategies. throughout her career, she has sought to increase the accessibility of these human-centered tools, coauthoring and publishing IDEO's method cards, and creating 'thoughtless acts?' — a collection of snapshots that depict the creative ways in which people interact with the world.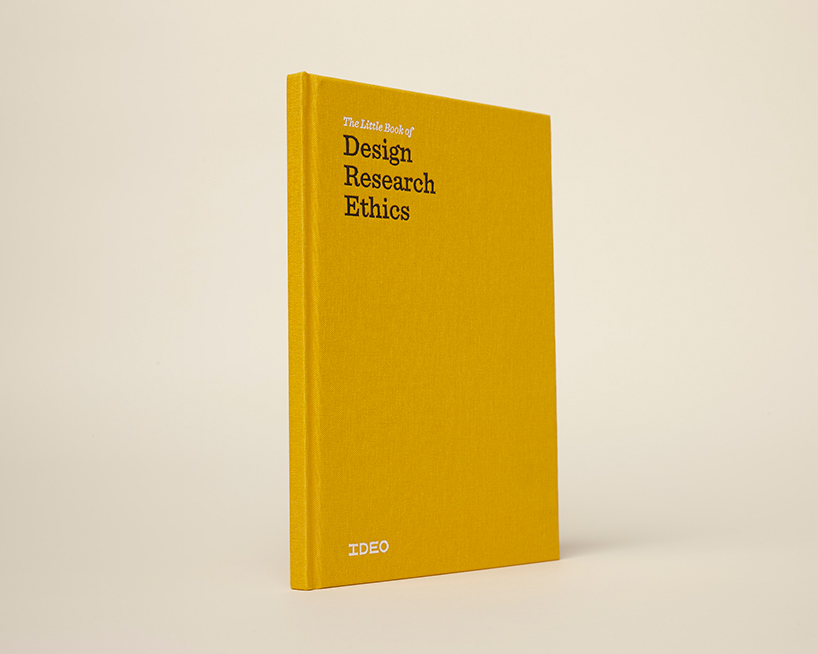 'the little book of design research ethics'
her latest project is 'the little book of design research ethics', a publication which covers the principles that guide IDEO's interactions with research participants and clients. originally designed as an internal IDEO tool, the now public book — available to download or purchase — intends to become a place for creatives to source guidance about the issues that arise during their navigation of the increasingly complex terrain of design research. in the book, fulton suri addresses three timeless principles for interaction with people in a search for insight: respect, honesty and responsibility. these core values provide a common framework for reference and discussion as designers explore new technologies, conditions and challenges for human-centered design.
we spoke with jane fulton suri about 'the little book of design research ethics', how she was originally introduced to IDEO, and where she sees design heading in the next 5-10 years.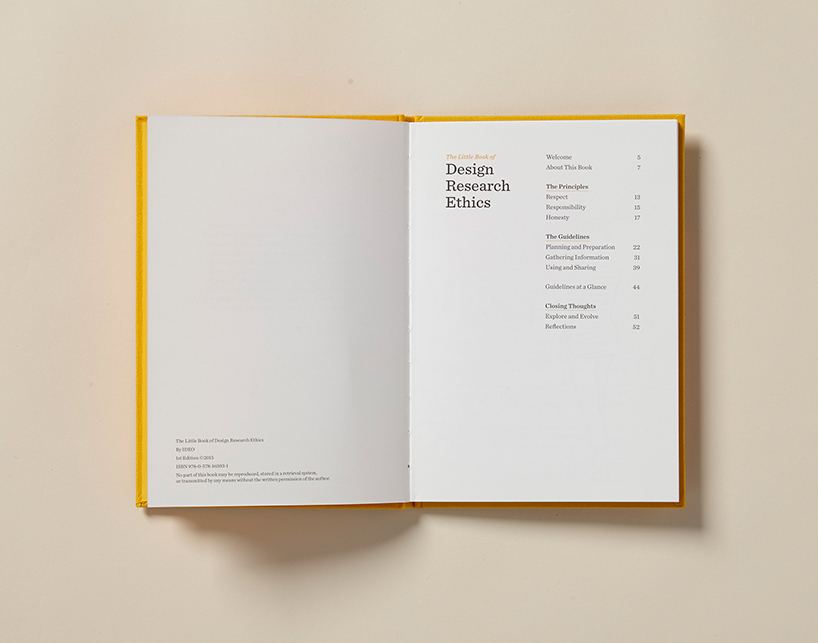 'the little book of design research ethics' covers IDEO's interactions with research participants and clients
designboom: can you tell us the story of how you came to work at IDEO?
jane fulton suri: I had a magical encounter with visionary industrial designer bill moggridge in 1987 at ID two's studio in san francisco. I showed him 35mm slides of my work identifying remedies for the mismatch between people and the designed world—making motorcyclists more visible to other drivers, improving flow-rates of transit passengers through ticket barriers, and producing safer power tools. I had pictures of people re-enacting the moment they'd lost part of a finger or toe. foreseeable problems, preventable by good design, and the major reason why I wanted to be working with designers before things got out into the world.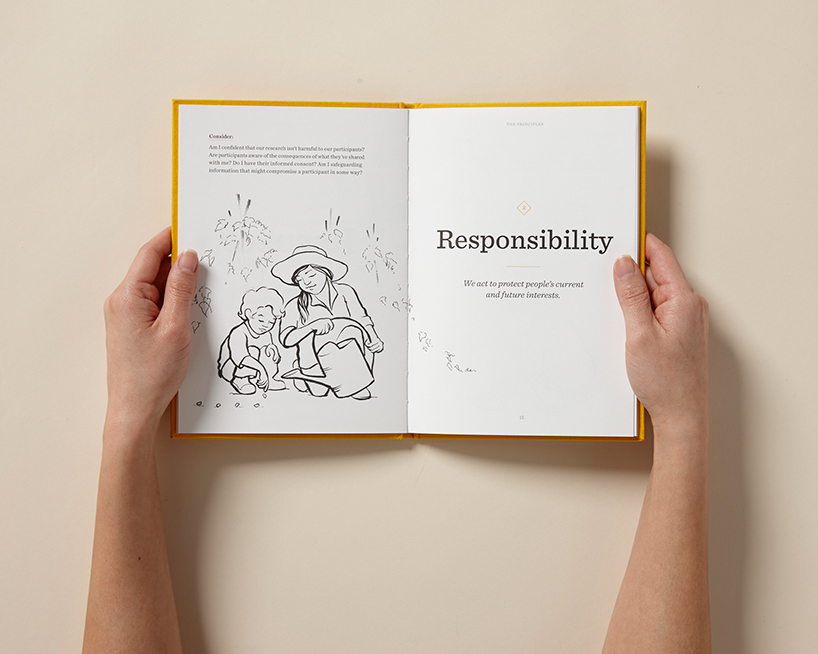 responsibility: one of three timeless principles to guide interaction with people in our search for insight
(continued) after a delightful chat, bill asked… 'so what would you like to happen now?' a disarming question and my answer unguarded, 'I'd like you to offer me a job!' and he did. my charge was to strengthen the studio's human-centered approach, and to integrate research with the practice of design. this was new to design, bill took a leap of faith, helped make it work, and shortly afterwards joined two other companies to form IDEO.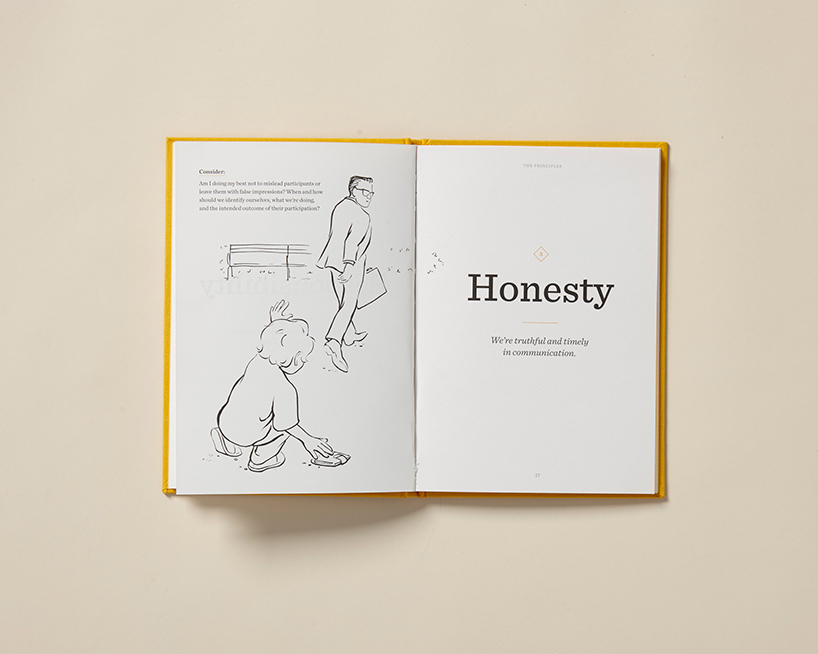 honesty: of of three core values that provide a common framework for reference and discussion
DB: how were you originally introduced to the world of design?
JFS: I was born in england in the 50's, to creative and thrifty parents, establishing their first home. post-war utility furniture, refurbished windsor chairs, home-sewn liberty fabric curtains — surroundings seared in my sensory memory. my father was a potter, so I played in the art department, made models, and pushed clay through the pug-mill. for holidays, we'd camp in cornwall and visit bernard leach's pottery — all stoking a sensibility about the making of beautiful things. in 1964 terence conran opened habitat. I was 12 with an ambition to travel the world as a buyer for his stores! by the time I was in college, human psychology was more fascinating. and then, applying psychology to architecture, could we design spaces and places to more intentionally support people? that was in the late 70's and my professional introduction to design.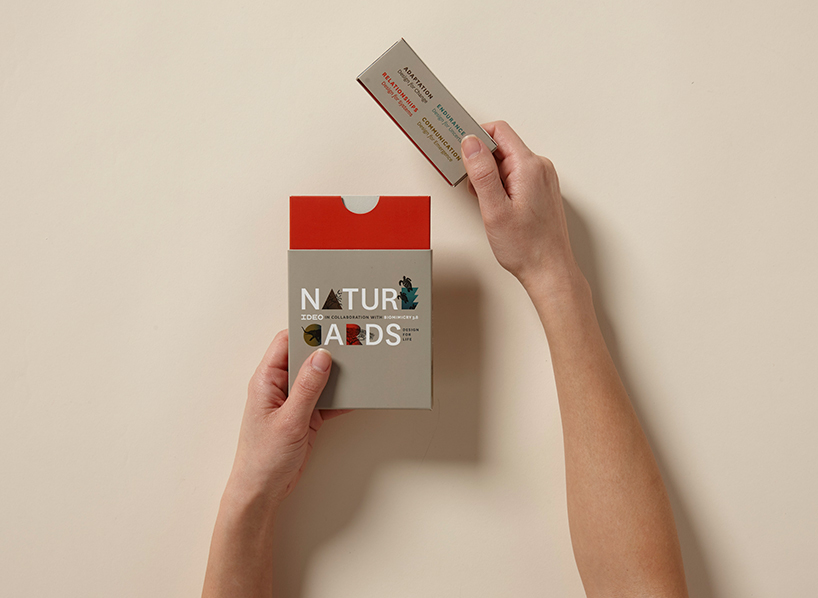 'nature cards' provide examples of the adaptations and synergies species have developed in order survive
DB: can you describe your role and responsibilities as partner emeritus and executive design director at IDEO?
JFS: I'm a global nomad these days — inspiring, teaching, and tool-making to sustain high-quality craft and insight from california to boston, london to tokyo. the human-centered focus is still at IDEO's core, deeply relevant to broad-reaching topics, such as our collaboration with la victoria lab to improve the lives of peruvian people. and our first online design thinking course at IDEO U for students world-wide was insights for innovation. but we're pushing design edges too, so I'm also experimenting with new ways to tackle systemic challenges. IDEO's nature cards illustrate biological strategies for dynamic and self-regulating ecosystems relevant to design — expanding beyond inspiration drawn from the real-lives of people to inspiration from the real-lives of all living things.

the examples found in the 'nature cards' provide insight into a myriad of design challenges
DB: you've been part of IDEO for almost 30 years, what has been the biggest lesson you have learned since working there?
JFS: I've learned the value of not knowing. of staying curious. of prototyping everything. putting something tangible out there and creating space for others to respond and refine it.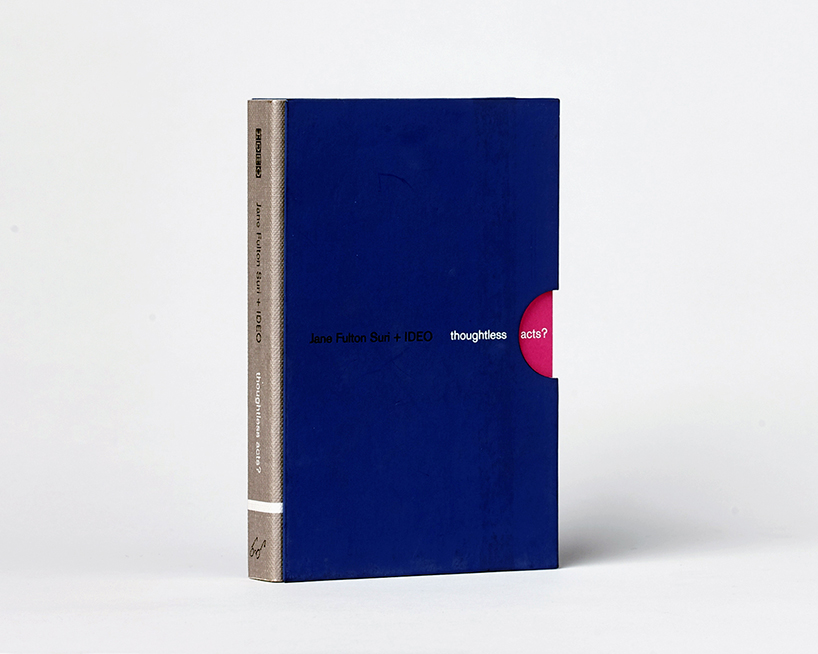 'thoughtless acts?' invites viewers to notice the subtle and amusing ways that people react to the world around them
DB: what has been the most rewarding project that you have worked on at IDEO?
JFS: creating the picture book, 'thoughtless acts?' it's more than 10 years old now but we still hear that 'it's changed how I look at the world.' that was the intent, to prompt people to notice intuitive interactions with the everyday world, a precious source of insight for design. and it's great to reflect on old projects that shaped new-to-the-world technologies in light of today. work with kodak in the 90's on the first generation of digital cameras foreshadowed today's experience of imagery as communication, pervasive, spontaneous and disposable. and explorations with GM/hughes on charging systems for their first electric cars anticipated a future we're now exploring in the future of automobility.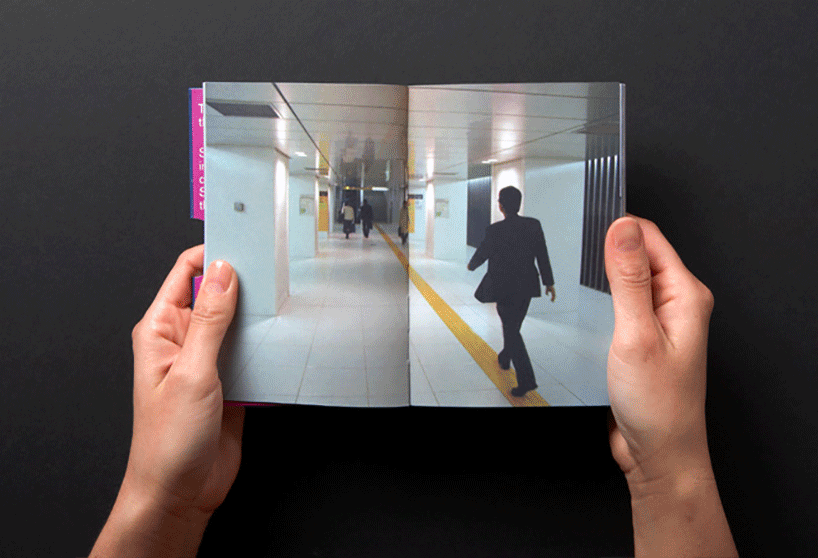 spreads from the book 'thoughtless acts?' | photos courtesy of david albertson
DB: how did the idea for 'the little book of design research ethics' come about?
JFS: since our earliest days, IDEO has relied on people to share aspects of their lives, react to our ideas, and try out prototypes to see what needs to change. the approach is personal, open, trusting, and designed to be enjoyable for everyone involved. we work hard to maintain that spirit but rarely spend time articulating just how important a trust-based approach is to uncovering valuable insights. so it was time, long overdue really, to be explicit about what IDEO believes and to provide guidance and support in a concise and durable way. the book form itself, was inspired by the little book of IDEO expressing our values as a community working together. this new book is complementary, expressing our values in interaction with the community beyond IDEO.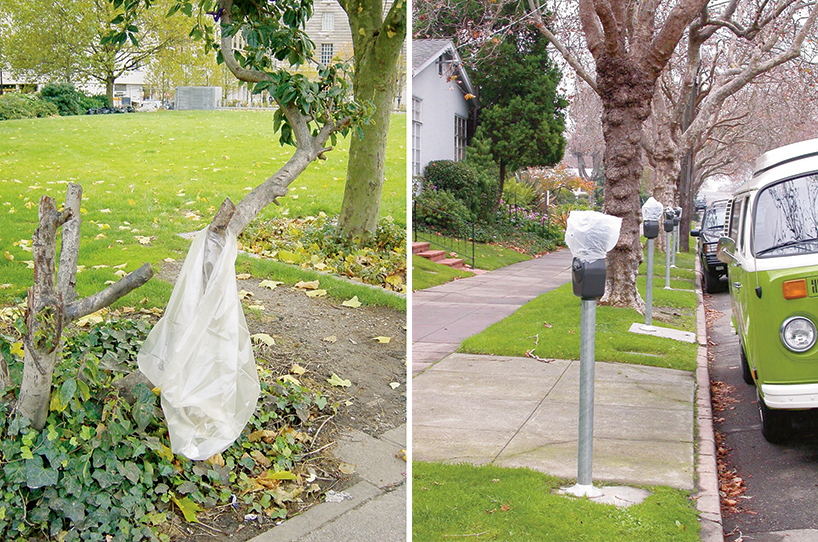 two images in the book showing how we derive meaning from context —
the same item used to send different messages in a park in tokyo and in berkeley, california
DB: respect, honesty and responsibility — why do you feel these three principles are the most important?
JFS: really what's important is maintaining trust. but how to do that? tapping the vast base of tacit knowledge within IDEO and beyond we asked: how do you do human-centered design research in a human-centered way? what moments in your experience have not felt quite right, or felt uncomfortably close to pushing over an ethical edge? because these principles emerged from answers, ideas, anecdotes, and conversations about real projects, we know that they're important and actionable in our day-to-day work.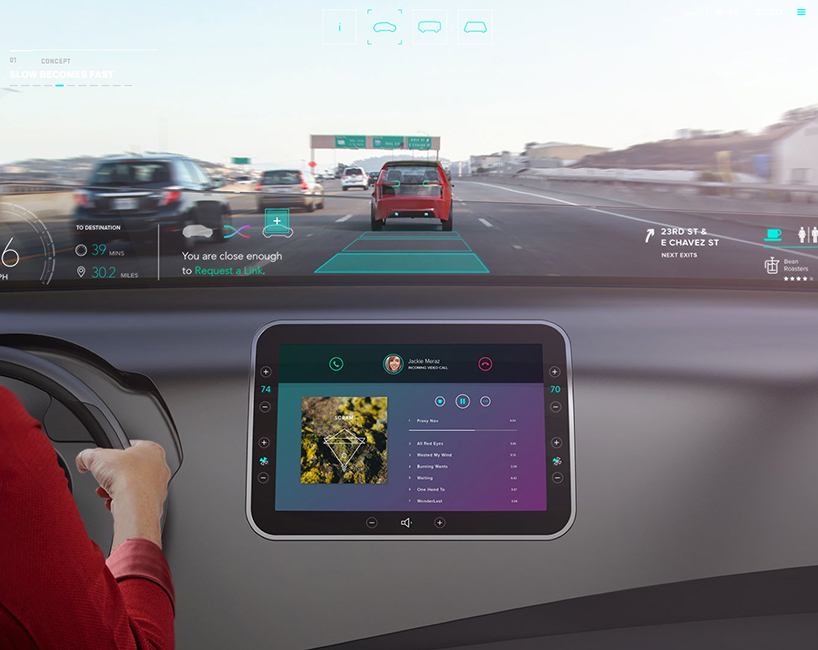 IDEO's future of automobility explores the experience of electric-powered self-driving cars
(read our interview with IDEO's ricardo figueiroa on the future of automobility here)
(continued) respect is the idea that we honor participants as people deserving of consideration. honesty emphasizes our commitment to transparency — even if we don't disclose everything up front we won't leave people with false impressions. and responsibility comes with the amazing privilege we have. when people are willing to share their data, ideas, tell us about their children, parents, sex-lives, finances, and to open their closets and hearts we're vigilant on their behalf, safeguarding information that could compromise their future interests.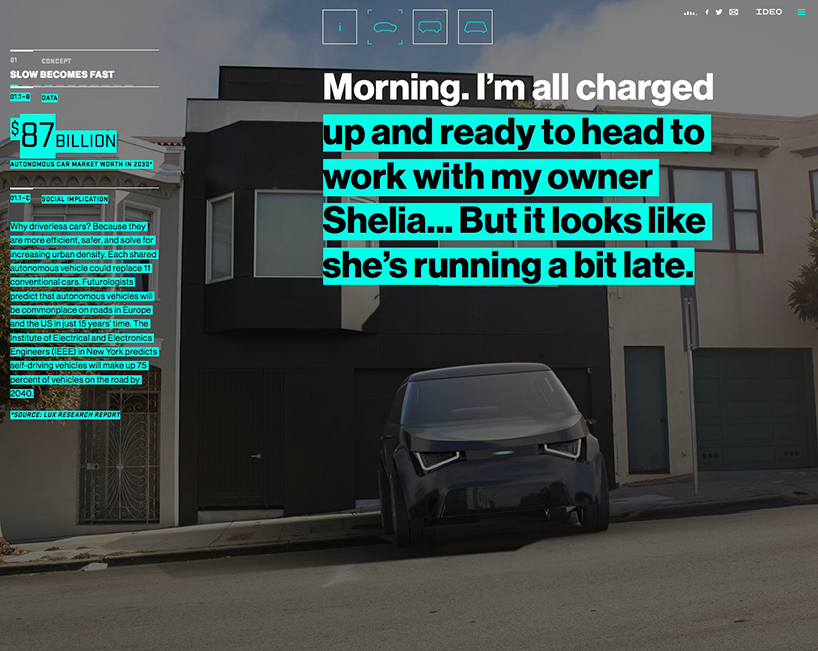 the concept considers the future of autonomous driving, on demand delivery services, and future workspaces
DB: as the book was originally intended as an internal IDEO tool, why did you decide to open it up to the public?
JFS: as the contents took shape, we shared early drafts with ethicists for feedback. we learned that there isn't much out there of its kind, I mean that ties together solid principles with practical guidance and true stories that show how they play out in real life. so, while the book is mostly about design research, we realized that it offers practical guidance to a wide range of situations that depend on building relationships of trust. added to which, we're encountering a new level of public and corporate awareness of trust and transparency related to capture and use of personal information these days, so there's a new-found appetite for guidance in navigating ethical complexity. we decided to make it available to download and for purchase as a hardback book.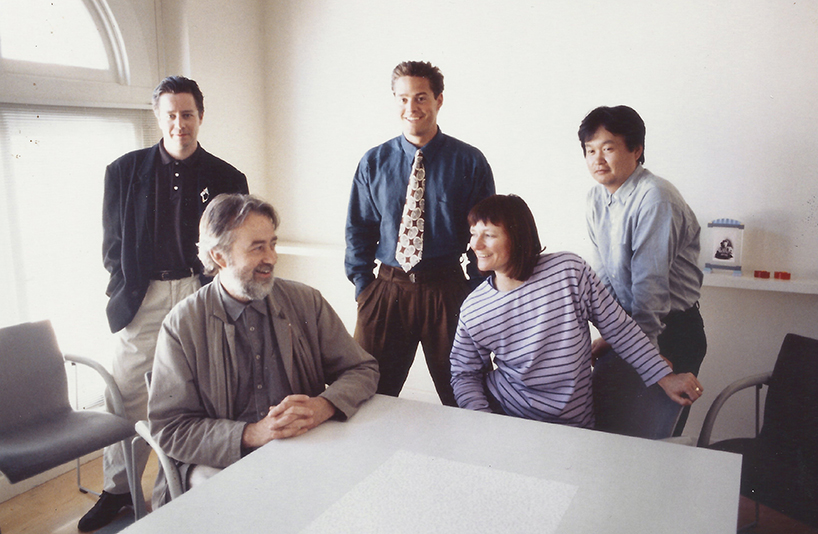 IDEO team 1988: (standing L-R) tim brown, chris loew, naoto fukasawa (seated) bill moggridge, jane fulton
DB: what are some of the lessons you hope readers take away from the book?
JFS: I hope it encourages the idea that ethical considerations are worth talking about in business, and the way we do things is as important as the outcome. I hope the principles provide a common framework to support ongoing discussion about how to work with empathy and cultural sensitivity, ensuring that interactions are safe, fair, enjoyable, and mutually beneficial for all involved. and I hope data privacy, now considered largely a legal and technological issue, will be seen as an essentially human design issue too.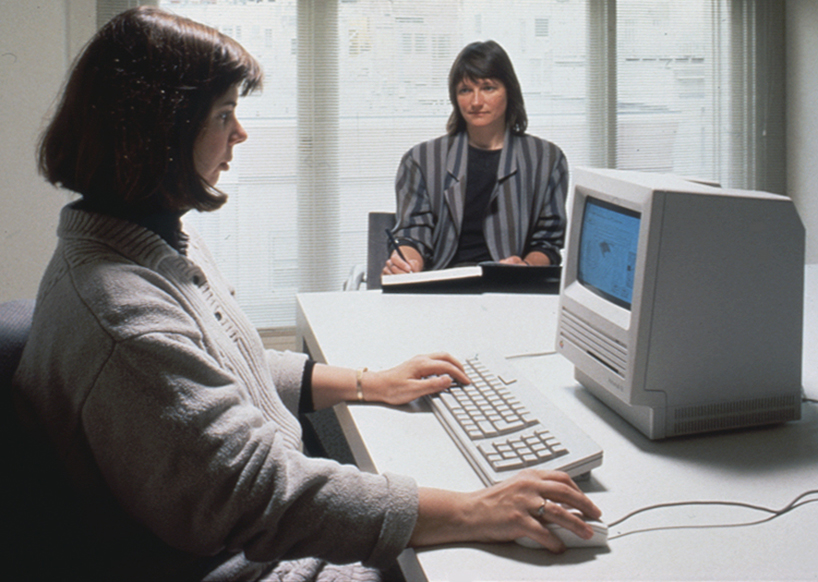 observing a user testing session with a prototype of an early microsoft mouse 1987
(test devised by bill verplank)
DB: where do you see design heading in the next 5-10 years?
JFS: I see young people, businesses, and governments waking up to the idea that we can design the future world we'll want to live in. designers will be the catalysts who unlock creative capacity within communities, inspiring people and collaborating with them. and design will adopt new tools and materials to help address systemic human issues. where everything is interconnected — in challenges around education, food, transportation for example — designers will be using data and biology to explore and create dynamic, adaptive, and beautiful solutions.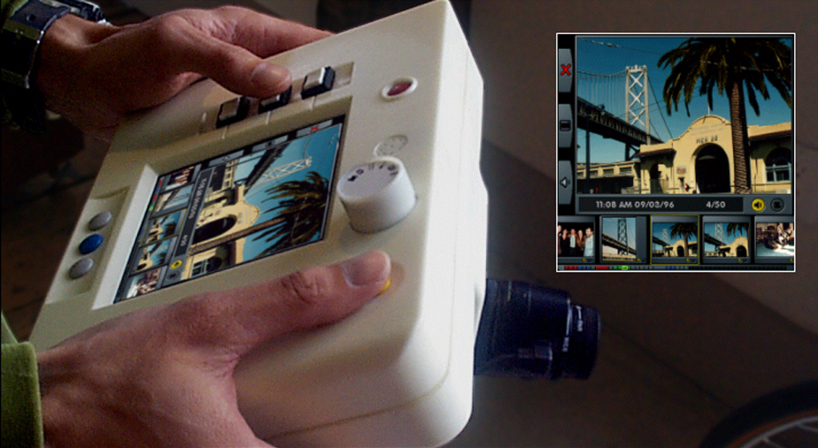 prototyping the interaction experience for kodak's first consumer digital camera
(prototype by mat hunter and duncan kerr)
DB: what is the best piece of advice you have ever been given?
JFS: keep it brief. and to the point 🙂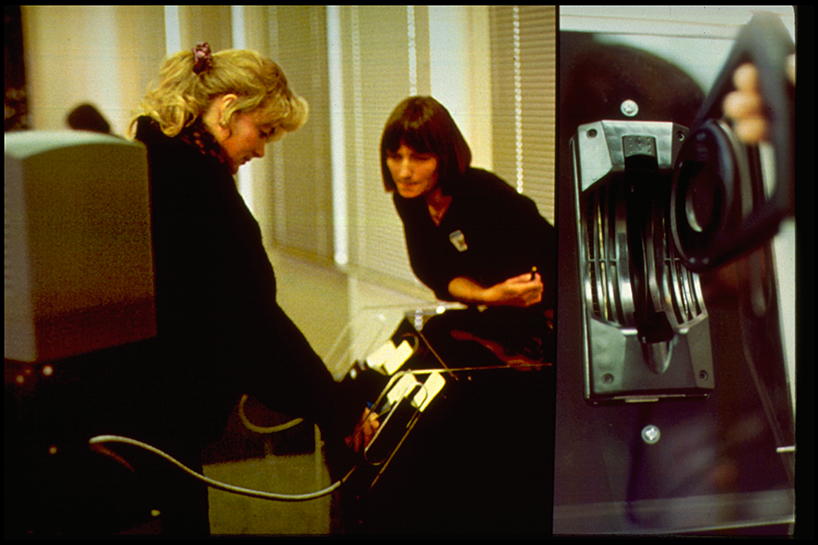 drivers try out recharging device prototypes in 1994 with GM/hughes for use with their EV1
nina azzarello
I designboom
apr 25, 2016
KEEP UP WITH OUR DAILY AND WEEKLY NEWSLETTERS
a diverse digital database that acts as a valuable guide in gaining insight and information about a product directly from the manufacturer, and serves as a rich reference point in developing a project or scheme.
designboom will always be there for you
milan, new york, beijing, tokyo

,
since 1999