may 21, 2009
jas bhachu: rubik's cube font generator
jas bhachu at the liverpool school of art & design created the 'rubik's cube font generator' earlier this year for a brief that asked students to produce a visual representation of the word 'move'. the design uses a standard rubik's cube with stamps on four of its sides so that users can make their own typeface. an ink pad and multi-lingual instructions are also included in the neat little pack.
box: 157 x 150 x 160 mm instruction guide: 297 x 420 mm cube: 90 x 90 mm
more images and info can be found here.
via CRblog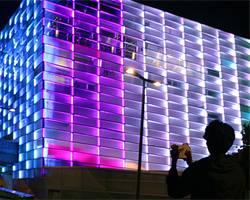 dec 09, 2013
dec 09, 2013
jul 07, 2009
jul 07, 2009
jun 22, 2009
jun 22, 2009