top image: jason grant photographed by kevin phillips
inkahoots is a design studio based in brisbane, australia. the practice is best known for its experimental typographic solutions, often realised as three dimensional installations and in print. designboom spoke to inkahoots' founder jason grant to learn more about his early influences and design process…
designboom: what originally made you want to become an graphic designer?
jason grant: no matter how little money our family had growing up, I always had plenty of encouragement. I always invested a lot in the weight of design. when I was seven or eight I remember thinking that the unjust power imbalance between adult and child could be redressed by strategically withdrawing my labour. in my imagination the worst I could do to my parents was take down my drawings and paintings they had hung on the fridge. that, and the later promise of impressing girls with drawings led me here.
I applied to study both fine art and design at university and got into art college first. so I did that for a while and then swapped over to graphic design. and really, graphic design's role of genuine public communication seemed far more urgent and important than the rarified world of gallery art. an insult often aimed at designers is that we're frustrated artists, if that's true for some I don't know, I can't speak for anybody else, but I was the opposite, an artist in danger of being a frustrated designer.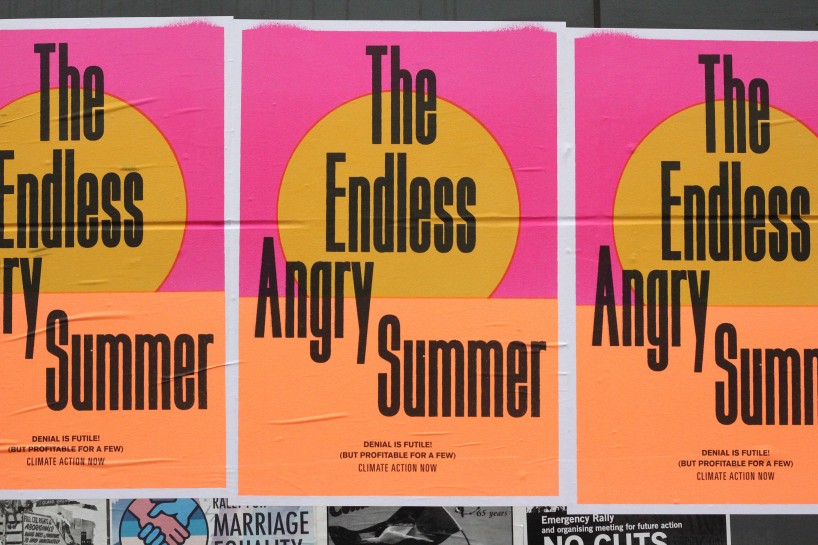 the endless angry summer poster responds to australia's hottest ever year on record. it is printed in highly uv unstable fluorescent offset inks and the poster on the street can be seen deteriorating daily as the weather eventually destroys the image. 2013
DB: how would you describe your approach to design?
JG: for many, graphic design merely exists in some kind of twilight zone between high and low culture, between fine art and fashion. but it has never been just the relationship between a company and a consumer that's mediated by design, it's all of our relationships. between lovers, family members, and friends. between us and our government. between us and our environment. this is the real power of what we do. all that we design, in turn, designs us.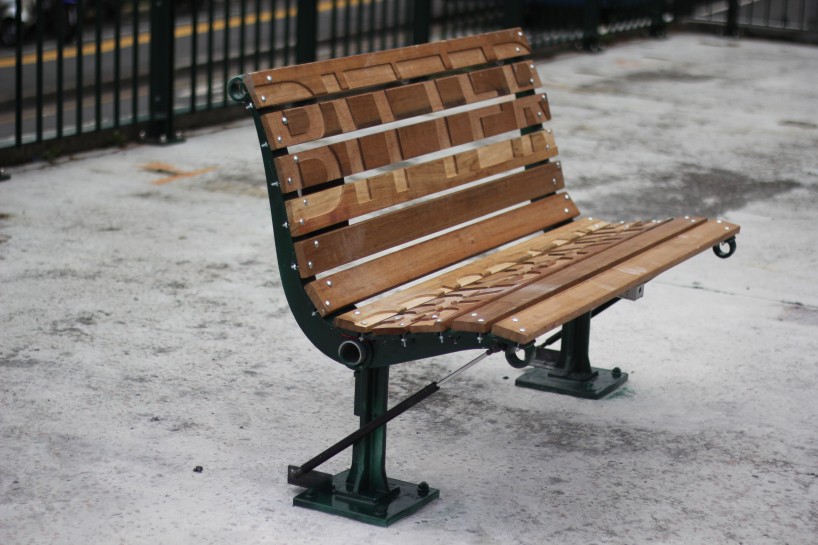 bitter bench installation drew attention to the harassment of homeless people in the city. a seat fitted with a motion sensor triggered the recorded voices of people sleeping rough, attracting pedestrians' attention, while a mechanism then tipped them off when they sat down. 2012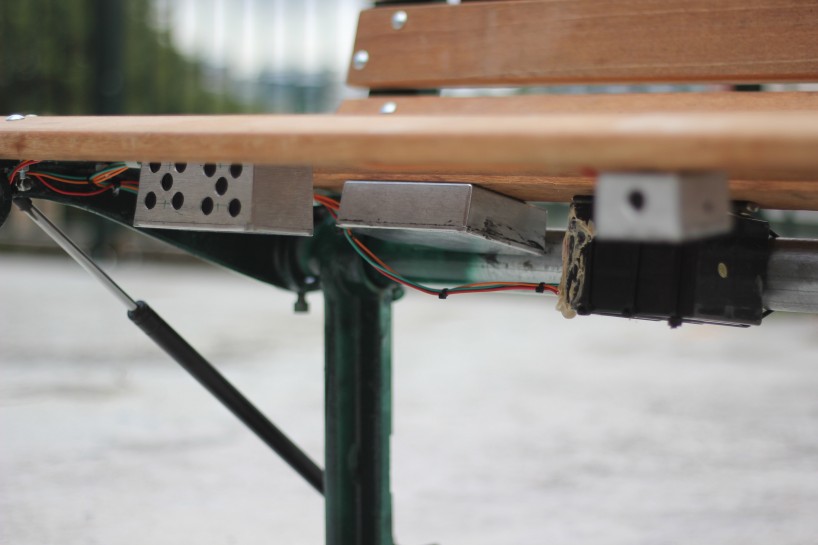 the bench was installed on the prominent site of a bus shelter that had been demolished due to it being a popular shelter for the homeless. the intervention only lasted a few days, but forced the council to publicly defend its abysmal response to homelessness, as well as replace removed street furniture, and with rare media focus on the issues, helped draw attention to a side of brisbane airbrushed away in the interests of commercial priorities. 2012
DB: who or what has been the biggest single influence on your way of thinking?
JG: as a student the biggest impact came from designers like grapus, vaughan oliver, neville brody, australian poster collectives like redback and earthworks. not just for their aesthetic, although I did love that, I loved that there was a personal visual language employed for mass communication. they were connecting honestly with sincere human sensibility, beyond the cynical, instrumental priorities of the market. I know vaughn was helping sell records, and neville magazines or whatever, but that seemed incidental. and groups like grapus and redback were undermining an ideology that deserved nothing less.
and more intimately, my friend and original business partner robyn mcdonald who helped me build inkahoots from a community access arts collective to socially focussed design studio, and of course the other current members of the team, ben mangan, jordan mcguire, mat johnson, bhu vidya and joan sheriff all fundamentally shape the practice.
back in high school traditional karate led from discovering watts, suzuki, lao tsu to musashi, basho, mishima, on to the beats, whitman, blake, orwell, neruda, marx, sartre. my karate master was a catholic priest who taught zazen (meditation) and koans, as well as kicks and punches. since then ideas about the relationship of mind, body and spirit have been fundamental. so the power of something that connects the heart, head and hand, that expresses and satisfies real human need, has always been a creative ambition.
the influence of having your head kicked by cop's boot at a peaceful student rally shouldn't be underestimated either. all the foregone abstract social theory about the nature of political power is illuminated in those moments, believe me.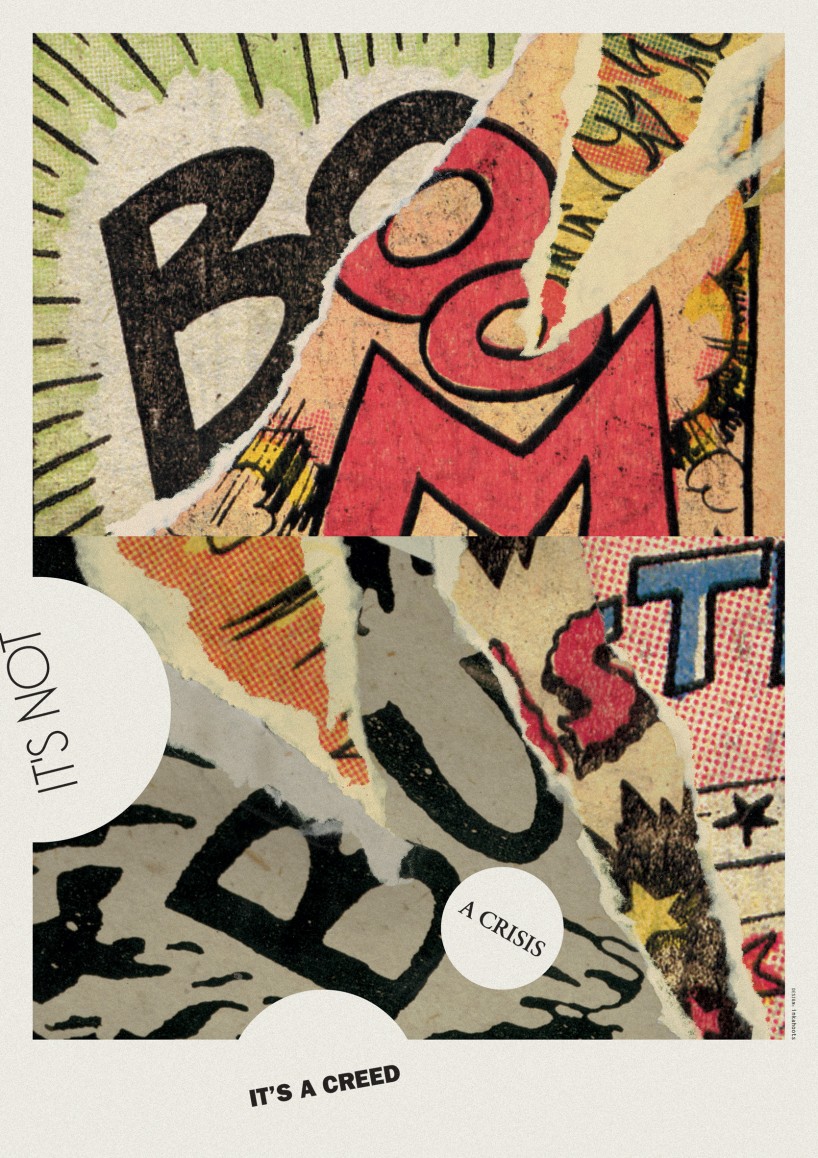 it's not a crisis, it's a creed. street poster responding to the 2008 global financial crisis. 2008

DB: what would you say is your strongest skill and how have you honed that skill over the years?

JG: I'm not sure I have the self reflective capacity to properly answer that. I like to think I'm a good reader and hopefully good at listening and looking and seeing.


open morph is a gesture controlled projected interactive animation displayed as part of the burst open exhibition, and as a performative component of the augmented, open source exhibition identity. 2014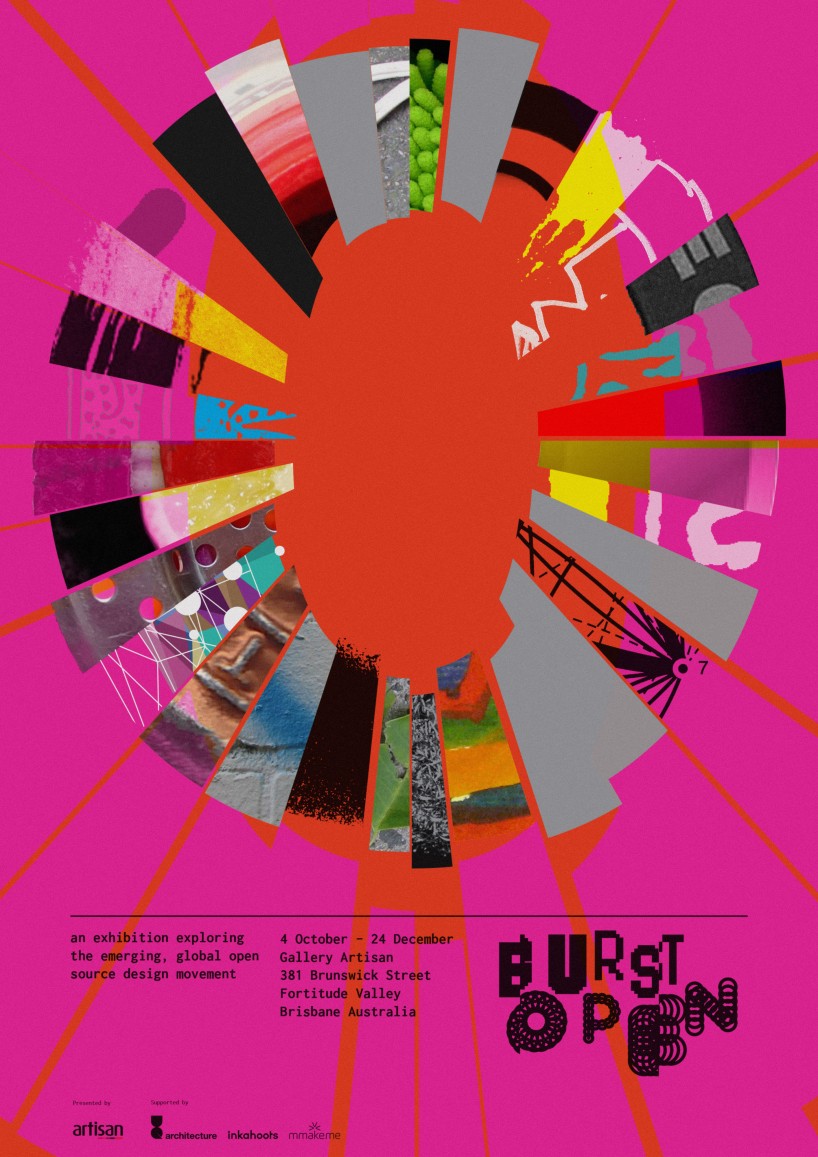 the poster presents the exhibition identity built from from fragments of open sourced contributions. 2014
DB: what type of brief or project do you enjoy working on the most and why?
JG: there's no predicting this.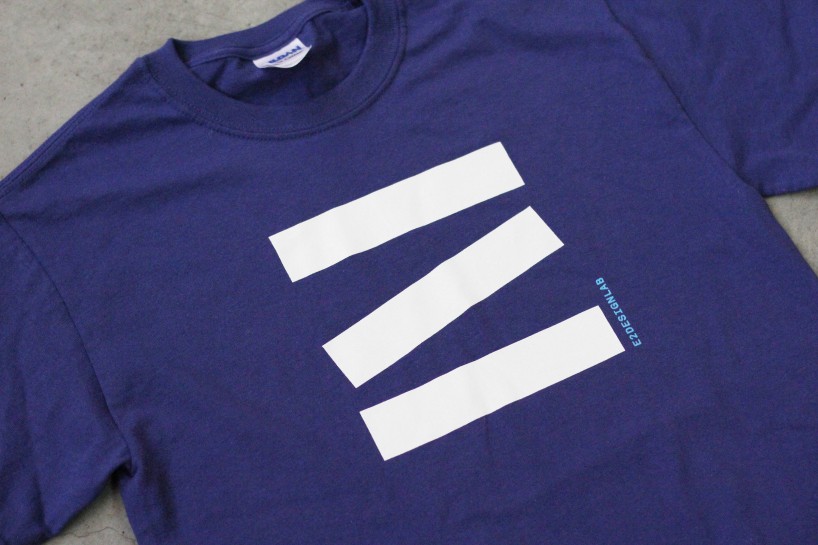 visual identity for e2designlab, a company focusing on water sensitive urban design. 2011
DB: what are your thoughts on specialisation vs generalisation?
JG: everyone is good at something aren't they? and some people are good at lots of things? but most people don't get to choose, they are just trying to provide or survive. but I guess we're not talking about the bangladeshi garment worker sewing shirt collars for 20 hours of every day, because that's specialisation. or the mexican farmer who also works as a cleaner, taxi driver and street hawker, that's real generalisation. so for those of us who are privileged enough to be practicing as designers if we do one thing or many things well, great, but doesn't it matter more where we're aiming these skills?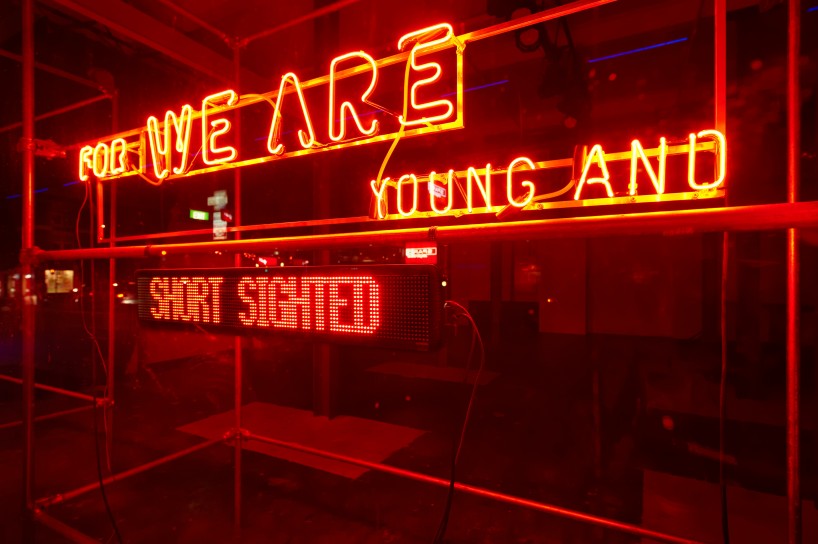 new anthems is an ongoing series of interactive typographic installations. by inserting words via sms into iconic australian texts, participants can play with expressions of national identity. the first installation was commissioned by the judith wright centre for contemporary arts and presented the australian national anthem for reimagining. 2009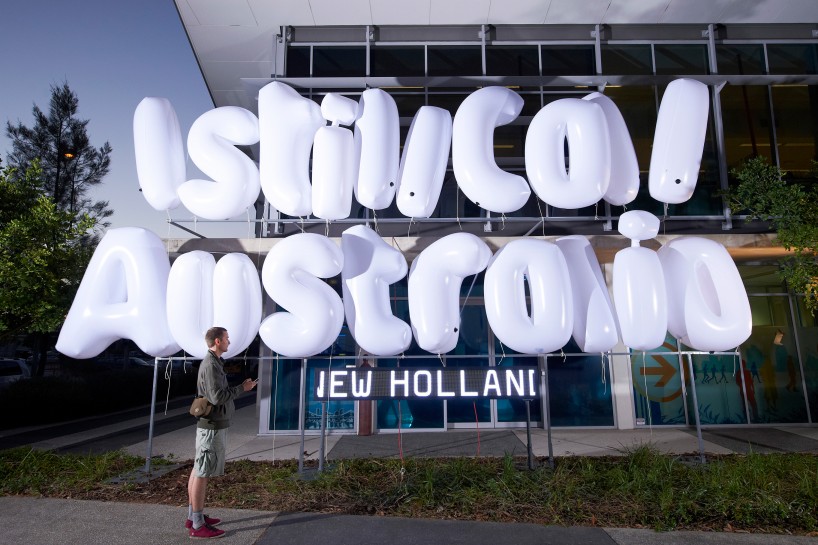 new anthems v rendered peter allen's 'I still call australia home' in massive helium filled custom designed balloons for the brisbane airports's inaugural contemporary arts festival. 2012
DB: how do you think online design resources have influenced the graphic design being produced today?
JG: it is probably a different kind of resource for different kinds of designers. for some it is obviously a hoard of ideas to be plundered, for others it is a way of avoiding trends, and yet for others it's for ignoring altogether.
one useful side effect might be the undermining of claims to be making work that is 'dangerous', 'disruptive' or 'provocative'. in some ways these are ambitions we'd share, but really, how dangerous is work that simply gets absorbed into this swamp of riches, that not only does nothing to challenge the status quo, but ends up affirming it? so in the end, with all that access and ubiquity, do the definitions of those coveted terms demand more respect? will work that wants to be original or experimental now actually need to present genuine alternatives? how creative are we really?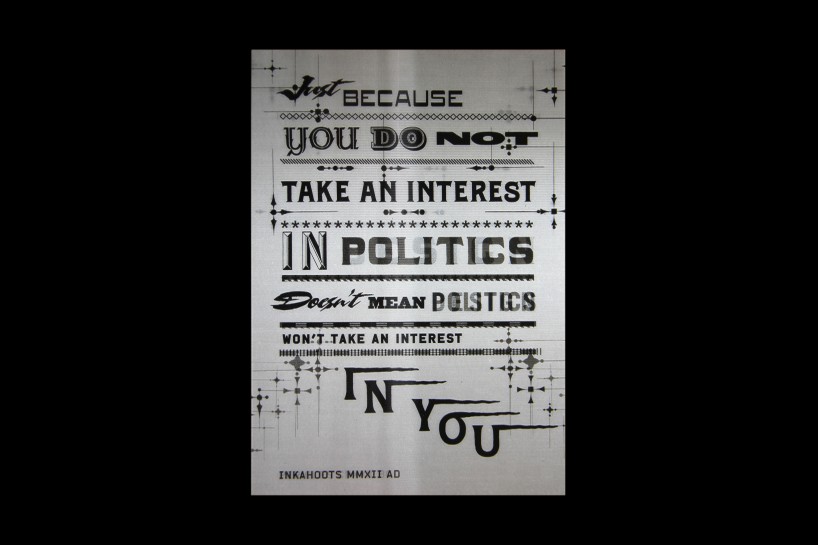 'apologies to pericles' is a lenticular card in a series that appropriates classical philosophy to reframe design. 2011
DB: what are you currently fascinated by and how is it feeding into your work?
JG: parenting. I guess I'm not the first new dad to admit that most of my expectations about parenting were wrong. I've quickly realised parenting needs to be much more than automatic, it needs a kind of conscientious intuition.
for example, the first page of the first parenting book I opened made the point that after birth we are complete human beings at every stage of development, that a child isn't just an unfinished adult. so contrary to my assumptions the role of a parent isn't just to forge a child into an adult, but to accept them as whole human beings whatever age they are. I'm just going to leave that there as a tenuous metaphor for design.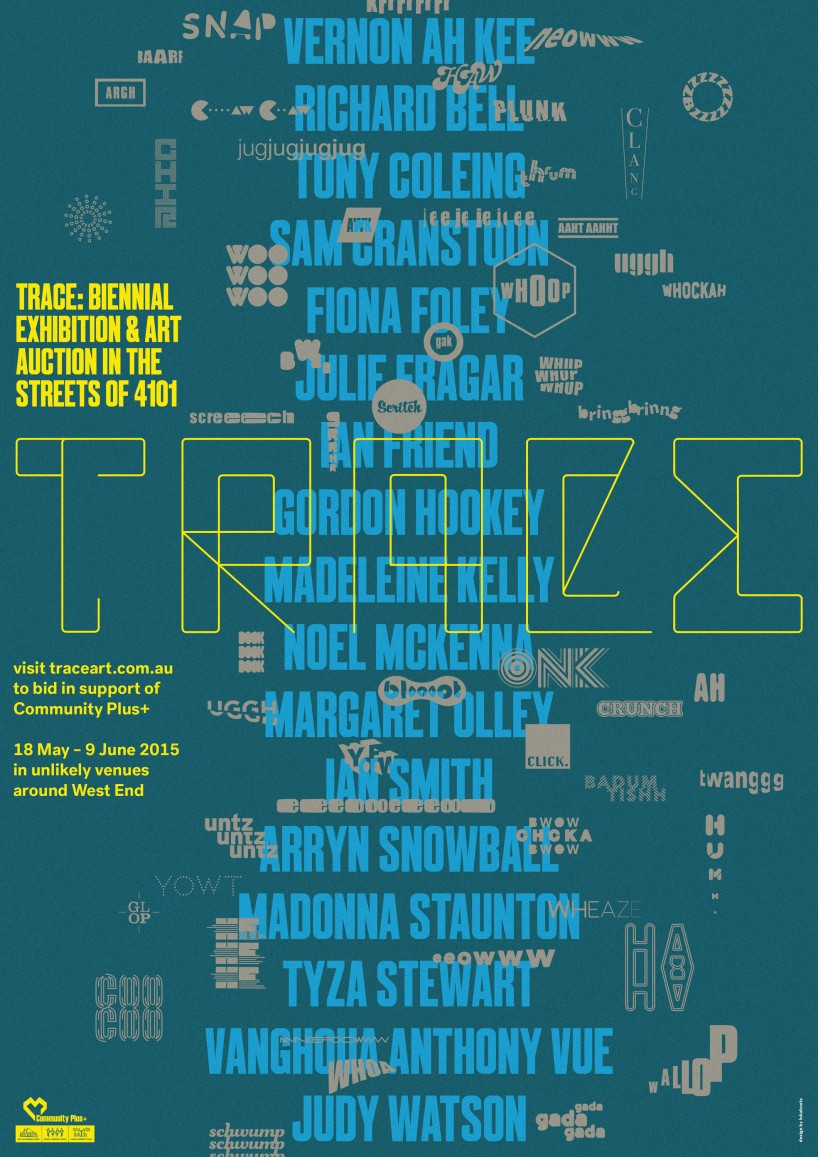 inkahoots helped establish, design and name trace, a biennial exhibition and community fundraising art auction that takes work from some of australia's most important contemporary artists out of the gallery and puts it where people go about their everyday lives. the visual identity mixes the artists' names with a cacophony of onomatopoeic street sound word-marks. 2015
DB: what are you passionate about besides your work?
JG: music, poetry, art, unarmed combat for self defence, my partner, children, friends, philosophy, politics. but these are all things that are part of my work anyway.

inkahoots conceived typolitic as an online forum to showcase and discuss the best socially and politically focused undergraduate typographic work from around the world. guest contributors such as douglas rushkoff, rick poynor, emory douglas, anne elizabeth moore, pierre bernard and other leading experts whose work is referenced in students' courses comment on the student's work. 2014
DB: do you have any superstitious beliefs, rules or rituals that you live by?
JG: I believe we should avoid swallowing poison like it's medicine.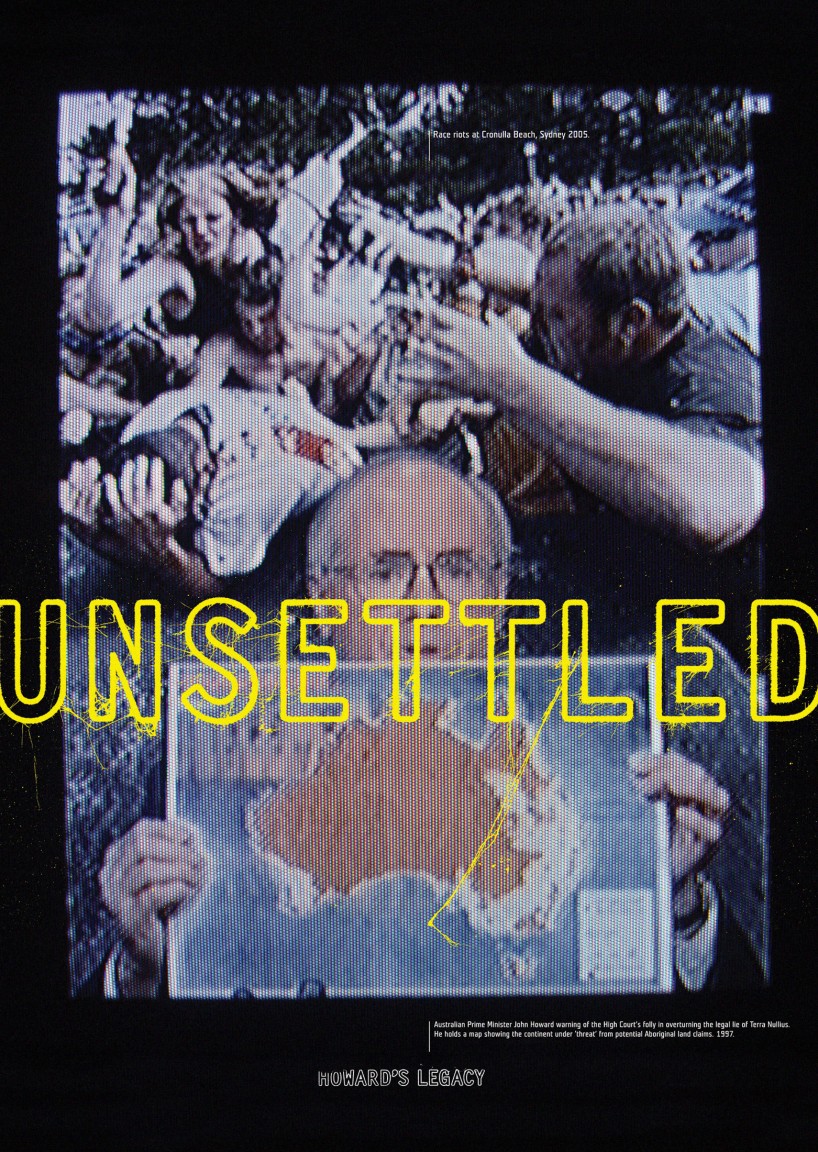 poster tribute to redback graphix linking ex australian prime minister john-howard's politics with public manifestations of racist violence. 2007
DB: what's the best piece of advice you have heard and repeat to others?
JG: we just finished a poster for a client that quotes the jewish prophet micah: act justly, love tenderly, walk humbly.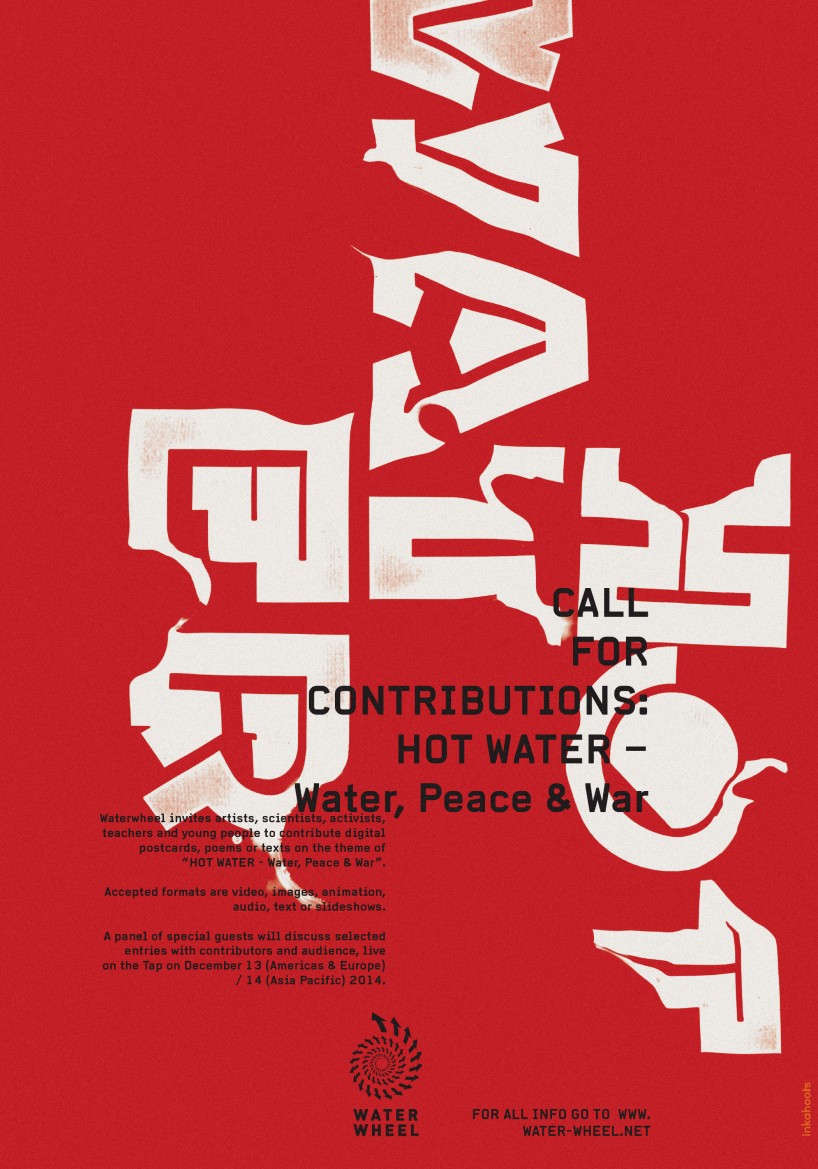 call for contributions poster for a waterwheel initiative 'hot water – water, peace & war'. co-founded by inkahoots, waterwheel is an interactive, collaborative platform for sharing media, knowledge, ideas, performances and presentations about or inspired by water. it is an open source project, free to use towards awareness, celebration, care & accessibility of water everywhere. 2014
DB: what's your personal motto?
JG: 'time is short and days are sweet, and passion rules the arrow that flies.' – bob dylan sung that.
a diverse digital database that acts as a valuable guide in gaining insight and information about a product directly from the manufacturer, and serves as a rich reference point in developing a project or scheme.
designboom will always be there for you
milan, new york, beijing, tokyo

,
since 1999