catch 'early work' at the jasper morrison shop
British designer Jasper Morrison is well known for his work in furniture, lighting, tableware, and everyday products. He began his career in London in the 1980s designing furniture from ready-made components and selling it in small batches. His upcoming exhibition, 'Early Work,' is an opportunity to see at close quarters a selection of those rare and characterful pieces, some not seen in public for over thirty years. Launching Tuesday, September 20, 2022, at the Jasper Morrison Shop in London during LDF 2022, the exhibition presents seven pieces accompanied by contemporary publications, sketchbooks, drawings, and photographs from his archive. Together they evoke the spirit of design in London in the 1980s in the hope of inviting reflection on observation, process, and ideas.
designboom spoke with Jasper Morrison ahead of his 'Early Work' show, delving deeper into the timeless combination of invention, humor, and presence that embody his unique creations.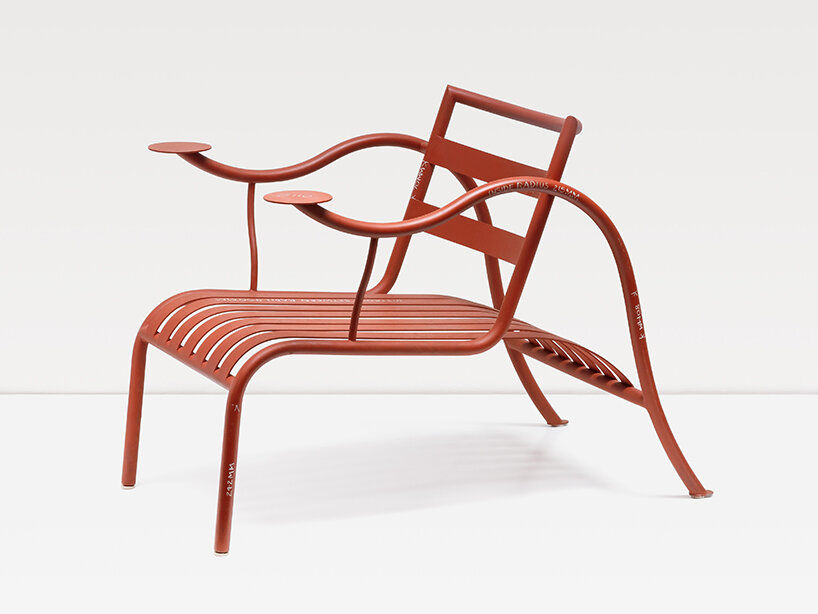 Thinking Man's Chair (1985/1988) | all images courtesy of Jasper Morrison
uncovering the designer's foundation years
Among Jasper Morrison's first works was the Handlebar Table, created while he was a student at Kingston Polytechnic. 'I made the first Handlebar Table at home in January 1982 […]. I was inspired by Marcel Breuer's idea for a chair made of bent tubular steel, which he had after seeing a pair of racing bicycle handlebars. So I decided to use the handlebars themselves. I made ten of them and sold them for £100 each,' he told designboom.
His student years were particularly informed by the book-dealing that he carried out in his spare time, selling second-hand prints. Through these books, he learned about art, design, architecture, and how to observe; he also learned about Surrealism, which left a mark on his ready-mades in their unexpected juxtapositions of everyday materials. After graduating from the Royal College of Art in 1985, he wrote a business proposal to his bank manager about becoming a self-sufficient designer who produces and sells his own work. He carried out his plan in the following years: taking orders, ordering parts from suppliers, and ferrying finished and unfinished pieces around London. Eventually, he developed a network of back-street suppliers and services to support him. At the time, the designer said: 'Driving around all these little places gives you many ideas. If you become a producer and designer, your appreciation of manufacturing problems becomes sharper, and your ways of solving the difficulties become more inventive.'
Sheridan Coakley, who had started SCP the year before, was the first manufacturer to produce Morrison's designs professionally in 1986. That said, his 'self-production' years ended when he began to make a living from his projects with SCP, FSB, and Cappellini.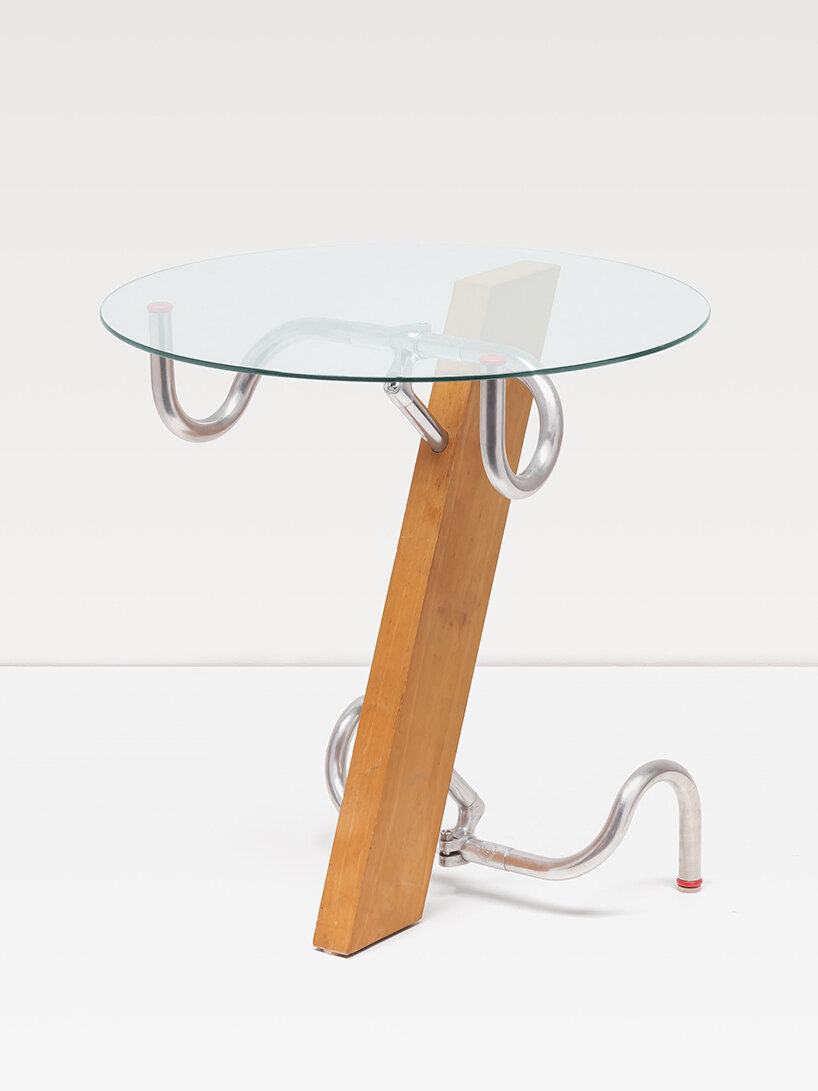 Handlebar Table (1982) | one of ten made
seven signature products on show
The first piece on display at the 'Early Work' exhibition is Jasper Morrison's Handlebar Table (1982), made of aluminum handlebars, chrome steel connectors, beechwood support, and a plate glass top. Following it is the Laboratory Light (1983), a six-foot laboratory retort stand, clamp, and table, fitted with a plastic funnel and rubber tubing.
When asked about his lighting piece, the designer stated: 'In October 1983, I moved to Berlin to study at the art school there, escaping my second year at the Royal College of Art. Soon after arriving there, I assembled the parts for this light, sourced from a shop called Werkstatt Chemie, selling laboratory equipment run by chemists, who grew confused and impatient at my visits. The light was included in Kaufhaus des Ostens, a project and exhibition organized with Andreas Brandolini and Joachim Stanitzek in Berlin in the summer of 1984. I made three or four Laboratory Lights, initially named the 'Directional Light Source'.'
Another project conceived by Morrison while studying in Berlin was the Flowerpot Table (1984/1989), comprising a stack of flower pots and a metal tray. 'Passing a hardware shop in Berlin with flower pots stacked according to size, I thought the arrangement could work for a table base. The prototype with an aluminum tray top was shown at the 'Kaufhaus des Ostens' exhibition in Berlin in 1984. This later prototype was shown with a glass top in an exhibition at the Prodomo shop in Vienna in 1988. Cappellini produced the table from 1989 from a single terracotta molding and a glass top,' he continued.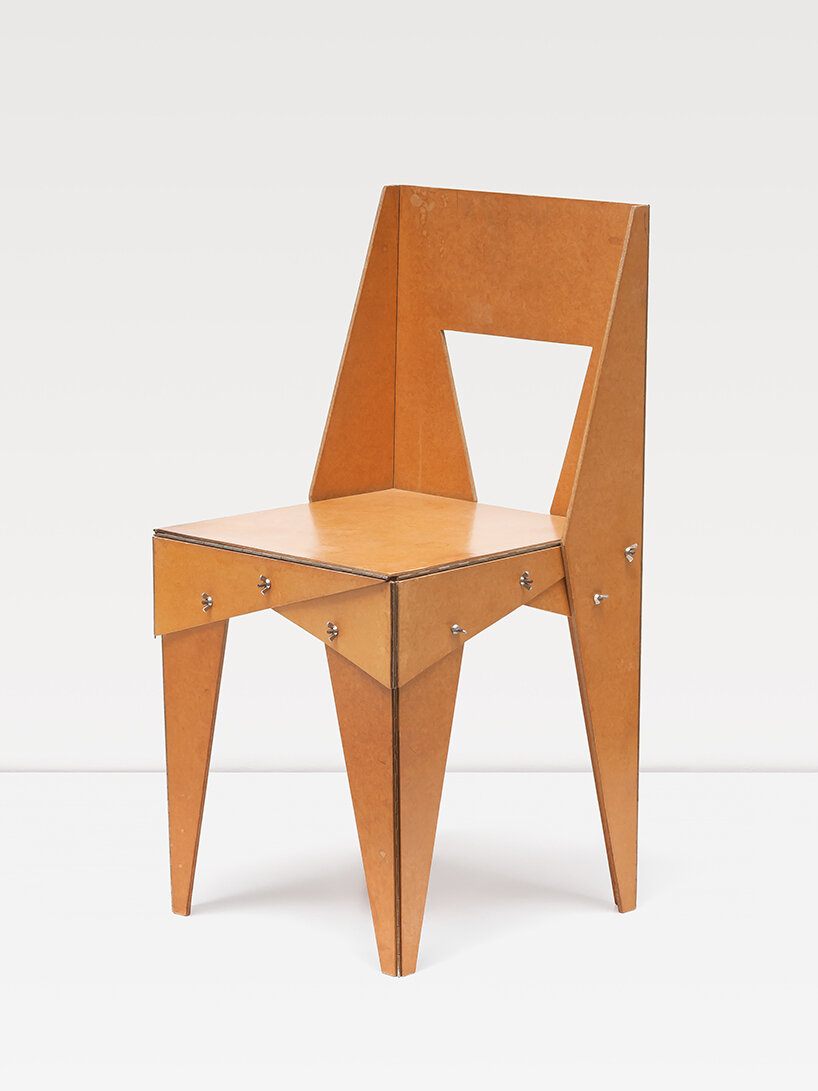 Wing-nut Chair (1985) | one of about eight made
Meanwhile, the Wing-nut Chair (1985) was designed in Morrison's final year at the Royal College of Art. Built out of hardboard, piano hinges, and wing-nut connectors, it evolved from a series of origami-like folding experiments, inspired by his visit to a factory that specializes in producing laundry boxes, which were widely used at the time to send sheets in bulk to commercial laundries. 'In the factory, four men used four machines to make the boxes at speed. From this, I conceived the idea for a Laundry Box Chair. The Wing-nut Chair was originally made as a demonstration model for it. People preferred the Wing-nut Chair, and I sold about eight of them at a price of £80,' he shared with designboom.
Another signature piece on show is the Thinking Man's Chair (1985/1988), composed of steel tubing and sprung steel slats. The inspiration here came from an antique Spanish armchair that had had its cushion removed for repair, and the aim was to design a chair consisting solely of structural elements. The first prototype was sent to an exhibition in Tokyo, 'Savage Thrones,' curated by Jane Withers and Anthony Fawcett, at the Shiseido Gallery. After drawing many sketches of his idea, the small tables were added to the ends of the arms. 'I intended to call it 'The Drinking Man's Chair' until I noticed the slogan 'The Thinking Man Smokes' on a packet of pipe cleaners I had bought to make a chair model with and adapted it,' Morrison explained.
'The first prototype of the Thinking Man's Chair was made in December 1985 by Peter Longfellow, a metalwork technician at the Royal College of Art, during the school holidays. I sprayed it with a can of red oxide rust-proofing paint. Concerned by how raw it looked, I decided to mark it with its own dimensions in chalk, sealed with hairspray. The prototype was sent off in early 1986 for the exhibition at the Shiseido department store before being purchased by the store's owner. I returned to the design in February 1987, drawing several sketches before finishing a new technical drawing of it. An architectural metalwork in London produced a prototype for the exhibition 'AD23' at the Aram Store. This second prototype differed from the previous in that the slats curved downwards at the back instead of upwards, and the small 'tables' at the end of the arms were supported on S-shaped tubes instead of L-shaped rods curves were added to the underside of the backrest slats.'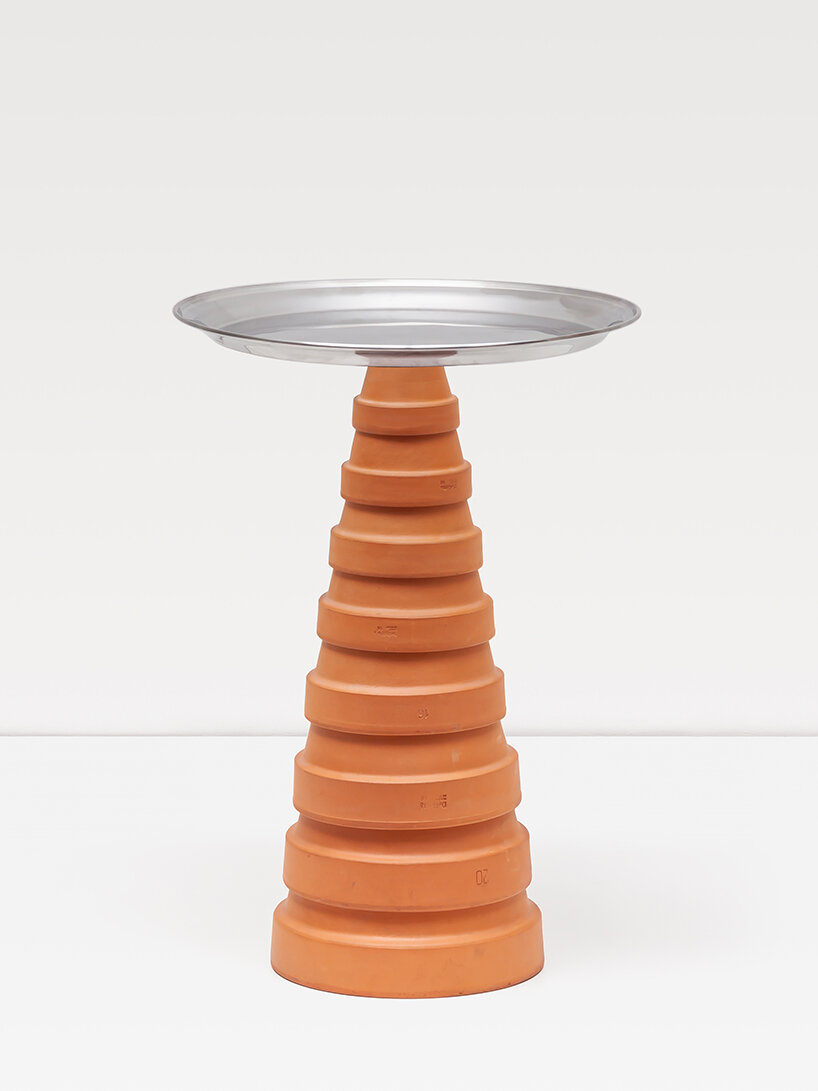 Flowerpot Table (1984/1989)
'Following the interest in the Thinking Man's Chair, Zeev Aram offered to sell it. I accepted but remained responsible for their production: getting the chairs made at a small metal workshop in north London, having them spray-painted elsewhere, and delivering them to Aram as and when they sold. Over the following year, Aram sold five chairs. Giulio Cappellini first saw the Thinking Man's Chair at Aram's exhibition in 1987 and offered to produce the chair. With a view to Cappellini's production of the chair, I revised it slightly, adding a curve to the bottom edge of the back slats reminiscent of early English and Shaker chairs, and produced new drawings. Cappellini launched its production of the chair at the Milan Fair in September 1988.'
The sixth exhibited piece is the Coat Stand (1987), made of an air-conditioning duct, the bases of two office chairs, and corks. Morrison produced the stand as one of many pieces for an apartment he was hired to re-design after graduating from the RCA. The product was quickly built using two office chair bases pushed into a length of spirally wound, galvanized tubing. He showed the Coat Stand with the second Thinking Man's Chair prototype at 'AD23' in April 1987. He added the wine corks to the upper tube ends shortly before the opening. This exhibition got him noticed by Domus magazine and manufacturers like Cappellini in Italy, with whom he went on to build his career.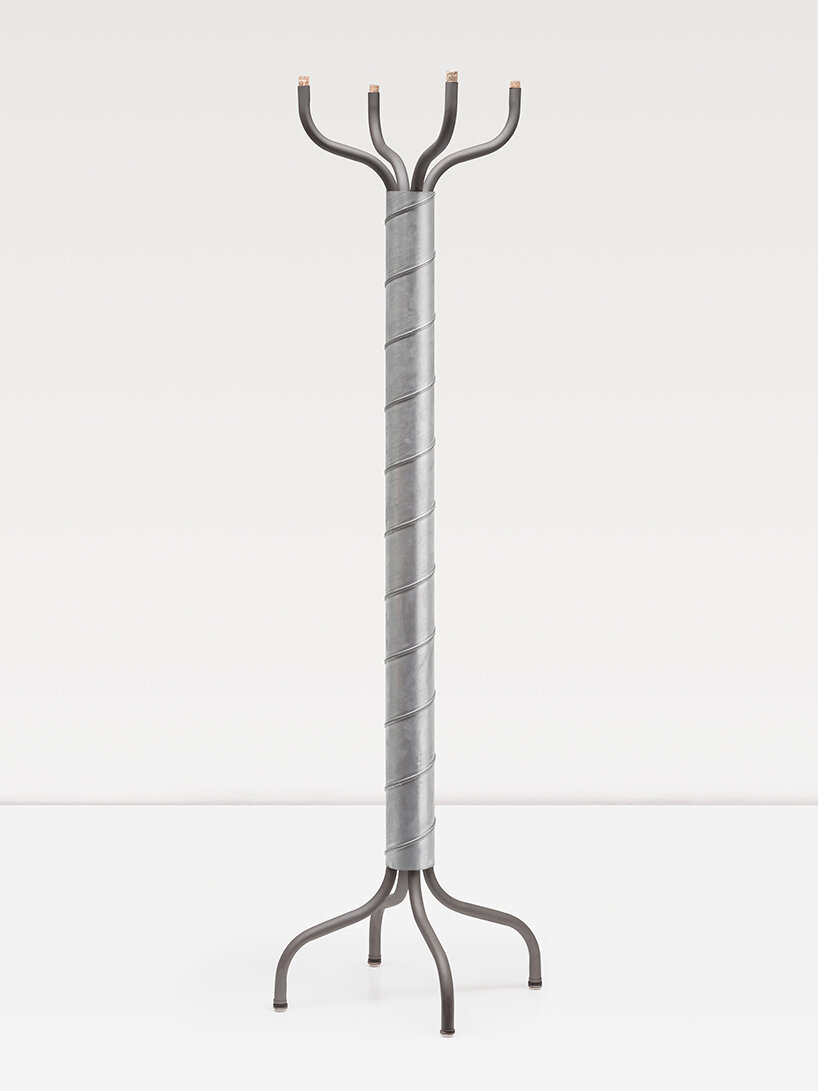 Coat Stand (1987) | one of one or two made
Finally, Morrison shared with us what went into the design of his Universal System (1990), a set of drawers made of plywood and white nylon wheels. 'At the time, not many were designing storage systems; it was an area of very low interest. I came to the idea of this system of storage boxes while using my first Apple Mac computer. I'd never been very organized with paperwork, and the Mac made a big difference; it helped me to be organized, and I had less trouble finding documents. I was inspired by this newfound order and wrote a project description called 'Putting things away so we can find them again! The Universal System was meant to do for small things what the computer did for documents.'
The 'Early Work' exhibition showcasing at the London Design Festival 2022 is complemented by the launch of a Timeline on Jasper Morrison's website. A work in progress, it offers a rich and surprising picture of his early projects by combining his words with archival material.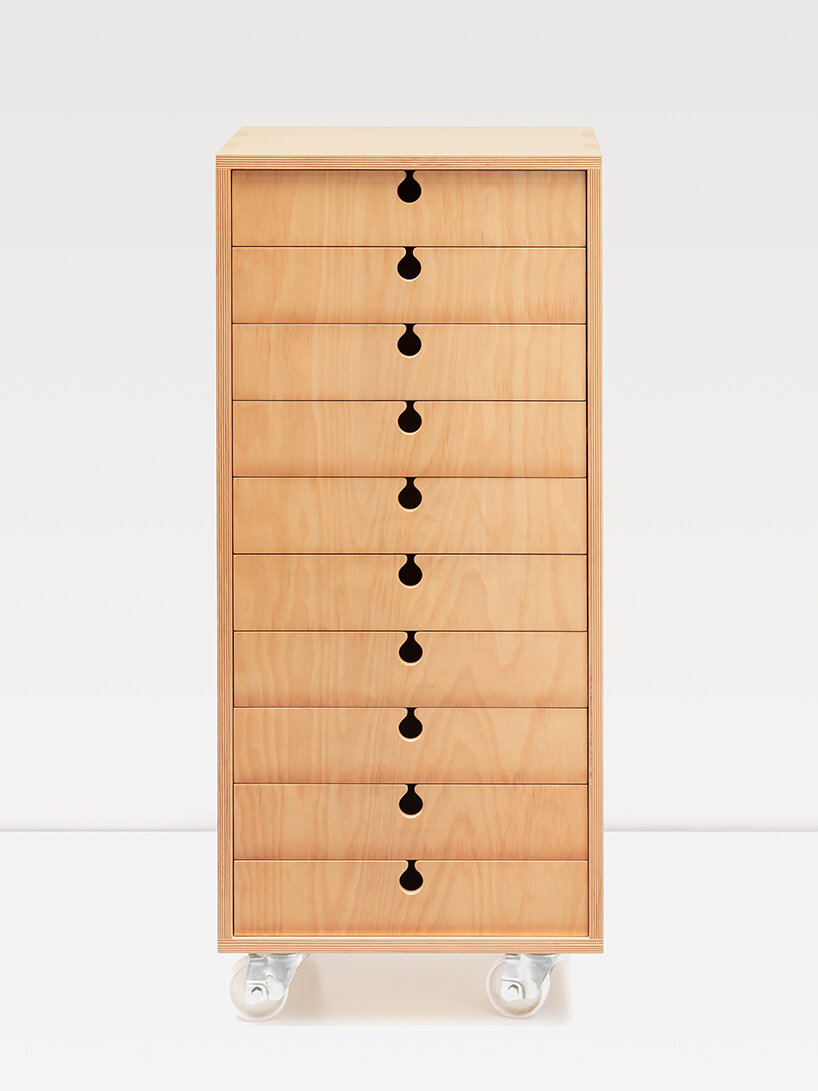 Universal System (1990)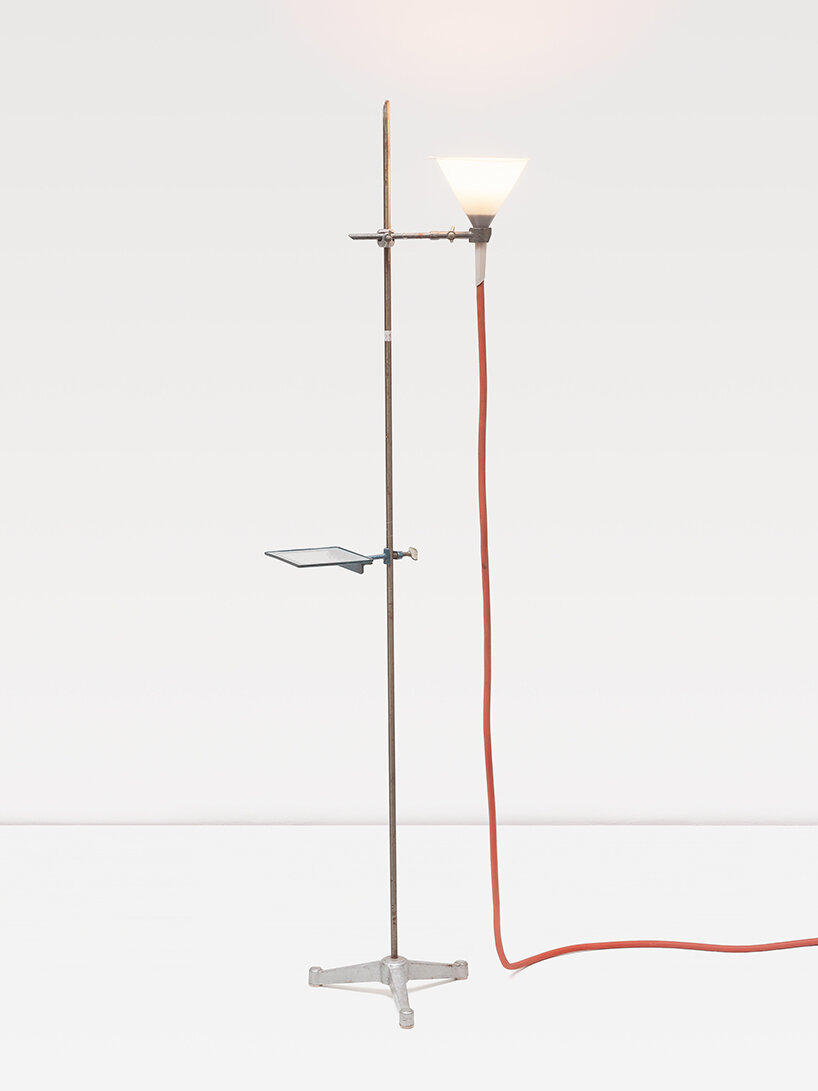 Laboratory Light (1983) | one of three or four made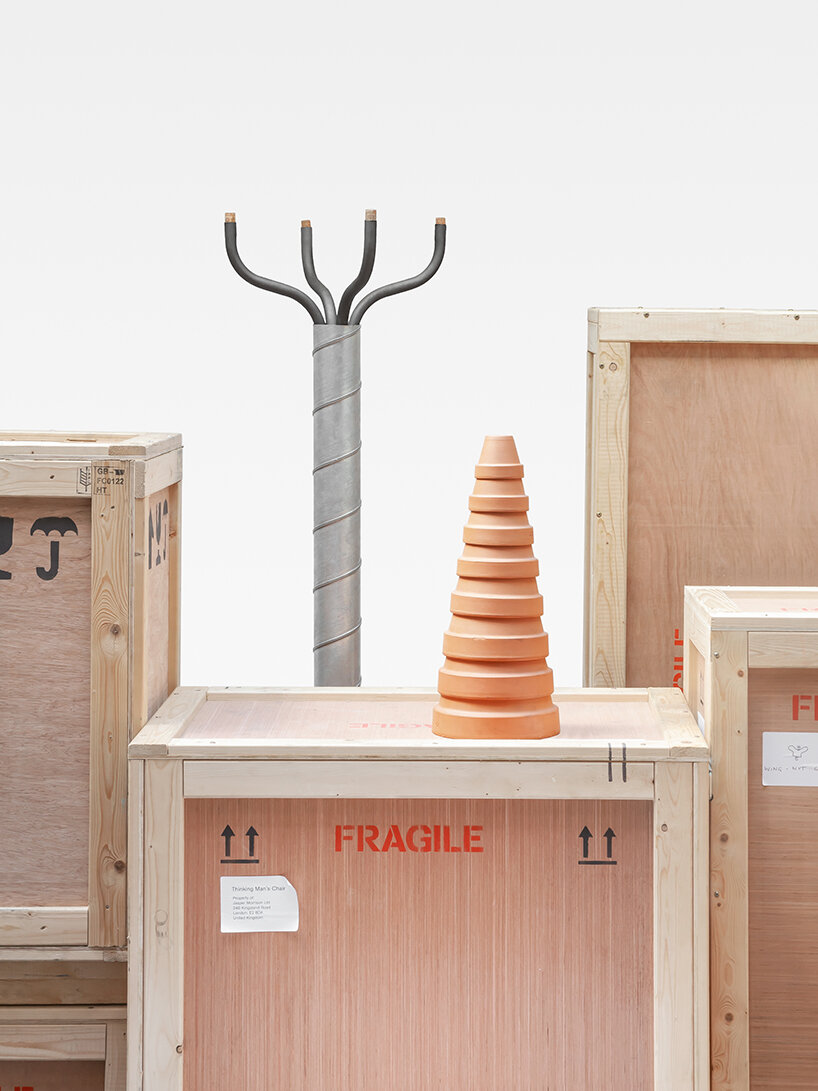 storage crates
project info:
exhibition name: Early Work
design: Jasper Morrison
location: Jasper Morrison Shop, 24b Kingsland Road, London, UK
dates and timing: 20-23 September, 2022 | 11:00 – 17:00
KEEP UP WITH OUR DAILY AND WEEKLY NEWSLETTERS
a diverse digital database that acts as a valuable guide in gaining insight and information about a product directly from the manufacturer, and serves as a rich reference point in developing a project or scheme.
designboom will always be there for you
milan, new york, beijing, tokyo

,
since 1999