the sixth edition of jerusalem design week (JDW) — managed by ran wolf and led by artistic directors anat safran and tal erez — has been held from june 8th to 15th, 2017. designboom visited the event, surveying the range of artistic interventions, design projects and workshops taking place.
we round-up some of the most engaging showcases and displays of creative thinking, looking at the innovative and imaginative ways participants have expressed themselves and interpreted this year's theme.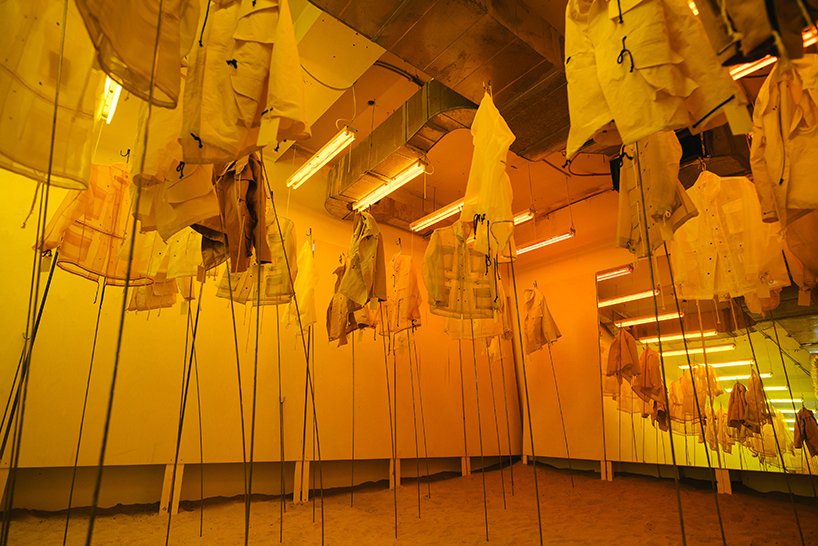 fashion island: an experimental space with about a 100 re-designed M65 army coats
all images by dor kedmi, unless otherwise stated
JDW's curatorial team selected 'islands' as the 2017 theme, and invited 150 designers — both israeli and international — to create new works and installations across the eclectic talbiya neighborhood and throughout the public realm. the main exhibition of JDW 2017 features 24 works by local and international designers in the bezeq telephone exchange building, with five installations at the heart of the exhibition.
recognizing current socio-political trends and reflecting upon the global shift into an inward looking world of nations, communities, individuals, jerusalem design week 2017 aims to start a conversation on how design can contribute to a redefinition of political, cultural, and social barriers.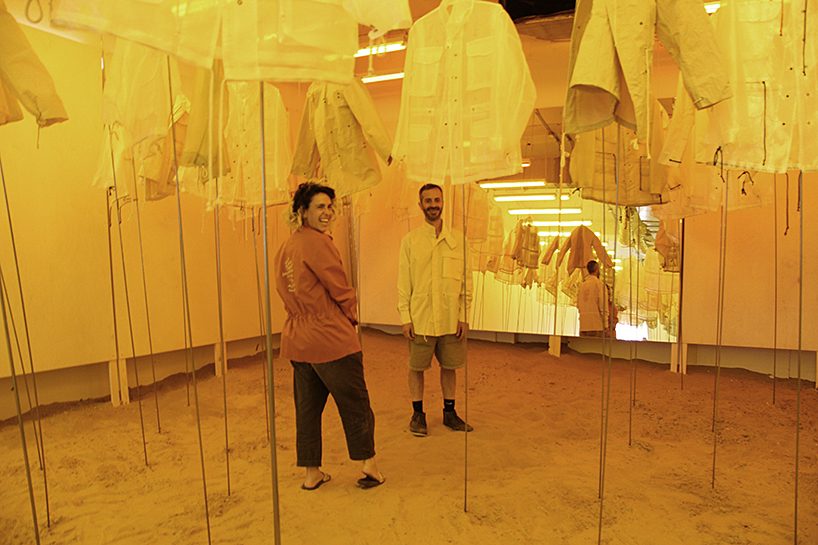 israeli design duo muslin brothers founders tamar levit and yaen levi hung
image © designboom
while the city of tel aviv has always attracted creative residents with its liberal culture, the ancient city of jerusalem is anchored firmly in its past and has not been as equally open to change. this perception shifted when — six years ago — the jerusalem development authority and ministry of jerusalem and heritage sponsored the first design week to nurture a network of young creatives.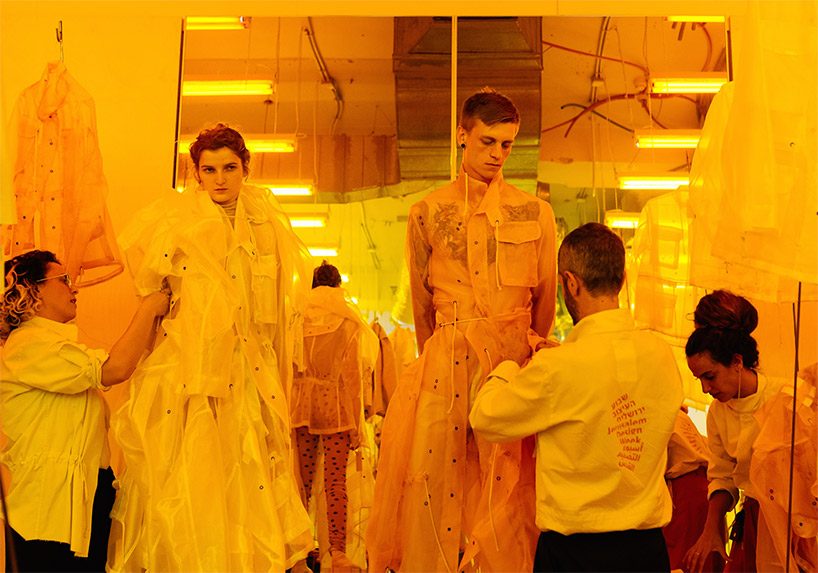 fashion island — garments that transgress the borders between public and private
JDW 2017 is dealing with one of the most prominent conflicts of recent years: the collapse of the global village ideology, and the convergence into distinct identities in the face of a world of failing borders — both physically and virtually. jerusalem, a city built on seven hills and home to a multitude of culturally diverse communities, is in fact both physically and virtually a collection of 'islands', manifested through an existence which has defined jerusalem since ancient times.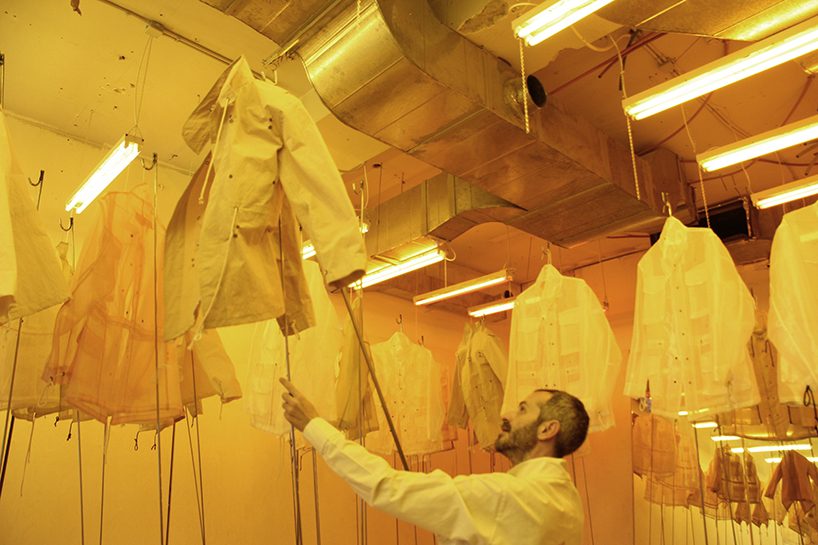 yaen levi hung jackets on poles within a desert-like space
image © designboom
'muslin brothers' founders tamar levit and yaen levi produce two collections a year as well as costumes for theater and dance companies, creating their own venues for performances. for this installation, the duo chose to celebrate M65 jackets, which were originally worn by the US army during the vietnam war before being donated to the israel defense forces. recently they have become fashionable for people wearing them as a symbol of anarchy (as well as for international fashion brands). all volunteers were dressed in the 'uniform', while visitors were invited to try them on. the exhibition continues with the international teams program, which aims to promote a constructive dialogue through the pairing of israeli and international designers.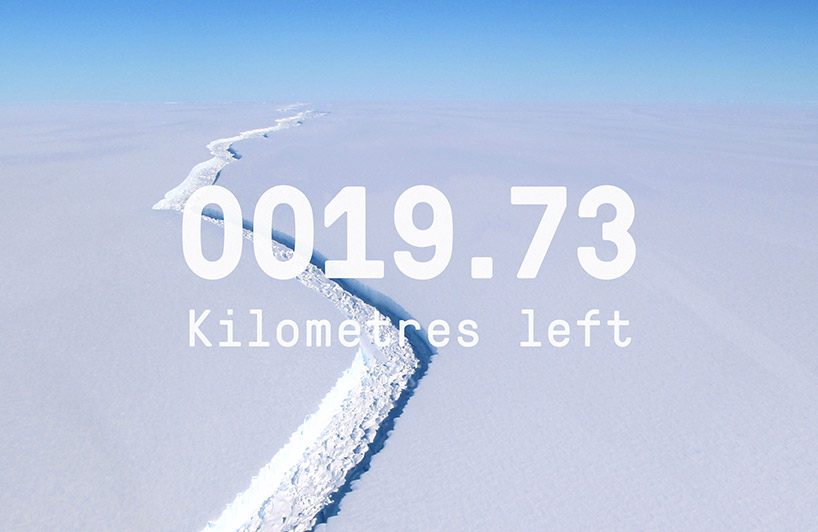 jonathan hope and peter orntoft created a scale model of an enormous ice crack
israeli ceramic artist jonathan hope and danish communication designer peter orntoft created a scale model of an enormous 350m-deep crack that formed in the 'larsen C ice shelf'. 'larsen C' is slowly detaching itself from antarctica to become the largest floating ice island in the world. scientists have revealed exactly how the trillion-tonne A68 iceberg broke free of the antarctic ice shelf last month, and say it has since spawned smaller icebergs — read more here. through the image of a media campaign, the team suggests it as a new utopia.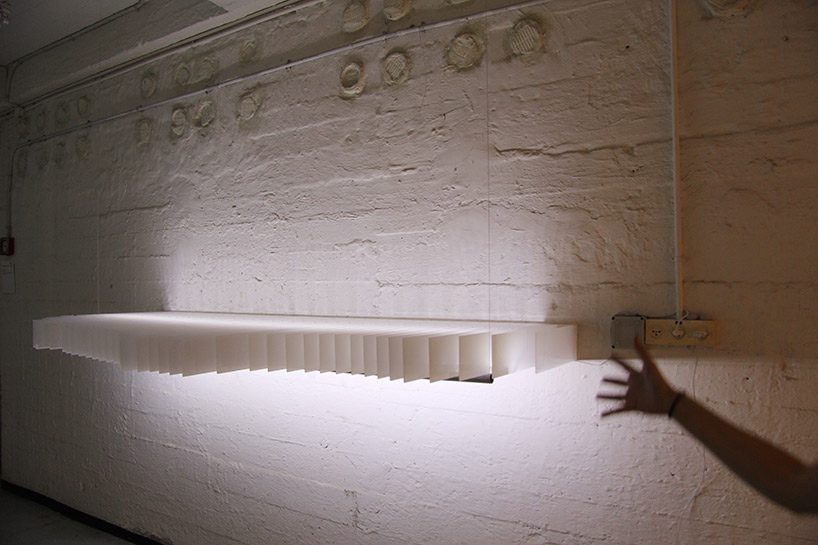 model of the 'larsen C ice shelf' in antarctica
image © designboom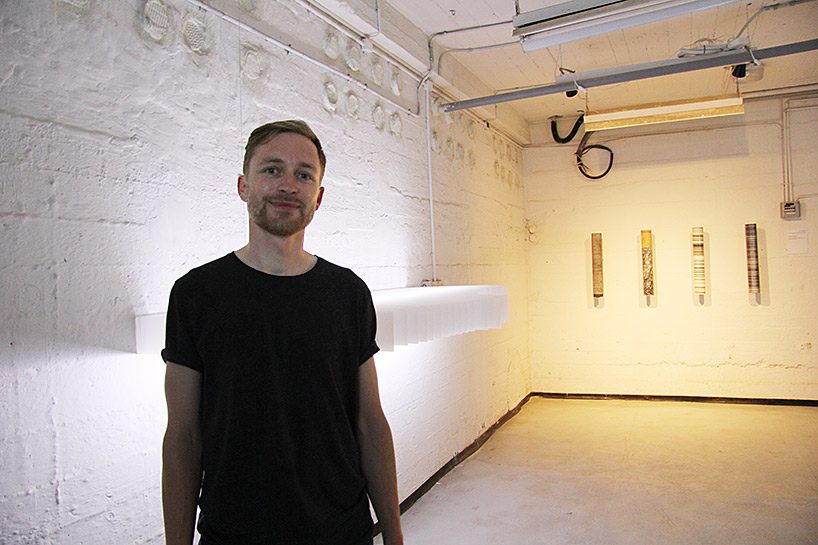 peter orntoft
image © designboom
fictional island is a project by a collective of 27 designers of different disciplines and nationalities. they collaborated both as a group and individually on this shared installation, showcasing the collective's modus operandi in the form of networked island.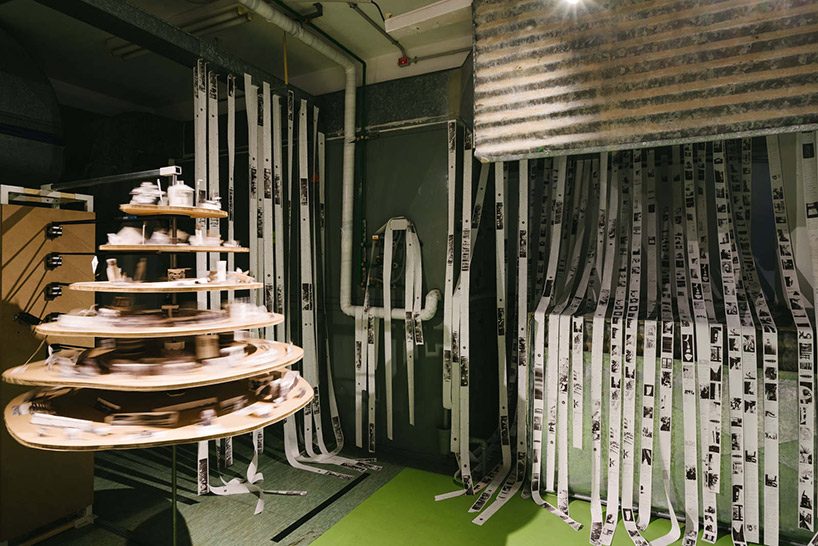 view of the exhibition
fictional collective is a group of designers, architects, design researchers, writers and curators from the design academy eindhoven. a series of interactive machines illustrated the working process of the group and the whatsapp communication between the members, which was printed on streams of receipt-like paper.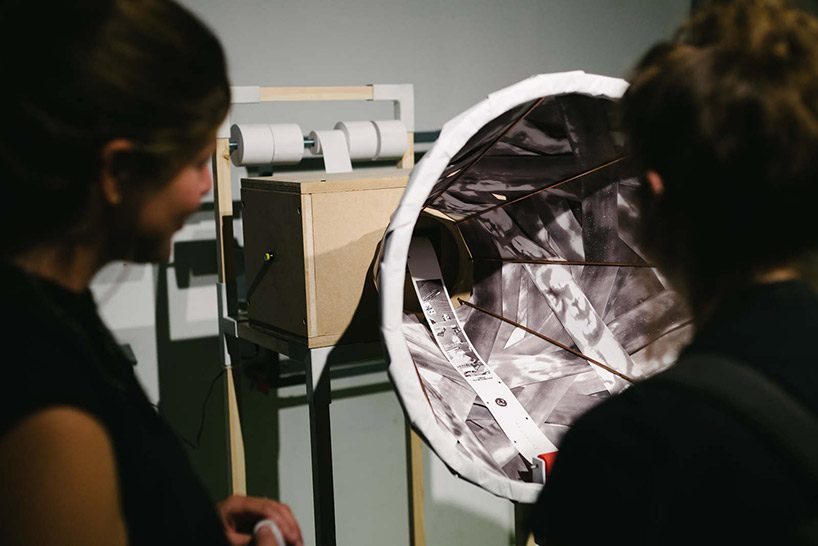 fictional island: a project by a collective of 27 designers of different disciplines and nationalities

a series of interactive machines illustrated the working process of the group
'borderline' — the work of marlene huissoud, a french graphic and product designer, and erez nevi pana, an israeli curator, interior and product designer — explores the ephemerality of news in a networked world and the way it becomes vivid for an instant and then fades away. they do so by constructing a machine that builds objects, only to immediately deconstruct them.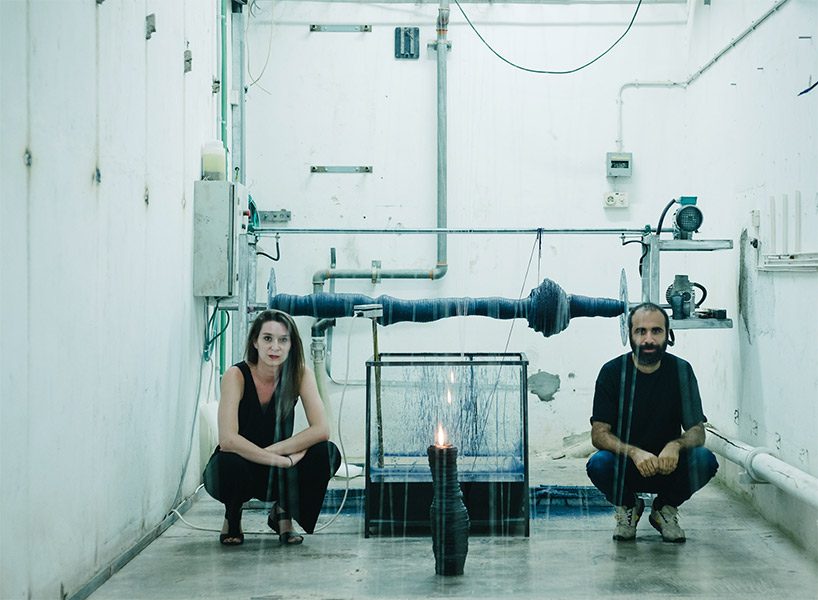 marlene huissoud and erez nevi pana
elsewhere, large sculptural candles have been made from yarns of the same length as various contentious borders around the world, including US president donald trump's proposed US-mexico border wall. these objects function as a dialog between contrasts: between black and white, liquid and solid, slow and fast, chaotic and harmonic, static and dynamic, presence and detachment.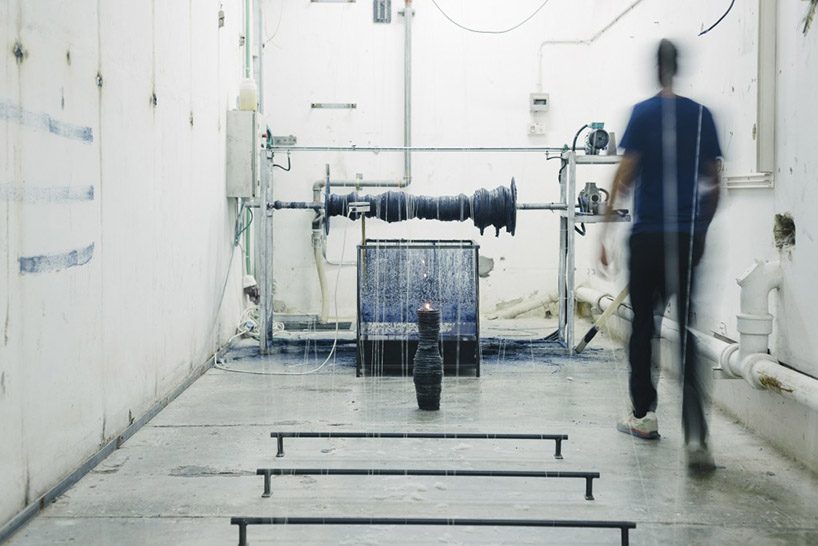 yarns were moved up and down between eight bars (four were fixed to the floor, four to the ceiling)
different candles were made to represent trump's proposed 3,218-kilometre border wall, the 2,700-kilometre moroccan wall in western sahara, the 780-kilometre west bank barrier, the 135-kilometre hadrian's wall in the north of england and the 60-kilometre wall around baia mare in romania.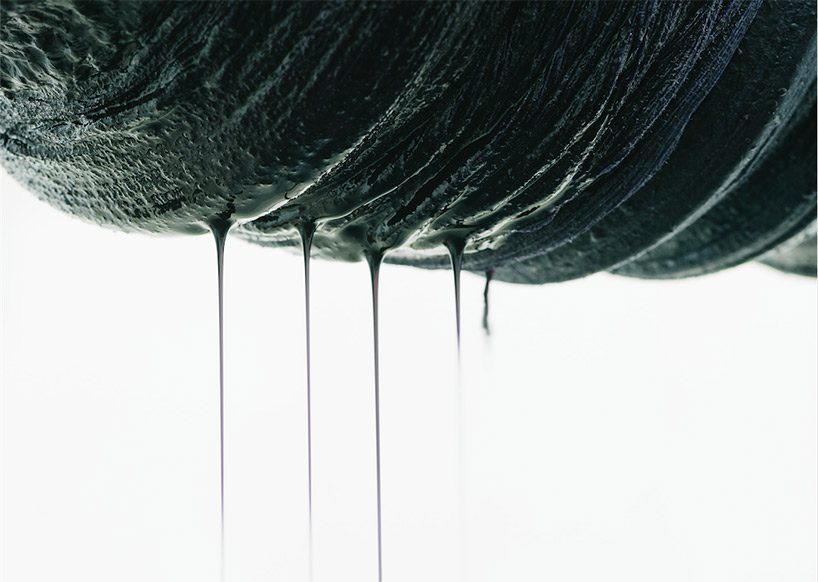 yarn dipped in wax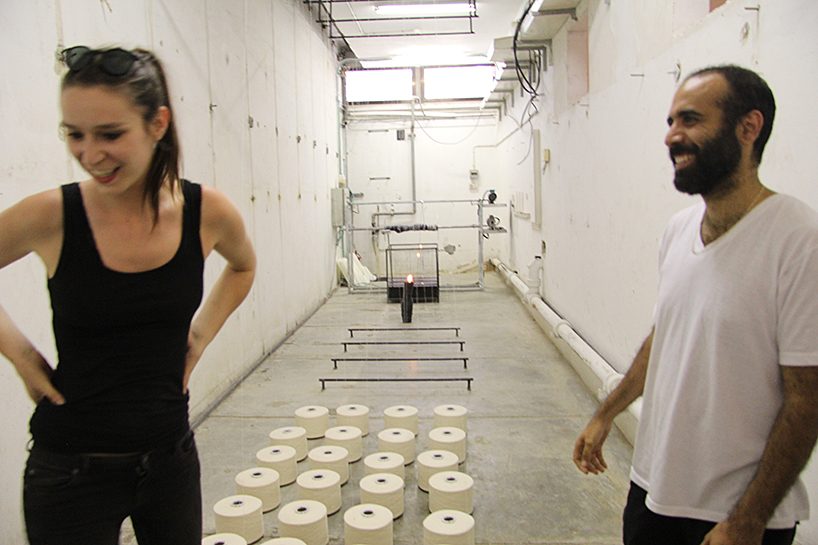 displayed in a long and narrow room, 24 rolls of white yarns were stretched by two machines
image © designboom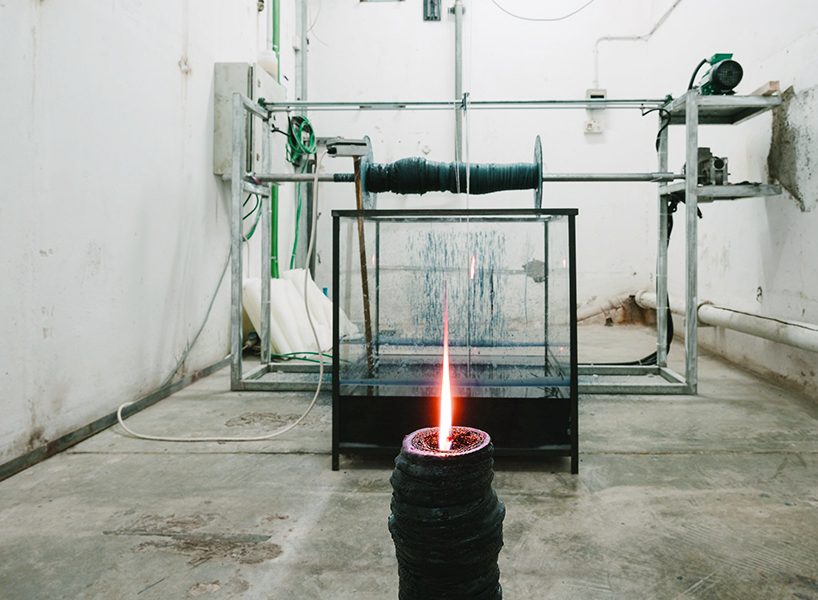 the joined wick is then electrically rotated on a pipe and shaped by the designers from distance
the images, taken from the jefferson grid instagram account, document the 18th century GRID — each one mile to a side — as a visible result of a land planning system first proposed by thomas jefferson. the photos unveil a 200-year-old system that shows how the country is still organized.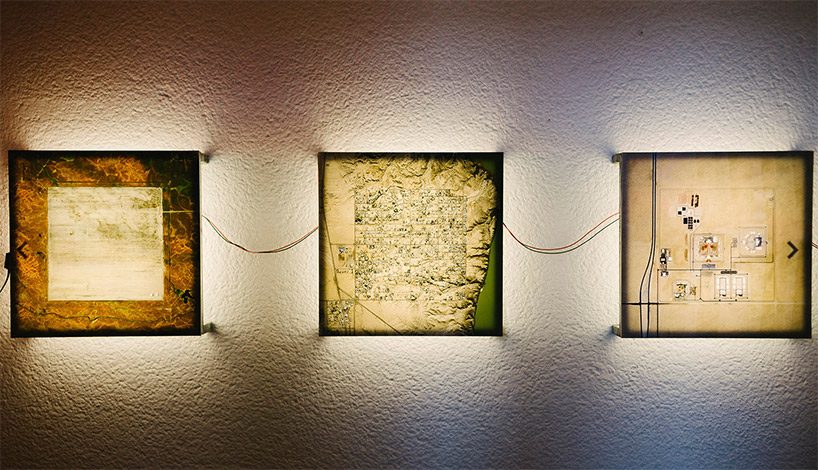 part of the main exhibition was the jefferson grid — aerial photographs from google earth views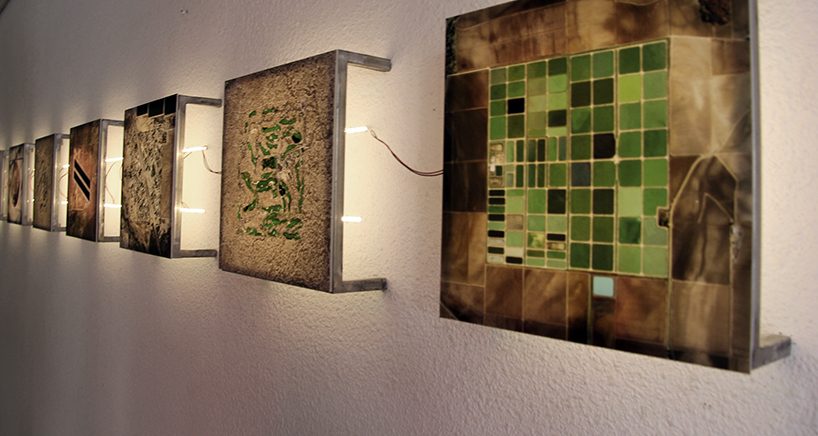 the images offer an abstract vocabulary of cities, farms, forests and deserts across the US
image © designboom
a wall built of mycelium brick transcends from a symbol of separation into a living, changing mushroom plantation. the work looks at THE BORDER as a visible boundary in constant state of fluctuation, in mutual interdependence, allowing identities to be defined , through the very understanding of where one stands and where one could extend, turning into a physical manifestation of transparent social relations.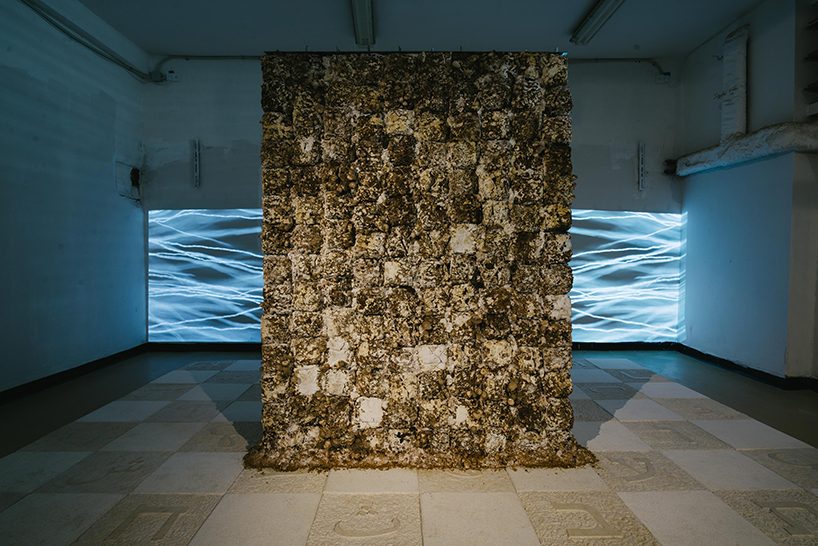 S(e)AMELESS project by israeli designer by rami tareef and italian maurizio montalti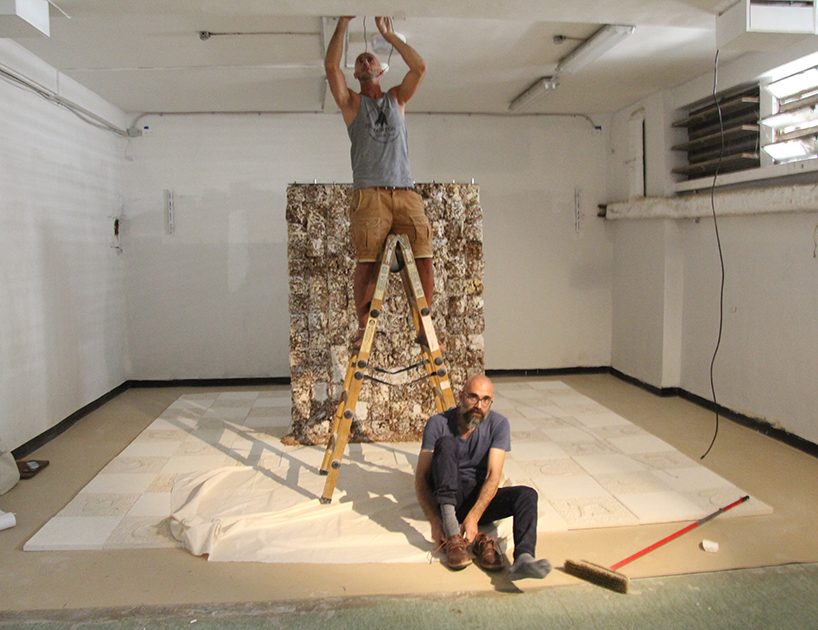 rami tareef and maurizio montalti
image © designboom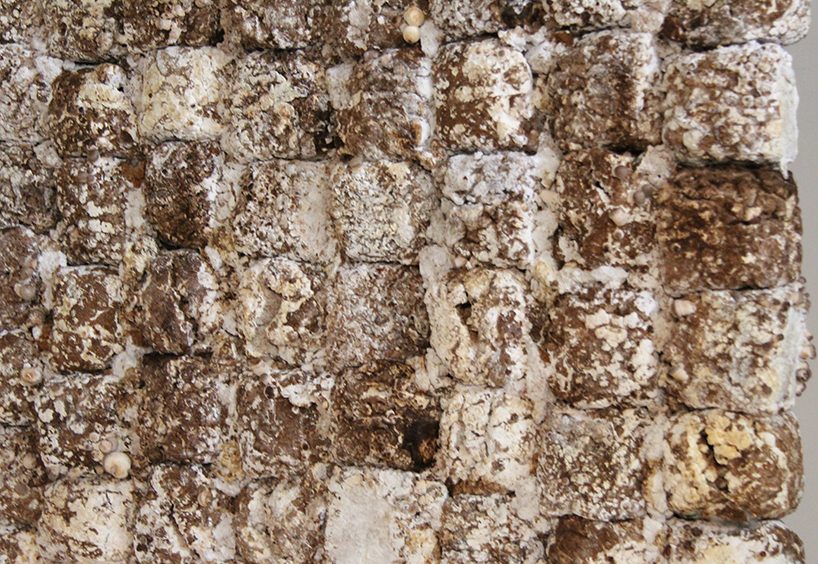 detail of mycelium brick: before
image © designboom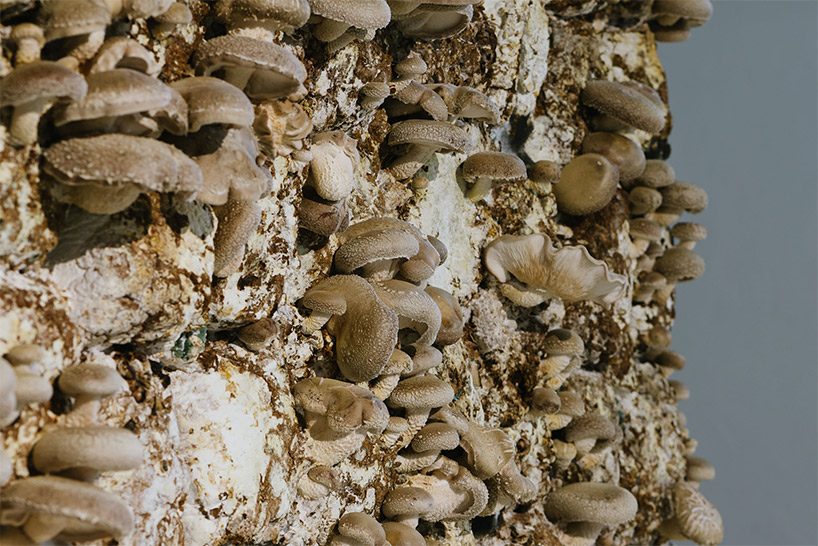 detail of mycelium brick: after
led by itay ohaly, 'the product design island' explores the notion of 'the lonely island', where limited resources are all designers have to use. each day, the exhibition hosts different designers whose task was to create tools, furniture and accessories. the participating creatives have gradually converted the space, resulting in a public auction of all the items produced.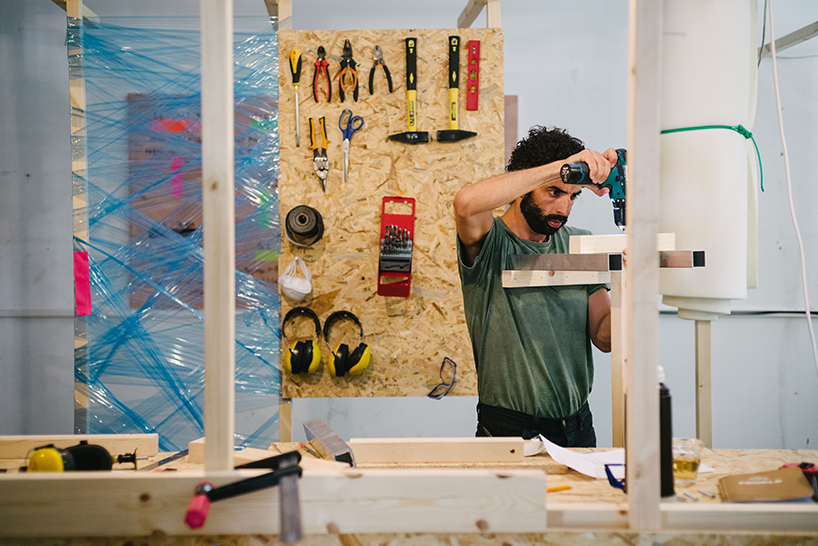 the product island functions as a desert island for designer, where wild nature is replaced with a jungle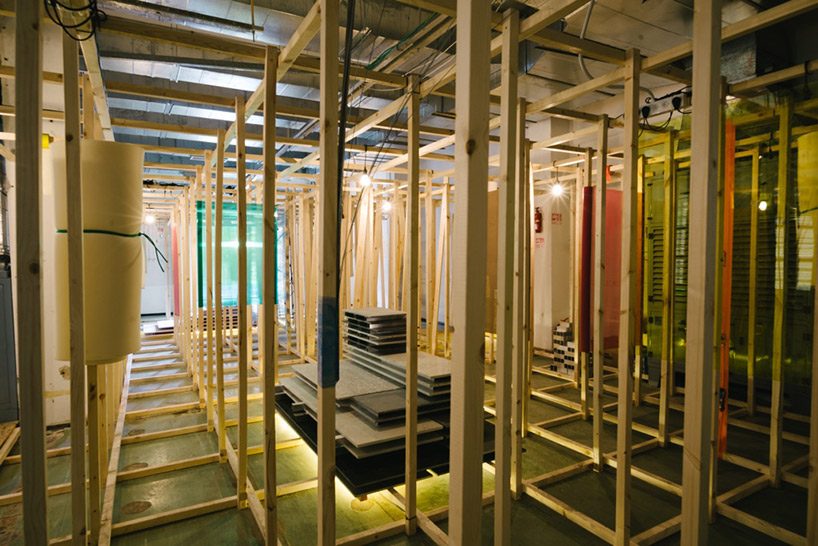 product island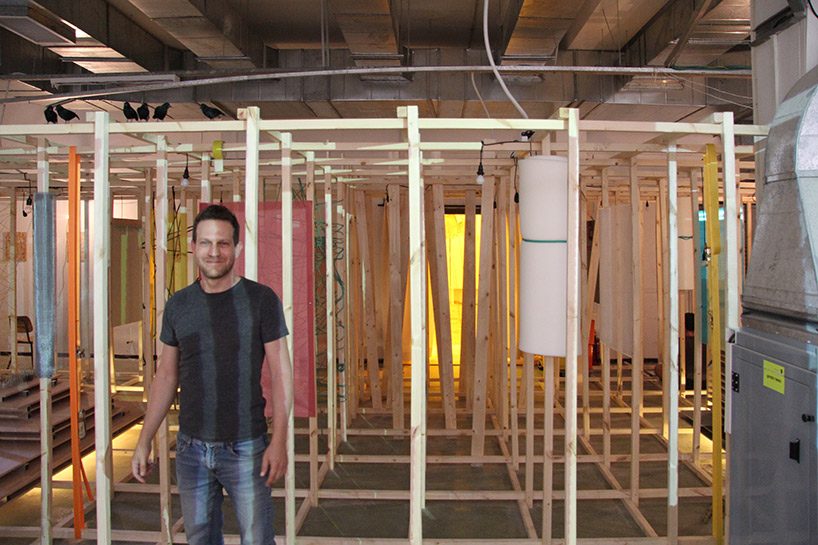 itay ohaly
image © designboom
interactive and print represent the edges of technological boundaries in graphic design, and allow designers to react to physical and virtual realities using visual tools. during the days of the festival, a room at the former bezeq telephone exchange building was transformed into a fully functioning news desk. a changing team of photographers, editors and illustrators produced a daily publication on a traditional printing press, while digital screens were projected on the walls. guy saggee and michal sahar, two of israel's leading graphic designers, directed the works to generate these daily newspapers, that, when collected together, became JDW's catalogue.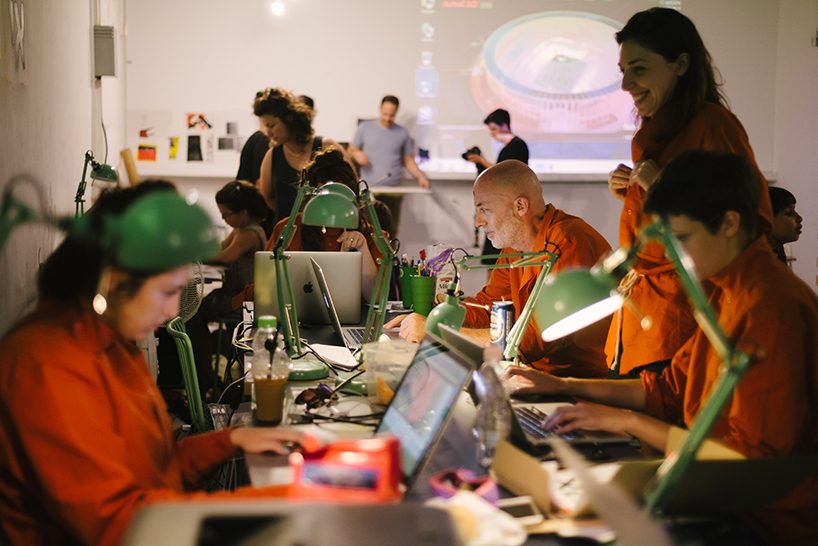 hot from the press and to the readers' hands, in an exposed, open and unfiltered process in front of an audience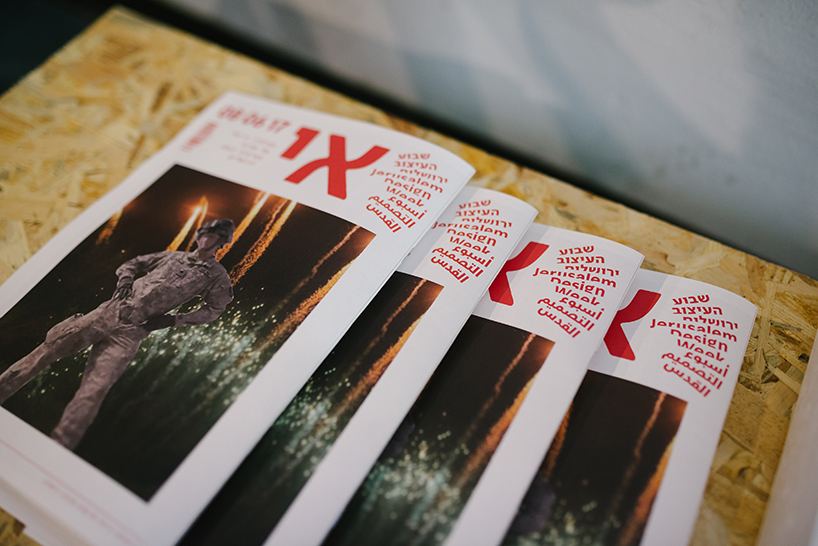 interactive and print represent the edges of technological boundaries in graphic design
the toaster project by thomas thwaites is a reaction to the idea that it's possible or desirable to be self-sufficient, but also to the view that having more stuff, more cheaply is better. the journey took nine months, from dismantling the cheapest toaster he could find to researching how to smelt metal in a fifteenth-century treatise. thwaites — who was not interested in the final creation, but the lesson learned — completed the project as part of his MA in design interactions from the RCA in london.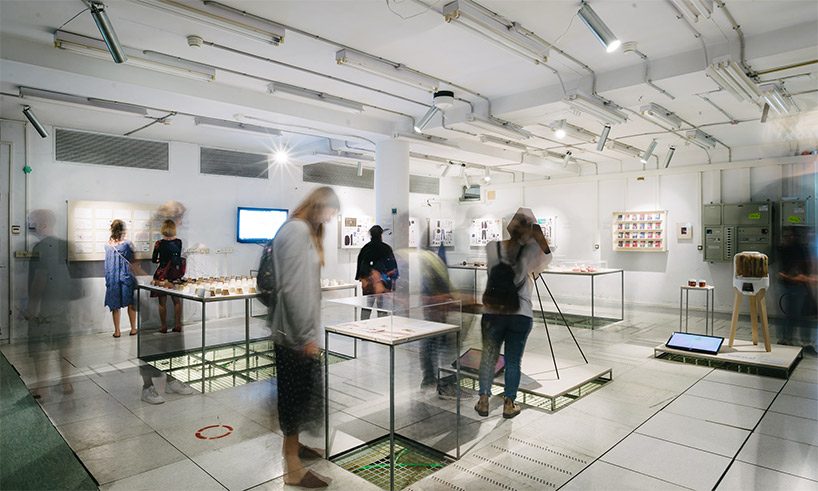 a view into the exhibition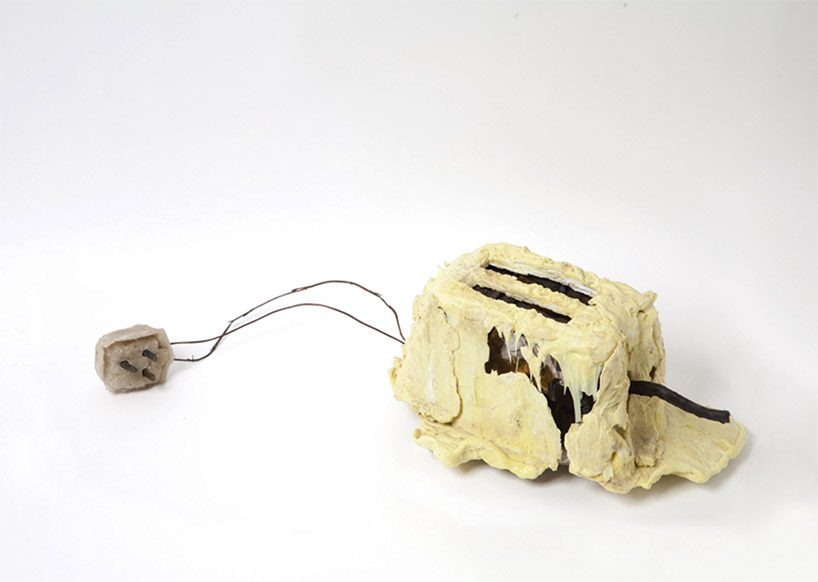 a heroic attempt to build a simple electric appliance from scratch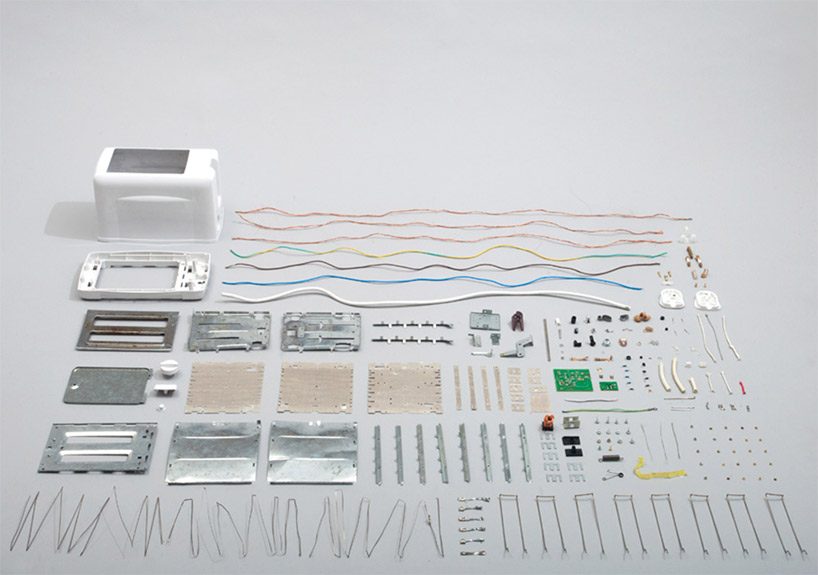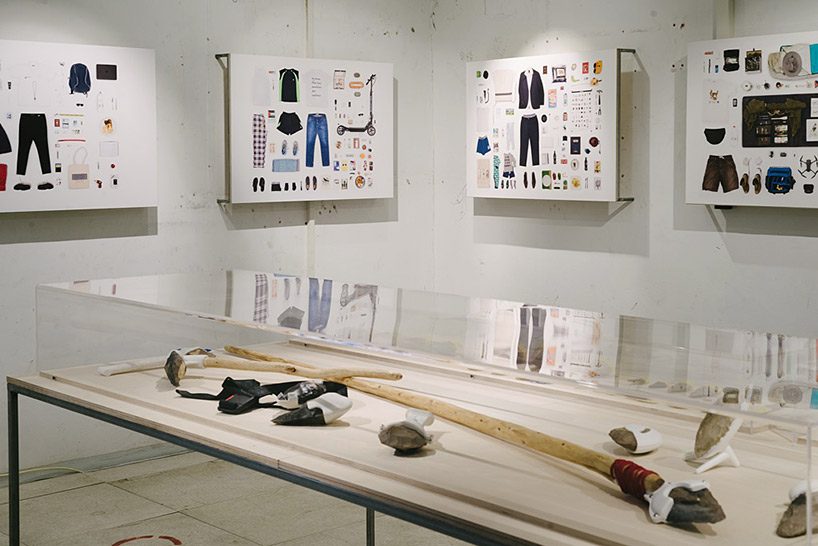 a view into the exhibition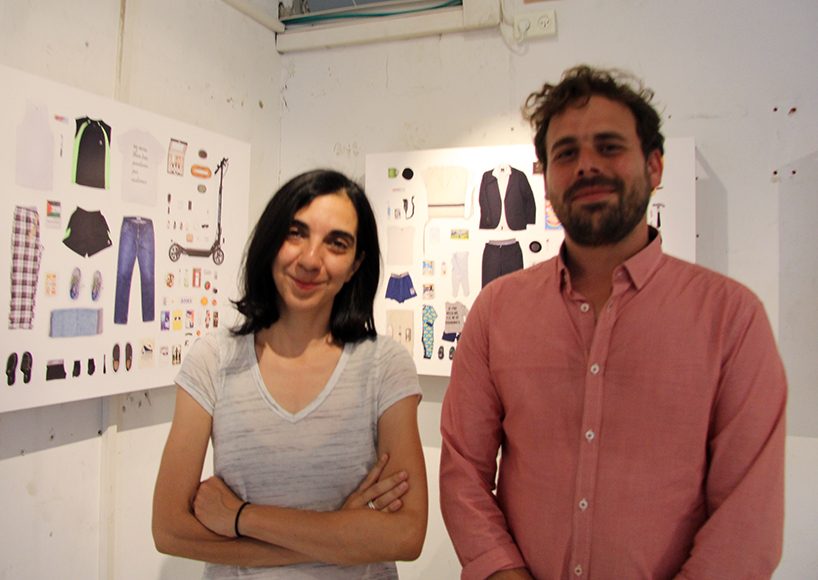 curators anat safran and tal erez
image © designboom
the academic island at the museum of natural history display works of students from israel's leading design academies, including bezalel academy of art and design, the hadassah college, and the NB haifa school of design.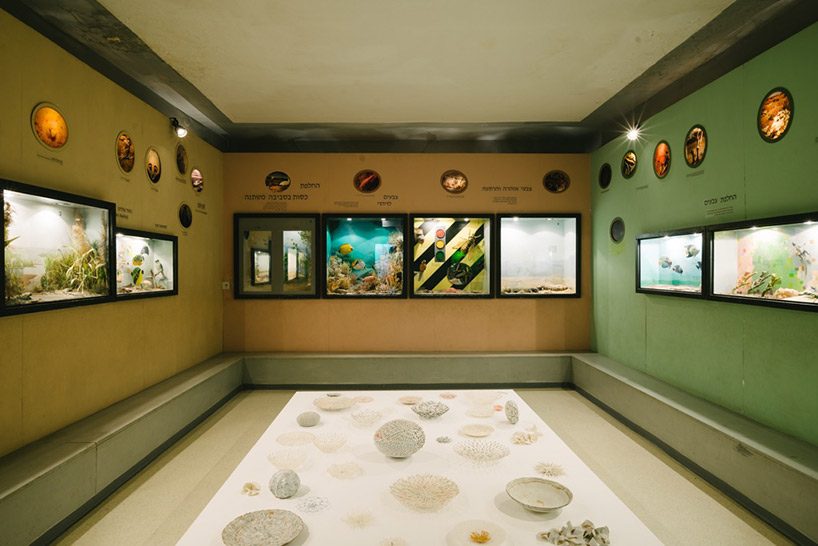 product designs by graduates were shown among vintage displays of geology and taxidermy
life sciences / reciprocity: the exhibition presented prominent works by recent graduates of various departments placed around the museum.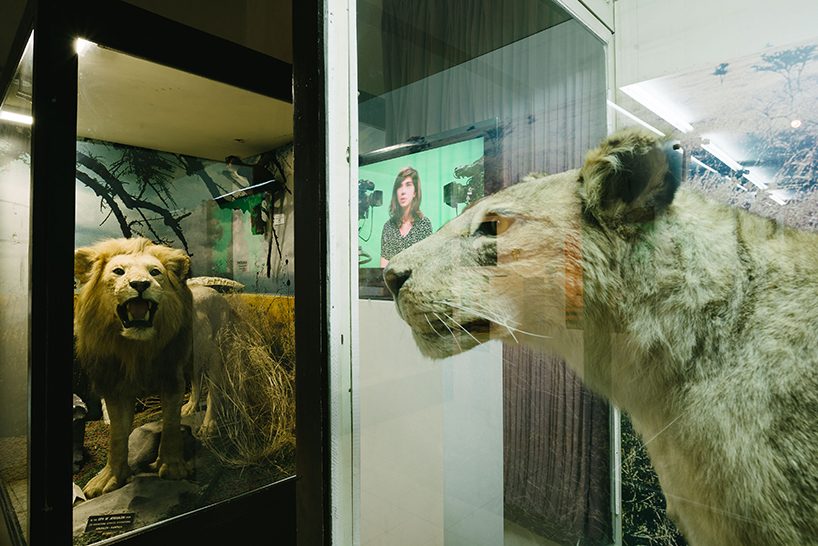 'slowly dying' by yotam menda-levi, 2015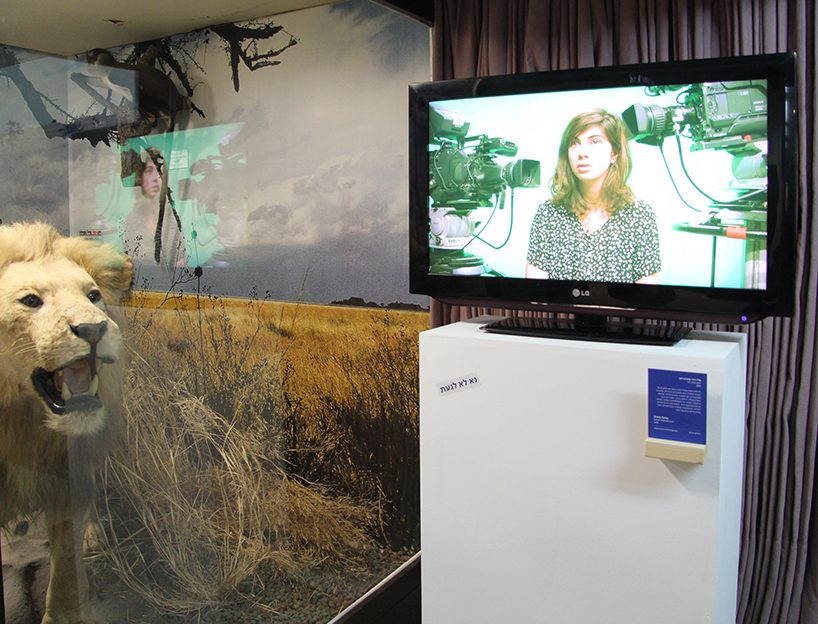 'slowly dying' by yotam menda-levi, 2015
image © designboom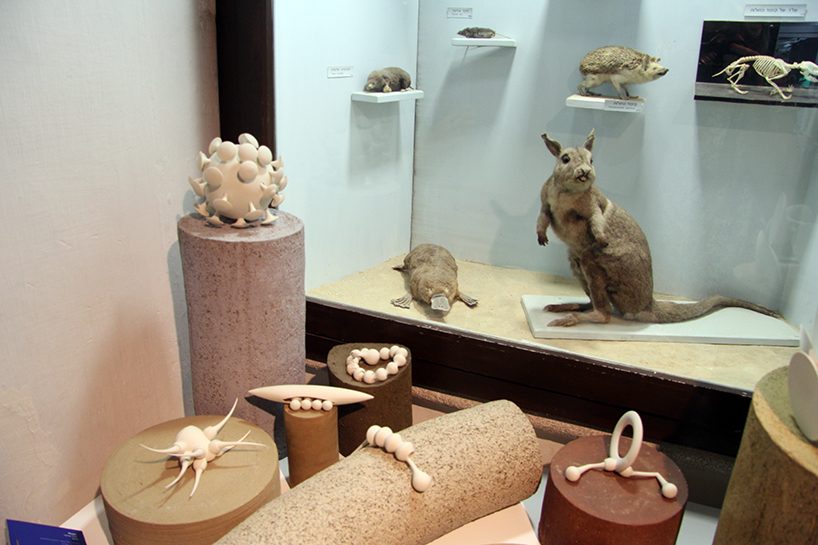 movable joints of porcelain pieces 'leave a mark' by edna friedman, 2016

'before me in the world' by noah chernichovsky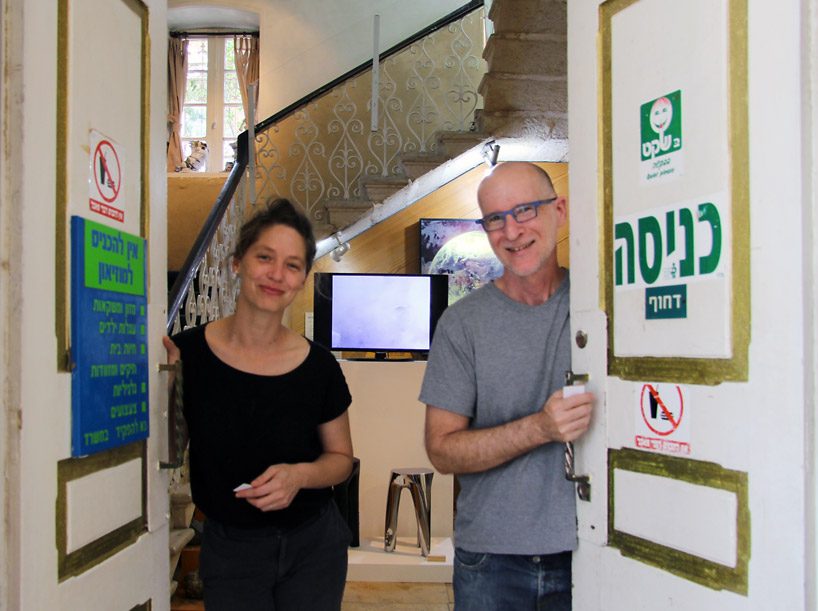 curators liora rosin and tal gur created a visual conversation between the historic artifacts and the design projects
in the hansen house's courtyard…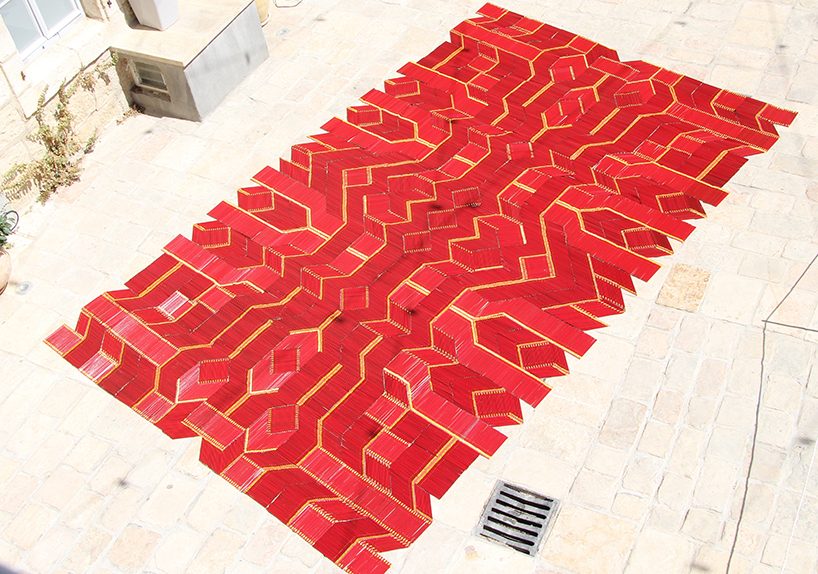 dutch collective 'we make carpets' installed a carpet comprising 11,000 pencils
image © designboom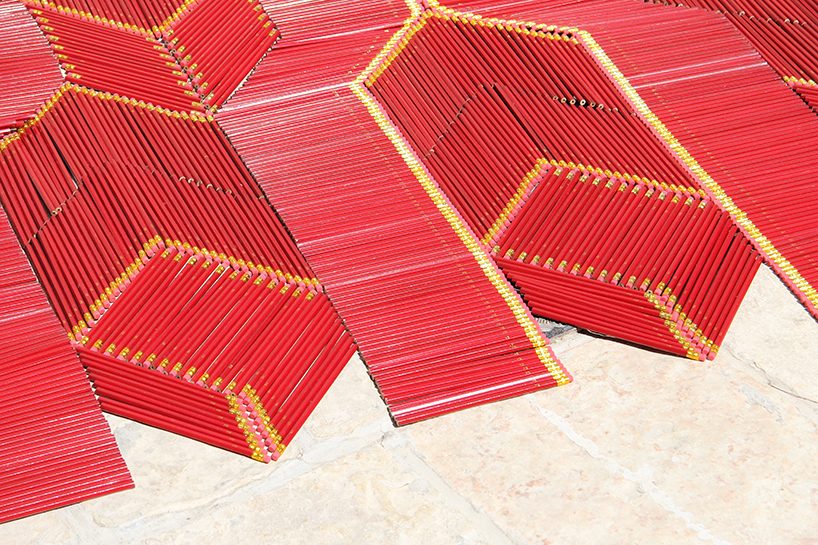 image © designboom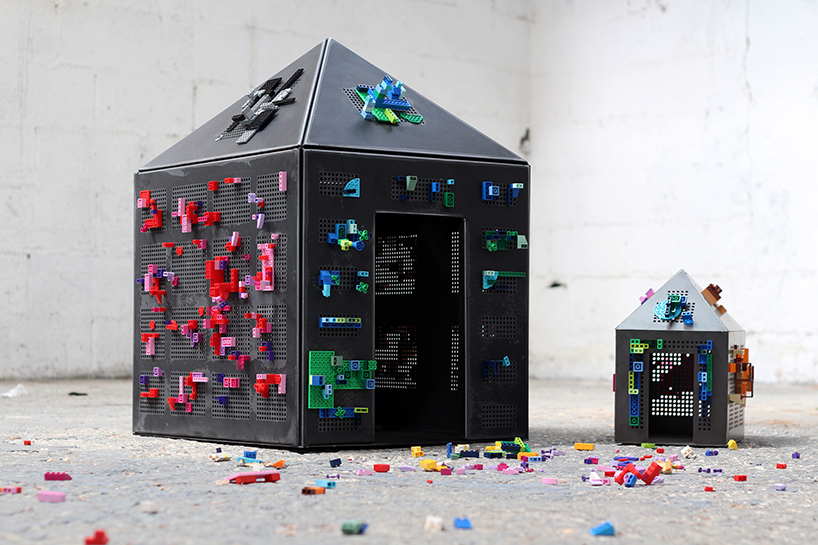 'a reversed LEGO project' by magenta studio
see more on this project on designboom here
izika: a showcase for a significant figure of israeli design and about the protagonist's impact on the local design community. 'izika' focuses on the legendary curator, izika gaon (1938-1997), who founded and led the design and architecture department at the israel museum for more than 20 years. in collaboration with the shenkar institute for the documentation and research of design and the israel museum. this edition's local history program has been curated by izika's daughter galit gaon and yuval saar.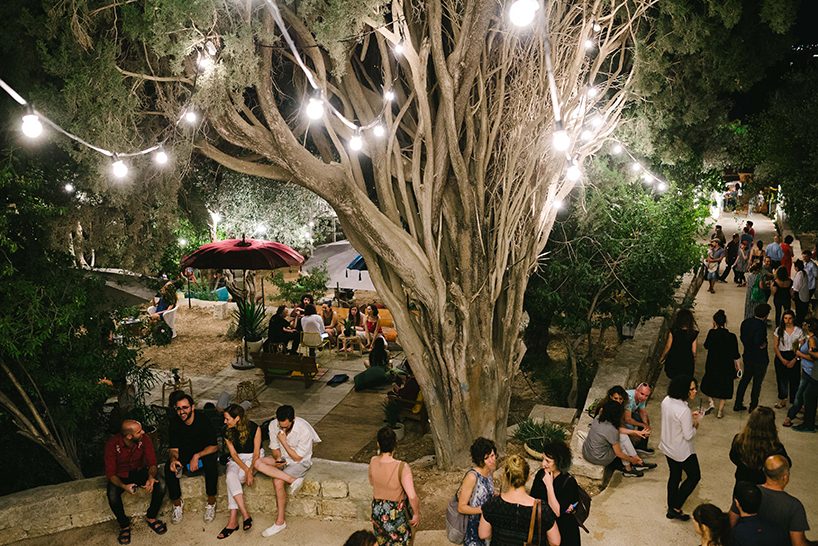 the sixth edition of jerusalem design week took place in public space
Save
juliana neira
I designboom
aug 03, 2017
a diverse digital database that acts as a valuable guide in gaining insight and information about a product directly from the manufacturer, and serves as a rich reference point in developing a project or scheme.
designboom will always be there for you
milan, new york, beijing, tokyo

,
since 1999