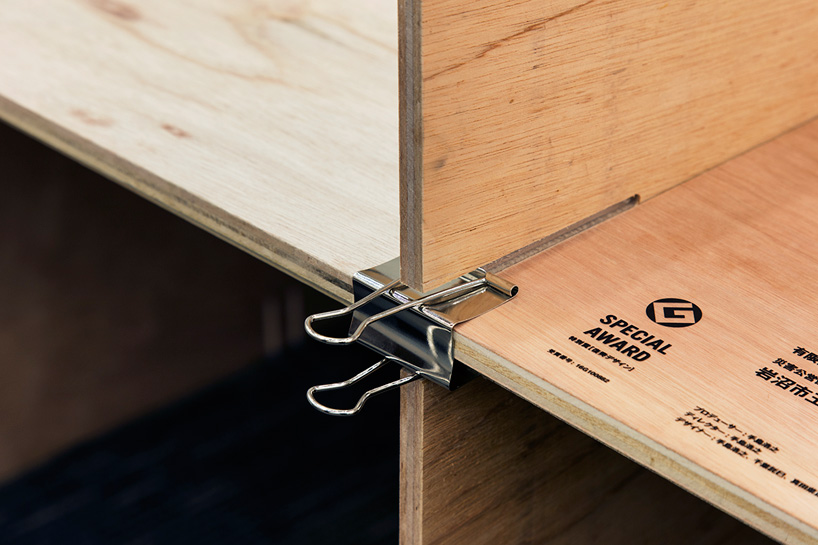 the g-mark japan GOOD DESIGN award ceremony, held during tokyo design week, honors outstanding projects in the fields of architecture and product design. at this year's event, designboom spoke with architect jo nagasaka about his design of the tokyo midtown exhibition space, his working philosophy, and some of his favorite projects from this year's GOOD DESIGN award.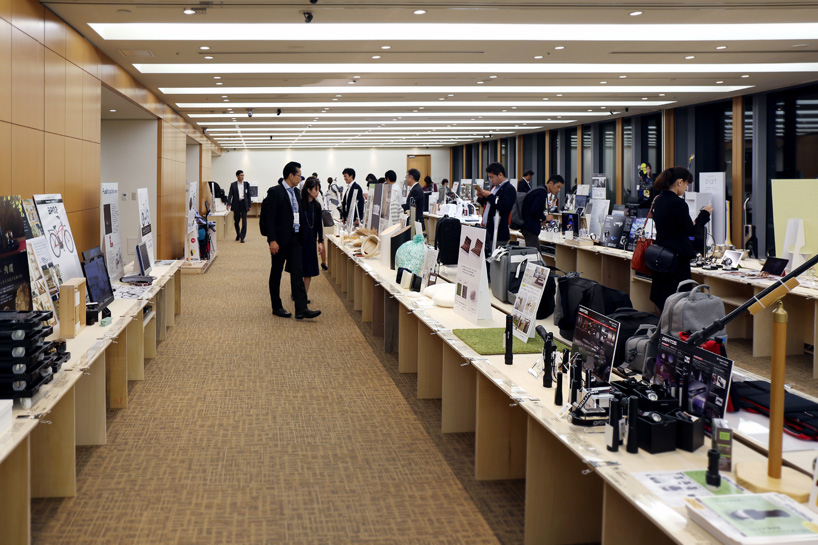 jo nagasaka designed the tokyo midtown exhibition space
image © designboom
designboom (DB): can you start by telling us about your design of the tokyo midtown exhibition space?
jo nagasaka (JN): the space is not a 'gallery' to display objects, and I recognize that it will not work for displaying glossy products. by using rough materials, I have tried to avoid this glossiness so that the products would be displayed well. usually in cases like this using white paint is very common. however, I did not want to assimilate the display into the background, so I chose to use wood. I could not control the lighting because the existing lights have been used. I think they are too yellow and moody, and I wish they were whiter.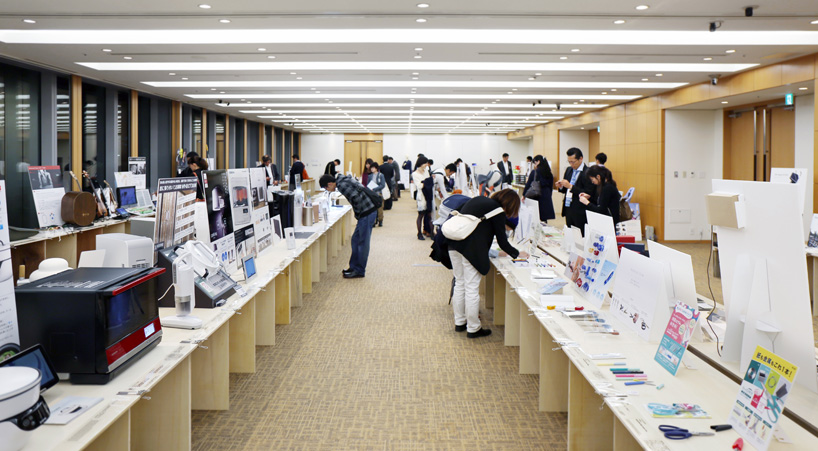 a wide range of projects were presented as part of the exhibition
image © designboom
JN (continued): usually binder clips are not used for making furniture, but the feature of the project is to use clips for composing the whole space by holding together the wood. I have used also screws, however using clips as the structural joint is the main characteristic. I didn't want to create a system that is difficult to assemble for professionals, but rather a system that can be easily assembled by everyone — so I used simple materials.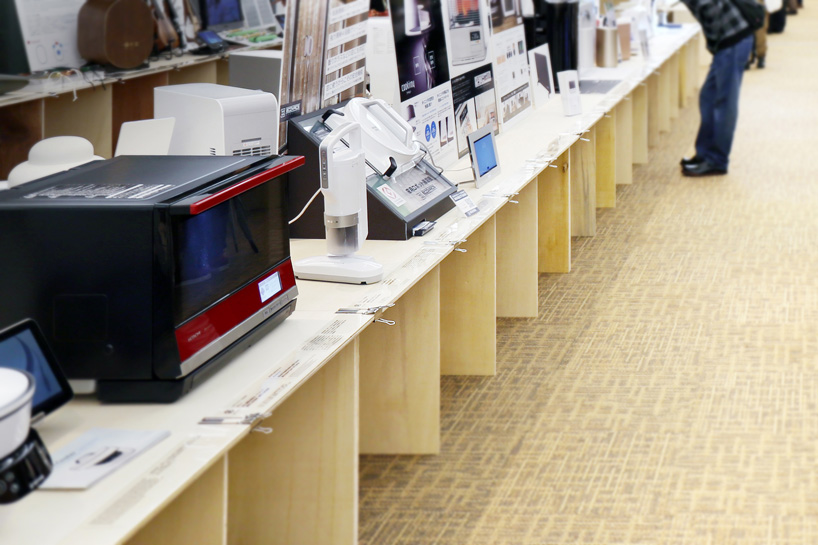 the architect used binder clips to hold the wooden surfaces together
image © designboom
DB: it is the first time that you are a member of the japan GOOD DESIGN award jury (unit 10, residential and housing projects). what were your thoughts?
JN: I was surprised that many new works of architecture are born each year, so I felt dizzy! it was hard to judge so many projects because there were not big differences between them. however, it is easy for a good project to explain how good it is.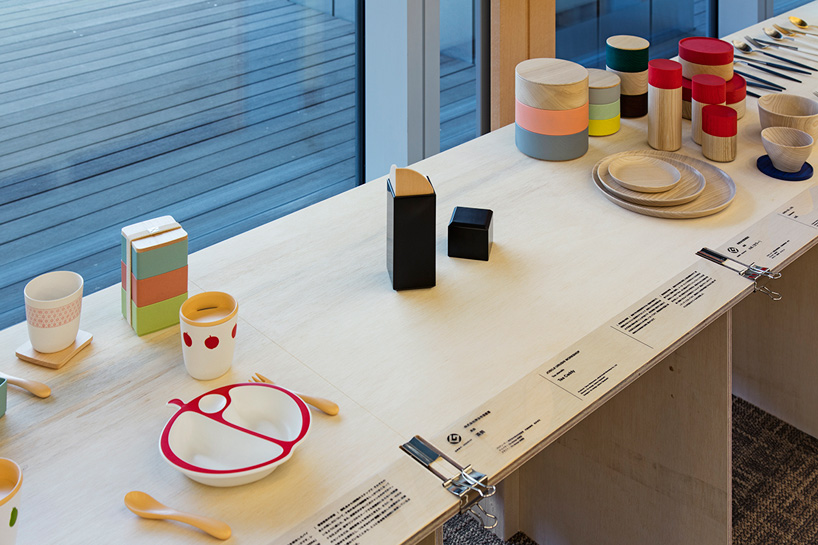 a minimal amount of screws have been used in the exhibition's design
image by kenta hasegawa
DB: you recommended the hoshinotani-danchi project. what did you like about this project?

JN: by converting the building to rental apartments and public facilities, it really changed the town. I think it is a great and new discovery because there are many similar types of apartment buildings in japan. this project can be applied to other cases as it does not take much money, and generally converting facilities is not very difficult to execute.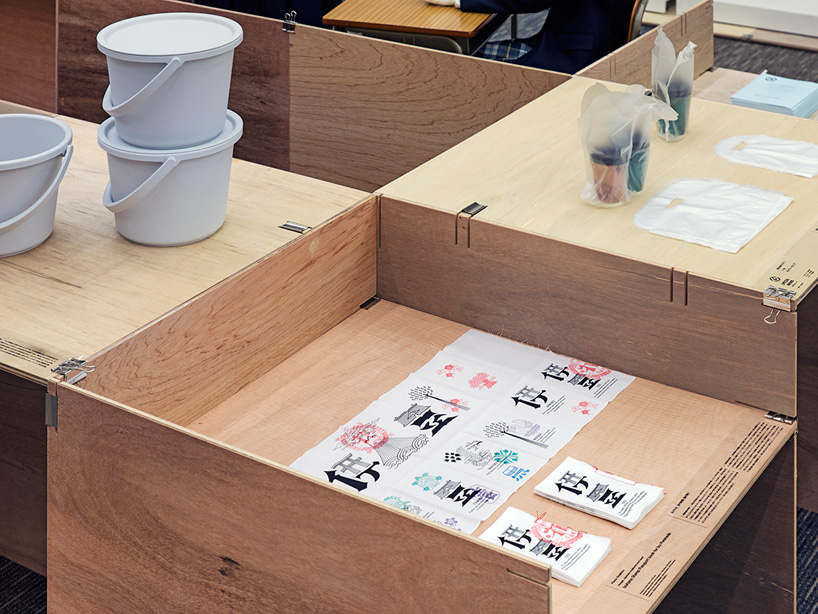 the system has been designed to be assembled quickly and easily
image by kenta hasegawa
DB: were there any other projects that caught your eye?
JN: I was very interested in the miyawaki greendo apartment project. this project proposes a way for architecture to exist along with nature's ecosystem. it is quite honest and I like it very much. what I admired is that usually green roofs separate actual ground soil and soil for the roof — so the natural ecosystem can not be continued. however, the architect has designed a plan which has a continuation between the ground and roof to create a new ecosystem. I liked that concept very much.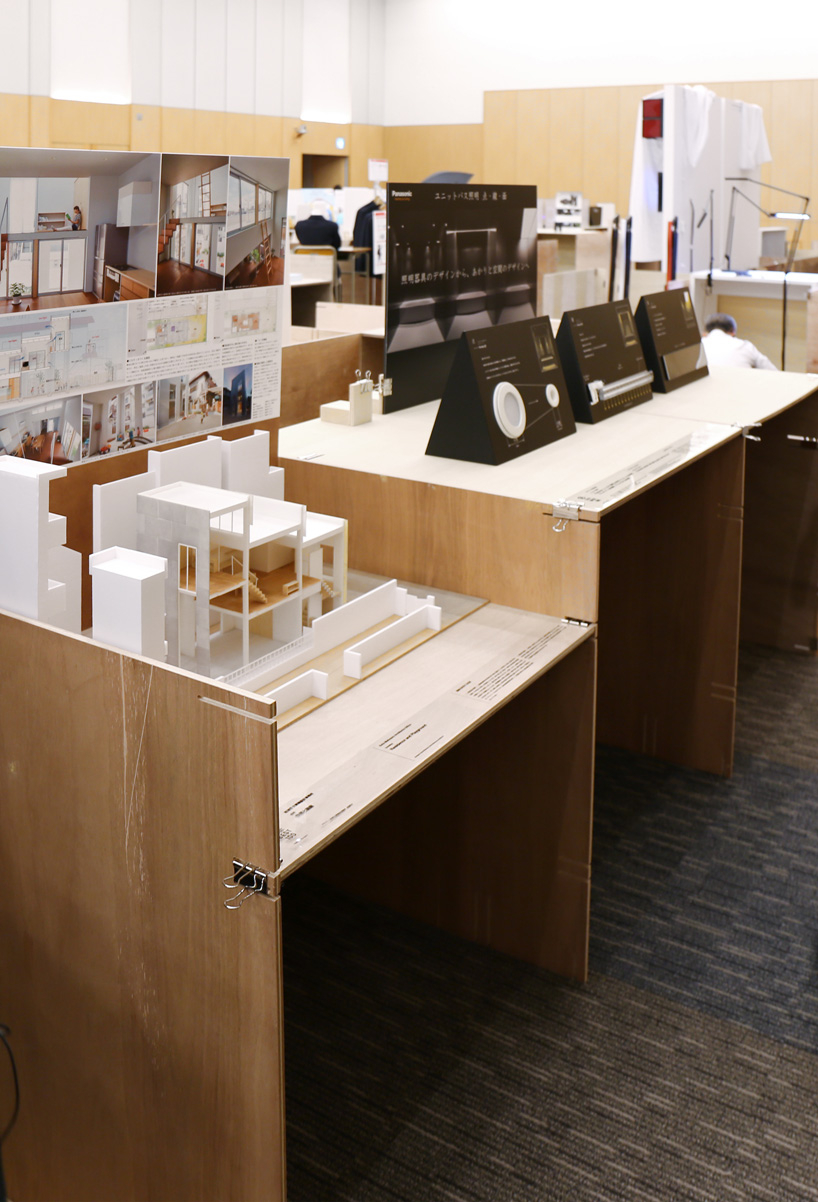 a number of architectural projects were honored as part of the award
image © designboom
DB: what are the differences between the GOOD DESIGN award and other architectural awards?
JN: I am still here to be judged rather than to judge, so I did not consider that point of view. I have admired projects which I can agree with from the point of view as a creator.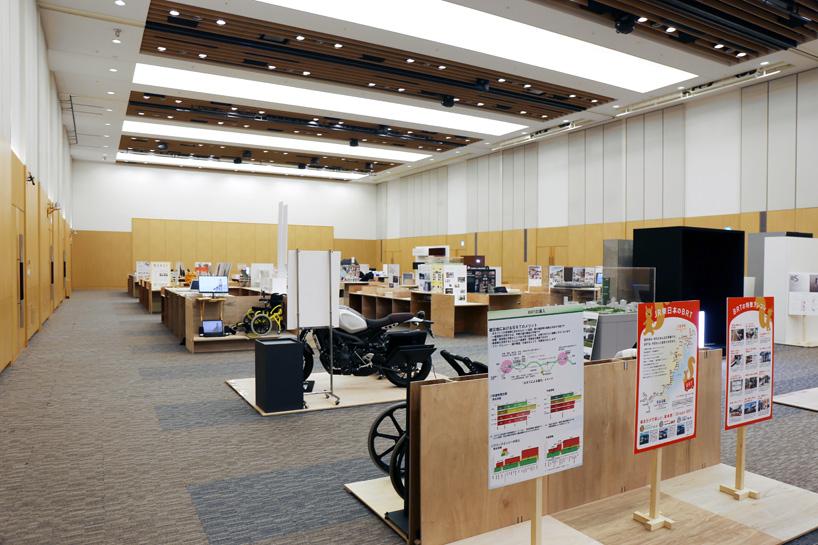 wooden plinths support larger pieces
image © designboom
DB: is there a trend in contemporary japanese architecture?

JN: a lot of recent japanese architecture uses greenery. long ago, this was not a material for architects, but today we use greenery naturally. I think both interior and exterior design considers this relationship with nature. I think the trend is not an architecture focused in a moment, or an architecture which is most beautiful when the construction is just completed, but an architecture which is changing continuously. it is like kinfolk magazine which focuses on how people live and relate to architecture.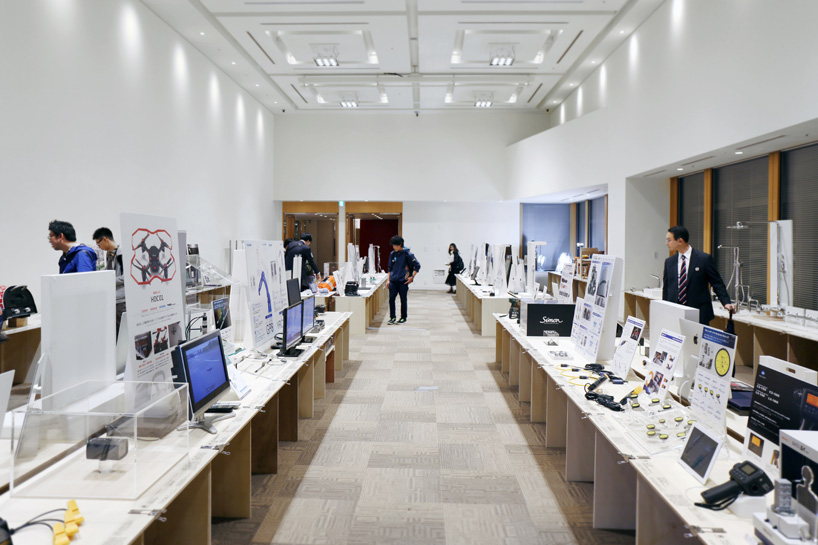 projects from the field of technology are also showcased
image © designboom
DB: how about your own style and philosophy?
JN: I do not intend to emphasize my own design. instead it is important for me to discover new awareness or possibilities in new ways. when I find something interesting I try to convey the same experience to users. I use a design method that I have got used to, so naturally you will find 'jo nagasaka's' taste from my projects, but I do not think about my own style at all.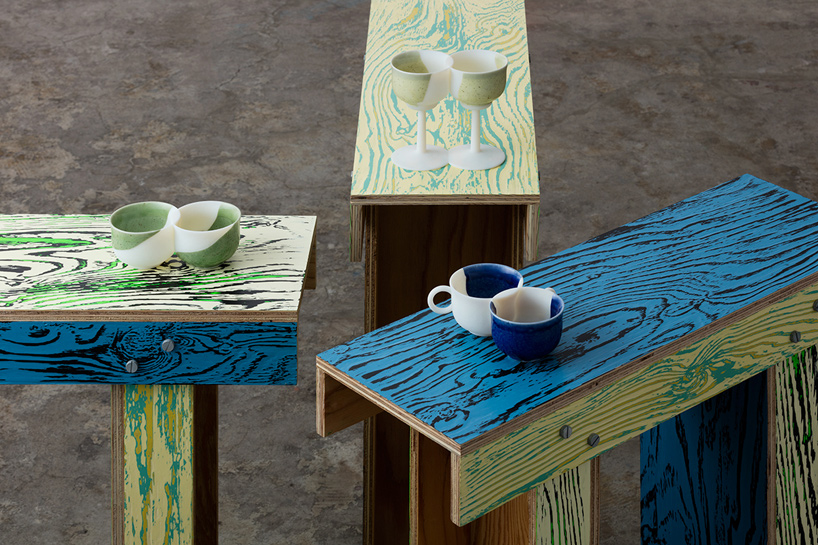 jo nagasaka's shrine tables and cups collection were presented during milan design week 2016
read more about the project on designboom here
DB: how do you develop your furniture projects?
JN: designing furniture is the best way for me to introduce my ideas purely without any context. repeating that work every year for milan design week updates my senses, and I like that feeling. so despite it being hard, I do it. I think what I do is not for mass-production, but more conceptual work.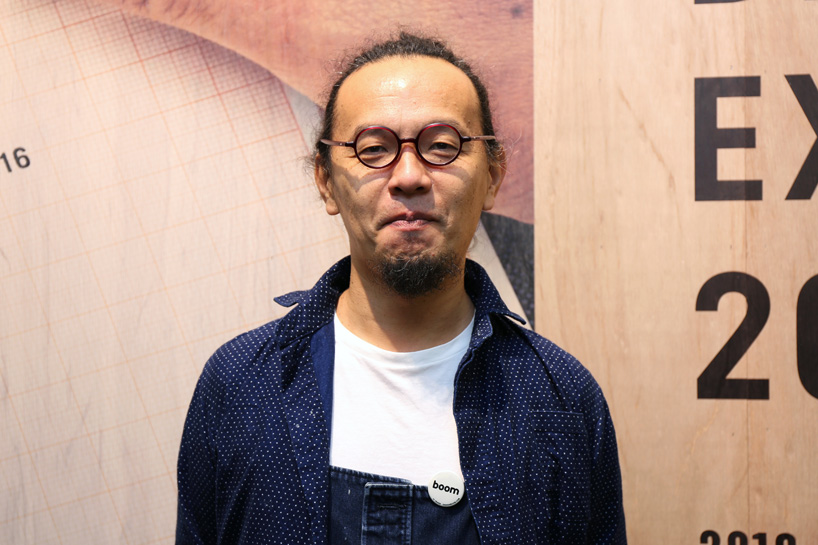 jo nagasaka at the tokyo midtown exhibition space
image © designboom

the GOOD DESIGN award was founded in 1957 by the japanese ministry of international trade and industry and is hosted by the japan institute for design promotion. the 'g mark' emblem reflects comprehensive design values and principles that aim to enrich lives, industries and society.
shuhei senda
I designboom
dec 05, 2016
a diverse digital database that acts as a valuable guide in gaining insight and information about a product directly from the manufacturer, and serves as a rich reference point in developing a project or scheme.
designboom will always be there for you
milan, new york, beijing, tokyo

,
since 1999