following the footsteps of christoper bailey for burberry, dolce & gabbana, and kally ellis of mcqueens, sir jony ive and marc newson combine to create the christmas tree situated in the claridge's lobby. however, for the 2016 edition, the high-profile designers and british set designer michael howells have gone one step further, crafting an immersive festive installation as well. once through the london hotel's revolving doors, guests are welcomed by a magical, snow-covered forest.

the magical forest combines modern techniques with traditional forms and with nature
the pair explain, 'there are few things more pure and beautiful than nature, so that was our starting point, layering various iterations of organic forms with technology. our aim was to create an all-enveloping magical experience that celebrates our enormous respect for tradition while recognizing our excitement about the future and things to come.'
paddy mckillen co-owner of claridge's said, 'we are honored and delighted that our friends jony and marc agreed to take up the challenge of designing our annual claridge's christmas tree. I truly believe that their innovative vision brings the best of tradition and technology together to create some christmas magic and fun in our lobby for guests and visitors at this festive time of year.'

the lobby is lined with grand scale four-meter high light boxes
the christmas experience explores the relationships between nature and technology, tradition and the future, and between three dimensions and two. as the festive installation's backdrop, the four-meter high light boxes which glow with black and white photographic images of snow covered silver birch trees, are set on a pure white floor. in front of this, cast models of scots pine grow amongst further layers of both natural and photographic silver birch and fir trees. the surrounding nature rises up to tangle amid a canopy of natural green pine, immersing guests into a setting more conceivable in lapland than the center of london.

the installation's lighting is on a continuous cycle. mimicking sunrise to sunset
symbolizing the start of the festive season in london, the hotel's christmas tree captures the spirit and admiration of visitors and locals alike. 2016 marks the seventh year that claridge's has invited a guest to reinterpret the tree, and calls upon two long-time friends of theirs. the creation of the claridge's christmas tree 2016 continues a theme of collaborating between sir jony ive of apple, and industrial designer marc newson. the apri have previously combined to design the leica 'M' camera for (RED), the 'bono' earpods for (RED), and together as part of apple's team for the 'watch'.

a young three-feet high tree grows amongst the forest as a symbol of the future

a natural canopy of green pines rise above the lobby

2016 marks the seventh year that claridge's tree has been designed by an invited guest

the christmas tree installation begins the festive season for london
dec 24, 2016
dec 24, 2016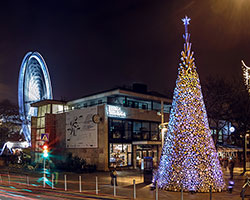 dec 20, 2014
dec 20, 2014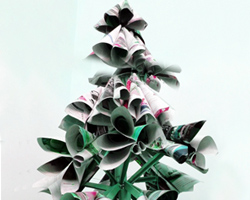 dec 23, 2012
dec 23, 2012
dec 22, 2012
dec 22, 2012
dec 20, 2012
dec 20, 2012
dec 17, 2012
dec 17, 2012
sep 27, 2017
sep 27, 2017
apr 17, 2017
apr 17, 2017
mar 13, 2017
mar 13, 2017
oct 12, 2015
oct 12, 2015
aug 13, 2015
aug 13, 2015
jun 05, 2015
jun 05, 2015