mar 02, 2010
joris laarman at friedman benda, nyc
'bridge table' (small), 2010 aluminum and tungsten carbide 29.5 x 130.25 x 48 inches 74.9 x 330.8 x 121.9 cm edition of 8
on march 4th, a new body of work by dutch designer joris laarman will be unveiled at friedman benda, nyc – his first U.S. solo exhibition. laarman's aesthetic merges cutting edge technology and the life-sciences to create work of unexpected beauty. in 2008, laarman's bone chair and bone chaise, his first two works since graduating from eindhoven, were displayed in MoMA's exhibition design and the elastic mind. this marked a major milestone in his career and the chair subsequently, was added to the museum's permanent collection.
in 2006, laarman's bone chair revolutionized the design process by using an algorithm to translate the complexity, proportion and functionality of human bone and tree growth into a chair form. the algorithm, originally used by the german car industry, enabled him to reduce and strengthen his designs by optimizing material allocation, weight and stability, while minimizing material input. In his own words, he sculpted 'using mother nature's underlying codes.'
the upcoming exhibition is the culmination of five years of trial and error, exploratory material research and his continuous quest to translate science into functional objects of beauty now, on a monumental scale. his new body of work expands on his core investigations; it includes skyline storage, fractal bookshelf, a table that captures patterns inherent to flocks of birds, and a sustainable lamp made from living cells.
'leaf table', 2010 resin, steel and aluminum 28 3/4 x 79 1/2 x 79 1/2 inches 73 x 201.9 x 201.9 cm
'cumulus table', 2010 marble large:15.5 x 73 x 29 inches 39.4 x 185.4 x 73.7 cm small:13.75 x 19 x 14 inches 34.9 x 48.3 x 35.6 cm
'in case of a thousand books', 2010 steel, poly concrete and glass making process
the basic idea behind this is to create objects of an uncommon scale using the craft of an architectural model maker. its a 5.6 meter high book staircase in glass, stainless steel and poly concrete.
'Id like to create many different ones experimenting with all kinds of materials and functional and conceptual approaches. ' – joris laarman
'in case of a thousand books', 2010 steel, poly concrete and glass
'asimov chair' made by robots
the basic idea behind this is to fold (and in the future cut and weld) curved crease plate materials. in a way its like rapid prototyping with sheet materials. super efficient, because you don't need expensive injection moulds, the robots can fold endless different objects very fast in one installation and you can ship flat plates instead of volumes. together with the studio's UK developer they started this project for the first time. this is typically a research that could be translated into industrial products.
'half life' lamp
this lamp half life –it is half made of living organism and half made of non living material recently died*. it was born on february 23 in a dutch tissue culture laboratory. on the video half life radiated brightly when it was in healthy conditions. the cells responsible for the emission of light in the hood of the lamp originally stem from a chinese hamster. in 1957 these CHO cells were isolated from a hamster's ovary and kept alive as a cell culture for research purposes. in the 1990s this cell line was enriched with the fire fly's luciferase gene. ever since than these hamster cells glow in the dark in presence of luciferine. according to present state of knowledge in the life science the development of bioluminescence systems in living organisms occurred naturally about 20 or 30 times in evolution. well known examples of bioluminescence are found in bacteria, fire flies, and jelly fish.
'half life' lamp
'bone' rocker, 2008 cast black marble resin 29.5 x 37.5 x 34.5 inches 74.9 x 95.3 x 87.6 cm
'bone' armchair, 2008 and 'bone' rocker, 2008 cast marble resin 29.52 x 31.49 x 39.37 inches 75 x 80 x 100 cm
joris laarman was born in the netherlands in 1979, and graduated cum laude from the design academy eindhoven in 2003. while still in school he created the 'heatwave radiator,' a design widely-lauded and incorporated into museum collections such as the cooper-hewitt and fond national d'art contemporain, puteaux, france, and has been produced by droog. in 2004, he received wallpaper's 'young designer of the year' award, and in the same year established his studio and laboratory.
jul 28, 2020
jul 28, 2020
dec 05, 2019
dec 05, 2019
jan 28, 2018
jan 28, 2018
sep 07, 2017
sep 07, 2017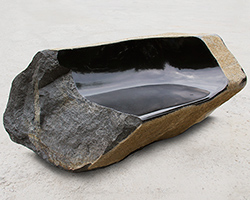 nov 11, 2016
nov 11, 2016
nov 06, 2016
nov 06, 2016
oct 22, 2018
oct 22, 2018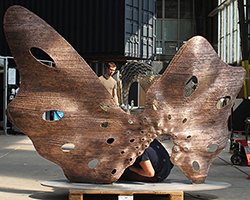 jun 14, 2016
jun 14, 2016
mar 29, 2016
mar 29, 2016
a diverse digital database that acts as a valuable guide in gaining insight and information about a product directly from the manufacturer, and serves as a rich reference point in developing a project or scheme.