Julian Bedel and Fueguia 1833 at the DAAily bar
Julian Bedel talks about his journey as a perfume researcher and artist and the research and production behind his brainchild Fueguia 1833 at the DAAily Bar in Milan Design Week 2022. When Julian Bedel first spoke to Designboom, he said he was obsessed with fermentation, subjecting a raw material to a bacteriological fermentation where the plant matrix opens up and transforms. It had not always been this way. Thanks to an accidental discovery of his penchant for research and perfumes, he carved his path into creating scents that last, the mark of an olfactory experience Fueguia 1833 conceives. During his talk at the DAAily bar in Milan Design Week 2022, the perfume artist and researcher revealed he did not wear perfume in the past, often opting for a cologne, the fragrance that 'your aunt gives you as a Christmas gift', he said. Reading the text of the Nobel Prize Awardees in Physiology or Medicine Richard Axel and Linda Buck about the odorant receptors (more on this below) came as a sign for Bedel to pursue the art of perfumery. Once he did, he never stopped, allowing him to produce over 100 perfumes since his beginning.
During the talk, Bedel said that he uses ingredients that are often used in traditional medicine for dopamine, digestion, energy, and aphrodisiac purposes. He starts by drawing the extracts from their component, blending and fractioning them by their molecule groups to source the core of the ingredients, and combining them together to create a plant-based infusion. He reiterates that he does not invent a new product, but replicates methods already in use in the industry. When he started his first batches, Bedel said getting his brand off the ground meant he needed to experiment with his concoctions and business strategies. He revisited the way he and his team created the perfumes and realized that the process they followed was governed by taking care of the materials they found within their surroundings in Argentina and using them not as secondary ingredients, but as the primary – the heart of the perfume. From this, their philosophy hints at a nature-centered fashion of creating, rousing the senses and brains of the people through flowers, plants, roots, and sources from nature that are often used in food such as cocoa beans. Watch Julian Bedel talks more about his brand Fueguia 1833 and how he brought it to life from research.

julian bedel on the journey, research, and production of fueguia 1833 at the DAAily bar / image © designboom
julian bedel on the journey of fueguia 1833
Bedel grew up in a household of artists with his father and brothers being plastic artists painting and sculpture. While he dabbled into the same sphere, he soon realized he could not make a living out of it. He had a branding business that paid his expenses, but something kept tugging him back to the art industry, driven by his passion for making guitars from scratch. Since his father had a wood workspace in their home, Bedel managed to toy with raw materials he could find within the four walls, be it wood or pigments. He thought he would delve into sculptures, following in his family's footsteps, but one incident whisked him off his path. His father handed the young Bedel the text of the Nobel Prize Awardees in Physiology or Medicine Richard Axel and Linda Buck about their discoveries of odorant receptors and the organization of the olfactory system, explaining in molecular detail how people's sense of smell works. Based on the excerpt of the text, a unique scent can trigger certain memories within people, from their childhood times to their turning points in life. The research also states that when something tastes good, it owes its reason to the activation of the olfactory system and that the loss of sense of smell means people can no longer perceive the different qualities of food and detect warning signals such as smoke from a fire.
Bedel digested the text with an ardor to discover how it works, dropped his woodshop tools, and devoted himself to developing plant-based fragrances. Bedel slowly understood the science behind the brain's response when impacted by volatile molecules and how a person relates to their surroundings including plants, animals, food, and other living beings. He tells Designboom that when a person is impacted by an ingredient, they start to produce hormones that excite or relax them while giving them a change in their perception of time. The journey activates the memory that soon leaves an imprint on their memory to be recalled later on. When he realized the weight of his research, he immediately established he would continue working on it. In 2010, Bedel founded Fueguia 1833, a perfumery that embodies an olfactory experience through the infusions of rare, nature-sourced ingredients and manifests his research of how scent influences people's perception of time and memories.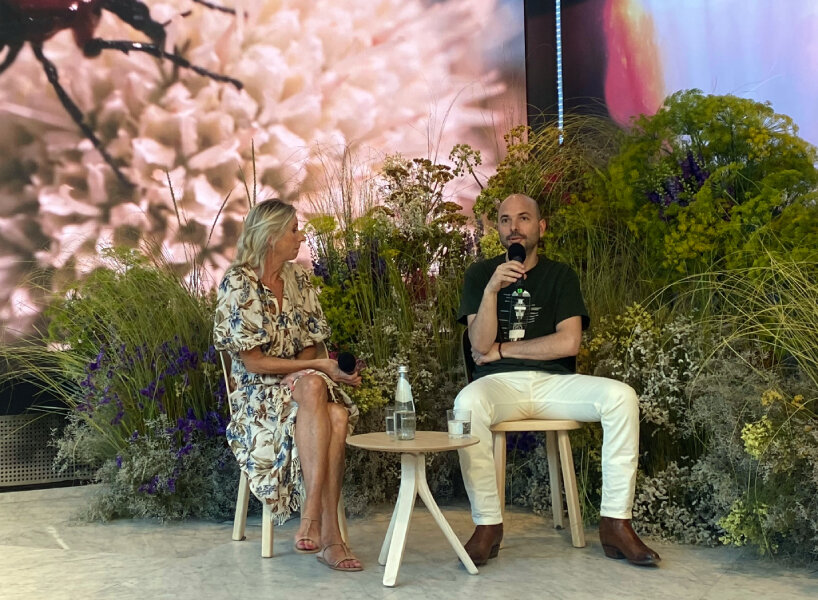 image © designboom / watch the full interview here
julian bedel on the research and production of fueguia 1833
Fueguia 1833 takes its inspiration from Argentina, the region it draws its organic blends, to spotlight the culture of South America's history, art, music, and environment. The heart of the brand lies in Patagonia, and the domination of its nature in all forms cultivates Bedel's ambition to use and maintain natural resources for his creations. Fueguia 1833 manufactures only 400 bottles every batch and series due to the rarity of its ingredients, the majority of which are being used for the first time in perfumery. The brand has over 100 perfumes in its reperotire, grouped into eleven collections namely Alquimia, Antropologa, Aquilaria, Armonas, Destinos, Fábula Fauna, Linneo, Literatura, Muskara, Personajes, and the new El Mundo de los Ouds. Fueguia 1833 formulations contain musk of plant origin, ethanol of organic derivation, and the blend of essences that undergoes long maceration processes. The perfumes are free from UV filters, synthetic preservatives and dyes, ingredients of animal origin, animal tests, and phthalates.
Bedel and his brand also work with the local communities in Patagonia to grow and distill the plant species infused into the perfumes. Such an initiation remains possible through a collaboration with HelpArgentina, a non-profit organization founded in 2002 by Bedel supporting organizations that promote the social development of Argentine territories. In his Milan boutique, Bedel imagines an art exhibition where the brand's collections are displayed on a hexagon sculpture made primarily of wood, taking up the center of the space to allow the guests to circle around each perfume. Clear glass tubes house earthy and soft liquid that speaks of luxury and sophistication, the resulting pigment of the perfumes from the use of natural ingredients that Fueguia 1833 abides by. From the arrangement of the bottles to the design of the interior, Bedel took over the overall aesthetic to extend his artistic vision not only as a perfume researcher and developer, but also as an artist.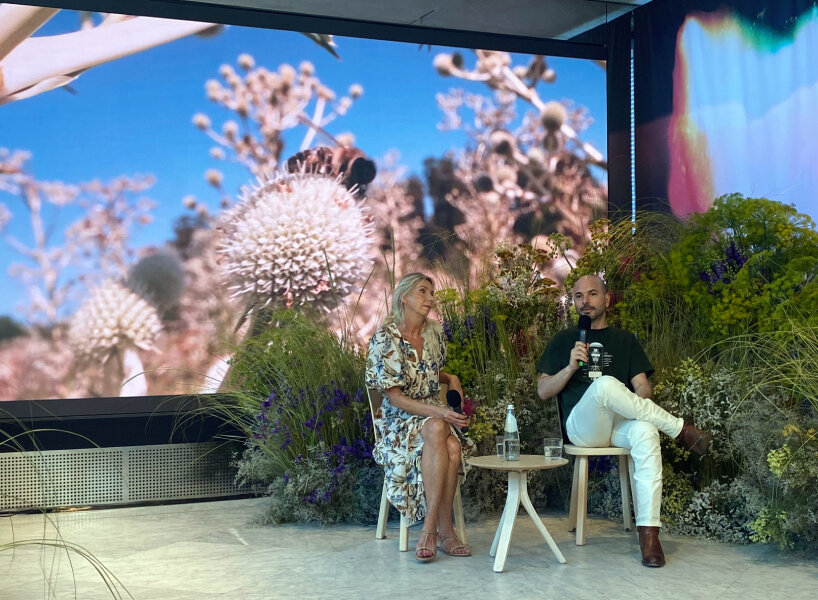 image © designboom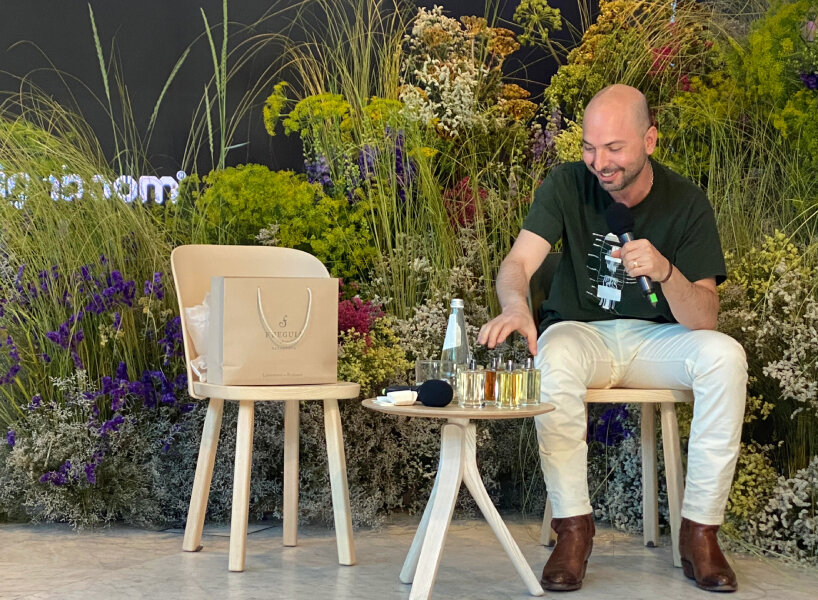 image © designboom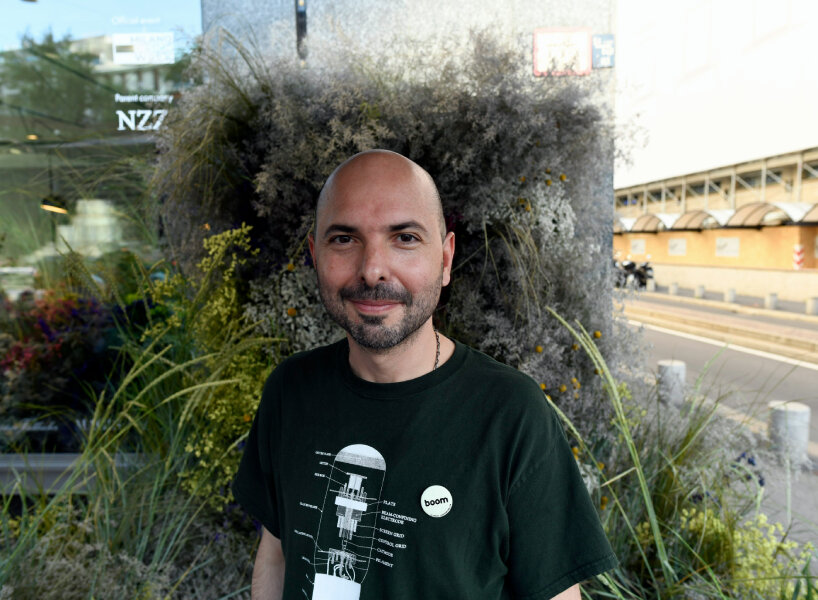 image © designboom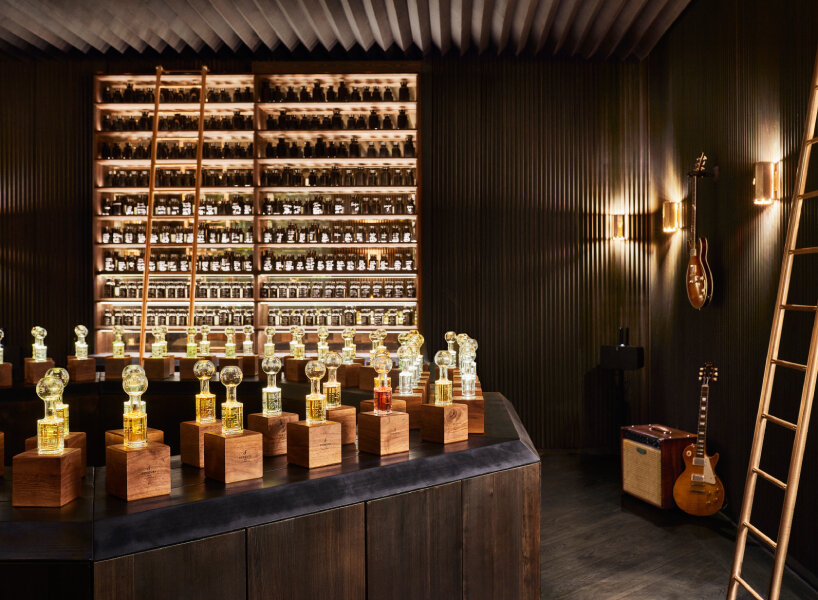 image from Fueguia 1833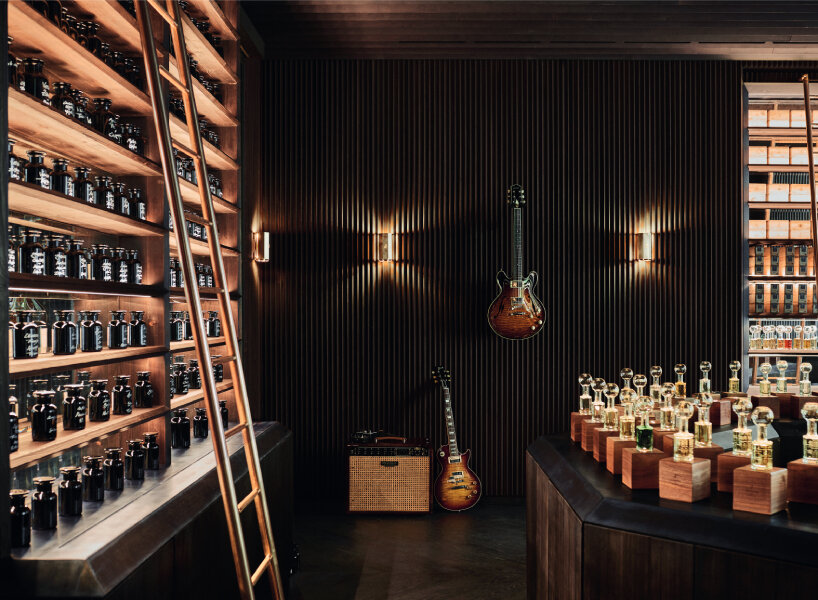 Fueguia 1833 in Milan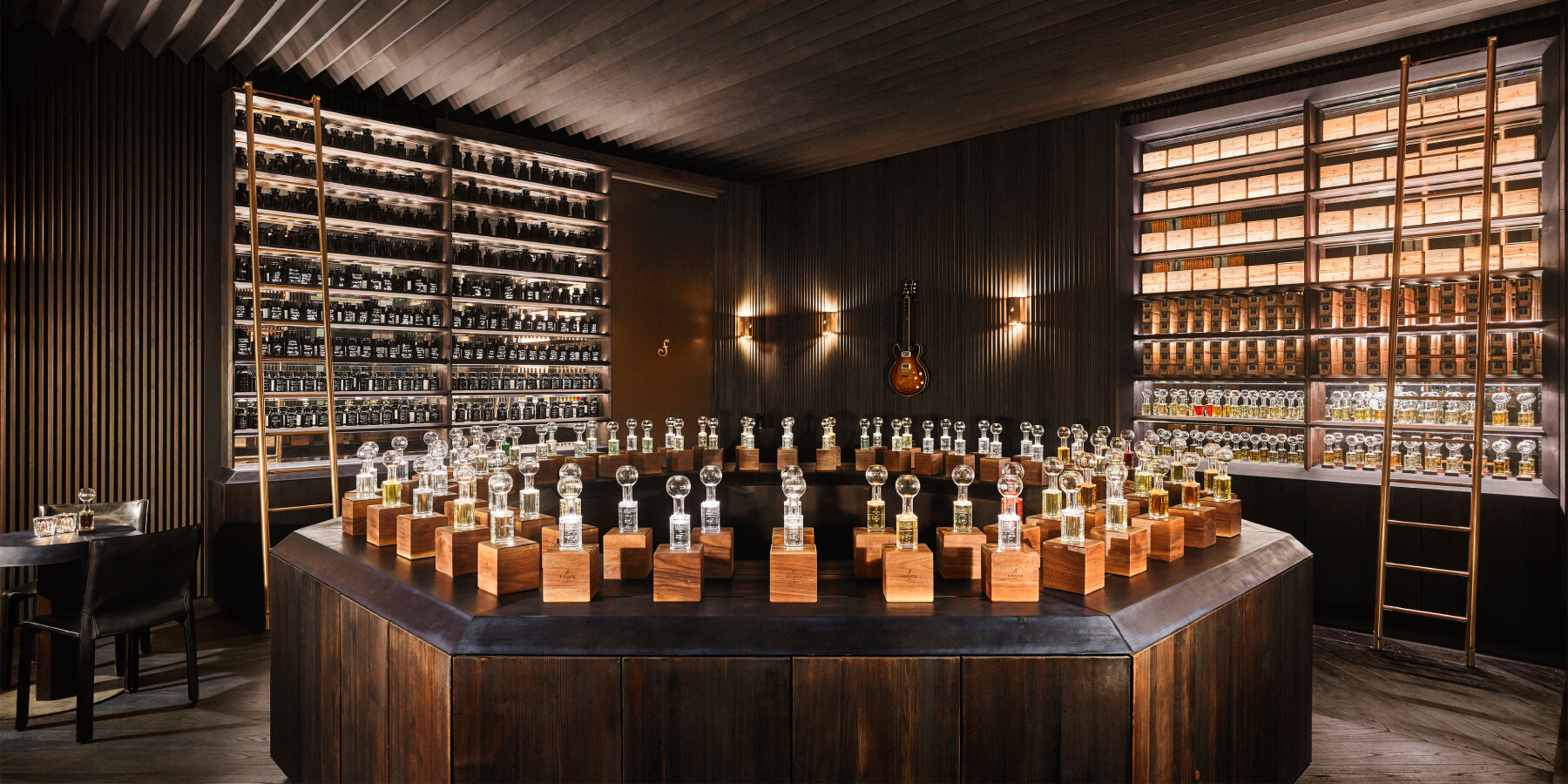 julian bedel on the journey, research, and production of fueguia 1833 at the DAAily bar
project info:
name: Julian Bedel
brand: Fueguia 1833
Milan Design Week 2022 marked the entrance of the DAAily Platforms.
Our group — Designboom, Architonic & ArchDaily — curated the DAAily bar space inside the Centro Svizzero building on the eastern edge of the Brera Design District with installations and hourly TALKS. The immersive Floral Installation by Anne Vitchen — Dame des Fleurs at the Ritz Paris — was joined by Swiss artist Douglas Mandry's Art Curtains and a bar that created a common ground for culture enthusiasts, brought to you in partnership with BALLY and supported by Christian Fischbacher, Brunner, Vibia, MAGIS, Andreu World, and ames.
Providing insights into their current work and developments, the Live Talks hosted international guests from the worlds of design, art, and architecture, including Paola Antonelli, Alice Rawsthorn, Boonserm Premthada, Anne Vitchen, Douglas Mandry, Julian Bedel, Laura Casalis, Giovanni Moro, Edward Barber & Jay Osgerby, Alper Derinboğaz, Stefan Diez, Carlo Ratti, Cristian Zuzunaga, Jakob Lange, Sebastian Herkner, Alfredo Häberli, Mario Cucinella, Patricia Urquiola, Fabio Calvi & Paolo Brambilla, Benjamin Gallegos Gabilondo, and Cazzaniga Mandelli Pagliarulo.
matthew burgos | designboom
jul 04, 2022
a diverse digital database that acts as a valuable guide in gaining insight and information about a product directly from the manufacturer, and serves as a rich reference point in developing a project or scheme.
designboom will always be there for you
milan, new york, beijing, tokyo

,
since 1999