sep 01, 2010
kibisi: puma mopion bike
'puma mopion bike' in black
kibisi, puma and biomega have joined forces once again to extend the puma bike series portfolio. the latest addition is the 'puma mopion bike', a cargo bike accommodating the urban lifestyle.
the puma mopion mixes city bike features with those of cargo bikes, making for a sturdy ride. it comes with a super-size front carrier for heavy duty transport of groceries and bigger loads. developed for city dwellers, mopion features a light aluminum frame, making it a lightweight cargo bike weighing only 22 kilos. the geometry of the frame holds the rider's body in a slightly inclined, but still heads-up position for navigational ease and balancing. its smooth steering provides bikers with easy maneuverability while commuting through the city.
'puma mopion bike' in white
the name mopion is derived from an island in the atlantic ocean, symbolizing the new trans-atlantic approach and balancing puma's european heritage with american popular culture. mopion will be available in white, black and a bold color combination of magenta / blue / lime. the colors are influenced by the vibrant island colors.
'puma mopion bike' in magenta / blue / lime
puma, biomega and kibisi collaborated on the puma bike series, created for ease of movement, urban transportation and individual appeal producing the next evolution in commuter bikes. smart european design and commuter technology collide with urban american style, resulting in a new trans-atlantic bike paradigm.
puma pared down its bikes to their essentials and constructed a new bike line with details that meet the needs of bike riders. this line of bikes was designed for urban mobility, providing solutions for everyday obstacles which come from traveling by bike through their urban landscape. pulling together the best parts of the practical, continental city and folding bikes, BMXs, american cruisers and fixies, the puma bikes bring about a new urban typology.
here's a look at other bikes in the series:
puma IIIII
puma bike's funkgrey
puma bike's funkmagenta
puma III white carrier
puma bike's pico purple
puma IIII white carrier
puma bike's nevis womens
puma II white
puma bike's subway
puma boston
oct 20, 2017
oct 20, 2017
oct 20, 2017
oct 20, 2017
oct 12, 2017
oct 12, 2017
oct 05, 2017
oct 05, 2017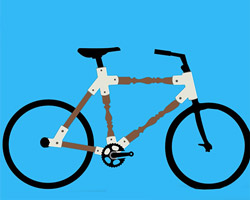 sep 22, 2017
sep 22, 2017
sep 20, 2017
sep 20, 2017
KiBiSi
(17 articles)
nov 05, 2015
nov 05, 2015
dec 03, 2013
dec 03, 2013
aug 15, 2013
aug 15, 2013