jul 03, 2009
kitchen ecology by designboom
kitchen ecology exhibition, graphic illustration design by designboom
from the humble fireplace to electrical oven cooktops, kitchens have evolved over time to become much more than simply an area for cooking. nowadays it is a place for eating and socializing – an integral part of our daily lifestyle. as the new hub of the modern home, we expect more from our kitchen – convenience, comfort, cleanliness, the latest technology – while simultaneously demanding less – less energy consumption, water usage, and waste.
it's a delicate balance, and one that is in a constant state of development. it's now time for a kitchen strategy session, making it the ideal place to reduce our environmental impact. just like with any recipe, we need to modify our habits and experiment with new (and old) ingredients and methods to be successful.
this curated group show expresses subjects and details of our kitchen environment by analyzing the ongoing conflict of ecology and consumerism. it features works from well known designers and the freshest young and upcoming international talents, exploring ways to tweak the basic ingredients to produce the most eco-friendly, energy efficient models possible.
a view of the kitchen ecology exhibition, curated by designboom
soil-powered biological clock by marieke staps dutch designer marieke staps' designed this clock which works with copper and zinc electrodes that plug into the soil. the soil functions as an electrolyte, through which the electrical charge can flow. the natural metabolism of biological life produces enough electricity to keep the clock working. of course, one has to remember to water the plants in order for the clock to keep working. (motto: keep the plant alive and time continues).
panel of the soil lamp by marieke staps
marieke staps uses conductive plates made from copper and zinc buried within the soil to provide constant and (nearly) eternal light for a LED bulb
'grow I' by SMIT / samuel and teresita cochran
a hybrid-energy delivery device and modular system of photovoltaic panels that works with solar and wind power
'grow I' is modular and is made up of sheets of 5 leaves each, a strip is capable of generating 85 watts of solar power.
'grow II' by SMIT / samuel and teresita cochran
this modular system of photovoltaic panels works with solar and wind power, designed to enable crawling plants to grow up the facades of buildings.
'solar ivy' panel in the kitchen ecology exhibition
US designers samuel and teresita cochran founded the sustainably minded interactive technology office SMIT. the cochran's are a brother-and-sister-team and have created the 'grow I and II' and the 'solar ivy' devices. all devices are still in concept phase and the team is collecting funding to put them in production, planned for 2011.
'wattcher' panel in the exhibition
wattcher helps you save energy. when you switch on an electrical appliance it will display that extra power consumption and gives you insight into your energy behavior.
'wattcher' designed by marcel wanders and produced by innovaders consists of a sensor, a sending unit and a display. the sensor can be placed on any electricity meter (analog meters with a turning wheel, digital meters with LED pulse and smart meters). the sensor is connected to the sending unit. Both are placed in the meter closet. the sending unit sends a radio signal to the display unit, which can be placed in any (euro standard) electricity socket. wattcher can be self installed by the consumer.
wattcher shows the current power consumption (how much watt is being used at this moment); the daily energy consumption (the total electricity consumption of the last 24 hours); and the target energy consumption (how is your daily consumption compared with your own target – are you really saving energy). soon available with international standards.
a view into the exhibition
gas basket by junktion
bowls made from cut gas cylinders with rubber edging by the israeli design team junktion
sam graw of dwell and birgit lohmann of designboom
dwell magazine invited designboom to curate the kitchen ecology exhibition for the second edition of dwell on design in los angeles, june 26 -28, 2009.
more from the 'kitchen ecology: recipes for good design' exhibition still to come …
aug 20, 2015
aug 20, 2015
dec 09, 2009
dec 09, 2009
jul 25, 2009
jul 25, 2009
jul 25, 2009
jul 25, 2009
jul 06, 2009
jul 06, 2009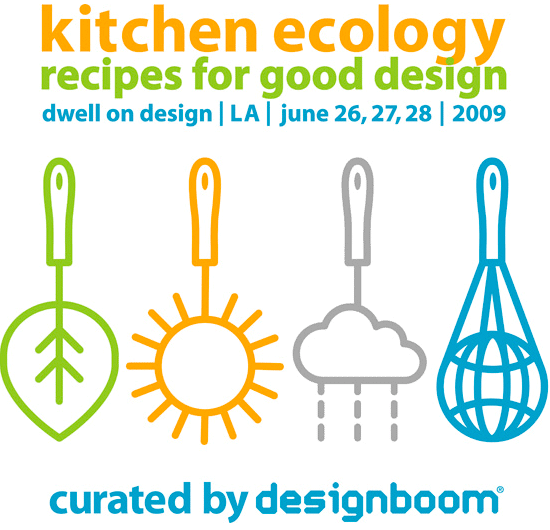 jul 02, 2009
jul 02, 2009
jun 13, 2020
jun 13, 2020
jun 03, 2020
jun 03, 2020
apr 16, 2020
apr 16, 2020
a diverse digital database that acts as a valuable guide in gaining insight and information about a product directly from the manufacturer, and serves as a rich reference point in developing a project or scheme.