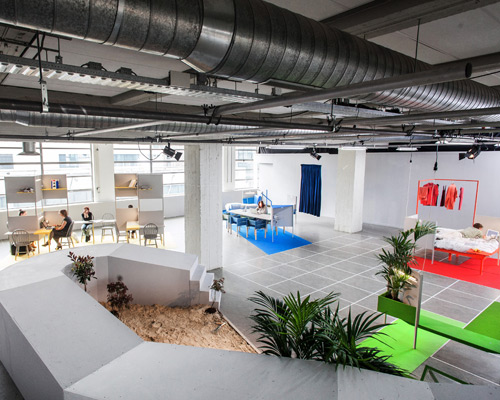 jun 21, 2014
KNOL conducts out of office as experiment on work environments

KNOL conducts out of office as experiment on work environments
photo by corneel de wilde
all images courtesy of KNOL
as commentary on the evolution of office environments, dutch design studio KNOL have conducted 'out of office', a spatial experiment which creates a flexible work setting that gradually transforms into a rigid grid of cubicles. for its opening in april 2014, in a former warehouse building in the center of eindhoven, a 300 sqm room was arranged as a field of colorful work furnishings. the configuration embodies freedom and comfort, suiting the ethic of the 21st century. however, over the course of some weeks, after it had gained popularity among the community, the conditions began to adapt into a restricted and uniform 'office.'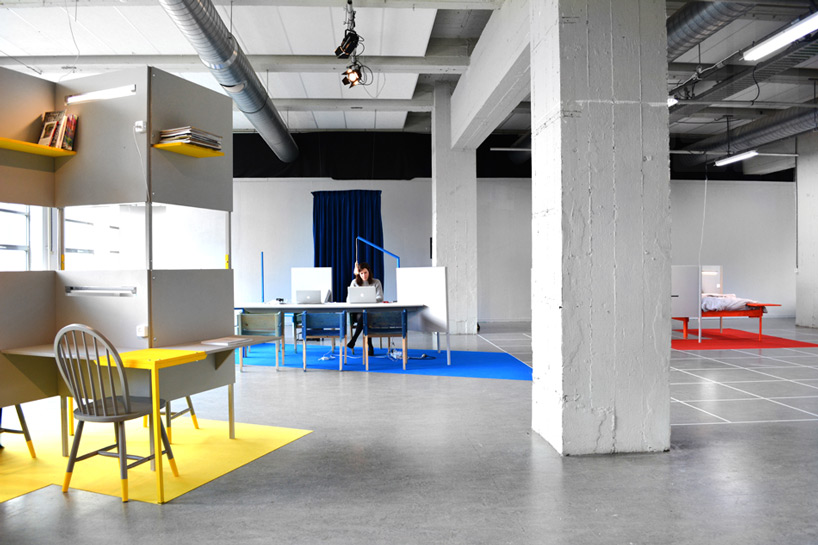 disparate elements are distinguished by bright colors
photo by corneel de wilde
the initial configuration can be characterized as irregular, playful, and flexible, and offered a variety of work settings identified by bright colors: a garden in green (including a white rabbit), a bed in red, a coffee bar in orange, a living room in blue, and a library area in yellow. the diverse and thematic environments allowed workers to choose the setting they felt was most comfortable. after two weeks, this arrangement was modified to make way for a few cubicles, and over time all of the original furnishings were replaced by a singular grid of partitioned work stations. the experiment establishes the two extremes of freedom and control, and thus attempts to distinguish a balanced compromise.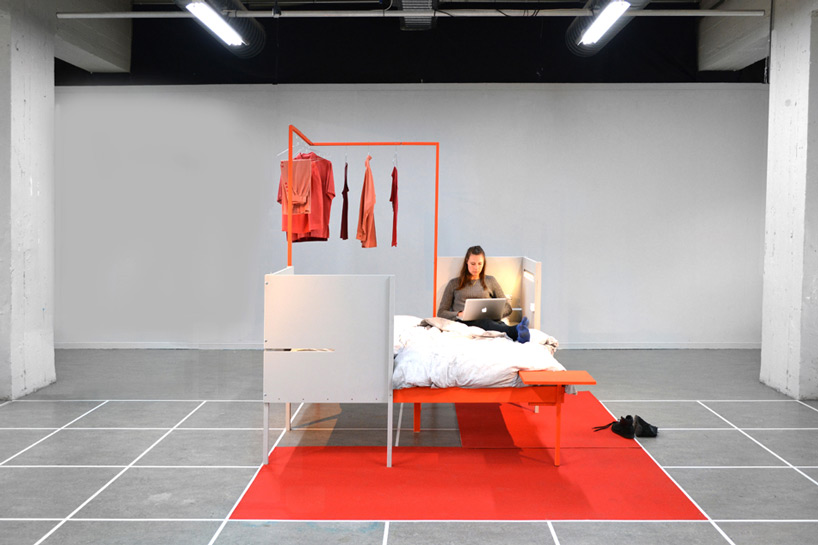 a large bed allows for a comfortable area to work on the computer, and possibly take a nap
photo by corneel de wilde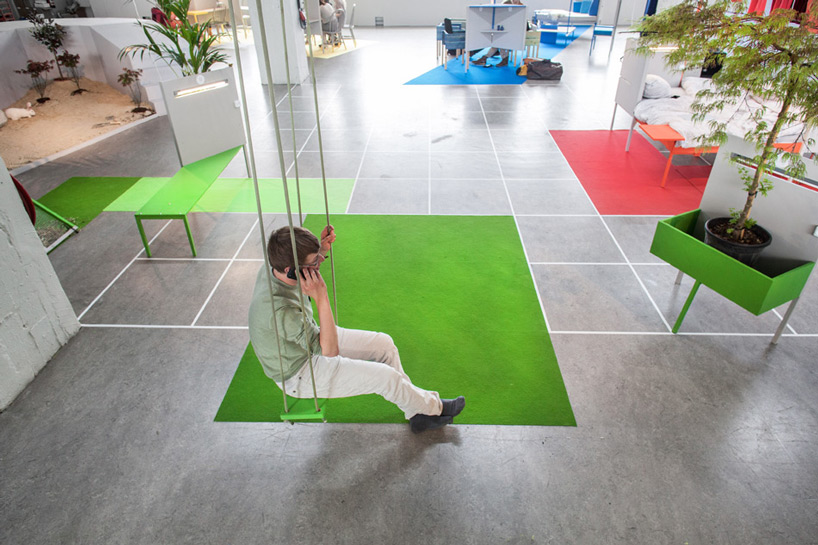 a green colored zone features plants, a swing, a rabbit, and various other furnishings
photo by corneel de wilde
to strengthen the project's results, studio KNOL collaborated with social urban planner anna dekker, whom completed research on new ways of working and on the spaces that support them. with these findings, the design team translated current trends into interior furnishings that enhance and epitomize flexible working environments. beyond the basics of long open hours, plenty of electrical outlets, good coffee, and fast and free wifi, architectural elements served to promote a diverse, playful, and informal atmosphere.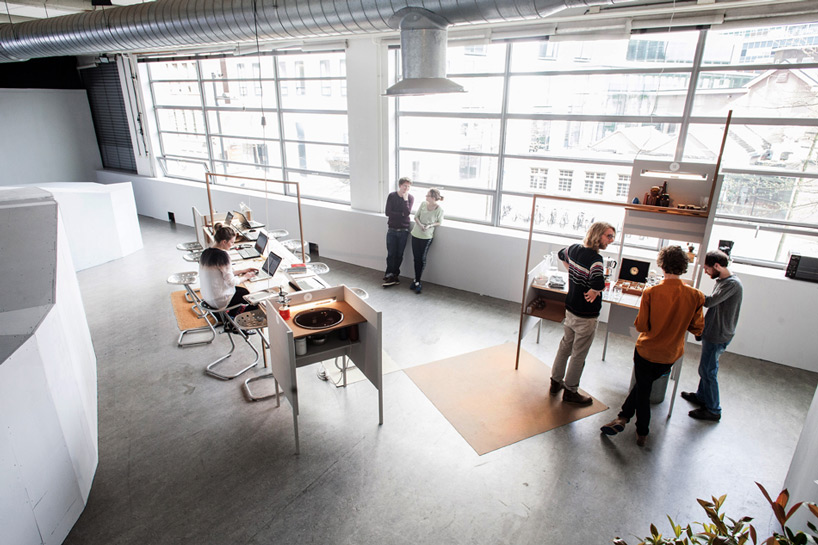 a coffee bar and open work table promote socialization
photo by corneel de wilde
along with designer christiaan bakker, the furnishing elements were designed to serve as both the initial workstations and also the cubicles. gray modular frames and infill panels were used in both configurations, while colored pieces were combined in the first scheme to connect and disguise the standardized sections.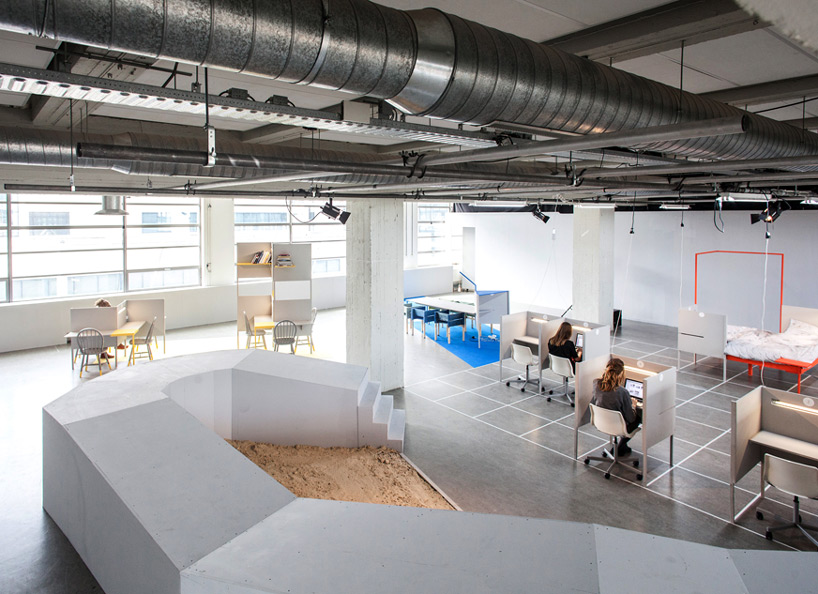 the space's transformation begins with the replacement of the green garden area with four cubicles
photo by corneel de wilde
'out of office' responds to the changing dynamics of occupational environments. with contemporary economy placing value on an output of creativity and ideas, spatial settings have adapted to become more flexible, mobile, and autonomous. coffee shops, parks, or trains commonly serve as temporary work stations, while office spaces are increasing becoming informal, playful, and open. however, studio KNOL questions this movement: celine de waal malefijt states, 'aren't we slowly becoming slaves of our own freedom of choice? we can hardly bring ourselves to unplug anymore.'
additionally, anna decker describes that, 'the goal was not to create a cubicle inferno but to honestly investigate the opportunity of liberation through an organized and disciplined setting.'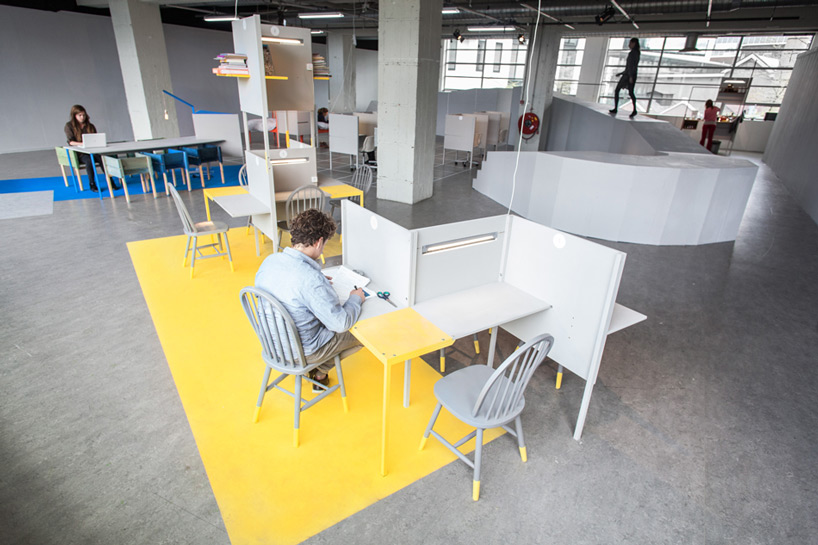 photo by corneel de wilde
during the latter stage of the experiment, a virtual boss, known as 'steve,' was projected on the wall, and responded to workers' movements through motion tracking technology. the 'big brother' character restricted the freedoms of the office, introduced coffee and lunch breaks, physical exercises, and enforced silence when there was excessive noise.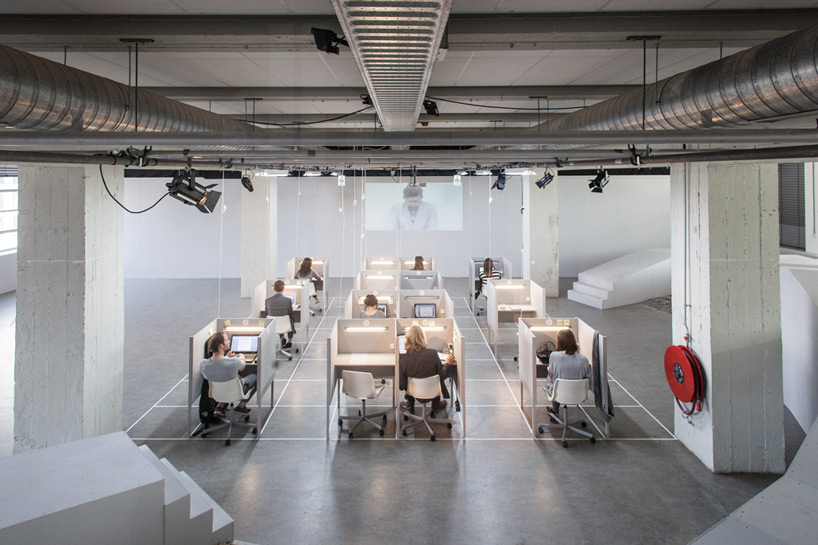 the space was eventually removed of all colorful and distinctive furnishings, left with a grid of 14 cubicles
photo by corneel de wilde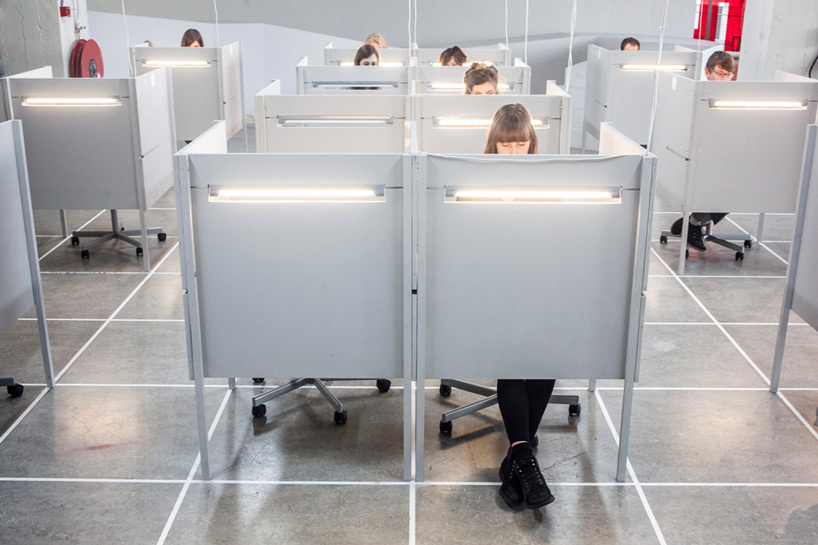 a gridded pattern is taped on the floor to reinforce the organization
photo by corneel de wilde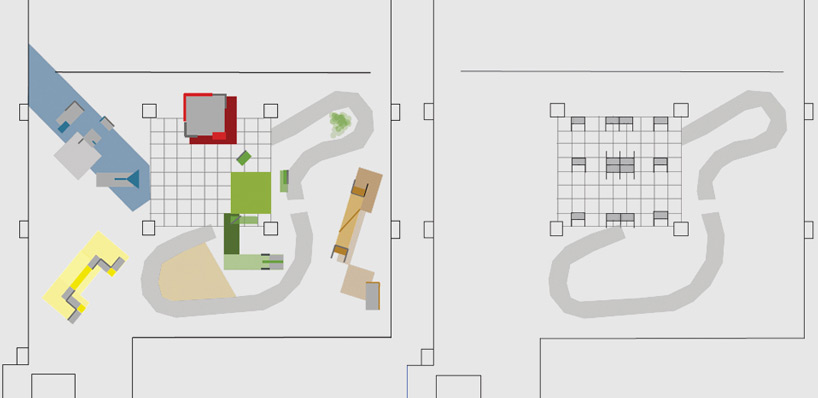 floor plans
(left): flexible 'out of office' arrangement
(right): cubicle 'office' arrangement
'some consider the blurring line between formality and informality as a true liberation. we can work anywhere at any time. we can party late and sleep in, as long as we catch up on work later in the evening. we are our own boss. however, reports on the drawbacks of this freedom and flexibility in work are also proliferating. we are practically always at work. a lack of imposed discipline leaves us completely dependent on our self-discipline. studio KNOL wants to investigate if we have gotten carried away with the trend of being extremely flexible. would we enjoy having more set and limited working hours? aren't we more productive when we add some externalized discipline to our work environment? we considered it worthwhile to contribute to this debate by executing this experiment. the space underwent a physical and social transformation during which studio KNOL carefully monitored responses from out of office members.'
the experiment transformed a 300 sqm space in the de witte dame building, as part of an ongoing series of installations put on by the MU modern art museum.
a short film providing views of the project, with commentary from designers and contributors (in dutch)
video courtesy of stichting MU
credits:
commissioned by: MU eindhoven – www.mu.nl
concept, design and realization: studio KNOL (jorien kemerink & celine de waal malefijt)
design collaboration: christiaan bakker
social research: anna dekker
communication, PR, social media: sjoerd ter borg
interactive installation 'steve', social research: joep slagter
design assistance, realization: lion zeegers
design assistance: marta ardigo
actor: steye van dam
photography: corneel de wilde
KNOL
(5 articles)
may 28, 2016
may 28, 2016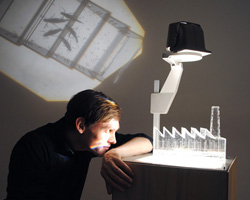 jan 30, 2014
jan 30, 2014
sep 24, 2013
sep 24, 2013
sep 06, 2013
sep 06, 2013
jul 06, 2020
jul 06, 2020
jul 05, 2020
jul 05, 2020
jul 02, 2020
jul 02, 2020
a diverse digital database that acts as a valuable guide in gaining insight and information about a product directly from the manufacturer, and serves as a rich reference point in developing a project or scheme.