may 07, 2012
konstantin grcic comfortably reclines wooden medici chair for mattiazzi
born on the floor of a carpentry studio, medici, the wooden chair created by munich-based industrial designer konstantin grcic –for italian manufacturer mattiazzi— follows the natural quality of the material from which it is formed. for this project, three types of wood (thermo treated ash, walnut and douglas) are joined together at irregular angles, resulting in a comfortably reclined seating object. the shape is assembled from planks, a reference back to the tree trunk which was cut into slices at the beginning of the construction process. instead of hiding the fabrication, it remains visible in the final design, as the composition and joinery become both aesthetic and functional components.
the seat is divided into three parts, the middle section which continues upward to become the back(above and main) image © gerhardt kellermann
the medici chair by konstantin grcic was on show at salone del mobile during the milan design week 2012. 
view from the back of the wooden medici chair image © gerhardt kellermann
the irregular angles that shape the chair contribute to the comfort of the reclined seating object  image © gerhardt kellermann
side elevation showing the irregular geometries of the different elements image © gerhardt kellermann
side detail  image © gerhardt kellermann
close up view on the joinery of the legs, back and seat  image © gerhardt kellermann
the medici chair on show at salone del mobile 2012  image © designboom
the thermo treated ash medici which is also suitable for outdoor use  image © designboom
may 14, 2017
may 14, 2017
apr 15, 2017
apr 15, 2017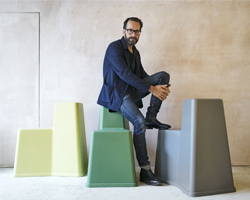 oct 31, 2016
oct 31, 2016
sep 07, 2016
sep 07, 2016
may 20, 2016
may 20, 2016
apr 24, 2016
apr 24, 2016
aug 20, 2014
aug 20, 2014
apr 20, 2014
apr 20, 2014
apr 24, 2013
apr 24, 2013
mar 08, 2013
mar 08, 2013
jul 18, 2012
jul 18, 2012
jul 17, 2012
jul 17, 2012