Galerie Kreo presents 'Transformers' by Konstantin Grcic
From May 24 to August 26, 2023, Galerie Kreo presents 'Transformers,' an exhibition by German designer Konstantin Grcic. The showcase delves into Grcic's four-year journey of exploring modularity, centered around his fascination with a unique 'prefabricated' material: that of a square sectioned aluminum extrusion, perforated with a double row of holes on each of its four sides. This profile, intended for use in the automotive industry as a measuring jig, ensures extreme precision throughout the production process of cars.
The exhibition 'Transformers' is a testament to Grcic's relentless exploration, presenting a striking array of structures within Galerie Kreo in Paris. Among these structures, visitors will encounter tables and lamps, each possessing a distinct aesthetic and commanding presence within the gallery space. Simplicity, precision, and power define the creations, which are further enhanced by chains and hooks that adorn them. These resulting pieces evoke a range of associations, reminiscent of both medieval candlesticks and cybernetic spaceships, bridging the gap between tradition and futurism. 'While looking at the object, one asks essential questions: What am I? What is this? Is this a lamp? Is it a light? Or is it something else even?' Konstantin Grcic shares. To gain a deeper understanding of the exhibition, including the inspiration behind it and the innovative use of measuring jigs in a different context, designboom spoke with the designer. Read the interview in full below.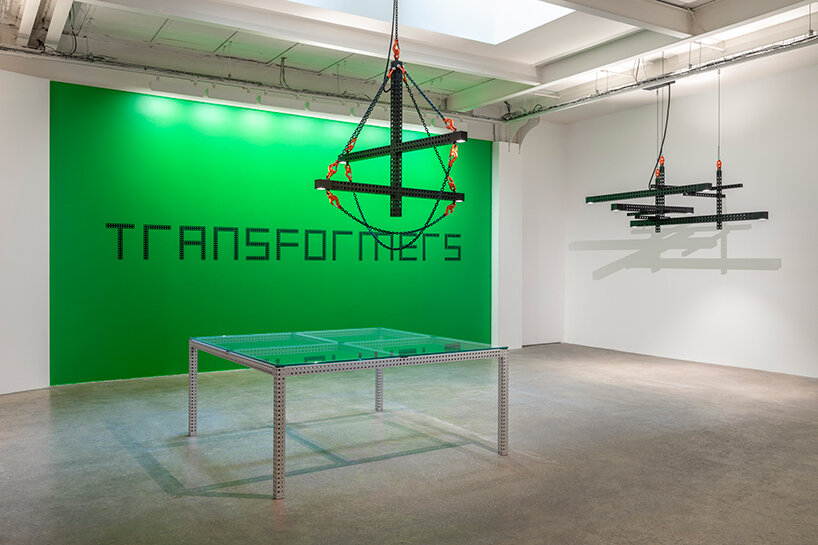 Transformers at Galerie Kreo | all images by Alexandra de Cossette, courtesy of Galerie Kreo
interview with Konstantin Grcic
designboom (DB): Can you share a bit about the Transformers exhibition? What was the inspiration behind it?
Konstantin Grcic (KG): The Transformers project is my fifth exhibition for Galerie Kreo. In Transformers, there are two kinds of themes, one is lighting and the other one is tables. They're both made using a particular material, which is a ready-made device designed and developed for a very specific application in a very particular industry, the automotive industry.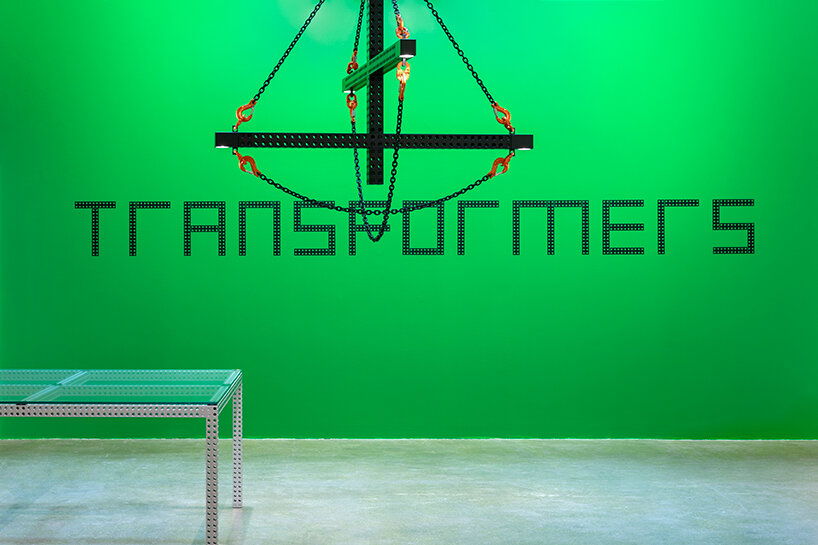 the exhibition features two typologies of furniture: lamps and tables, all made out of measuring jigs
DB: Can you tell us more about this device? What was it that drew you to these measuring jigs?

KG: The only function of these measuring jigs is to build up a structure to certain measuring points, and that has to be extremely precise. That's the only requirement. The material that was developed to build these jigs looks like a Lego for grown-ups. More specifically, it's a square-sectioned aluminium profile with lots of holes in it, and these holes make it modular or compatible with other elements. I thought that this material and all the hardware that comes with it, all the screws, and the connectors, offers a great kit for building furniture or lamps. That's how it all started.
The material has, of course, a very specific aesthetic quality. It's very slick, beautifully finished, and it has something solid to it. The holes are functional, of course, but at the same time, they create a kind of ornament: they are a dotted pattern on these elements. The elements come in two different finishes: black and silver, natural anodized. We have split, the choice of finish to the tables being silver, natural anodized, and the lamps being black anodized.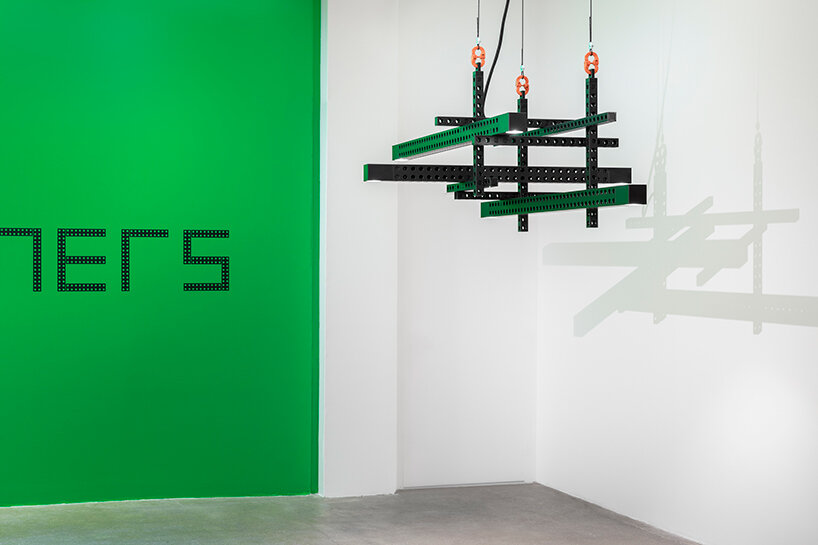 simplicity, precision, and power define the designs by Konstantin Grcic
DB: Was this material something you were considering for a long time? How did the idea of using this specific measuring device come about?
KG: It started with the idea of a very big lamp, something like a chandelier. This big size requires certain construction or material, not only to be physically strong enough but also visually strong enough. Thinking about this particular chandelier or lamp, I then remembered the material which I had seen before and always thought it would be nice to use. I came back to it and researched it more. We got in touch with the company that produces the material, met them, and shared our ideas with them. It was interesting because I didn't think I would have been the first one to approach them and say, 'I like your material. I would like to buy it and make something'. I thought this idea is almost so obvious because the material is so perfect. But apparently, I was the first one! They hadn't ever thought about making other things with this material, other than measuring jigs, and they were surprised but open and enthusiastic. They clearly enjoyed this kind of dialogue with me and seeing their material being used in a completely different way or context. The development phase was very long, partly because of the pandemic. It was an interesting process, definitely, and it led to these two groups of items, tables, and lamps.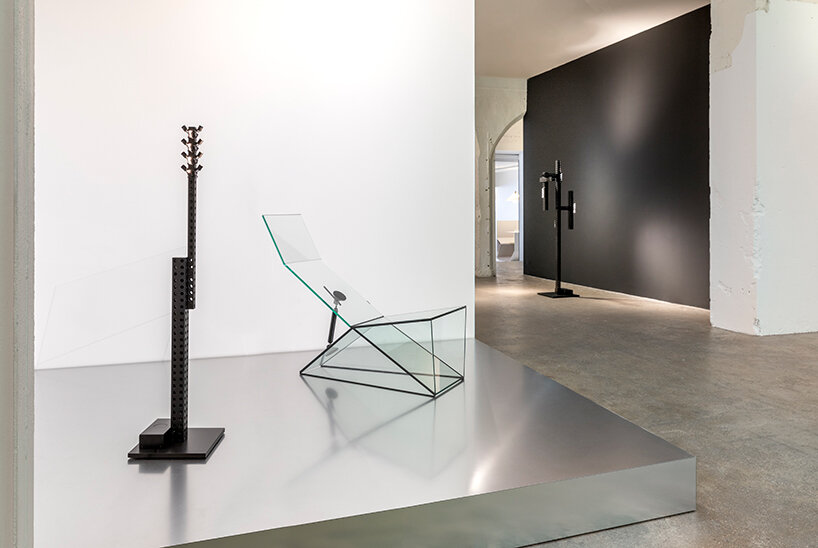 the show presents a range of lighting pieces including pendant lamps as well as freestanding pieces
DB: Can you tell us a bit more about the furniture pieces exhibited in Transformers?
KG: I have to say the tables are very, very simple. The most simple tables you can imagine: square or rectangular in form and four legs at each corner. The lamps are different. No single one of these lamps looks like a lamp you've already seen. Even though there are certain typologies again -there is a pending lamp, lamps hanging from the ceiling, freestanding lamps, floor lamps- the way they are built, the way they look, and even the way they work goes beyond the conventional scenario. In designing the lamps, we played more with the material and what it can do, compared to the tables.
The lamps are using the material in different ways. There are seven lamps, all different from one to the other. There's one lamp, which uses just one profile in a certain length, and celebrates the beauty of this profile suspended. There are other lamps that are really complicated to construct. There's the chandelier that I talked about, which really started things. Seeing it as part of the range, I think it's still one of the strongest statements, a very graphic kind of form.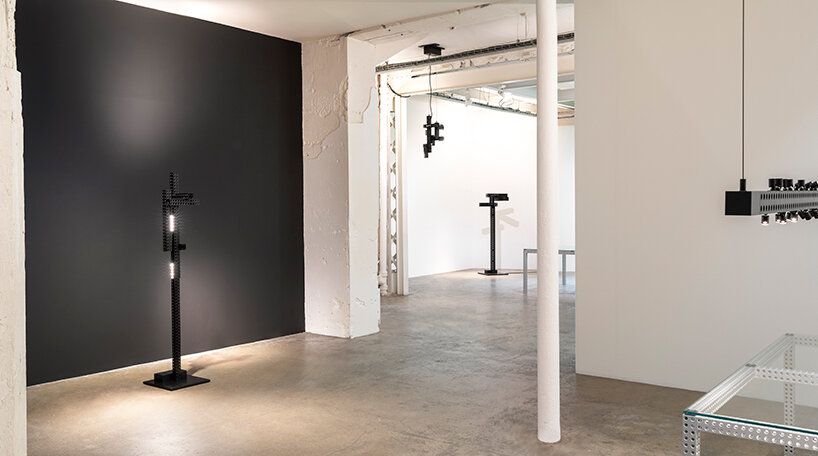 each piece possesses a distinct aesthetic and commanding presence within the gallery space
DB: Speaking of the lamps, in the text that you have invited artist and writer Nina Prader to write about Transformers, she talks about the difference between lamps and lights, and even characterizes the exhibition pieces as 'socially critical lights'. What is your opinion on that?
KG: I cannot quite say it in the same way as Nina Prader. I think her use of language is great. It's really creative and playful and that's why I asked her to write the text. Just by creating it, she produced ideas or interpretations that I partly have when I see the project, but they also go beyond that. I think it's interesting that she sees it that way. It's not wrong, it's absolutely right. But it's not my prime intention, or that's not what I was necessarily thinking about.
So when she starts to play with this kind of comparison of light and lamp, I think she's referring to the project's quality to provoke. While looking at the object, one asks essential questions. 'What am I? What is this? Is this a lamp? Or is it a light? Or is it something else even?'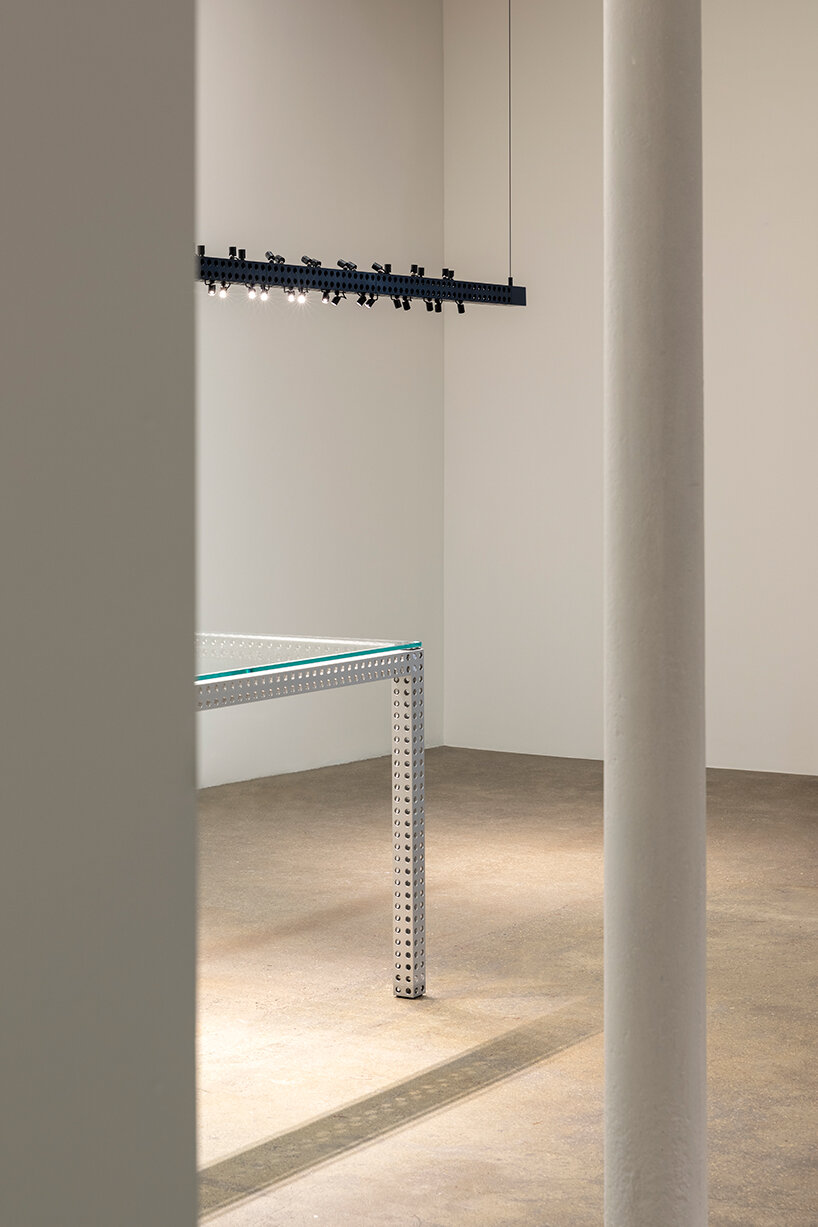 'the material has a very specific aesthetic quality. it's very slick, beautifully finished, and it has something solid to it.'
DB: What about the term 'socially critical lights?'
KG: If you need a lamp, you don't buy one of those. They're too expensive, they are too big, or you don't like them anyway. They are very strange objects, deliberately. Creating them was kind of pushing certain kinds of boundaries of preconceived ideas about common objects, such as the lamp hanging above a table: I know what it looks like, I know what it has to look like, and now I'm saying, well, it could look very different. It could be made from a material that you don't know, it could look really strange, but still, it's the lamp above a table.
We deconstruct these ideas and put them back together into something that is essentially still a lamp, a light, and a table, but different. I think as a designer, this is part of my work, to question and rethink and reassess the nature of products or objects. Why are they the way they are? Could they be different? Could they be made differently? Could they function differently? And then, when you see something in that way, it does something to you, it triggers another kind of thought process. 'Oh, it's different. It makes me feel uncomfortable,' or, 'It's so much better,' or, 'Wow, I've never seen anything like this. It's great.' This is where design or products become social, they trigger a form of communication, a dialogue, and they create discourse, debate, and thinking. I like that. I think that projects done for a gallery should fulfill exactly that. The gallery space is a free space, it's a laboratory, it's an experimental space.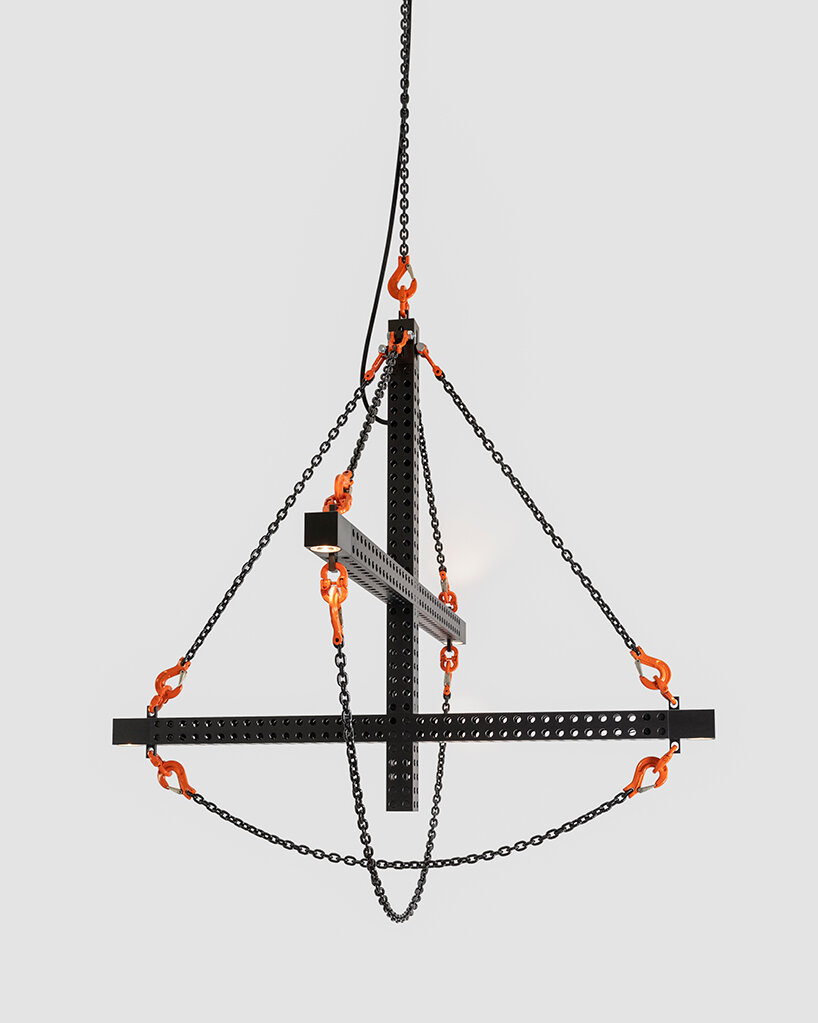 'it all started with the idea of a very big lamp, something like a chandelier'
DB: What is the one key takeaway you hope visitors will have from Transformers?
KG: I don't think an exhibition like this one at Galerie Kreo is one that you expect everyone to like. I think good exhibitions are not necessarily the blockbuster ones where everyone claps their hands and says 'Wow! Lovely!' What I wish not to happen is that people go to the gallery and turn around and go 'Uh huh. Lamps, tables, okay,' and then leave. I want people to see the work. There may be some people that are fast to be excited and think 'Oh, wow'. There may be others that say 'This is really strange. I don't understand it. What is it?'. Even that is a great reaction! In both types of visitors, when they leave the gallery, the exhibition will stay with them for a little while, they will think about it in the next coming days or in the future again. Whether it's 'I've seen something amazing,' or 'I've seen something terrible,' or 'I didn't understand it, but now, after a year, I've been thinking and it's beginning to grow on me,' it will stay with them. These are the expectations I have.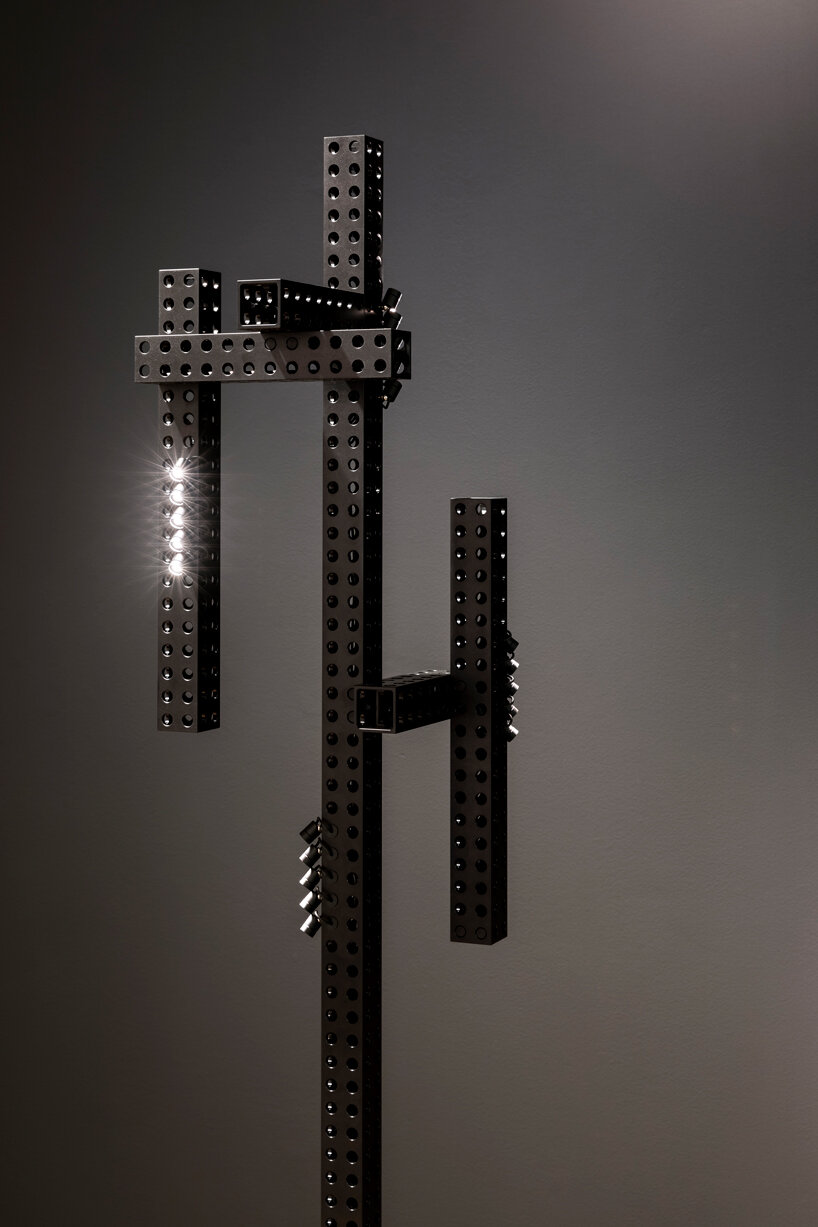 the measuring jigs present a precise perforated pattern that decorates the elements
DB: If you could give a piece of advice to young designers starting now and wanting to make their mark in the industry, what would it be?
KG: In this particular context, I would say, the start of a young designer is not the design gallery. Don't start dreaming about shows in galleries. My recommendation would be to stay true to yourself. Pay attention to who you are as a designer and don't look at other designers wanting to be the same as them. Follow your own abilities, instincts, and talents. And one last thing, put in the hard work. Don't expect it to be easy. Hard work is great work, it's enjoyable, it's fulfilling.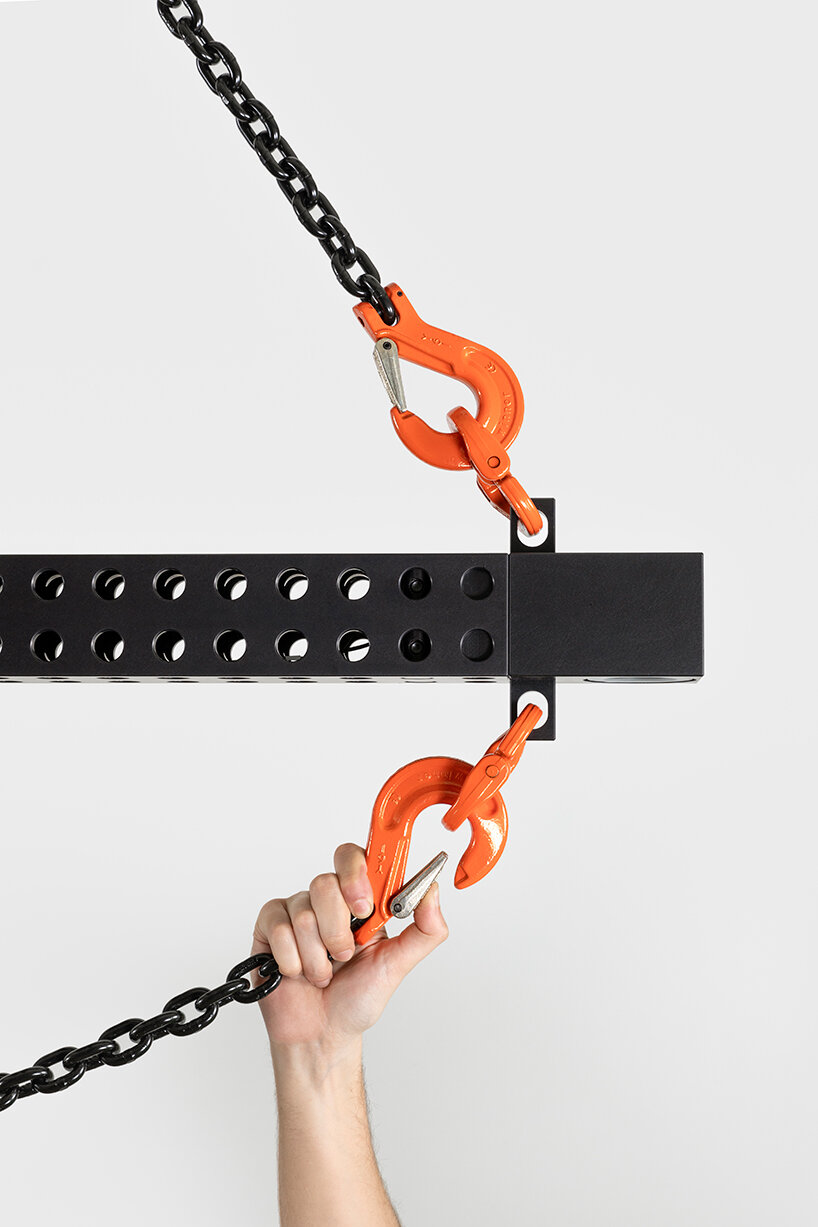 Konstantin Grcic's creations are enhanced by chains and hooks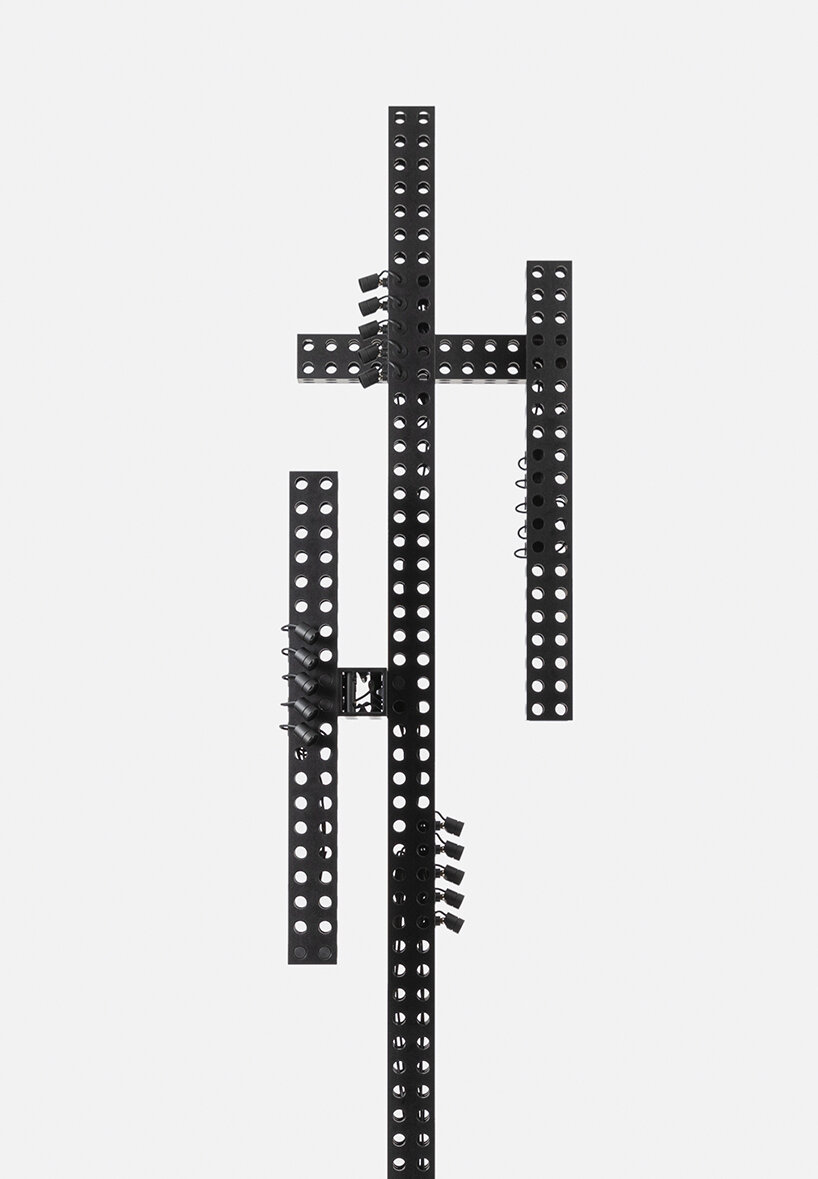 the lamps in Transformers are finished in black anodized aluminium.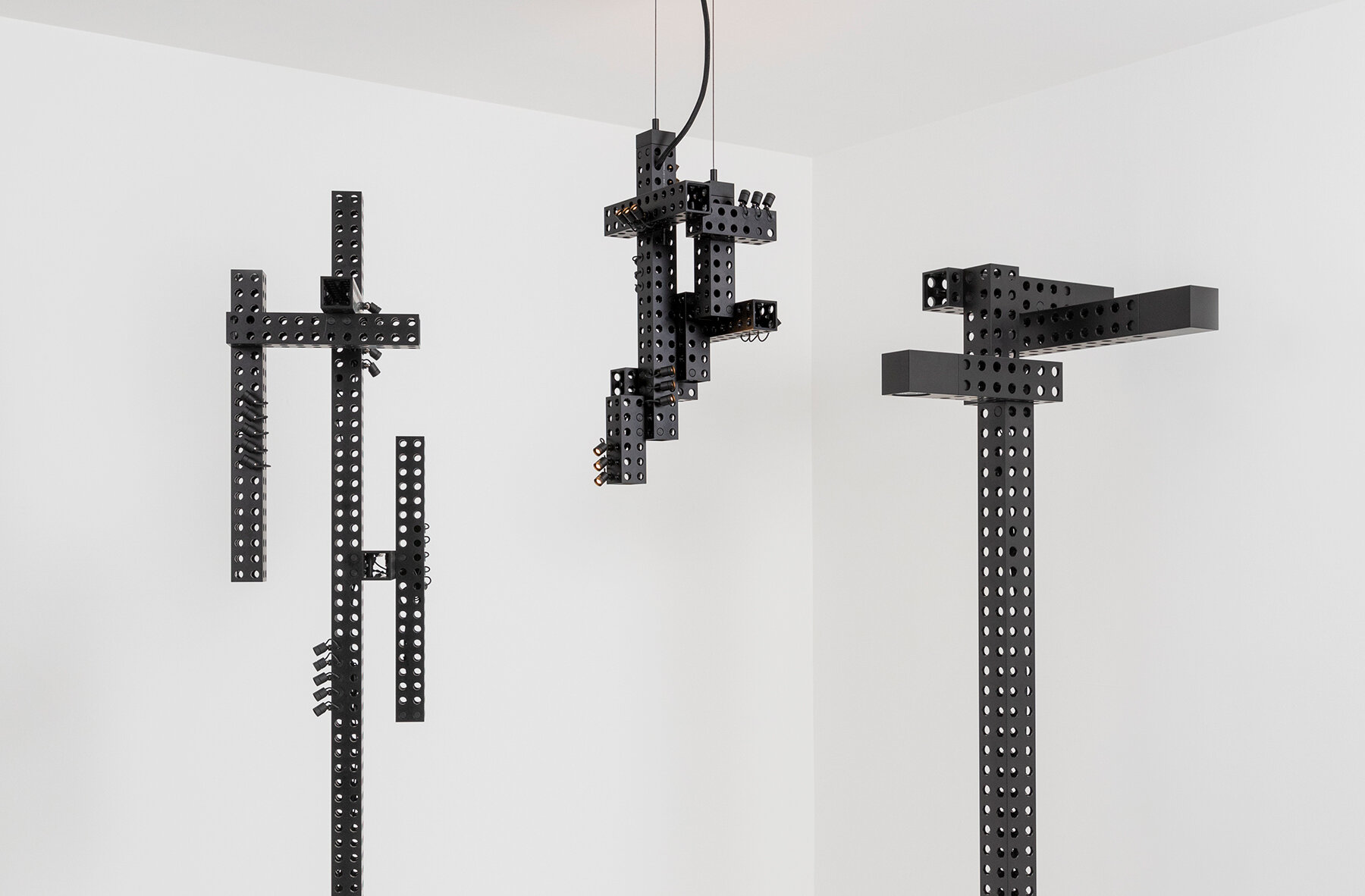 these resulting pieces evoke a range of associations, reminiscent of both medieval candlesticks and cybernetic spaceships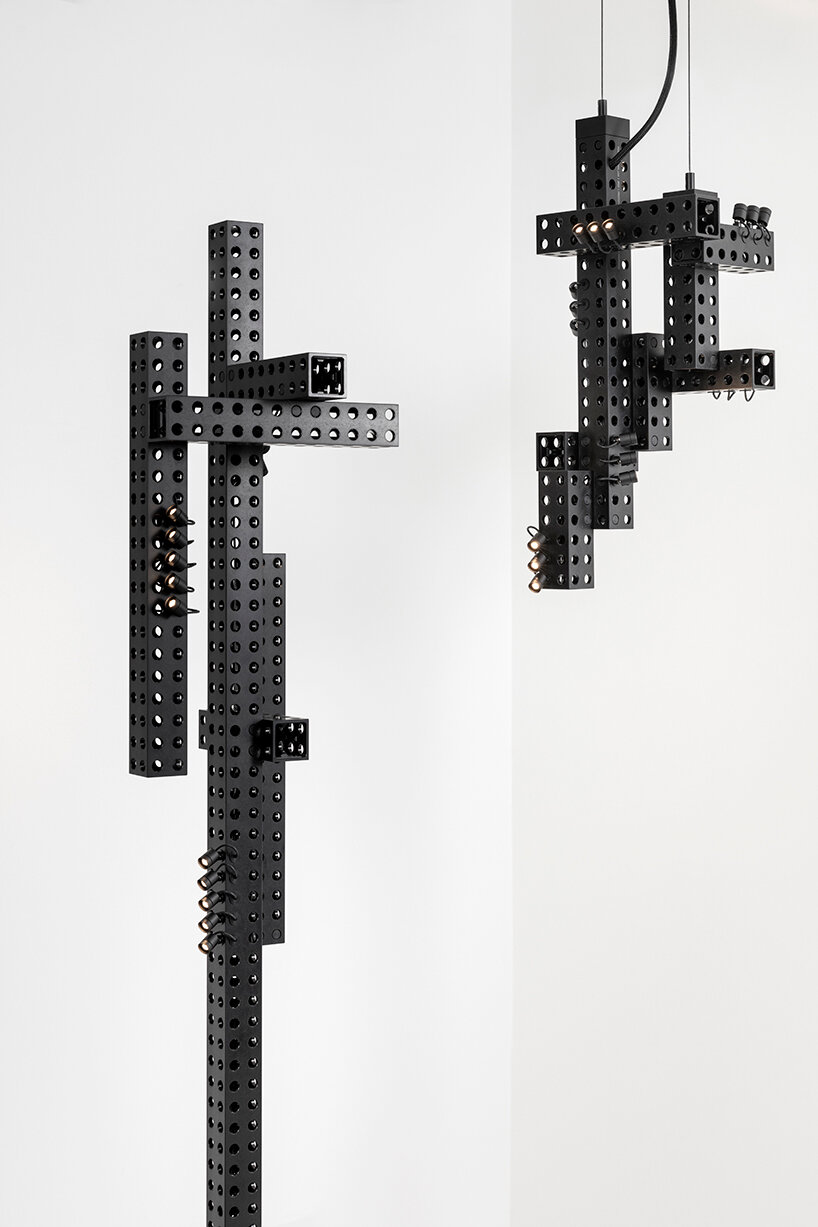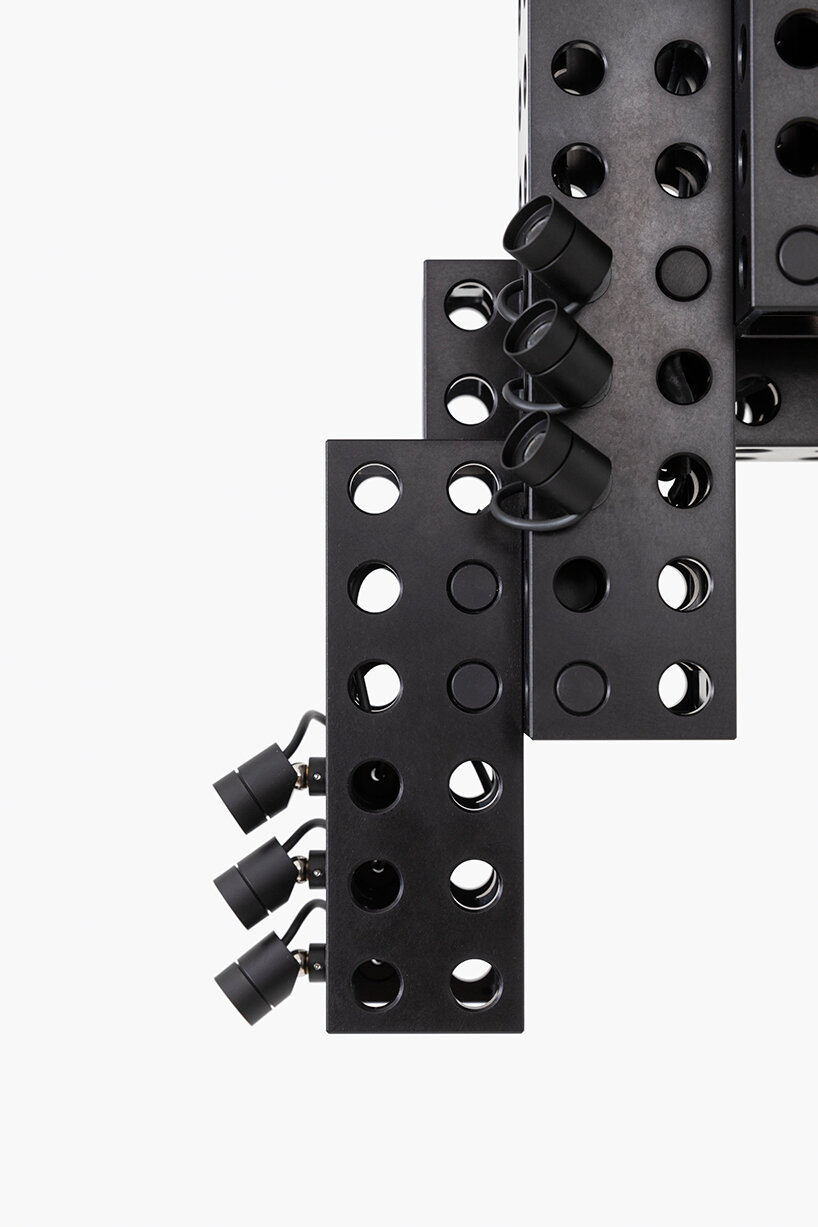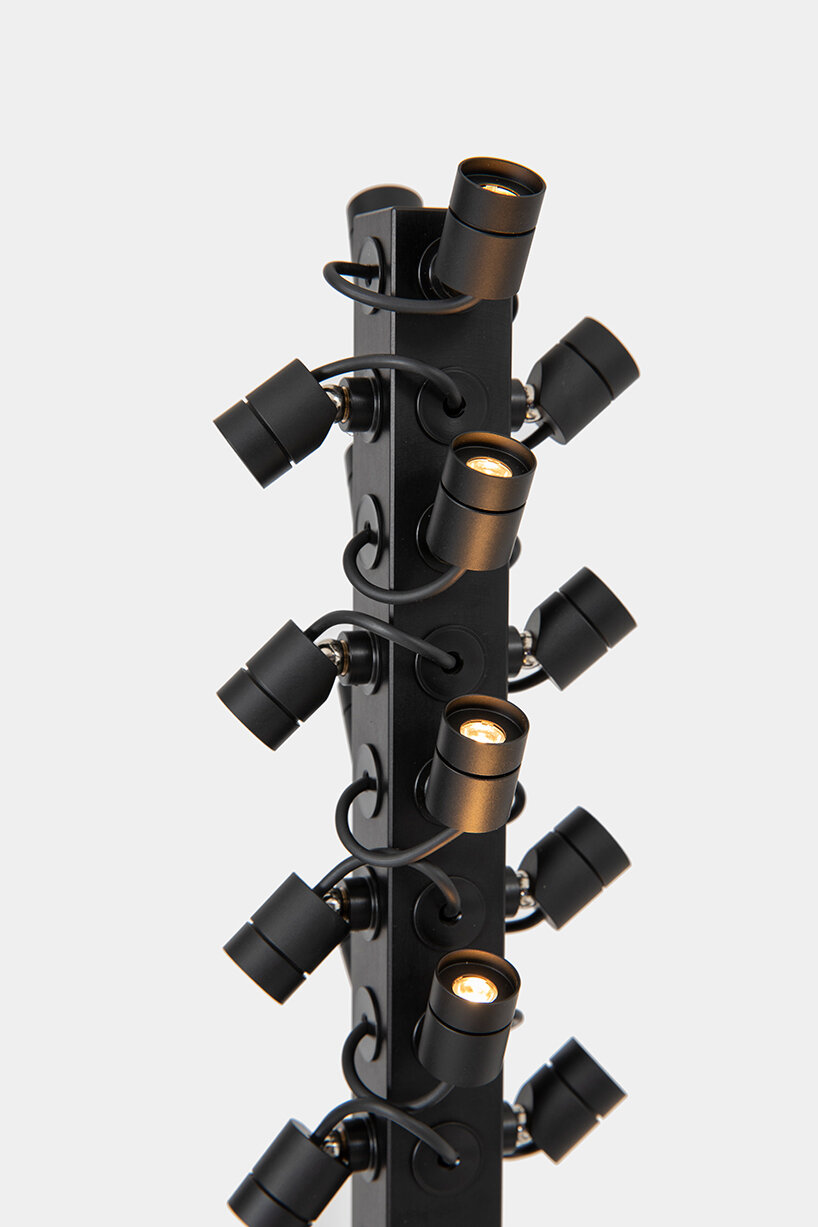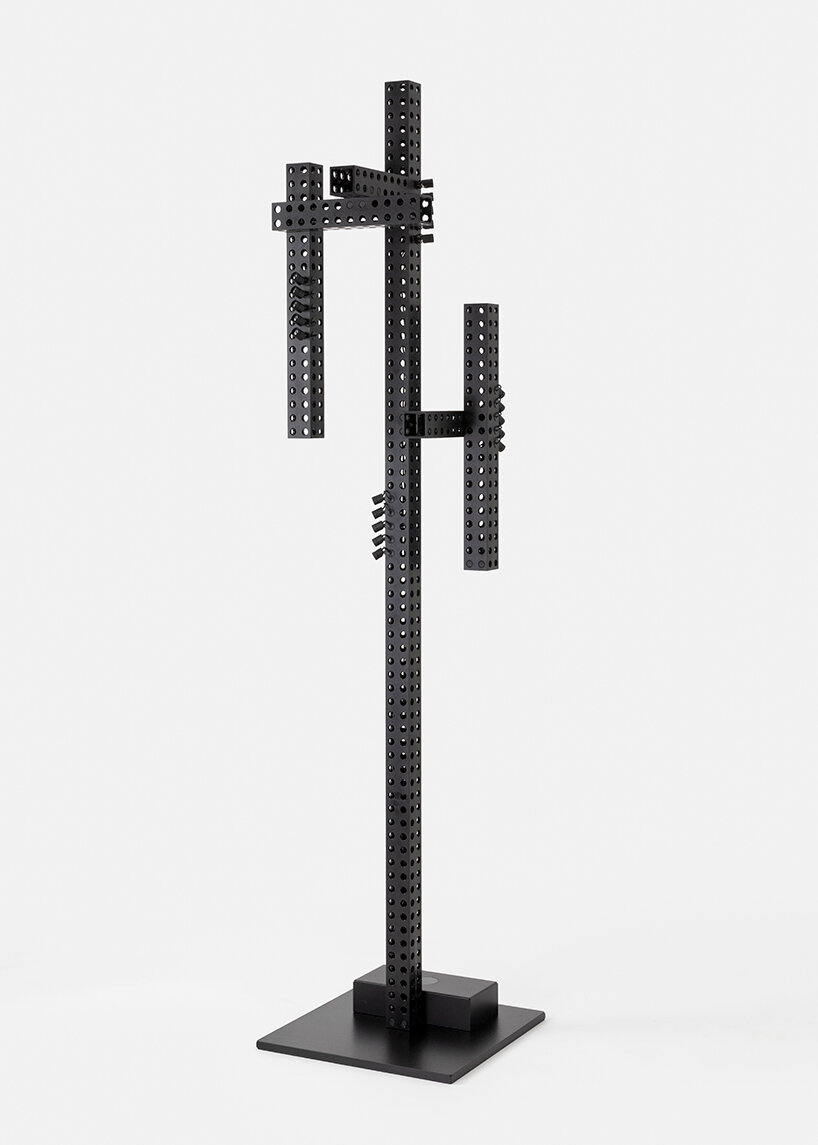 project info:
name: Transformers
designer: Konstantin Grcic
location: Galerie Kreo
dates: May 24 – August 26, 2023
myrto katsikopoulou
I designboom
may 24, 2023
KEEP UP WITH OUR DAILY AND WEEKLY NEWSLETTERS
happening now! antoniolupi extends its expertise beyond the bathroom with the 'living' collection, a series of home furnishings that complement its esteemed collection of bathroom furniture and accessories.
a diverse digital database that acts as a valuable guide in gaining insight and information about a product directly from the manufacturer, and serves as a rich reference point in developing a project or scheme.
designboom will always be there for you
milan, new york, beijing, tokyo

,
since 1999