london design biennale: konstantin grcic's utopia means elsewhere represents germany's installation at the 2016 london design biennale. as an interpretation of the event's theme of 'utopia', the design features two contrasting rooms. the first, a clear tribute to the american actor john malkovich, is dressed in complete white, inhabiting an easel bearing his sober utopia means elsewhere quote. the glaringly white, brightly lit chamber with a small, unlit fireplace and a picture of a burning tree, is meant to prepare visitors for the elementary experience that awaits in the adjoining room.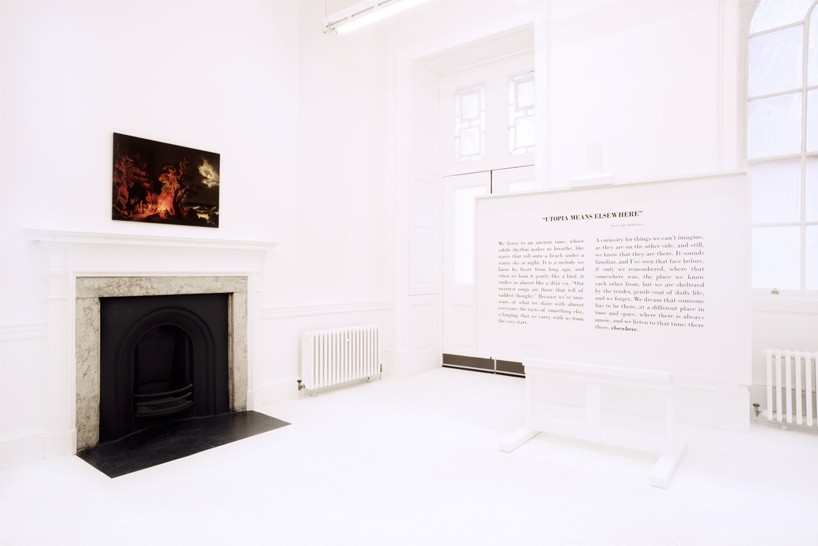 the bright chamber prepares viewers for contemplation in the adjoining dark room
image courtesy of konstantin grcic industrial design
in the second room, the space is shielded off from light and outdoor sound – a complete contrast to the initial one. instead, the room adorns a wide artificial fire that flickers and crackles. with a collection of comfortable seating around the digital blaze, viewers are encouraged to dream. this is a critical part of the installation as this space invites people to envision and explore another world, another utopia.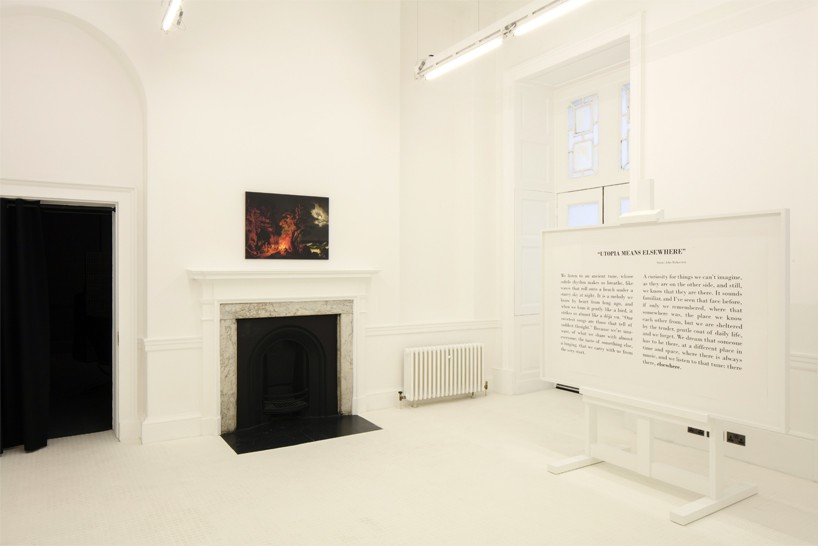 utopia means elsewhere, installation
image courtesy of konstantin grcic industrial design
while attending the opening of the inaugural london design biennale, which runs from september 7th to 27th, designboom discussed germany's unique response to utopia with industrial designer, konstantin grcic, andreas görgen from the german foreign office, department of creative industries, and andrej kupetz, general manager of the german design council and chair of the foundation deutsches design museum.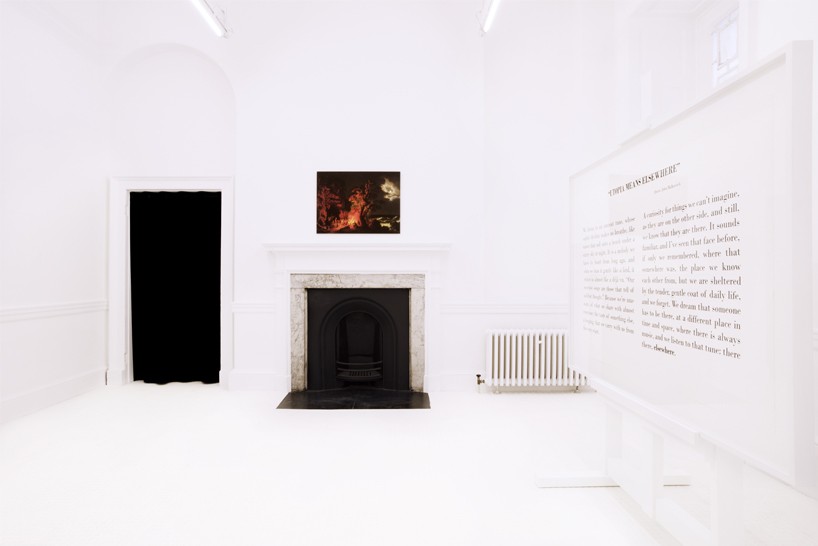 the installation empowers audiences to imagine their own world
image courtesy of konstantin grcic industrial design
designboom (DB): why do you think that the themes of utopia at the first london design biennale, are particularly relevant in this present day?
konstantin grcic (KG): well firstly, there is this 500th year anniversary of thomas more publishing his 'utopia' book. that was one of the reasons that this theme was chosen. now after being here at the biennale and seeing all the other countries' contributions, you can realize just how utopia means so many different things to each other, and that makes it a perfect theme for this biennale.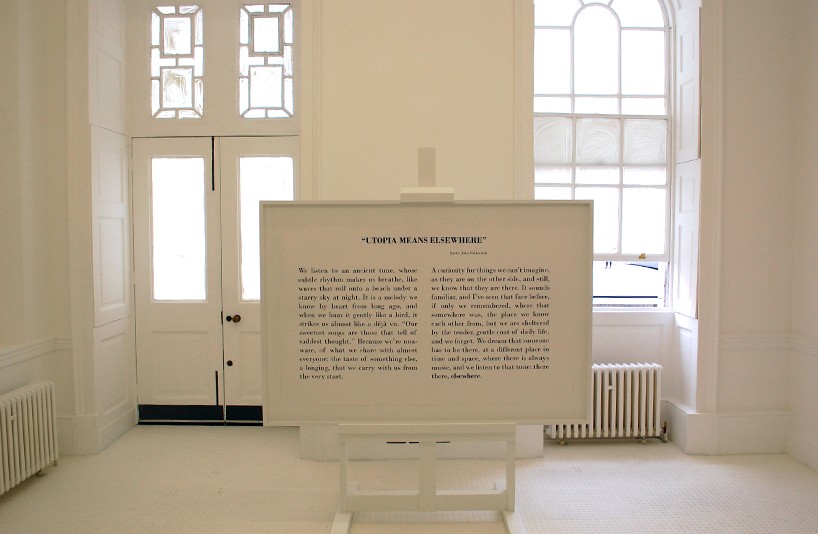 the quote by john malkovich about utopia means elsewhere
image © designboom
DB: as just one of 37 different countries here at the biennale, how were you able to create a unique interpretation to the utopia theme for germany?
andrej kupetz (AK): for us, it was very clear that we didn't want to just show a product presentation. design for export, for business, for manufacturing is so important and every company knows this in germany. as well, german politics such as the foreign ministry for instance, is very aware of the importance of design and what it can do for the country. interestingly, we did the german pavilion for the triennale in milan and that theme was for 'design after design'. this and the 'utopia' theme was something very similar because it was very clear from the first discussion, that no one actually wanted to present products. instead, konstantin found out that there is a very nice quotation from john malkovich, which is 'utopia means elsewhere'. its here, in the present, but is something that is in your mind, an idea.
andreas görgen (AG): from a political perspective, we are not asking a designer to deal with germany as a brand. there is no direct link between the artwork and a government. however, there is a need to finance and support a cultural scene, and to leave them alone to create and be interested in utopias. I do not think that it is up to a government in the 21st century, to give an answer to utopia.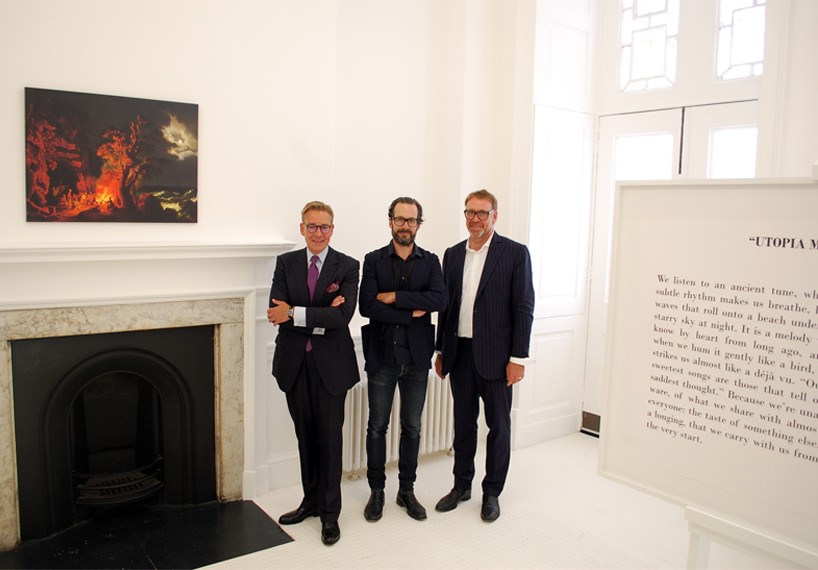 (from left to right) andrej kupetz, konstantin grcic and andreas görgen in the first, bright room
image © designboom
DB: as a response that reflects utopia without wanting to create any prejudgements or answers, how were you able to balance these tasks and leave viewers to imagine their own worlds?
KD: clearly we are not showing anything and that is the key to our installation. we didn't want any concrete image, object or scenario of utopia because that kills utopia. therefore, we only installed a trigger for people to think of their own designs or worlds. at this biennale, our contribution also acts as a vehicle to help people reflect on other ones that they have seen. we have created a very quiet room with a beautiful fire and comfy chairs, which is very easy. this is a very important aspect as utopia is such a big thing and we wanted to make it accessible, light, simple and approachable, rather than something that scares you.
AK: we wanted to do something that improves people's lives. nowadays, we have a society that is designed by individuals with products that are designed by individuals. here, we enable people to co-create and generate their own thoughts on utopia. this installation enables you to have your own individual feelings of this theme. this has a strong link to how we are trying to improve people's lives.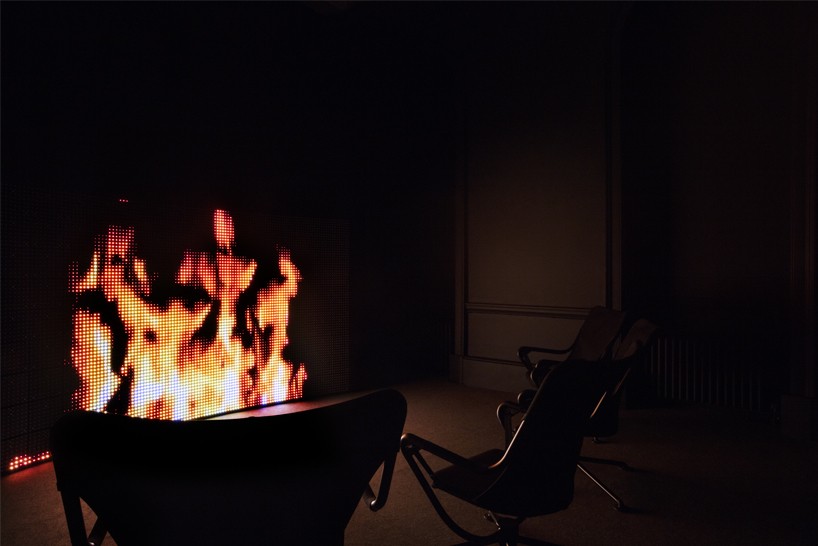 the digital fire is surrounded by comfortable chairs
image courtesy of konstantin grcic industrial design
DB: by leaving the experience and interpretations of utopia to the viewers, how have you still been able to showcase german design philosophy through this installation?
KG: does it have to do that? I don't really think it does and that is the whole point.
AK: that is also its whole strength. comparing the work of grcic – a simplistic approach to utopia – to the other work here at the biennale, they are all presenting solutions. these all put citizens in the perspective of a consumer because they are confronted with one solution that is either admired or refused. however, what is happening here is allusive. it creates an open space and empowers those to reflect on the topic of what is utopia. after seeing this installation, maybe they will recognize that utopia is in their brain and that they have to work on it. I think that this is much more productive than to just exhibit a product and one solution.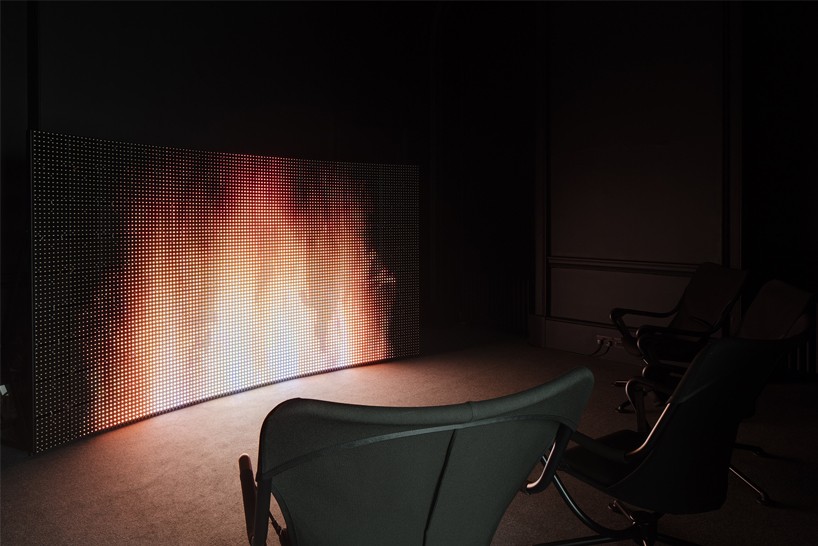 image courtesy of konstantin grcic industrial design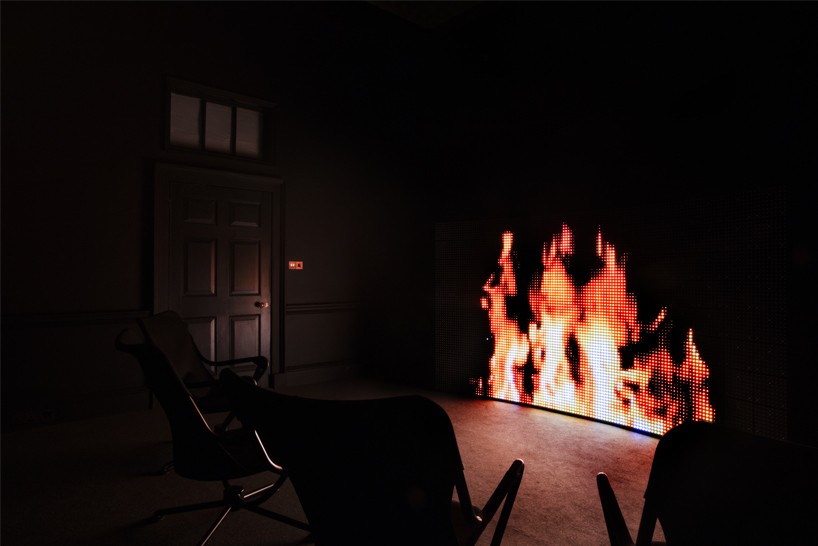 this room provides space where people can dream about their individual utopia
image courtesy of konstantin grcic industrial design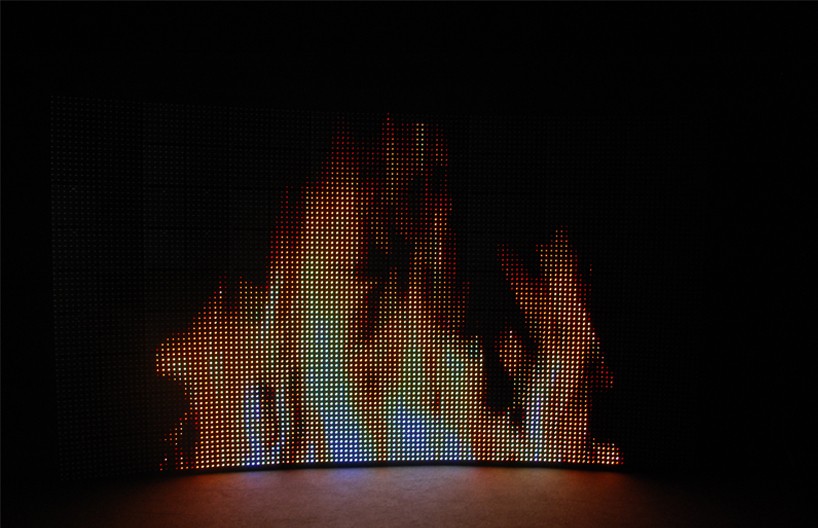 utopia means elsewhere : digital effects
image © designboom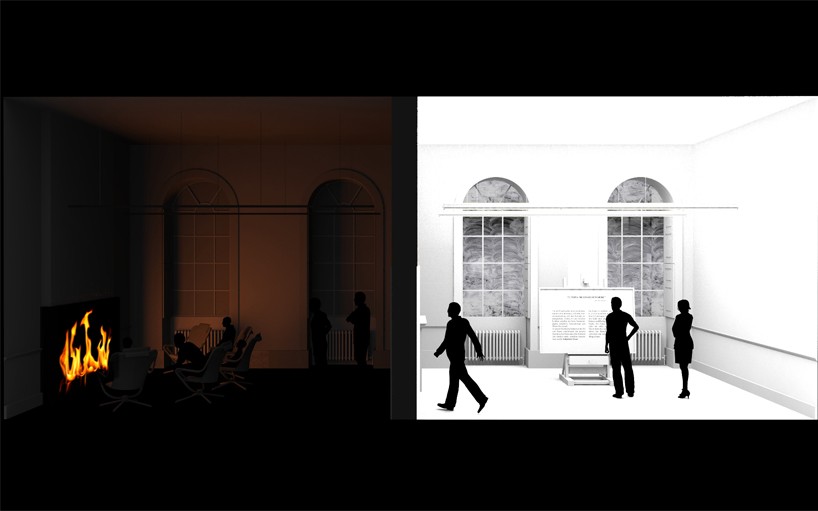 the exhibit is split into two contrasting rooms
image courtesy of konstantin grcic industrial design
Save
Save
Save
apr 29, 2020
apr 29, 2020
feb 15, 2020
feb 15, 2020
may 15, 2019
may 15, 2019
apr 16, 2019
apr 16, 2019
feb 12, 2019
feb 12, 2019
nov 12, 2018
nov 12, 2018
sep 12, 2016
sep 12, 2016
sep 12, 2016
sep 12, 2016
sep 10, 2016
sep 10, 2016
sep 08, 2016
sep 08, 2016
sep 07, 2016
sep 07, 2016
sep 06, 2016
sep 06, 2016
a diverse digital database that acts as a valuable guide in gaining insight and information about a product directly from the manufacturer, and serves as a rich reference point in developing a project or scheme.