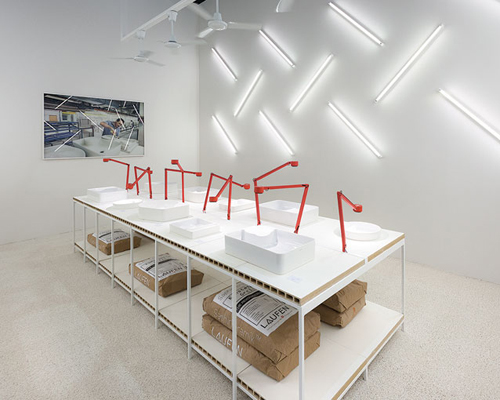 may 05, 2014
wafer-thin wash basins by konstantin grcic use LAUFEN's saphirkeramik
in 2013, after five years of intense research and development, LAUFEN debuted saphirkeramik – a ceramic material filed for patent that has since revolutionized the bathroom landscape. to celebrate its release, the leading manufacturing swiss company of sanitary porcelain products worked with italian company kartell to deliver 'kartell by LAUFEN', a line of wafer-thin wash basins and other bathroom elements designed by ludovica and roberta palomba that express the possibilities of saphirkeramik's technical and aesthetic properties.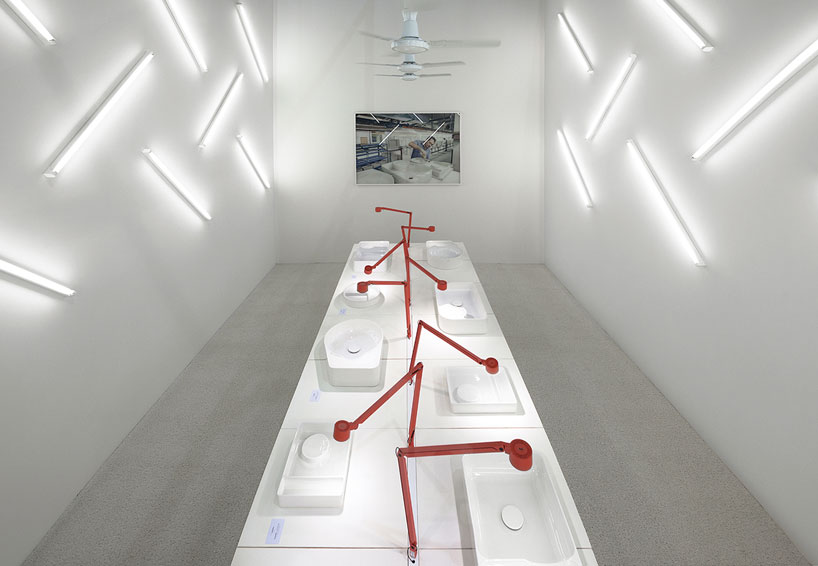 LAUFEN presents konstantin grcic's wafer-thin wash basins with saphirkeramik, at the 2014 salone del mobile
(above and main) image courtesy of LAUFEN
noted characteristics of LAUFEN'S saphirkeramik are its strength and malleability, which permit the realization of wafer-thin ceramic walls that have a thickness of 3-4mm and radii of 1-2mm. this offers sturdy but minimal profiles and results in more environmentally-friendly, lightweight and space-saving pieces. this is made possible by corundum – a transparent mineral found in sapphires – which is in its composition, and has proven to have a flexibal resistance that is comparable to that of steel. LAUFEN commissioned konstantin grcic, who rather than taking it to the extreme, wanted to show its best possible uses in a more understated way. his response is a series of washbasins and accessories, including unfixed trays, that express a subtle interpretation of detail that the porcelain delivers through the integration of different surface characteristics and patterns with fine definition. though grcic's designs may seem to be purely decorative, they do in fact serve functional purposes, the textured areas preventing objects from slipping, while also minimizing stains. he wanted to create washbasins that were 'simple, functional, more architectural, not too expressive.'
on his product development for LAUFEN and the use of saphirkeramik, konstantin grcic has said, 'not only can we create large shapes, but we can also go into surface treatment, something which is not common in bathroom ceramics.'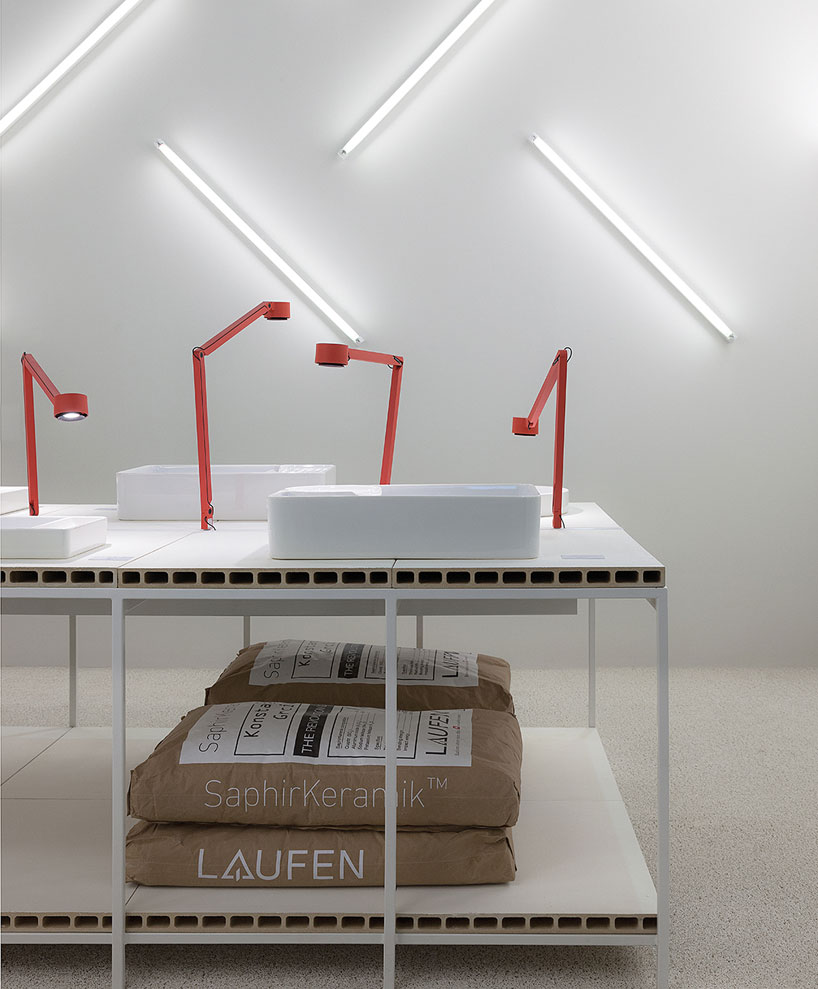 up close of the wafer-thin wash basins installation
image courtesy of LAUFEN
alberto magrans, senior managing director of LAUFEN of the introduction of saphirkeramik to the industry says:
'the materials used to make ceramic sanitary ware have remained the same for years, yet they have changed in all other disciplines of product development this is why we have created a new ceramic of unprecedented strength, that gives designers huge freedom to innovate.'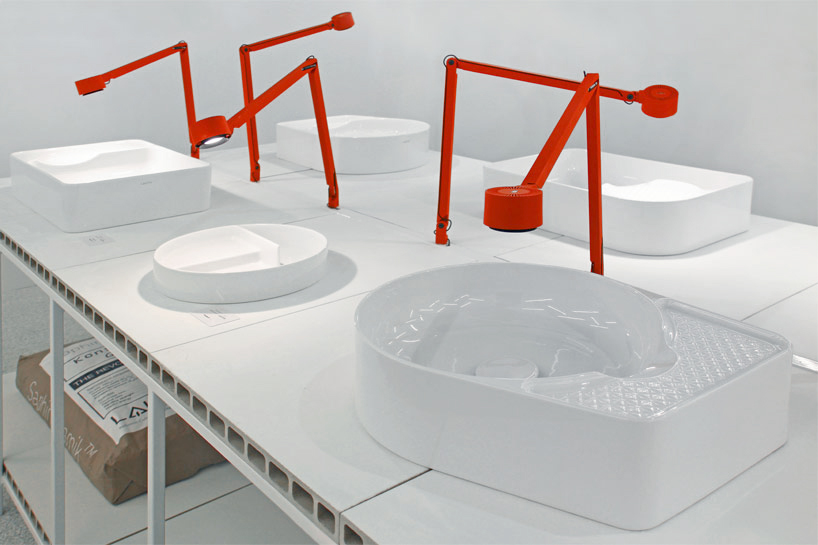 grcic has designed several products that look at how saphirkeramik can be used as a surface application
image © designboom
already accomplished in manufacturing pieces out of saphirkeramik on an industrial scale for the contract market, LAUFEN continues to address its potential for yielding extremely thin, super-strong forms, by engaging in collaborations with international designers; giving them free reign to explore and harness saphirkeramik's unprecedented qualities in their own way.
grcic's partnership with LAUFEN will see his work with the company unfold in two parts. the initial wash basin prototypes – one being rectilinear, the other being a mixture of circular and rectangular, and trays – were presented by LAUFEN on the occasion of the 2014 salone del mobile. together, over the course of the coming year, they will continue to develop these concepts into a comprehensive range of bathroom ceramic products at the ISH frankfurt sanitaryware fair in 2015.

konstantin grcic and LAUFEN's saphirkeramik
image © designboom

konstantin grcic shares his experience with LAUFEN and working with saphirkeramik
video © designboom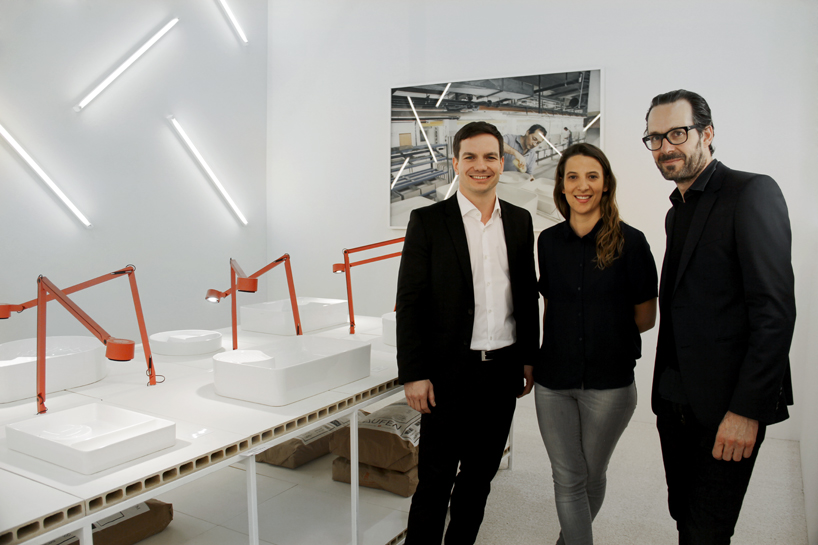 marc viardot, director of marketing + products at LAUFEN, charlotte talbot, assistant to grcic and konstantin grcic
image © designboom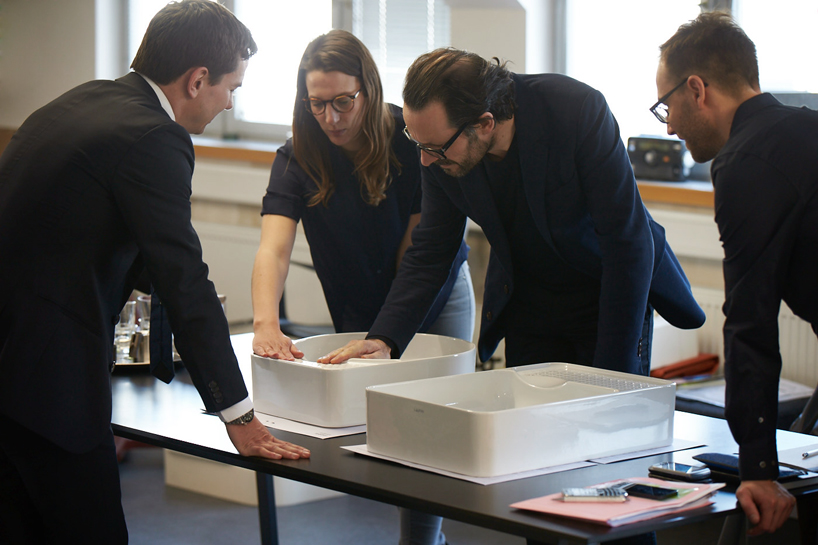 konstantin grcic inspecting the finished wash basins
image courtesy of LAUFEN

konstantin grcic together with the LAUFEN team looking over the finished designs
image courtesy of LAUFEN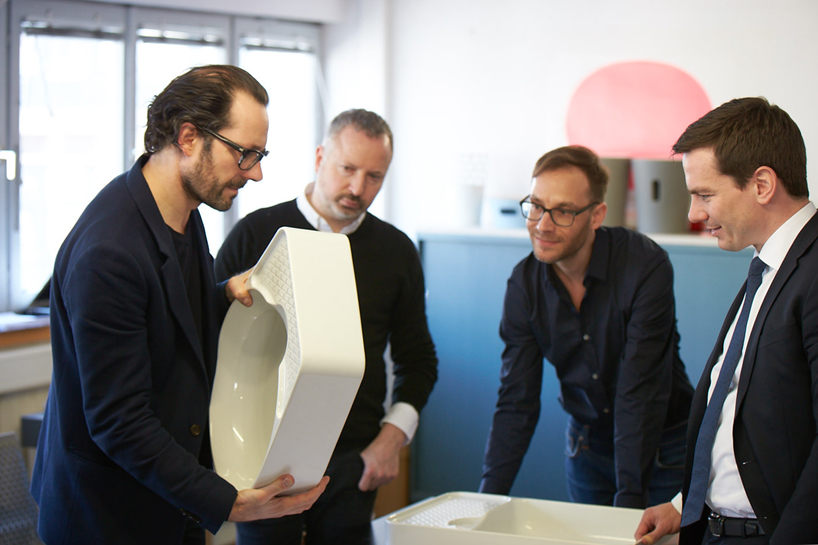 image courtesy of LAUFEN

marc viardot, director of marketing and products at LAUFEN on the company's collaboration with konstantin grcic
video © designboom
update: LAUFEN presents its collaboration with konstantin grcic and toan nguyen at design junction during london design festival 2014 from september 13th to 21st.
jun 17, 2020
jun 17, 2020
apr 29, 2020
apr 29, 2020
feb 15, 2020
feb 15, 2020
may 15, 2019
may 15, 2019
apr 16, 2019
apr 16, 2019
feb 12, 2019
feb 12, 2019
LAUFEN
(30 articles)
jun 16, 2020
jun 16, 2020
jun 09, 2020
jun 09, 2020
oct 25, 2019
oct 25, 2019
mar 19, 2015
mar 19, 2015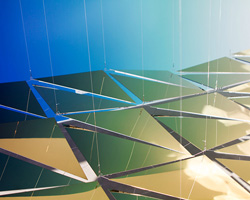 sep 27, 2014
sep 27, 2014
sep 21, 2014
sep 21, 2014
sep 07, 2014
sep 07, 2014
aug 20, 2014
aug 20, 2014
jul 25, 2014
jul 25, 2014
a diverse digital database that acts as a valuable guide in gaining insight and information about a product directly from the manufacturer, and serves as a rich reference point in developing a project or scheme.