jan 27, 2014
la jeune rue paris gastronomy village by cedric naudon and powerhouse line-up of designers

la jeune rue paris gastronomy village by cedric naudon and powerhouse line-up of designers


a history-making project has been presented in paris during maison et objet under the title 'la jeune rue'. young, french discrete millionaire investor cédric naudon has developed a whole new neighborhood in paris, fanning out along the rue du vertbois, rue volta, and rue notre-dame de nazareth in the northern marais. he's already made a mark on the city's landscape with the superb ile st louis restaurant 'le sergent récruteur' (interior design by jaime hayon) — this new project is considered to be a direct continuation of this. naudon has conceived 'la jeune rue' hand in hand with the chef from 'le sergent récruteur' antonin bonnet (the talented chef tutored by michel bras).

'la jeume rue', a new neighborhood in paris
image © designboom
'la jeune rue' is a young street and the best way to get rid of old habits. the idea is to produce better, eat better and live better by bringing produce from their exceptional suppliers, including the farm 'la ferme du bec-hellouin', direct to parisians. the concept behind the humanist project is that local shops can put forward discussions about how we evolve in the way we consume, we trade and share values by promoting different forms of agriculture such as agroforestry and permaculture.

cédric naudon presents the project at the paris press conference
image © designboom
cédric naudon has bought the entire street — 25 different shops — each of which will be overhauled by some of the biggest designers and architects on the international scene: tom dixon the grocery and fishmonger, japser morrison the tapas bar, ingo maurer the speakeasy, jaime hayon a japanese club and the flour mill, the campana brothers a bistro, allessandro and francesco mendini another bistro, andrea branzi will take care of the cinema, and the list goes on. a sort of monopoly in human scale, a cultural mecca and a pharaonic investment project, the first stores are to open their doors in march 2014.

'la jeune rue' site in paris, fanning out along the rue du vertbois, rue volta, and rue notre-dame de nazareth in the northern marais
image by designboom
the protagonists:

perrine and charles hervé-gruyer of la ferme du bec-hellouin

'after travelling the world, perrine and charles hervé-gruyer chose normandy and a wonderful village, already famous for its abbey, bec hellouin to settle their paradise. an experimental farm managed in accordance to permaculture precepts. an innovative approach very unfamiliar in france. this agricultural practice aims to create a virtuous system of relationships between humans, animals and plants. an edible, harmonious, autonomous and sustainable landscape.
by implementing solutions inspired from natural ecosystems, such as mound culture, agro-forestry, animal tractions, terra preta etc, the plant production of the farm is nowadays several times higher than the national average (compared by unit of surface) and this has used close to no fossil fuels.''l'herbage, located in the natura 2000 protected zone, where the gardens were created is an oasis where lots of animal species meets hundreds of plants. 800 different plants are being grown in the farm. the two islands, mandala garden, the two ponds, the forest, and the orchards are an agro-ecosystem highly productive and sustainable.'
'within the farm, every domain interacts with each other, fulfilling additional roles, fostering a beneficial micro-climate. the whole is more than the sum of its components, nothing is lost, everything is recycled inside the agro-ecosystem. cultivated biodiversity is really important, humans and animals have a role in this garden. wild animals are abundant, especially birds of which it is possible to observe many different species. this biodiversity allows a better resilience when faced with climatic incidents.'

roland feuillas of meunerie & boulangerie

roland feuillas has always been passionate about bread. he never stopped growing his knowledge about wheat, growing cultures, mill and panification. in 2005 this engineer left his job and massive corporate groups to dedicate his life to his lifelong passion and to build a green production chain, transforming wheat into bread. driven by ambition of producing a 100% natural bread and to give back to bread its noble aspect; he dedicates his work to finding in nature the right products and processes to obtain a bread made from earth. he has been interested very early in different types of traditional wheat and their difference with modern varieties. becoming a specialist in that field,  famous for knowing all there is to know about it , from their cultural aspect to their impact on human health. he learned to bring out the taste specificity and the nutritional benefits of bread made with those varieties.'
'in order to fully accomplish its art he learned how to operate a mill to obtain the best flour possible. that is why we trusted him with the bakery of la jeune rue, that will offer 100% natural bread, it seemed natural to put the sourcing of the wheat and the creation of the bread, made from a flour obtain in ancestral mills, in the hands of this fantastic expert.'

antonin bonnet, the chef of le sergent récruteur

'cedric naudon and antonin bonnet composed the base of le sergent recruteur : a simple cuisine, capable of communicating fairly and honestly the taste of exceptional products. to replicate this emotion in central paris they cut off classic sourcing models and got closer to nature and to producers. the result is the greatest sincerity of the products they get. influenced by omakase japanese art, antonin looks out for the truth. his cuisine is more and more refined in order to give stronger emotions thanks to the products he works with. in jaime hayon dreamworld appears the taste of corsica where abbatucci grows his tigre veal, the delicate flavour of bec hellouin's vegetables and roland feuillas flour… the dish becomes a dream.'
'la jeune rue is the path to this search for the best products. the ambition is to grant access to these virtuous products, nature's excellency.'
designboom attended the intimate unveiling of the 'la jeune rue' project at le sergent récruteur restaurant.

at le sergent récruteur restaurant with head chef antonin bonnet, ingo maurer, jaime hayon and cédric naudon
image © designboom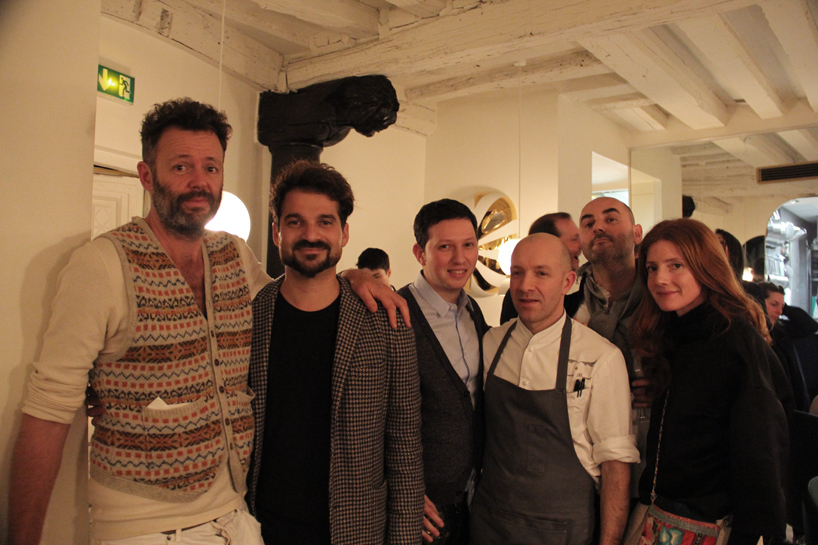 michael young, jaime hayon, ramy fischler, antonin bonnet, eugene quitllet and maudbury
image © designboom

paul cocksedge, oki sato (nendo), and tom dixon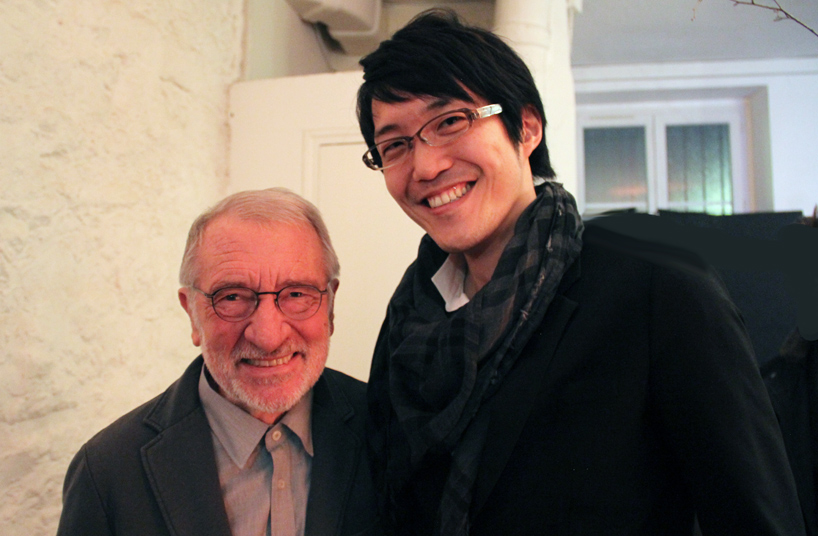 francesco mendini and oki sato (nendo)
the designers:

the designers part of the 'la jeune rue' project and their respective design brief
jaime hayón – japanese club and flour mills
'the most important thing tomorrow is to dream and to create the unexpected.' — jaime hayón
nendo – pastry and bread
'we wanted our design for the space to reflect the colorful palette of pastry with a set of mirrors. we installed a conveyor belt, the kind used in sushi restaurants.' — nendo

jasper morrison – tapas bar
'to design something is not all about making it special. a special place is often less used than a simple one – and its aging is less appreciated.' — jasper morrison
campana brothers – a bar and fish restaurant
 'the ambition of granting access to virtuous products to a urban population, the ones that make french cuisine, without intermediaries, has convinced us straight away.' — fernando and humberto campana
michele de lucchi – butcher's shop
 'mixing design and traditional savoir-faire.' — michele de lucchi
atelier mendini – a bar
'I am not going to be the tech saavy, but the hyper-human !' — alessandro and francesco mendini
ingo maurer – speakeasy
'I am following my guts, I like to take risks, I am a gambler.' — ingo maurer
eugeni quitllet – cheese shop
'it is essential to have fun while creating something serious.' — eugeni quitllet
andrea branzi – cinema
'architecture not only is the art of building, it is also an interpretation of history, technology and changes in our society.' — andrea branzi
tom dixon – grocery and fishmonger
'I do design, because I want it to last. I don't want my design to be trendy.' — tom dixon
paola navone – korean street food
 'I like to start conversations where industry meets craftsmanship, where the man's hand still has an impact.' — paola navone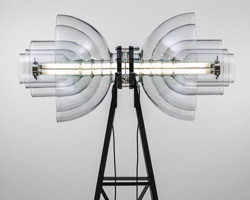 feb 17, 2014
feb 17, 2014
feb 16, 2014
feb 16, 2014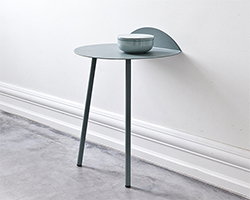 feb 12, 2014
feb 12, 2014
aug 19, 2017
aug 19, 2017
aug 18, 2017
aug 18, 2017
aug 06, 2017
aug 06, 2017