italian company lamborghini and IED barcelona students teamed up to design six proposals for luxury sports cars for the year 2035. among other designs, there are automobiles with built-in parametric fabrics connecting to the emotional state of the driver, sports cars for driving across the dunes of dubai, and vehicles that shatter gender stereotypes.
lamborghini suggested that IED students design a vehicle that would imply a true revolution for the automotive sector and, above all, for future users, while at the same time respecting the italian company's main values, such as robust style, cutting-edge technology and sophisticated personality with an exclusively innovative design. the undergraduate students of transportation design program responded with projects that contemplate new transport systems capable of traveling through the water by means of typical seaplane elements, vehicles that can turn into motorcycles to avoid traffic congestion or cars that defy gravity by traveling through the air. new emotional mobility systems were also designed to connect the driver to the vehicle through intelligent fabrics that facilitate greater functionality, access, and kinematics.
ETHEREAL, by martha vall-llbrera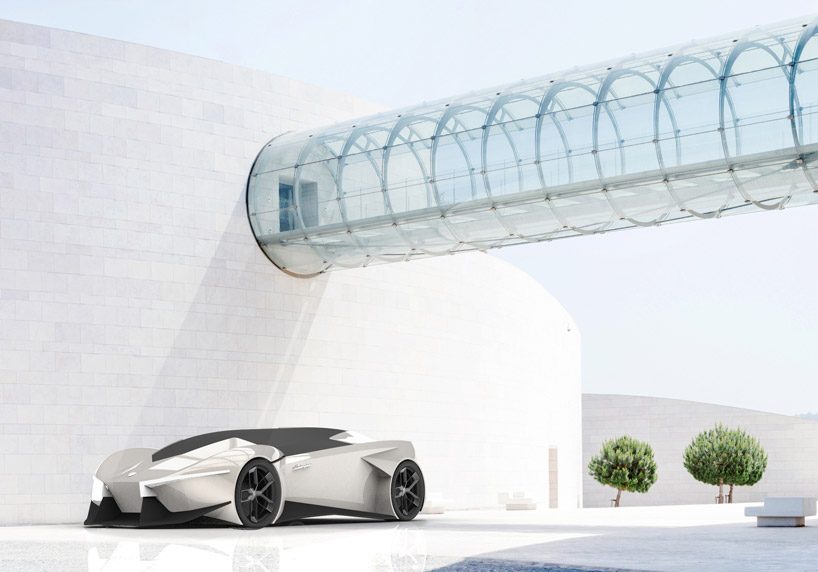 ETHEREAL is a vehicle made of two parts — an electric one-seater car and a motorcycle built into the central cabin to solve the problem of traffic congestion in big cities. the design combines values such as symmetry, unity, and transformability, without compromising the essence of the italian brand, featuring subtle, pure and geometric lines and proportionality as the core aesthetic element. the ethereal air that inspired the name of the project is tied to an androgynous target audience to overcome the gender conventionalities associated with sports cars.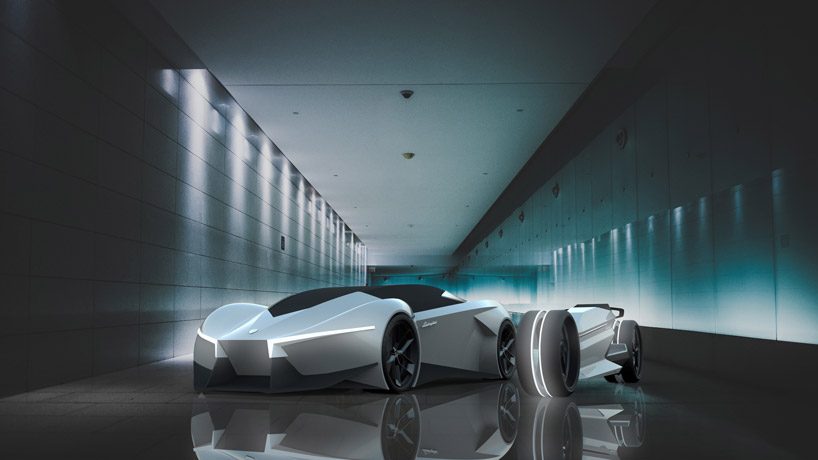 SHAHIN, by francisca haour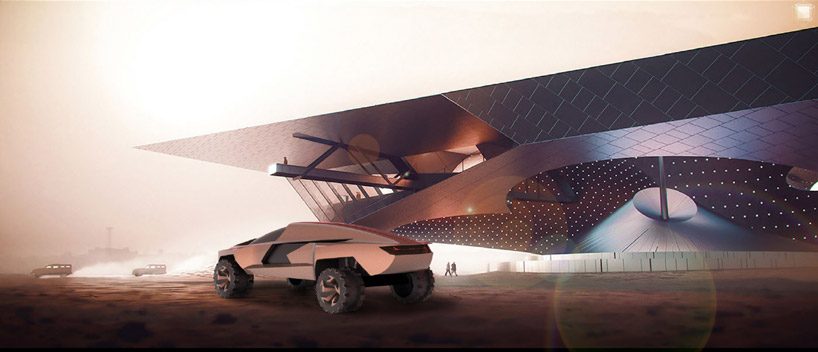 SHAHIN, meaning falcon in arabic, is a luxurious and spacious four-seater sports car inspired by the figure of sheikh hamdan, the prince and heir of dubai, with his passion for extreme sports and engines. the vehicle was conceived for desert and urban driving thanks to its two suspension systems per wheel, and features wing doors to enhance the sports vibe and offer the driver new experiences. what's more, the car is fitted with an off-road bike that is perfectly adapted to ride the desert's sand dunes, so the driver can make the very most of these two extreme sports.

MAGMA, by daniel shicshi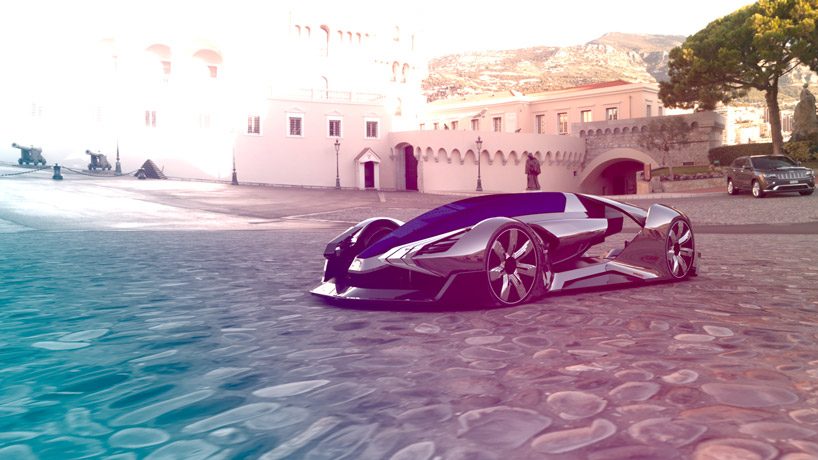 MAGMA is a merger of two racing vehicles — a sports car and a hydroplane, which can land on water. singapore, the ultimate smart city, has been chosen as the backdrop for this sports vehicle, which features four retractable hydrofoils and a central section that emerges from the platform to go from driving to floating. designed with pilots and young speed lovers in mind, its organic and geometric design resembles a formula 1 monocoque. the vehicle runs on a plasma engine, a type of sustainable technology that is likely to star in the future of the automobile industry.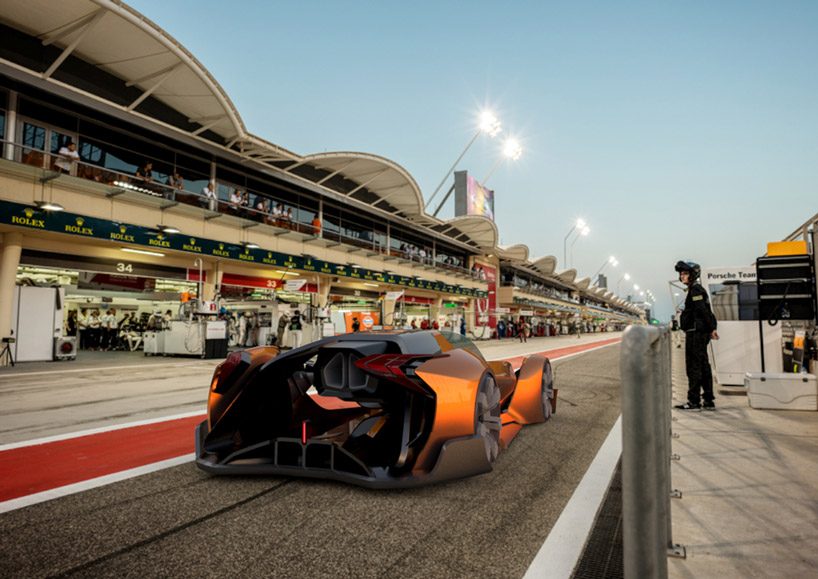 ESPECTRO, by jorge molina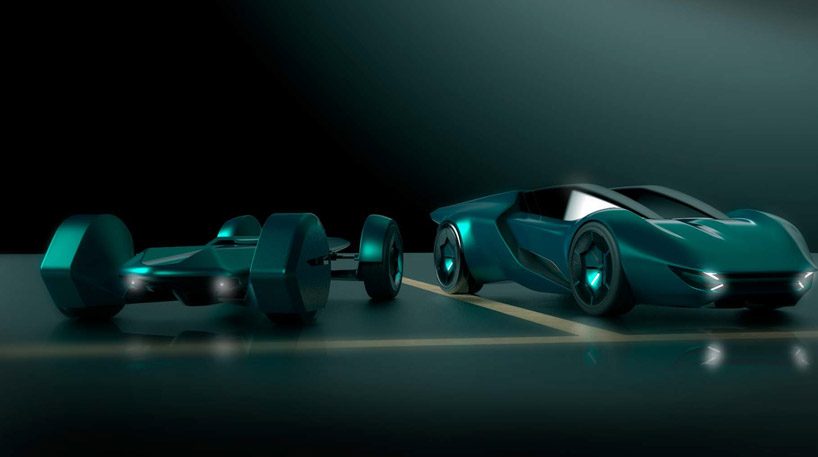 paris 2035 is the scenario where this electric two-seater will be driven, evoking the nostalgia of the golden age of video games and retro-futurism. ESPECTRO's design brings back lamborghini classics like the miura, diablo or countach, preserving their extreme proportions whilst adding newer, cleaner forms. molina's second idea is named 'ghost', a robot-vehicle that interacts with ESPECTRO through three functions — choosing the least busy and most drivable routes; programming customized tracks to race on and feel the thrill of a competition, and following it to disable radars and sensors.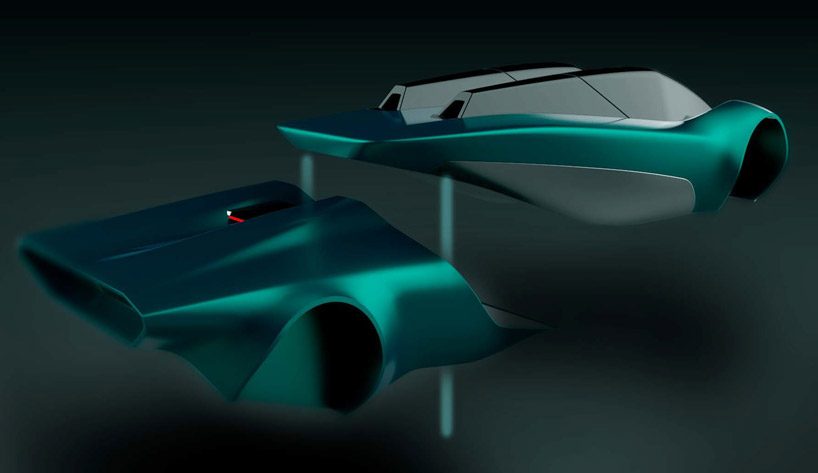 ERA, by federico abascal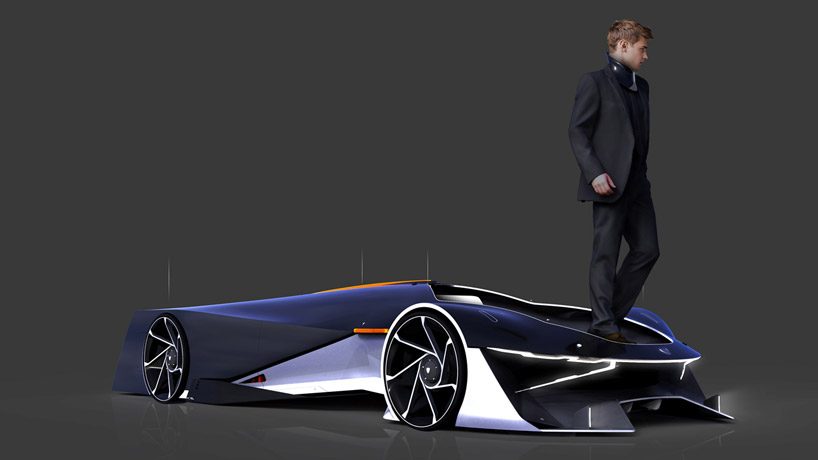 ERA is an electric one-seater car that combines engines and fashion thanks to a smart fabric. the bodywork comprises a solid part underneath and a parametric (tech-wear) fabric part on top providing flexibility to make the vehicle more functional, accessible, and cinematic, as well as being aesthetically innovative. it features two rear turbines which stream the airflow to generate a new and characteristic sound that brings classic sports cars to mind. it also comes with a smart textile accessory that connects the driver to their seat for a whole new driving experience.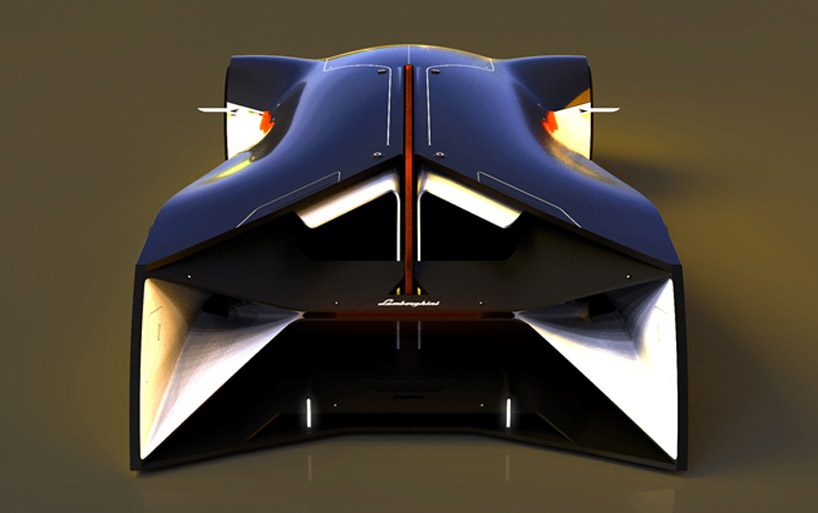 VERTIGO, by fabio sánchez holguera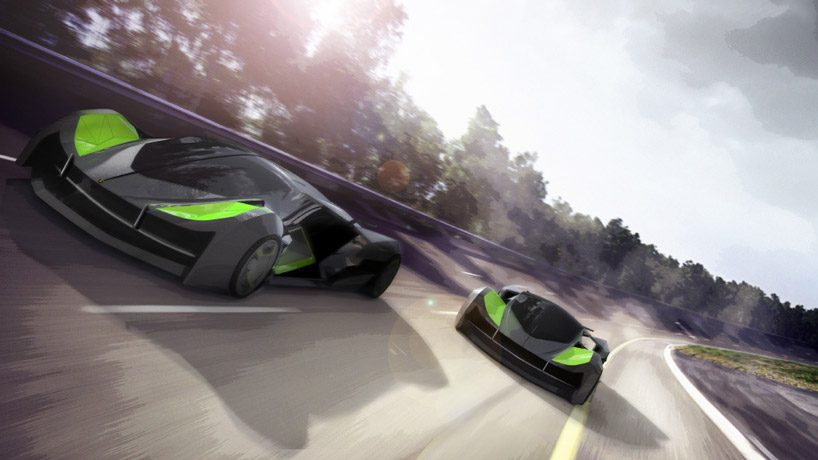 drawing on the adrenaline rush as inspiration, this design is able to run on land and air, tackling the challenge of conquering air from an automotive approach. the vehicle is divided into two parts — a platform and a cabin that come apart when it takes off. as an aircraft, the cabin rises and moves thanks to three propellers — two on the outer wings and one at the rear. to top it all, the student has designed exclusive spaces known as 'sentinels' to enable the brand's customers to experience extreme sensations at different facilities all over the world.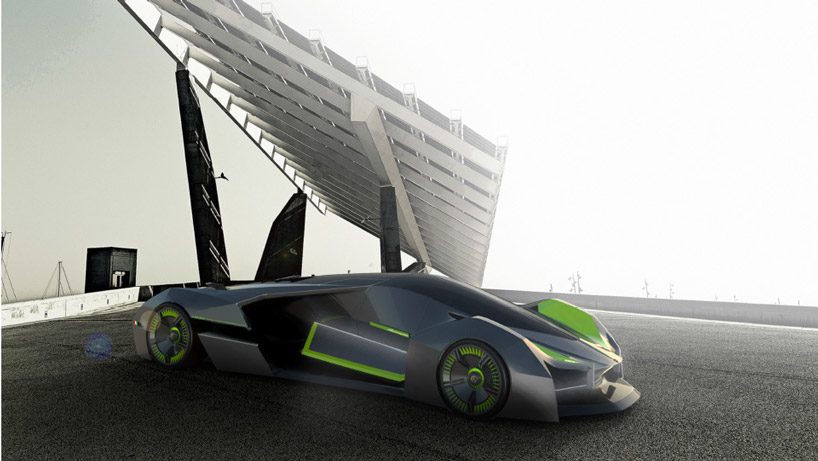 jun 30, 2020
jun 30, 2020
jun 21, 2020
jun 21, 2020
jun 21, 2020
jun 21, 2020
may 27, 2020
may 27, 2020
may 20, 2020
may 20, 2020
apr 25, 2020
apr 25, 2020
mar 14, 2020
mar 14, 2020
jan 04, 2020
jan 04, 2020
nov 26, 2019
nov 26, 2019
a diverse digital database that acts as a valuable guide in gaining insight and information about a product directly from the manufacturer, and serves as a rich reference point in developing a project or scheme.