jul 25, 2013
lasvit: 2013 tour de france trophy designed by peter olah
lasvit: 2013 tour de france trophy designed by peter olah
all images courtesy of lasvit
for the third consecutive year, czech glass company lasvit has been commissioned to produce the trophy for the tour de france. 2013 marks the 100th edition of the race, and once again (as in the previous two years) peter olah, under the management of jozef kaban, chief designer of škoda auto which has long sponsored the event, has conceived the souvenir prize for this special anniversary.
olah's series of hand-blown, hand-cut trophies for the famous cycling event, each stand at more than two-feet tall, and weigh approximately 8 lbs. they have all been individually hand-blown and hand-cut by lasvit's craftsmen at the company's nový bor, CZ production facility. the 2013 design sees a layer of opal glass introduced to its surface, which is then ground using wedge-shaped cutters to reveal the crystal underneath, revealing a geometric pattern which covers the hour glass-shaped form. the method in which each one is produced is quite demanding, leaving no room for error–even the smallest mistake requires the entire trophy to be redone.

the 2013 tour de france trophy designed by peter olah and produced by lasvit
'the fact that winners of the famous tour de france will hold a trophy in their hands from lasvit workshops of czech glassmakers is starting to build a tradition of which I am very pleased. I am proud of the fact that we have managed to be a part of the jubilee 100th year of this race. in the same way as the cyclists, we try to do work of the best quality.' –leon jakimič, founder of lasvit.

opal glass introduced to the surface is ground using wedge-shaped cutters to reveal a geometric pattern
designer peter olah adds, 'the opportunity to design the trophy for this fantastic race once again challenged me to build on the success of past years and produce a design that is even more a celebration of czech hand-cut crystal glass and the precision with which czech glassmakers can work with crystal. I am already looking forward to their presentation on paris' champs-élysées.'

detail

lasvit crafstmen hand-blowing and hand-cutting the trophy at the company's nový bor production facility

winners of the 2013 tour de france with their trophies:
from left to right: nairo quintana, colombia (best rider under 25); chris froome, kenya/UK (overall winner); peter sagan, slovakia (points classication leader)
LASVIT
(23 articles)
jun 02, 2017
jun 02, 2017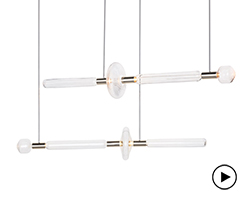 jun 01, 2017
jun 01, 2017
may 27, 2017
may 27, 2017