LASVIT investigates the future of kinetic + programmable glass lighting systems
all images courtesy LASVIT


since being founded in 2007 by leon jakamic, LASVIT has been pushing the boundaries of traditional bohemian glass blowing techniques, collaborating with international designers to create objects that are relevant in a contemporary context. the czech company expresses its progressiveness by intersecting technology with traditional manufacturing methods, as evidenced in their 2014 collection, which investigates programable lighting systems and kinetic luminaire sculptures. to demonstrate its on-going research and development related to this topic, LASVIT presented two kinetic glass installations by libor sošťák and petra krausová as part of its (e)motions exhibition during milan design week, which featured additional collaborations from architect daniel libeskind and dutch designer maarten baas, with never seen before projects by michael young, arik levy and jan plecháč and henry wielgus. developed by marek deyl and his colleagues from studio PHA, each immersive environment displayed illuminated reflections and refractions in synchronized rhythms, occupying its own space within a cubicle.

designboom had the chance to preview this vision by speaking with owner and founder of LASVIT, leon jakimic on the future of his company and lighting design.


leon jakimic, founder and owner of LASVIT speaks to designboom during milan design week 2014
video © designboom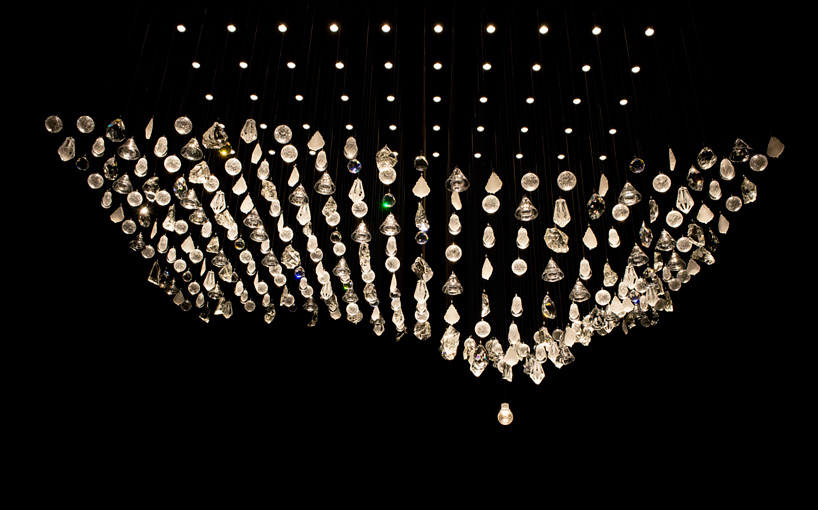 'magnetic' by libor sošťák

the concept behind the 'magnetic' kinetic installation by designer libor sošták is based on the association between two elements – glass and light. libor conceived the actual movement of the installation as a responsive piece – it comes alive in an interaction affected by a ray from its light source. functioning as a magnet, the illumination draws the individual components together in a dance of movement and intensity. magnetic becomes a 'living' glass organism, dependent on light. as the installation moves, it highlights the craftsmanship of individual clear-crystal components, taking advantage of various glassmaking techniques. there are several varied glass elements in the installation – from glass fragments, to cut crystal and precise hand-blown components.


video courtesy LASVIT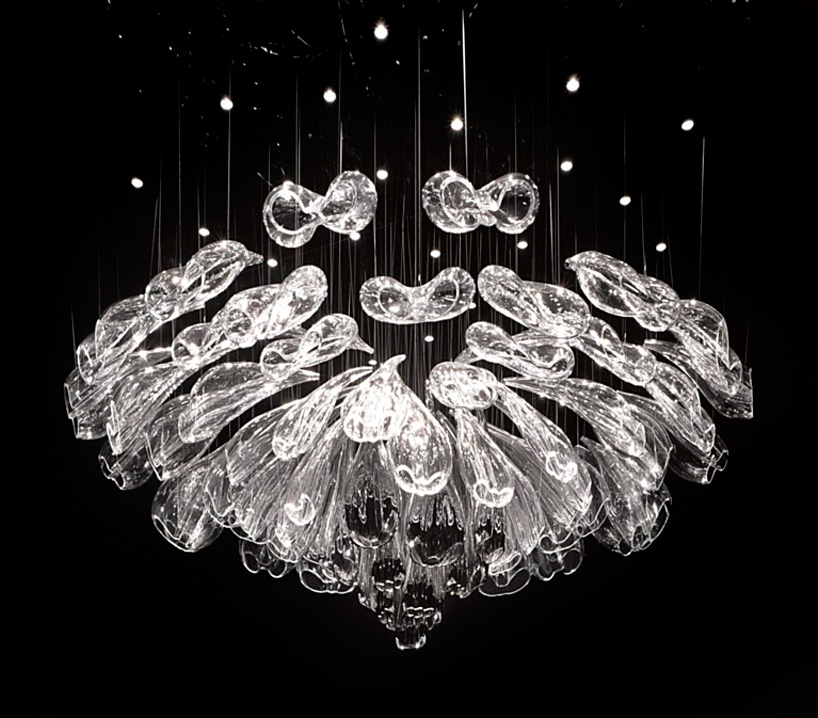 'alice' by petra krausová
searching for commonality in glass and nature, 'alice' by petra krausová refernces nature – organic and unpredictable, where each leaf and tree is different. bringing these unique optical properties of glass to the sculpture evokes an experience underpinned by its name, a sense of alice in wonderland. designed as a kinetic bloom, its traces to flowers that serve as symbols of peace and love, values that are as fragile as the flowers themselves and an undeniable property of glass.
video courtesy LASVIT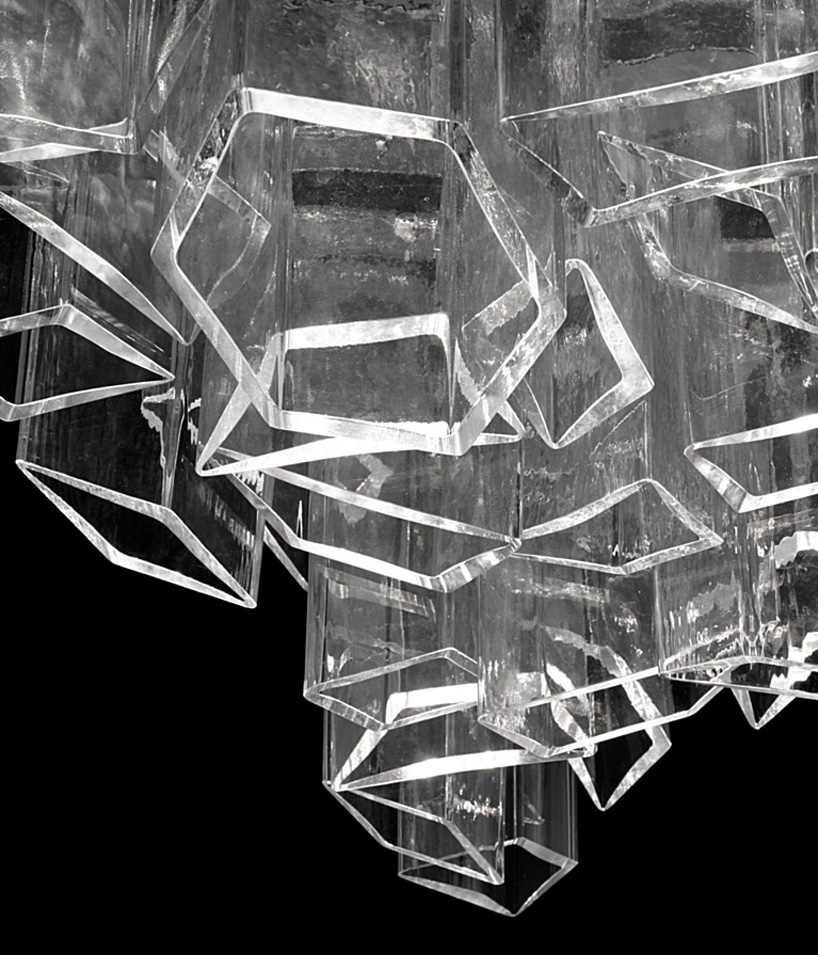 'ice' by daniel libeskind
architect daniel libeskind has created a bold, geometric chandelier that achieves a one-of-a-kind luminosity through the delicate and fluid quality of hand-blown glass. the 'ice' chandelier is made up of clear glass 'cells,' blown into angular molds and then clustered together in a series of puzzle-like, triangular patterns. these modular patterns can be twisted and turned into any number of horizontal compositions to suit a wide variety of spaces. like stalactites or icicles, the glass forms capture light, refracting it into prisms, so that each column glows in unpredictable ways. the chandelier also forms part of 'sonnets in babylon', an exhibition by the renowned architect presented at the venice architecture biennale 2014.
video courtesy LASVIT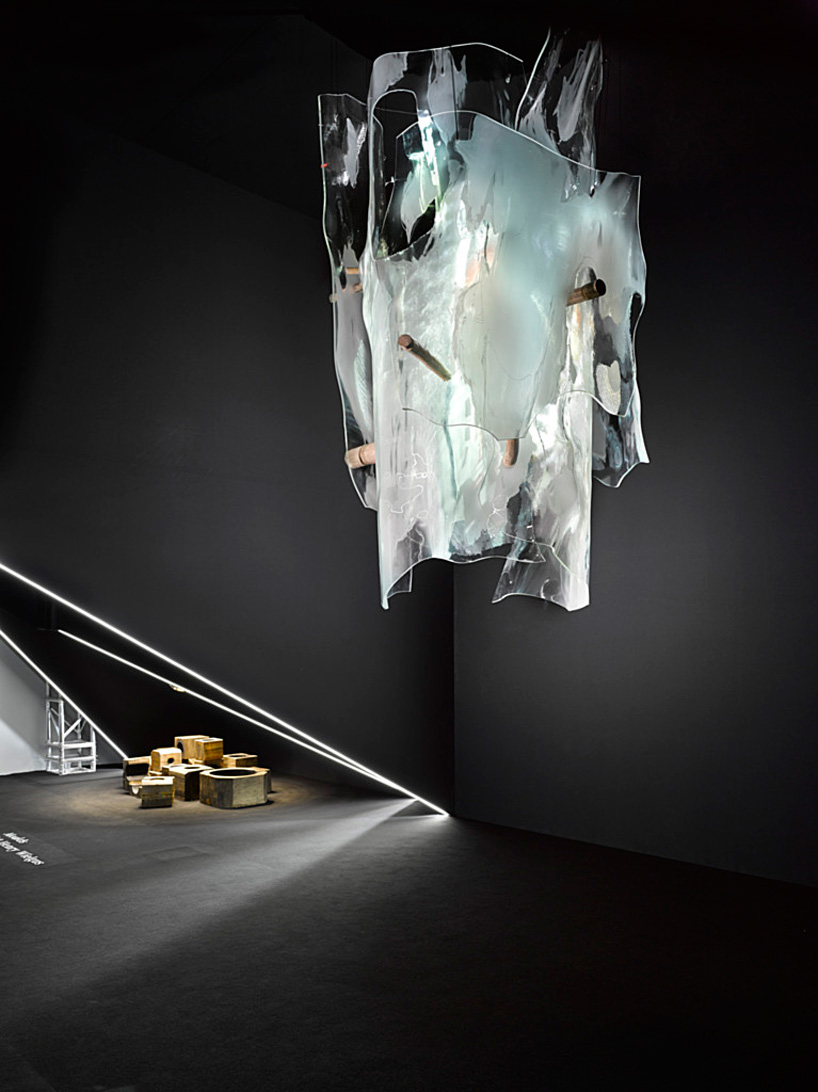 'kůra' by jakub nepraš
drawing influence from the stream of information spreading throughout glass with lightning speed, designer jakub nepraš created 'kura', a light sculpture remniscent of something alive, natural, akin to the levitating bark that is the soul of the tree. it appears to burst with sap and nutrients, the existence of time fails us here and only the precious energy of the now exists.
video courtesy LASVIT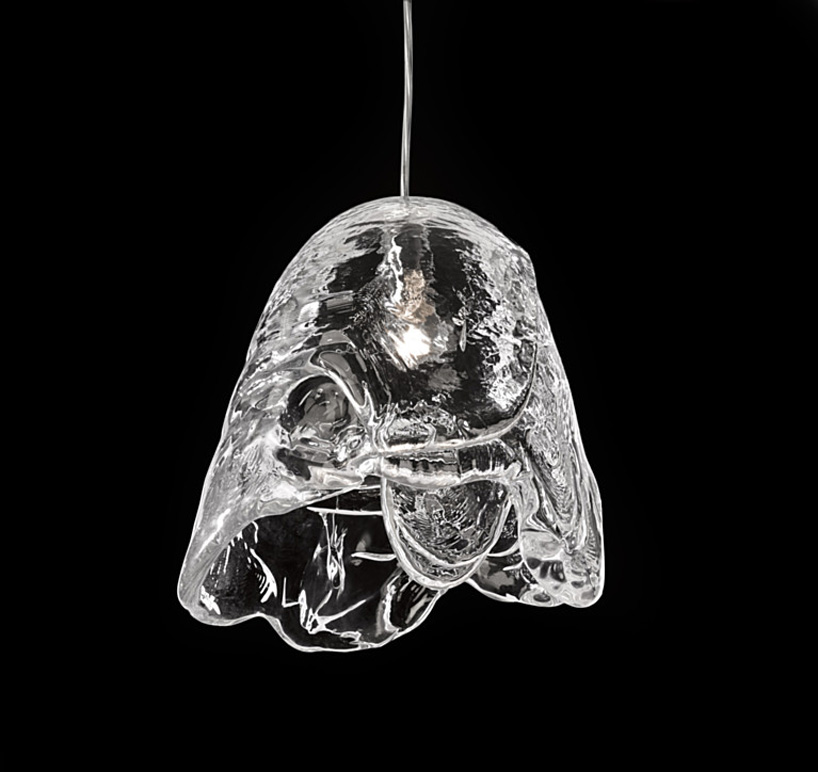 'frozen' by maxim velčovský
the 'frozen' collection by maxim velčovský looks at the phenomenon of the transformation of water into ice. to creating the solid object from a liquid material allows velčovský to manipluate the glass to spill over a metal form and seeks advantage in its natural properties. the result is a 'frozen' sculpture, combining the richness of glass textures, wrinkled details, bubbles and varied thicknesses. frozen is a series in which no shape is possibly the same.
video courtesy LASVIT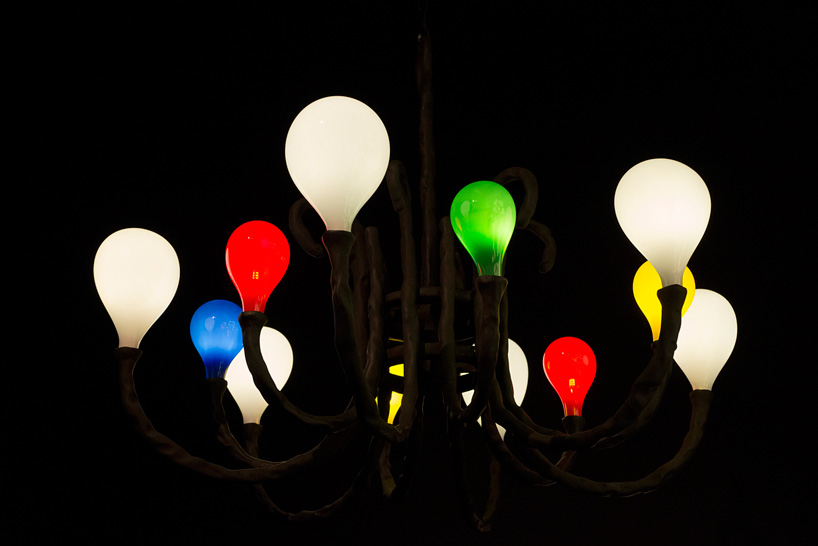 'das pop' by maarten baas
with the 'das pop' chandelier, maarten baas looked toward classic, recognizable shapes, yet with a modern and almost comic twist. based off his clay furniture collection from 2006, the lighting piece intersects two crafts; the classic handblown glass by lasvit and the clay-covered arms by baas and his production team from den herder production house. emphasizing random shapes, it illustrates the personal and non-industrial feel of the product.
video courtesy LASVIT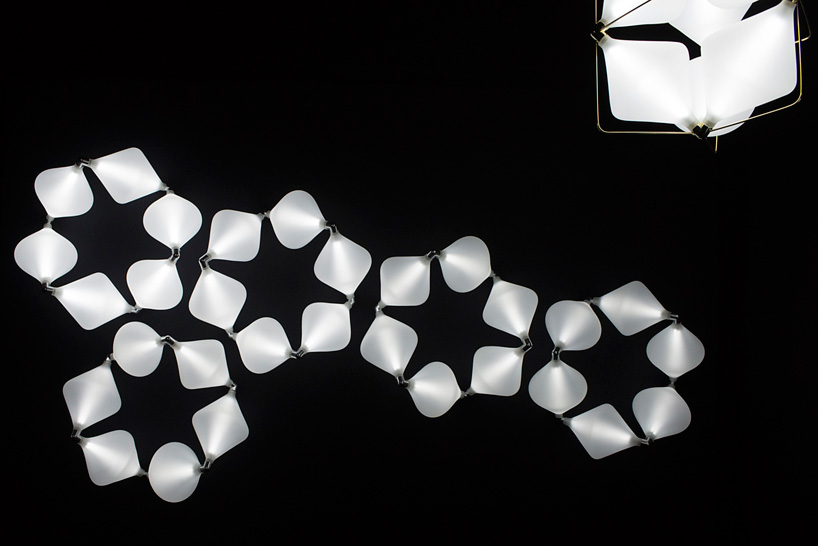 'clover' by micheal young
the 'clover' array is a direct descendent of the super clover, a large geometric lighting form based upon extensive study of the opportunities presented by creating light sculptures within a mathematical grid system. designed by micheal young, 'clover' extracts specific elements from this study to create simple and small usable lighting objects that can find use every day in the home.
video courtesy LASVIT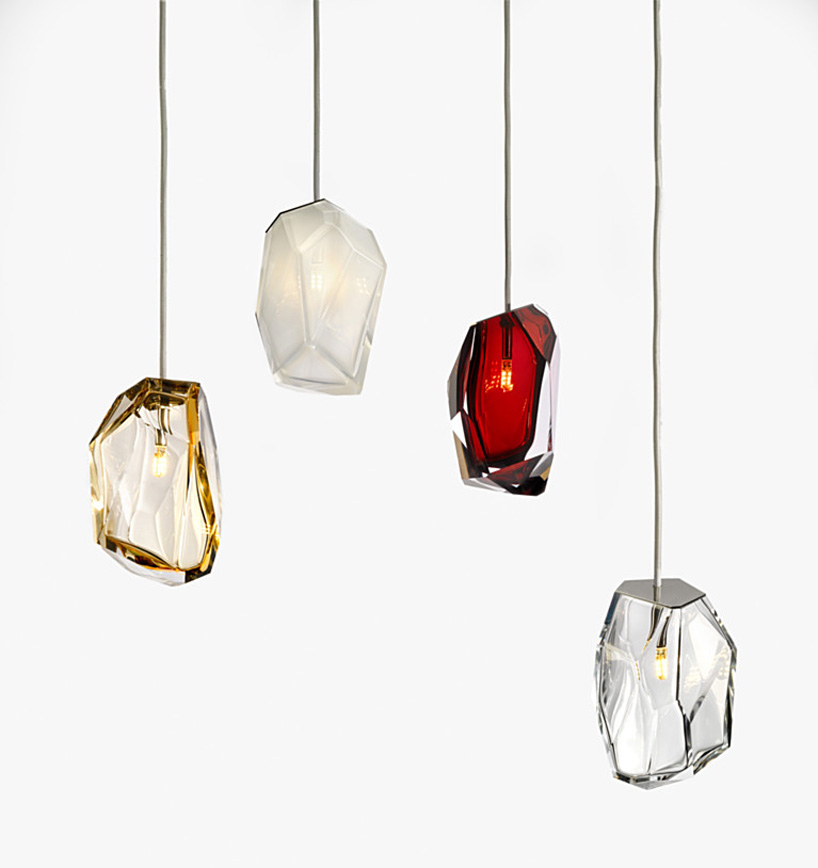 'crystal rock' by arik levy

designed by arik levy 'crystal rock's' LED source highlights the artistic glass-making process and advanced gluing techniques, gleaming on its inner curved surfaces and defining form on cut facets. its every angle unique, in either single or multiple combinations, exhibits a new spacial dimension in the air, as if gravity had just skipped this location.


video courtesy LASVIT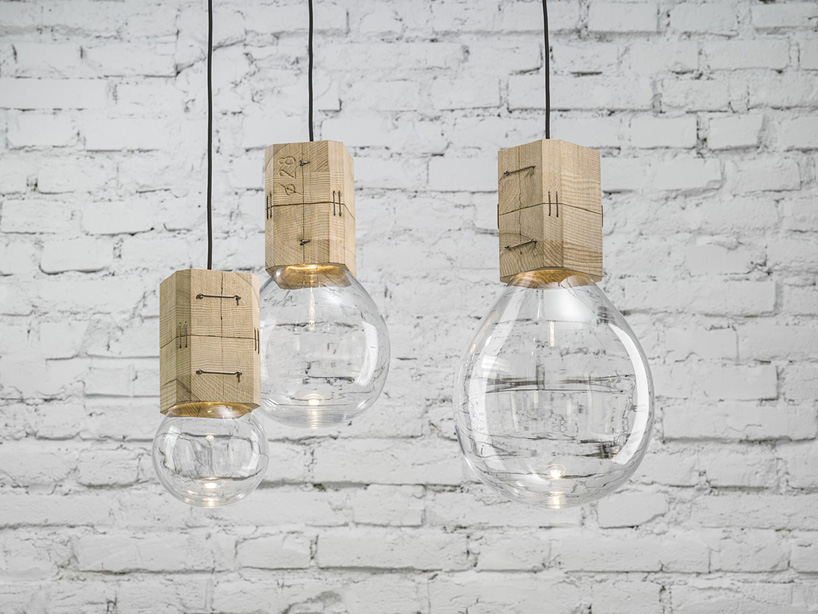 'moulds' by jan plechac & henry wielgus

'moulds' by jan plechac & henry wielgus is a collection of suspended lights, showcasing czech crystal at its most resilient and lively form. the series captures a specific moment when molten glass resists its expected shape and freely escapes from the mould as a random, amorphous bubble. the pieces arise from the contrast of used materials, utilizing the traditional craft techniques of blowing crystal glass into a beech form. the composition of varied 'overblown' shapes creates a particularly striking visual effect. integrated LED light sources were set directly within the charred form, creating an impression from the heat and energy remaining inside the kiln, in historic reference to the art of czech glassmakers.


video courtesy LASVIT
rodrigo caula
I designboom
may 16, 2014
a diverse digital database that acts as a valuable guide in gaining insight and information about a product directly from the manufacturer, and serves as a rich reference point in developing a project or scheme.
designboom will always be there for you
milan, new york, beijing, tokyo

,
since 1999