during milan design week 2016, LASVIT illuminated the historic palazzo serbelloni with a dramatic presentation of unique and contemporary works expressing the experience and skills of its master glassmakers. within the napoleonic wing of the palace — where napoleone bonaparte had resided during his stay in milan — the young and progressive czech company restored four crystal chandeliers found in the staterooms, all of which have been crafted of bohemian crystal at the end of the 18th century — of which LASVIT continues to follow the legacy of the traditional craft today.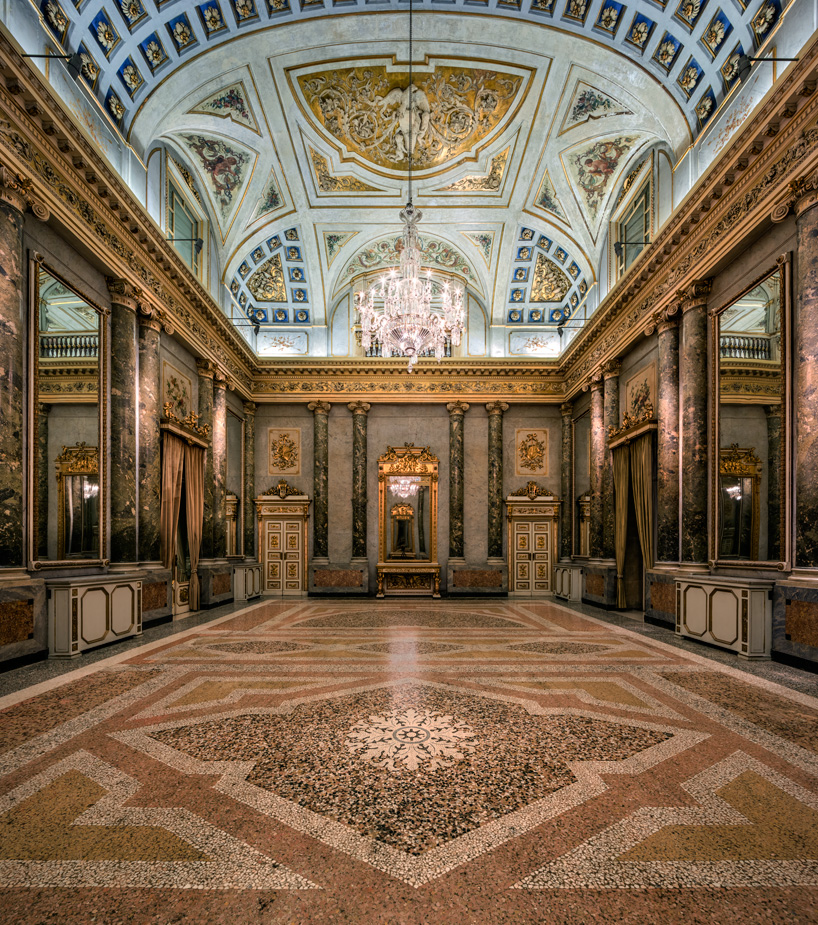 the 18th century chandeliers of palazzo serbelloni restored and hanging within the sala napoleonica
two chandeliers, located in the grand hall of the sala napoleonica and sala bonaparte — rooms originally used as dance or concert halls — along with two similar ones in the sala gian galeazzo, represented at a smaller scale, composed of forty various components that have more than 1000 elements were restored.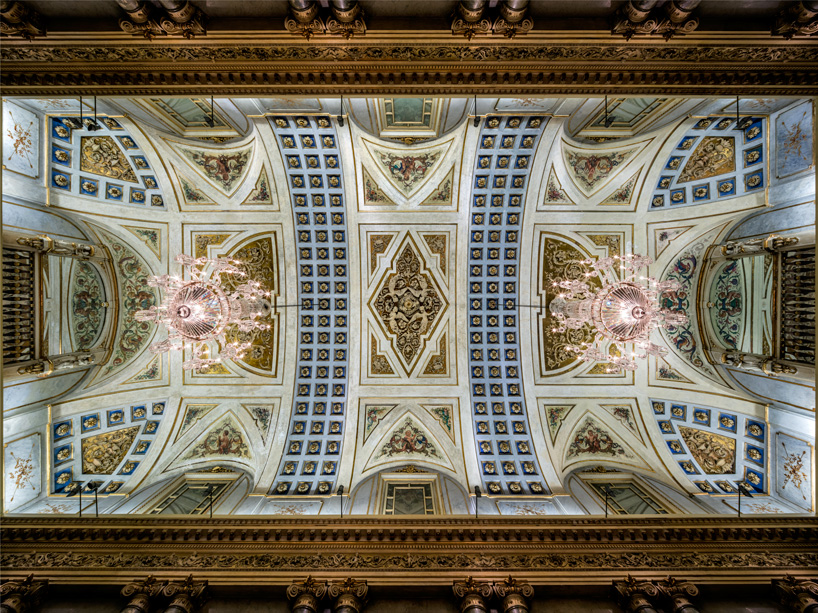 view of the ceiling within the sala napoleonica with the restored bohemian crystal glass chandeliers
the renovation project by LASVIT required a combination of three glassmaking techniques. the production and replacement of hand-cut crystal trimings, hand-blown and cut components, as well as mould – melted and cut glass arms were employed in order to successfully restore the dramatic lighting to its original splendor. the aim of restoring the chandeliers was to maintain as main of the original components as possible, despite traces of age, scratches or minor damage. in order to make sure that their intended character was preserved, each chandelier was dismantled and shipped back to the czech republic where they were first thought to have been made in the 1700s, completing a historic and creative full-circle.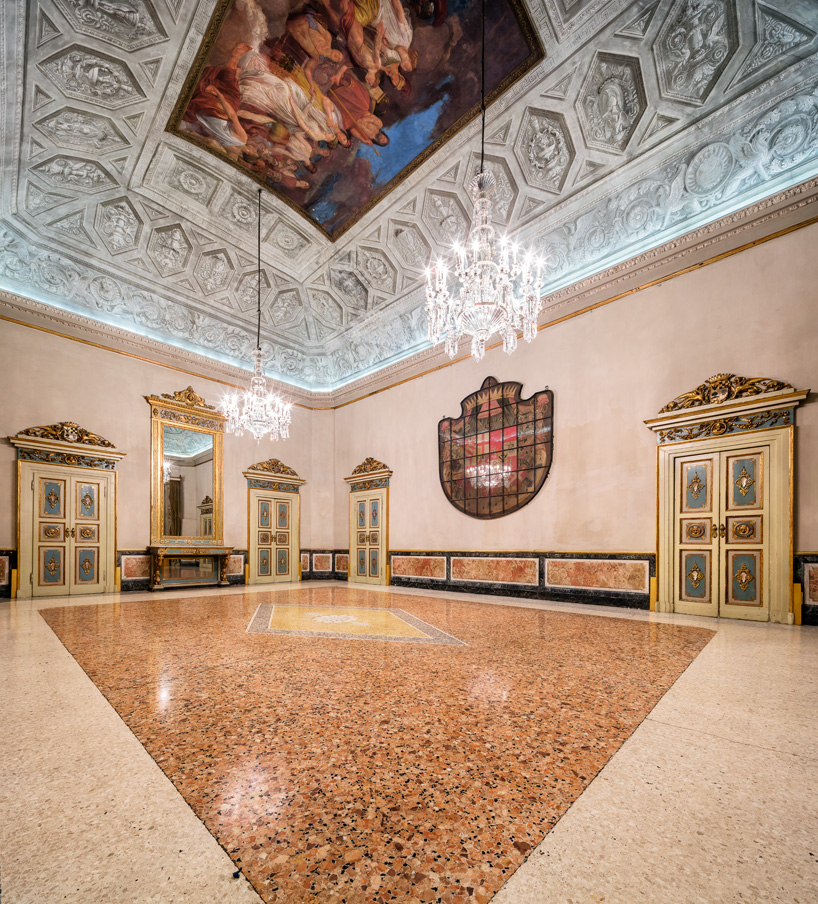 two smaller chandeliers within the sala gian galeazzo were also restored


leon jakimič, founder and president of LASVIT on the company's 'via lucis' exhibition at milano design week 2016
video © designboom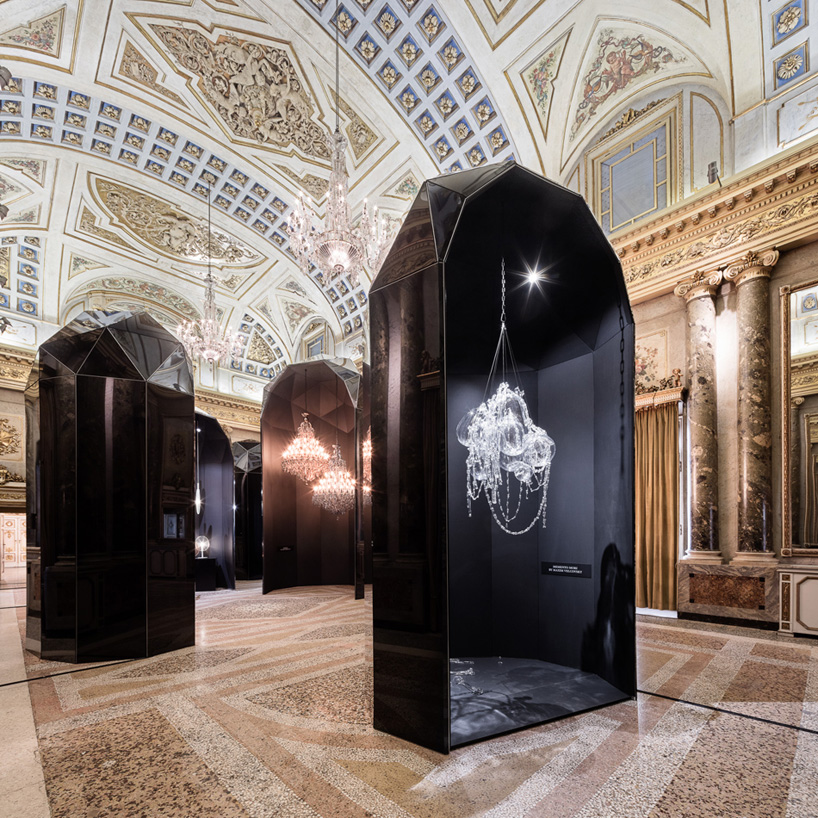 view of LASVIT's 'via lucis' exhibition at the historic palazzo serbelloni during milan design week 2016
once re-installed in the grandiose architecture of the palazzo serbelloni, they set the stage for LASVIT's journey of unique and contemporary projects. entitled 'via lucis', the exhibition presented projects by andré fu, maurizio galante, and moritz waldemeyer, alongside czech legends and young designers, each of which were asked to reinterpret the neoclassical taste of the historic chandeliers with a contemporary twist; always harnessing the artisanal know-how and craftsmanship of LASVIT's glassmakers.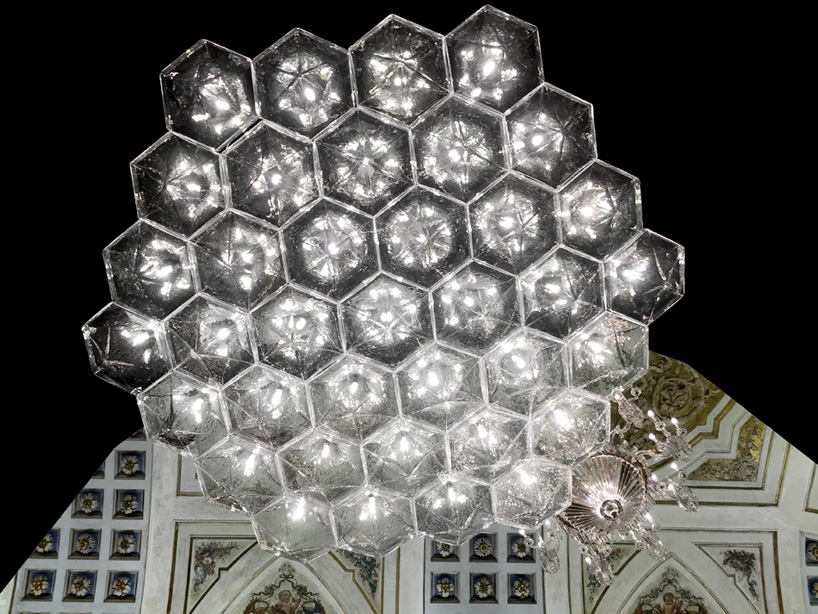 'facet' by moritz waldemeyer
made from hand-blown clear glass
1200 x 1200 mm, 70 kg
image © designboom
moritz waldemyer tried to systematize the chandelier making tradition. he took f, turning it into a diamond-like hexagonal glass building block to construct 'facet'. on its own, with just a single pendant, or in combination of multiples to form a large chandelier, the components are distinct and stand out as clear, disciplined and geometrical. the light source included inside every pendant allows 'facet' to be universal and almost limitlessly extendable.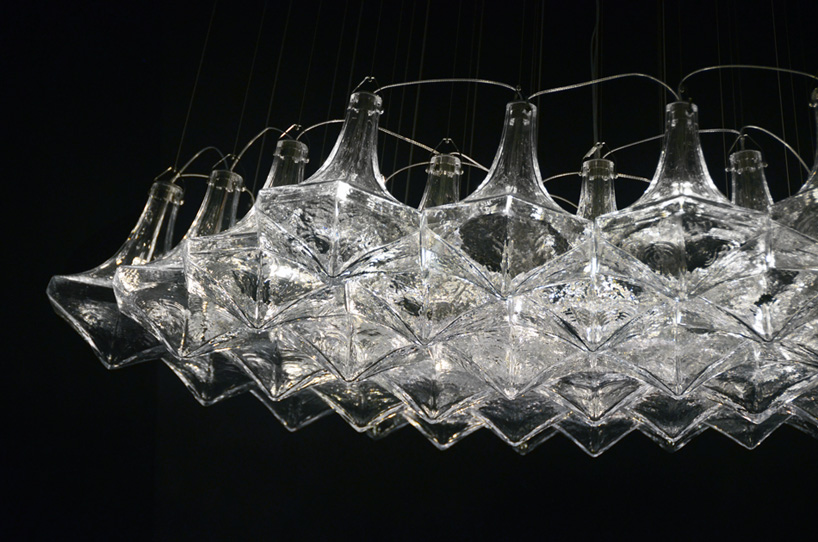 profile of the diamond-like hexagonal glass building block components
image © designboom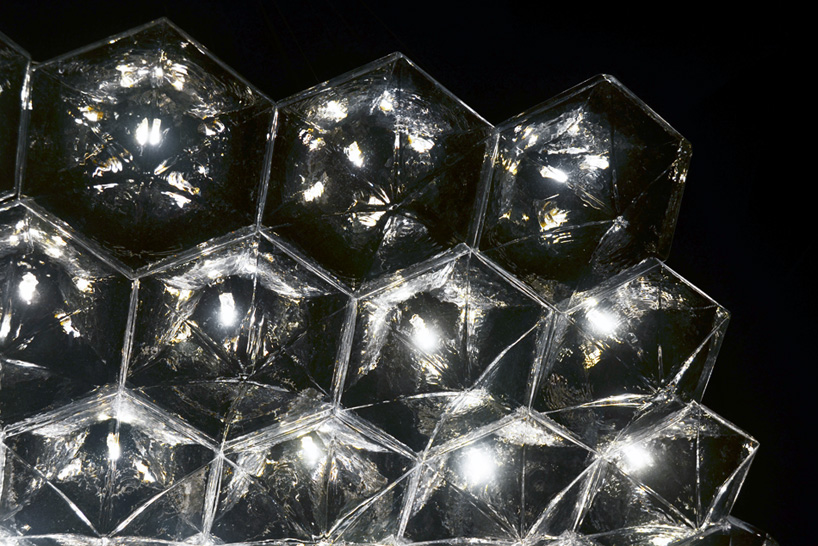 detail
image © designboom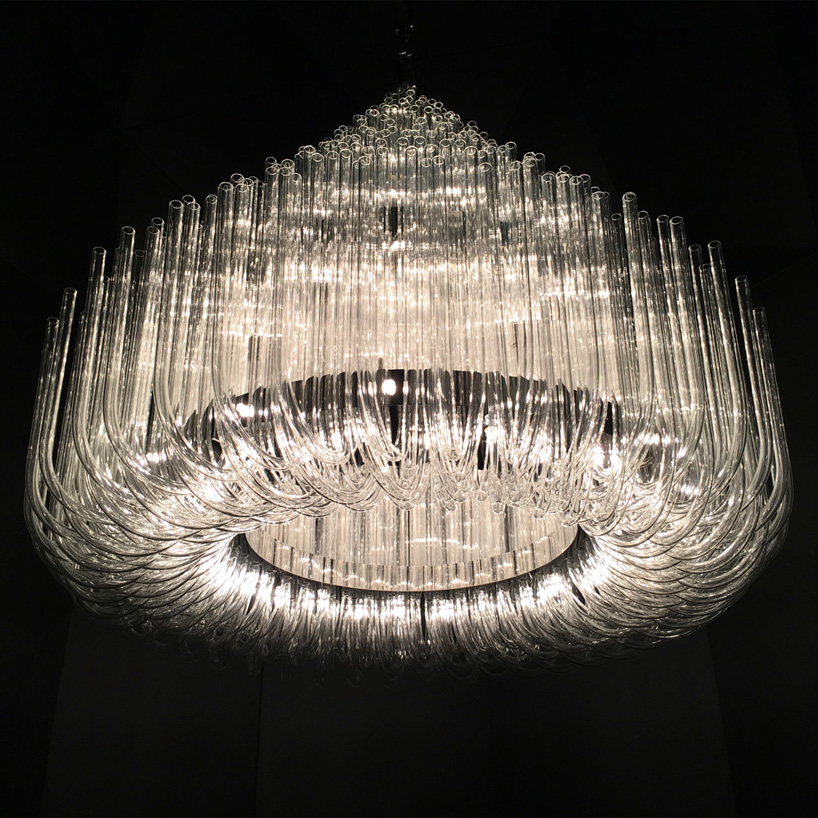 'ludwig' by maurizio galante
technical clear glass
varied dimensions: chandelier small, chandelier large
image © designboom
the design of 'ludwig' strives to establish a balance between past and future. maurizio galante has reinterpreted the neoclassical proportions of a bygone romantic era with essentially slick, streamlined forms. while the contours remain loyal to their historic chandelier references, the use of industrial glass tubes imbues this family of spectacular lights with an airy and strikingly modern elegance.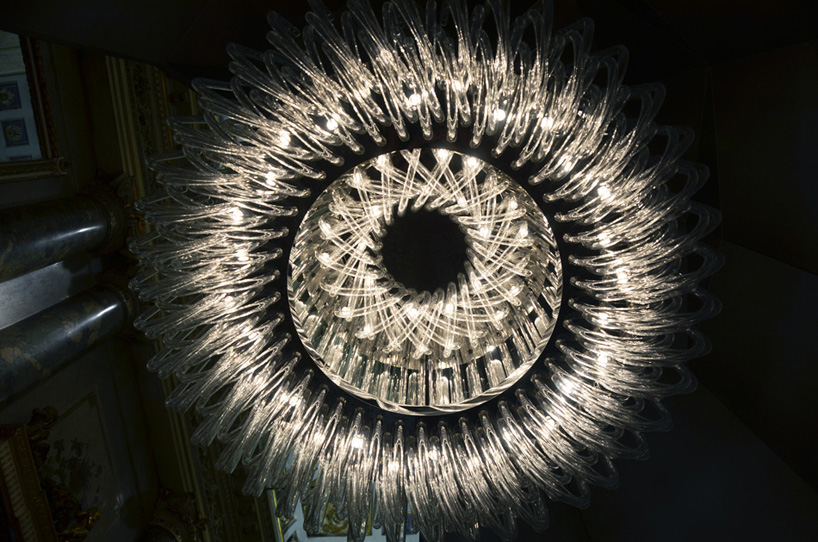 view of the industrial glass tubes that form the 'ludwig' chandelier
image © designboom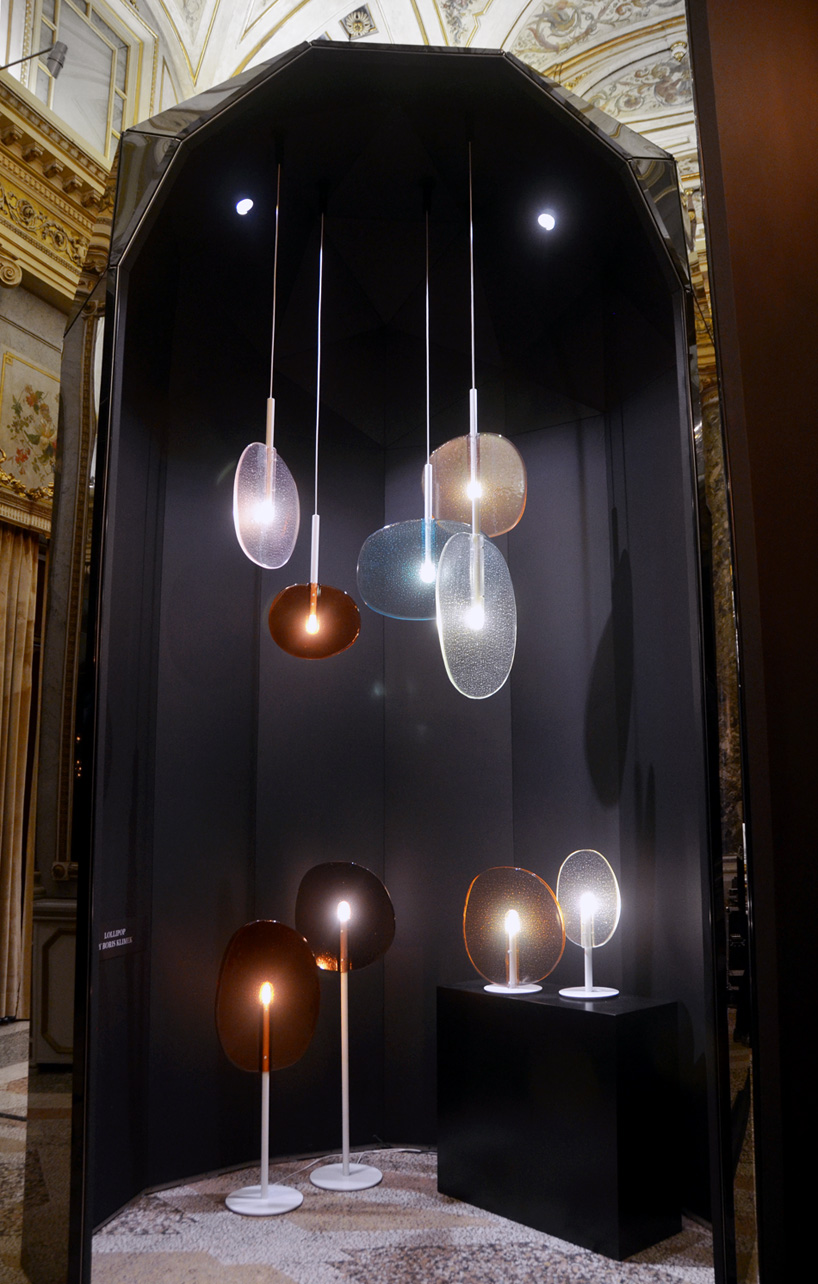 'lollipop' by boris klimek
fused glass in clear, pink, orange, violet, turquoise blue
various dimensions
image © designboom
with 'lollipop', boris klimek has experimented with the technique of slumped glass, exploring its wide possibilities in terms of glass coloring, glint and internal structure. each lamp is made of amorphous glass plates, combined with the metal holder and inserted light source, with the resulting objects are reminiscent of the popular children's candy after which they are named. the collection consists of pendant lights, table and stand-alone lamps.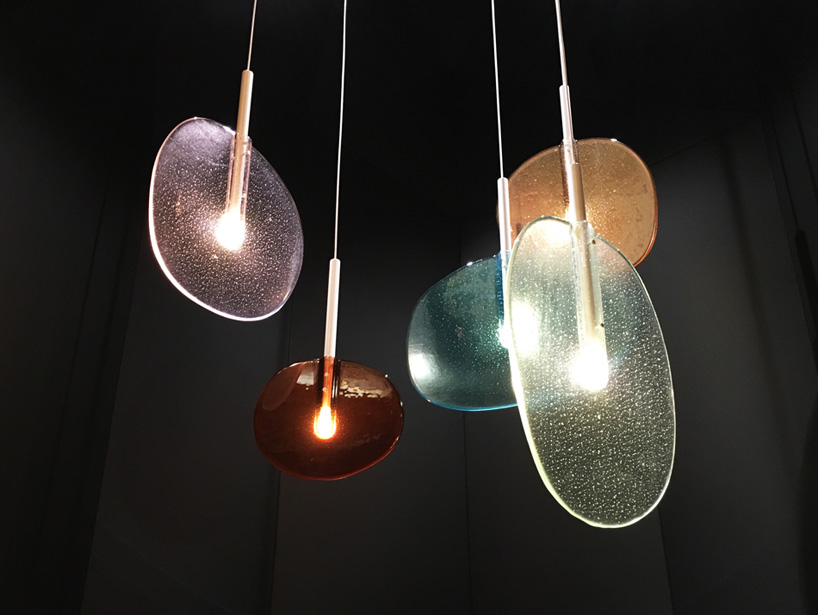 'lollipop' is rendered using the technique of slumped glass, and explores glass coloring, glint and internal structure
image © designboom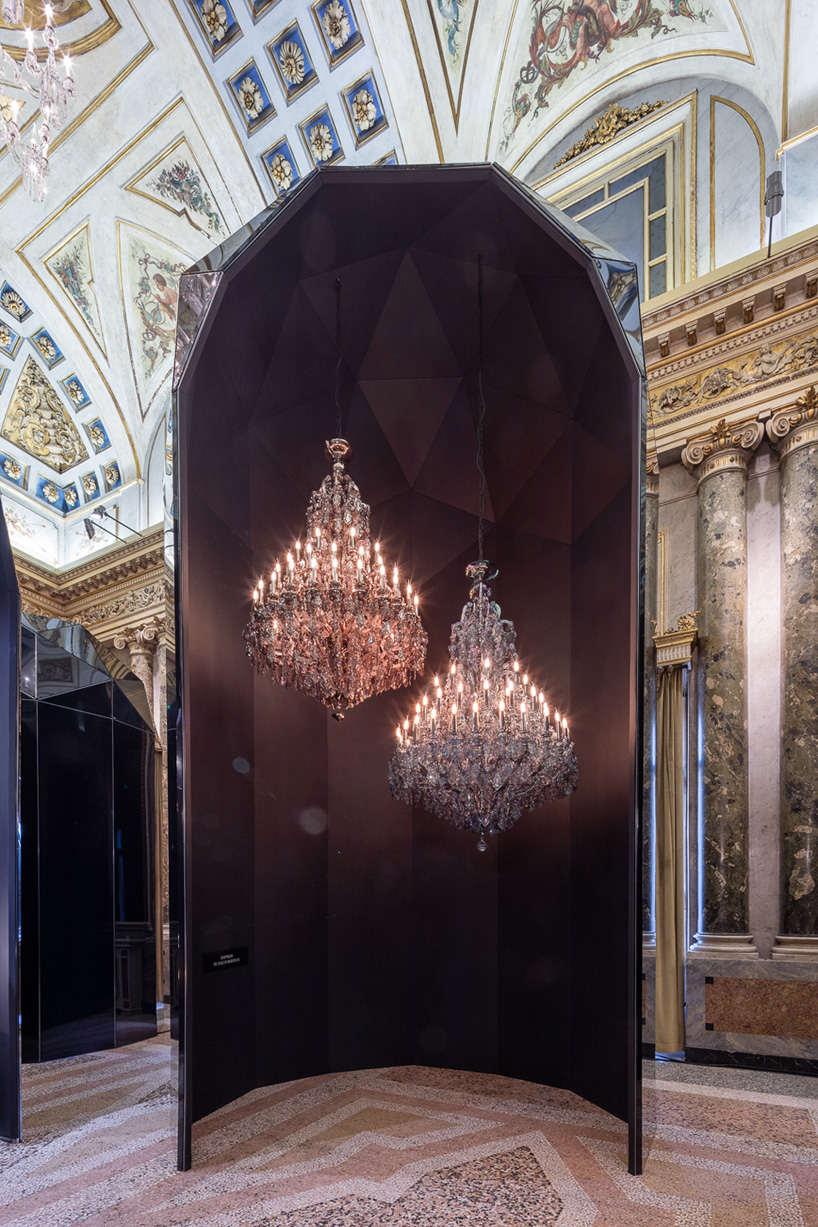 'empress' by jakub berdych
pressed glass, with soft coating on glass in copper and dark violet
1320 x 1940 mm
jakub berdych offers a contemporary reflection on the traditional shape of chandeliers popular during the reign of empress maria theresa. in producing of each individual chandelier trimmings, berdych has stopped the process prior to the final cutting and polishing stages, showing the pressed glass in a raw state that includes its overburden edge. by doing so, the young czech designer captures the sense of the glass being exposed to heat and pressure, sustaining a sense of motion. the overall effect is further enhanced by the use of the technique of metal-coating of glass that adds depth, sheen and iridescence. the 'empress' chandelier is an example of excellent craftsmanship in combination with the raw sense of the unfinished trimming.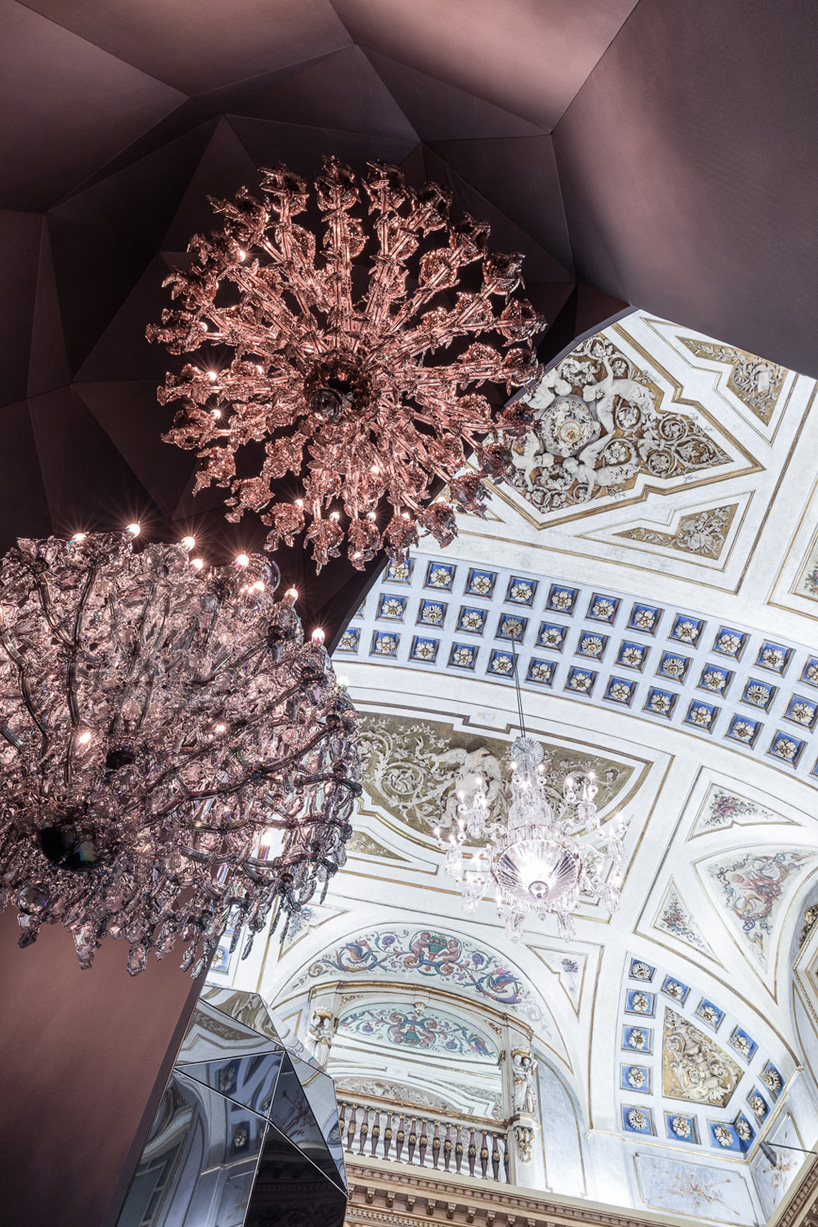 from a far, 'empress' looks refined, but upon closer inspection one sees the overburden edge of pressed glass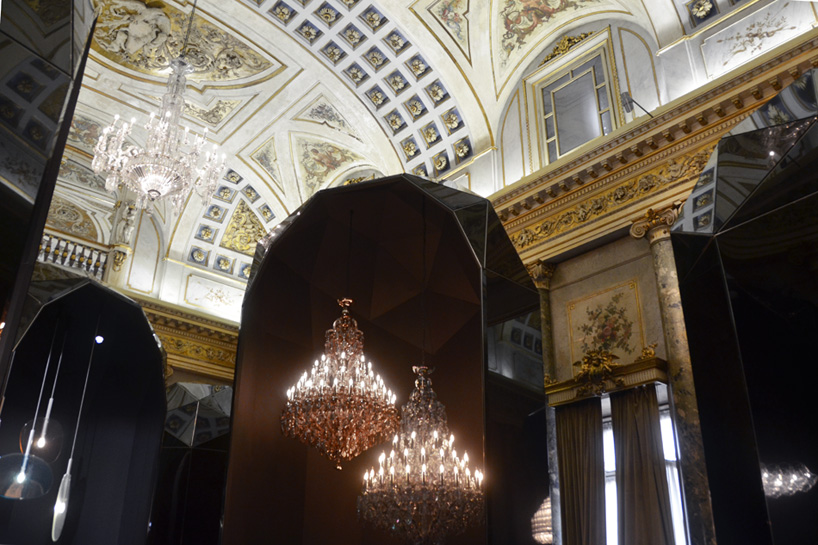 the contemporary takes on the neoclassical chandelier in the historic context of the palazzo serbelloni
image © designboom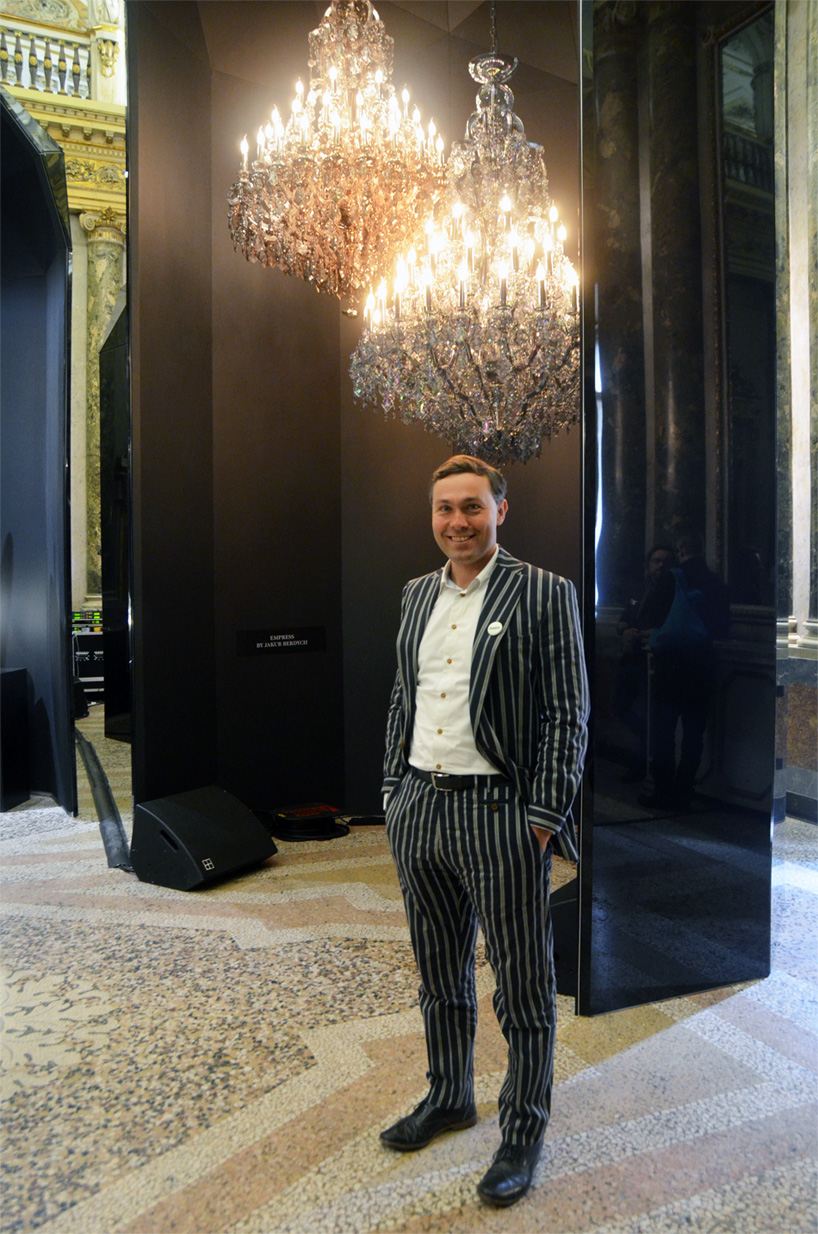 leon jakimič, founder and president of LASVIT
image © designboom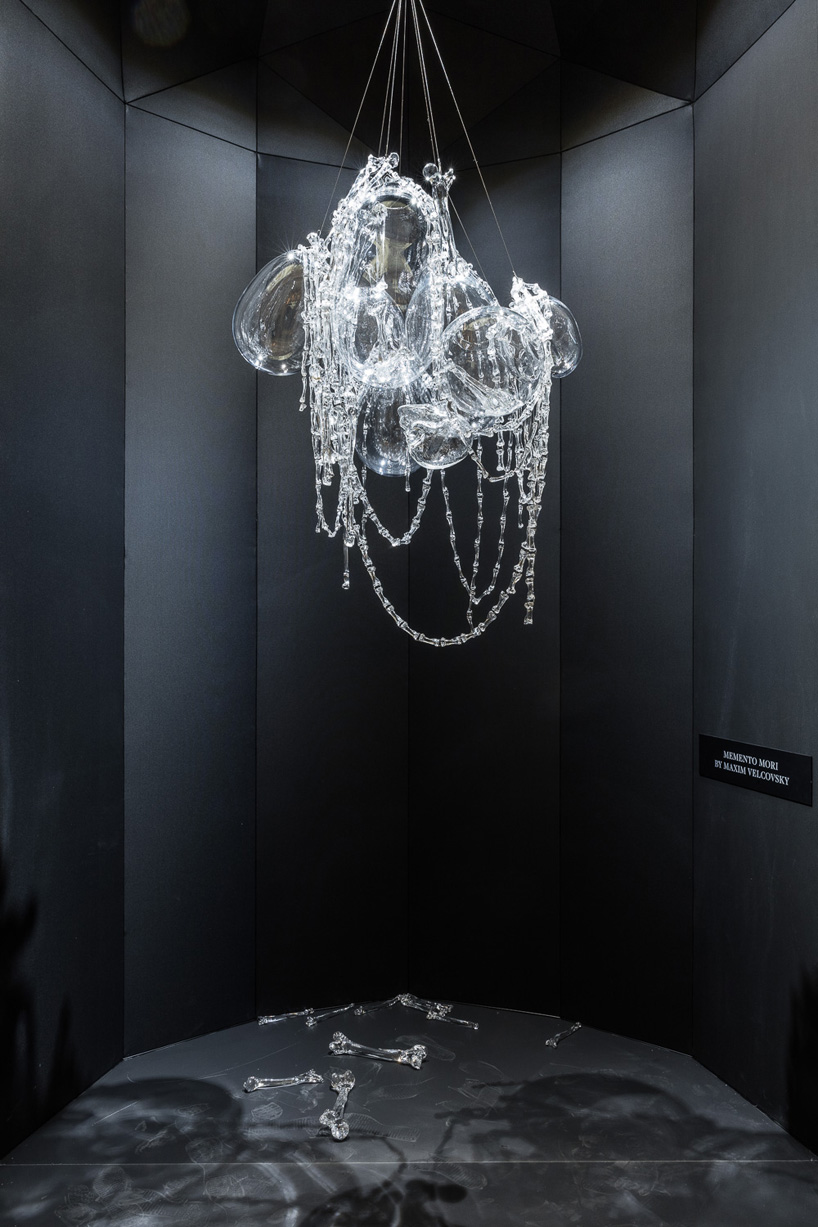 'memento mori' by maxim velcovsky
hand-blown clear glass
1100 x 1500 mm
the macabre czech masterpiece known as the 'sedlec ossuary' (near kutna hora) is one of twelve world heritage sites in the czech republic. it is estimated to contain the skeletons of between 40,000 and 70,000 people, whose bones were artistically arranged by frantisek rint to form chapel decorations in 1870. LASVIT's creative director maxim velcovsky pays homage to frantisek rint's bone chandeliers by rendering them in glass. 'memento mori' is a symbol of birth and death, as well as the disappearing crafts that are passed from generation to generation in europe. each small part is made by glass pressing, while larger elements are hand-blown; with the draping chains formed by small 'bones', referencing the 'immortal'.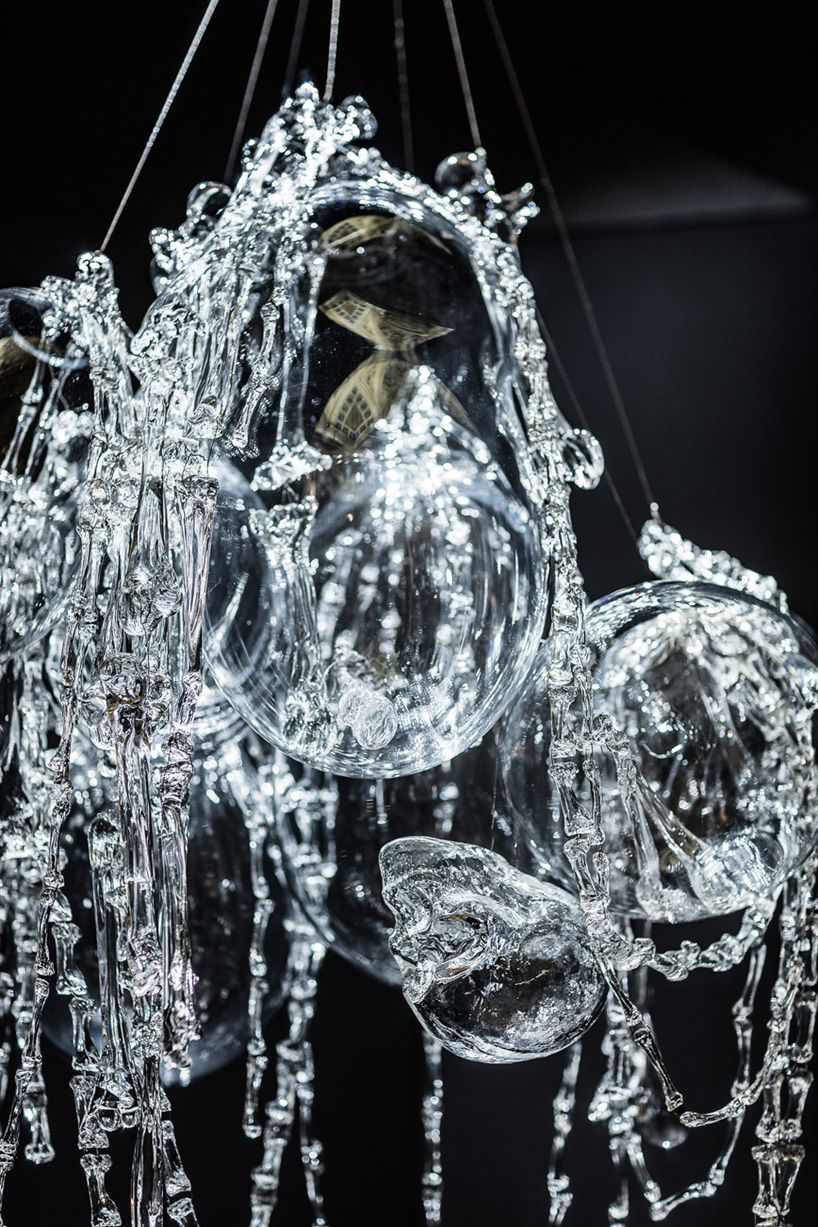 skulls are hand-blown, with small bones are made through glass pressing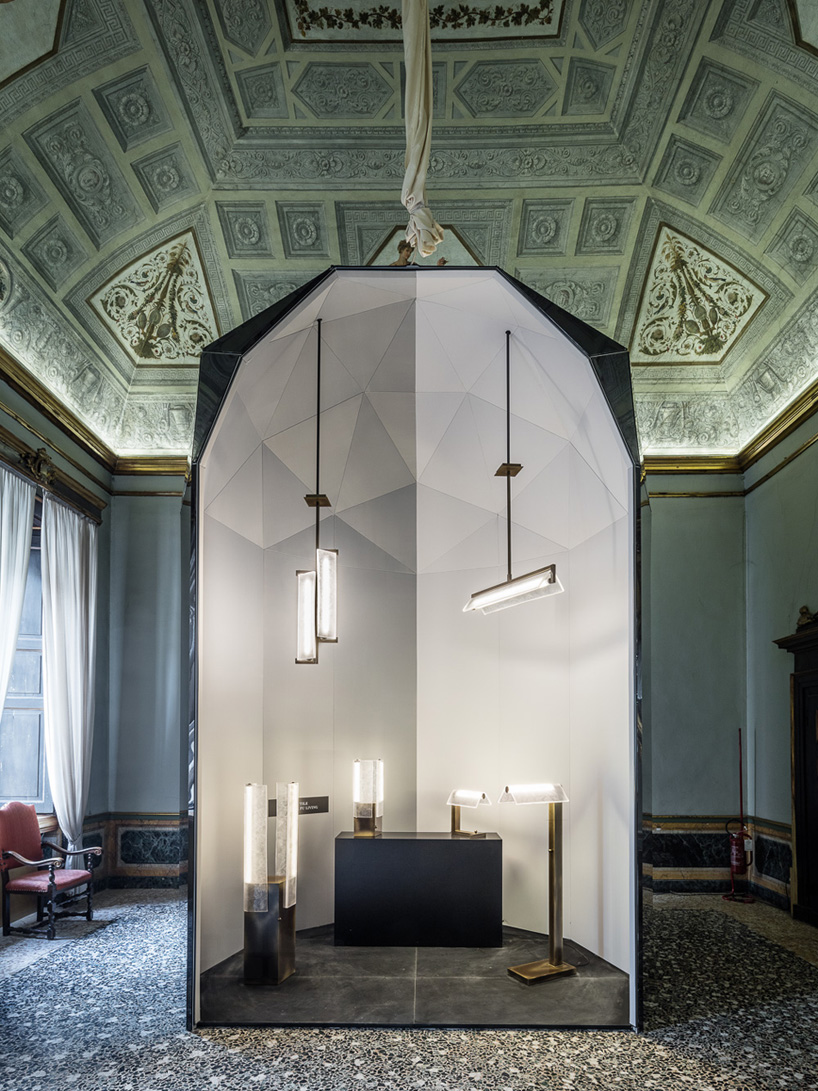 'tac/tile' by andré fu living
cast clear glass
various dimensions: horizontal pendant, vertical pendant, floor pendant, large table lamp, small table lamp, vertical table lamp
'tac/tile' by andré fu living formally references the 1932 maison de verre (house glass), czech metropolitan passageways, traditional chinese tiled roofs, the flatiron building, as well as modernist glass blocks. each lighting piece is composed of glass components expressing a purist triangular profile — this core form adapted into hanging pendants, table and floor lamps. collectively, the pieces which comprise 'tac/tile' are an ode to a truly tactile material that embodies religious, institutional and monumental architecture.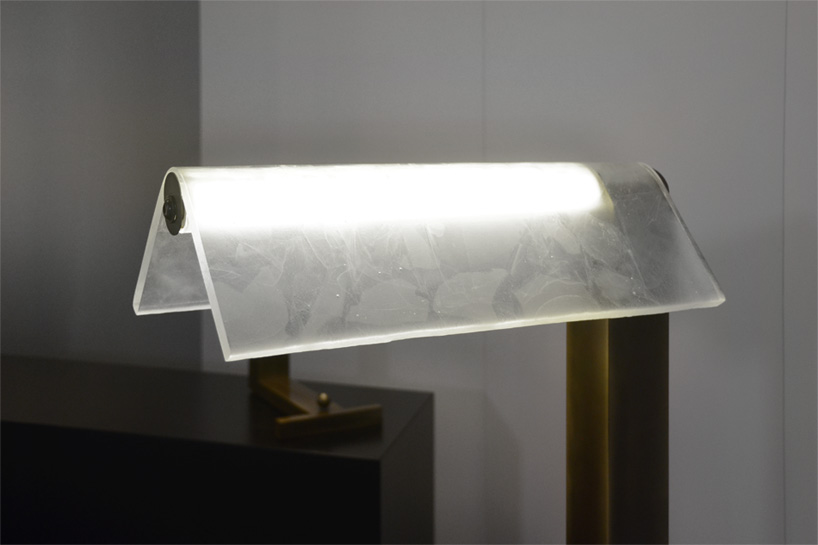 a purist triangular profile is the core form of the 'tac/tile' collection, adapted into a spectrum of applications
image © designboom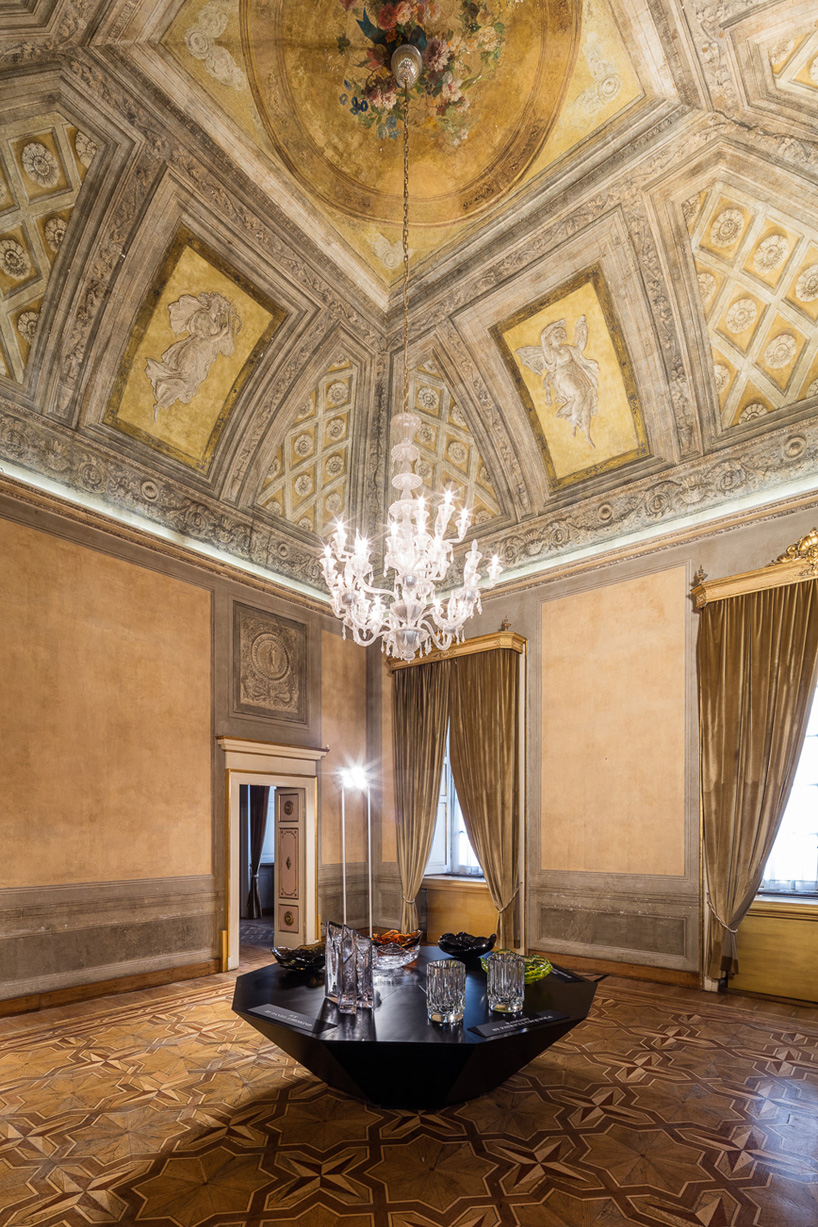 installation view of tableware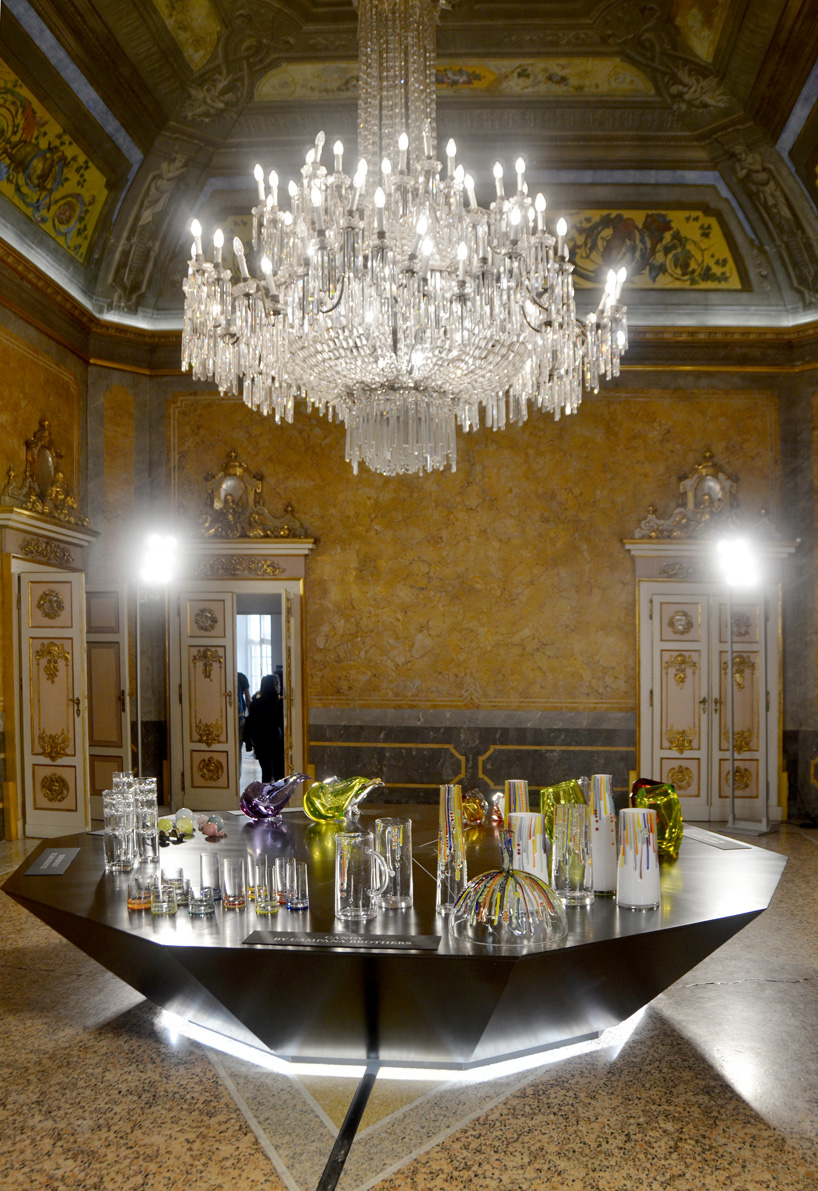 LASVIT tableware by the campana brothers, arik levy, daniel libeskind ans jan kiplicky
image © designboom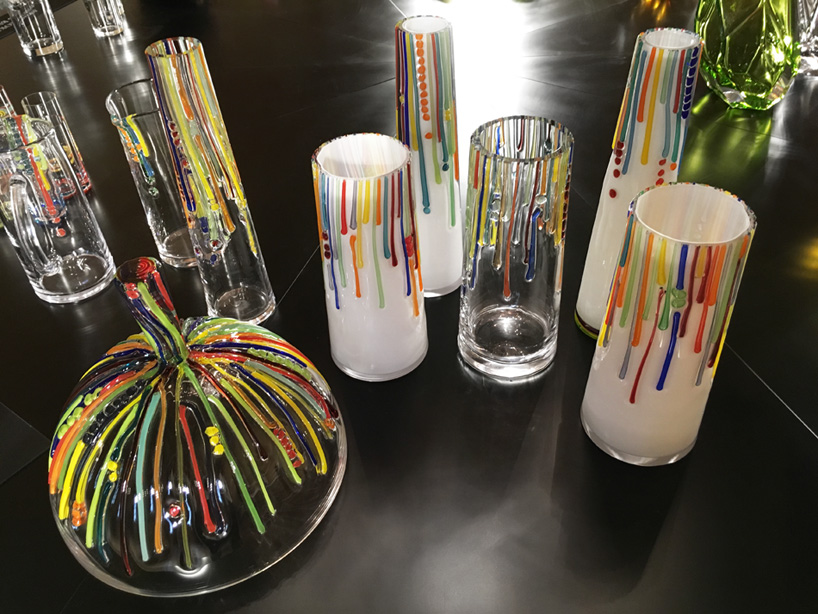 'candy' by campana brothers
hand-blown glass with clear, opal, color strings
varied dimensions: vase I, vase II, carafe, cheese lid, drinking glass, whiskey glass
image © designboom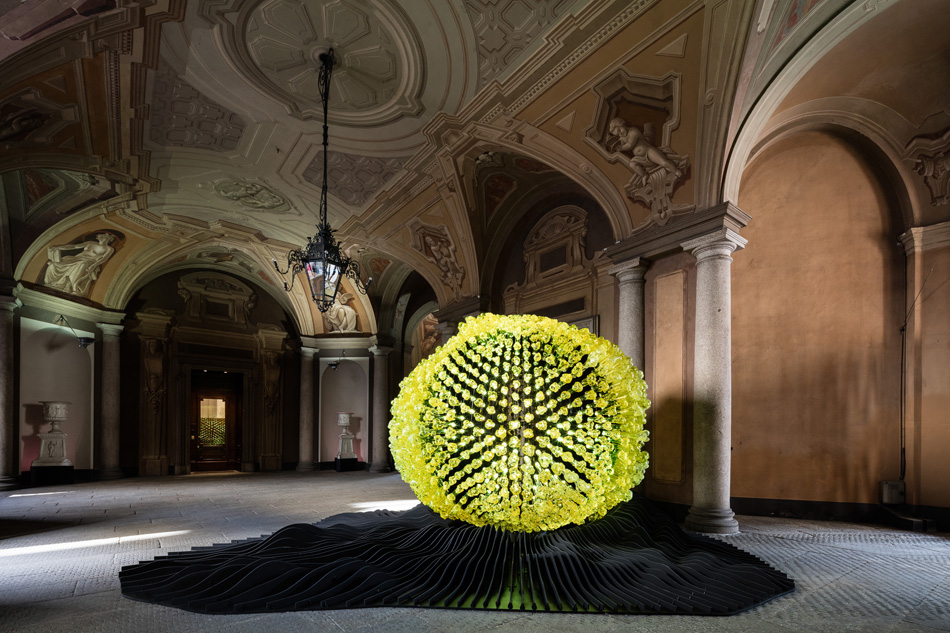 'intergalactic' by petra krausova and libor sostak
3300 mm
hand-blown uranium green and black glass, stainless steel
the ries crater was formed some 14 million years ago by an asteroid impact. the force of its subsequent explosion sent molten rocks up to 300 km away, forming green 'cosmic glass' in the process. today these pieces of natural glass called moldavite are found exclusively in the czech republic. 'intergalactic' by LASVIT designers petra krausova and libor sostak is influenced by moldavite. the dynamic glass sculpture made of bright green uranium glass, features more than 1500 hand-blown glass components, each lit with LEDs, covering its spherical black that pulse with changing light — like an asteroid entering the atmosphere. programmed to seven different modes and effects, it can be controlled using a phone or tablet application. 'intergalactic' blends ancient history and nature with inventive design, fine craftsmanship and modern technology.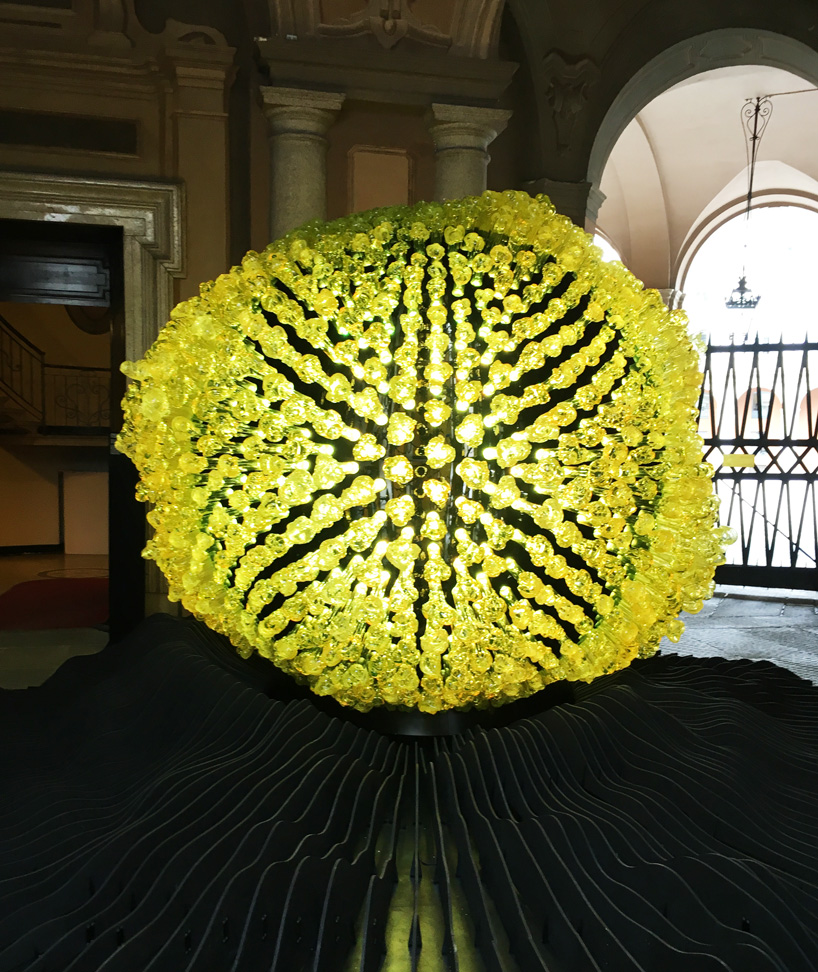 'intergalactic' at the entrance of palazzo serbelloni
image © designboom
see designboom's instagram coverage @milan.design.week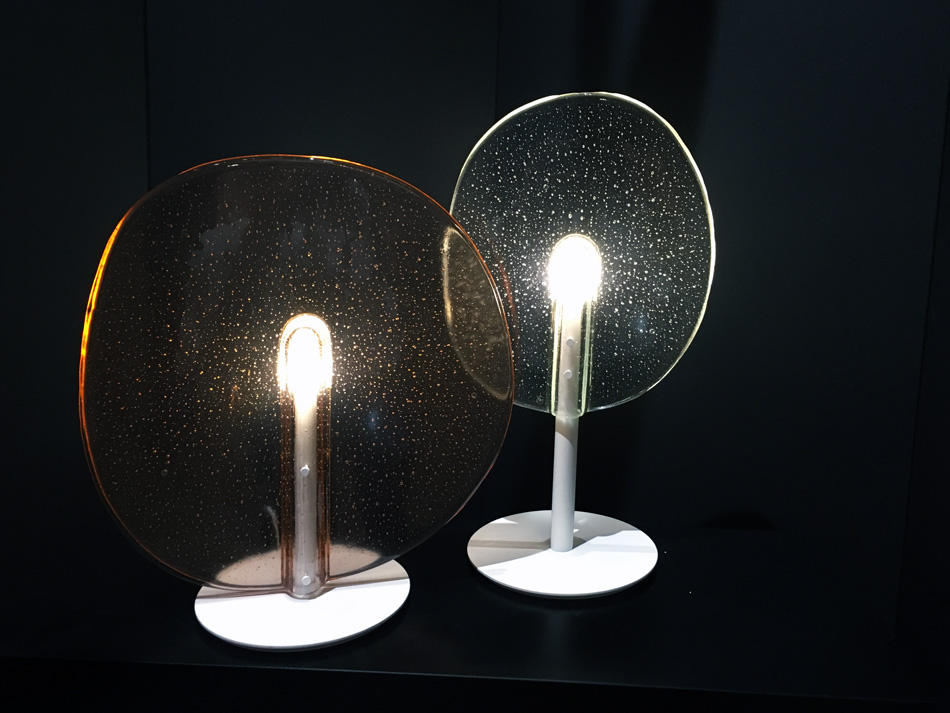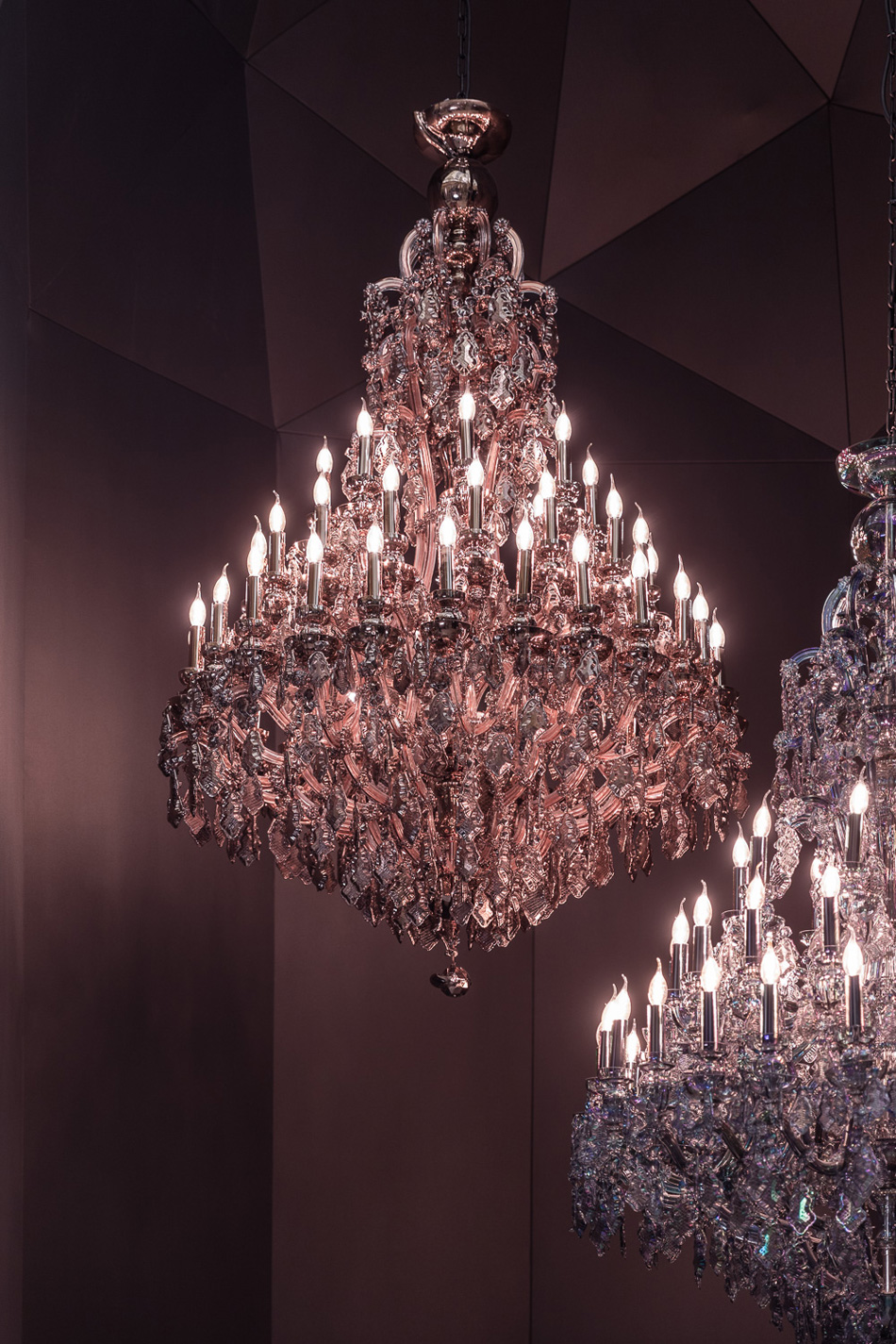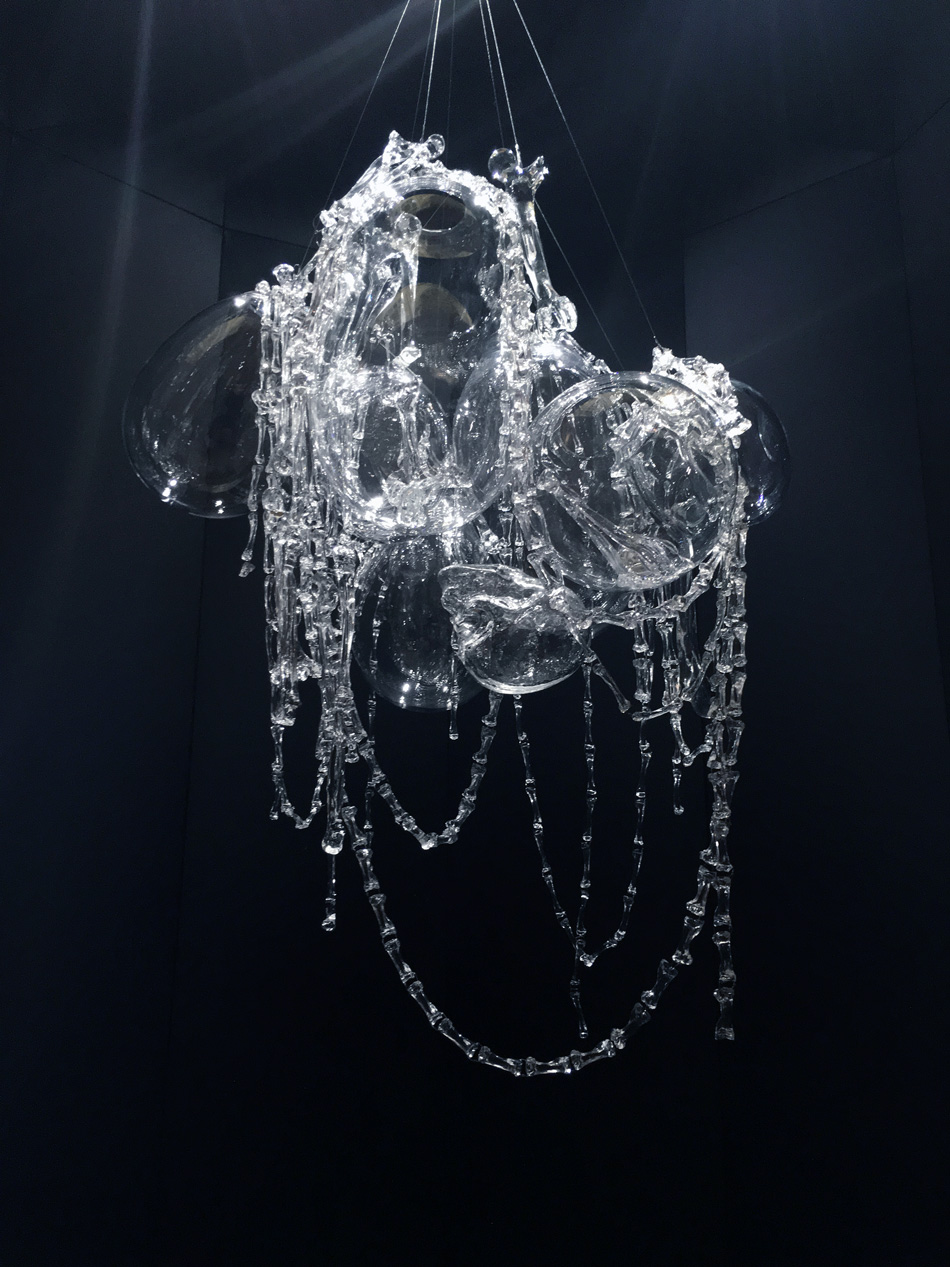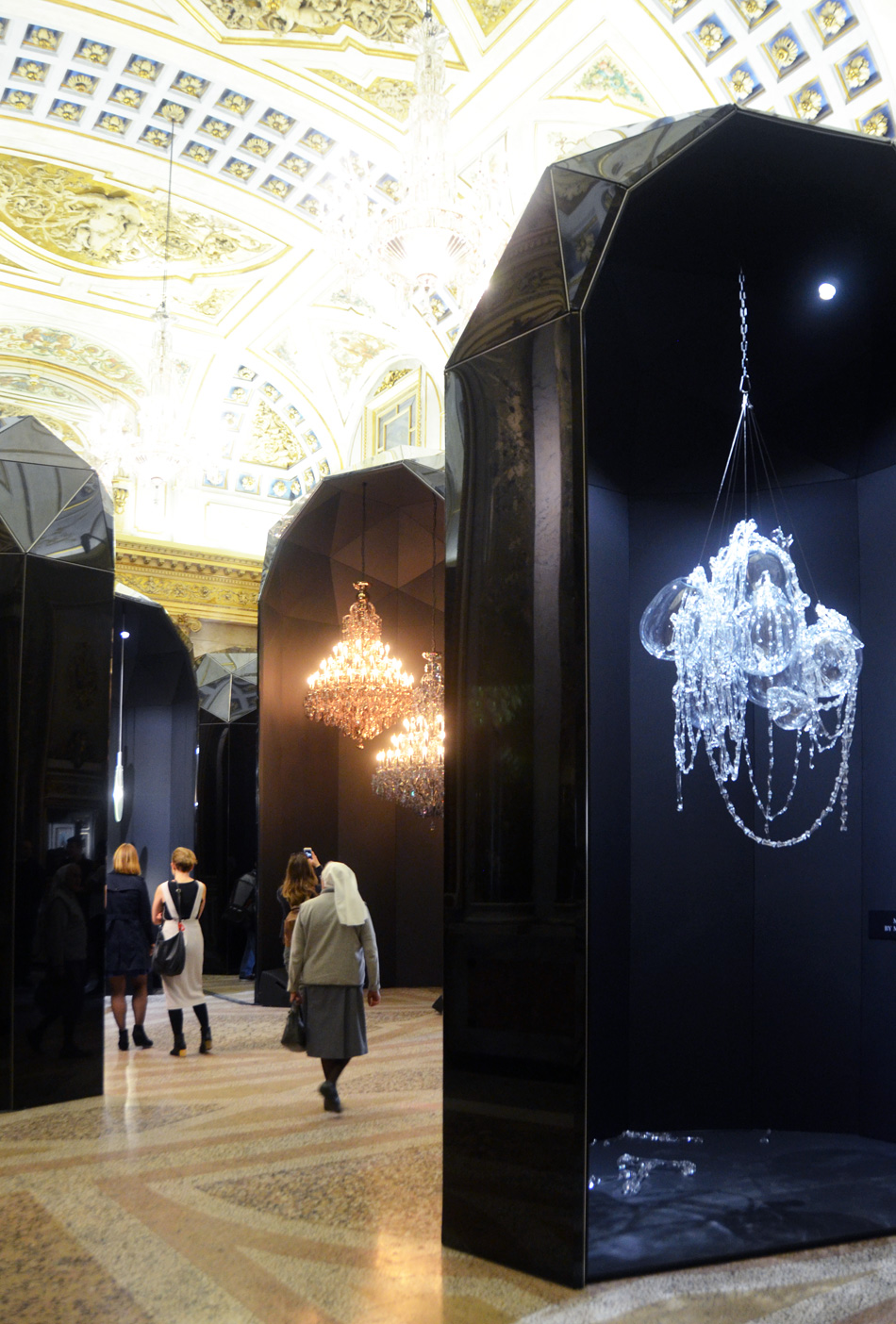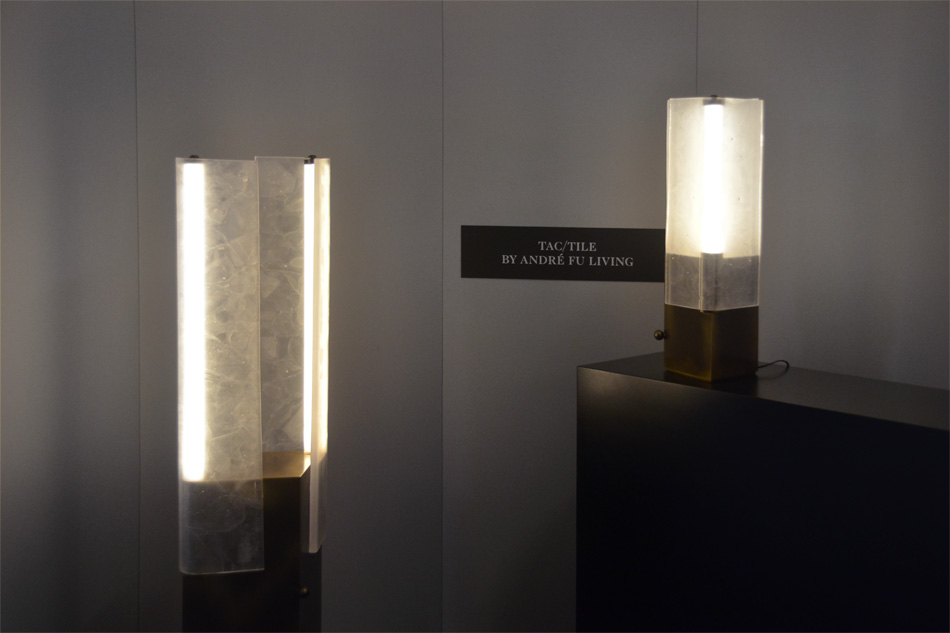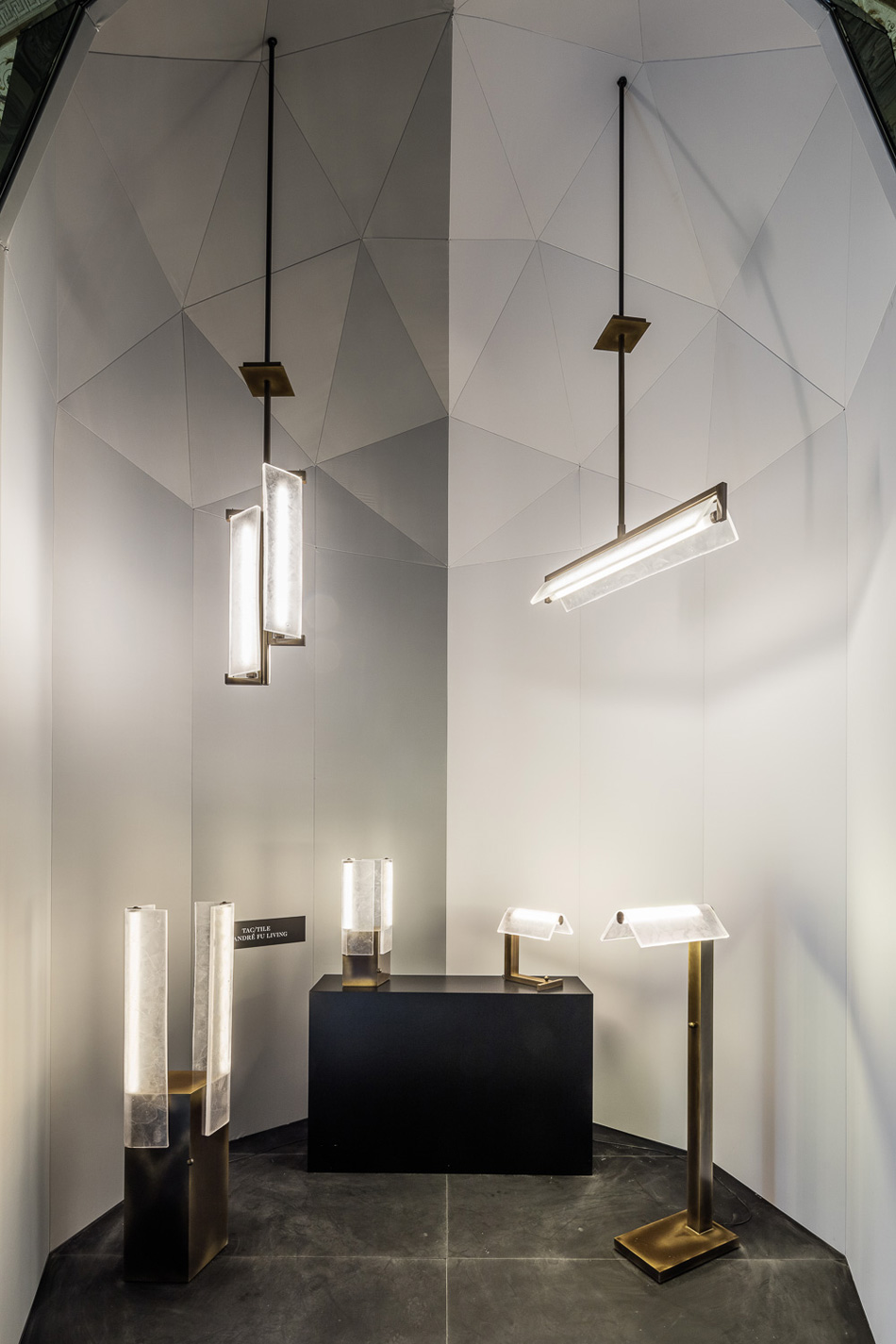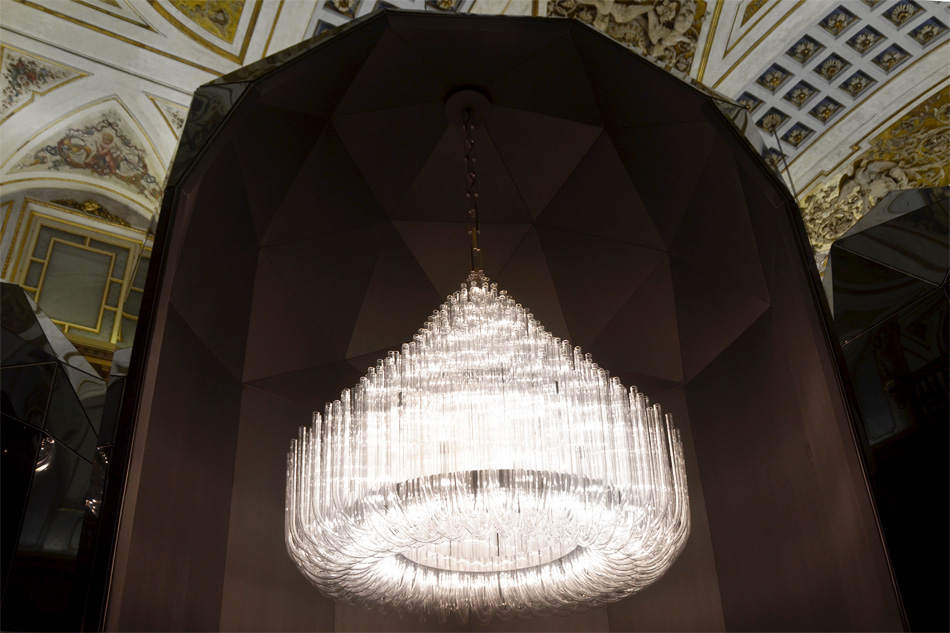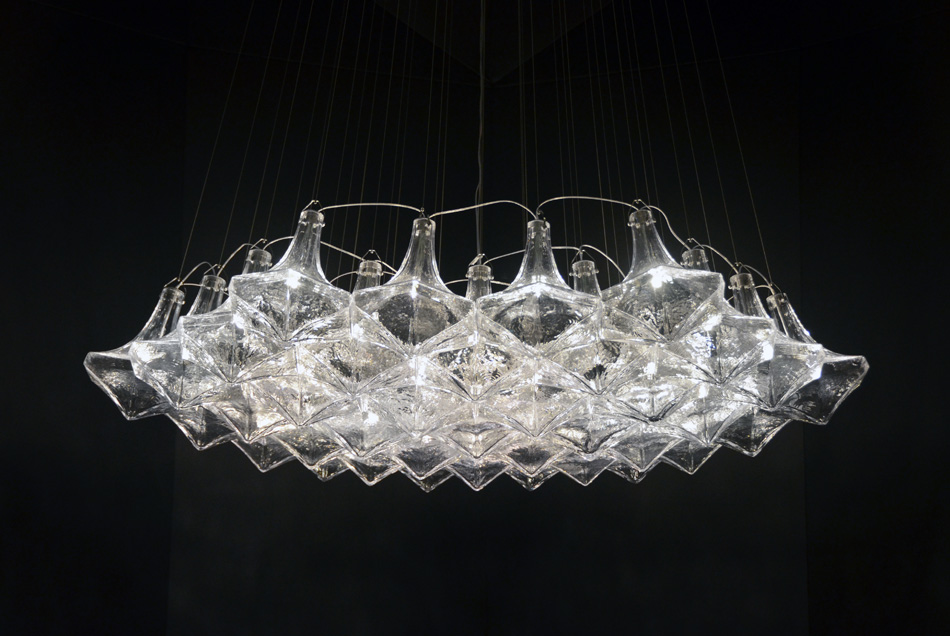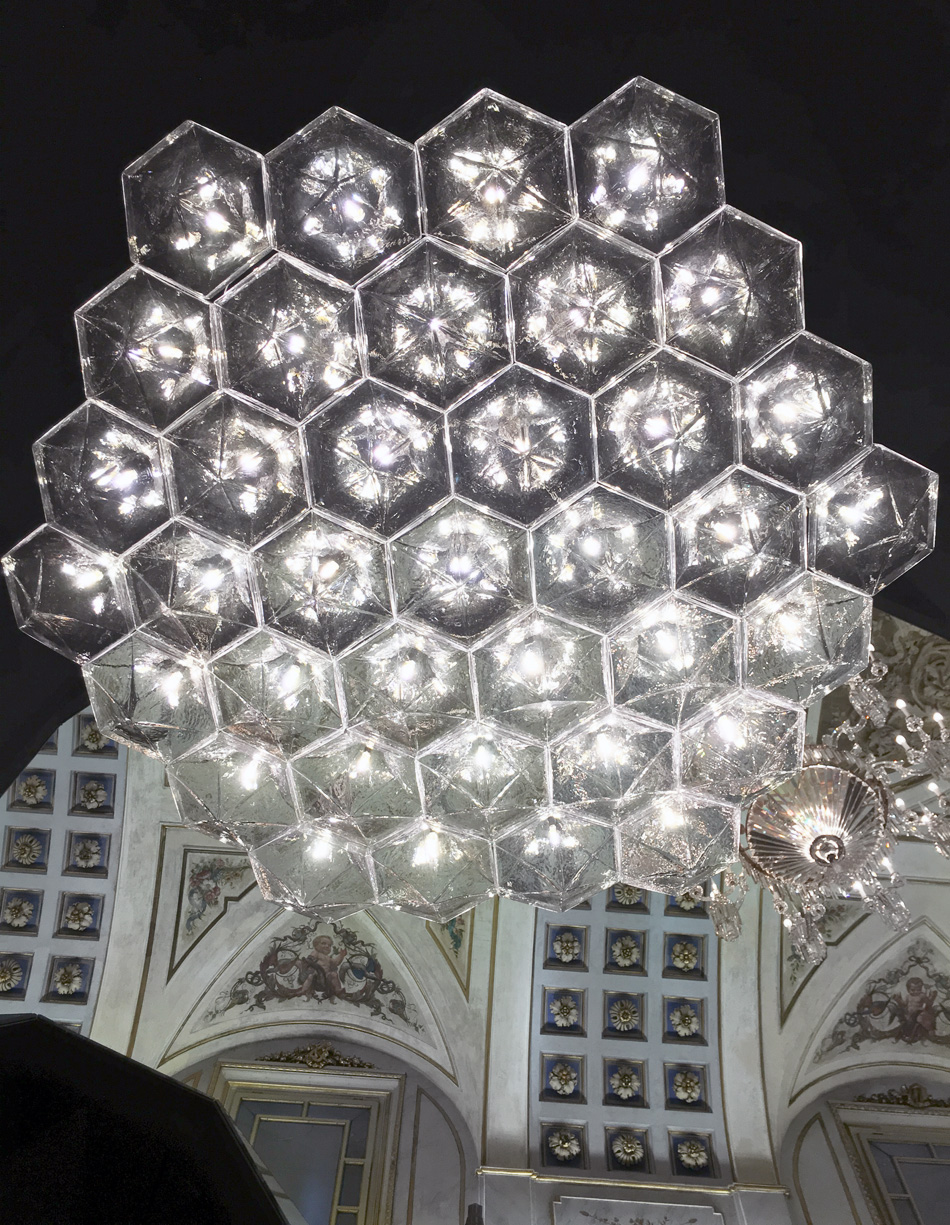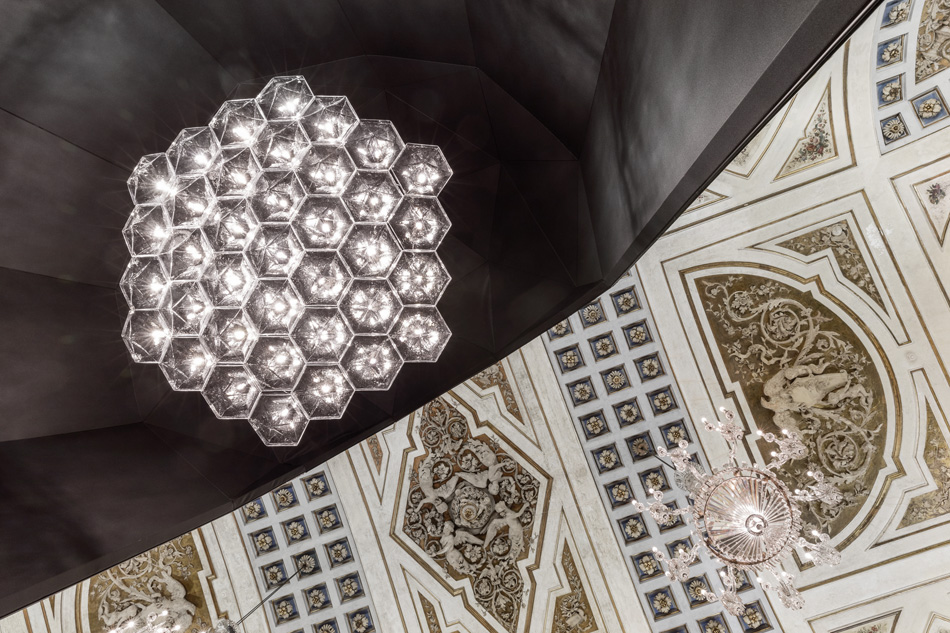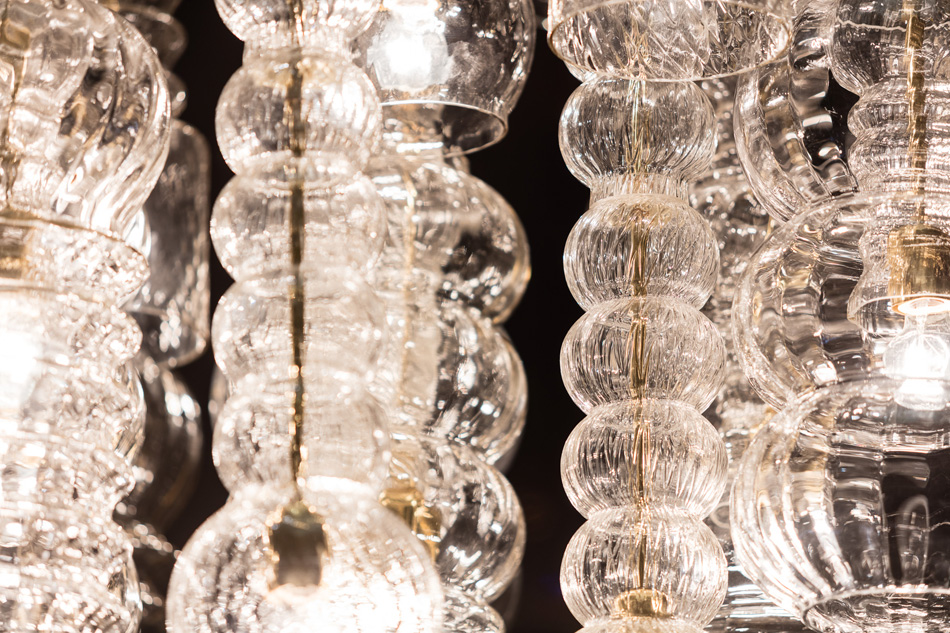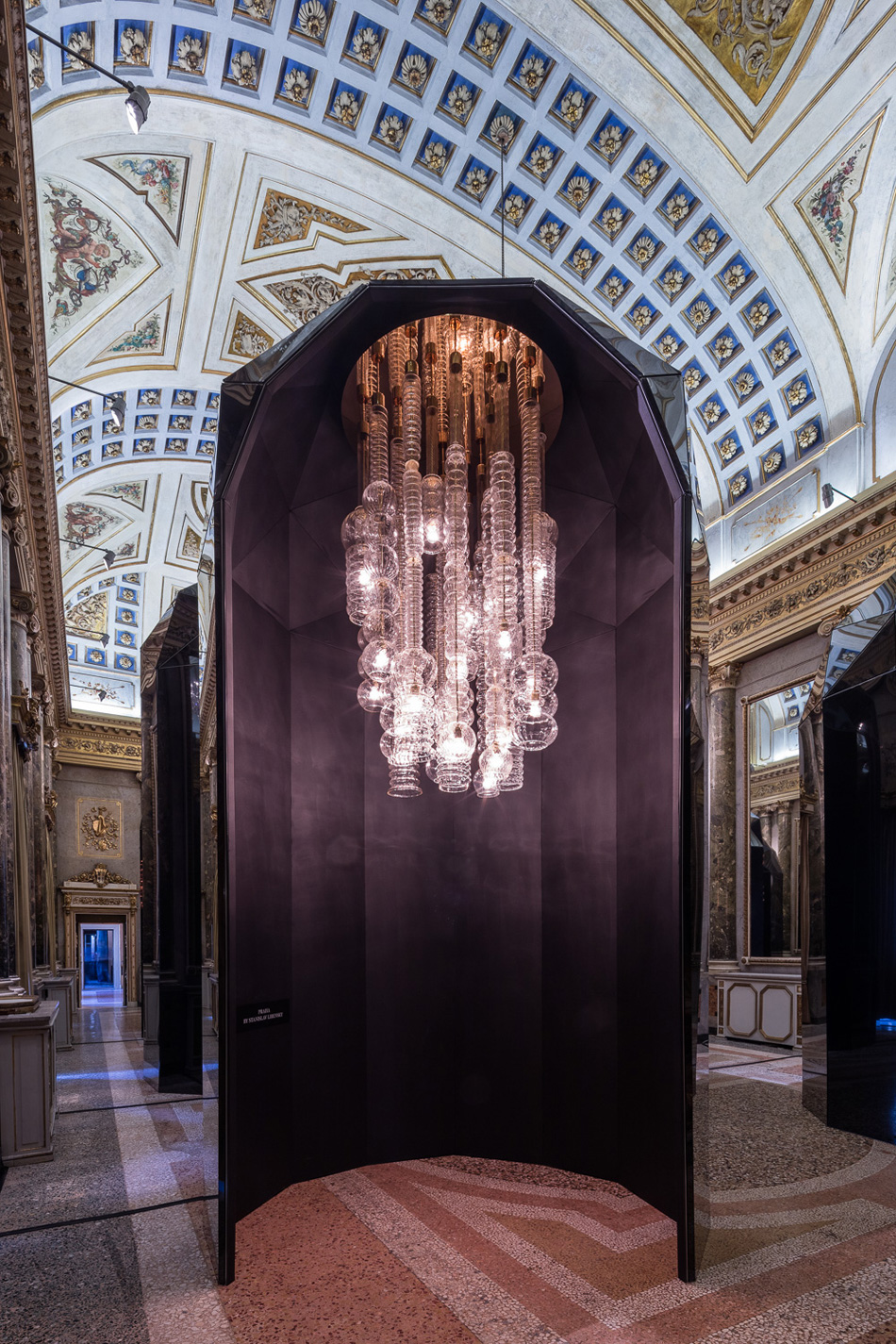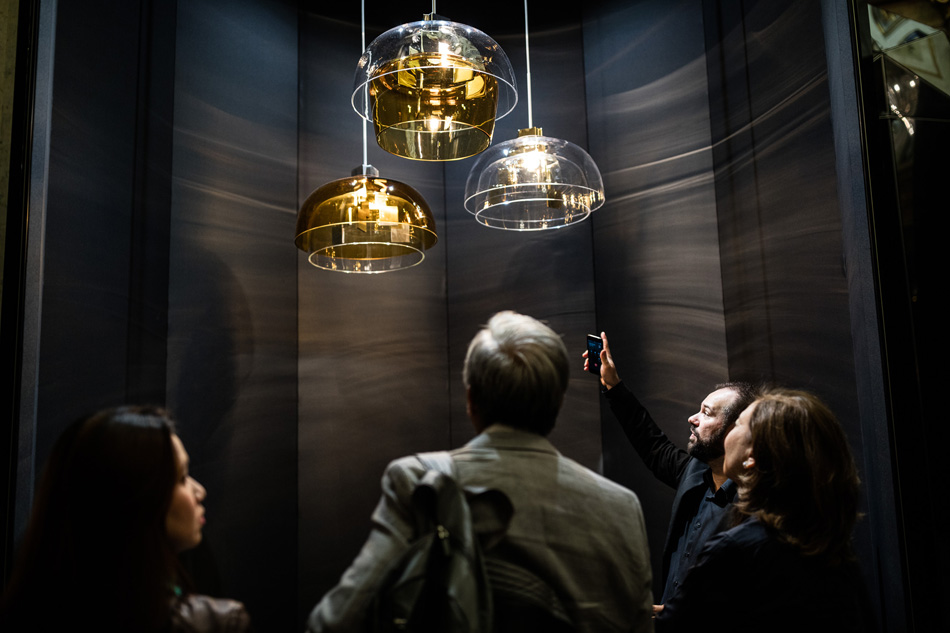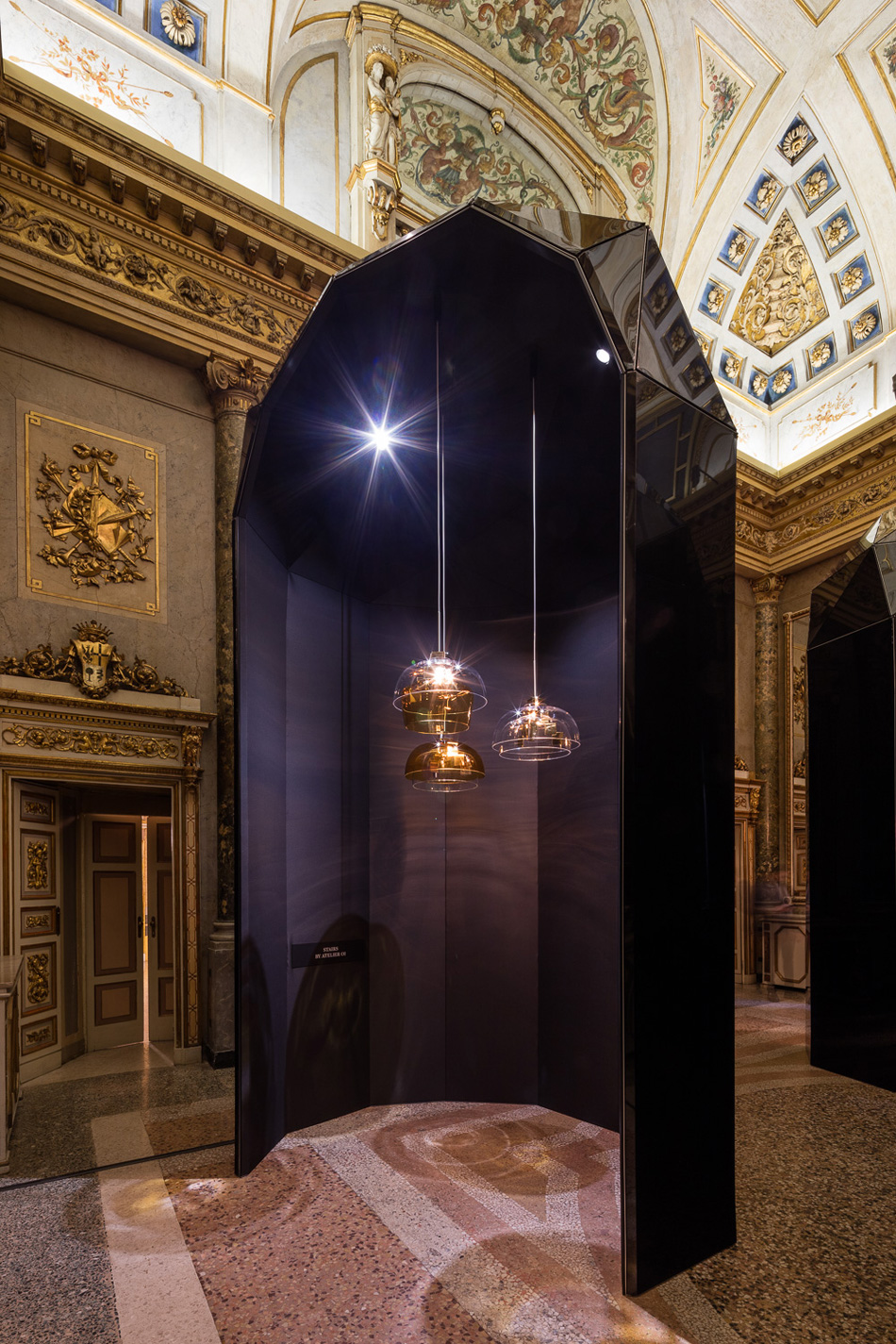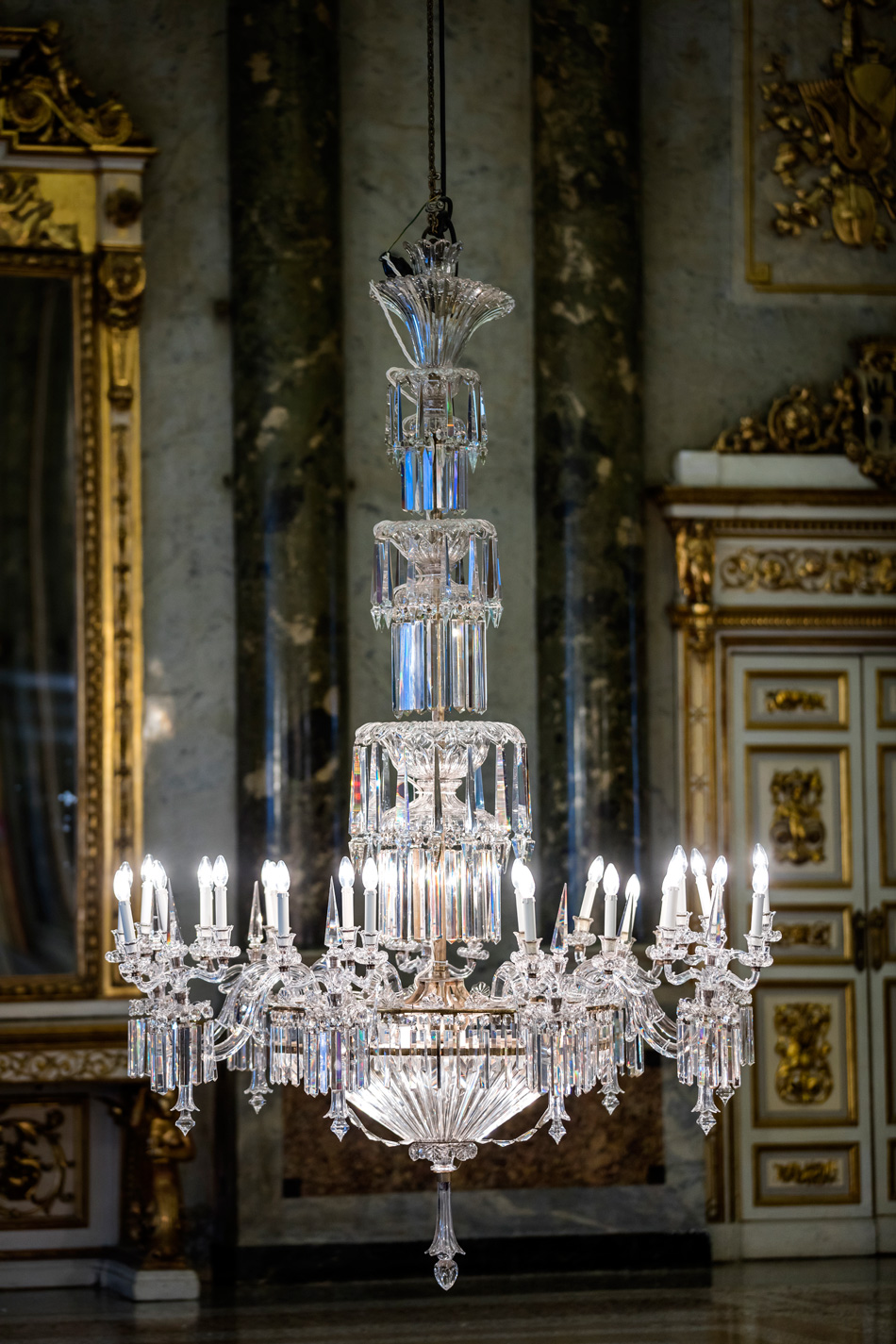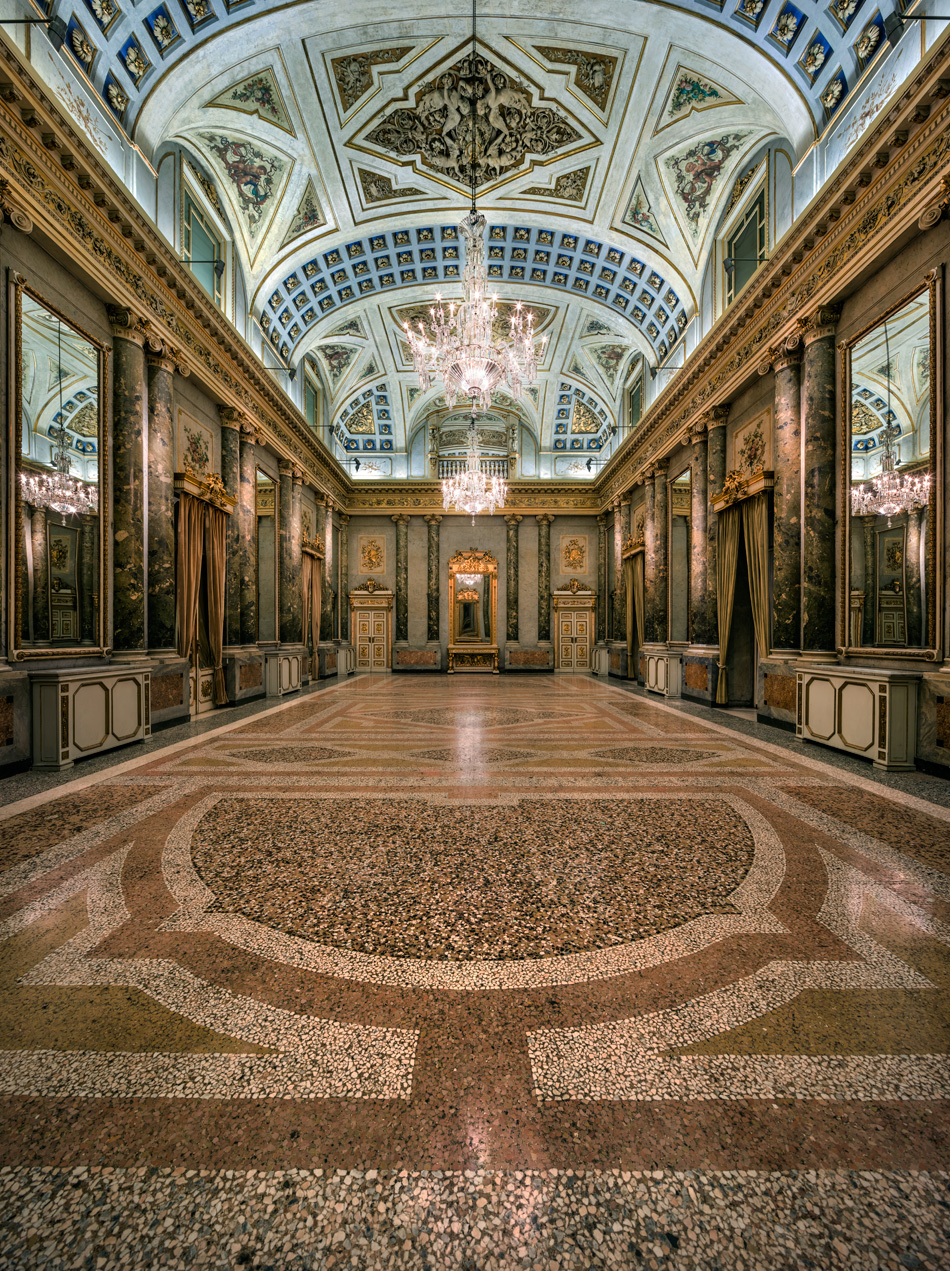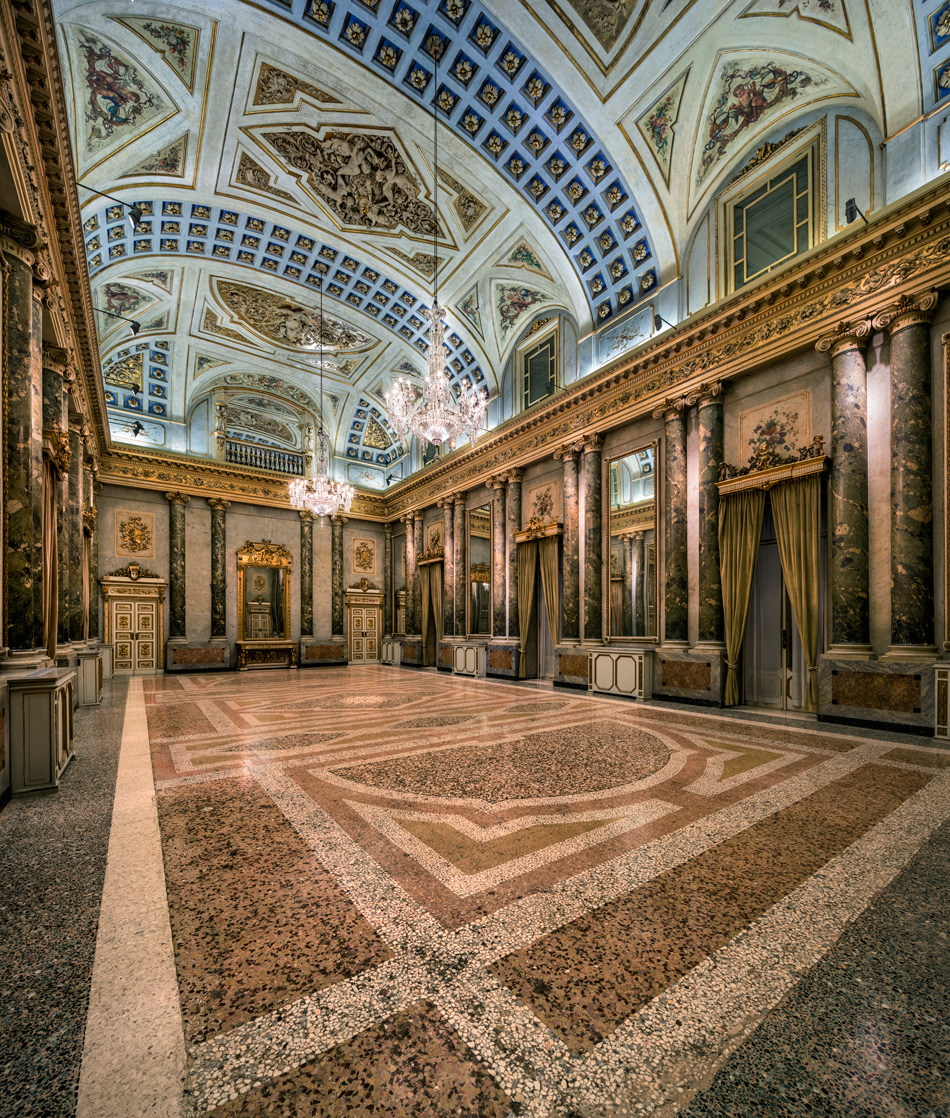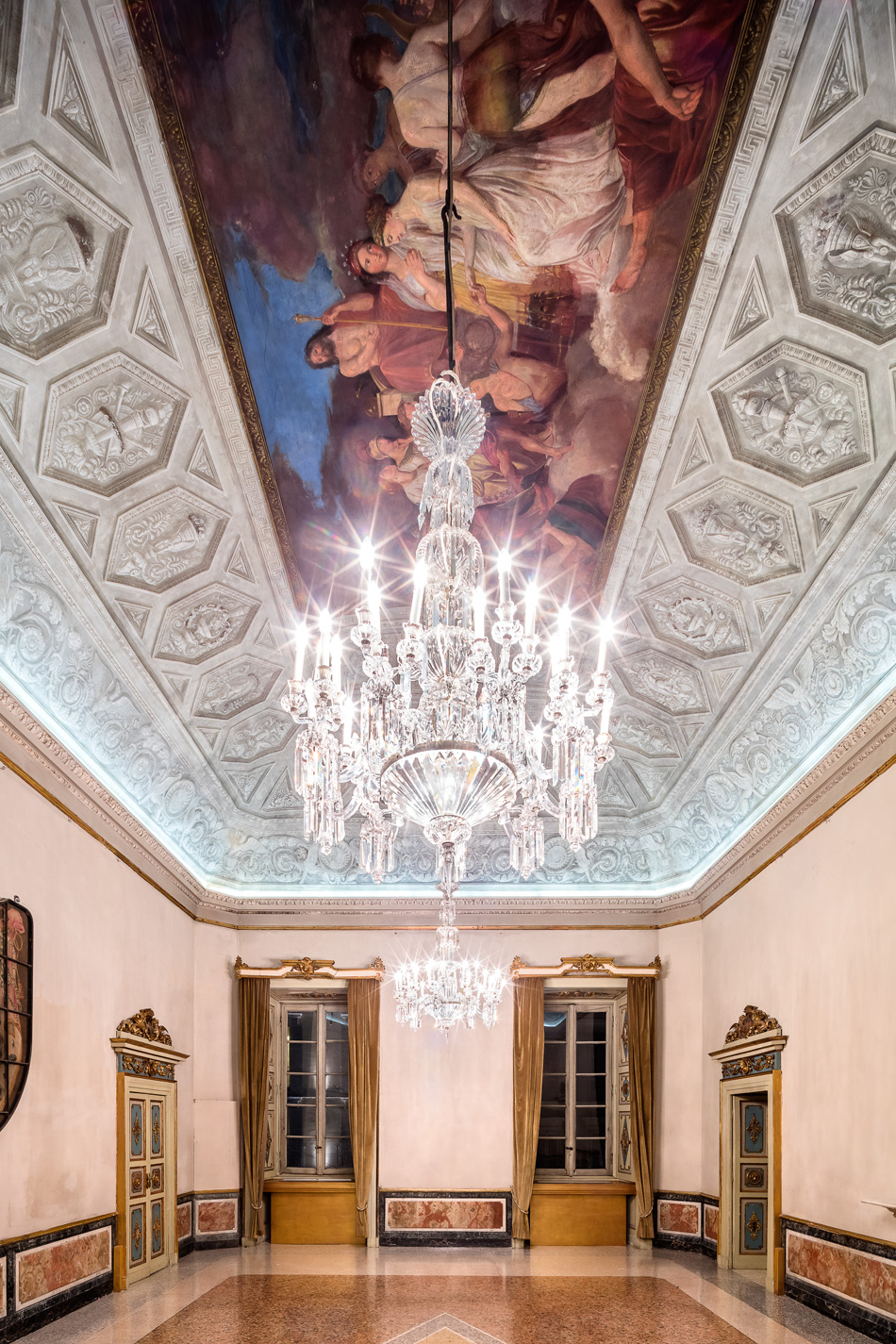 KEEP UP WITH OUR DAILY AND WEEKLY NEWSLETTERS
a diverse digital database that acts as a valuable guide in gaining insight and information about a product directly from the manufacturer, and serves as a rich reference point in developing a project or scheme.
designboom will always be there for you
milan, new york, beijing, tokyo

,
since 1999