update 09/25/2017 – LAUFEN continues to mark its notable 125 year anniversary by exhibiting 'milestones. a curated art show. what?' at london design festival 2017. the landscape of 17 sculptures once again document the true essence of the swiss bathroom specialist, displaying objects from abstract to figurative and from handmade to digital fabrication.
celebrating 125 years of manufacturing ceramic bathroom products and concepts, LAUFEN is marking this esteemed achievement with an exhibition of past, present and future milestones, debuting during milan design week 2017, and presented in june at design miami/ basel 2017. 
named 'milestones. a curated art show. what?', prestigious artist and designer collaborators have created sculptures that highlight the influences and factors that have helped the company grow since their foundation, including the work, material, technology and most importantly, the energy, creativity and skill of the craftsmen involved. the result exhibits 17 objects in white, which display the essence of the brand; its beliefs, values and milestones.
running throughout milan design week 2017, LAUFEN's 'milestones. a curated art show. what?' was curated by beda achermann of studio achermann. the 17 white objects, made from vitreous china, saphirkeramik, coated sand, LCC, varia resin and plaster, compose a landscape of differently executed topics that are strong statements of the ceramic material. the renowned artists and designers of the pieces include; benjamin dillenburger and michael hansmeyer, design flag – bastien aubry and dimitri broquard, stefano giovannoni, konstantin grcic, alfredo häberli, toan nguyen, nissen wentzlaff, atelier oï, ludovica + roberto palomba, patricia urquiola, peter wirz, and studio achermann.
during milan design week 2017, marc viardot, director of marketing and products at LAUFEN, provides insight into the celebratory exhibition and the milestones that the objects represent.
interview with marc viardot, LAUFEN's director of marketing and products
video © designboom

patricia urquiola's 'the search for new visions' object
exploring the forms of tomorrow, patricia urquiola's white object, named 'the search for new visions', was crafted from powder bed 3d printing of polymer cast ceramic. the sculpture is symbolic of the continuing challenge of designing for tomorrow and aspiring for both incremental and radical progress.

'culture' by professor benjamin dillenburger and michael hansmeyer
'culture' by professor benjamin dillenburger and michael hansmeyer, developed at the chair for digital building technologies (ETH zürich), reflects the process of finding the perfect form. it specifically references how our sense of shapes and proportions are sculptured by our surroundings and culture. the object also mirrors how active LAUFEN are within the promotion of culture, noting their work during art basel.

'swissness' by peter wiz
sourcing the origins of LAUFEN, peter wirz's 'swissness' specifically displays the alp mountains that shape the city of basel and switzerland. this mention also showcases the craftsmanship of the skilled workers at LAUFEN, who have shaped ceramics with high quality and precision for 125 years.

'brand architecture' by nissen wentzlaff
likening the process of building a house to the values of LAUFEN, nissen wentzlaff's 'brand architecture' showcases how architecture and the brand combine form and function to create uniqueness. it also references their showroom where builders, architects, dealers and craftspeople find their inspiration for bathrooms, and where they exchange ideas and business.

'classics' by stefano giovannoni
'classics' by stefano giovannoni displays a form that remains original and special forever. it is completely unique, showcasing a never fading, beautiful shape that, like LAUFEN products, can be enjoyed for eternity.

'material innovation' by atelier oï
named 'material innovation', atelier oï's sculpture displays complete precision with fascinating thin details and an immaculate shape. using LAUFEN's famed saphirkeramik material, the object was produced using a 3D print process developed by their cooperation partner, lithoz, who were the first company to process high-performance ceramics using this manufacturing method. 'material innovation' highlights LAUFEN's latest products made from this ceramic, reflecting their lightness, clean surfaces and novel shapes of elegance.

'common space' by ludovica + roberto palomba
as every room in a house is a collection of individual pieces that complement each other, ludovica + roberto palomba's 'common space' object outlines the designers role of understanding its whole interior during the creation process. by doing this, their sculpture highlights LAUFEN's partnership with kartell in 2013, where they designed fully furnished bathrooms.

'complete bathroom solutions' by konstantin grcic
exemplifying the fundamental role of cleanliness for bathrooms, konstantin grcic's 'complete bathroom solutions' is exactly that; it offers all the functions of a bathroom in one integrated object. the concept is simple in its idea, saving plenty of space so that it can be included in open floor plans of modern houses.

LAUFEN's 'ingenuity'
as a pressure casting mould of LAUFEN's varia resin material, 'ingenuity' alludes to the coming together of different people, points and ideas that can result in new solutions. the pressure casting method has been constantly developed and improved to meet modern demand, and this object displays how LAUFEN's manufacturing techniques are and aspire to be of the highest quality.
jun 16, 2017
jun 16, 2017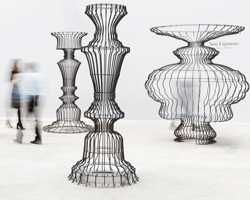 jun 14, 2017
jun 14, 2017
jun 14, 2017
jun 14, 2017
jun 13, 2017
jun 13, 2017
jun 11, 2017
jun 11, 2017
LAUFEN
(22 articles)
nov 20, 2016
nov 20, 2016
oct 31, 2016
oct 31, 2016
jun 01, 2016
jun 01, 2016
apr 23, 2016
apr 23, 2016
apr 18, 2016
apr 18, 2016
nov 30, 2015
nov 30, 2015
oct 18, 2017
oct 18, 2017
oct 15, 2017
oct 15, 2017
oct 08, 2017
oct 08, 2017
oct 04, 2017
oct 04, 2017
oct 03, 2017
oct 03, 2017
sep 27, 2017
sep 27, 2017
jul 23, 2017
jul 23, 2017
jun 11, 2017
jun 11, 2017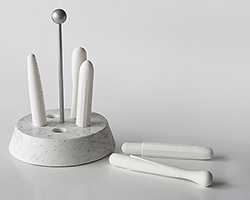 jun 07, 2017
jun 07, 2017
jun 02, 2017
jun 02, 2017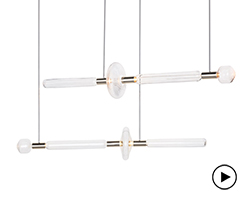 jun 01, 2017
jun 01, 2017
may 31, 2017
may 31, 2017