LEGO designers get nostalgic with comprehensive replica kit of 1960s VW beetle
following the success of LEGO's very detailed replica kit of a porsche '911 GT3 RS', designers at the company created a kit for the classic 1960s volkswagen 'beetle'. with 1,167 pieces, the model has a number of special features and elements that help recreate the distinctive shape of the car, including an blue color scheme, curved fenders, flat windshield, logos and an comprehensive four-cylinder air-cooled engine and fuel tank.

the LEGO creator expert 'VW beetle' kit
the interior features beige finishes, forward-tilting seats, dashboard and steering wheel. on the roof, LEGO added a rack for the accompanied surfboard and cooler box. all togther, the LEGO creator expert 'VW beetle' kit is 15 centimeters high, 29 centimeters long and 12 centimeters wide, and provides a challenging build with added sentimentality.
video courtesy of FBTBnet

 the front grille

top view 

accessible interior 

LEGO even added decals 

the full kit with a surfboard and and cooler

a comprehensive four-cylinder air-cooled engine

the front lid opens to showcase the spare tire 
[h/t: brickset]
LEGO
(116 articles)
jul 04, 2017
jul 04, 2017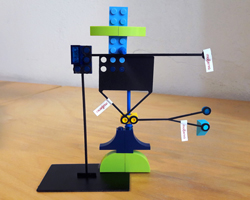 jun 13, 2017
jun 13, 2017
apr 08, 2017
apr 08, 2017
apr 19, 2017
apr 19, 2017
mar 07, 2017
mar 07, 2017
jan 09, 2017
jan 09, 2017