mar 14, 2011
LEGO minifigure USB flash drive
LEGO's minifigure USB flash drive
LEGO has come out with a USB drive that is in the form of a classic LEGO minifigure. just remove the 'pants' of the minifigure to reveal the USB memory drive. the device has the capacity to hold up to 2GB of memory and can be attached to your keychain and carried around everywhere you go. it is compatible with both mac and PC.
the USB drive 'dressed' and closed
detail of the USB drive
via oh gizmo!
LEGO
(116 articles)
jul 04, 2017
jul 04, 2017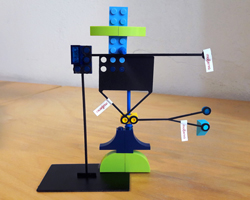 jun 13, 2017
jun 13, 2017
apr 08, 2017
apr 08, 2017
feb 02, 2015
feb 02, 2015
mar 03, 2013
mar 03, 2013
jan 18, 2013
jan 18, 2013