LEXUS design award 2015 winner senses acts to improve the life of people

since 2013, designboom together with LEXUS international, has co-organized the annual international competition LEXUS DESIGN AWARD. the initiative was born as a means of fostering growth among young designers. each year, a different theme is selected in order to encourage broad thinking, in which individuals are invited to openly interpret and address it in a physical capacity. what makes the LEXUS DESIGN AWARD unique is that a selection of these young creatives receive feedback from world renowned professionals in the area of design, through a mentorship program.

having previously looked at 'motion' and 'curiosity' as subjects, the 2015 theme at hand was 'senses' — one that is particularly relevant to LEXUS. 'sense are intrinsic to life: they allow perception of the world. under this broad theme of seeing, hearing, feeling, smelling and tasting, the range of possibilities is open.' the entire driving experience is about the 'senses' — from the way the vehicle is styled, to the sound of its finely tuned engine, to the feeling of its luxurious leather seats and the scent of the 'new car smell'. the LEXUS DESIGN AWARD 2015 saw 1171 projects from 72 countries submitted, each of which explored the five senses in pioneering ways; while also touching on emotional rather than concrete aspects of the human experience.


illustrated in the form of interpretive dance, this video shows how 'sense-wear' has been designed to address issues that individuals with autism face around dressing/wearing/playing/stimulating their senses
video courtesy of caravan

of the submitted projects, the expert international jury composed of:
– paola antonelli, senior curator of architecture and design at MoMA, NYC;
– aric chen, design and architecture curator for the M+ museum for visual culture in hong kong;
– toyo ito, the pritzker prize-winning architect;
– birgit lohmann, CEO and editor-in-chief of designboom; and
– alice rawsthorn, design commentator and critic for the new york times and frieze;
– tokuo fukuichi, president of LEXUS international;
selected 12 finalists to present their ideas. four prototype winners were paired up with mentors arthur huang, engineer and architect; robin hunicke, game designer; neri&hu, architects and designers; and max lamb, designer; to produce working models of their concepts over a course of three months. these chosen individuals travelled to their mentor's city to work alongside them to further elaborate on the specific materials, technologies and design aspects of their idea for realization.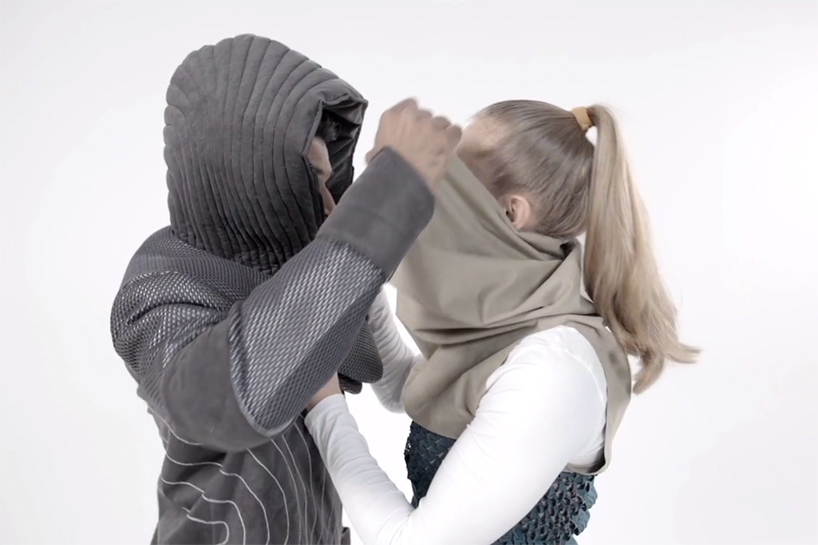 these reversible clothes have been tailored to meet the sensory needs particularly of children with autism, and can help make a considerable difference in dressing routines.
on this occasion, the LEXUS DESIGN AWARD committee announced the first ever grand prix winner selected from the top four prototype projects, granting 'sense-wear' by emanuela corti and ivan parati (caravan) the prize. mentored by robin hunicke, the creative duo's concept came to fruition as a collection of garments and accessories that is meant to stimulate and improve one's awareness of their senses, training one to utilize them all, and to their maximum ability; while a few of the pieces were developed to mute physical sensations in order to heighten others. 'sense-wear' channels our perception of our five senses, encouraging one to approach or engage with them in new ways. more specifically, the collection was envisioned to assist and act as a form of therapy for people with autism, tourette syndrome and other special needs.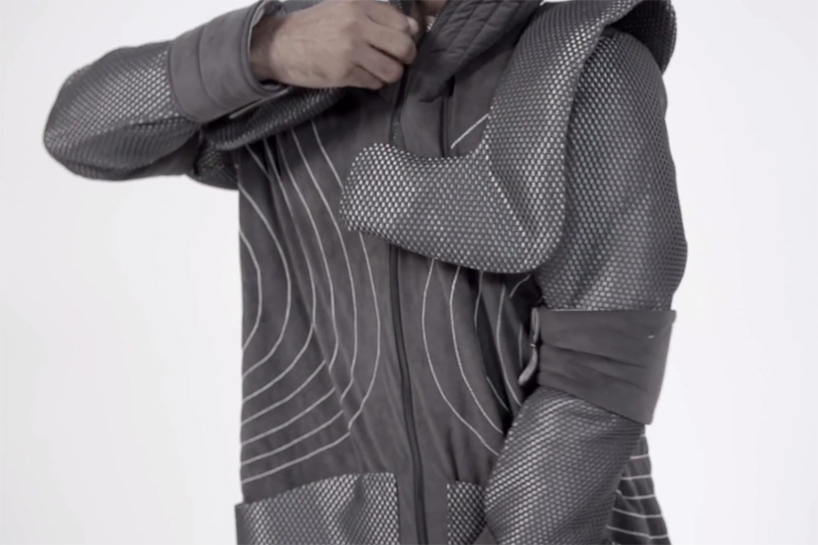 'pump me' is a suit that tightens itself around the wearer. often pressure can help in relieving anxiety in people with autism, as it aids in regulating one's sensory system when it is overstimulated.
despite the fact that sensory issues have long been recognized in scientific research on autism, it's only recently that this fieldwork and information has received widespread attention. many children and adults with autism prefer to wear old, faded worn out clothes, and it can be quite difficult to get them to change. the reason being is that they display issues with fine and gross motor skills and therefore smooth, comfortable, carefree dressing (rather than anything scratchy) is preferred; without buttons, zippers, tags, and laces as they cause problems in putting on garments.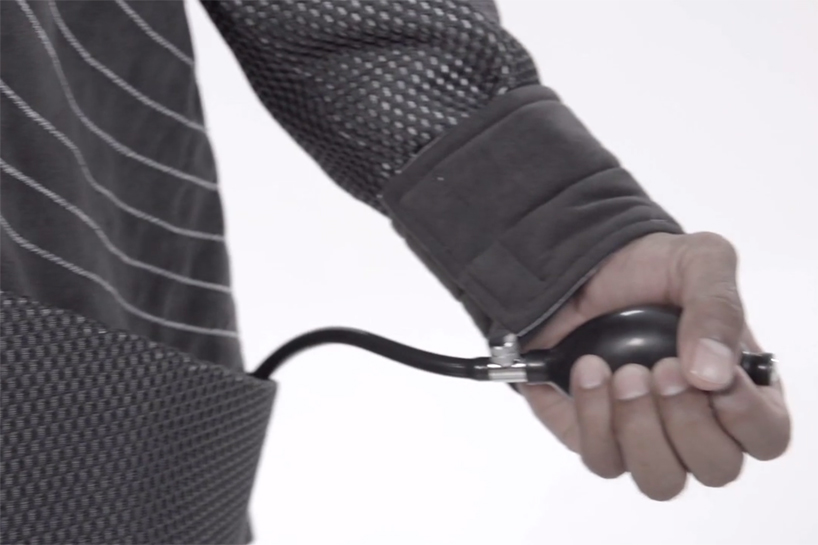 the full body suit slowly squeezes itself around the wearer, much like a hug
emanuela corti and ivan parati, conducted extensive research and came across many things which could lead to new design ideas. their 'sense-wear' has been developed to improve the life of people, especially those with special needs:
'we visited specialised institutions, shared our ideas with therapists and integrated their feedback in our project. and actually, we see now that such clothes could be useful for lots of people. in our daily life, we are sometimes confronted with stressful situations in which we would like to build some kind of shelter around us. so, this award represents a great opportunity for us to further develop our idea, and hopefully to help people in the future,' the duo says of their 'sense-wear' project.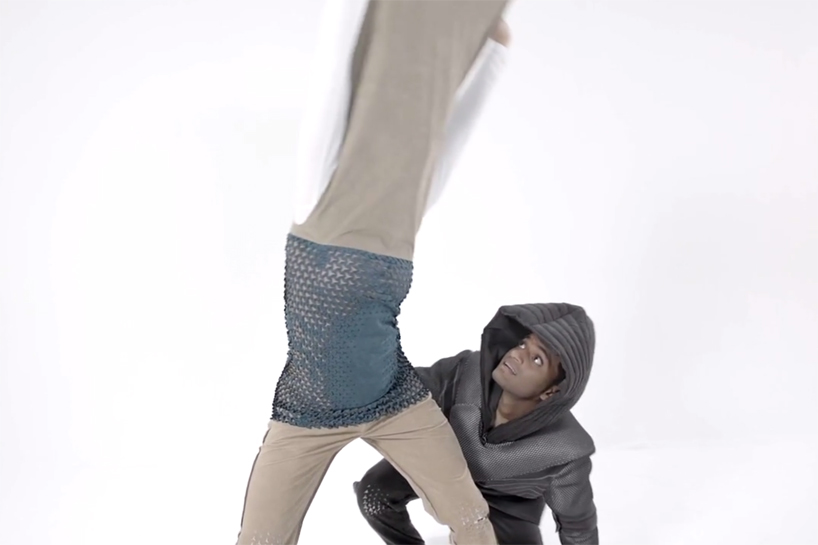 a reversible garment eliminates the issue of wearing one's clothes 'inside out', cutting down dressing time
while 'sense-wear' has been designed with people with special needs in mind, it address the importance of details and how our senses can be heightened and reduced through materials, shapes, and textures on a whole — all aspects that are taken into consideration by LEXUS when developing vehicles that deliver emotional and sensory experiences.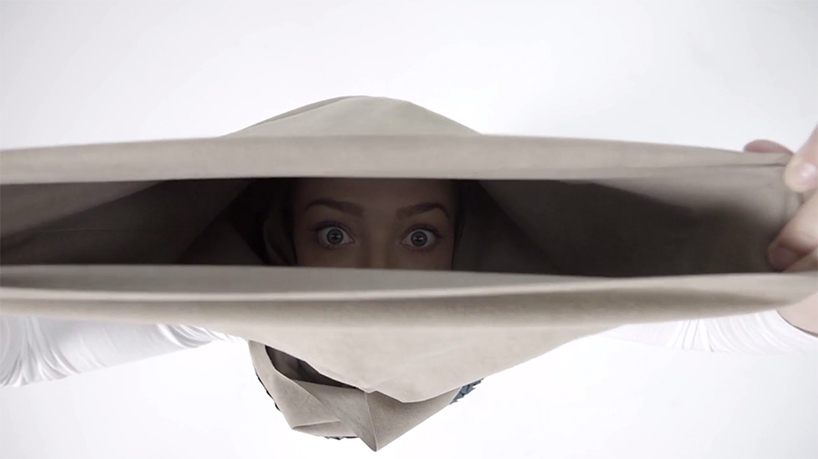 some have to focus on an area and wait until their eyes can actually make sense of that small area, and then they can move on, so this garment allows them to slowly adjust to their surroundings.
paola antonelli, jury member and senior curator in the department of architecture and design at MoMA in new york city, commented on behalf of the judging panel:
'the jury was both impressed and delighted by the standard of all of twelve winning projects of the LEXUS DESIGN AWARD 2015, and the skill, imagination and dedication that produced them. collectively, these projects act as a compelling demonstration of the ambition and diversity of contemporary design by addressing the 2015 theme of the senses and exploring such important issues as environmentalism, special needs, urbanism, energy scarcity, health and play. the jury was particularly pleased to see the progress made by the four finalists in developing their initial concepts with the help of their mentors, whose ingenuity and generosity makes such an important contribution to the success of the LEXUS DESIGN AWARD.'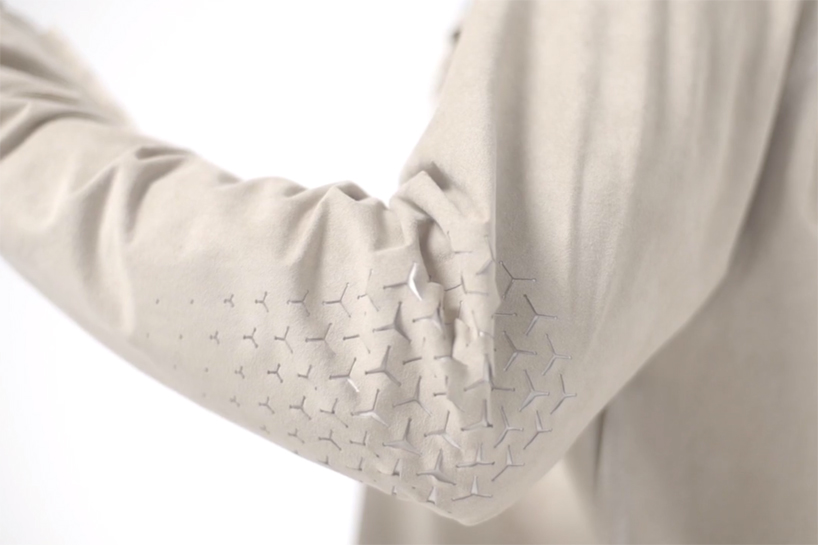 the range of autism-related sensory issues is large. some have trouble with certain textures, in particular velvet, which they find very difficult to touch.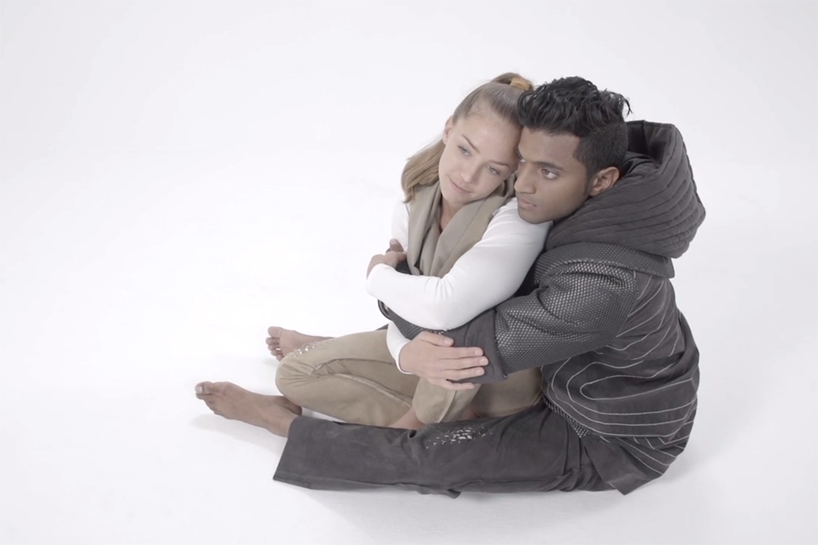 'sense wear' heightens feelings and emotions in users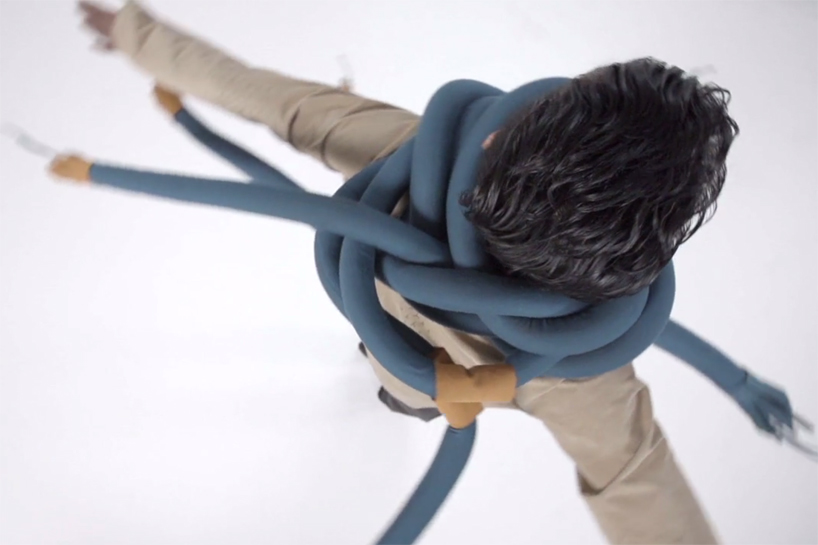 a few children seem to get stuck on certain characters. for example they 'play' being a pirate and then before then it was a fireman. everyday from the moment they wake up till they go to bed they try to dress like them. they will wear hats, belts and boots.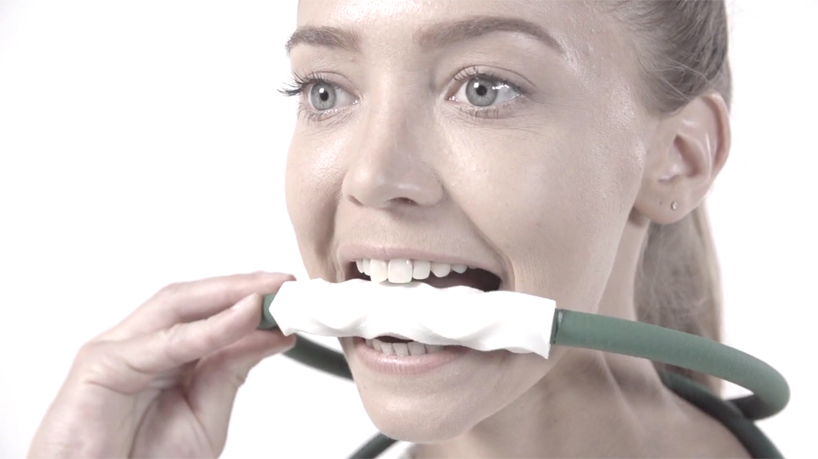 people with autism have difficulty communicating their needs and wants, as well as emotional states, and biting can often been an effective way of letting others know that something is not right.
the 'sense-wear' prototypes, alongside the other three winners were presented in a special exhibition designed by philippe nigro during milan design week 2015 at spazio lexus in zona tortona, at T32 torneria corrozzeria. for the event, the models were showcased along side graphic panel displays of the eight other shortlisted winners. see the full line-up of the 12 finalists on designboom here.
STAY TUNED: the theme of the upcoming 2016 LEXUS DESIGN AWARD will be officially announced soon on designboom!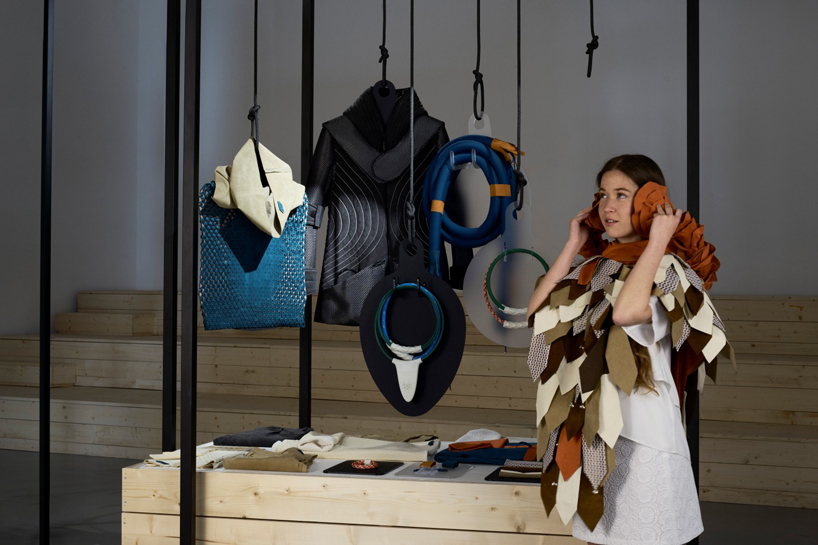 working prototypes of 'sense-wear' by emanuela corti and ivan parati on display during milan design week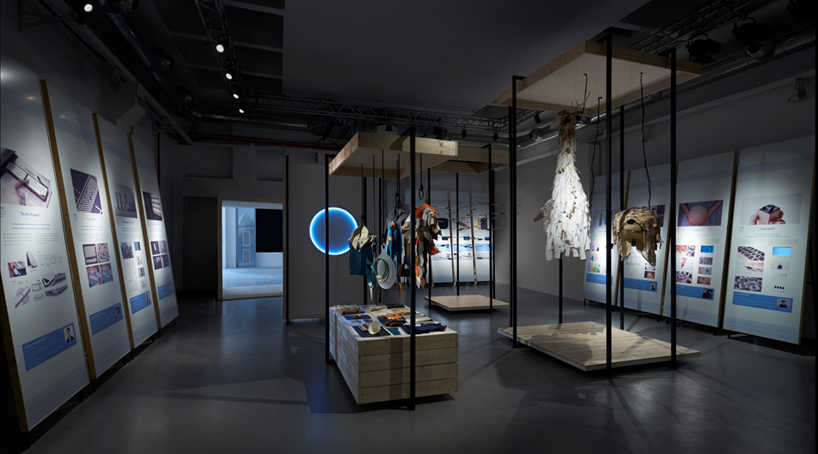 installation view of spazio LEXUS where the projects of the 12 finalists were shown during milan design week

the 2015 LEXUS design award jury presenting emanuela corti and ivan parati as the grand prix winners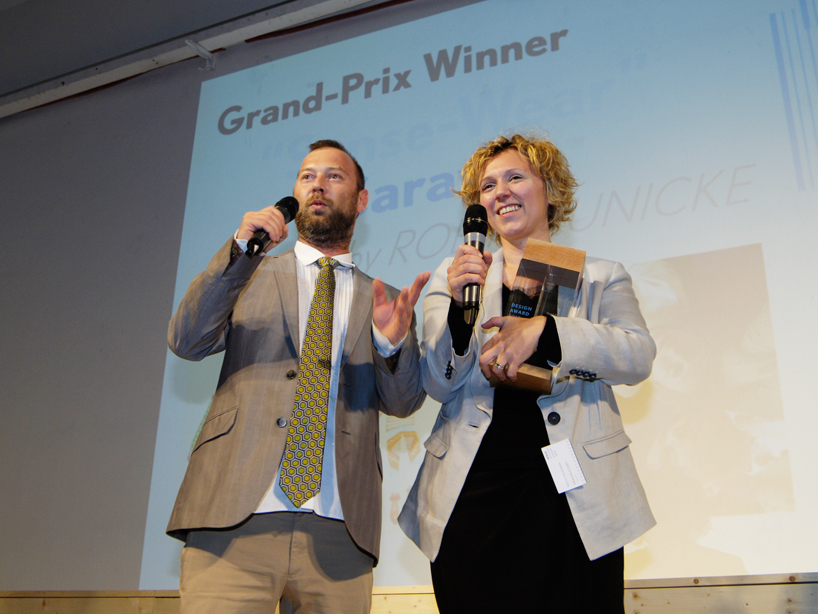 LEXUS design award 2015 grand prix winners ivan parati + emanuela corti receiving their trophy
image © adriano mauri / designboom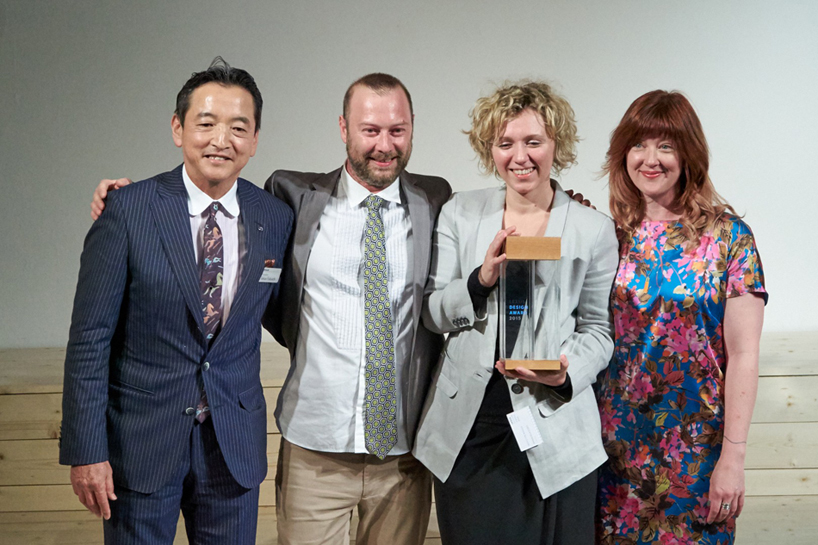 tokuo fukuichi, president of LEXUS international, and mentor robin hunicke with ivan parati and emanuela corti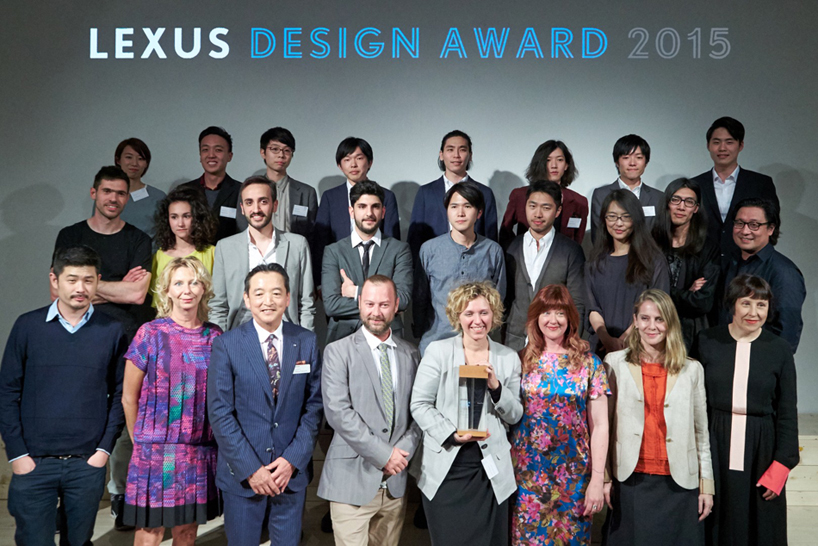 the 2015 LEXUS design award jury and mentors with the 12 finalists during milan design week
the annual LEXUS design award provides young innovators with the opportunity to develop and showcase their works to a global audience. since its beginnings, the LEXUS design award has wanted to nurture and support designers in their quest to answer to relevant themes in a unique and profound way. stay tuned for the announcement of the 2016 LEXUS design award on designboom!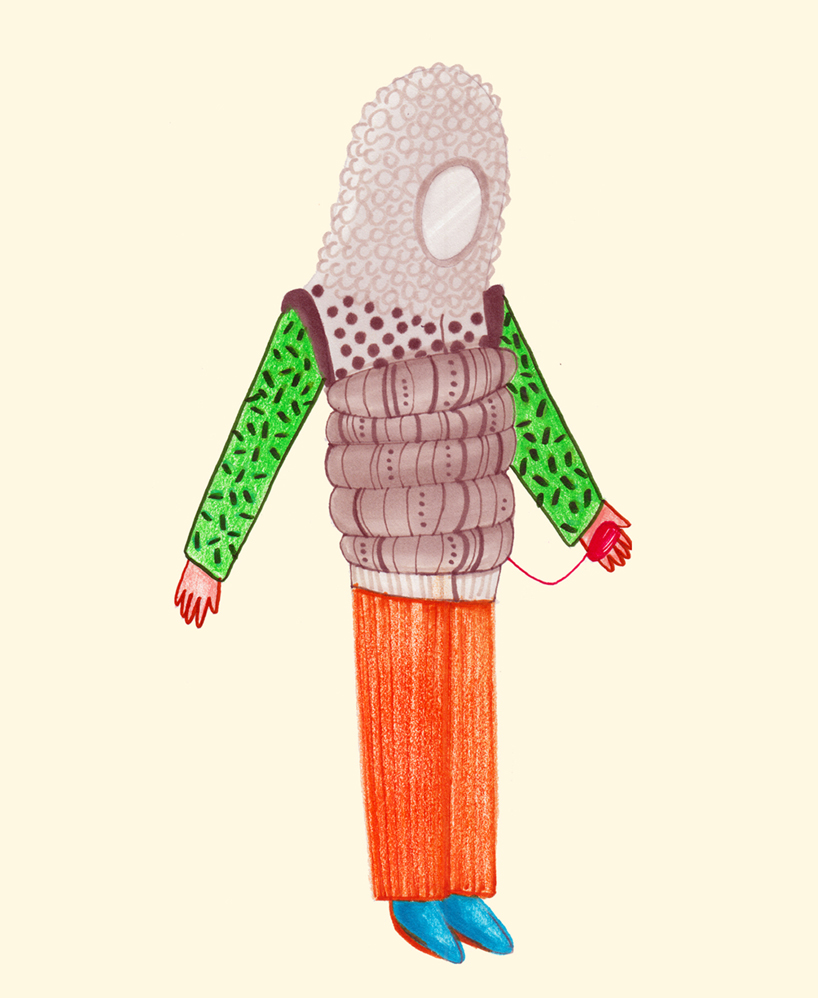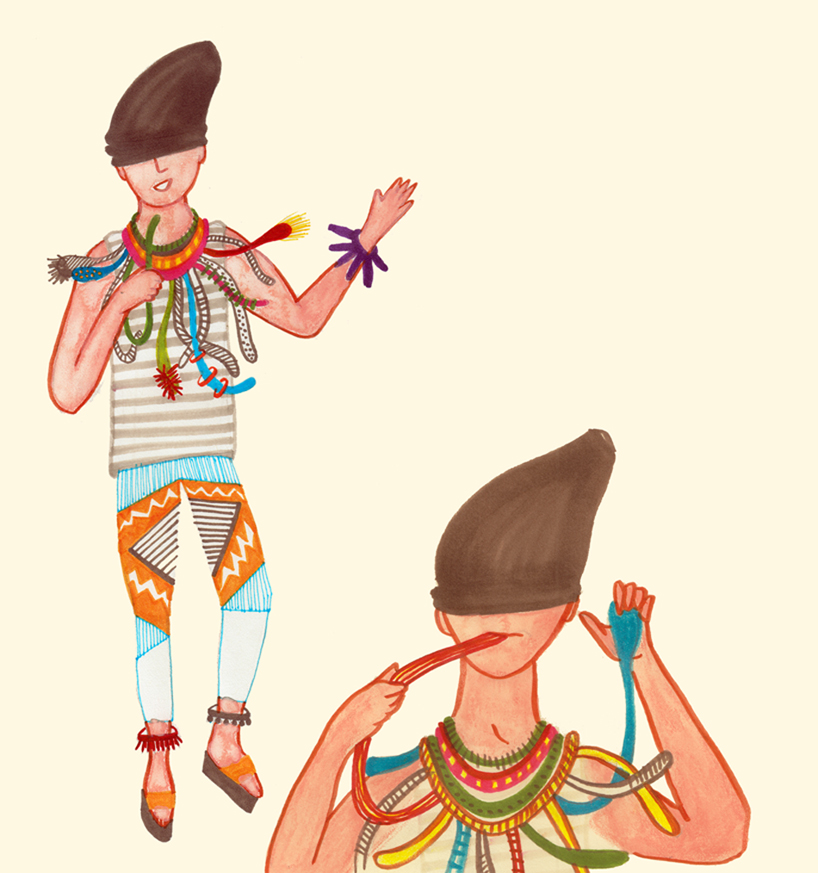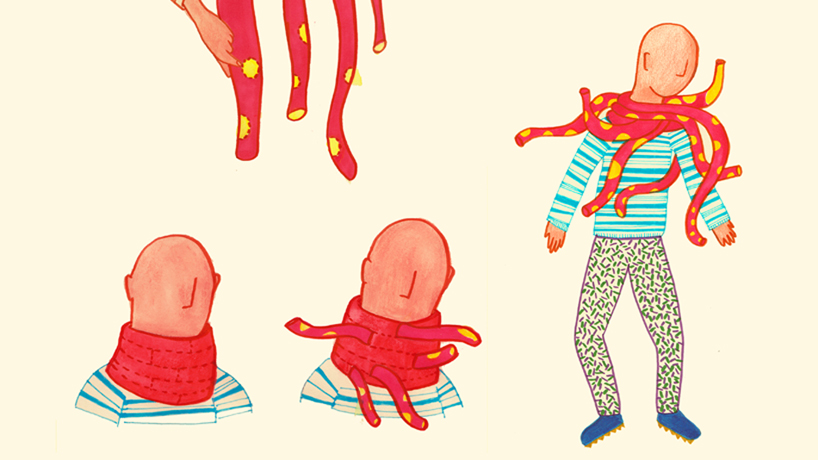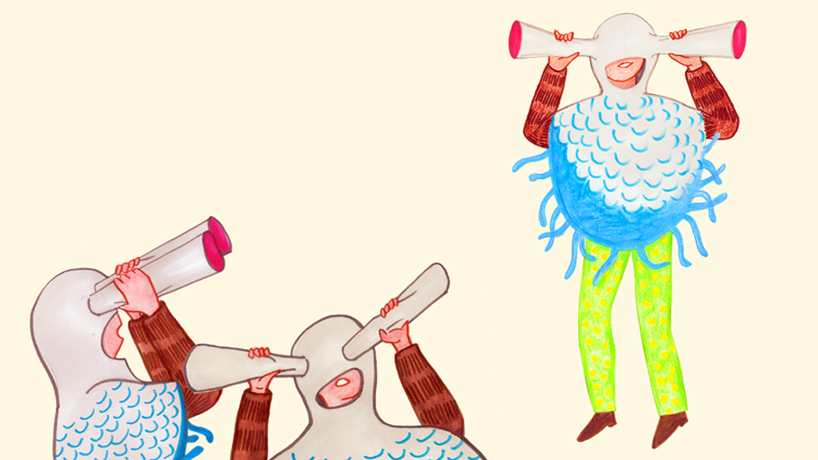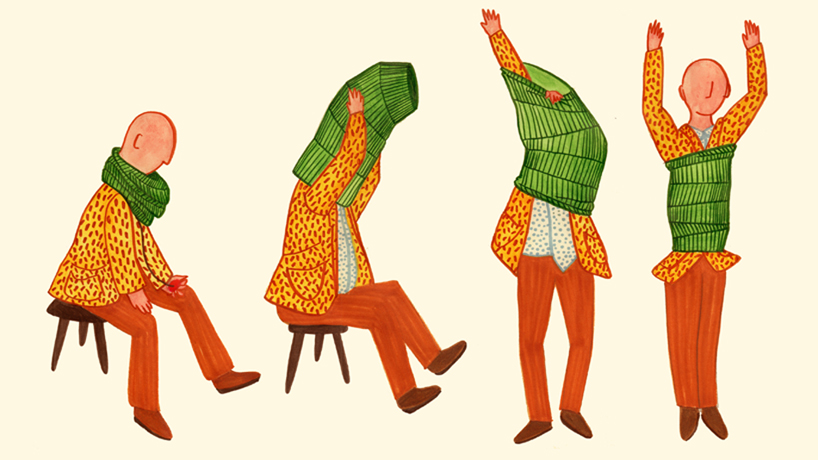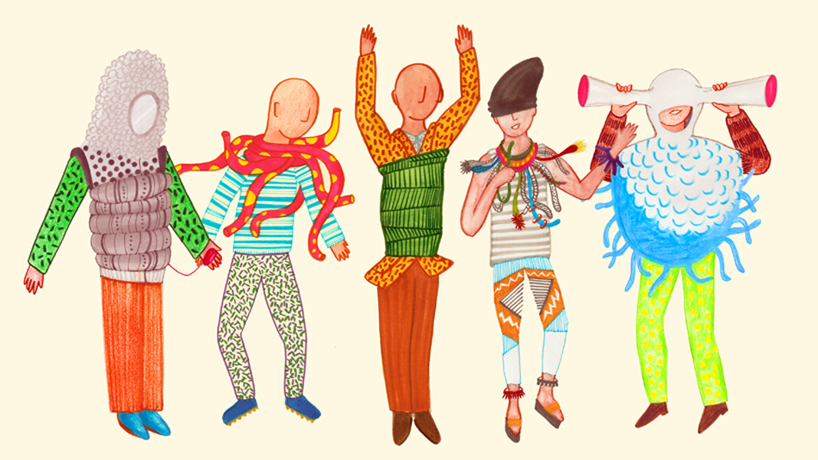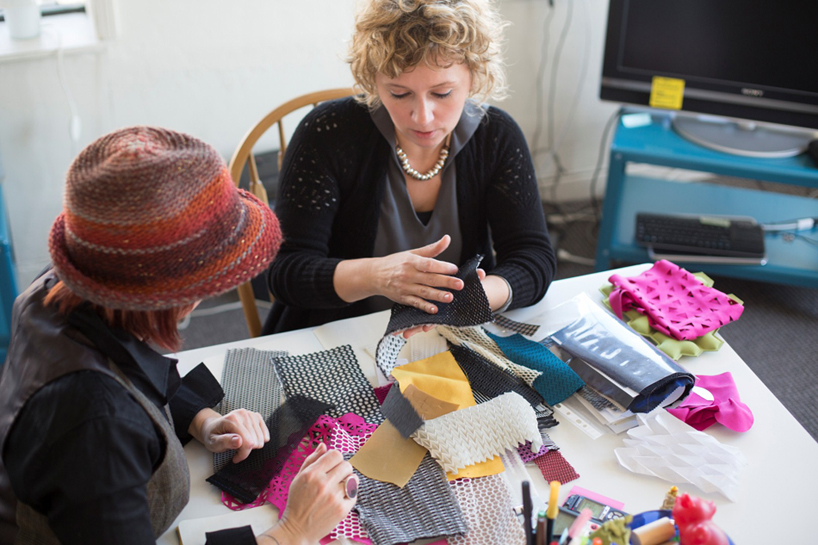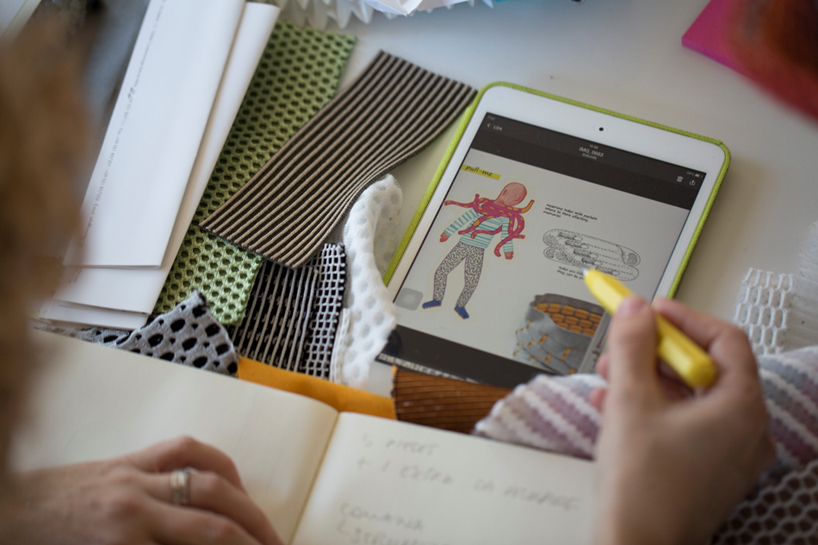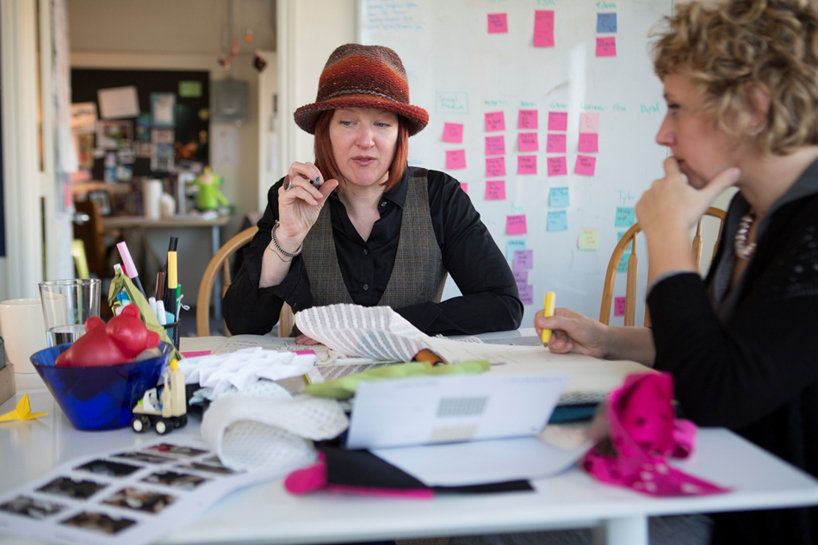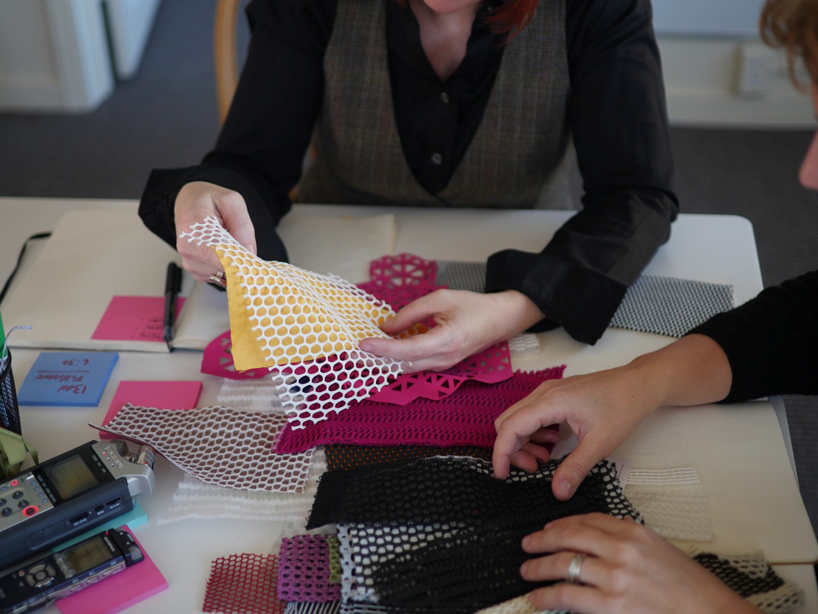 a diverse digital database that acts as a valuable guide in gaining insight and information about a product directly from the manufacturer, and serves as a rich reference point in developing a project or scheme.
designboom will always be there for you
milan, new york, beijing, tokyo

,
since 1999