during milan design week 2018, 'testing hypotheticals' a project by extrapolation factory (christopher woebken, elliott p. montgomery) has been announced as the grand prix winner of the LEXUS design award 2018. this year's edition of the annual award, which was again co-organized by designboom, drew a record 1,319 entries from 68 countries under the theme of 'CO-' — a latin prefix meaning with or together. the theme is seen as an approach that allows LEXUS to explore its true potential, and that of the environment, by creating new possibilities through collaboration, coordination, and connection.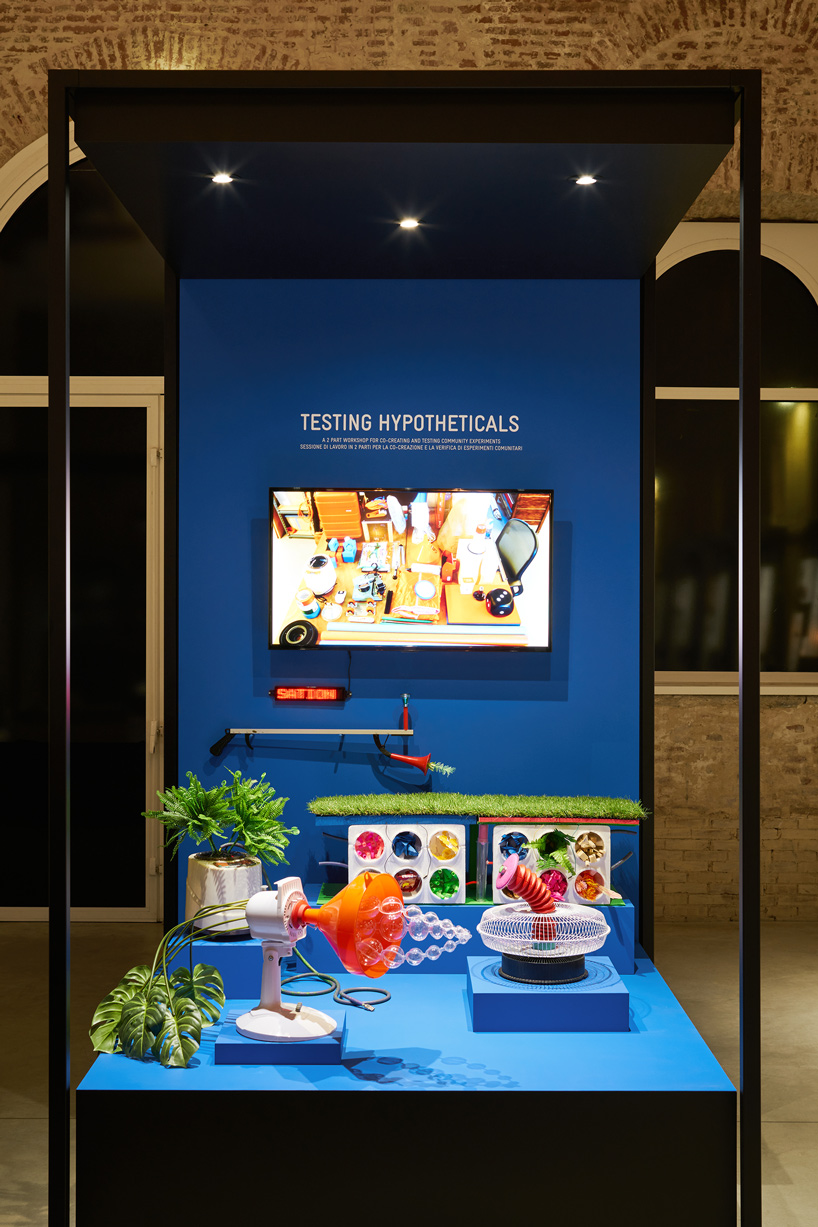 testing hypotheticals by extrapolation factory (selected for prototype development)
since 2013, the LEXUS design award has supported the next generation of designers from around the world. from a wealth of design submissions, this year's elite judging committee has selected 12 finalists, four to be prototyped and eight to be shown as display panels. the finalists are now on view at LEXUS' 'LIMITLESS CO-EXISTENCE' exhibition, held 17-22 april 2018 in the cavallerizze in museo nazionale della scienza e della tecnologia.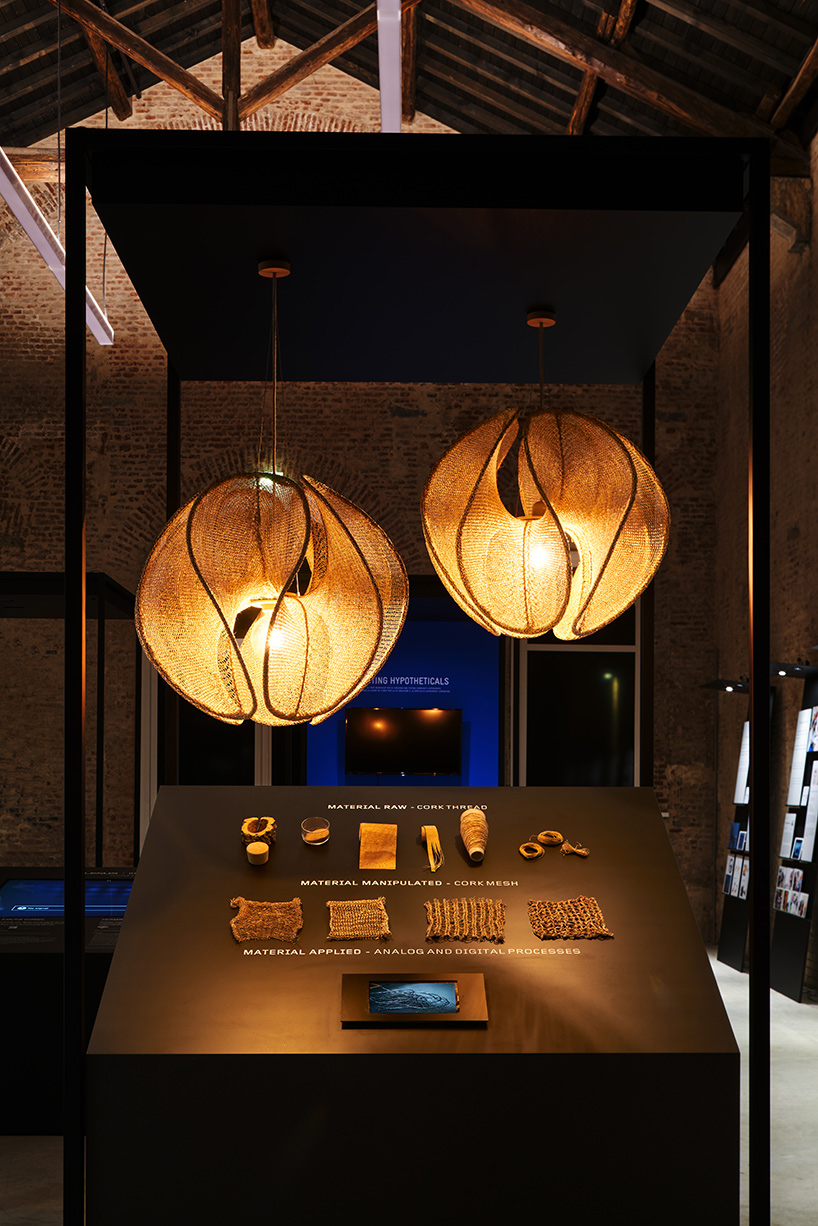 CO-RKs by DIGITALAB (selected for prototype development)
the winning project was by extrapolation factory, who were mentored in the process by italian design duo formafantasma. the designers propose to set up a 'futures workshop' in which they work with locals in neighborhoods to envision spaces that communities could use as test grounds for new ways of living and working. this studio will work with participants to identify key aspects or issues that concern the neighborhood, and then develop ideas for how these issues could be explored and changed through development within a testing site.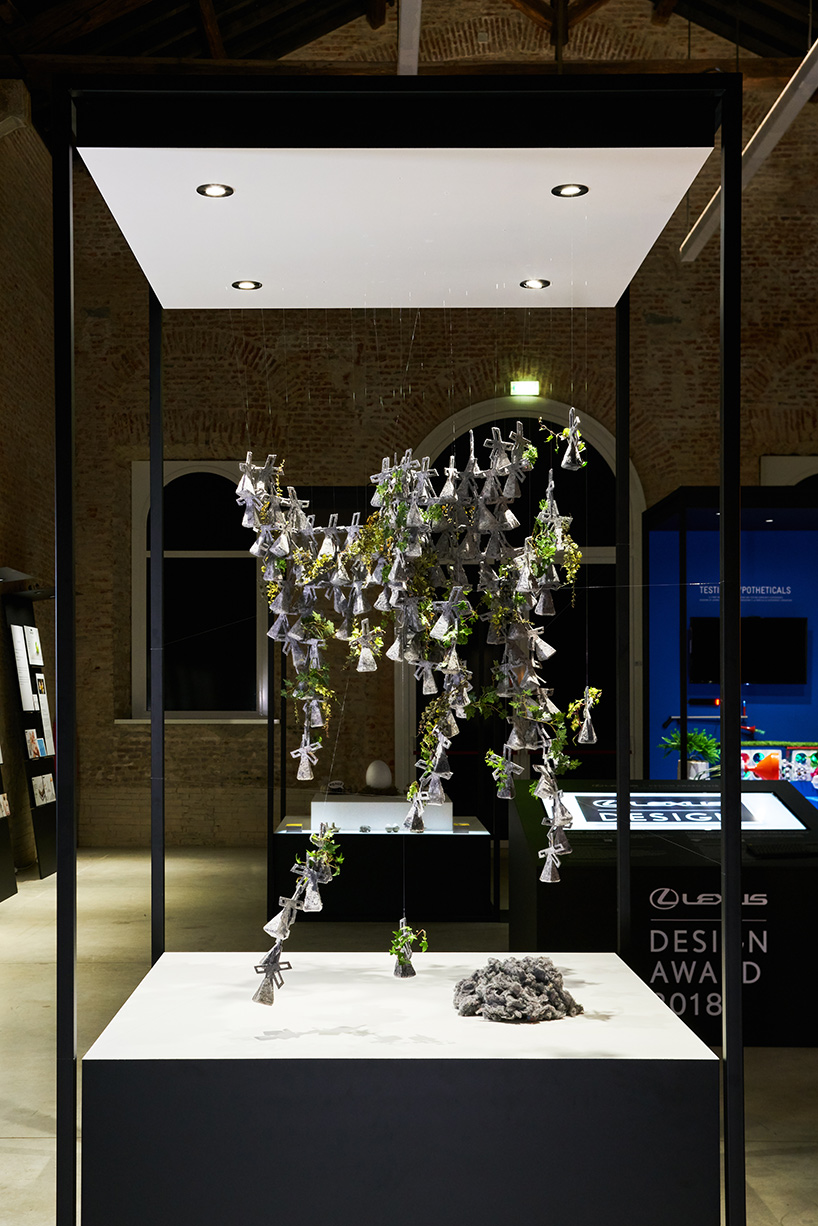 recycled fiber planter by eriko yokoi (selected for prototype development)
over the course of the workshop, extrapolation factory will help participants to construct prototypes that bring the ideas to life, assembled to form an immersive test site. 'it was truly fantastic, and the experience was incredible to have worked with our mentors formafantasma,' says elliott p. montgomery of extrapolation factory. 'we could not have done this without the support of LEXUS.'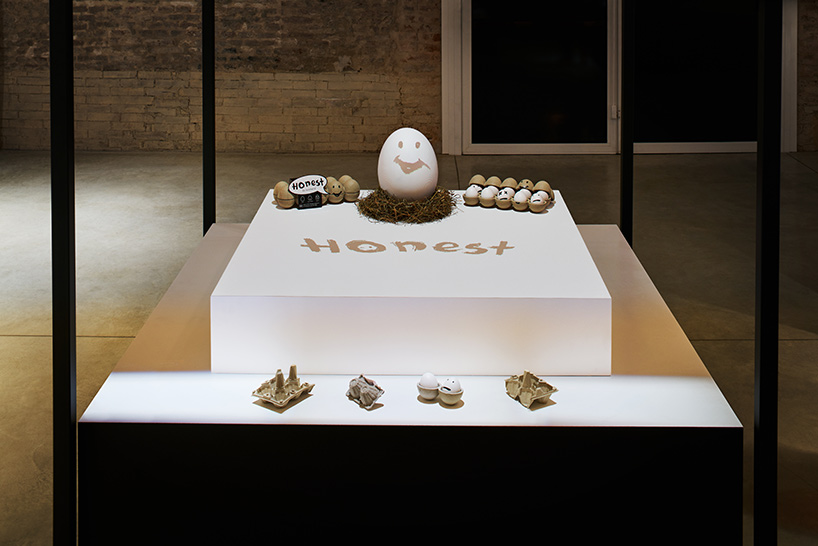 honest egg by aesthetid (selected for prototype development)
'this year's winner permeates the current thinking about the role of design in our evolving and technologically shifting societies,' explains david adjaye, LEXUS design award 2018 judge. 'products played less of a role, and design education/teaching and thinking are at the forefront. how citizens and designers interact with products, processes and future is increasingly critical to mediating this influence of design in our increasingly future-orientated and technologically evolving world. the chosen design shows methods and techniques for engaging the public and designers in role playing possible futures and negotiating the influences of our technological world.'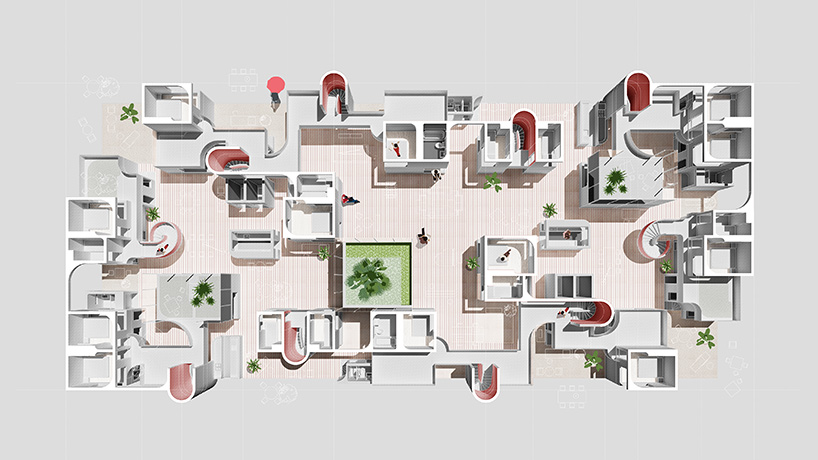 CO-living by khoa vu and wilson harkhono (panel exhibit)
for the exhibition itself, LEXUS tasked japanese architect sota ichikawa with designing the overall concept space. in the main installation, ichikawa has used innovative methods to represent the ultimate experience of LIMITLESS CO-EXISTENCE. the LEXUS LF-1 Limitless concept, earlier introduced at the north american international auto show, is also featured using ichikawa's unique method.

COmer by sistema simple studio (panel exhibit)
following the strong engagement of the public with LEXUS design award displays in the past, this year LEXUS created the 'PEOPLE'S CHOICE' award — allowing even more interaction than ever before. the winner is determined by votes cast on the website from april 16 – 21, 2018 and is announced on april 23.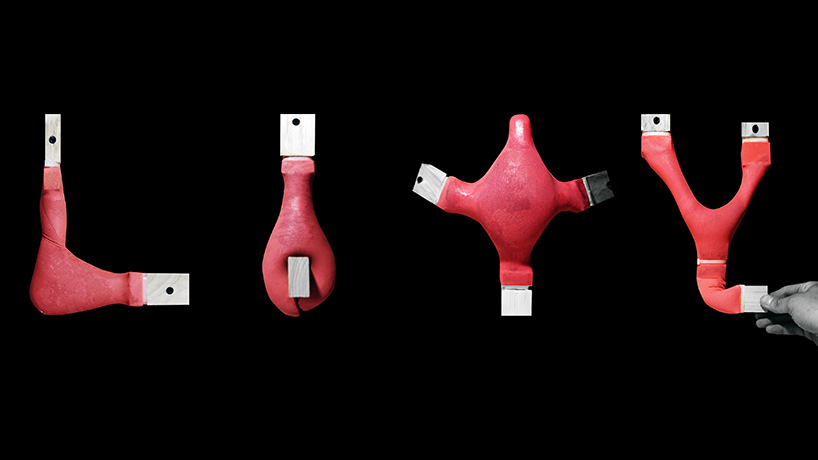 fabric block by myung duk chung (panel exhibit)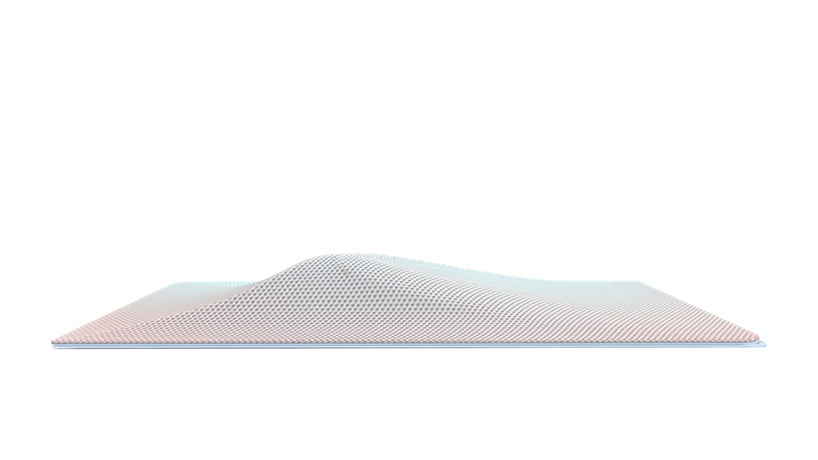 GRABBY by I DEAL (panel exhibit)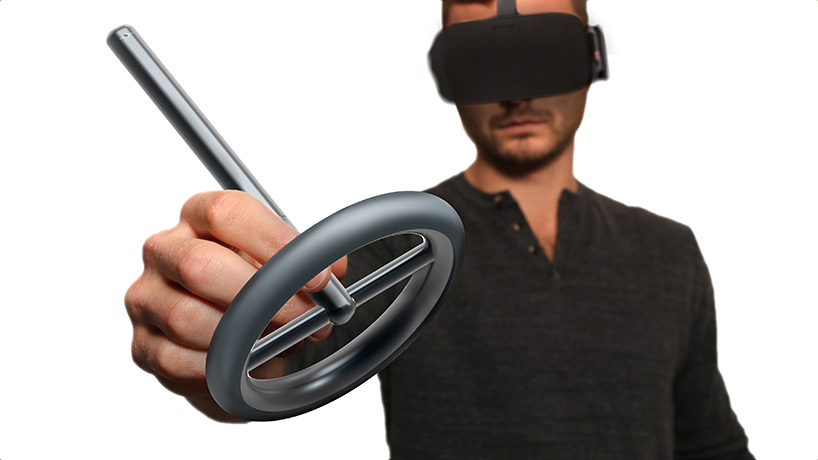 gravity pen by jon simmons (panel exhibit)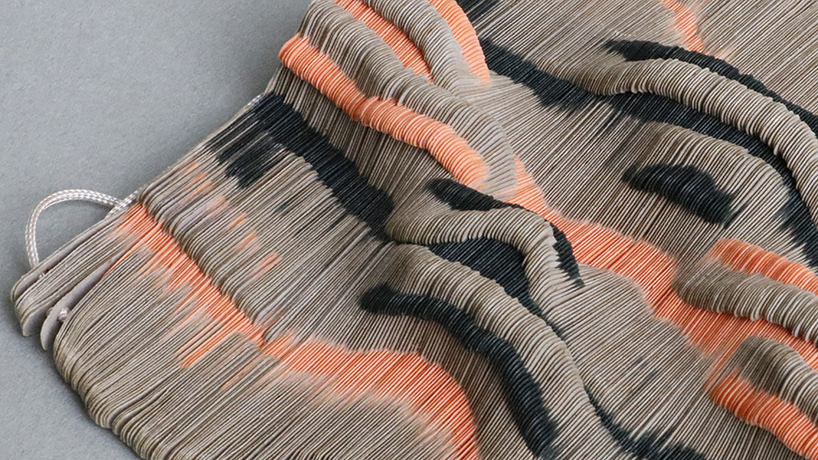 PAPER SKIN by hiroki furukawa (panel exhibit)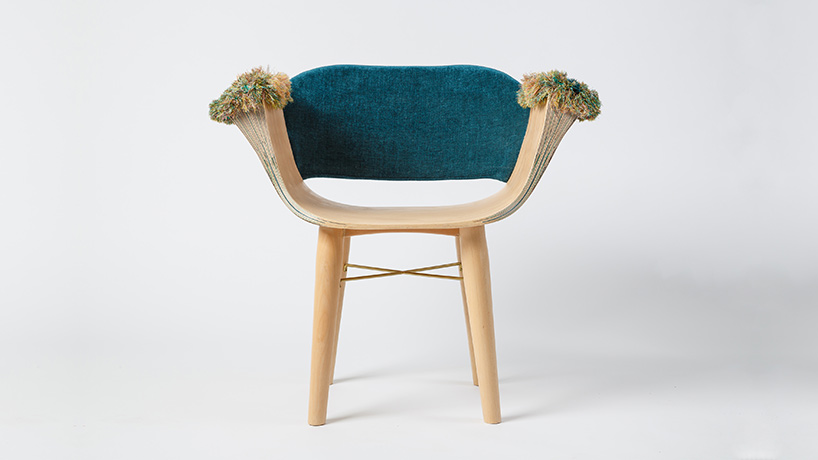 primavera by yael reboh (panel exhibit)

VNWALLS GARDEN by VNWALLS (panel exhibit)
LEXUS
(51 articles)
jul 16, 2020
jul 16, 2020
jan 20, 2020
jan 20, 2020
dec 18, 2019
dec 18, 2019
oct 23, 2019
oct 23, 2019
sep 17, 2019
sep 17, 2019
aug 29, 2019
aug 29, 2019
jul 16, 2020
jul 16, 2020
sep 17, 2019
sep 17, 2019
aug 29, 2019
aug 29, 2019
feb 11, 2020
feb 11, 2020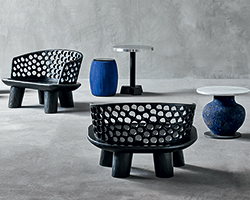 oct 10, 2018
oct 10, 2018
aug 28, 2018
aug 28, 2018
a diverse digital database that acts as a valuable guide in gaining insight and information about a product directly from the manufacturer, and serves as a rich reference point in developing a project or scheme.