aug 06, 2012
lg2boutique: boris ice tea branding
boris ice tea branding by lg2boutique
canadian studio, lg2boutique have redesigned the identity and packaging for the boris ice tea brand.
boris ice tea branding by lg2boutique left: lemon character 'reminiscent of an eccentric english man' right: 'youthful' female peach character
every flavour has a unique personality that is reflected in the packaging for this new family of alcoholic iced teas by boris. the first one, lemon, is reminiscent of an eccentric character from england with a classic look, inspired by tea.
the second, peach, highlights the feminine side and features a woman with flowing locks to remind us of the fuzz on the fruit. each package is rendered in a fluorescent colour palette based on the attributes of each fruit. 'as always, it was important for us to make sure boris ice tea would stand out on the shelves. alcohol ice tea is an exciting new niche in the quebec market, and we knew that some american brands were going to jump on the bandwagon.
with that in mind, we wanted to create a concept that was going to distance itself from what the others might do and develop a look that consumers would associate with the boris brand.' – claude auchu, creative director, lg2boutique
boris ice tea branding by lg2boutique – multipack boxes
boris ice tea branding by lg2boutique – lemon bottle and can designs
boris ice tea branding by lg2boutique
boris ice tea branding by lg2boutique – lemon can design
boris ice tea branding by lg2boutique – peach design
boris ice tea branding by lg2boutique – peach bottle and can designs
aug 21, 2013
aug 21, 2013
jun 15, 2012
jun 15, 2012
logos
(186 articles)
sep 22, 2016
sep 22, 2016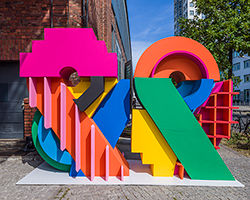 sep 10, 2016
sep 10, 2016
may 20, 2016
may 20, 2016