jun 15, 2012
lg2boutique: la vittoria
lg2boutique designed these bold graphics for last year's edition of la vittoria, an annual fundraising gala.
— following text from lg2boutique
for the 2011 edition of la vittoria, benefitting the fondation marie-vincent, daniel boulud from new york and christophe michalak from paris were headliners for a 5-star dinner that paid tribute to the inimitable pleasures of new york and paris. the thick black typeface and yellow colour was a graphic tribute to the urban style of the big apple while the dusty pink combined with the serif typeface brought to mind the romance and allure that could only come from the city of lights.
logo
NY poster
paris poster
menu
NY menu spreads
paris menu spreads
menu
menu
flower installation at NY event
further examples of the paris graphics…
and the NY graphics
application of the NY graphics at the venue
and here the paris graphics installed at the venue
aug 21, 2013
aug 21, 2013
aug 06, 2012
aug 06, 2012
logos
(186 articles)
sep 22, 2016
sep 22, 2016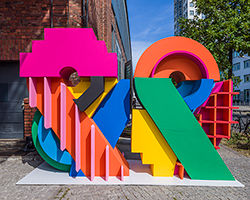 sep 10, 2016
sep 10, 2016
may 20, 2016
may 20, 2016