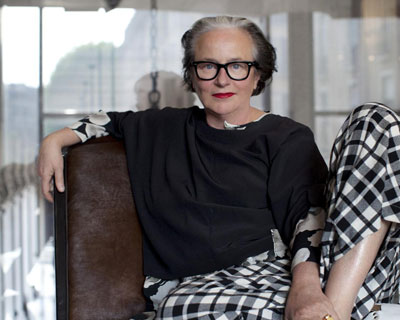 may 16, 2013
li edelkoort at WHAT DESIGN CAN DO! conference
li edelkoort
all images courtesy of MoBA
WHAT DESIGN CAN DO, the international event on the impact of design
designboom is an international media partner for WHAT DESIGN CAN DO! (WDCD) conference in amsterdam which starts today.
the two-day program (may 16-17, 2013) is divided into different sections, each focusing on a specific theme.
speakers in these areas come from various backgrounds and fields, expressing the importance of cross breeding in creative practices.
this year's topics cover: publishing, education, research, food, branding and the screen.
we spoke with trend forecaster and WDCD conference speaker li edelkoort in her hometown about her thoughts on fetishism in fashion,
and her role as curator of the upcoming MoBA, arnhem's 5th fashion biennale.
how did you become a trend forecaster?
basically, I was born with this skill.
studying at the artez (academy of arts, arnhem) fashion department my teachers always knew I could sense future trends,
although they didn't really know how to harness it. after a lecture about styling offices I knew that was what I wanted to do.
I learned and developed my skills through the pioneers of styling, from companies in paris such as mafia, working with the basics such as color cards.
you have been in the business for over 30 years now.
how has the profession changed, does working ahead a few years mean something different than in the past?
what has changed is that we used to forecast a few different directions–trends would be 'consumed' and then discarded.
nowadays there is no such thing as 'out of fashion', there is this club sandwich of trends. it's a more complex and layered, sophisticated world today.
what has also changed is that I have become a motivational speaker, helping clients and audiences to gather energy to tackle another domain or season,
something which has been tough lately due to the crisis.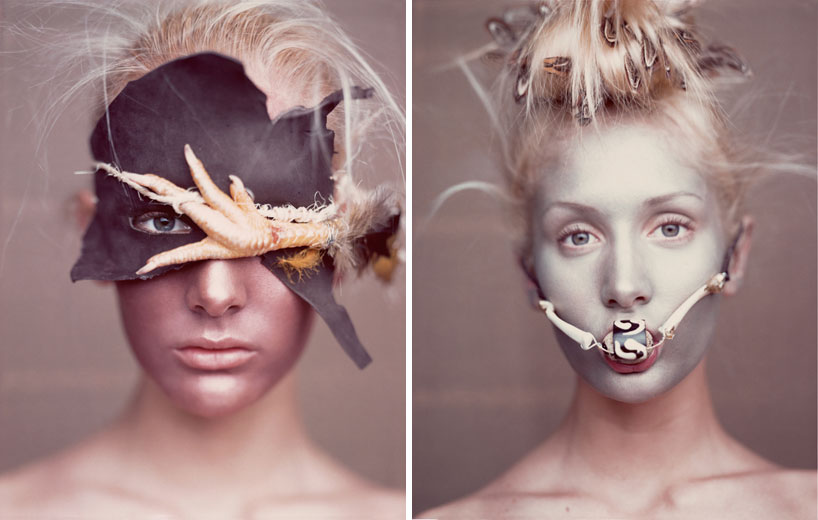 explorations in shamanism
photos by marcel van der vlugt
would you say we need to revive old styles in order to create new ones?
well it's one way to go but no, not necessarily.
citations are unavoidable as it becomes more and more difficult to come up with new components.
with a constant stream of information today, trend forecasting is a form of editing, that's a job in itself.
bloggers do it by giving their personal opinion, and I give a societal point of view, a public voice if you will.
you state 'trend forecasting is like archeology but to the future', can you please elaborate on this?
identifying a trend is a continuous building process, a series of observations–curiosity, mapping, gathering information and intuition.
I create a kind of personal archive. once an idea has reached saturation it just pops up by itself, although it can be triggered by a single image.
trend forecasting is much like archeology as it deals with the gathering and interpreting of fragments of information.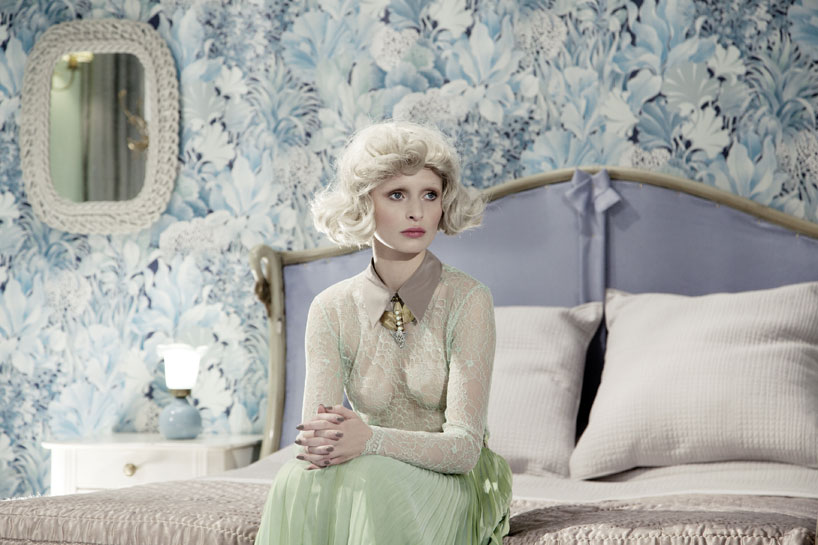 a still from fashion photographer monica menez's 'hors d'oeuvre' film
what is your approach to fashion?
fashion I can feel as a change in my body, even though it's not through my personal wardrobe, my body feels that certain accents are needed.
sometimes I feel like my neck needs to grown, or I desire an accent in the back, or long slender arms.
what is the last item of clothing you purchased?
that must be my céline fur birckenstocks. they makes my feet look like paws which illustrates the animal in me.
they completely deform the feet which I find interesting. I think we are entering a period of bold, brutal bulbous shapes.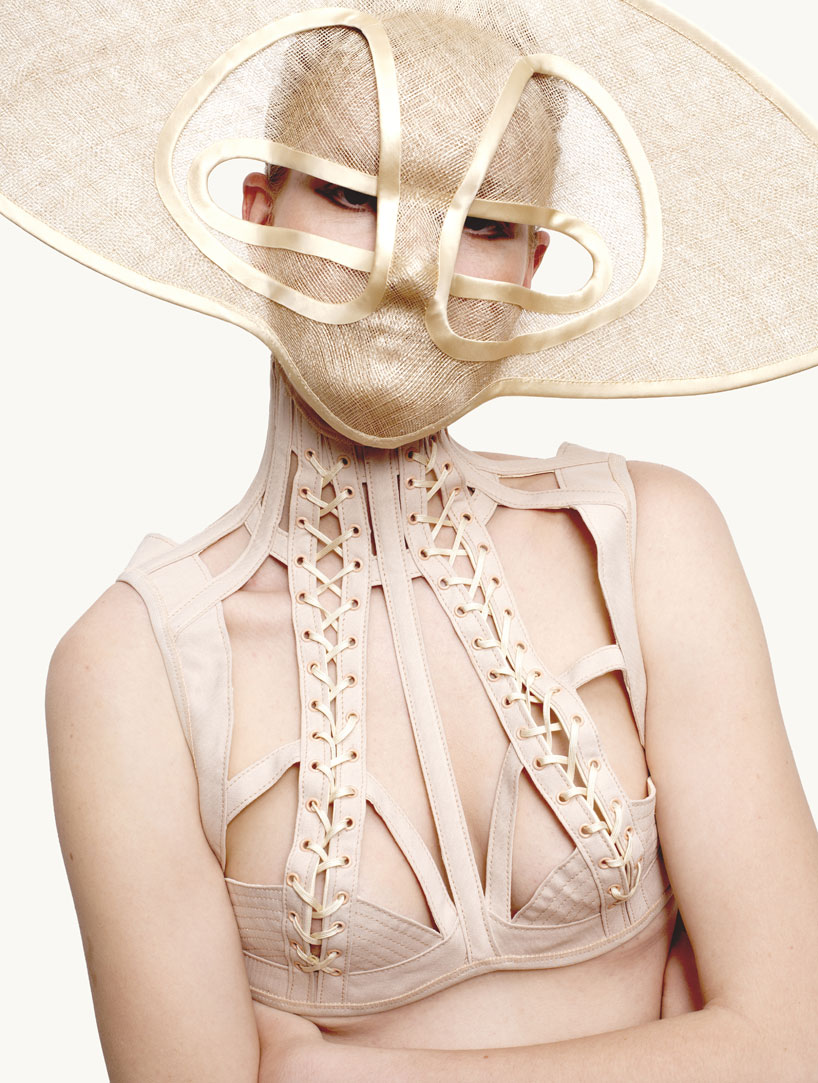 'nudism' and the corset
for your latest curatorial role at the arnhem mode biennial, the theme is 'fetishism in fashion', which indicators will you examine?
I have been studying the theme for a while now and found that a fetish is mostly an artifact, an extension of oneself that allows you to link with other things or people.
a fetish can be any kind of object, a shoe, a bag, even a baby blanket.
what would you consider to be some major fetishisms in the history of fashion?
historically the corset has been a very important garment. where it was formerly used to cinch in the waist, now it contains the body
and is enjoyable for both wearer and observer. the more conventional fetishes came in the 1970s courtesy of yves saint laurent who introduced
leather and high heels to the catwalk, in the 1980s this power dressing was emulated by designers such as (claude) montana and (thierry) mugler.
nowadays you can consider fetishism to be more mainstream.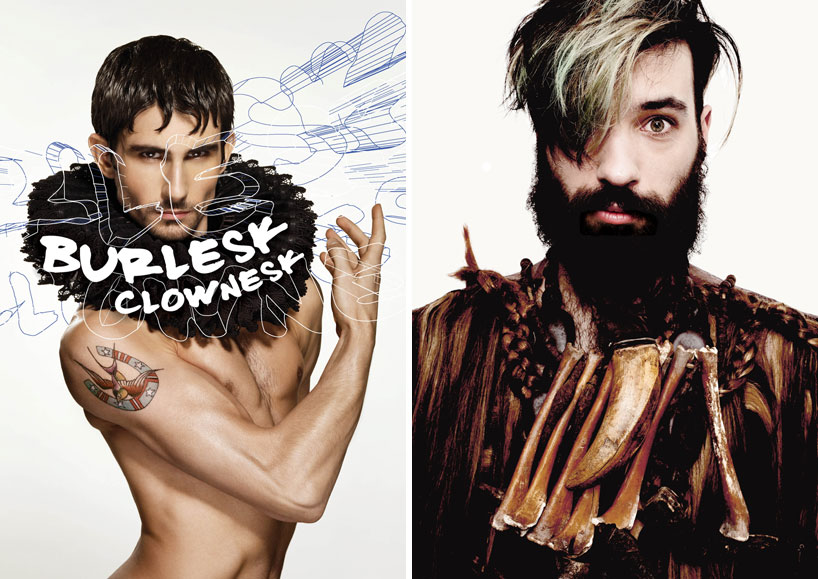 left: from the 'dancers' series by erwin olaf – studying the fetish of burlesk / clownesk
right: exploring the fetish of shamanism
aside from the classics – leather, lace, vinyl, feathers, fur, satin, velour …
are there any new material entries into fetishism?
all kinds of second skin such as latex and satin are now playing a role, but it's still remained rather classic.
the interesting thing is that each material has its own symbolism, so leather is sadism, rubber is masochism, velour is like hair, latex stands for skin.
most of this comes about because as babies we are confronted with all these materials.
there is latex in your changing mattress, your pacifier is made of rubber, you have a safety blanket.
those sentiments will carry you through life.
why is it that certain items, shoes and bags in particular stir so much passion in their consumers, women especially?
I think we are all major fetishists, especially about shoes.
all young girls I know are outdoing imelda markos, but the designs are very outspoken and creative too.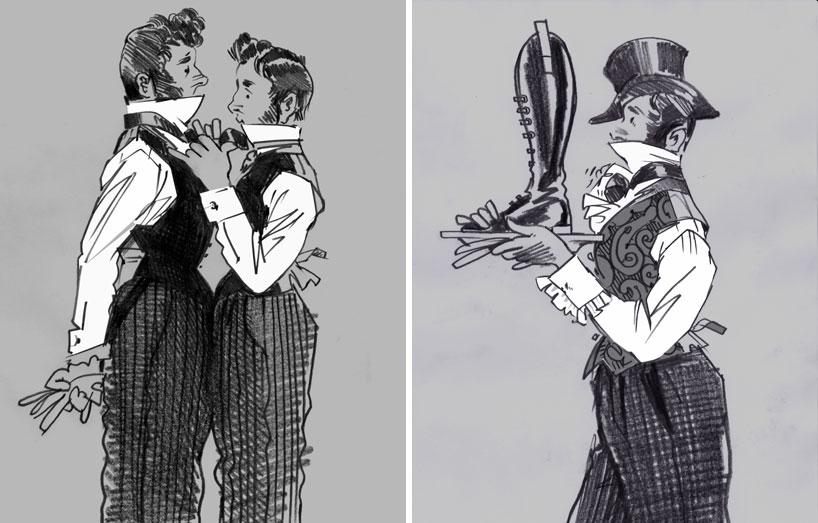 'fascination' sketches by ravage
festishism is usually perceived in two directions – the sexual/sensual side linked to individual experiences of childhood
and a shamism/magical side, referring to instincts and needs on a more objective level.
is there a tendency to gravitate more towards one of these narratives?
the great thing is that we will finally see the merging of these two which have always been separate.
there will be a blend of the erotic, symbolic and spiritual for instance. this is how I see the future, wherein opposites are merged.
a good development if you ask me.
other associations often accompany the notion of fetishism, which are 'compulsive attention' and 'excessive attachment'.
will these characteristics escalate in the future of fashion?
a period of excessive creativity is upon us, we will finally take off the shackles of the economic crisis, whether its over yet or not.
I call it plan B, take another point of view, one that's courageous, adventurous, exciting."
WHAT DESIGN CAN DO
on thursday, may 16, at WDCD 2013 we will hear more expert views from li edelkoort. see the speakers program here.

designboom is international media partner of what can design do!
WHAT DESIGN CAN DO
the two-day event in amsterdam celebrates the power of design and its problem-solving abilities –
exposing design as a catalyst of change and renewal and a way of addressing the societal questions of our time.
too often design is associated only with aesthetics, trends and luxury, but design can mean so much more. at its best, design can change, improve,
renew, inspire, involve, shock, move, disrupt, help or solve. what design can do intends to demonstrate the value of design thinking as a response
to the challenges of today's world. with a lineup of international speakers from all design disciplines, what design can do will be the platform for
designers to manifest the social potential of their profession. together with the audience, the speakers will discuss alternative strategies for the future.
participants will be stimulated to come up with their own answers and ideas. this makes what design can do an activist conference, the outcome
of which will be published in a book compiled on the spot and presented at the end of the conference. what design can do is an annual international
conference for design professionals, company leaders and government officials.
what design can do is a cross-over between design disciplines – from architecture to product design, from graphic design to fashion design –
as solutions for today's challenges generally demand a multi-disciplinary approach. what design can do is initiated by designers who feel the responsibility
to make their profession useful for society and want to reflect on this with fellow designers and other professionals.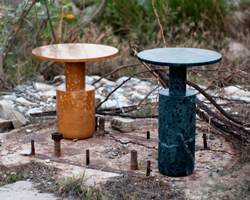 sep 05, 2017
sep 05, 2017
jul 12, 2013
jul 12, 2013
apr 29, 2011
apr 29, 2011
jul 23, 2009
jul 23, 2009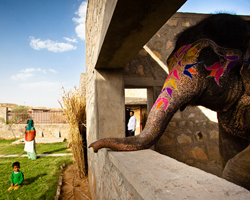 jun 03, 2013
jun 03, 2013
may 24, 2013
may 24, 2013
may 18, 2013
may 18, 2013
a diverse digital database that acts as a valuable guide in gaining insight and information about a product directly from the manufacturer, and serves as a rich reference point in developing a project or scheme.