for the occasion of milan design week and the introduction of the new version of casa vogue, vogue italia is presenting 'life in vogue', a project that prompts reflection upon the way of living the contemporary office, a message totally in line with the all-encompassing approach that is defining the magazine's new plan of action. vogue italia editor-in-chief emanuele farneti has invited eight internationally acclaimed designers to develop the editorial staff rooms and décor in their own inimitable styles.
mario bellini, michael bargo, antonio citterio patricia viel, sabine marcelis, faye toogood, patricia urquiola, muller van severen, and quinconces–dragò accepted the challenge and cultivated the project by dreaming up a place that's a combination of office & lounge. a real wardrobe will be set up for the occasion, displaying clothes, jewels, accessories, and everything else that gravitates around the world of a photo shoot. this wardrobe is an essential point for vogue italia and the stories filling its pages are based on it and seen through the eyes of a young and very talented illustrator. vogue italia's offices will be open to the public from noon to 8:00 pm from april 17th to the 20th in piazza cadorna 5/7. every is welcome to come over, see the projects and meet vogue italia editorial team with a pre-registration.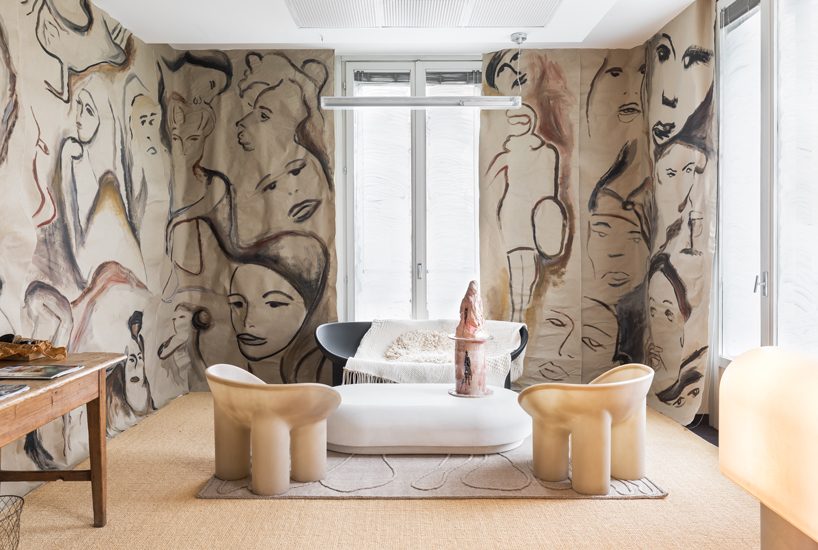 faye toogood – office of editor-in-chief
the interior décor created by toogood for the office of the editor-in-chief, equipped with furniture from her famous 'roly-poly' collection, celebrates the concept of openness and inclusiveness. sharp edges are officially restricted and replaced with the warm, rounded shapes of a sofa bed, solidly built chairs and a large round table while creamy stucco and rough fiberglass are harmonized. the walls are decorated with hand-painted canvases depicting a tableau of silhouettes and faces – to commemorate 53 years of iconic vogue italia covers, accentuating the shift of the magazine's direction from a woman to a man — while the room's focal point is the designer's own ceramic sculpture entitled family bust no 3, in a limited edition.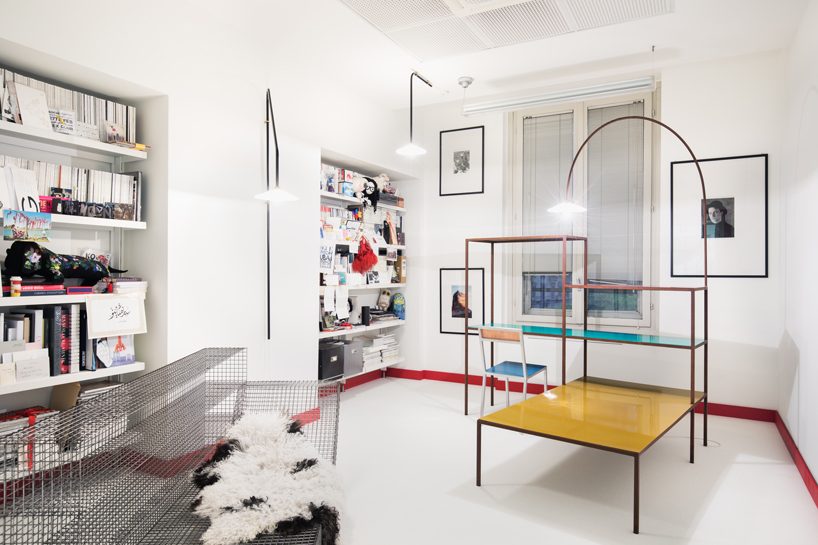 muller van severen – the 'vogue talents' office
for 'life in vogue', muller van severen revealed the space by concentrating on its true soul: they emptied the wardrobe of all its books, magazines, notebooks and other inspirations, conceiving the space as a collage – cutting and pasting a selection of their works to add scope and using bright red to accentuate the foundations. this way the furniture and what surrounds it are connected like in a 3d painting. they chose some of their emblematic multipurpose works which combine different functions in a single décor item. their 'desk + low table + lamp' combines at least 3 functions and offers the user an opportunity to work, read and hold a meeting seated at a low table.
'wire s#9' is a library as well as a place to relax and take a nap because the duo believes that relaxing is an important part of a productive workday (or that there should be such a thing as a place to rest during a productive workday).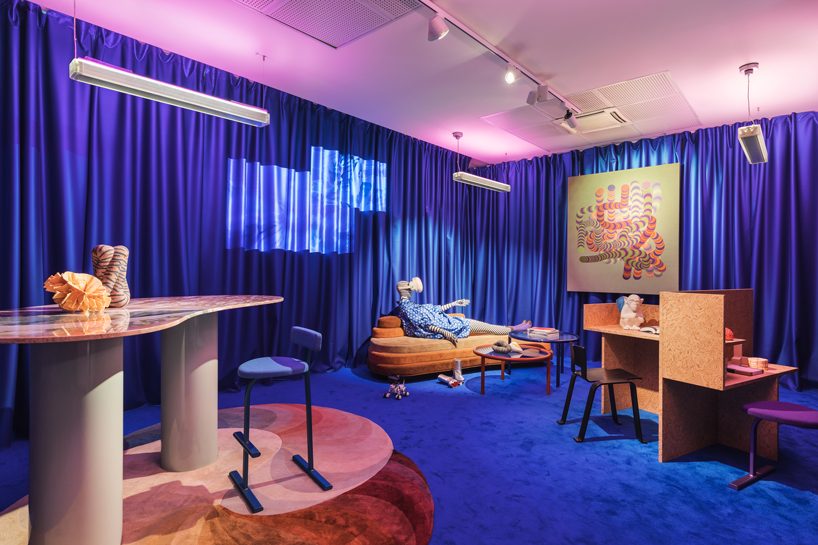 patricia urquiola – the current affairs offices
two current affairs offices by patricia urquiola: two temperaments, two narrations. two rooms set up in a sort of juxtaposition and continuity. an abstraction in which we are launched into a new area to reflect upon the contemporary issue of work. the first room represents the present and a future-bound perspective while the second symbolizes the past flowing into the present.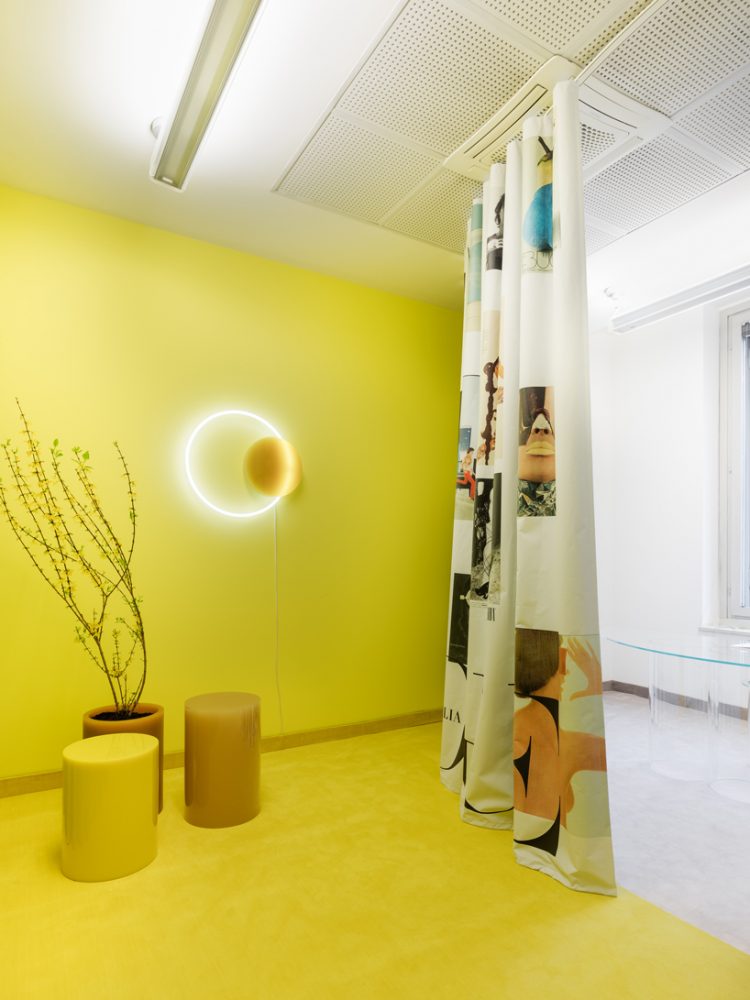 sabine marcelis – the creative director's office
the creative director's office by sabine marcelis is the place where old and new trends are analysed and developed. the contrast and the work that evolves from the space between the two are at the heart of the project. the curtain is the visual adaptation of the considerations made in this office; a point of view of the past with a future-bound outlook. beyond the curtain is an area that is reminiscent of a blank page. for artistic direction, a blank page represents the view of tomorrow's world!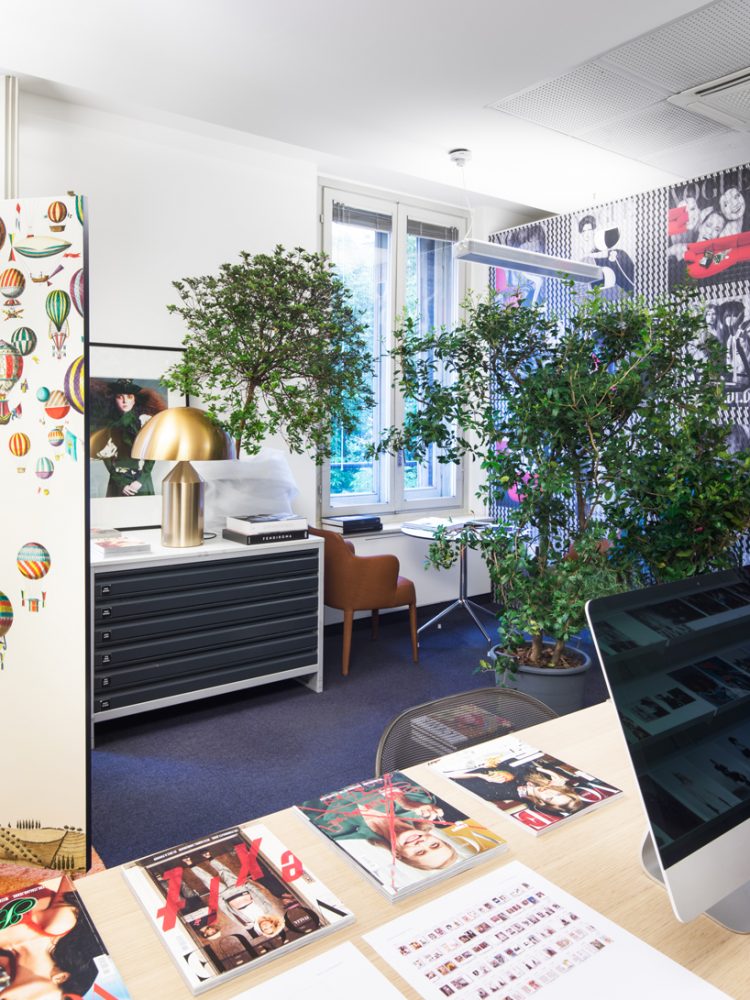 antonio citterio patricia viel – the graphic artist's office
'a magazine like vogue that witnessed the birth of the world of 'fashion and form' and has done more than its share to develop it, is without a doubt a distinguished and respected interpreter of our society and the changes it undergoes', explain antonio citterio and patricia viel. 'we wanted our proposal to illustrate the relationship between the aesthetics of fashion and the structure of design – like a single frame, only viewed from different angles. we had a wonderful time in the vogue italia graphic artists' office in milan imagining how we'd like the future of the workplace to become: comfortable, pleasant and inspiring.'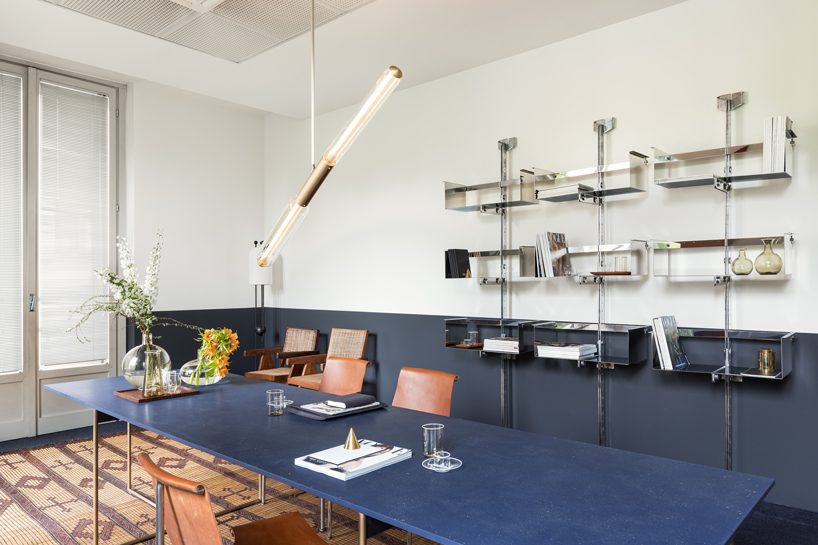 quincoces-dragò – meeting room
the project of quincoces-dragò is the result of an intention to place classic and eclectic contemporary styles as well as milanese style and international inspiration side by side. the meeting room stems from the qualities of vogue italia, which is based upon the value of the made in italy tradition and the style so typical of milan. it is influenced by an international spirit while, in turn, it influences that very same cosmopolitan flair. pieces of contemporary production are combined with time-honoured décor pieces from all over the world (william katavolos, pierre jeanneret and louis kalff) and proposed by the milan-based artists and galleries which have contributed to the diffusion of the idea of the value of design and who are still actively participating in the "renaissance" of the city such as nilufar, the luisa delle piane gallery and osanna visconti di modrone.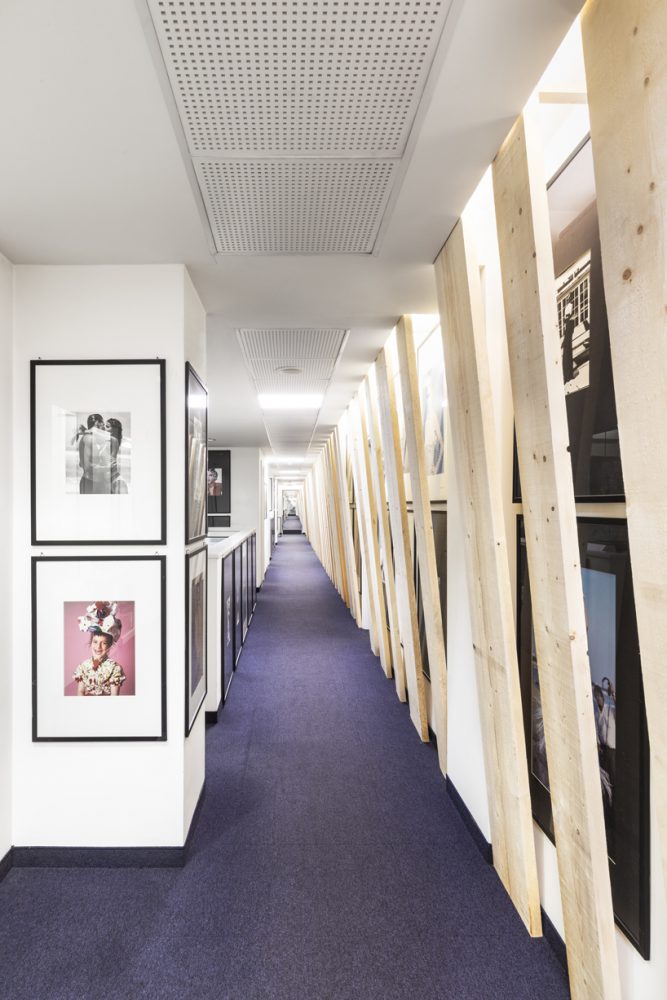 mario bellini – the corridor
'a long sequence of resinous wooden boards lined up at uneven intervals — a bit distanced from each other and from the wall they're leaning on – down a corridor that, like the spine of a human being, connects everything. in this case, the spine' is connecting the vogue editorial staff rooms. and this single intervention, kind of like nature taking a temporary 'occupation' of places inhabited by minds, furniture and office machinery (desks, computers, printers and scanners) was what seduced me as soon as i saw this 32 metre-long passage. an 'escape route', a long and narrow tunnel, where one side is filled with images of the history of vogue, lit by an intense azimuthal light,' says bellini.
'so, why not transform this space into an imaginary oasis? a place where anyone passing through is immersed in that unmistakable sensation which unexpectedly suddenly puts us face to face with primordial and profound nature. an unanticipated intrusion that allows for glimpses of those images which are not completely engulfed by the boards – rhythmically placed and distanced. a multisensory installation designed for the salone del mobile which i hope will disappear a little more slowly, leaving a trace or a bit of nostalgia'.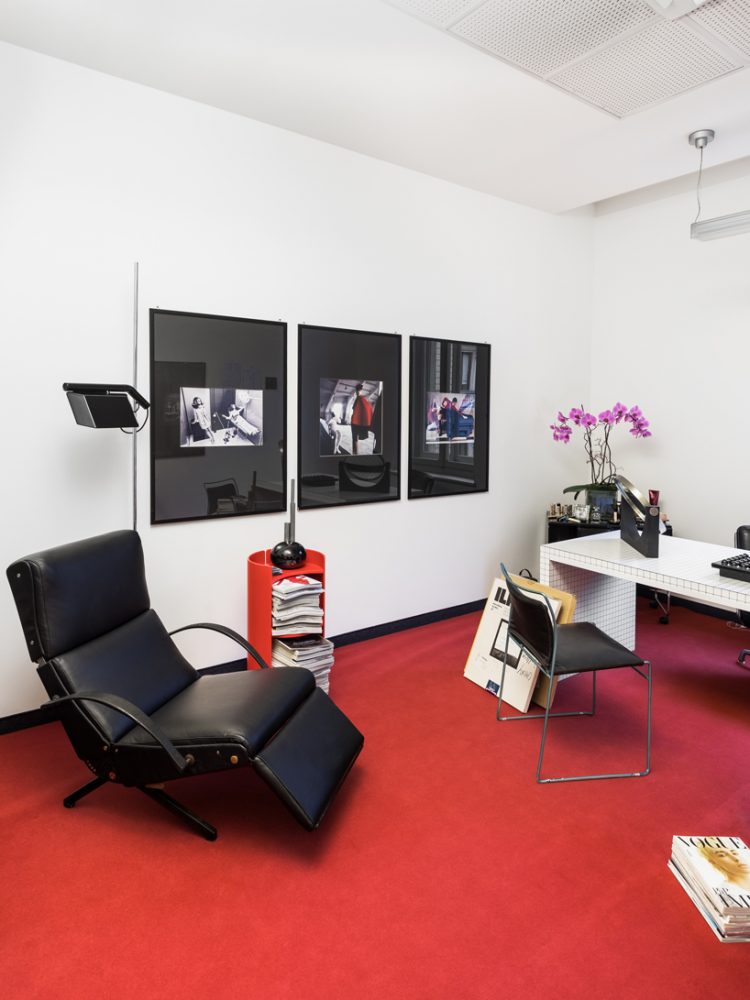 michael bargo – the beauty editor's office
the inspiration of bargo's vogue italia/casa vogue 'beauty room' is based on the success of the fashion brands that introduced their cosmetic lines between the late 1960s and early 1970s. the room's walls are white and the carpet is bordeaux– so typical of what was in style back then. the furniture in the room includes of combination of pieces from that period as well as from european descent. décor also features vintage advertising campaigns and authentic beauty products ranging from perfumes to make-up.
apr 15, 2020
apr 15, 2020
mar 31, 2020
mar 31, 2020
oct 07, 2019
oct 07, 2019
may 21, 2019
may 21, 2019
may 20, 2019
may 20, 2019
feb 01, 2019
feb 01, 2019
aug 03, 2018
aug 03, 2018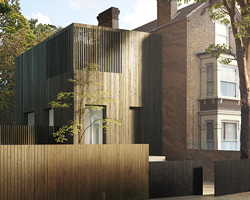 may 07, 2018
may 07, 2018
may 02, 2018
may 02, 2018
jun 17, 2020
jun 17, 2020
mar 29, 2018
mar 29, 2018
sep 21, 2017
sep 21, 2017
feb 11, 2020
feb 11, 2020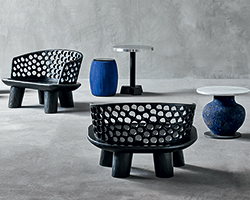 oct 10, 2018
oct 10, 2018
aug 28, 2018
aug 28, 2018
sep 12, 2019
sep 12, 2019
nov 25, 2018
nov 25, 2018
apr 08, 2019
apr 08, 2019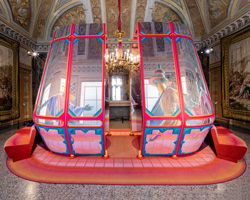 apr 05, 2019
apr 05, 2019
dec 05, 2018
dec 05, 2018
jul 02, 2020
jul 02, 2020
jun 25, 2020
jun 25, 2020
jun 23, 2020
jun 23, 2020
a diverse digital database that acts as a valuable guide in gaining insight and information about a product directly from the manufacturer, and serves as a rich reference point in developing a project or scheme.