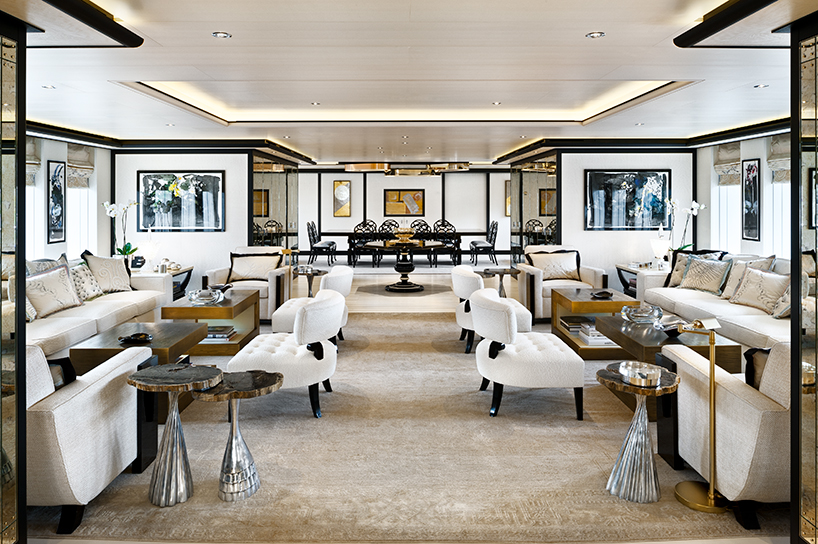 alberto pinto interior design has become synonymous with eclecticism, refinement and a distinctly opulent style, with projects for prestigious clients ranging from private residences, offices, hotels, yachts and jets. drawing from a variety of cultural influences he developed since childhood, alberto initiated the brand in the early 1970s, building his work around the intermingling of cultures, and the quest for the exceptional.
following his passing in 2012, alberto's sister linda pinto took over the management of the studio, having worked closely alongside side him for decades. today, linda and her team of 80 employees working in paris have become the go-to name for the design of luxurious interiors across a range of public and private spaces — notably yachts and jets. the studio has designed the interiors for 10 of the 100 largest yachts in the world, each appropriating the eclectic taste of an international clientele, with a decor marked by the careful balance between elegance and opulence.

the spa lounge on board 'plan B' conveys a strong graphic concept
while in paris, designboom spoke with linda pinto about the themes that inform the alberto pinto interior design process, the new standard for luxurious design, and her prediction for the future of yacht interiors.
designboom (DB): what would you describe as the new standard for luxurious yacht design?
linda pinto (LP): dimension is the new standard, with mega yachts measuring at 80 square meters for a 'wow' effect. dimension is the greatest difference between custom designed boats and standard series designed boats. today, there is a great demand for more space inside for a spa area, more exterior space, and flexibility. for example, outside walls that can open and transform to outdoor terraces, and even hulls that light up. the requests are for more and more luxurious amenities on board too: jet skis, slides, larger sailboats, and more.

'plan B' bedrooms feature a variety of light colored wood with different finishes
DB: when a client gives you creative freedom, what other industries or motifs influence your design process?
LP: even with creative freedom, dialogue with a client is a necessary part of the design. in our process, we love to keep in mind that designing for a yacht is an extension of a beach club ambiance. we are always sourcing new materials with modern fixtures and appliances which yield innovative results with 'haute couture' design details. alberto pinto interior design always strives to offer something new.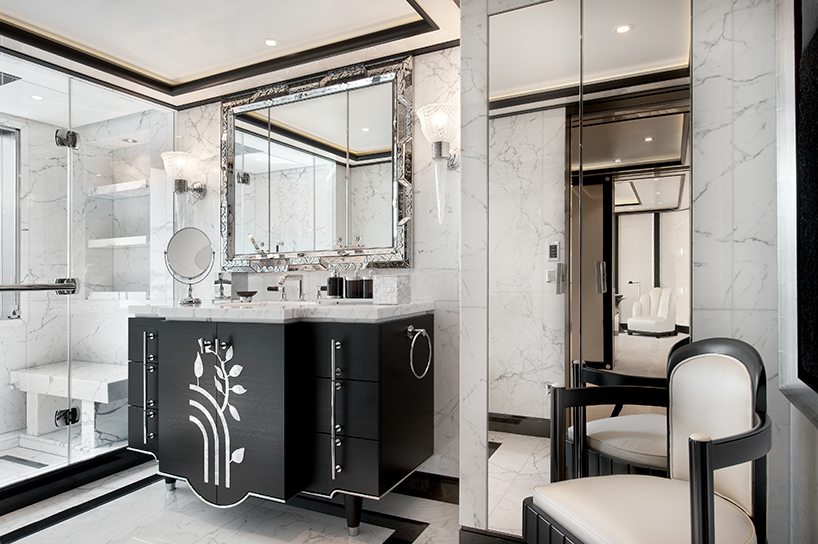 bathrooms include luxurious touches with mirrored surfaces and mother of pearl
DB: what are the most challenging stages in planning the interior scheme of a private yacht environment?
LP: the most challenging aspect of planning a yacht's interior is to keep harmony throughout the décor, while adapting to the technical constraints of security exits, fire detectors, emergency lighting, and more. these factors depend on the size of the vessel. with those challenges also comes opportunities. for example, alberto pinto interior design was the first design firm to sacrifice part of a yacht's deck in order to make a majestic two-floor living room.

a luxurious hammam is built into the design of the 73 meter long 'plan B'
DB: what are some of the most unique, exciting, or even strange requests that a client has asked you to incorporate into a design?
LP: a few examples: a client requested that the yacht's observation room have a glass floor so they could see the ocean. such a room, with a glass floor, is very difficult to execute. another client requested a giant aquarium for the interior of the yacht. first, we had to find a suitable way to install the aquarium due to its weight, and second, the fish became 'sea sick' upon the first voyage. in the end, it was a success. a different client requested a billiard room that we had to custom design in order to function with the movement of the yacht. these examples make requests such as a chimney quite reasonable!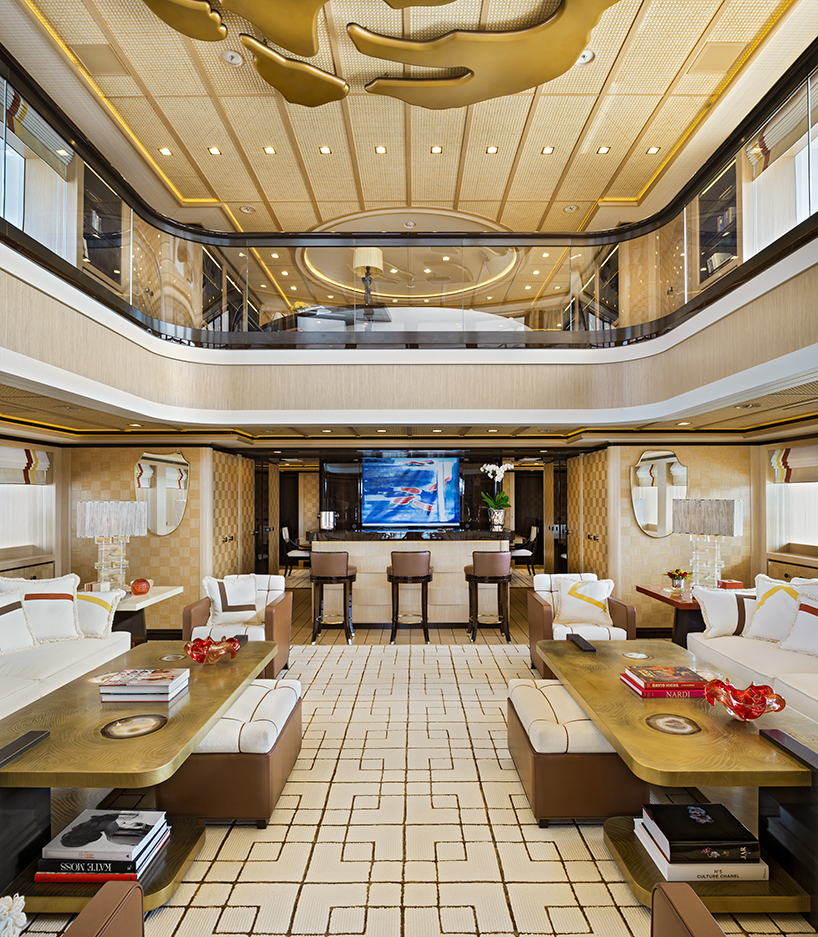 the main salon aboard the 72 meter 'red square' creates a dramatic effect with its double-height
DB: in what ways does the thinking behind yacht interior design differ, or relate to, the ideation of a corporate, or hospitality venue?
LP: this is subjective to how a client prefers to receive their guests.
DB: what are the most important things to take into consideration when designing a yacht for personal use?
LP: foremost, the client's lifestyle; how they will use it for their family, entertainment, exploration around the world, island hopping, and more. then, we discuss their priorities on board which could be a hair salon, movie theater, office, or conference room. these are the most important questions to ask during a client's first briefing with us so that we understand their way of life.

'madsummer' has been designed with a traditional 'american' way of living in mind
DB: what advice would you give to young designers who are interested in entering the interior design industry?
LP: to begin by interning is a good way to enter the field for young designers. the world of custom yachts is an unbelievable and extraordinary universe that is very specialized.
DB: what do you see as the latest trends in interior yacht design, and where do you envision the field headed in coming years?
LP: I expect to see more dynamic boats than classic ones. design that is more modern with varying materials and details.

a palette of sporty, young and relaxed colors feature throughout 'madsummer' 
DB: can you tell us about any exciting new projects that you are currently working on?
LP: one project is for a client with very specific taste for their 158m yacht. then we have two exploring type vessels that will be used for traveling along the high seas during inclement weather. design wise, these clients have instructed us they would like to be surprised but still want the décor to be discreet.

'madsummer's' sprawling outdoor deck reinforces a holiday and beach club atmosphere

portrait of linda pinto, courtesy of alberto pinto interior design
Save
dec 04, 2017
dec 04, 2017
nov 26, 2017
nov 26, 2017
oct 09, 2017
oct 09, 2017
sep 23, 2017
sep 23, 2017
sep 21, 2017
sep 21, 2017
sep 19, 2017
sep 19, 2017
a diverse digital database that acts as a valuable guide in gaining insight and information about a product directly from the manufacturer, and serves as a rich reference point in developing a project or scheme.