on show at design miami / basel 2019, an initially seemingly ordinary collection of everyday objects and utensils actually enhance and exude the specific beauty and colorations of different types of portuguese stone. named 'common sense', the special satellite project began as an invitation to experimentadesign by design miami / basel 2019. a range of renowned creatives were then selected to contribute, including claudia moreira salles, estudio campana, fernando brízio, jasper morrison, michael anastassiades, miguel vieira baptista, and ronan & erwan bouroullec.
as its title references, 'common sense' calls for contemplation on the concept of simplicity, which is ever necessary in an era of such technological advances and complexities. the international designers were each challenged to explore the physical and mechanical characteristics of different stones. the results not only explore the relationship between design and natural materials but also its role in contemporary society. each one enhances the personality of its material to add uniqueness to the collection as a whole.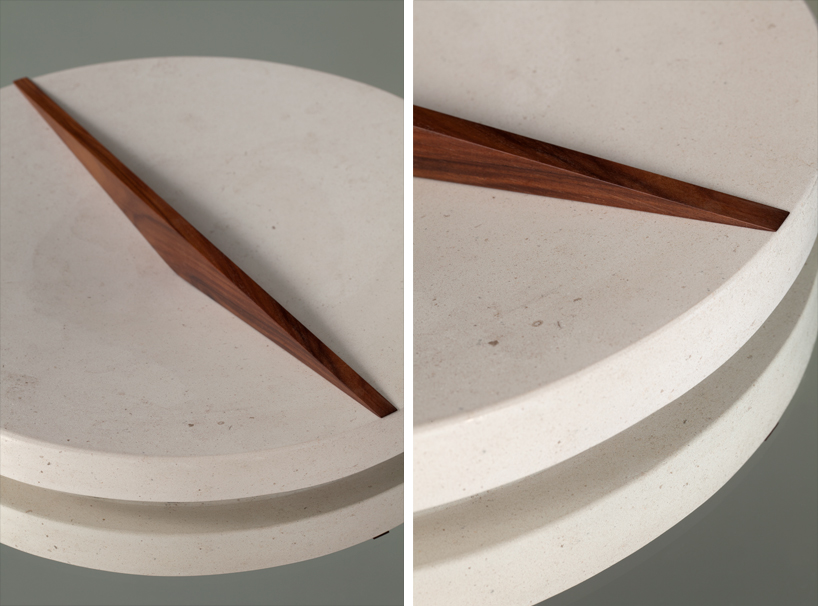 bowl compass by claudia moreira salles
all images courtesy of lisbon gallery
(main image: hipódromo by miguel vieira baptista)
brazilian designer claudia moreira salles has defined two distinct pieces for the 'common sense' collection: 'bowl compass' and 'mancebo angras'. the former, as its name suggests, shares the simple geometry of a compass as the diameter of a circle is drawn. its thickness decreases from the edge where, at its center, a wooden blade splits the shape whilst also accentuating the slope of the stone itself. this feature also creates an immediate yet intriguing contrast between color and texture.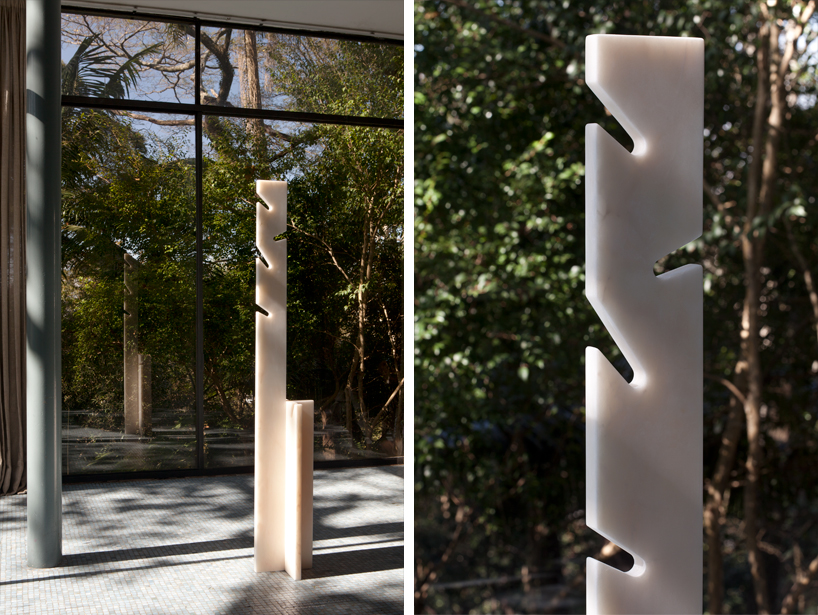 mancebo angras by claudia moreira salles
the second design, 'mancebo angras', is a coat hanger that purposefully distances itself from the normal form of this type of object. as opposed to being hidden by the coats, purses and hats that it will support, the piece aims to stand out with its material and shape. formed from white marble slabs, a harmonious relationship is born between the resistant material and the shape, which details indented edges to function as hooks.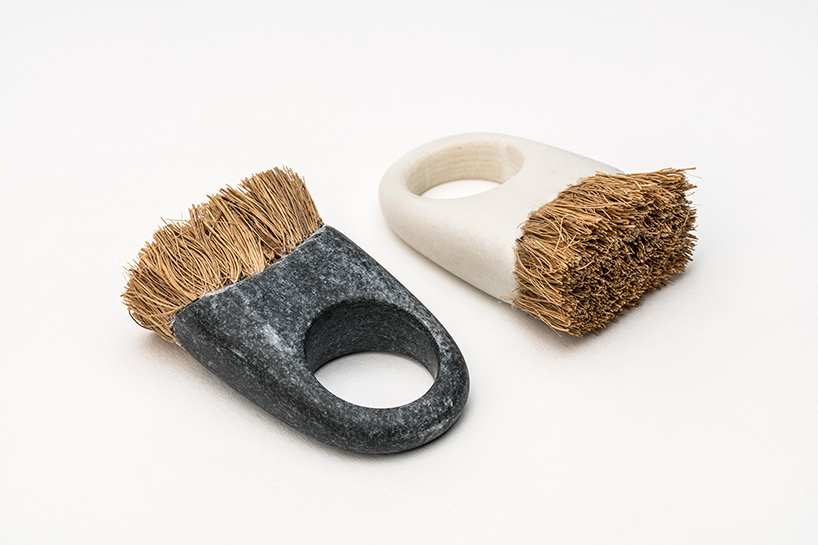 mestiço by fernando and humberto campana
brazilian brothers fernando and humberto of estudio campana explore an array of themes for the 'mestiço' object: firstly, the relationship between cultures and natural materials with different textures and temperatures; secondly, the dialogue between the coldness and hardness of the branco vigária and ruivina escuro marble stones; and finally, the warmth and flexibility of the brazilian coconut fiber. the result aims to create a new genetic code from these materials that originate from other perspectives.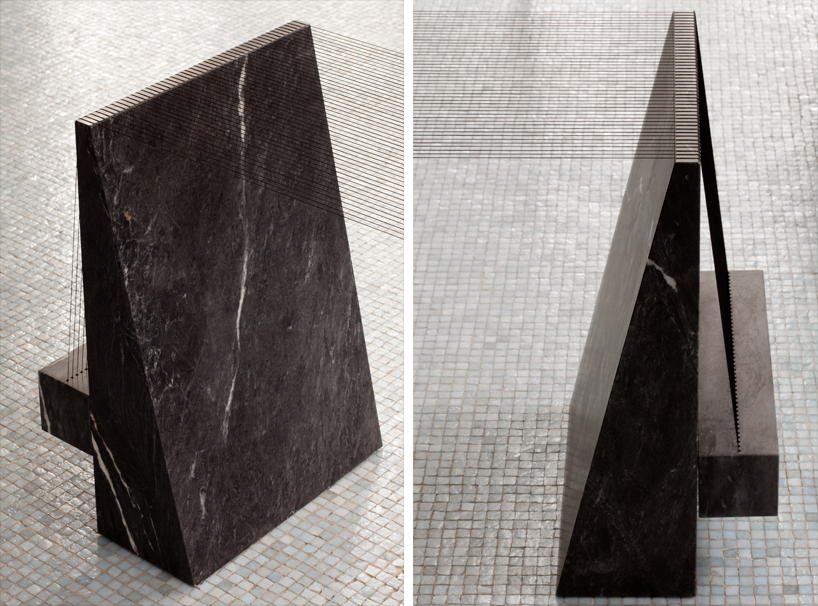 F=MA by fernando brízo
portuguese creative fernando brízo's 'F=MA' sideboard balances mass and gravity to create a structure that functions through equilibrium. two ruivina escuro marble buttresses support a set of cables, stretched out by two blocks of stone. this elementary construction helps make a balanced system where the shape of the horizontal, cable planes are slowly deformed. alterations can then be adjusted by the weight and number of objects placed upon it. its dark color accentuates its weight whilst contrasting with the delicateness of the cables.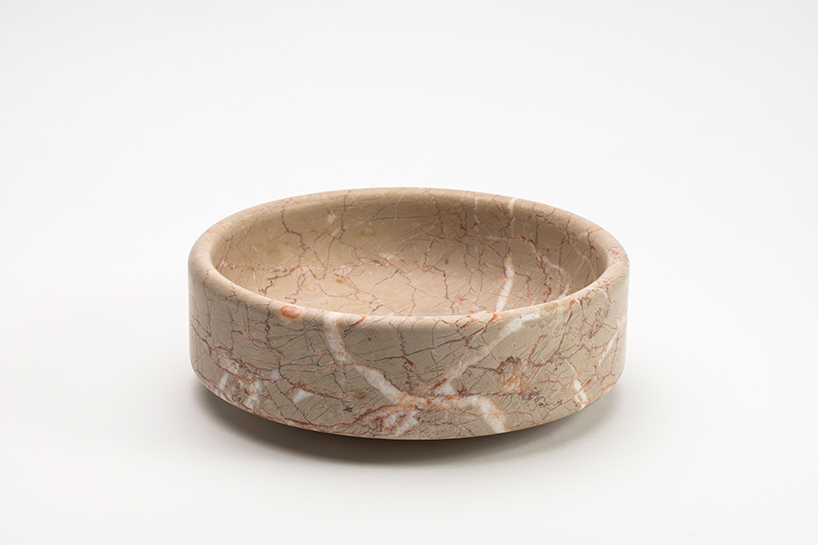 alpinina by jasper morrison
designed by british designer jasper morrison, who, together with naoto fukasawa, coined the super-normal design philosophy, 'alpinina' is a bowl that seemingly floats over the surface it is placed on, despite the weight of its stone material. starting from the bottom, the design's base is elevated and recessed to be easily lifted by hand. this detail then lends itself to the image of weightlessness, where the bowl floats when placed on a table, sideboard or kitchen shelf, for example.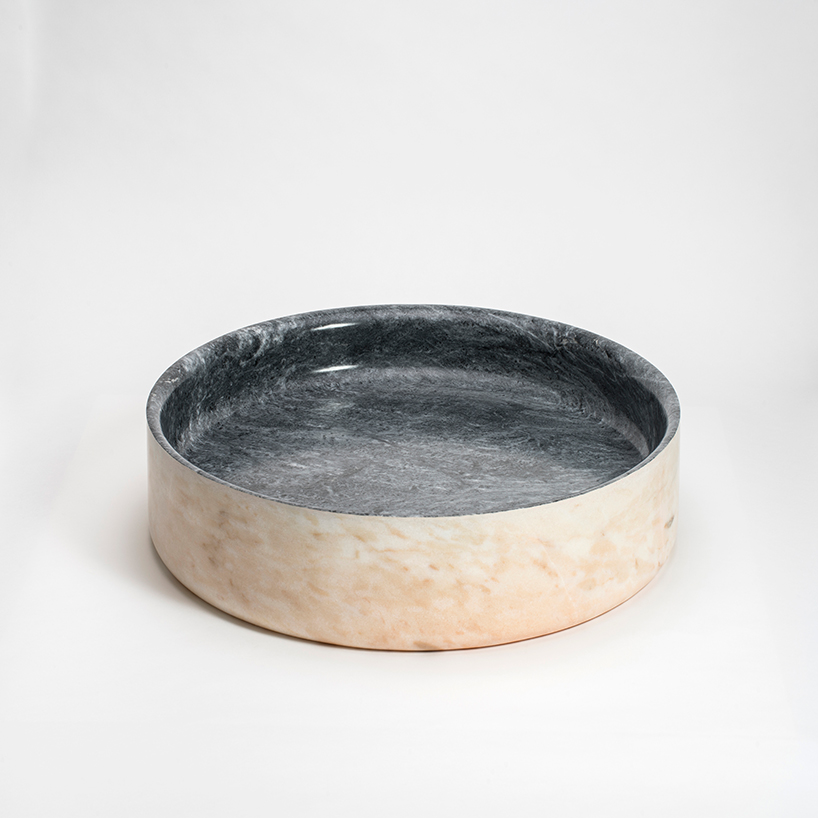 forbidden fruit by michael anastassiades
cypriot designer michael anastassiades' 'forbidden fruit' series includes three differently sized vessels. the focus explores the variation between the interior and exterior of objects. like the items they may hold, the vessels are inspired by the contrast between the great variety of fruits, where their outside color is different from the one inside. together, the three objects establish a simultaneously contrasting and symbiotic connection between the different stones used.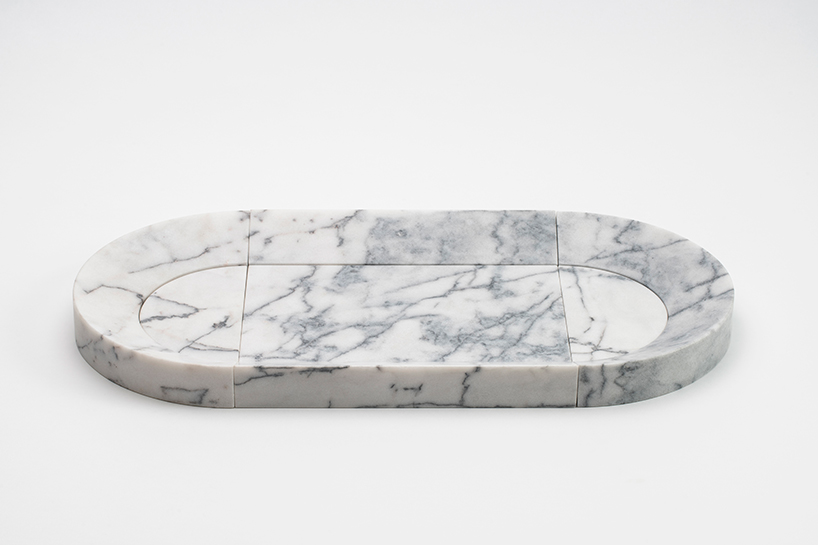 hipódromo by miguel vieira baptista
portuguese designer miguel vieira baptista's 'o peso da pedra' series comprises two pieces: 'hipódromo' and 'eclipse'. both focus on construction methods used in roman antiquity, specifically the ways stone elements were joined together when used in columns. 'hipódromo' consists of seven juxtaposing parts that combine to create a single piece. alternatively, 'eclipse' unites seemingly unfinished pieces to form a shape that functions as a container.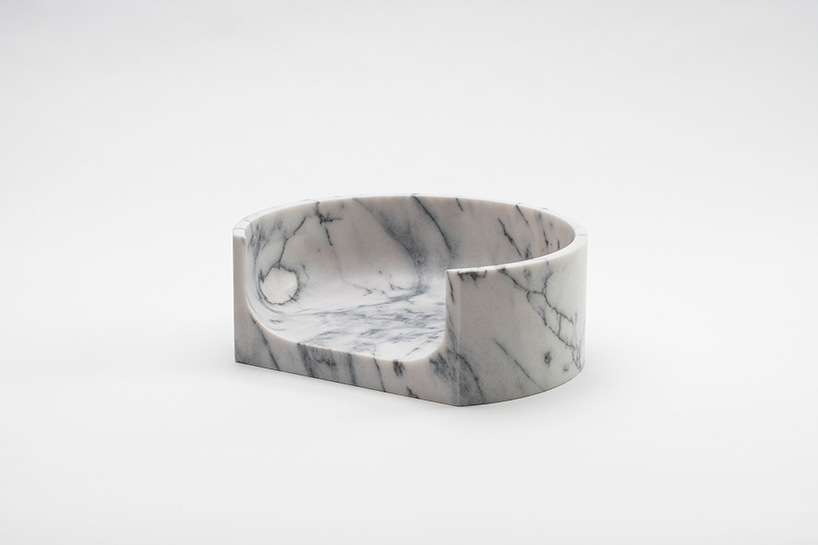 eclipse by miguel vieira baptista
french brothers ronan & erwan bouroullec's 'fontaine' was originally conceived as a modular structure that allows for the configuration of fountains of different sizes. this concept was reinterpreted into a single compact module that, without any adaptions, would fit into a variety of spaces. typical of the designers, the piece continues their exploration to find a balance between man-made and nature. a stream of water interplays with sound, movement and light refraction as it flows atop the stone surface that was carved using a computer controlled machine.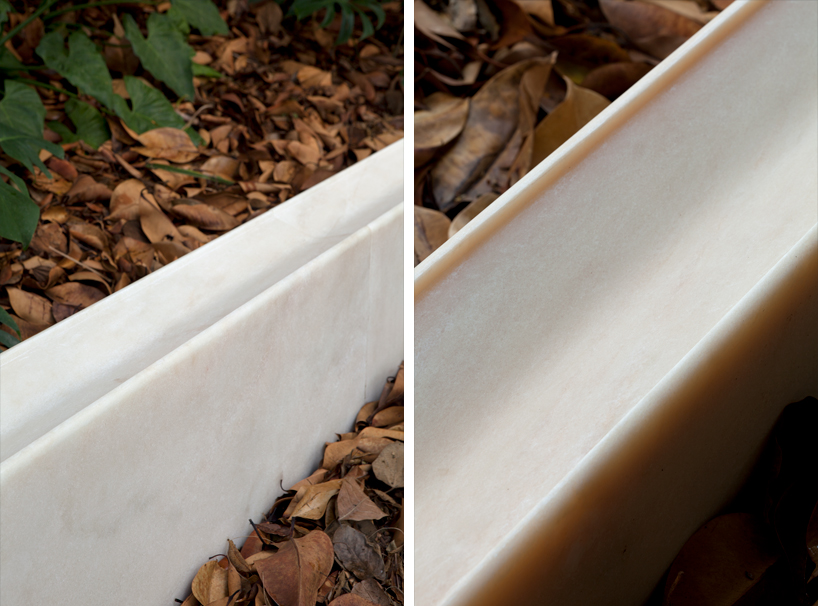 fontaine by ronan & erwan bouroullec
project info:
title: common sense
event: design miami / basel 2019
dates: june 11-16, 2019
experimentadesign: portugal-based active communication platform for design, architecture and project culture. they view culture as a key element for sustainable development in modern society. when delivering contemporary cultural production, they practice from an inclusive, multidisciplinary and transversal perspective.
lisbon gallery: emphasize curatorial exploration when operating in the field of contemporary design and architecture. they are strongly embedded in the relationship between these disciplines, as well as industry, craftsmanship and technological innovation. a unique approach based on research, quality, beauty and originality drives its carefully selected array of pieces created by the designers and architects.
artworks: an organization dedicated to the production of artistic work and support for the arts and culture. their work encompasses conception, technical design, engineering, fabrication, assembly and on-site installation, as well as their curatorial projects, exhibition design and graphic design.
galerie vertbois 5: paris-based interdisciplinary gallery focusing on contemporary practices in the areas of design, architecture, creativity and art. founded by artworks, it strives for the dissemination and recognition of forward-thinking practitioners with a unique and profoundly innovative perspective and approach to their fields of action.
KEEP UP WITH OUR DAILY AND WEEKLY NEWSLETTERS
a diverse digital database that acts as a valuable guide in gaining insight and information about a product directly from the manufacturer, and serves as a rich reference point in developing a project or scheme.
designboom will always be there for you
milan, new york, beijing, tokyo

,
since 1999