an estimated 1-3 million cats live on the streets of los angeles, making it one of the US's largest populations of homeless felines. non-profit fixnation is taking creative measures in search of solutions to the problem, raising money for humane colony management programs. the organization tapped top LA architects to design, build and donate functional, one-of-a-kind outdoor dwellings for cats. the kitten-scale structures were presented at the architects for animals 'giving shelter' exhibit, and were auctioned off to benefit the charity's mission.
participating design firms this year are: abramson teiger architects; d3architecture; ES-EN-EM; HLW; HKS; HOK; perkins + will; knowhow shop; kollin altomare architects; RNL (now stantec); standard architecture | design; and a collaborative project from formation association, terremoto landscape and arktura. see the shelters for fixnation, and words from the designers in full, below.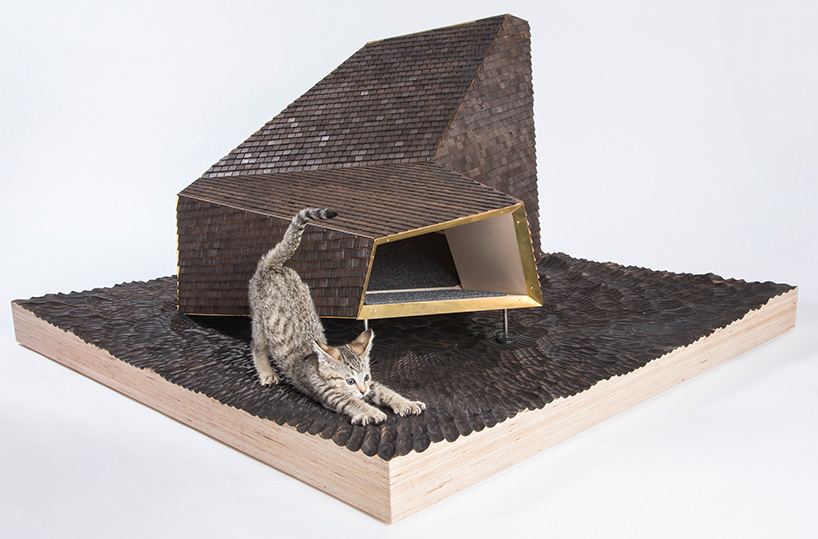 knowhow shop
all images by meghan bob photography
knowhow shop: in the year since the cat exploration program was initiated with the successful launch of the lunar cat lander (to much fanfare and general purrs of contentment), the terrain has changed drastically. the unfortunate ascension of a petulant marmalade tabby has resulted in drastic cuts to all programs based in science. worse, his penchant for climate change skepticism and bellicose rhetoric toward neighborhood possums threatens to turn the whole world into a proverbial litterbox! now astrokitties of all stripes have cloistered themselves in defunded lunar lander modules and turned their attention earthward. they doggedly continue their work on the projects that will truly 'make america great again' (for cats), including indestructible peacock feathers, non-aggressive vacuum cleaners, and warm spots of sunshine that don't keep moving around.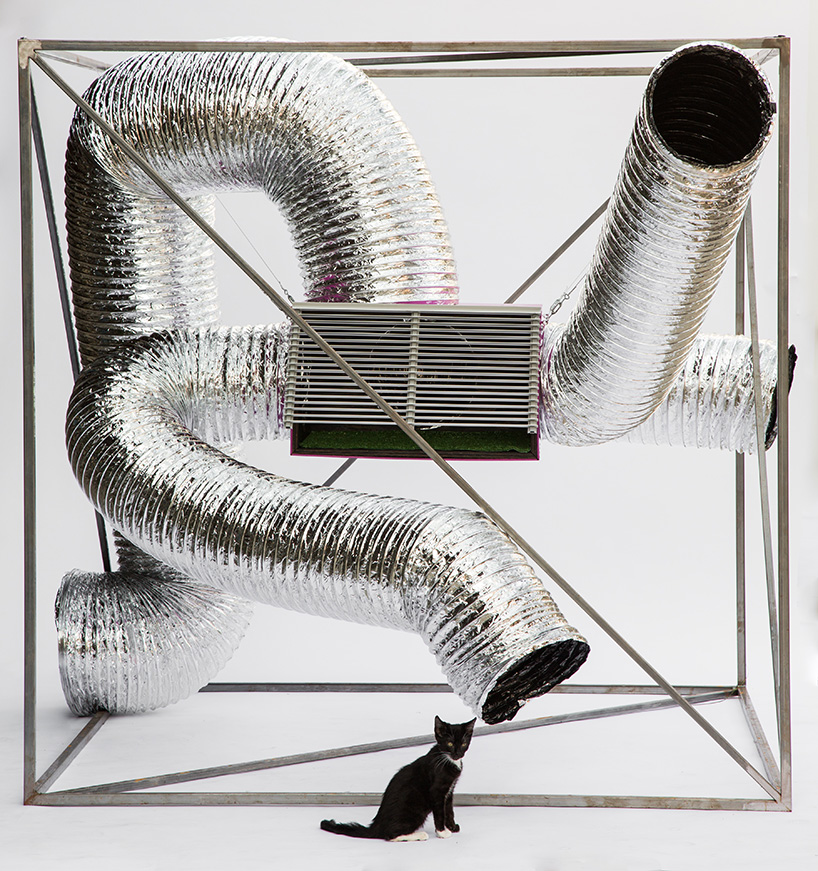 d3architecture
d3architecture: d3architecture designed a cat shelter reflecting the environment and personalities of feral cats, using materials found on the streets and in the alleys (discarded hvac equipment) creating a wild array of tunnels and passageways. but at the center, is a tranquil space for these cats to shed their desperate lives. the shelter is 6' x 6' x 6' and constructed of steel and wood.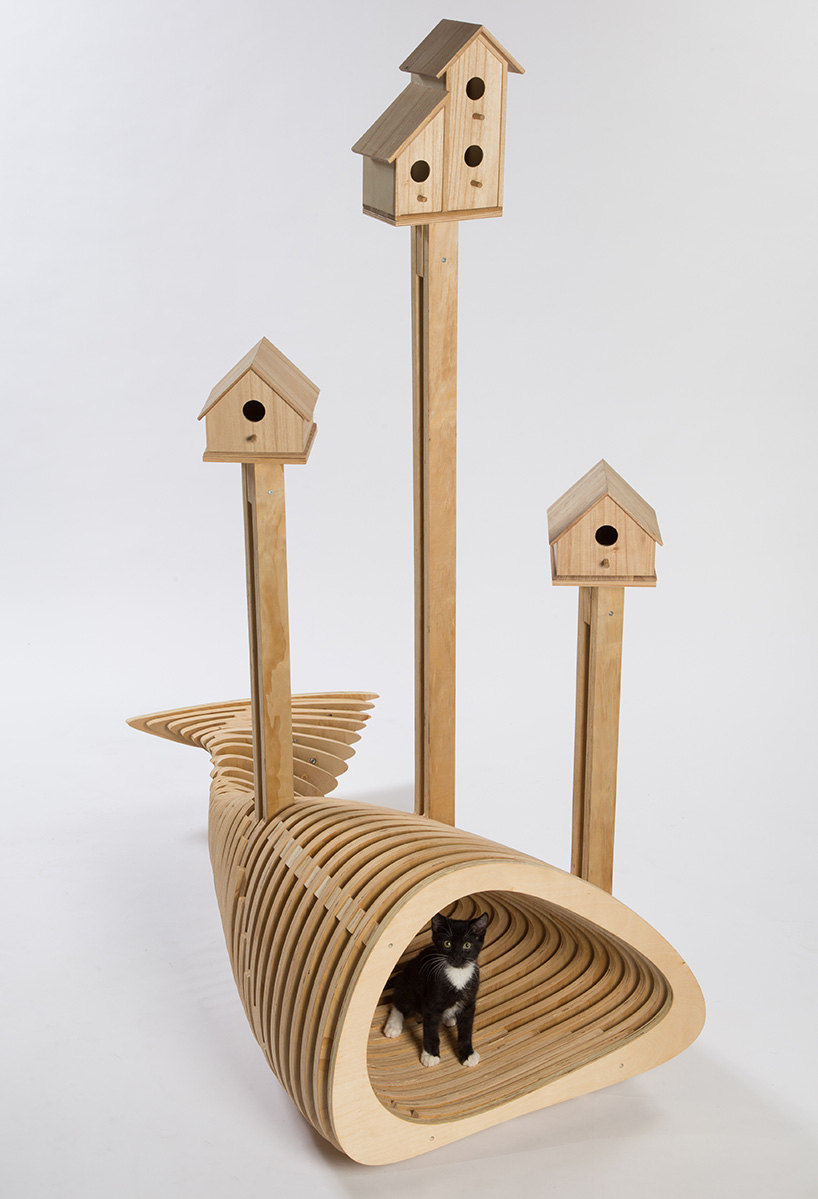 'cant we all get along' by HKS
HKS: sunlight filters through the slats of my den. birds chirping just beyond in their pen. I could lunge, I could expunge, instead I will laze, within this fish-house in a daze. can't we all get along just today. come back tomorrow for another foray!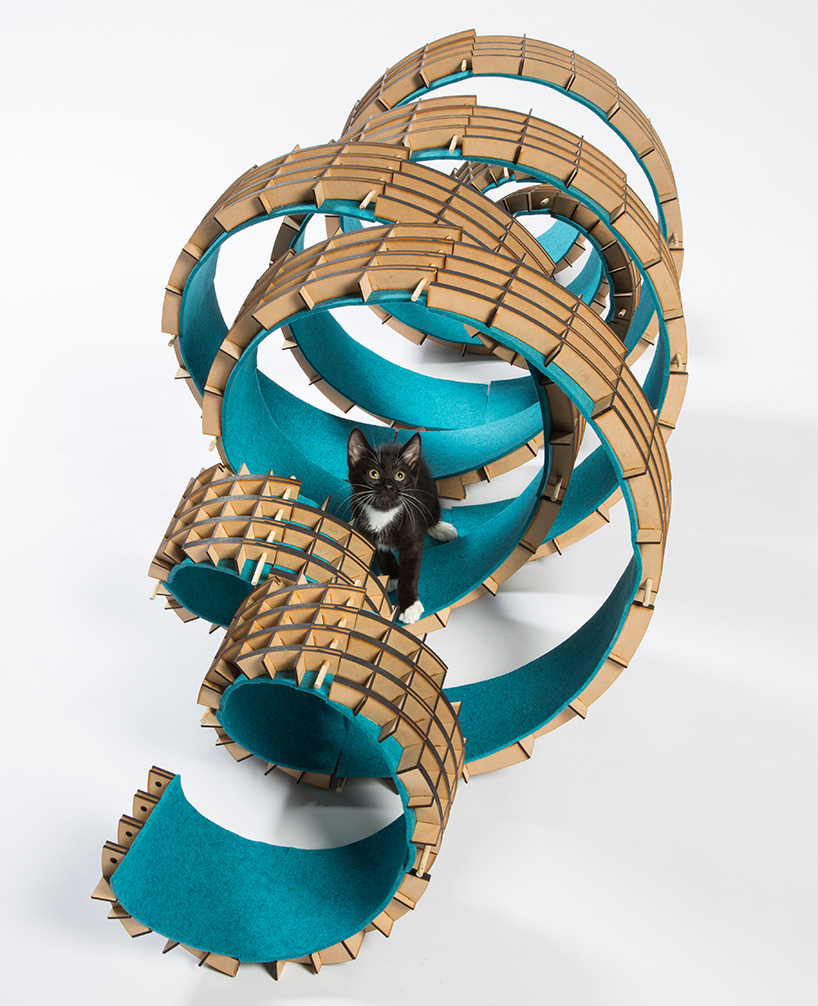 'UnFURled' by perkins + will
perkins + will: UnFURled is cat architecture designed to balance adaptability and graphic form. built as an interchangeable and interacting kit-of-parts, the structure is scalable, malleable, and fun for you and your cat.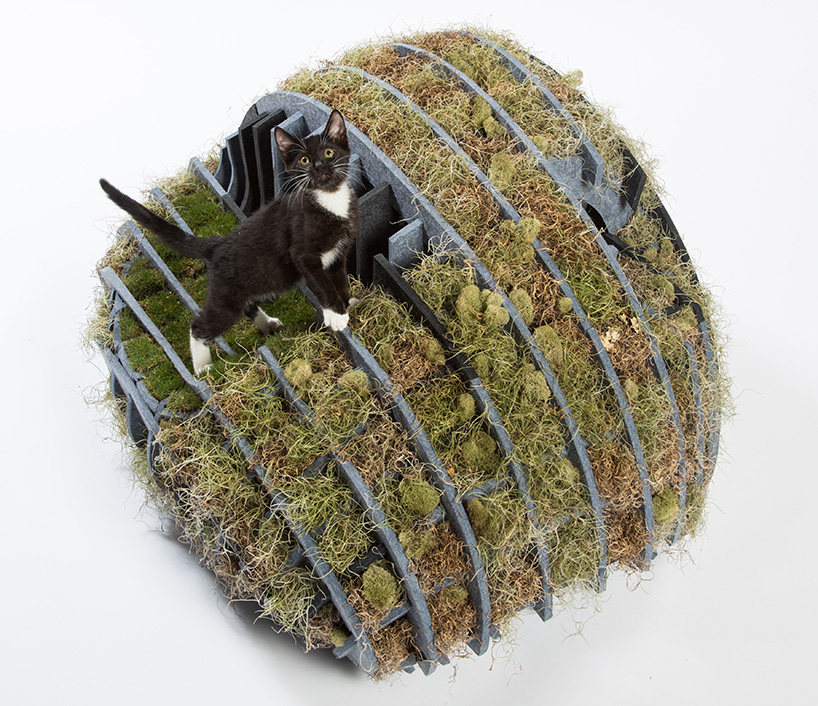 'flora-gato', a collaborative project from formation association, terremoto landscape and arktura
formation association, terremoto landscape and arktura: flora-gato is a biomorphic trellis providing shelter to cats and informal seating to human volunteers serving the feral cat population. the trellis structure takes an organic form while also suggesting the function a pouffe or an ottoman. its exoskeleton is comprised of recycled and fiberized plastic, formed into ribs which are water-absorptive and serve as an ideal armature for planting. populating the trellis, spanish moss, an epiphytic plant drawing water from the moistened exoskeleton, assists in both shading and evaporative cooling for cats seeking shelter in the den-like interior, while the densely spaced korean grass plugs act as a thermal mass further regulating interior temperature. whether as shelter or seating, flora-gato exists in a state of hybridity, negotiating between flora and fauna, natural and synthetic, offering shelter to felines living in the inter-species urbanism of an ascendant anthropocene.
making of 'flora-gato'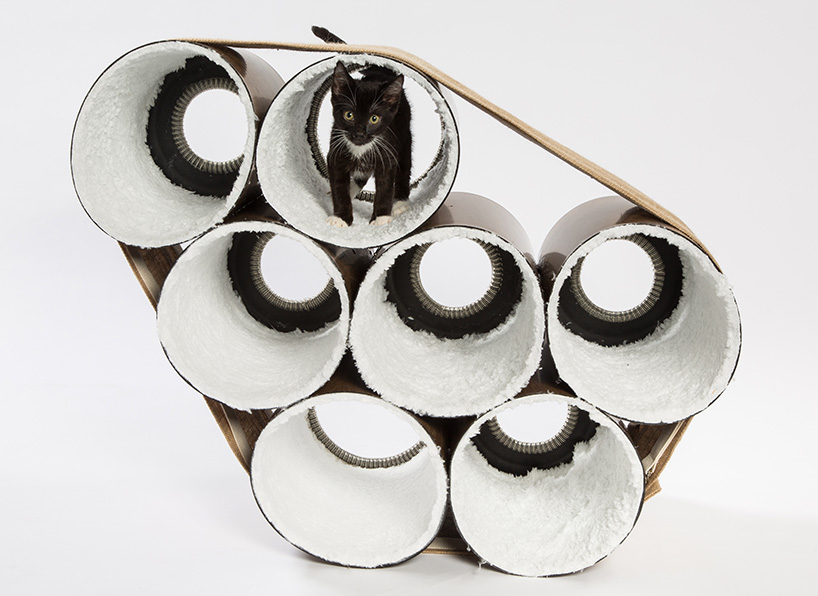 HOK
HOK: this seven-chambered kitty shelter is uniquely shaped and provides both protection from the elements as well as a cozy home for multiple kitties. materiality and safety were taken into strong consideration with the exterior being a warm faux wood finish that can handle any weather condition and the interior of soft felt and other materials for comfort. a circular back door allows the kitties to enter to exit from both the front and back.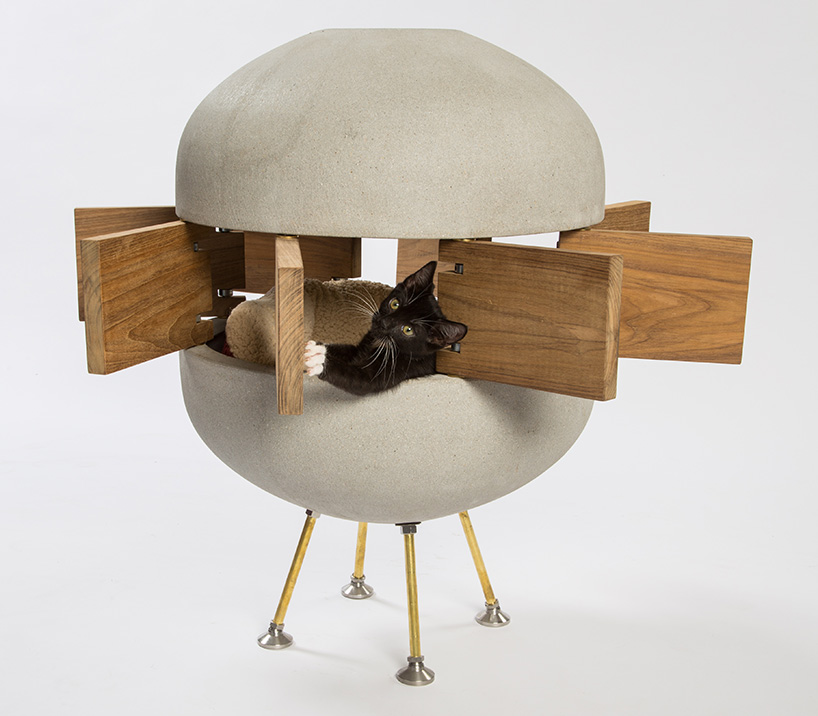 'catosphere' by standard architecture | design
standard architecture | design: the catosphere is a concrete and wood pod, raised above grade on brass legs and fitted with a cat bed. the louvered wood walls can be open or closed depending on the weather. the concrete's high thermal mass gathers heat during the day and slowly releases it overnight. the movable wood louvers may be opened to allow a breeze to flow though or closed during cooler weather. appealing to a cat's desire for warmth, the catosphere provides a secure shelter for a catnap. designed and built by standard. the reclaimed wood for this shelter was generously provided by east teak.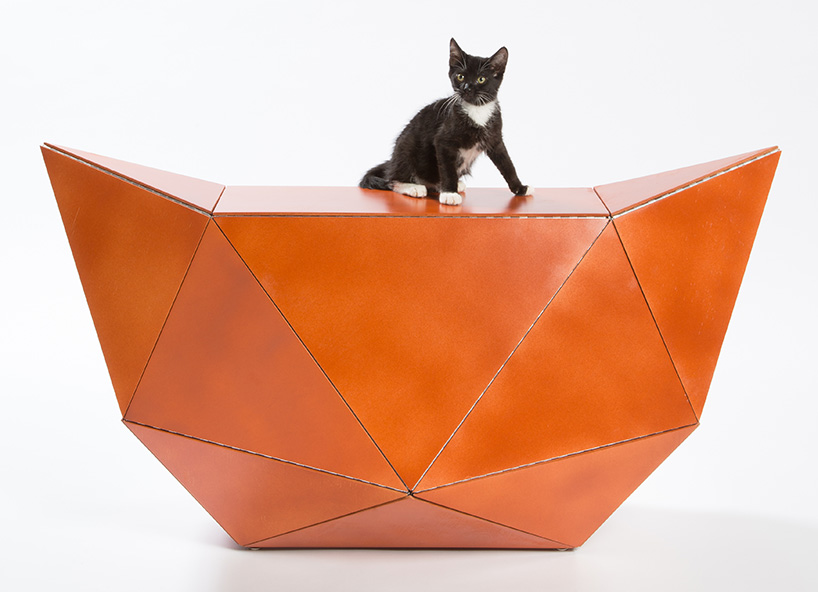 'meow miaow' by ES-EN-EM
ES-EN-EM: both pragmatic and poetic, meow-miaow is an origami-inspired cat shelter made for indoor and outdoor use that provides a comforting, private and protective space for one or multiple cats. it is constructed using exterior grade plywood with a custom tinted exterior grade spar urethane finish and aluminum piano hinges attached with 3m vhb tape. the shelter is assembled flat and folded into shape creating a rigid monocoque structure that is as much a piece of furniture as it is a home for cats.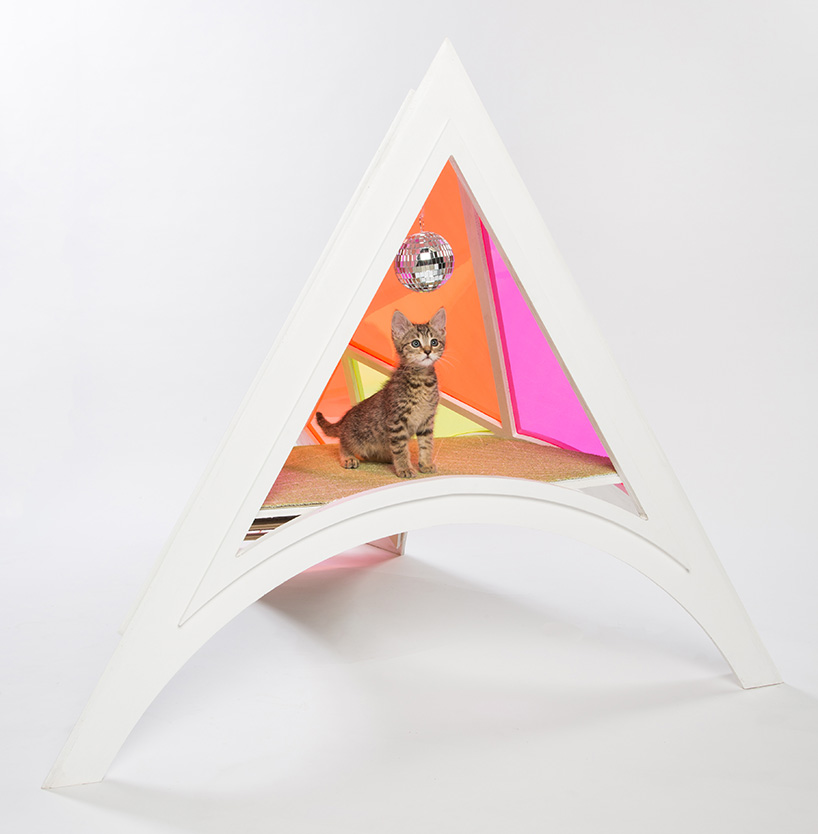 callisonRTKL
callisonRTKL: most times when cats are placed in a new space they feel guarded and unsure of their surroundings; they look for a quiet nook to hide and feel secure. our cat structure was inspired by the safe havens of a cathedral. our modern interpretation showcases contemporary geometric patterns and stained-glass windows. a soft carpeted ramp from one end leads to a perch for cats to look out into their surroundings while still being sheltered. below the ramp is another safe space that can be entered through several archways; this is a great spot for cats who want to feel more hidden. our structure provides safe hideouts for cats while still getting to observe the space around them.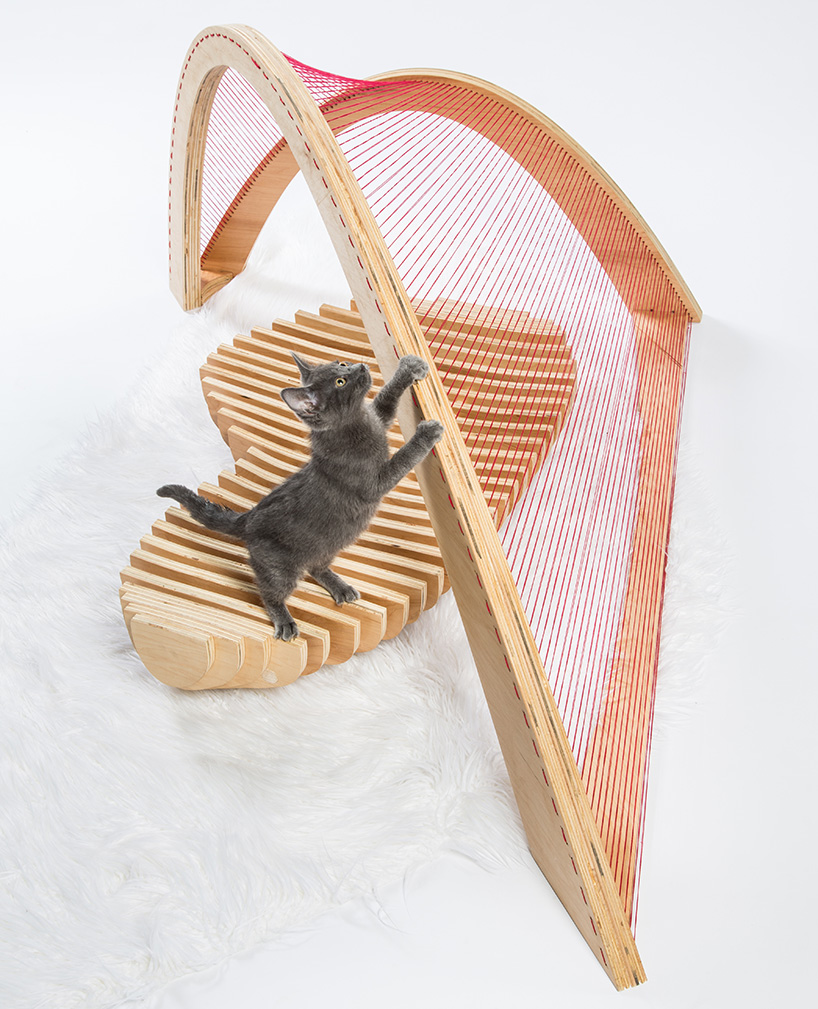 RNL (now stantec)
RNL (now stantec): repetitive layering and weaving tie pieces into a three-dimensional object. slender plywood arches across like a stretching feline and create a bounded but open space. the sculptural platform with soft faux fur offers different areas for rest and sleep. a single red thread weaves a combination of abstract triangular shapes into a shelter.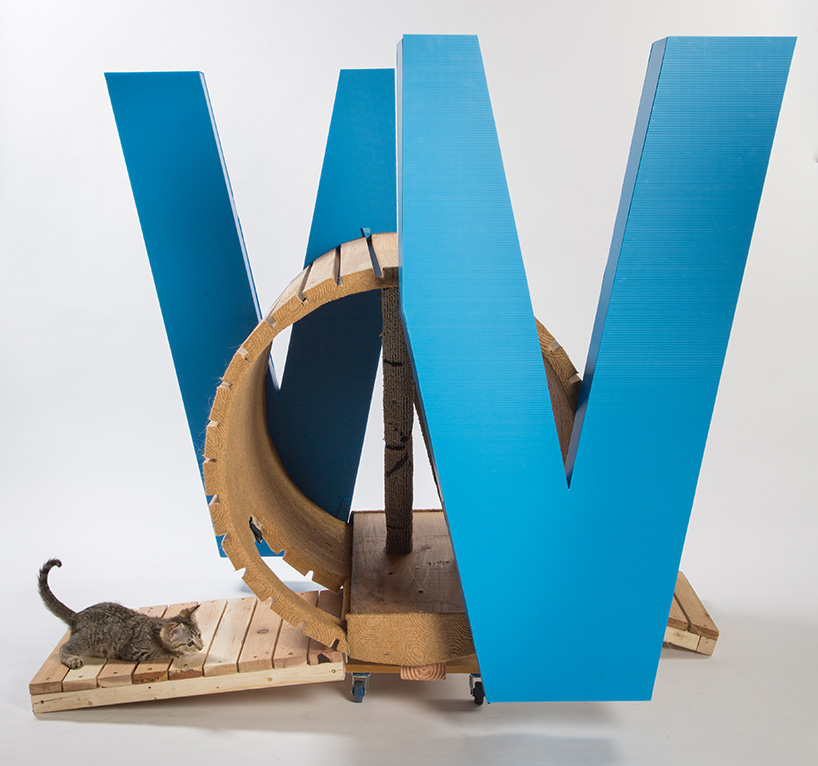 'cat's win! cat's win!' by kollin altomare architects
kollin altomare architects: our active and stimulating 'shelter' was influenced by studying the normal interior environments that domestic cats prefer: natural surfaces that give them the ability to exercise and practice their clawing techniques; random surfaces and heights that allow them to share spaces; and protection from the elements or unfriendly visitors. our design concept was conceived by incorporating a shelter for homeless cats in an urban environment with one of the biggest icons in the city of chicago, the 'W'. we used the symmetry of the 'W' to form the main structure which then suspends the 'shelter' between the parallel planes of two halves of the 'W'.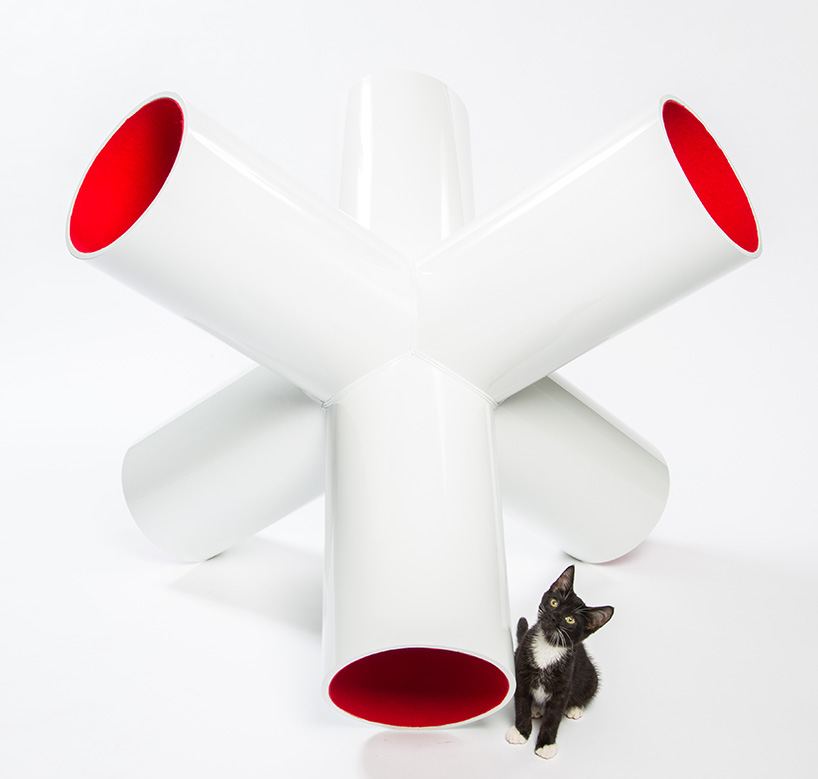 'white jack' by abramson teiger architects
abramson teiger architects: the white jack started with the idea of a small object blown up and simplified. the form allows the cat to climb through it like a habitat. in its final form, the white jack is like a piece of interactive art where the cat becomes part of the art.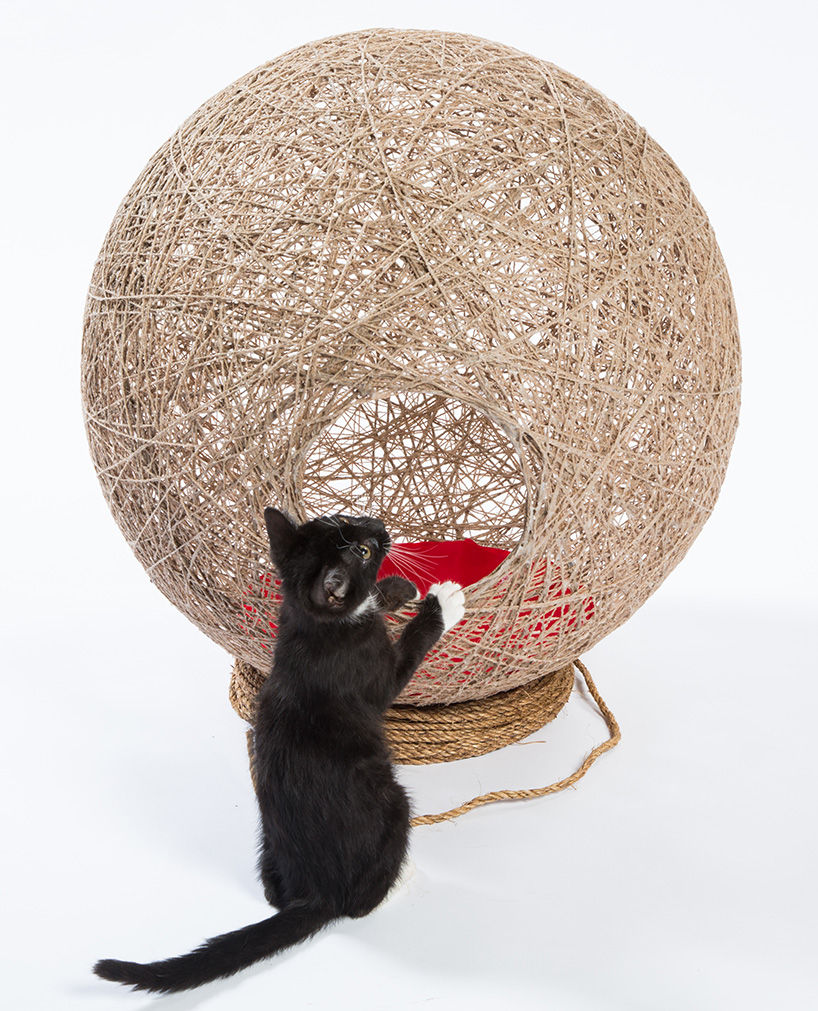 'ball of twine' by abramson teiger architects
abramson teiger architects: the ball of twine was a play on scale, as normally the cat is much larger than the twine and can batt around the ball with his paws. in this design, there still is some free twine to play with and the cat is inside the ball.
cats
(46 articles)
mar 25, 2020
mar 25, 2020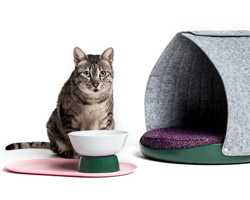 mar 25, 2020
mar 25, 2020
jan 31, 2020
jan 31, 2020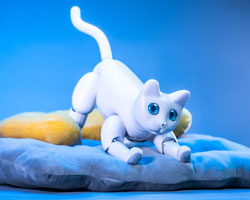 jan 03, 2020
jan 03, 2020
aug 05, 2019
aug 05, 2019
jul 24, 2019
jul 24, 2019
a diverse digital database that acts as a valuable guide in gaining insight and information about a product directly from the manufacturer, and serves as a rich reference point in developing a project or scheme.