frank gehry + marc newson among designers of louis vuitton iconoclasts series
images courtesy of louis vuitton unless otherwise stated

louis vuitton celebrates their famous monogram with the reveal of the icon and the iconoclasts project: six renowned creatives — christian louboutin, cindy sherman, frank gehry, karl lagerfeld, marc newson and rei kawakubo — have each been given artistic freedom to create a bag or luggage set, keeping in mind the french luxury house's spirit of collaboration and innovation.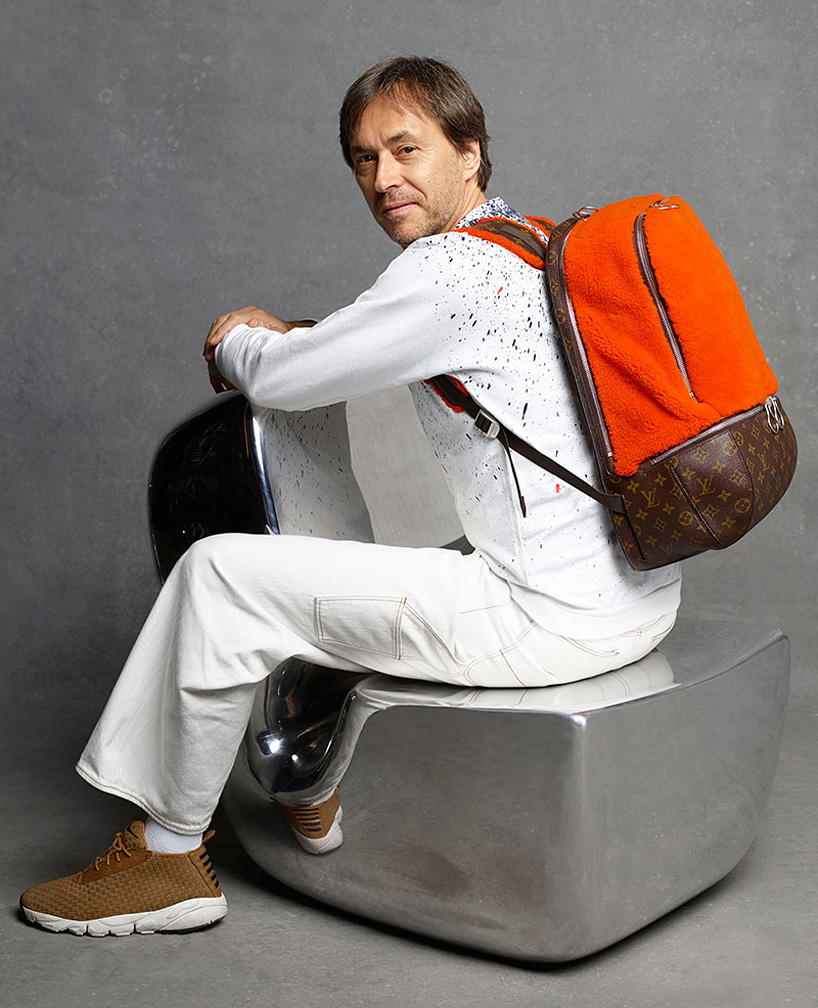 marc newson's backpack is fun and functional. 'I don't like when things take themselves too seriously', he says.
photo by karl lagerfeld / via harpers bazaar
newson's sculptural backpack features a monogram canvas that provides structural support, while soft shearling lends comfort and accents the biomorphic shape. inside, the roomy space pockets keep belongings organized.
marc newson on the creation of his backpack: 'I design things that fundamentally I would like to own. most of the time I am presented with a very defined task. this time I ultimately thought of the typology myself: a backpack. I set about trying to collate all of my experiences over the years of owning a backpack. I wanted to concentrate all of the features that I love and try and put them into the piece. making the thing stand up for example was very important, I hate when you wear a backpack, take it off and it just falls over. this bag has a structure inside to enable it to stand.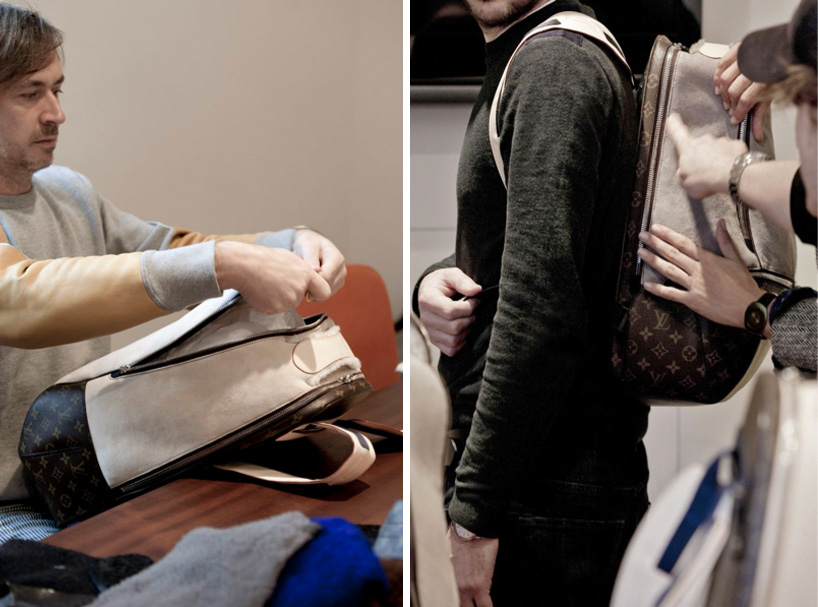 the design process has seen newson working on a plush yet study accessory
'I wanted to explore the monogram functional qualities.' he says of the iconic louis vuitton emblem 'if you go back to the reason why the monogram canvas was invented, it's because it's durable and it's weather proof. in the bag it performs a very specific function; I deliberately used it around the base so it almost became like a tyre on a car, or a sole on a shoe. obviously you still see it, but it has a purpose. I wanted it to be fun as well — I don't like when things take themselves too seriously. I want objects that put a smile on people's faces, make them laugh and question their own seriousness. I used a textile that juxtaposed the utility of the monogram with something more light-hearted, that's why I chose to use the furry sheepskin. it's cuddly and warm and comes in bright colors, but it is also durable and like a pillow; if I ever want to prop the bag up and have a snooze I can.'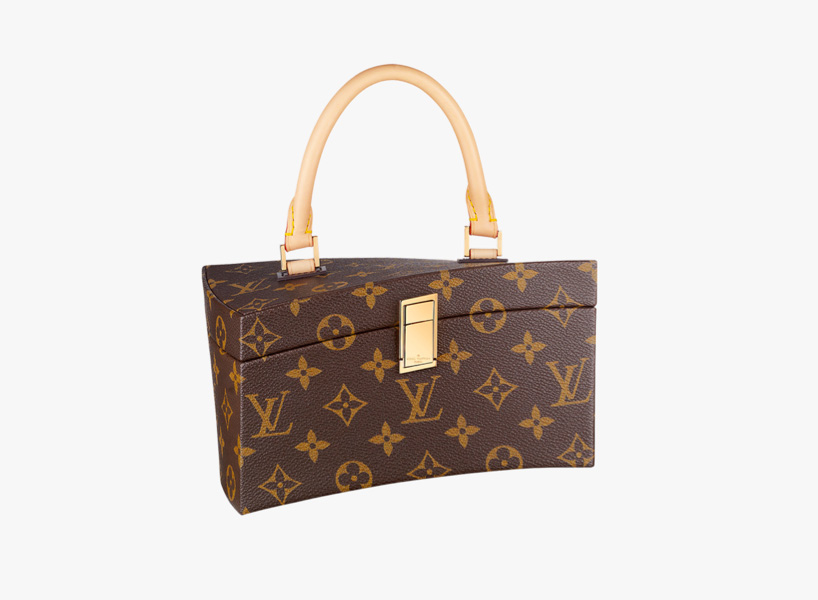 frank gehry's sculptural handbag for louis vuitton
frank gehry has applied his architectural mastery to the construction of a sculptural handbag in monogram canvas. the twisted box has been the most technically challenging piece of the collection, due to its union of both rigid lines and and curves. a press of the golden-brass clasp reveals a blue lambskin interior, embossed with a hand-drawn monogram pattern.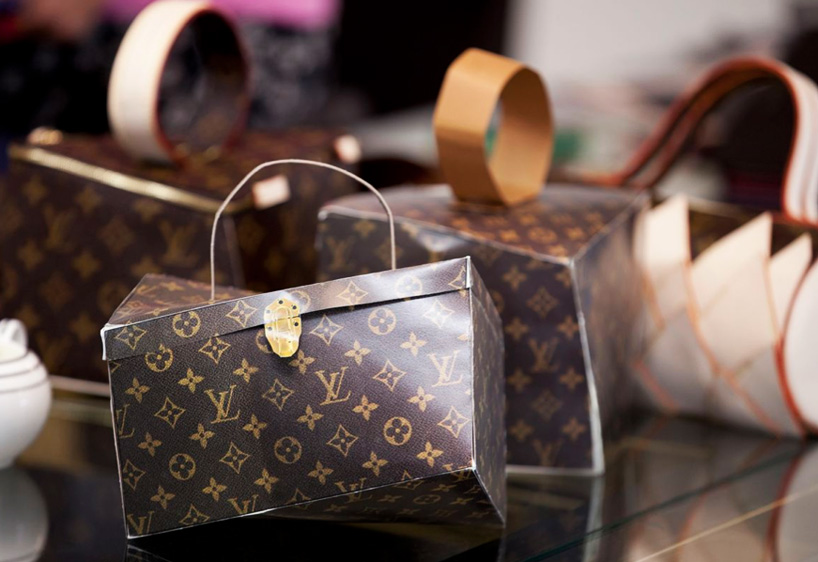 the handbag in its prototype phase
frank gehry on the design of his sculptural handbag: 'I didn't want it to be just 'a thing,' so I spent time with louis vuitton to talk about the refinement of details, the clasp, the whole of it. I have had fun with them, we have been changing and refining the bag up until the last minute. they take craftsmanship very seriously at louis vuitton and that's what I like. I hand drew the monogram for the embossed interior. I have never really been inside a handbag, so I was trying to think what I would like if i was inside, I thought 'maybe blue.' I just liked that colour in contrast with the brown monogram. I wanted to leave the attention on the outside. the interior is more private, and a darker blue just felt more orderly somehow, that it would give the things in the bag more clarity. I suppose I just have a fantasy of what it would be like to be inside the bag!'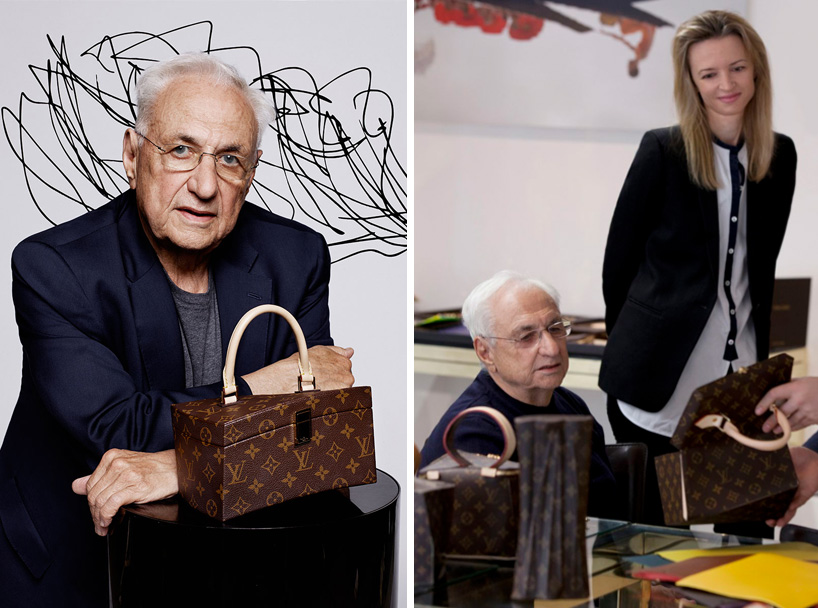 gehry is photographed (left) with his design by karl lagerfeld
(right) the architect works on the design of his bag with a team of creators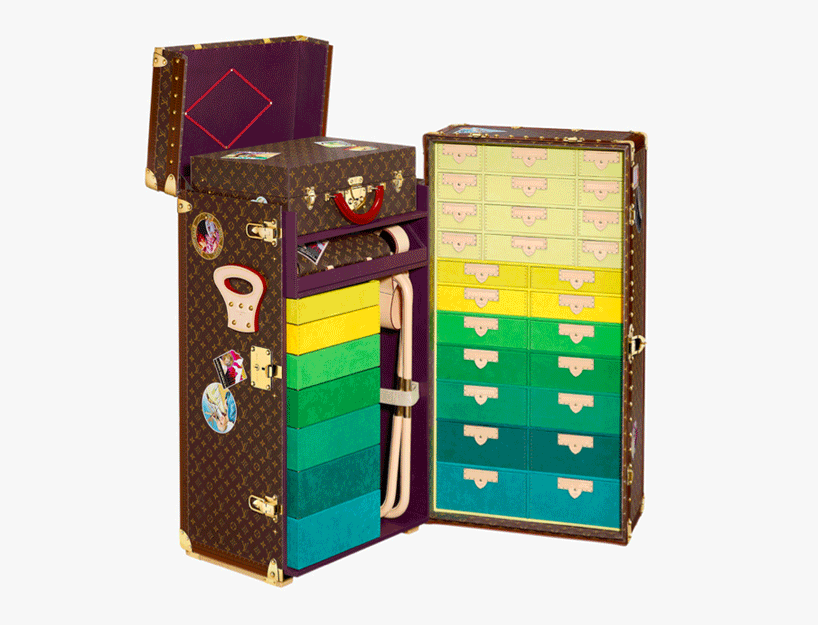 the design by cindy sherman
sherman has reimagined the custom-made vuitton trunk, covered in a monogram canvas. the trunk is fitted with a vanity case, a camera messenger bag and a total of 31 colorful drawers.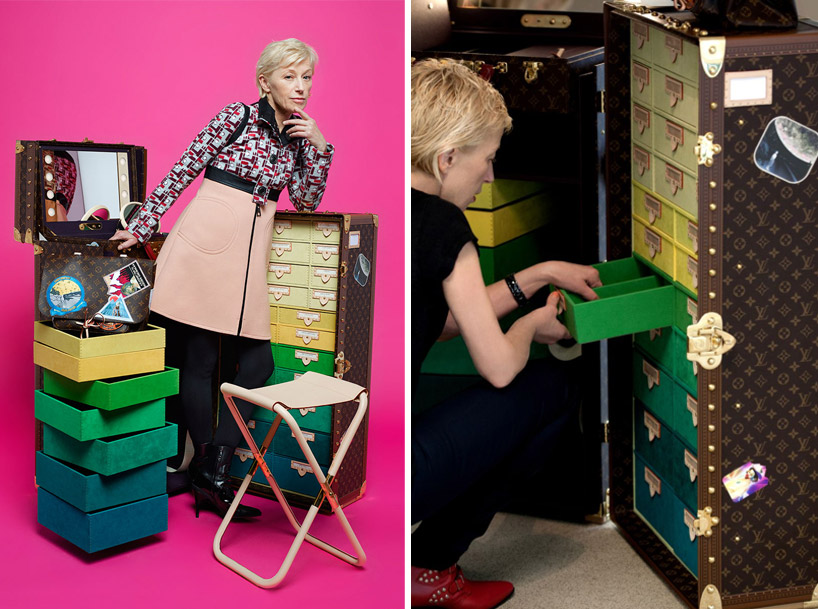 (left) cindy sherman and her design / photo by karl lagerfeld
(right) the colorful boxes can accommodate large and small treasures
on her influences for the trunk's vibrant interior, sherman says: 'I was asked about the color scheme; what was my favorite color? it was then I thought about my parrot. my parrot is this iridescent green and there are all of these other colors when he spreads his wings; this became the color scheme for the interior. I thought it would be really nice if the outside of the trunk looked old, like it had traveled around the world with all of these stickers on the monogram. we decided to use some of my images for the stickers, but to push them and make them more bizarre. all of it was just so much fun to do!'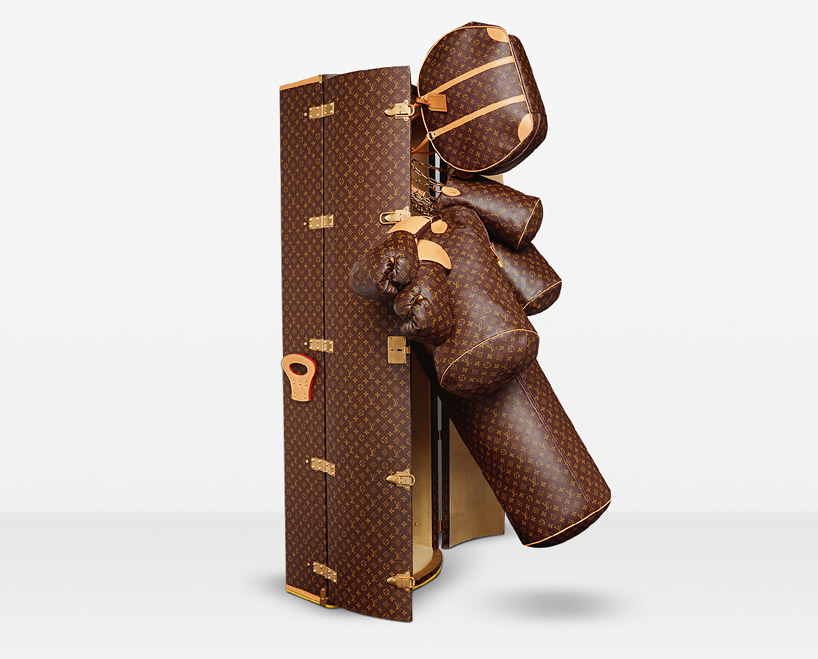 karl lagerfeld's boxing suite for louis vuitton
in celebration of vuitton's iconic monogram canvas, karl lagerfeld has imagined an extravagant set of luggage and accessories, fitted with a signature punching bag and stand, while a separate suitcase, also in monogram, holds boxing gloves and a mat. with its capacious interior and removable shelving, the trunk can also serve as a travel closet.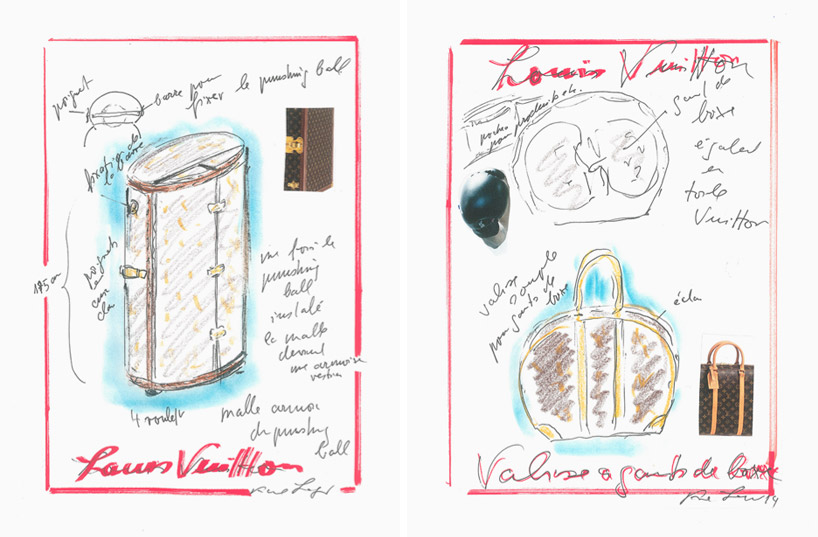 sketches by karl lagerfeld
karl lagerfeld on the design of his boxing suite set: 'I know more and more women—and men too—who have started to box. I thought it was something that one should do, if possible, in a very expensive way. so I designed the huge piece of luggage with the punching-ball in it. I also wanted to make a bag that was inspired by that idea; it comes in different sizes. we made a special carpet with an application for beginners: where and how to put your feet and how to move. there is also a little bag with boxing gloves, it can be taken to the boxing appointment — I wanted to have a special monogram for that too. it was really very childish, simple thinking!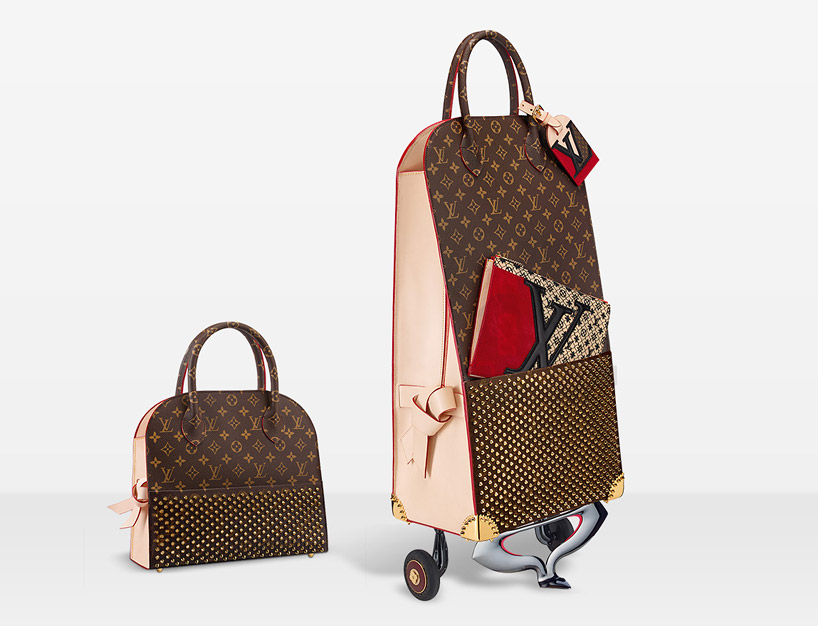 christian louboutin's shopping trolley and bag for louis vuitton
christian louboutin has designed a shopping trolley and bag combining iconic monogram canvas with vuitton heritage codes and his own signature design embellishments. 'for me, the bag had to be a combination of two DNAs: my own and louis vuitton's.' louboutin says 'then I really began to think about what would be a marriage between the two'.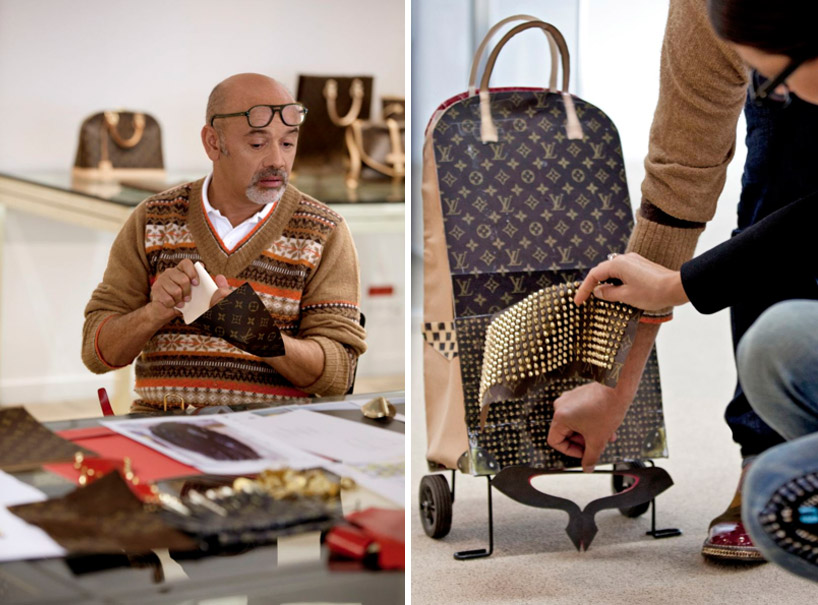 louboutin works on the design of his shopping trolley
on the design of the shopping series, louboutin says 'I started to think about the layering of these codes – both louis vuitton's and mine. the idea of lacquer occurred to me here, especially in connection with les nabis and the influence of japan in their work. it was the marriage of colours and the marriage of influences; on vuitton's side the influence of les nabis on the monogram and their debt to japan; on my side, being very french but also looking at something very japanese and coming from my trademark – the red sole – the idea of red lacquer. of course, I had to have the red touch!'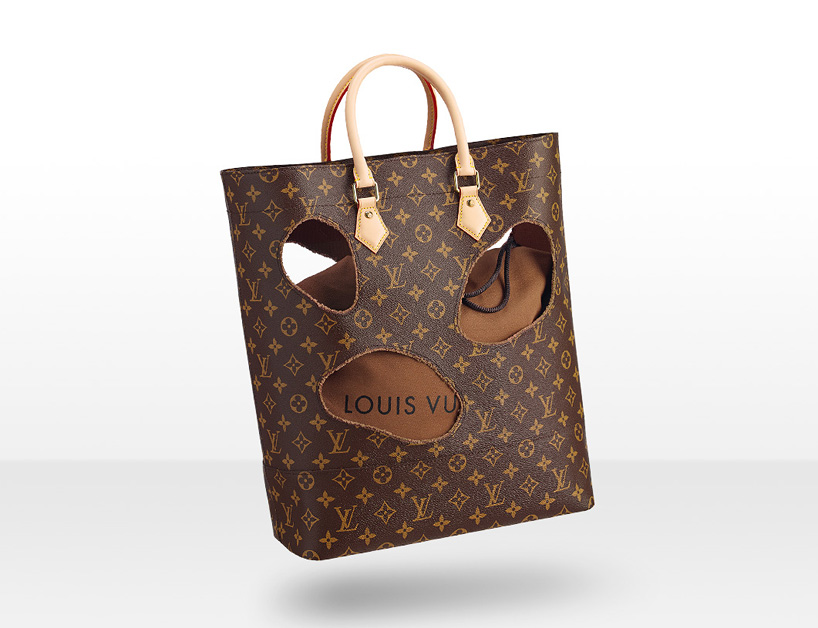 rei kawakubo's 'bag with holes'

rei kawakubo has revisited the sac plat with boldly conceived asymmetrical cutouts and raw-edged details. 'breaking the traditional louis vuitton monogram was the premise of this one work' kawakubo says 'which was to find something that would be new, some kind of new value. although there are various ways of breaking to create something new, this time I tried to play it straight: I simply made some holes in the fabric of the bag.'
nina azzarello
I designboom
sep 11, 2014
a diverse digital database that acts as a valuable guide in gaining insight and information about a product directly from the manufacturer, and serves as a rich reference point in developing a project or scheme.
designboom will always be there for you
milan, new york, beijing, tokyo

,
since 1999