for the 2017 edition of design miami/ basel, gallery ALL asked chinese architect ma yansong — founder of MAD architects — to create a new collection of furniture influenced by the red planet. titled 'MAD martian', the series is the result of a two year research and design development process, which began with the question: what would the chinese colonization of a martian planet look like?

the MAD martian console table is manufactured using CNC'd aluminum
all images courtesy of gallery ALL
presented at design miami/ basel 2017, the 'MAD martian' series expands on ma yansong's 'shanshui city' design philosophy, which integrates elements of traditional chinese landscape design and painting into large-scale urban architecture. the furniture collection continues this same methodology, but conveys it through a sci-fi narrative. evidence of the 1960s space race aesthetic is visible in the suspension lights, while the candelabras are partly informed by films such as alien and blade runner.

the MAD martian candelabra is inspired by the root systems of plants
the project started with a conversation between yu wang, co-founder and director of gallery ALL, and ma yansong about the theme of 'MAD martian', and what a furniture collection of chinese interplanetary pioneers would look like. joined by consulting creative director lou weis, the team's focus quickly turned to researching the history and current material language of science fiction movies, with specific reference to colonization of other planets.

the pieces are designed to stand-alone or as part of a cluster
'sometimes I think ma yansong can talk to aliens,' says wang yu, co-founder of gallery ALL. 'his architectural works are breathtakingly avant-garde in some way that makes the audience feel they stepped into another world. I challenged him to design a living space for martians; he wants to make martians feel on earth.'

the candelabra comes in either bronze or stainless steel
the collection considers the idea of intergalactic explorers coming to terms with their new environment — the changes in the seasons, the different rise and fall of the sun, and the emergence of distinct flora and fauna. consequently, ma yansong designed the decorative language of their interior spaces as a hybrid condition, balancing a sense of nostalgia for earth alongside a reflection of the martian environment.

the MAD martian dining table appears as an inverted mountain range
in developing the series, ma yansong posited that, in the future, highly advanced materials will 'catapult those lucky chosen ones into safe extra-terrestrial environments, beyond the apocalypse'. to convey this, the first seven pieces in the collection have been made using both old and new techniques — combining CNC, 3D printing, and advanced mold-making with artisanal skills, such as hand polishing across incredibly complex surfaces.

the large piece is made from CNC'd aluminum
the 'MAD martian' collection debuts at design miami/basel from june 17-22, 2017, with more pieces to be added later in the year. the series constitutes an ongoing series of in-house commissions by LA and beijing-based gallery ALL, whose focus is increasingly turning towards emerging and established chinese designers.

the dining table measures 435W x 127D x 80H cm

the MAD martian chaise lounge combines aluminum with a leather upholstery

the chair uses two mountain peaks as its footing

the MAD martian suspension lights are made from polyurethane and bronze

more pieces will be added to the 'MAD martian' collection later in the year
image by james harris

the project started with a conversation between yu wang, co-founder of gallery ALL, and ma yansong
image by james harris

the collection is presented at the 2017 edition of design miami/ basel
image by james harris
design miami/ basel is a global forum for design, where the world's leading galleries gather to present museum-quality exhibitions and installations of furniture, lighting and art objects. held annually every june in basel, switzerland, the show balances commercial opportunities with cultural programming — from a platform of panels and lectures ranging from design, architecture, art and fashion; to special commissions from both emerging and established creatives.
jun 16, 2017
jun 16, 2017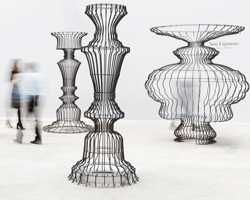 jun 14, 2017
jun 14, 2017
jun 14, 2017
jun 14, 2017
jun 18, 2016
jun 18, 2016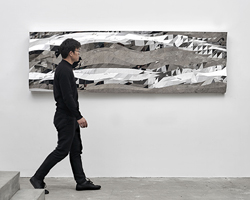 may 01, 2016
may 01, 2016
nov 30, 2015
nov 30, 2015
jul 18, 2017
jul 18, 2017
jun 08, 2017
jun 08, 2017
may 29, 2017
may 29, 2017